Easily achieve celebrity curls with hair tech - right at your home.
💥💥💥
We all want our hair to look its best, and curls are one of our favorites! Now you can with less effort - this comes wirelessly, rotates automatically and is perfect for on the go.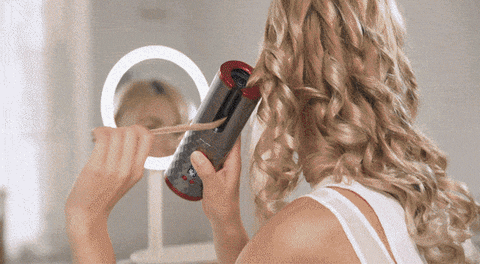 FEATURES
🦋Automatic Curling Iron: The ceramic layer creates negative ions that smooth the hair scales and give you silky, shiny and long-lasting curls. In addition, the unique design ensures that you can not burn yourself.
🦋Wireless & Portable: The fact that it's cordless makes a huge difference in how easily you can maneuver it on your head when creating your own curls. It fits easily in your pocket! Take it with you on your travels and achieve your dream curls anytime, anywhere!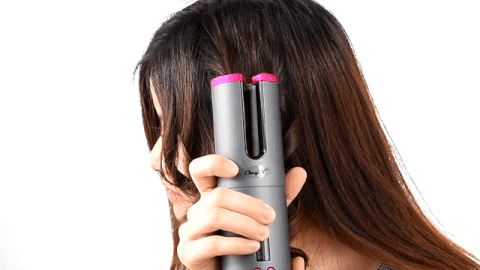 🦋6 Temperature Levels: This is a 6 adjustable temperature Curling Iron (range from 150 ° C to 200 ° C) suitable for all hair types, you can choose the perfect temperature for your hair type. Different hair types, we recommend different temperatures: Fine and fragile hair: 150℃-160℃, colored hair: 170℃-180℃, normal hair coarse hair: 190℃-200℃.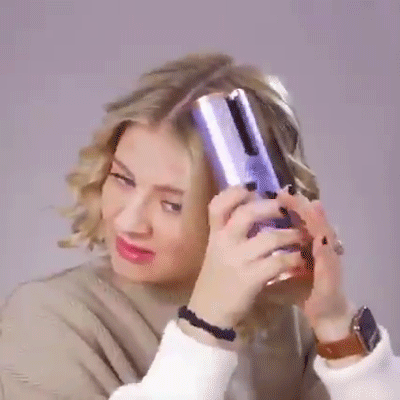 Press and hold "Power ON/OFF" for 2 seconds to turn on the unit.
Note:
To turn off, press and hold"Power ON/OFF" for 2 seconds.

Press"Menu"to select temperature, direction, ℃ / ℉ and timer one after the other and press"Adjustment"to set the value Temperature/Direction/Unit: ℃/℉/Timer

The appliance starts to heat after setting the temperature.

The heating symbol flashes during heating. When the temperature setting icon is reached, it will stop flashing and you will hear a beep.

Comb through to remove all tangles and divide the hair into sections no wider than 0.78 inch.

Pass the hair section through the curler chamber and hold down the Start button to activate the motor that pulls the hair into the curler chamber.

Release the start button when you hear the first beep.

The automatic curl is completed when you hear the last beep.
SPECIFICATIONS
Material: Alloy
Color: Gray; Black; White; Gold
Weight: 430g / 0.94lb
Size: 21*8.5*6.7cm / 8.26*3.34*2.63in
PACKAGE INCLUDED
1 × Wireless Auto Rotation Curling Iron

1 × Data cable

1 × Manual

2 × Clip

1 × Comb

1 × Cloth bag