{"id":7263305138265,"title":"🔥Imitation Blinds One-Way Perspective Glass Film🔥","handle":"🔥imitation-blinds-one-way-perspective-glass-film🔥","description":"\u003cdiv\u003e\u003cimg src=\"https:\/\/img.staticdj.com\/2665894959dafc2f0b0e42c192fa4f82.gif\" style=\"display: block; margin-left: auto; margin-right: auto;\" width=\"348\" height=\"196\" data-mce-fragment=\"1\" data-mce-src=\"https:\/\/img.staticdj.com\/2665894959dafc2f0b0e42c192fa4f82.gif\"\u003e\u003c\/div\u003e\n\u003cp data-mce-fragment=\"1\"\u003e\u003cimg alt=\"\" src=\"https:\/\/cdn.shopify.com\/s\/files\/1\/0585\/1925\/7244\/files\/9E70FC23-DD2A-4bfc-828F-0C63D519E64E_480x480.png?v=1651803820\" style=\"display: block; margin-left: auto; margin-right: auto;\" width=\"435\" height=\"588\"\u003e\u003c\/p\u003e\n\u003ch3 data-mce-fragment=\"1\"\u003e\u003cspan style=\"color: #ff2a00;\"\u003e\u003cstrong\u003eFEATURES\u003c\/strong\u003e\u003c\/span\u003e\u003c\/h3\u003e\n\u003cul\u003e\n\u003cli\u003e\u003cspan style=\"color: #b9c770;\"\u003e\u003cstrong\u003eCLASSIC SMART DESIGN\u003c\/strong\u003e\u003c\/span\u003e\u003c\/li\u003e\n\u003c\/ul\u003e\n\u003cp style=\"padding-left: 30px;\" data-mce-fragment=\"1\"\u003e\u003cspan style=\"font-weight: 400;\" data-mce-fragment=\"1\" data-mce-style=\"font-weight: 400;\"\u003eWith a classic frosted texture and subtle pattern, this window film brings a new design touch to your home decor and adds a modern twist to your home. It is the perfect curtain and blind replacement for decorative performance.\u003c\/span\u003e\u003c\/p\u003e\n\u003cul\u003e\n\u003cli\u003e\u003cspan style=\"color: #b9c770;\"\u003e\u003cstrong\u003eAnti-UV, Protect Your Eyes\u003c\/strong\u003e\u003c\/span\u003e\u003c\/li\u003e\n\u003c\/ul\u003e\n\u003cp style=\"padding-left: 30px;\" data-mce-fragment=\"1\"\u003e\u003cspan style=\"font-weight: 400;\" data-mce-fragment=\"1\" data-mce-style=\"font-weight: 400;\"\u003eWhile blocking 84% of UVA rays and 99% of UVB rays for you and your family, it filters out glare and lets in soft light to protect your eyes. It protects your skin from harmful radiation and also prevents furniture discoloration.\u003c\/span\u003e\u003c\/p\u003e\n\u003cdiv\u003e\u003cimg src=\"https:\/\/img.staticdj.com\/8bea3e771579310b0e5f0cb86f885259.gif\" style=\"display: block; margin-left: auto; margin-right: auto;\" width=\"350\" height=\"197\"\u003e\u003c\/div\u003e\n\u003cul\u003e\n\u003cli\u003e\u003cspan style=\"color: #b9c770;\"\u003e\u003cstrong\u003eNo Sticking Hassle, Easy To Install\u003c\/strong\u003e\u003c\/span\u003e\u003c\/li\u003e\n\u003c\/ul\u003e\n\u003cp style=\"padding-left: 30px;\" data-mce-fragment=\"1\"\u003e\u003cspan style=\"font-weight: 400;\" data-mce-fragment=\"1\" data-mce-style=\"font-weight: 400;\"\u003eThis window vinyl is designed with non-stick and electrostatic adsorption to avoid the release of chemicals and can be easily removed without leaving any marks on the glass. If it is not damaged or dirty, you can reuse it. Remember to tear off the protective film and spray enough water.\u003c\/span\u003e\u003c\/p\u003e\n\u003cul\u003e\n\u003cli\u003e\u003cspan style=\"color: #b9c770;\"\u003e\u003cstrong\u003eWidely Used In Different Spaces\u003c\/strong\u003e\u003c\/span\u003e\u003c\/li\u003e\n\u003c\/ul\u003e\n\u003cp style=\"padding-left: 30px;\" data-mce-fragment=\"1\"\u003e\u003cspan style=\"font-weight: 400;\" data-mce-fragment=\"1\" data-mce-style=\"font-weight: 400;\"\u003eThis product is ideal for adding decorative and functional covers to smooth glass surfaces free of dust or oil. Widely used in various places: kitchen, living room, dining room, office, hotel, classroom, lobby, etc.\u003c\/span\u003e\u003c\/p\u003e\n\u003cimg src=\"https:\/\/img.staticdj.com\/5e6b34913dfda993c8b9aedc4f69edd9.gif\" style=\"display: block; margin-left: auto; margin-right: auto;\" width=\"348\" height=\"196\" data-mce-fragment=\"1\" data-mce-style=\"display: block; margin-left: auto; margin-right: auto;\" data-mce-src=\"https:\/\/img.staticdj.com\/5e6b34913dfda993c8b9aedc4f69edd9.gif\" data-mce-selected=\"1\"\u003e\n\u003cul\u003e\n\u003cli\u003e\u003cspan style=\"color: #b9c770;\"\u003e\u003cstrong\u003eNo More Annoying Staring From Neighbors\u003c\/strong\u003e\u003c\/span\u003e\u003c\/li\u003e\n\u003c\/ul\u003e\n\u003cp style=\"padding-left: 30px;\" data-mce-fragment=\"1\"\u003e\u003cspan style=\"font-weight: 400;\" data-mce-fragment=\"1\" data-mce-style=\"font-weight: 400;\"\u003eNo more staring, which blurs vision and provides a peaceful and relaxing space for your children, pets and family.\u003c\/span\u003e\u003c\/p\u003e\n\u003cdiv\u003e\u003cimg src=\"https:\/\/cdn.shopify.com\/s\/files\/1\/0585\/1925\/7244\/files\/54FF47B2-F07D-42ff-A585-40C08A3E4A3B_480x480.png?v=1651804240\" alt=\"\" style=\"display: block; margin-left: auto; margin-right: auto;\" width=\"349\" height=\"441\" data-mce-fragment=\"1\" data-mce-src=\"https:\/\/cdn.shopify.com\/s\/files\/1\/0585\/1925\/7244\/files\/54FF47B2-F07D-42ff-A585-40C08A3E4A3B_480x480.png?v=1651804240\"\u003e\u003c\/div\u003e\n\u003ch3 data-mce-fragment=\"1\"\u003e\u003cspan style=\"color: #ff2a00;\"\u003e\u003cstrong\u003eSPECIFICATIONS\u003c\/strong\u003e\u003c\/span\u003e\u003c\/h3\u003e\n\u003cul\u003e\n\u003cli\u003e\n\u003cp\u003e\u003cspan style=\"font-weight: 400;\" data-mce-fragment=\"1\" data-mce-style=\"font-weight: 400;\"\u003e\u003cstrong\u003eMaterial\u003c\/strong\u003e: PVC+PET\u003c\/span\u003e\u003c\/p\u003e\n\u003c\/li\u003e\n\u003cli\u003e\n\u003cp\u003e\u003cspan style=\"font-weight: 400;\" data-mce-fragment=\"1\" data-mce-style=\"font-weight: 400;\"\u003e\u003cstrong\u003eStyle\u003c\/strong\u003e: Pure Frosted, 3D Colorful Stones, Imitation Louver, Peony, Frosted Stripes\u003c\/span\u003e\u003c\/p\u003e\n\u003c\/li\u003e\n\u003cli\u003e\n\u003cp\u003e\u003cspan style=\"font-weight: 400;\" data-mce-fragment=\"1\" data-mce-style=\"font-weight: 400;\"\u003e\u003cstrong\u003eThickness\u003c\/strong\u003e: 0.22-0.24mm \/ 0.0087-0.0094in\u003c\/span\u003e\u003c\/p\u003e\n\u003c\/li\u003e\n\u003cli\u003e\n\u003cp\u003e\u003cspan style=\"font-weight: 400;\" data-mce-fragment=\"1\" data-mce-style=\"font-weight: 400;\"\u003e\u003cstrong\u003eSize\u003c\/strong\u003e: 45*200cm \/ 17.7-78.7in\u003c\/span\u003e\u003c\/p\u003e\n\u003c\/li\u003e\n\u003c\/ul\u003e\n\u003ch3 data-mce-fragment=\"1\"\u003e\u003cspan style=\"color: #ff2a00;\"\u003e\u003cstrong\u003ePACKAGE INCLUDED\u003c\/strong\u003e\u003c\/span\u003e\u003c\/h3\u003e\n\u003cul\u003e\n\u003cli\u003e\u003cspan style=\"font-weight: 400;\" data-mce-fragment=\"1\" data-mce-style=\"font-weight: 400;\"\u003e1 × Imitation Blinds One-Way Perspective Glass Film\u003c\/span\u003e\u003c\/li\u003e\n\u003c\/ul\u003e","published_at":"2023-03-23T17:10:46-10:00","created_at":"2023-03-23T17:10:52-10:00","vendor":"Suerteyay","type":"","tags":["decoration","home improvement"],"price":1499,"price_min":1499,"price_max":1499,"available":true,"price_varies":false,"compare_at_price":2999,"compare_at_price_min":2999,"compare_at_price_max":2999,"compare_at_price_varies":false,"variants":[{"id":40444465184857,"title":"Pure Frosted","option1":"Pure Frosted","option2":null,"option3":null,"sku":"CP30168-X24040","requires_shipping":true,"taxable":false,"featured_image":{"id":31390603542617,"product_id":7263305138265,"position":10,"created_at":"2023-03-23T17:10:55-10:00","updated_at":"2023-03-23T17:10:55-10:00","alt":null,"width":800,"height":800,"src":"\/\/www.suerteyay.com\/cdn\/shop\/products\/CP30168_b281193c-1c6a-4d59-a9e5-7c2fafa72651.webp?v=1679627455","variant_ids":[40444465184857,40444465217625,40444465250393,40444465283161,40444465315929]},"available":true,"name":"🔥Imitation Blinds One-Way Perspective Glass Film🔥 - Pure Frosted","public_title":"Pure Frosted","options":["Pure Frosted"],"price":1499,"weight":0,"compare_at_price":2999,"inventory_management":null,"barcode":null,"featured_media":{"alt":null,"id":23942455885913,"position":10,"preview_image":{"aspect_ratio":1.0,"height":800,"width":800,"src":"\/\/www.suerteyay.com\/cdn\/shop\/products\/CP30168_b281193c-1c6a-4d59-a9e5-7c2fafa72651.webp?v=1679627455"}},"requires_selling_plan":false,"selling_plan_allocations":[],"quantity_rule":{"min":1,"max":null,"increment":1}},{"id":40444465217625,"title":"3D Colorful Stones","option1":"3D Colorful Stones","option2":null,"option3":null,"sku":"CP30168-X24044","requires_shipping":true,"taxable":false,"featured_image":{"id":31390603542617,"product_id":7263305138265,"position":10,"created_at":"2023-03-23T17:10:55-10:00","updated_at":"2023-03-23T17:10:55-10:00","alt":null,"width":800,"height":800,"src":"\/\/www.suerteyay.com\/cdn\/shop\/products\/CP30168_b281193c-1c6a-4d59-a9e5-7c2fafa72651.webp?v=1679627455","variant_ids":[40444465184857,40444465217625,40444465250393,40444465283161,40444465315929]},"available":true,"name":"🔥Imitation Blinds One-Way Perspective Glass Film🔥 - 3D Colorful Stones","public_title":"3D Colorful Stones","options":["3D Colorful Stones"],"price":1499,"weight":0,"compare_at_price":2999,"inventory_management":null,"barcode":null,"featured_media":{"alt":null,"id":23942455885913,"position":10,"preview_image":{"aspect_ratio":1.0,"height":800,"width":800,"src":"\/\/www.suerteyay.com\/cdn\/shop\/products\/CP30168_b281193c-1c6a-4d59-a9e5-7c2fafa72651.webp?v=1679627455"}},"requires_selling_plan":false,"selling_plan_allocations":[],"quantity_rule":{"min":1,"max":null,"increment":1}},{"id":40444465250393,"title":"Imitation Louver","option1":"Imitation Louver","option2":null,"option3":null,"sku":"CP30168-X24042","requires_shipping":true,"taxable":false,"featured_image":{"id":31390603542617,"product_id":7263305138265,"position":10,"created_at":"2023-03-23T17:10:55-10:00","updated_at":"2023-03-23T17:10:55-10:00","alt":null,"width":800,"height":800,"src":"\/\/www.suerteyay.com\/cdn\/shop\/products\/CP30168_b281193c-1c6a-4d59-a9e5-7c2fafa72651.webp?v=1679627455","variant_ids":[40444465184857,40444465217625,40444465250393,40444465283161,40444465315929]},"available":true,"name":"🔥Imitation Blinds One-Way Perspective Glass Film🔥 - Imitation Louver","public_title":"Imitation Louver","options":["Imitation Louver"],"price":1499,"weight":0,"compare_at_price":2999,"inventory_management":null,"barcode":null,"featured_media":{"alt":null,"id":23942455885913,"position":10,"preview_image":{"aspect_ratio":1.0,"height":800,"width":800,"src":"\/\/www.suerteyay.com\/cdn\/shop\/products\/CP30168_b281193c-1c6a-4d59-a9e5-7c2fafa72651.webp?v=1679627455"}},"requires_selling_plan":false,"selling_plan_allocations":[],"quantity_rule":{"min":1,"max":null,"increment":1}},{"id":40444465283161,"title":"Peony","option1":"Peony","option2":null,"option3":null,"sku":"CP30168-X24043","requires_shipping":true,"taxable":false,"featured_image":{"id":31390603542617,"product_id":7263305138265,"position":10,"created_at":"2023-03-23T17:10:55-10:00","updated_at":"2023-03-23T17:10:55-10:00","alt":null,"width":800,"height":800,"src":"\/\/www.suerteyay.com\/cdn\/shop\/products\/CP30168_b281193c-1c6a-4d59-a9e5-7c2fafa72651.webp?v=1679627455","variant_ids":[40444465184857,40444465217625,40444465250393,40444465283161,40444465315929]},"available":true,"name":"🔥Imitation Blinds One-Way Perspective Glass Film🔥 - Peony","public_title":"Peony","options":["Peony"],"price":1499,"weight":0,"compare_at_price":2999,"inventory_management":null,"barcode":null,"featured_media":{"alt":null,"id":23942455885913,"position":10,"preview_image":{"aspect_ratio":1.0,"height":800,"width":800,"src":"\/\/www.suerteyay.com\/cdn\/shop\/products\/CP30168_b281193c-1c6a-4d59-a9e5-7c2fafa72651.webp?v=1679627455"}},"requires_selling_plan":false,"selling_plan_allocations":[],"quantity_rule":{"min":1,"max":null,"increment":1}},{"id":40444465315929,"title":"Frosted Stripes","option1":"Frosted Stripes","option2":null,"option3":null,"sku":"CP30168-X24041","requires_shipping":true,"taxable":false,"featured_image":{"id":31390603542617,"product_id":7263305138265,"position":10,"created_at":"2023-03-23T17:10:55-10:00","updated_at":"2023-03-23T17:10:55-10:00","alt":null,"width":800,"height":800,"src":"\/\/www.suerteyay.com\/cdn\/shop\/products\/CP30168_b281193c-1c6a-4d59-a9e5-7c2fafa72651.webp?v=1679627455","variant_ids":[40444465184857,40444465217625,40444465250393,40444465283161,40444465315929]},"available":true,"name":"🔥Imitation Blinds One-Way Perspective Glass Film🔥 - Frosted Stripes","public_title":"Frosted Stripes","options":["Frosted Stripes"],"price":1499,"weight":0,"compare_at_price":2999,"inventory_management":null,"barcode":null,"featured_media":{"alt":null,"id":23942455885913,"position":10,"preview_image":{"aspect_ratio":1.0,"height":800,"width":800,"src":"\/\/www.suerteyay.com\/cdn\/shop\/products\/CP30168_b281193c-1c6a-4d59-a9e5-7c2fafa72651.webp?v=1679627455"}},"requires_selling_plan":false,"selling_plan_allocations":[],"quantity_rule":{"min":1,"max":null,"increment":1}}],"images":["\/\/www.suerteyay.com\/cdn\/shop\/products\/4_31319094-dadf-4584-9a4d-8f09d8a5e951.webp?v=1679627453","\/\/www.suerteyay.com\/cdn\/shop\/products\/5_262cf39a-e1e5-466d-bd76-ede24775a543.webp?v=1679627453","\/\/www.suerteyay.com\/cdn\/shop\/products\/6_1a557205-e325-42b2-8966-db4d8aca2fb7.webp?v=1679627453","\/\/www.suerteyay.com\/cdn\/shop\/products\/9_4831aff3-6c42-4cef-818d-ffa6d4d91118.webp?v=1679627453","\/\/www.suerteyay.com\/cdn\/shop\/products\/8_64727552-4c5c-45a6-9101-dea0d1163430.webp?v=1679627453","\/\/www.suerteyay.com\/cdn\/shop\/products\/3_f50d43e3-ac9e-48c2-a6b0-e2150bf62dd3.webp?v=1679627453","\/\/www.suerteyay.com\/cdn\/shop\/products\/2_ef1d48c7-251f-4107-9af8-0cd0b167c133.webp?v=1679627453","\/\/www.suerteyay.com\/cdn\/shop\/products\/CP30168_90d24263-7e75-46ef-b009-4ed5749a70e8.webp?v=1679627453","\/\/www.suerteyay.com\/cdn\/shop\/products\/CP30168_56b9abaf-2e13-456a-8dcc-0686f117853b.webp?v=1679627453","\/\/www.suerteyay.com\/cdn\/shop\/products\/CP30168_b281193c-1c6a-4d59-a9e5-7c2fafa72651.webp?v=1679627455"],"featured_image":"\/\/www.suerteyay.com\/cdn\/shop\/products\/4_31319094-dadf-4584-9a4d-8f09d8a5e951.webp?v=1679627453","options":["Style"],"media":[{"alt":null,"id":23942455394393,"position":1,"preview_image":{"aspect_ratio":1.0,"height":800,"width":800,"src":"\/\/www.suerteyay.com\/cdn\/shop\/products\/4_31319094-dadf-4584-9a4d-8f09d8a5e951.webp?v=1679627453"},"aspect_ratio":1.0,"height":800,"media_type":"image","src":"\/\/www.suerteyay.com\/cdn\/shop\/products\/4_31319094-dadf-4584-9a4d-8f09d8a5e951.webp?v=1679627453","width":800},{"alt":null,"id":23942455427161,"position":2,"preview_image":{"aspect_ratio":1.0,"height":800,"width":800,"src":"\/\/www.suerteyay.com\/cdn\/shop\/products\/5_262cf39a-e1e5-466d-bd76-ede24775a543.webp?v=1679627453"},"aspect_ratio":1.0,"height":800,"media_type":"image","src":"\/\/www.suerteyay.com\/cdn\/shop\/products\/5_262cf39a-e1e5-466d-bd76-ede24775a543.webp?v=1679627453","width":800},{"alt":null,"id":23942455459929,"position":3,"preview_image":{"aspect_ratio":1.0,"height":800,"width":800,"src":"\/\/www.suerteyay.com\/cdn\/shop\/products\/6_1a557205-e325-42b2-8966-db4d8aca2fb7.webp?v=1679627453"},"aspect_ratio":1.0,"height":800,"media_type":"image","src":"\/\/www.suerteyay.com\/cdn\/shop\/products\/6_1a557205-e325-42b2-8966-db4d8aca2fb7.webp?v=1679627453","width":800},{"alt":null,"id":23942455492697,"position":4,"preview_image":{"aspect_ratio":1.0,"height":800,"width":800,"src":"\/\/www.suerteyay.com\/cdn\/shop\/products\/9_4831aff3-6c42-4cef-818d-ffa6d4d91118.webp?v=1679627453"},"aspect_ratio":1.0,"height":800,"media_type":"image","src":"\/\/www.suerteyay.com\/cdn\/shop\/products\/9_4831aff3-6c42-4cef-818d-ffa6d4d91118.webp?v=1679627453","width":800},{"alt":null,"id":23942455525465,"position":5,"preview_image":{"aspect_ratio":1.0,"height":800,"width":800,"src":"\/\/www.suerteyay.com\/cdn\/shop\/products\/8_64727552-4c5c-45a6-9101-dea0d1163430.webp?v=1679627453"},"aspect_ratio":1.0,"height":800,"media_type":"image","src":"\/\/www.suerteyay.com\/cdn\/shop\/products\/8_64727552-4c5c-45a6-9101-dea0d1163430.webp?v=1679627453","width":800},{"alt":null,"id":23942455558233,"position":6,"preview_image":{"aspect_ratio":1.0,"height":800,"width":800,"src":"\/\/www.suerteyay.com\/cdn\/shop\/products\/3_f50d43e3-ac9e-48c2-a6b0-e2150bf62dd3.webp?v=1679627453"},"aspect_ratio":1.0,"height":800,"media_type":"image","src":"\/\/www.suerteyay.com\/cdn\/shop\/products\/3_f50d43e3-ac9e-48c2-a6b0-e2150bf62dd3.webp?v=1679627453","width":800},{"alt":null,"id":23942455591001,"position":7,"preview_image":{"aspect_ratio":1.0,"height":800,"width":800,"src":"\/\/www.suerteyay.com\/cdn\/shop\/products\/2_ef1d48c7-251f-4107-9af8-0cd0b167c133.webp?v=1679627453"},"aspect_ratio":1.0,"height":800,"media_type":"image","src":"\/\/www.suerteyay.com\/cdn\/shop\/products\/2_ef1d48c7-251f-4107-9af8-0cd0b167c133.webp?v=1679627453","width":800},{"alt":null,"id":23942455623769,"position":8,"preview_image":{"aspect_ratio":1.0,"height":800,"width":800,"src":"\/\/www.suerteyay.com\/cdn\/shop\/products\/CP30168_90d24263-7e75-46ef-b009-4ed5749a70e8.webp?v=1679627453"},"aspect_ratio":1.0,"height":800,"media_type":"image","src":"\/\/www.suerteyay.com\/cdn\/shop\/products\/CP30168_90d24263-7e75-46ef-b009-4ed5749a70e8.webp?v=1679627453","width":800},{"alt":null,"id":23942455656537,"position":9,"preview_image":{"aspect_ratio":1.0,"height":800,"width":800,"src":"\/\/www.suerteyay.com\/cdn\/shop\/products\/CP30168_56b9abaf-2e13-456a-8dcc-0686f117853b.webp?v=1679627453"},"aspect_ratio":1.0,"height":800,"media_type":"image","src":"\/\/www.suerteyay.com\/cdn\/shop\/products\/CP30168_56b9abaf-2e13-456a-8dcc-0686f117853b.webp?v=1679627453","width":800},{"alt":null,"id":23942455885913,"position":10,"preview_image":{"aspect_ratio":1.0,"height":800,"width":800,"src":"\/\/www.suerteyay.com\/cdn\/shop\/products\/CP30168_b281193c-1c6a-4d59-a9e5-7c2fafa72651.webp?v=1679627455"},"aspect_ratio":1.0,"height":800,"media_type":"image","src":"\/\/www.suerteyay.com\/cdn\/shop\/products\/CP30168_b281193c-1c6a-4d59-a9e5-7c2fafa72651.webp?v=1679627455","width":800}],"requires_selling_plan":false,"selling_plan_groups":[],"content":"\u003cdiv\u003e\u003cimg src=\"https:\/\/img.staticdj.com\/2665894959dafc2f0b0e42c192fa4f82.gif\" style=\"display: block; margin-left: auto; margin-right: auto;\" width=\"348\" height=\"196\" data-mce-fragment=\"1\" data-mce-src=\"https:\/\/img.staticdj.com\/2665894959dafc2f0b0e42c192fa4f82.gif\"\u003e\u003c\/div\u003e\n\u003cp data-mce-fragment=\"1\"\u003e\u003cimg alt=\"\" src=\"https:\/\/cdn.shopify.com\/s\/files\/1\/0585\/1925\/7244\/files\/9E70FC23-DD2A-4bfc-828F-0C63D519E64E_480x480.png?v=1651803820\" style=\"display: block; margin-left: auto; margin-right: auto;\" width=\"435\" height=\"588\"\u003e\u003c\/p\u003e\n\u003ch3 data-mce-fragment=\"1\"\u003e\u003cspan style=\"color: #ff2a00;\"\u003e\u003cstrong\u003eFEATURES\u003c\/strong\u003e\u003c\/span\u003e\u003c\/h3\u003e\n\u003cul\u003e\n\u003cli\u003e\u003cspan style=\"color: #b9c770;\"\u003e\u003cstrong\u003eCLASSIC SMART DESIGN\u003c\/strong\u003e\u003c\/span\u003e\u003c\/li\u003e\n\u003c\/ul\u003e\n\u003cp style=\"padding-left: 30px;\" data-mce-fragment=\"1\"\u003e\u003cspan style=\"font-weight: 400;\" data-mce-fragment=\"1\" data-mce-style=\"font-weight: 400;\"\u003eWith a classic frosted texture and subtle pattern, this window film brings a new design touch to your home decor and adds a modern twist to your home. It is the perfect curtain and blind replacement for decorative performance.\u003c\/span\u003e\u003c\/p\u003e\n\u003cul\u003e\n\u003cli\u003e\u003cspan style=\"color: #b9c770;\"\u003e\u003cstrong\u003eAnti-UV, Protect Your Eyes\u003c\/strong\u003e\u003c\/span\u003e\u003c\/li\u003e\n\u003c\/ul\u003e\n\u003cp style=\"padding-left: 30px;\" data-mce-fragment=\"1\"\u003e\u003cspan style=\"font-weight: 400;\" data-mce-fragment=\"1\" data-mce-style=\"font-weight: 400;\"\u003eWhile blocking 84% of UVA rays and 99% of UVB rays for you and your family, it filters out glare and lets in soft light to protect your eyes. It protects your skin from harmful radiation and also prevents furniture discoloration.\u003c\/span\u003e\u003c\/p\u003e\n\u003cdiv\u003e\u003cimg src=\"https:\/\/img.staticdj.com\/8bea3e771579310b0e5f0cb86f885259.gif\" style=\"display: block; margin-left: auto; margin-right: auto;\" width=\"350\" height=\"197\"\u003e\u003c\/div\u003e\n\u003cul\u003e\n\u003cli\u003e\u003cspan style=\"color: #b9c770;\"\u003e\u003cstrong\u003eNo Sticking Hassle, Easy To Install\u003c\/strong\u003e\u003c\/span\u003e\u003c\/li\u003e\n\u003c\/ul\u003e\n\u003cp style=\"padding-left: 30px;\" data-mce-fragment=\"1\"\u003e\u003cspan style=\"font-weight: 400;\" data-mce-fragment=\"1\" data-mce-style=\"font-weight: 400;\"\u003eThis window vinyl is designed with non-stick and electrostatic adsorption to avoid the release of chemicals and can be easily removed without leaving any marks on the glass. If it is not damaged or dirty, you can reuse it. Remember to tear off the protective film and spray enough water.\u003c\/span\u003e\u003c\/p\u003e\n\u003cul\u003e\n\u003cli\u003e\u003cspan style=\"color: #b9c770;\"\u003e\u003cstrong\u003eWidely Used In Different Spaces\u003c\/strong\u003e\u003c\/span\u003e\u003c\/li\u003e\n\u003c\/ul\u003e\n\u003cp style=\"padding-left: 30px;\" data-mce-fragment=\"1\"\u003e\u003cspan style=\"font-weight: 400;\" data-mce-fragment=\"1\" data-mce-style=\"font-weight: 400;\"\u003eThis product is ideal for adding decorative and functional covers to smooth glass surfaces free of dust or oil. Widely used in various places: kitchen, living room, dining room, office, hotel, classroom, lobby, etc.\u003c\/span\u003e\u003c\/p\u003e\n\u003cimg src=\"https:\/\/img.staticdj.com\/5e6b34913dfda993c8b9aedc4f69edd9.gif\" style=\"display: block; margin-left: auto; margin-right: auto;\" width=\"348\" height=\"196\" data-mce-fragment=\"1\" data-mce-style=\"display: block; margin-left: auto; margin-right: auto;\" data-mce-src=\"https:\/\/img.staticdj.com\/5e6b34913dfda993c8b9aedc4f69edd9.gif\" data-mce-selected=\"1\"\u003e\n\u003cul\u003e\n\u003cli\u003e\u003cspan style=\"color: #b9c770;\"\u003e\u003cstrong\u003eNo More Annoying Staring From Neighbors\u003c\/strong\u003e\u003c\/span\u003e\u003c\/li\u003e\n\u003c\/ul\u003e\n\u003cp style=\"padding-left: 30px;\" data-mce-fragment=\"1\"\u003e\u003cspan style=\"font-weight: 400;\" data-mce-fragment=\"1\" data-mce-style=\"font-weight: 400;\"\u003eNo more staring, which blurs vision and provides a peaceful and relaxing space for your children, pets and family.\u003c\/span\u003e\u003c\/p\u003e\n\u003cdiv\u003e\u003cimg src=\"https:\/\/cdn.shopify.com\/s\/files\/1\/0585\/1925\/7244\/files\/54FF47B2-F07D-42ff-A585-40C08A3E4A3B_480x480.png?v=1651804240\" alt=\"\" style=\"display: block; margin-left: auto; margin-right: auto;\" width=\"349\" height=\"441\" data-mce-fragment=\"1\" data-mce-src=\"https:\/\/cdn.shopify.com\/s\/files\/1\/0585\/1925\/7244\/files\/54FF47B2-F07D-42ff-A585-40C08A3E4A3B_480x480.png?v=1651804240\"\u003e\u003c\/div\u003e\n\u003ch3 data-mce-fragment=\"1\"\u003e\u003cspan style=\"color: #ff2a00;\"\u003e\u003cstrong\u003eSPECIFICATIONS\u003c\/strong\u003e\u003c\/span\u003e\u003c\/h3\u003e\n\u003cul\u003e\n\u003cli\u003e\n\u003cp\u003e\u003cspan style=\"font-weight: 400;\" data-mce-fragment=\"1\" data-mce-style=\"font-weight: 400;\"\u003e\u003cstrong\u003eMaterial\u003c\/strong\u003e: PVC+PET\u003c\/span\u003e\u003c\/p\u003e\n\u003c\/li\u003e\n\u003cli\u003e\n\u003cp\u003e\u003cspan style=\"font-weight: 400;\" data-mce-fragment=\"1\" data-mce-style=\"font-weight: 400;\"\u003e\u003cstrong\u003eStyle\u003c\/strong\u003e: Pure Frosted, 3D Colorful Stones, Imitation Louver, Peony, Frosted Stripes\u003c\/span\u003e\u003c\/p\u003e\n\u003c\/li\u003e\n\u003cli\u003e\n\u003cp\u003e\u003cspan style=\"font-weight: 400;\" data-mce-fragment=\"1\" data-mce-style=\"font-weight: 400;\"\u003e\u003cstrong\u003eThickness\u003c\/strong\u003e: 0.22-0.24mm \/ 0.0087-0.0094in\u003c\/span\u003e\u003c\/p\u003e\n\u003c\/li\u003e\n\u003cli\u003e\n\u003cp\u003e\u003cspan style=\"font-weight: 400;\" data-mce-fragment=\"1\" data-mce-style=\"font-weight: 400;\"\u003e\u003cstrong\u003eSize\u003c\/strong\u003e: 45*200cm \/ 17.7-78.7in\u003c\/span\u003e\u003c\/p\u003e\n\u003c\/li\u003e\n\u003c\/ul\u003e\n\u003ch3 data-mce-fragment=\"1\"\u003e\u003cspan style=\"color: #ff2a00;\"\u003e\u003cstrong\u003ePACKAGE INCLUDED\u003c\/strong\u003e\u003c\/span\u003e\u003c\/h3\u003e\n\u003cul\u003e\n\u003cli\u003e\u003cspan style=\"font-weight: 400;\" data-mce-fragment=\"1\" data-mce-style=\"font-weight: 400;\"\u003e1 × Imitation Blinds One-Way Perspective Glass Film\u003c\/span\u003e\u003c\/li\u003e\n\u003c\/ul\u003e"}
Adding product to your cart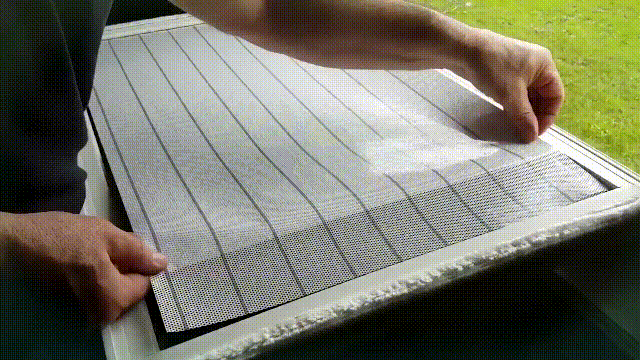 FEATURES
With a classic frosted texture and subtle pattern, this window film brings a new design touch to your home decor and adds a modern twist to your home. It is the perfect curtain and blind replacement for decorative performance.
Anti-UV, Protect Your Eyes
While blocking 84% of UVA rays and 99% of UVB rays for you and your family, it filters out glare and lets in soft light to protect your eyes. It protects your skin from harmful radiation and also prevents furniture discoloration.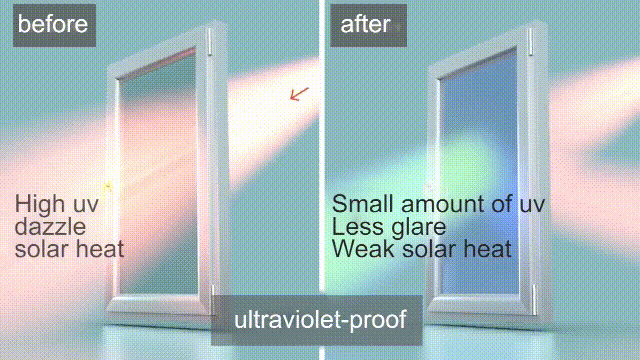 No Sticking Hassle, Easy To Install
This window vinyl is designed with non-stick and electrostatic adsorption to avoid the release of chemicals and can be easily removed without leaving any marks on the glass. If it is not damaged or dirty, you can reuse it. Remember to tear off the protective film and spray enough water.
Widely Used In Different Spaces
This product is ideal for adding decorative and functional covers to smooth glass surfaces free of dust or oil. Widely used in various places: kitchen, living room, dining room, office, hotel, classroom, lobby, etc.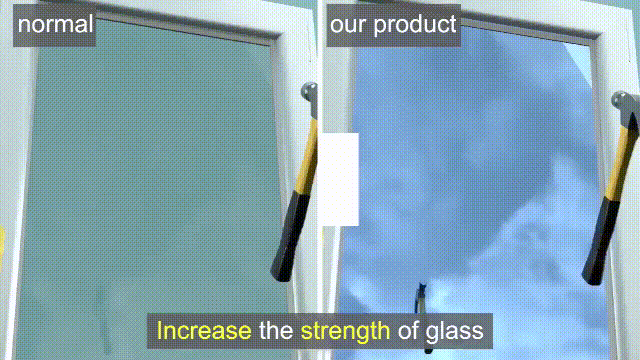 No More Annoying Staring From Neighbors
No more staring, which blurs vision and provides a peaceful and relaxing space for your children, pets and family.
SPECIFICATIONS
Material: PVC+PET

Style: Pure Frosted, 3D Colorful Stones, Imitation Louver, Peony, Frosted Stripes

Thickness: 0.22-0.24mm / 0.0087-0.0094in

Size: 45*200cm / 17.7-78.7in
PACKAGE INCLUDED
1 × Imitation Blinds One-Way Perspective Glass Film