{"id":7148468830297,"title":"Cute Cat Claw Socks","handle":"cute-cat-claw-socks","description":"\u003ch3 style=\"text-align: center;\" data-mce-style=\"text-align: center;\"\u003e\n\u003cspan style=\"color: #ff8000;\" data-mce-style=\"color: #ff8000;\"\u003e\u003cstrong\u003e🎄🎄 A practical and lovely Christmas gift!\u003cbr\u003eMake your feet warmer and cute\u003c\/strong\u003e\u003c\/span\u003e\u003cstrong\u003e\u003cspan\u003e\u003cspan style=\"color: #ff8000;\" data-mce-style=\"color: #ff8000;\"\u003e😻!\u003c\/span\u003e\u003cbr\u003e\u003cbr\u003e\u003c\/span\u003e\u003c\/strong\u003e\u003cimg class=\"sep-lazyload lazyautosizes lazyloaded\" data-sizes=\"auto\" data-src=\"https:\/\/imgv2.staticdj.com\/53d77d5283ca8065da085927a7886a5a.gif\" alt=\"\" height=\"452\" width=\"452\" sizes=\"640px\" src=\"https:\/\/imgv2.staticdj.com\/53d77d5283ca8065da085927a7886a5a.gif\" data-mce-src=\"https:\/\/imgv2.staticdj.com\/53d77d5283ca8065da085927a7886a5a.gif\"\u003e\n\u003c\/h3\u003e\n\u003cp\u003e\u003cspan style=\"color: #ff2a00;\" data-mce-style=\"color: #ff2a00;\"\u003e\u003cstrong\u003eFeature:\u003c\/strong\u003e\u003c\/span\u003e\u003c\/p\u003e\n\u003cul\u003e\n\u003cli\u003e\n\u003cspan\u003e\u003cstrong\u003eUniversal model\u003c\/strong\u003e\u003c\/span\u003e: The cat paw socks are most common size, there is no worry that the socks are too big or too small, the elasticity is good, and you can give your feet enough warmth in winter.\u003c\/li\u003e\n\u003c\/ul\u003e\n\u003cdiv\u003e\u003cimg class=\"sep-lazyload lazyautosizes lazyloaded\" data-sizes=\"auto\" alt=\"\" height=\"359\" width=\"608\" data-srcset=\"https:\/\/img.staticdj.com\/cd8f6139a503805962bc204afb228d52_1024.png 48w, https:\/\/img.staticdj.com\/cd8f6139a503805962bc204afb228d52_1024.png 180w, https:\/\/img.staticdj.com\/cd8f6139a503805962bc204afb228d52_1024.png 360w, https:\/\/img.staticdj.com\/cd8f6139a503805962bc204afb228d52_1024.png 540w, https:\/\/img.staticdj.com\/cd8f6139a503805962bc204afb228d52_1024.png 720w, https:\/\/img.staticdj.com\/cd8f6139a503805962bc204afb228d52_1024.png 900w, https:\/\/img.staticdj.com\/cd8f6139a503805962bc204afb228d52_1024.png 1024w, https:\/\/img.staticdj.com\/cd8f6139a503805962bc204afb228d52_1024.png 1280w, https:\/\/img.staticdj.com\/cd8f6139a503805962bc204afb228d52_1024.png 1366w, https:\/\/img.staticdj.com\/cd8f6139a503805962bc204afb228d52_1024.png 1440w, https:\/\/img.staticdj.com\/cd8f6139a503805962bc204afb228d52_1024.png 1536w, https:\/\/img.staticdj.com\/cd8f6139a503805962bc204afb228d52_1024.png 1600w, https:\/\/img.staticdj.com\/cd8f6139a503805962bc204afb228d52_1024.png 1920w, https:\/\/img.staticdj.com\/cd8f6139a503805962bc204afb228d52_1024.png 2056w, https:\/\/img.staticdj.com\/cd8f6139a503805962bc204afb228d52_1024.png 2560w, https:\/\/img.staticdj.com\/cd8f6139a503805962bc204afb228d52_1024.png 2732w, https:\/\/img.staticdj.com\/cd8f6139a503805962bc204afb228d52_1024.png 2880w, https:\/\/img.staticdj.com\/cd8f6139a503805962bc204afb228d52_1024.png 3072w, https:\/\/img.staticdj.com\/cd8f6139a503805962bc204afb228d52_1024.png 3200w, https:\/\/img.staticdj.com\/cd8f6139a503805962bc204afb228d52_1024.png 3840w\" sizes=\"608px\" srcset=\"https:\/\/img.staticdj.com\/cd8f6139a503805962bc204afb228d52_1024.png 48w, https:\/\/img.staticdj.com\/cd8f6139a503805962bc204afb228d52_1024.png 180w, https:\/\/img.staticdj.com\/cd8f6139a503805962bc204afb228d52_1024.png 360w, https:\/\/img.staticdj.com\/cd8f6139a503805962bc204afb228d52_1024.png 540w, https:\/\/img.staticdj.com\/cd8f6139a503805962bc204afb228d52_1024.png 720w, https:\/\/img.staticdj.com\/cd8f6139a503805962bc204afb228d52_1024.png 900w, https:\/\/img.staticdj.com\/cd8f6139a503805962bc204afb228d52_1024.png 1024w, https:\/\/img.staticdj.com\/cd8f6139a503805962bc204afb228d52_1024.png 1280w, https:\/\/img.staticdj.com\/cd8f6139a503805962bc204afb228d52_1024.png 1366w, https:\/\/img.staticdj.com\/cd8f6139a503805962bc204afb228d52_1024.png 1440w, https:\/\/img.staticdj.com\/cd8f6139a503805962bc204afb228d52_1024.png 1536w, https:\/\/img.staticdj.com\/cd8f6139a503805962bc204afb228d52_1024.png 1600w, https:\/\/img.staticdj.com\/cd8f6139a503805962bc204afb228d52_1024.png 1920w, https:\/\/img.staticdj.com\/cd8f6139a503805962bc204afb228d52_1024.png 2056w, https:\/\/img.staticdj.com\/cd8f6139a503805962bc204afb228d52_1024.png 2560w, https:\/\/img.staticdj.com\/cd8f6139a503805962bc204afb228d52_1024.png 2732w, https:\/\/img.staticdj.com\/cd8f6139a503805962bc204afb228d52_1024.png 2880w, https:\/\/img.staticdj.com\/cd8f6139a503805962bc204afb228d52_1024.png 3072w, https:\/\/img.staticdj.com\/cd8f6139a503805962bc204afb228d52_1024.png 3200w, https:\/\/img.staticdj.com\/cd8f6139a503805962bc204afb228d52_1024.png 3840w\"\u003e\u003c\/div\u003e\n\u003cul\u003e\n\u003cli\u003e\n\u003cspan\u003e\u003cstrong\u003eUnique style design\u003c\/strong\u003e\u003c\/span\u003e: Different styles of ankles, with 6 styles. Meet the preferences and aesthetics of most people.\u003c\/li\u003e\n\u003c\/ul\u003e\n\u003cdiv\u003e\u003cimg class=\"sep-lazyload lazyautosizes lazyloaded\" data-sizes=\"auto\" alt=\"\" height=\"589\" width=\"589\" data-srcset=\"https:\/\/imgv2.staticdj.com\/8d2cb8614ea0d805cafd17a1e5269320_900.jpg 48w, https:\/\/imgv2.staticdj.com\/8d2cb8614ea0d805cafd17a1e5269320_900.jpg 180w, https:\/\/imgv2.staticdj.com\/8d2cb8614ea0d805cafd17a1e5269320_900.jpg 360w, https:\/\/imgv2.staticdj.com\/8d2cb8614ea0d805cafd17a1e5269320_900.jpg 540w, https:\/\/imgv2.staticdj.com\/8d2cb8614ea0d805cafd17a1e5269320_900.jpg 720w, https:\/\/imgv2.staticdj.com\/8d2cb8614ea0d805cafd17a1e5269320_900.jpg 900w, https:\/\/imgv2.staticdj.com\/8d2cb8614ea0d805cafd17a1e5269320_900.jpg 1024w, https:\/\/imgv2.staticdj.com\/8d2cb8614ea0d805cafd17a1e5269320_900.jpg 1280w, https:\/\/imgv2.staticdj.com\/8d2cb8614ea0d805cafd17a1e5269320_900.jpg 1366w, https:\/\/imgv2.staticdj.com\/8d2cb8614ea0d805cafd17a1e5269320_900.jpg 1440w, https:\/\/imgv2.staticdj.com\/8d2cb8614ea0d805cafd17a1e5269320_900.jpg 1536w, https:\/\/imgv2.staticdj.com\/8d2cb8614ea0d805cafd17a1e5269320_900.jpg 1600w, https:\/\/imgv2.staticdj.com\/8d2cb8614ea0d805cafd17a1e5269320_900.jpg 1920w, https:\/\/imgv2.staticdj.com\/8d2cb8614ea0d805cafd17a1e5269320_900.jpg 2056w, https:\/\/imgv2.staticdj.com\/8d2cb8614ea0d805cafd17a1e5269320_900.jpg 2560w, https:\/\/imgv2.staticdj.com\/8d2cb8614ea0d805cafd17a1e5269320_900.jpg 2732w, https:\/\/imgv2.staticdj.com\/8d2cb8614ea0d805cafd17a1e5269320_900.jpg 2880w, https:\/\/imgv2.staticdj.com\/8d2cb8614ea0d805cafd17a1e5269320_900.jpg 3072w, https:\/\/imgv2.staticdj.com\/8d2cb8614ea0d805cafd17a1e5269320_900.jpg 3200w, https:\/\/imgv2.staticdj.com\/8d2cb8614ea0d805cafd17a1e5269320_900.jpg 3840w\" sizes=\"589px\" srcset=\"https:\/\/imgv2.staticdj.com\/8d2cb8614ea0d805cafd17a1e5269320_900.jpg 48w, https:\/\/imgv2.staticdj.com\/8d2cb8614ea0d805cafd17a1e5269320_900.jpg 180w, https:\/\/imgv2.staticdj.com\/8d2cb8614ea0d805cafd17a1e5269320_900.jpg 360w, https:\/\/imgv2.staticdj.com\/8d2cb8614ea0d805cafd17a1e5269320_900.jpg 540w, https:\/\/imgv2.staticdj.com\/8d2cb8614ea0d805cafd17a1e5269320_900.jpg 720w, https:\/\/imgv2.staticdj.com\/8d2cb8614ea0d805cafd17a1e5269320_900.jpg 900w, https:\/\/imgv2.staticdj.com\/8d2cb8614ea0d805cafd17a1e5269320_900.jpg 1024w, https:\/\/imgv2.staticdj.com\/8d2cb8614ea0d805cafd17a1e5269320_900.jpg 1280w, https:\/\/imgv2.staticdj.com\/8d2cb8614ea0d805cafd17a1e5269320_900.jpg 1366w, https:\/\/imgv2.staticdj.com\/8d2cb8614ea0d805cafd17a1e5269320_900.jpg 1440w, https:\/\/imgv2.staticdj.com\/8d2cb8614ea0d805cafd17a1e5269320_900.jpg 1536w, https:\/\/imgv2.staticdj.com\/8d2cb8614ea0d805cafd17a1e5269320_900.jpg 1600w, https:\/\/imgv2.staticdj.com\/8d2cb8614ea0d805cafd17a1e5269320_900.jpg 1920w, https:\/\/imgv2.staticdj.com\/8d2cb8614ea0d805cafd17a1e5269320_900.jpg 2056w, https:\/\/imgv2.staticdj.com\/8d2cb8614ea0d805cafd17a1e5269320_900.jpg 2560w, https:\/\/imgv2.staticdj.com\/8d2cb8614ea0d805cafd17a1e5269320_900.jpg 2732w, https:\/\/imgv2.staticdj.com\/8d2cb8614ea0d805cafd17a1e5269320_900.jpg 2880w, https:\/\/imgv2.staticdj.com\/8d2cb8614ea0d805cafd17a1e5269320_900.jpg 3072w, https:\/\/imgv2.staticdj.com\/8d2cb8614ea0d805cafd17a1e5269320_900.jpg 3200w, https:\/\/imgv2.staticdj.com\/8d2cb8614ea0d805cafd17a1e5269320_900.jpg 3840w\"\u003e\u003c\/div\u003e\n\u003cul\u003e\n\u003cli\u003e\n\u003cspan\u003e\u003cstrong\u003eIngenious little gifts\u003c\/strong\u003e\u003c\/span\u003e: Can be given as a holiday or birthday gift to classmates, friends, parents, daughters... are good choices.\u003c\/li\u003e\n\u003c\/ul\u003e\n\u003cdiv\u003e\u003cimg class=\"sep-lazyload lazyautosizes lazyloaded\" data-sizes=\"auto\" alt=\"\" height=\"596\" width=\"596\" data-srcset=\"https:\/\/imgv2.staticdj.com\/2ac9835273e9011534c97f0d56b93a1a_900.jpg 48w, https:\/\/imgv2.staticdj.com\/2ac9835273e9011534c97f0d56b93a1a_900.jpg 180w, https:\/\/imgv2.staticdj.com\/2ac9835273e9011534c97f0d56b93a1a_900.jpg 360w, https:\/\/imgv2.staticdj.com\/2ac9835273e9011534c97f0d56b93a1a_900.jpg 540w, https:\/\/imgv2.staticdj.com\/2ac9835273e9011534c97f0d56b93a1a_900.jpg 720w, https:\/\/imgv2.staticdj.com\/2ac9835273e9011534c97f0d56b93a1a_900.jpg 900w, https:\/\/imgv2.staticdj.com\/2ac9835273e9011534c97f0d56b93a1a_900.jpg 1024w, https:\/\/imgv2.staticdj.com\/2ac9835273e9011534c97f0d56b93a1a_900.jpg 1280w, https:\/\/imgv2.staticdj.com\/2ac9835273e9011534c97f0d56b93a1a_900.jpg 1366w, https:\/\/imgv2.staticdj.com\/2ac9835273e9011534c97f0d56b93a1a_900.jpg 1440w, https:\/\/imgv2.staticdj.com\/2ac9835273e9011534c97f0d56b93a1a_900.jpg 1536w, https:\/\/imgv2.staticdj.com\/2ac9835273e9011534c97f0d56b93a1a_900.jpg 1600w, https:\/\/imgv2.staticdj.com\/2ac9835273e9011534c97f0d56b93a1a_900.jpg 1920w, https:\/\/imgv2.staticdj.com\/2ac9835273e9011534c97f0d56b93a1a_900.jpg 2056w, https:\/\/imgv2.staticdj.com\/2ac9835273e9011534c97f0d56b93a1a_900.jpg 2560w, https:\/\/imgv2.staticdj.com\/2ac9835273e9011534c97f0d56b93a1a_900.jpg 2732w, https:\/\/imgv2.staticdj.com\/2ac9835273e9011534c97f0d56b93a1a_900.jpg 2880w, https:\/\/imgv2.staticdj.com\/2ac9835273e9011534c97f0d56b93a1a_900.jpg 3072w, https:\/\/imgv2.staticdj.com\/2ac9835273e9011534c97f0d56b93a1a_900.jpg 3200w, https:\/\/imgv2.staticdj.com\/2ac9835273e9011534c97f0d56b93a1a_900.jpg 3840w\" sizes=\"596px\" srcset=\"https:\/\/imgv2.staticdj.com\/2ac9835273e9011534c97f0d56b93a1a_900.jpg 48w, https:\/\/imgv2.staticdj.com\/2ac9835273e9011534c97f0d56b93a1a_900.jpg 180w, https:\/\/imgv2.staticdj.com\/2ac9835273e9011534c97f0d56b93a1a_900.jpg 360w, https:\/\/imgv2.staticdj.com\/2ac9835273e9011534c97f0d56b93a1a_900.jpg 540w, https:\/\/imgv2.staticdj.com\/2ac9835273e9011534c97f0d56b93a1a_900.jpg 720w, https:\/\/imgv2.staticdj.com\/2ac9835273e9011534c97f0d56b93a1a_900.jpg 900w, https:\/\/imgv2.staticdj.com\/2ac9835273e9011534c97f0d56b93a1a_900.jpg 1024w, https:\/\/imgv2.staticdj.com\/2ac9835273e9011534c97f0d56b93a1a_900.jpg 1280w, https:\/\/imgv2.staticdj.com\/2ac9835273e9011534c97f0d56b93a1a_900.jpg 1366w, https:\/\/imgv2.staticdj.com\/2ac9835273e9011534c97f0d56b93a1a_900.jpg 1440w, https:\/\/imgv2.staticdj.com\/2ac9835273e9011534c97f0d56b93a1a_900.jpg 1536w, https:\/\/imgv2.staticdj.com\/2ac9835273e9011534c97f0d56b93a1a_900.jpg 1600w, https:\/\/imgv2.staticdj.com\/2ac9835273e9011534c97f0d56b93a1a_900.jpg 1920w, https:\/\/imgv2.staticdj.com\/2ac9835273e9011534c97f0d56b93a1a_900.jpg 2056w, https:\/\/imgv2.staticdj.com\/2ac9835273e9011534c97f0d56b93a1a_900.jpg 2560w, https:\/\/imgv2.staticdj.com\/2ac9835273e9011534c97f0d56b93a1a_900.jpg 2732w, https:\/\/imgv2.staticdj.com\/2ac9835273e9011534c97f0d56b93a1a_900.jpg 2880w, https:\/\/imgv2.staticdj.com\/2ac9835273e9011534c97f0d56b93a1a_900.jpg 3072w, https:\/\/imgv2.staticdj.com\/2ac9835273e9011534c97f0d56b93a1a_900.jpg 3200w, https:\/\/imgv2.staticdj.com\/2ac9835273e9011534c97f0d56b93a1a_900.jpg 3840w\"\u003e\u003c\/div\u003e\n\u003cul\u003e\n\u003cli\u003eThe material is\u003cspan\u003e \u003c\/span\u003e\u003cspan\u003e\u003cstrong\u003eeasy to clean\u003c\/strong\u003e\u003c\/span\u003e.\u003c\/li\u003e\n\u003cli\u003eYou can match them with\u003cspan\u003e \u003c\/span\u003e\u003cspan\u003e\u003cstrong\u003eany of your favorite outfits\u003c\/strong\u003e\u003c\/span\u003e.\u003c\/li\u003e\n\u003c\/ul\u003e\n\u003cdiv\u003e\u003cimg class=\"sep-lazyload lazyautosizes lazyloaded\" data-sizes=\"auto\" alt=\"\" height=\"596\" width=\"596\" data-srcset=\"https:\/\/imgv2.staticdj.com\/b68ac2df1e55279f8b4f4a53aa2efb93_900.jpg 48w, https:\/\/imgv2.staticdj.com\/b68ac2df1e55279f8b4f4a53aa2efb93_900.jpg 180w, https:\/\/imgv2.staticdj.com\/b68ac2df1e55279f8b4f4a53aa2efb93_900.jpg 360w, https:\/\/imgv2.staticdj.com\/b68ac2df1e55279f8b4f4a53aa2efb93_900.jpg 540w, https:\/\/imgv2.staticdj.com\/b68ac2df1e55279f8b4f4a53aa2efb93_900.jpg 720w, https:\/\/imgv2.staticdj.com\/b68ac2df1e55279f8b4f4a53aa2efb93_900.jpg 900w, https:\/\/imgv2.staticdj.com\/b68ac2df1e55279f8b4f4a53aa2efb93_900.jpg 1024w, https:\/\/imgv2.staticdj.com\/b68ac2df1e55279f8b4f4a53aa2efb93_900.jpg 1280w, https:\/\/imgv2.staticdj.com\/b68ac2df1e55279f8b4f4a53aa2efb93_900.jpg 1366w, https:\/\/imgv2.staticdj.com\/b68ac2df1e55279f8b4f4a53aa2efb93_900.jpg 1440w, https:\/\/imgv2.staticdj.com\/b68ac2df1e55279f8b4f4a53aa2efb93_900.jpg 1536w, https:\/\/imgv2.staticdj.com\/b68ac2df1e55279f8b4f4a53aa2efb93_900.jpg 1600w, https:\/\/imgv2.staticdj.com\/b68ac2df1e55279f8b4f4a53aa2efb93_900.jpg 1920w, https:\/\/imgv2.staticdj.com\/b68ac2df1e55279f8b4f4a53aa2efb93_900.jpg 2056w, https:\/\/imgv2.staticdj.com\/b68ac2df1e55279f8b4f4a53aa2efb93_900.jpg 2560w, https:\/\/imgv2.staticdj.com\/b68ac2df1e55279f8b4f4a53aa2efb93_900.jpg 2732w, https:\/\/imgv2.staticdj.com\/b68ac2df1e55279f8b4f4a53aa2efb93_900.jpg 2880w, https:\/\/imgv2.staticdj.com\/b68ac2df1e55279f8b4f4a53aa2efb93_900.jpg 3072w, https:\/\/imgv2.staticdj.com\/b68ac2df1e55279f8b4f4a53aa2efb93_900.jpg 3200w, https:\/\/imgv2.staticdj.com\/b68ac2df1e55279f8b4f4a53aa2efb93_900.jpg 3840w\" sizes=\"596px\" srcset=\"https:\/\/imgv2.staticdj.com\/b68ac2df1e55279f8b4f4a53aa2efb93_900.jpg 48w, https:\/\/imgv2.staticdj.com\/b68ac2df1e55279f8b4f4a53aa2efb93_900.jpg 180w, https:\/\/imgv2.staticdj.com\/b68ac2df1e55279f8b4f4a53aa2efb93_900.jpg 360w, https:\/\/imgv2.staticdj.com\/b68ac2df1e55279f8b4f4a53aa2efb93_900.jpg 540w, https:\/\/imgv2.staticdj.com\/b68ac2df1e55279f8b4f4a53aa2efb93_900.jpg 720w, https:\/\/imgv2.staticdj.com\/b68ac2df1e55279f8b4f4a53aa2efb93_900.jpg 900w, https:\/\/imgv2.staticdj.com\/b68ac2df1e55279f8b4f4a53aa2efb93_900.jpg 1024w, https:\/\/imgv2.staticdj.com\/b68ac2df1e55279f8b4f4a53aa2efb93_900.jpg 1280w, https:\/\/imgv2.staticdj.com\/b68ac2df1e55279f8b4f4a53aa2efb93_900.jpg 1366w, https:\/\/imgv2.staticdj.com\/b68ac2df1e55279f8b4f4a53aa2efb93_900.jpg 1440w, https:\/\/imgv2.staticdj.com\/b68ac2df1e55279f8b4f4a53aa2efb93_900.jpg 1536w, https:\/\/imgv2.staticdj.com\/b68ac2df1e55279f8b4f4a53aa2efb93_900.jpg 1600w, https:\/\/imgv2.staticdj.com\/b68ac2df1e55279f8b4f4a53aa2efb93_900.jpg 1920w, https:\/\/imgv2.staticdj.com\/b68ac2df1e55279f8b4f4a53aa2efb93_900.jpg 2056w, https:\/\/imgv2.staticdj.com\/b68ac2df1e55279f8b4f4a53aa2efb93_900.jpg 2560w, https:\/\/imgv2.staticdj.com\/b68ac2df1e55279f8b4f4a53aa2efb93_900.jpg 2732w, https:\/\/imgv2.staticdj.com\/b68ac2df1e55279f8b4f4a53aa2efb93_900.jpg 2880w, https:\/\/imgv2.staticdj.com\/b68ac2df1e55279f8b4f4a53aa2efb93_900.jpg 3072w, https:\/\/imgv2.staticdj.com\/b68ac2df1e55279f8b4f4a53aa2efb93_900.jpg 3200w, https:\/\/imgv2.staticdj.com\/b68ac2df1e55279f8b4f4a53aa2efb93_900.jpg 3840w\"\u003e\u003c\/div\u003e\n\u003cul\u003e\u003c\/ul\u003e\n\u003cp class=\"p1\"\u003e\u003cspan style=\"color: #ff2a00;\" data-mce-style=\"color: #ff2a00;\"\u003e\u003cstrong\u003e\u003cspan class=\"s2\"\u003eDESCRIPTION\u003c\/span\u003e\u003c\/strong\u003e\u003c\/span\u003e\u003c\/p\u003e\n\u003cul\u003e\n\u003cli\u003e\u003cstrong\u003e\u003cspan class=\"s2\"\u003eImpress your friends and family with these cat socks that not only look super cute but will also keep your feet warm during winter\u003c\/span\u003e\u003cspan class=\"s1\"\u003e🔥🥰\u003c\/span\u003e\u003cspan class=\"s2\"\u003e!\u003c\/span\u003e\u003c\/strong\u003e\u003c\/li\u003e\n\u003c\/ul\u003e\n\u003cul\u003e\n\u003cli\u003e\u003cstrong\u003e\u003cspan class=\"s2\"\u003eThese Socks are the perfect gift for every Cat lover\u003c\/span\u003e\u003cspan class=\"s1\"\u003e🎁🐱\u003c\/span\u003e\u003cspan class=\"s2\"\u003e. They are super comfy and make a lot of fun\u003c\/span\u003e\u003cspan class=\"s1\"\u003e😃\u003c\/span\u003e\u003c\/strong\u003e\u003c\/li\u003e\n\u003c\/ul\u003e\n\u003cp class=\"p1\"\u003e\u003cspan class=\"s1\"\u003e\u003cstrong\u003e\u003cspan class=\"a-list-item\"\u003e\u003cimg height=\"393\" width=\"393\" alt=\"\" src=\"https:\/\/cdn.shopify.com\/s\/files\/1\/0251\/3636\/5628\/files\/12281679049_100505517_480x480.jpg?v=1572840062\" data-mce-src=\"https:\/\/cdn.shopify.com\/s\/files\/1\/0251\/3636\/5628\/files\/12281679049_100505517_480x480.jpg?v=1572840062\"\u003e\u003c\/span\u003e\u003c\/strong\u003e\u003c\/span\u003e\u003c\/p\u003e\n\u003cul class=\"a-unordered-list a-vertical a-spacing-none\"\u003e\n\u003cli\u003e\u003cstrong\u003e\u003cspan class=\"s2\"\u003eWarm Feet During Winter\u003c\/span\u003e\u003cspan class=\"s1\"\u003e🔥\u003c\/span\u003e\u003c\/strong\u003e\u003c\/li\u003e\n\u003cli\u003e\u003cstrong\u003e\u003cspan class=\"s2\"\u003eMaterial: Cotton\u003c\/span\u003e\u003cspan class=\"s1\"\u003e🧵\u003c\/span\u003e\u003c\/strong\u003e\u003c\/li\u003e\n\u003cli\u003e\u003cstrong\u003e\u003cspan class=\"s2\"\u003eAwesome Design\u003c\/span\u003e\u003cspan class=\"s1\"\u003e😍\u003c\/span\u003e\u003c\/strong\u003e\u003c\/li\u003e\n\u003cli\u003e\u003cstrong\u003e\u003cspan class=\"s2\"\u003eSuper Cute\u003c\/span\u003e\u003cspan class=\"s1\"\u003e🥰\u003c\/span\u003e\u003c\/strong\u003e\u003c\/li\u003e\n\u003cli\u003e\u003cstrong\u003e\u003cspan class=\"s4\"\u003eVery Soft and Comfy to wear\u003c\/span\u003e\u003cspan class=\"s5\"\u003e😎\u003c\/span\u003e\u003c\/strong\u003e\u003c\/li\u003e\n\u003cli\u003e\n\u003ch4\u003e\n\u003cstrong\u003e\u003cspan class=\"a-list-item\"\u003eAvailable in\u003cspan\u003e 6 colors\u003c\/span\u003e:\u003cspan\u003e \u003c\/span\u003eCROSSBAR BLACK,STRIP GRAY,DOT KHAKI,\u003c\/span\u003e\u003c\/strong\u003e\u003cstrong\u003e\u003cspan class=\"a-list-item\"\u003eDOT BLACK\u003c\/span\u003e\u003c\/strong\u003e\u003cstrong\u003e\u003cspan class=\"a-list-item\"\u003e,\u003cspan\u003eFLAT BLACK\u003c\/span\u003e,\u003cspan\u003eFLAT \u003c\/span\u003e\u003c\/span\u003e\u003c\/strong\u003e\u003cstrong\u003e\u003cspan class=\"a-list-item\"\u003eKHAKI.\u003cspan class=\"s1\"\u003e😍\u003c\/span\u003e\u003c\/span\u003e\u003c\/strong\u003e\n\u003c\/h4\u003e\n\u003c\/li\u003e\n\u003c\/ul\u003e\n\u003cp\u003e\u003cstrong style=\"color: #ff8000;\"\u003e🎁PACKAGE INCLUDED:\u003c\/strong\u003e\u003cbr\u003e\u003c\/p\u003e\n\u003cul\u003e\n\u003cli\u003e\u003cstrong\u003e1 pair \/3 pairs\u003cspan\u003e \u003c\/span\u003e\/6 pairs x Cute Cat Claw Socks\u003c\/strong\u003e\u003c\/li\u003e\n\u003c\/ul\u003e","published_at":"2022-09-12T16:54:43-10:00","created_at":"2022-09-12T16:54:53-10:00","vendor":"Suerteyay","type":"","tags":[],"price":699,"price_min":699,"price_max":1899,"available":true,"price_varies":true,"compare_at_price":1399,"compare_at_price_min":1399,"compare_at_price_max":3798,"compare_at_price_varies":true,"variants":[{"id":40213851603033,"title":"1 set(six colors)","option1":"1 set(six colors)","option2":null,"option3":null,"sku":"HT353-15","requires_shipping":true,"taxable":false,"featured_image":{"id":30244153655385,"product_id":7148468830297,"position":3,"created_at":"2022-09-12T16:54:53-10:00","updated_at":"2022-09-12T16:54:53-10:00","alt":null,"width":800,"height":800,"src":"\/\/www.suerteyay.com\/cdn\/shop\/products\/2_eeeef6a6-274a-4b74-991f-ef383dbc6ff0.jpg?v=1663037693","variant_ids":[40213851603033]},"available":true,"name":"Cute Cat Claw Socks - 1 set(six colors)","public_title":"1 set(six colors)","options":["1 set(six colors)"],"price":1899,"weight":0,"compare_at_price":3798,"inventory_management":null,"barcode":null,"featured_media":{"alt":null,"id":22784854425689,"position":3,"preview_image":{"aspect_ratio":1.0,"height":800,"width":800,"src":"\/\/www.suerteyay.com\/cdn\/shop\/products\/2_eeeef6a6-274a-4b74-991f-ef383dbc6ff0.jpg?v=1663037693"}},"requires_selling_plan":false,"selling_plan_allocations":[],"quantity_rule":{"min":1,"max":null,"increment":1}},{"id":40213851537497,"title":"1*STRIP GREY + 1*DOT KHAKI + 1*FLAT BLACK","option1":"1*STRIP GREY + 1*DOT KHAKI + 1*FLAT BLACK","option2":null,"option3":null,"sku":"HT353-13","requires_shipping":true,"taxable":false,"featured_image":null,"available":true,"name":"Cute Cat Claw Socks - 1*STRIP GREY + 1*DOT KHAKI + 1*FLAT BLACK","public_title":"1*STRIP GREY + 1*DOT KHAKI + 1*FLAT BLACK","options":["1*STRIP GREY + 1*DOT KHAKI + 1*FLAT BLACK"],"price":1399,"weight":0,"compare_at_price":2798,"inventory_management":null,"barcode":null,"requires_selling_plan":false,"selling_plan_allocations":[],"quantity_rule":{"min":1,"max":null,"increment":1}},{"id":40213851570265,"title":"1*CROSSBAR BLACK + 1*DOT BLACK + 1*FLAT KHAKI","option1":"1*CROSSBAR BLACK + 1*DOT BLACK + 1*FLAT KHAKI","option2":null,"option3":null,"sku":"HT353-14","requires_shipping":true,"taxable":false,"featured_image":null,"available":true,"name":"Cute Cat Claw Socks - 1*CROSSBAR BLACK + 1*DOT BLACK + 1*FLAT KHAKI","public_title":"1*CROSSBAR BLACK + 1*DOT BLACK + 1*FLAT KHAKI","options":["1*CROSSBAR BLACK + 1*DOT BLACK + 1*FLAT KHAKI"],"price":1399,"weight":0,"compare_at_price":2798,"inventory_management":null,"barcode":null,"requires_selling_plan":false,"selling_plan_allocations":[],"quantity_rule":{"min":1,"max":null,"increment":1}},{"id":40213851340889,"title":"CROSSBAR BLACK","option1":"CROSSBAR BLACK","option2":null,"option3":null,"sku":"HT353-01","requires_shipping":true,"taxable":false,"featured_image":{"id":30244153753689,"product_id":7148468830297,"position":5,"created_at":"2022-09-12T16:54:53-10:00","updated_at":"2022-09-12T16:54:53-10:00","alt":null,"width":800,"height":800,"src":"\/\/www.suerteyay.com\/cdn\/shop\/products\/4_c0f8583a-f30a-4fca-8003-d65b201c4ed8.jpg?v=1663037693","variant_ids":[40213851340889,40213851373657,40213851406425,40213851439193,40213851471961,40213851504729]},"available":true,"name":"Cute Cat Claw Socks - CROSSBAR BLACK","public_title":"CROSSBAR BLACK","options":["CROSSBAR BLACK"],"price":699,"weight":0,"compare_at_price":1399,"inventory_management":null,"barcode":null,"featured_media":{"alt":null,"id":22784854491225,"position":5,"preview_image":{"aspect_ratio":1.0,"height":800,"width":800,"src":"\/\/www.suerteyay.com\/cdn\/shop\/products\/4_c0f8583a-f30a-4fca-8003-d65b201c4ed8.jpg?v=1663037693"}},"requires_selling_plan":false,"selling_plan_allocations":[],"quantity_rule":{"min":1,"max":null,"increment":1}},{"id":40213851373657,"title":"STRIP GRAY","option1":"STRIP GRAY","option2":null,"option3":null,"sku":"HT353-02","requires_shipping":true,"taxable":false,"featured_image":{"id":30244153753689,"product_id":7148468830297,"position":5,"created_at":"2022-09-12T16:54:53-10:00","updated_at":"2022-09-12T16:54:53-10:00","alt":null,"width":800,"height":800,"src":"\/\/www.suerteyay.com\/cdn\/shop\/products\/4_c0f8583a-f30a-4fca-8003-d65b201c4ed8.jpg?v=1663037693","variant_ids":[40213851340889,40213851373657,40213851406425,40213851439193,40213851471961,40213851504729]},"available":true,"name":"Cute Cat Claw Socks - STRIP GRAY","public_title":"STRIP GRAY","options":["STRIP GRAY"],"price":699,"weight":0,"compare_at_price":1399,"inventory_management":null,"barcode":null,"featured_media":{"alt":null,"id":22784854491225,"position":5,"preview_image":{"aspect_ratio":1.0,"height":800,"width":800,"src":"\/\/www.suerteyay.com\/cdn\/shop\/products\/4_c0f8583a-f30a-4fca-8003-d65b201c4ed8.jpg?v=1663037693"}},"requires_selling_plan":false,"selling_plan_allocations":[],"quantity_rule":{"min":1,"max":null,"increment":1}},{"id":40213851406425,"title":"DOT BLACK","option1":"DOT BLACK","option2":null,"option3":null,"sku":"HT353-03","requires_shipping":true,"taxable":false,"featured_image":{"id":30244153753689,"product_id":7148468830297,"position":5,"created_at":"2022-09-12T16:54:53-10:00","updated_at":"2022-09-12T16:54:53-10:00","alt":null,"width":800,"height":800,"src":"\/\/www.suerteyay.com\/cdn\/shop\/products\/4_c0f8583a-f30a-4fca-8003-d65b201c4ed8.jpg?v=1663037693","variant_ids":[40213851340889,40213851373657,40213851406425,40213851439193,40213851471961,40213851504729]},"available":true,"name":"Cute Cat Claw Socks - DOT BLACK","public_title":"DOT BLACK","options":["DOT BLACK"],"price":699,"weight":0,"compare_at_price":1399,"inventory_management":null,"barcode":null,"featured_media":{"alt":null,"id":22784854491225,"position":5,"preview_image":{"aspect_ratio":1.0,"height":800,"width":800,"src":"\/\/www.suerteyay.com\/cdn\/shop\/products\/4_c0f8583a-f30a-4fca-8003-d65b201c4ed8.jpg?v=1663037693"}},"requires_selling_plan":false,"selling_plan_allocations":[],"quantity_rule":{"min":1,"max":null,"increment":1}},{"id":40213851439193,"title":"DOT KHAKI","option1":"DOT KHAKI","option2":null,"option3":null,"sku":"HT353-04","requires_shipping":true,"taxable":false,"featured_image":{"id":30244153753689,"product_id":7148468830297,"position":5,"created_at":"2022-09-12T16:54:53-10:00","updated_at":"2022-09-12T16:54:53-10:00","alt":null,"width":800,"height":800,"src":"\/\/www.suerteyay.com\/cdn\/shop\/products\/4_c0f8583a-f30a-4fca-8003-d65b201c4ed8.jpg?v=1663037693","variant_ids":[40213851340889,40213851373657,40213851406425,40213851439193,40213851471961,40213851504729]},"available":true,"name":"Cute Cat Claw Socks - DOT KHAKI","public_title":"DOT KHAKI","options":["DOT KHAKI"],"price":699,"weight":0,"compare_at_price":1399,"inventory_management":null,"barcode":null,"featured_media":{"alt":null,"id":22784854491225,"position":5,"preview_image":{"aspect_ratio":1.0,"height":800,"width":800,"src":"\/\/www.suerteyay.com\/cdn\/shop\/products\/4_c0f8583a-f30a-4fca-8003-d65b201c4ed8.jpg?v=1663037693"}},"requires_selling_plan":false,"selling_plan_allocations":[],"quantity_rule":{"min":1,"max":null,"increment":1}},{"id":40213851471961,"title":"FLAT BLACK","option1":"FLAT BLACK","option2":null,"option3":null,"sku":"HT353-05","requires_shipping":true,"taxable":false,"featured_image":{"id":30244153753689,"product_id":7148468830297,"position":5,"created_at":"2022-09-12T16:54:53-10:00","updated_at":"2022-09-12T16:54:53-10:00","alt":null,"width":800,"height":800,"src":"\/\/www.suerteyay.com\/cdn\/shop\/products\/4_c0f8583a-f30a-4fca-8003-d65b201c4ed8.jpg?v=1663037693","variant_ids":[40213851340889,40213851373657,40213851406425,40213851439193,40213851471961,40213851504729]},"available":true,"name":"Cute Cat Claw Socks - FLAT BLACK","public_title":"FLAT BLACK","options":["FLAT BLACK"],"price":699,"weight":0,"compare_at_price":1399,"inventory_management":null,"barcode":null,"featured_media":{"alt":null,"id":22784854491225,"position":5,"preview_image":{"aspect_ratio":1.0,"height":800,"width":800,"src":"\/\/www.suerteyay.com\/cdn\/shop\/products\/4_c0f8583a-f30a-4fca-8003-d65b201c4ed8.jpg?v=1663037693"}},"requires_selling_plan":false,"selling_plan_allocations":[],"quantity_rule":{"min":1,"max":null,"increment":1}},{"id":40213851504729,"title":"FLAT KHAKI","option1":"FLAT KHAKI","option2":null,"option3":null,"sku":"HT353-06","requires_shipping":true,"taxable":false,"featured_image":{"id":30244153753689,"product_id":7148468830297,"position":5,"created_at":"2022-09-12T16:54:53-10:00","updated_at":"2022-09-12T16:54:53-10:00","alt":null,"width":800,"height":800,"src":"\/\/www.suerteyay.com\/cdn\/shop\/products\/4_c0f8583a-f30a-4fca-8003-d65b201c4ed8.jpg?v=1663037693","variant_ids":[40213851340889,40213851373657,40213851406425,40213851439193,40213851471961,40213851504729]},"available":true,"name":"Cute Cat Claw Socks - FLAT KHAKI","public_title":"FLAT KHAKI","options":["FLAT KHAKI"],"price":699,"weight":0,"compare_at_price":1399,"inventory_management":null,"barcode":null,"featured_media":{"alt":null,"id":22784854491225,"position":5,"preview_image":{"aspect_ratio":1.0,"height":800,"width":800,"src":"\/\/www.suerteyay.com\/cdn\/shop\/products\/4_c0f8583a-f30a-4fca-8003-d65b201c4ed8.jpg?v=1663037693"}},"requires_selling_plan":false,"selling_plan_allocations":[],"quantity_rule":{"min":1,"max":null,"increment":1}}],"images":["\/\/www.suerteyay.com\/cdn\/shop\/products\/7_97c9b88e-7b6c-4c11-be7c-cb07b255fd38.jpg?v=1663037693","\/\/www.suerteyay.com\/cdn\/shop\/products\/1_cff40193-a92c-42be-bdf5-2df3557cdbb8.jpg?v=1663037693","\/\/www.suerteyay.com\/cdn\/shop\/products\/2_eeeef6a6-274a-4b74-991f-ef383dbc6ff0.jpg?v=1663037693","\/\/www.suerteyay.com\/cdn\/shop\/products\/3_598a54b5-c6f6-4665-bced-a9a2680b0102.jpg?v=1663037693","\/\/www.suerteyay.com\/cdn\/shop\/products\/4_c0f8583a-f30a-4fca-8003-d65b201c4ed8.jpg?v=1663037693","\/\/www.suerteyay.com\/cdn\/shop\/products\/5_86cc9641-5bec-4efa-bc77-bc5307d17841.jpg?v=1663037693","\/\/www.suerteyay.com\/cdn\/shop\/products\/6_063acf60-f4ec-4d26-9099-8e331a346359.jpg?v=1663037693","\/\/www.suerteyay.com\/cdn\/shop\/products\/8_d71c6543-445a-4c13-a123-ffe9e5769667.jpg?v=1663037693"],"featured_image":"\/\/www.suerteyay.com\/cdn\/shop\/products\/7_97c9b88e-7b6c-4c11-be7c-cb07b255fd38.jpg?v=1663037693","options":["Color"],"media":[{"alt":null,"id":22784854360153,"position":1,"preview_image":{"aspect_ratio":1.0,"height":800,"width":800,"src":"\/\/www.suerteyay.com\/cdn\/shop\/products\/7_97c9b88e-7b6c-4c11-be7c-cb07b255fd38.jpg?v=1663037693"},"aspect_ratio":1.0,"height":800,"media_type":"image","src":"\/\/www.suerteyay.com\/cdn\/shop\/products\/7_97c9b88e-7b6c-4c11-be7c-cb07b255fd38.jpg?v=1663037693","width":800},{"alt":null,"id":22784854392921,"position":2,"preview_image":{"aspect_ratio":1.0,"height":800,"width":800,"src":"\/\/www.suerteyay.com\/cdn\/shop\/products\/1_cff40193-a92c-42be-bdf5-2df3557cdbb8.jpg?v=1663037693"},"aspect_ratio":1.0,"height":800,"media_type":"image","src":"\/\/www.suerteyay.com\/cdn\/shop\/products\/1_cff40193-a92c-42be-bdf5-2df3557cdbb8.jpg?v=1663037693","width":800},{"alt":null,"id":22784854425689,"position":3,"preview_image":{"aspect_ratio":1.0,"height":800,"width":800,"src":"\/\/www.suerteyay.com\/cdn\/shop\/products\/2_eeeef6a6-274a-4b74-991f-ef383dbc6ff0.jpg?v=1663037693"},"aspect_ratio":1.0,"height":800,"media_type":"image","src":"\/\/www.suerteyay.com\/cdn\/shop\/products\/2_eeeef6a6-274a-4b74-991f-ef383dbc6ff0.jpg?v=1663037693","width":800},{"alt":null,"id":22784854458457,"position":4,"preview_image":{"aspect_ratio":1.0,"height":800,"width":800,"src":"\/\/www.suerteyay.com\/cdn\/shop\/products\/3_598a54b5-c6f6-4665-bced-a9a2680b0102.jpg?v=1663037693"},"aspect_ratio":1.0,"height":800,"media_type":"image","src":"\/\/www.suerteyay.com\/cdn\/shop\/products\/3_598a54b5-c6f6-4665-bced-a9a2680b0102.jpg?v=1663037693","width":800},{"alt":null,"id":22784854491225,"position":5,"preview_image":{"aspect_ratio":1.0,"height":800,"width":800,"src":"\/\/www.suerteyay.com\/cdn\/shop\/products\/4_c0f8583a-f30a-4fca-8003-d65b201c4ed8.jpg?v=1663037693"},"aspect_ratio":1.0,"height":800,"media_type":"image","src":"\/\/www.suerteyay.com\/cdn\/shop\/products\/4_c0f8583a-f30a-4fca-8003-d65b201c4ed8.jpg?v=1663037693","width":800},{"alt":null,"id":22784854523993,"position":6,"preview_image":{"aspect_ratio":1.0,"height":800,"width":800,"src":"\/\/www.suerteyay.com\/cdn\/shop\/products\/5_86cc9641-5bec-4efa-bc77-bc5307d17841.jpg?v=1663037693"},"aspect_ratio":1.0,"height":800,"media_type":"image","src":"\/\/www.suerteyay.com\/cdn\/shop\/products\/5_86cc9641-5bec-4efa-bc77-bc5307d17841.jpg?v=1663037693","width":800},{"alt":null,"id":22784854556761,"position":7,"preview_image":{"aspect_ratio":1.0,"height":800,"width":800,"src":"\/\/www.suerteyay.com\/cdn\/shop\/products\/6_063acf60-f4ec-4d26-9099-8e331a346359.jpg?v=1663037693"},"aspect_ratio":1.0,"height":800,"media_type":"image","src":"\/\/www.suerteyay.com\/cdn\/shop\/products\/6_063acf60-f4ec-4d26-9099-8e331a346359.jpg?v=1663037693","width":800},{"alt":null,"id":22784854589529,"position":8,"preview_image":{"aspect_ratio":1.0,"height":800,"width":800,"src":"\/\/www.suerteyay.com\/cdn\/shop\/products\/8_d71c6543-445a-4c13-a123-ffe9e5769667.jpg?v=1663037693"},"aspect_ratio":1.0,"height":800,"media_type":"image","src":"\/\/www.suerteyay.com\/cdn\/shop\/products\/8_d71c6543-445a-4c13-a123-ffe9e5769667.jpg?v=1663037693","width":800}],"requires_selling_plan":false,"selling_plan_groups":[],"content":"\u003ch3 style=\"text-align: center;\" data-mce-style=\"text-align: center;\"\u003e\n\u003cspan style=\"color: #ff8000;\" data-mce-style=\"color: #ff8000;\"\u003e\u003cstrong\u003e🎄🎄 A practical and lovely Christmas gift!\u003cbr\u003eMake your feet warmer and cute\u003c\/strong\u003e\u003c\/span\u003e\u003cstrong\u003e\u003cspan\u003e\u003cspan style=\"color: #ff8000;\" data-mce-style=\"color: #ff8000;\"\u003e😻!\u003c\/span\u003e\u003cbr\u003e\u003cbr\u003e\u003c\/span\u003e\u003c\/strong\u003e\u003cimg class=\"sep-lazyload lazyautosizes lazyloaded\" data-sizes=\"auto\" data-src=\"https:\/\/imgv2.staticdj.com\/53d77d5283ca8065da085927a7886a5a.gif\" alt=\"\" height=\"452\" width=\"452\" sizes=\"640px\" src=\"https:\/\/imgv2.staticdj.com\/53d77d5283ca8065da085927a7886a5a.gif\" data-mce-src=\"https:\/\/imgv2.staticdj.com\/53d77d5283ca8065da085927a7886a5a.gif\"\u003e\n\u003c\/h3\u003e\n\u003cp\u003e\u003cspan style=\"color: #ff2a00;\" data-mce-style=\"color: #ff2a00;\"\u003e\u003cstrong\u003eFeature:\u003c\/strong\u003e\u003c\/span\u003e\u003c\/p\u003e\n\u003cul\u003e\n\u003cli\u003e\n\u003cspan\u003e\u003cstrong\u003eUniversal model\u003c\/strong\u003e\u003c\/span\u003e: The cat paw socks are most common size, there is no worry that the socks are too big or too small, the elasticity is good, and you can give your feet enough warmth in winter.\u003c\/li\u003e\n\u003c\/ul\u003e\n\u003cdiv\u003e\u003cimg class=\"sep-lazyload lazyautosizes lazyloaded\" data-sizes=\"auto\" alt=\"\" height=\"359\" width=\"608\" data-srcset=\"https:\/\/img.staticdj.com\/cd8f6139a503805962bc204afb228d52_1024.png 48w, https:\/\/img.staticdj.com\/cd8f6139a503805962bc204afb228d52_1024.png 180w, https:\/\/img.staticdj.com\/cd8f6139a503805962bc204afb228d52_1024.png 360w, https:\/\/img.staticdj.com\/cd8f6139a503805962bc204afb228d52_1024.png 540w, https:\/\/img.staticdj.com\/cd8f6139a503805962bc204afb228d52_1024.png 720w, https:\/\/img.staticdj.com\/cd8f6139a503805962bc204afb228d52_1024.png 900w, https:\/\/img.staticdj.com\/cd8f6139a503805962bc204afb228d52_1024.png 1024w, https:\/\/img.staticdj.com\/cd8f6139a503805962bc204afb228d52_1024.png 1280w, https:\/\/img.staticdj.com\/cd8f6139a503805962bc204afb228d52_1024.png 1366w, https:\/\/img.staticdj.com\/cd8f6139a503805962bc204afb228d52_1024.png 1440w, https:\/\/img.staticdj.com\/cd8f6139a503805962bc204afb228d52_1024.png 1536w, https:\/\/img.staticdj.com\/cd8f6139a503805962bc204afb228d52_1024.png 1600w, https:\/\/img.staticdj.com\/cd8f6139a503805962bc204afb228d52_1024.png 1920w, https:\/\/img.staticdj.com\/cd8f6139a503805962bc204afb228d52_1024.png 2056w, https:\/\/img.staticdj.com\/cd8f6139a503805962bc204afb228d52_1024.png 2560w, https:\/\/img.staticdj.com\/cd8f6139a503805962bc204afb228d52_1024.png 2732w, https:\/\/img.staticdj.com\/cd8f6139a503805962bc204afb228d52_1024.png 2880w, https:\/\/img.staticdj.com\/cd8f6139a503805962bc204afb228d52_1024.png 3072w, https:\/\/img.staticdj.com\/cd8f6139a503805962bc204afb228d52_1024.png 3200w, https:\/\/img.staticdj.com\/cd8f6139a503805962bc204afb228d52_1024.png 3840w\" sizes=\"608px\" srcset=\"https:\/\/img.staticdj.com\/cd8f6139a503805962bc204afb228d52_1024.png 48w, https:\/\/img.staticdj.com\/cd8f6139a503805962bc204afb228d52_1024.png 180w, https:\/\/img.staticdj.com\/cd8f6139a503805962bc204afb228d52_1024.png 360w, https:\/\/img.staticdj.com\/cd8f6139a503805962bc204afb228d52_1024.png 540w, https:\/\/img.staticdj.com\/cd8f6139a503805962bc204afb228d52_1024.png 720w, https:\/\/img.staticdj.com\/cd8f6139a503805962bc204afb228d52_1024.png 900w, https:\/\/img.staticdj.com\/cd8f6139a503805962bc204afb228d52_1024.png 1024w, https:\/\/img.staticdj.com\/cd8f6139a503805962bc204afb228d52_1024.png 1280w, https:\/\/img.staticdj.com\/cd8f6139a503805962bc204afb228d52_1024.png 1366w, https:\/\/img.staticdj.com\/cd8f6139a503805962bc204afb228d52_1024.png 1440w, https:\/\/img.staticdj.com\/cd8f6139a503805962bc204afb228d52_1024.png 1536w, https:\/\/img.staticdj.com\/cd8f6139a503805962bc204afb228d52_1024.png 1600w, https:\/\/img.staticdj.com\/cd8f6139a503805962bc204afb228d52_1024.png 1920w, https:\/\/img.staticdj.com\/cd8f6139a503805962bc204afb228d52_1024.png 2056w, https:\/\/img.staticdj.com\/cd8f6139a503805962bc204afb228d52_1024.png 2560w, https:\/\/img.staticdj.com\/cd8f6139a503805962bc204afb228d52_1024.png 2732w, https:\/\/img.staticdj.com\/cd8f6139a503805962bc204afb228d52_1024.png 2880w, https:\/\/img.staticdj.com\/cd8f6139a503805962bc204afb228d52_1024.png 3072w, https:\/\/img.staticdj.com\/cd8f6139a503805962bc204afb228d52_1024.png 3200w, https:\/\/img.staticdj.com\/cd8f6139a503805962bc204afb228d52_1024.png 3840w\"\u003e\u003c\/div\u003e\n\u003cul\u003e\n\u003cli\u003e\n\u003cspan\u003e\u003cstrong\u003eUnique style design\u003c\/strong\u003e\u003c\/span\u003e: Different styles of ankles, with 6 styles. Meet the preferences and aesthetics of most people.\u003c\/li\u003e\n\u003c\/ul\u003e\n\u003cdiv\u003e\u003cimg class=\"sep-lazyload lazyautosizes lazyloaded\" data-sizes=\"auto\" alt=\"\" height=\"589\" width=\"589\" data-srcset=\"https:\/\/imgv2.staticdj.com\/8d2cb8614ea0d805cafd17a1e5269320_900.jpg 48w, https:\/\/imgv2.staticdj.com\/8d2cb8614ea0d805cafd17a1e5269320_900.jpg 180w, https:\/\/imgv2.staticdj.com\/8d2cb8614ea0d805cafd17a1e5269320_900.jpg 360w, https:\/\/imgv2.staticdj.com\/8d2cb8614ea0d805cafd17a1e5269320_900.jpg 540w, https:\/\/imgv2.staticdj.com\/8d2cb8614ea0d805cafd17a1e5269320_900.jpg 720w, https:\/\/imgv2.staticdj.com\/8d2cb8614ea0d805cafd17a1e5269320_900.jpg 900w, https:\/\/imgv2.staticdj.com\/8d2cb8614ea0d805cafd17a1e5269320_900.jpg 1024w, https:\/\/imgv2.staticdj.com\/8d2cb8614ea0d805cafd17a1e5269320_900.jpg 1280w, https:\/\/imgv2.staticdj.com\/8d2cb8614ea0d805cafd17a1e5269320_900.jpg 1366w, https:\/\/imgv2.staticdj.com\/8d2cb8614ea0d805cafd17a1e5269320_900.jpg 1440w, https:\/\/imgv2.staticdj.com\/8d2cb8614ea0d805cafd17a1e5269320_900.jpg 1536w, https:\/\/imgv2.staticdj.com\/8d2cb8614ea0d805cafd17a1e5269320_900.jpg 1600w, https:\/\/imgv2.staticdj.com\/8d2cb8614ea0d805cafd17a1e5269320_900.jpg 1920w, https:\/\/imgv2.staticdj.com\/8d2cb8614ea0d805cafd17a1e5269320_900.jpg 2056w, https:\/\/imgv2.staticdj.com\/8d2cb8614ea0d805cafd17a1e5269320_900.jpg 2560w, https:\/\/imgv2.staticdj.com\/8d2cb8614ea0d805cafd17a1e5269320_900.jpg 2732w, https:\/\/imgv2.staticdj.com\/8d2cb8614ea0d805cafd17a1e5269320_900.jpg 2880w, https:\/\/imgv2.staticdj.com\/8d2cb8614ea0d805cafd17a1e5269320_900.jpg 3072w, https:\/\/imgv2.staticdj.com\/8d2cb8614ea0d805cafd17a1e5269320_900.jpg 3200w, https:\/\/imgv2.staticdj.com\/8d2cb8614ea0d805cafd17a1e5269320_900.jpg 3840w\" sizes=\"589px\" srcset=\"https:\/\/imgv2.staticdj.com\/8d2cb8614ea0d805cafd17a1e5269320_900.jpg 48w, https:\/\/imgv2.staticdj.com\/8d2cb8614ea0d805cafd17a1e5269320_900.jpg 180w, https:\/\/imgv2.staticdj.com\/8d2cb8614ea0d805cafd17a1e5269320_900.jpg 360w, https:\/\/imgv2.staticdj.com\/8d2cb8614ea0d805cafd17a1e5269320_900.jpg 540w, https:\/\/imgv2.staticdj.com\/8d2cb8614ea0d805cafd17a1e5269320_900.jpg 720w, https:\/\/imgv2.staticdj.com\/8d2cb8614ea0d805cafd17a1e5269320_900.jpg 900w, https:\/\/imgv2.staticdj.com\/8d2cb8614ea0d805cafd17a1e5269320_900.jpg 1024w, https:\/\/imgv2.staticdj.com\/8d2cb8614ea0d805cafd17a1e5269320_900.jpg 1280w, https:\/\/imgv2.staticdj.com\/8d2cb8614ea0d805cafd17a1e5269320_900.jpg 1366w, https:\/\/imgv2.staticdj.com\/8d2cb8614ea0d805cafd17a1e5269320_900.jpg 1440w, https:\/\/imgv2.staticdj.com\/8d2cb8614ea0d805cafd17a1e5269320_900.jpg 1536w, https:\/\/imgv2.staticdj.com\/8d2cb8614ea0d805cafd17a1e5269320_900.jpg 1600w, https:\/\/imgv2.staticdj.com\/8d2cb8614ea0d805cafd17a1e5269320_900.jpg 1920w, https:\/\/imgv2.staticdj.com\/8d2cb8614ea0d805cafd17a1e5269320_900.jpg 2056w, https:\/\/imgv2.staticdj.com\/8d2cb8614ea0d805cafd17a1e5269320_900.jpg 2560w, https:\/\/imgv2.staticdj.com\/8d2cb8614ea0d805cafd17a1e5269320_900.jpg 2732w, https:\/\/imgv2.staticdj.com\/8d2cb8614ea0d805cafd17a1e5269320_900.jpg 2880w, https:\/\/imgv2.staticdj.com\/8d2cb8614ea0d805cafd17a1e5269320_900.jpg 3072w, https:\/\/imgv2.staticdj.com\/8d2cb8614ea0d805cafd17a1e5269320_900.jpg 3200w, https:\/\/imgv2.staticdj.com\/8d2cb8614ea0d805cafd17a1e5269320_900.jpg 3840w\"\u003e\u003c\/div\u003e\n\u003cul\u003e\n\u003cli\u003e\n\u003cspan\u003e\u003cstrong\u003eIngenious little gifts\u003c\/strong\u003e\u003c\/span\u003e: Can be given as a holiday or birthday gift to classmates, friends, parents, daughters... are good choices.\u003c\/li\u003e\n\u003c\/ul\u003e\n\u003cdiv\u003e\u003cimg class=\"sep-lazyload lazyautosizes lazyloaded\" data-sizes=\"auto\" alt=\"\" height=\"596\" width=\"596\" data-srcset=\"https:\/\/imgv2.staticdj.com\/2ac9835273e9011534c97f0d56b93a1a_900.jpg 48w, https:\/\/imgv2.staticdj.com\/2ac9835273e9011534c97f0d56b93a1a_900.jpg 180w, https:\/\/imgv2.staticdj.com\/2ac9835273e9011534c97f0d56b93a1a_900.jpg 360w, https:\/\/imgv2.staticdj.com\/2ac9835273e9011534c97f0d56b93a1a_900.jpg 540w, https:\/\/imgv2.staticdj.com\/2ac9835273e9011534c97f0d56b93a1a_900.jpg 720w, https:\/\/imgv2.staticdj.com\/2ac9835273e9011534c97f0d56b93a1a_900.jpg 900w, https:\/\/imgv2.staticdj.com\/2ac9835273e9011534c97f0d56b93a1a_900.jpg 1024w, https:\/\/imgv2.staticdj.com\/2ac9835273e9011534c97f0d56b93a1a_900.jpg 1280w, https:\/\/imgv2.staticdj.com\/2ac9835273e9011534c97f0d56b93a1a_900.jpg 1366w, https:\/\/imgv2.staticdj.com\/2ac9835273e9011534c97f0d56b93a1a_900.jpg 1440w, https:\/\/imgv2.staticdj.com\/2ac9835273e9011534c97f0d56b93a1a_900.jpg 1536w, https:\/\/imgv2.staticdj.com\/2ac9835273e9011534c97f0d56b93a1a_900.jpg 1600w, https:\/\/imgv2.staticdj.com\/2ac9835273e9011534c97f0d56b93a1a_900.jpg 1920w, https:\/\/imgv2.staticdj.com\/2ac9835273e9011534c97f0d56b93a1a_900.jpg 2056w, https:\/\/imgv2.staticdj.com\/2ac9835273e9011534c97f0d56b93a1a_900.jpg 2560w, https:\/\/imgv2.staticdj.com\/2ac9835273e9011534c97f0d56b93a1a_900.jpg 2732w, https:\/\/imgv2.staticdj.com\/2ac9835273e9011534c97f0d56b93a1a_900.jpg 2880w, https:\/\/imgv2.staticdj.com\/2ac9835273e9011534c97f0d56b93a1a_900.jpg 3072w, https:\/\/imgv2.staticdj.com\/2ac9835273e9011534c97f0d56b93a1a_900.jpg 3200w, https:\/\/imgv2.staticdj.com\/2ac9835273e9011534c97f0d56b93a1a_900.jpg 3840w\" sizes=\"596px\" srcset=\"https:\/\/imgv2.staticdj.com\/2ac9835273e9011534c97f0d56b93a1a_900.jpg 48w, https:\/\/imgv2.staticdj.com\/2ac9835273e9011534c97f0d56b93a1a_900.jpg 180w, https:\/\/imgv2.staticdj.com\/2ac9835273e9011534c97f0d56b93a1a_900.jpg 360w, https:\/\/imgv2.staticdj.com\/2ac9835273e9011534c97f0d56b93a1a_900.jpg 540w, https:\/\/imgv2.staticdj.com\/2ac9835273e9011534c97f0d56b93a1a_900.jpg 720w, https:\/\/imgv2.staticdj.com\/2ac9835273e9011534c97f0d56b93a1a_900.jpg 900w, https:\/\/imgv2.staticdj.com\/2ac9835273e9011534c97f0d56b93a1a_900.jpg 1024w, https:\/\/imgv2.staticdj.com\/2ac9835273e9011534c97f0d56b93a1a_900.jpg 1280w, https:\/\/imgv2.staticdj.com\/2ac9835273e9011534c97f0d56b93a1a_900.jpg 1366w, https:\/\/imgv2.staticdj.com\/2ac9835273e9011534c97f0d56b93a1a_900.jpg 1440w, https:\/\/imgv2.staticdj.com\/2ac9835273e9011534c97f0d56b93a1a_900.jpg 1536w, https:\/\/imgv2.staticdj.com\/2ac9835273e9011534c97f0d56b93a1a_900.jpg 1600w, https:\/\/imgv2.staticdj.com\/2ac9835273e9011534c97f0d56b93a1a_900.jpg 1920w, https:\/\/imgv2.staticdj.com\/2ac9835273e9011534c97f0d56b93a1a_900.jpg 2056w, https:\/\/imgv2.staticdj.com\/2ac9835273e9011534c97f0d56b93a1a_900.jpg 2560w, https:\/\/imgv2.staticdj.com\/2ac9835273e9011534c97f0d56b93a1a_900.jpg 2732w, https:\/\/imgv2.staticdj.com\/2ac9835273e9011534c97f0d56b93a1a_900.jpg 2880w, https:\/\/imgv2.staticdj.com\/2ac9835273e9011534c97f0d56b93a1a_900.jpg 3072w, https:\/\/imgv2.staticdj.com\/2ac9835273e9011534c97f0d56b93a1a_900.jpg 3200w, https:\/\/imgv2.staticdj.com\/2ac9835273e9011534c97f0d56b93a1a_900.jpg 3840w\"\u003e\u003c\/div\u003e\n\u003cul\u003e\n\u003cli\u003eThe material is\u003cspan\u003e \u003c\/span\u003e\u003cspan\u003e\u003cstrong\u003eeasy to clean\u003c\/strong\u003e\u003c\/span\u003e.\u003c\/li\u003e\n\u003cli\u003eYou can match them with\u003cspan\u003e \u003c\/span\u003e\u003cspan\u003e\u003cstrong\u003eany of your favorite outfits\u003c\/strong\u003e\u003c\/span\u003e.\u003c\/li\u003e\n\u003c\/ul\u003e\n\u003cdiv\u003e\u003cimg class=\"sep-lazyload lazyautosizes lazyloaded\" data-sizes=\"auto\" alt=\"\" height=\"596\" width=\"596\" data-srcset=\"https:\/\/imgv2.staticdj.com\/b68ac2df1e55279f8b4f4a53aa2efb93_900.jpg 48w, https:\/\/imgv2.staticdj.com\/b68ac2df1e55279f8b4f4a53aa2efb93_900.jpg 180w, https:\/\/imgv2.staticdj.com\/b68ac2df1e55279f8b4f4a53aa2efb93_900.jpg 360w, https:\/\/imgv2.staticdj.com\/b68ac2df1e55279f8b4f4a53aa2efb93_900.jpg 540w, https:\/\/imgv2.staticdj.com\/b68ac2df1e55279f8b4f4a53aa2efb93_900.jpg 720w, https:\/\/imgv2.staticdj.com\/b68ac2df1e55279f8b4f4a53aa2efb93_900.jpg 900w, https:\/\/imgv2.staticdj.com\/b68ac2df1e55279f8b4f4a53aa2efb93_900.jpg 1024w, https:\/\/imgv2.staticdj.com\/b68ac2df1e55279f8b4f4a53aa2efb93_900.jpg 1280w, https:\/\/imgv2.staticdj.com\/b68ac2df1e55279f8b4f4a53aa2efb93_900.jpg 1366w, https:\/\/imgv2.staticdj.com\/b68ac2df1e55279f8b4f4a53aa2efb93_900.jpg 1440w, https:\/\/imgv2.staticdj.com\/b68ac2df1e55279f8b4f4a53aa2efb93_900.jpg 1536w, https:\/\/imgv2.staticdj.com\/b68ac2df1e55279f8b4f4a53aa2efb93_900.jpg 1600w, https:\/\/imgv2.staticdj.com\/b68ac2df1e55279f8b4f4a53aa2efb93_900.jpg 1920w, https:\/\/imgv2.staticdj.com\/b68ac2df1e55279f8b4f4a53aa2efb93_900.jpg 2056w, https:\/\/imgv2.staticdj.com\/b68ac2df1e55279f8b4f4a53aa2efb93_900.jpg 2560w, https:\/\/imgv2.staticdj.com\/b68ac2df1e55279f8b4f4a53aa2efb93_900.jpg 2732w, https:\/\/imgv2.staticdj.com\/b68ac2df1e55279f8b4f4a53aa2efb93_900.jpg 2880w, https:\/\/imgv2.staticdj.com\/b68ac2df1e55279f8b4f4a53aa2efb93_900.jpg 3072w, https:\/\/imgv2.staticdj.com\/b68ac2df1e55279f8b4f4a53aa2efb93_900.jpg 3200w, https:\/\/imgv2.staticdj.com\/b68ac2df1e55279f8b4f4a53aa2efb93_900.jpg 3840w\" sizes=\"596px\" srcset=\"https:\/\/imgv2.staticdj.com\/b68ac2df1e55279f8b4f4a53aa2efb93_900.jpg 48w, https:\/\/imgv2.staticdj.com\/b68ac2df1e55279f8b4f4a53aa2efb93_900.jpg 180w, https:\/\/imgv2.staticdj.com\/b68ac2df1e55279f8b4f4a53aa2efb93_900.jpg 360w, https:\/\/imgv2.staticdj.com\/b68ac2df1e55279f8b4f4a53aa2efb93_900.jpg 540w, https:\/\/imgv2.staticdj.com\/b68ac2df1e55279f8b4f4a53aa2efb93_900.jpg 720w, https:\/\/imgv2.staticdj.com\/b68ac2df1e55279f8b4f4a53aa2efb93_900.jpg 900w, https:\/\/imgv2.staticdj.com\/b68ac2df1e55279f8b4f4a53aa2efb93_900.jpg 1024w, https:\/\/imgv2.staticdj.com\/b68ac2df1e55279f8b4f4a53aa2efb93_900.jpg 1280w, https:\/\/imgv2.staticdj.com\/b68ac2df1e55279f8b4f4a53aa2efb93_900.jpg 1366w, https:\/\/imgv2.staticdj.com\/b68ac2df1e55279f8b4f4a53aa2efb93_900.jpg 1440w, https:\/\/imgv2.staticdj.com\/b68ac2df1e55279f8b4f4a53aa2efb93_900.jpg 1536w, https:\/\/imgv2.staticdj.com\/b68ac2df1e55279f8b4f4a53aa2efb93_900.jpg 1600w, https:\/\/imgv2.staticdj.com\/b68ac2df1e55279f8b4f4a53aa2efb93_900.jpg 1920w, https:\/\/imgv2.staticdj.com\/b68ac2df1e55279f8b4f4a53aa2efb93_900.jpg 2056w, https:\/\/imgv2.staticdj.com\/b68ac2df1e55279f8b4f4a53aa2efb93_900.jpg 2560w, https:\/\/imgv2.staticdj.com\/b68ac2df1e55279f8b4f4a53aa2efb93_900.jpg 2732w, https:\/\/imgv2.staticdj.com\/b68ac2df1e55279f8b4f4a53aa2efb93_900.jpg 2880w, https:\/\/imgv2.staticdj.com\/b68ac2df1e55279f8b4f4a53aa2efb93_900.jpg 3072w, https:\/\/imgv2.staticdj.com\/b68ac2df1e55279f8b4f4a53aa2efb93_900.jpg 3200w, https:\/\/imgv2.staticdj.com\/b68ac2df1e55279f8b4f4a53aa2efb93_900.jpg 3840w\"\u003e\u003c\/div\u003e\n\u003cul\u003e\u003c\/ul\u003e\n\u003cp class=\"p1\"\u003e\u003cspan style=\"color: #ff2a00;\" data-mce-style=\"color: #ff2a00;\"\u003e\u003cstrong\u003e\u003cspan class=\"s2\"\u003eDESCRIPTION\u003c\/span\u003e\u003c\/strong\u003e\u003c\/span\u003e\u003c\/p\u003e\n\u003cul\u003e\n\u003cli\u003e\u003cstrong\u003e\u003cspan class=\"s2\"\u003eImpress your friends and family with these cat socks that not only look super cute but will also keep your feet warm during winter\u003c\/span\u003e\u003cspan class=\"s1\"\u003e🔥🥰\u003c\/span\u003e\u003cspan class=\"s2\"\u003e!\u003c\/span\u003e\u003c\/strong\u003e\u003c\/li\u003e\n\u003c\/ul\u003e\n\u003cul\u003e\n\u003cli\u003e\u003cstrong\u003e\u003cspan class=\"s2\"\u003eThese Socks are the perfect gift for every Cat lover\u003c\/span\u003e\u003cspan class=\"s1\"\u003e🎁🐱\u003c\/span\u003e\u003cspan class=\"s2\"\u003e. They are super comfy and make a lot of fun\u003c\/span\u003e\u003cspan class=\"s1\"\u003e😃\u003c\/span\u003e\u003c\/strong\u003e\u003c\/li\u003e\n\u003c\/ul\u003e\n\u003cp class=\"p1\"\u003e\u003cspan class=\"s1\"\u003e\u003cstrong\u003e\u003cspan class=\"a-list-item\"\u003e\u003cimg height=\"393\" width=\"393\" alt=\"\" src=\"https:\/\/cdn.shopify.com\/s\/files\/1\/0251\/3636\/5628\/files\/12281679049_100505517_480x480.jpg?v=1572840062\" data-mce-src=\"https:\/\/cdn.shopify.com\/s\/files\/1\/0251\/3636\/5628\/files\/12281679049_100505517_480x480.jpg?v=1572840062\"\u003e\u003c\/span\u003e\u003c\/strong\u003e\u003c\/span\u003e\u003c\/p\u003e\n\u003cul class=\"a-unordered-list a-vertical a-spacing-none\"\u003e\n\u003cli\u003e\u003cstrong\u003e\u003cspan class=\"s2\"\u003eWarm Feet During Winter\u003c\/span\u003e\u003cspan class=\"s1\"\u003e🔥\u003c\/span\u003e\u003c\/strong\u003e\u003c\/li\u003e\n\u003cli\u003e\u003cstrong\u003e\u003cspan class=\"s2\"\u003eMaterial: Cotton\u003c\/span\u003e\u003cspan class=\"s1\"\u003e🧵\u003c\/span\u003e\u003c\/strong\u003e\u003c\/li\u003e\n\u003cli\u003e\u003cstrong\u003e\u003cspan class=\"s2\"\u003eAwesome Design\u003c\/span\u003e\u003cspan class=\"s1\"\u003e😍\u003c\/span\u003e\u003c\/strong\u003e\u003c\/li\u003e\n\u003cli\u003e\u003cstrong\u003e\u003cspan class=\"s2\"\u003eSuper Cute\u003c\/span\u003e\u003cspan class=\"s1\"\u003e🥰\u003c\/span\u003e\u003c\/strong\u003e\u003c\/li\u003e\n\u003cli\u003e\u003cstrong\u003e\u003cspan class=\"s4\"\u003eVery Soft and Comfy to wear\u003c\/span\u003e\u003cspan class=\"s5\"\u003e😎\u003c\/span\u003e\u003c\/strong\u003e\u003c\/li\u003e\n\u003cli\u003e\n\u003ch4\u003e\n\u003cstrong\u003e\u003cspan class=\"a-list-item\"\u003eAvailable in\u003cspan\u003e 6 colors\u003c\/span\u003e:\u003cspan\u003e \u003c\/span\u003eCROSSBAR BLACK,STRIP GRAY,DOT KHAKI,\u003c\/span\u003e\u003c\/strong\u003e\u003cstrong\u003e\u003cspan class=\"a-list-item\"\u003eDOT BLACK\u003c\/span\u003e\u003c\/strong\u003e\u003cstrong\u003e\u003cspan class=\"a-list-item\"\u003e,\u003cspan\u003eFLAT BLACK\u003c\/span\u003e,\u003cspan\u003eFLAT \u003c\/span\u003e\u003c\/span\u003e\u003c\/strong\u003e\u003cstrong\u003e\u003cspan class=\"a-list-item\"\u003eKHAKI.\u003cspan class=\"s1\"\u003e😍\u003c\/span\u003e\u003c\/span\u003e\u003c\/strong\u003e\n\u003c\/h4\u003e\n\u003c\/li\u003e\n\u003c\/ul\u003e\n\u003cp\u003e\u003cstrong style=\"color: #ff8000;\"\u003e🎁PACKAGE INCLUDED:\u003c\/strong\u003e\u003cbr\u003e\u003c\/p\u003e\n\u003cul\u003e\n\u003cli\u003e\u003cstrong\u003e1 pair \/3 pairs\u003cspan\u003e \u003c\/span\u003e\/6 pairs x Cute Cat Claw Socks\u003c\/strong\u003e\u003c\/li\u003e\n\u003c\/ul\u003e"}
Adding product to your cart
🎄🎄 A practical and lovely Christmas gift!
Make your feet warmer and cute

😻!




Feature:
Universal model: The cat paw socks are most common size, there is no worry that the socks are too big or too small, the elasticity is good, and you can give your feet enough warmth in winter.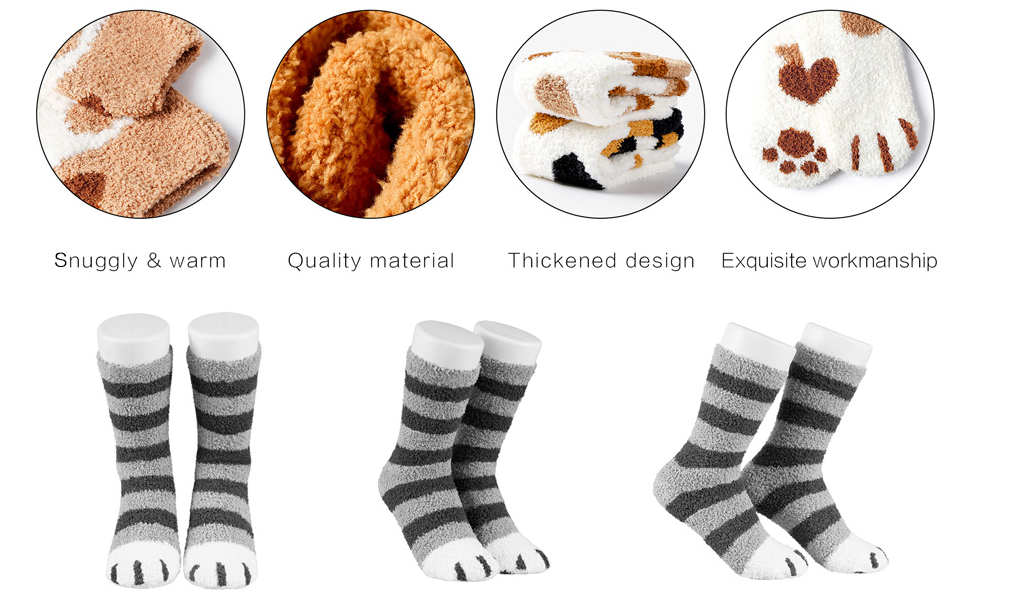 Unique style design: Different styles of ankles, with 6 styles. Meet the preferences and aesthetics of most people.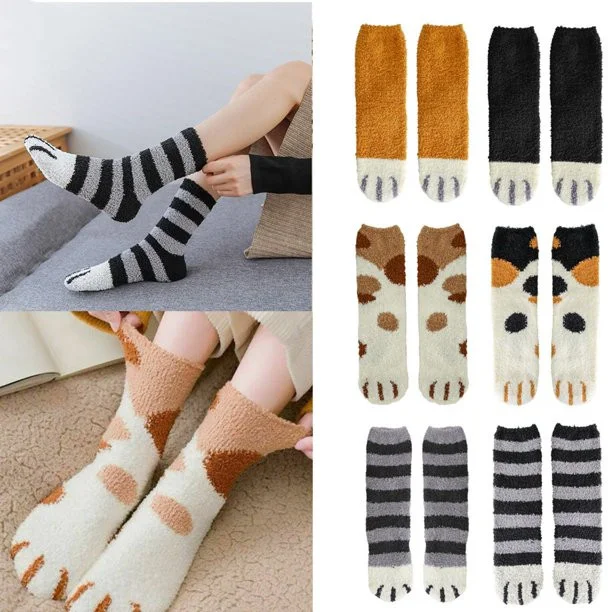 Ingenious little gifts: Can be given as a holiday or birthday gift to classmates, friends, parents, daughters... are good choices.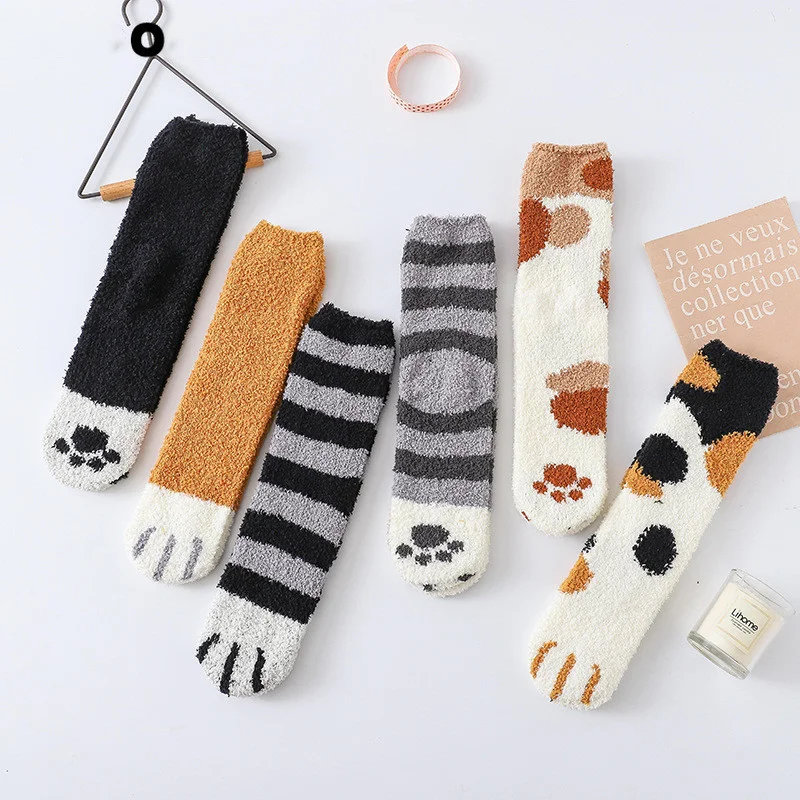 The material is

 

easy to clean.
You can match them with

 

any of your favorite outfits.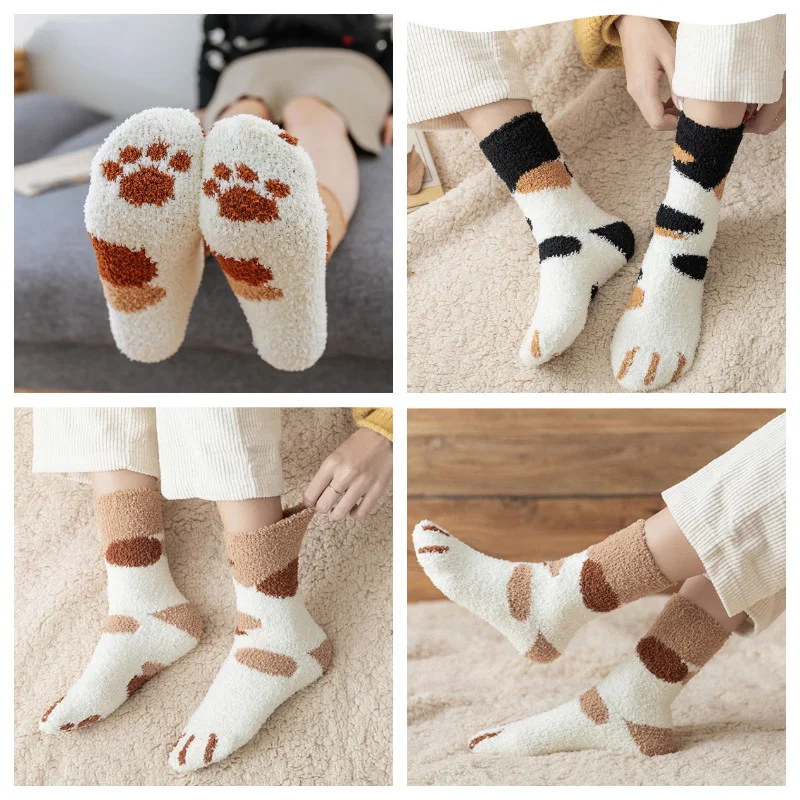 DESCRIPTION
Impress your friends and family with these cat socks that not only look super cute but will also keep your feet warm during winter

🔥🥰

!
These Socks are the perfect gift for every Cat lover

🎁🐱

. They are super comfy and make a lot of fun

😃
Warm Feet During Winter

🔥

Material: Cotton

🧵

Awesome Design

😍

Super Cute

🥰

Very Soft and Comfy to wear

😎

Available in

 6 colors

:

 

CROSSBAR BLACK,STRIP GRAY,DOT KHAKI,

DOT BLACK

,

FLAT BLACK

,

FLAT 

KHAKI.

😍
🎁PACKAGE INCLUDED:

1 pair /3 pairs

 

/6 pairs x Cute Cat Claw Socks