{"id":7197754851417,"title":"Funny Bikini Girl Golf Tees (6pcs)","handle":"funny-bikini-girl-golf-tees-6pcs","description":"\u003ch4 data-mce-fragment=\"1\" style=\"text-align: center;\"\u003e\u003cspan data-mce-fragment=\"1\" class=\"a-list-item\"\u003e\u003cstrong data-mce-fragment=\"1\"\u003e\u003cspan data-mce-fragment=\"1\" style=\"color: #e03e2d;\" data-mce-style=\"color: #e03e2d;\"\u003e💝\u003cspan style=\"color: #b2392c;\"\u003e Share with friends or golf lovers and trust me it will become a great conversation piece !\u003c\/span\u003e\u003c\/span\u003e\u003c\/strong\u003e\u003c\/span\u003e\u003c\/h4\u003e\n\u003cp data-mce-fragment=\"1\"\u003e\u003cspan data-mce-fragment=\"1\" class=\"a-list-item\"\u003e\u003cimg data-mce-fragment=\"1\" style=\"display: block; margin-left: auto; margin-right: auto;\" data-loaded=\"true\" src=\"https:\/\/img-va.myshopline.com\/image\/store\/2000283284\/1650441738136\/dd244dee0e6d40f8b7a790b1400ac165.jpeg?w=1600\u0026amp;h=1600\" data-src=\"https:\/\/img-va.myshopline.com\/image\/store\/2000283284\/1650441738136\/dd244dee0e6d40f8b7a790b1400ac165.jpeg?w=1600\u0026amp;h=1600\" class=\"lozad lazyloaded\" data-mce-selected=\"1\" data-mce-style=\"display: block; margin-left: auto; margin-right: auto;\" referrerpolicy=\"same-origin\" data-mce-src=\"https:\/\/img-va.myshopline.com\/image\/store\/2000283284\/1650441738136\/dd244dee0e6d40f8b7a790b1400ac165.jpeg?w=1600\u0026amp;h=1600\" width=\"426\" height=\"426\"\u003e\u003c\/span\u003e\u003c\/p\u003e\n\u003ch4 data-mce-fragment=\"1\"\u003e\u003cspan style=\"color: #b2392c;\"\u003e\u003cstrong\u003e\u003cspan data-mce-fragment=\"1\" class=\"a-list-item\"\u003eFEATURE:\u003c\/span\u003e\u003c\/strong\u003e\u003c\/span\u003e\u003c\/h4\u003e\n\u003cul data-mce-fragment=\"1\"\u003e\n\u003cli data-mce-fragment=\"1\"\u003e\u003cspan data-mce-fragment=\"1\" class=\"a-list-item\"\u003e\u003cspan data-mce-fragment=\"1\" style=\"color: #e67e23;\" data-mce-style=\"color: #e67e23;\"\u003e\u003cstrong data-mce-fragment=\"1\"\u003e🌟 \u003cspan style=\"color: #2f6230;\"\u003eAbundant golf tee set:\u003c\/span\u003e\u003c\/strong\u003e\u003c\/span\u003e \u003cspan style=\"color: #404040;\"\u003ethe set is composed of 6 pieces of bikini women's golf tees in 6 different colors. \u003cstrong data-mce-fragment=\"1\"\u003e \u003c\/strong\u003e\u003c\/span\u003e\u003c\/span\u003e\u003c\/li\u003e\n\u003c\/ul\u003e\n\u003cp data-mce-fragment=\"1\"\u003e\u003cspan data-mce-fragment=\"1\" class=\"a-list-item\"\u003e\u003cimg data-mce-fragment=\"1\" class=\"lozad lazyloaded\" data-src=\"https:\/\/img-va.myshopline.com\/image\/store\/2000283284\/1650441738136\/296a7fea28b6441da8dea52149fd0600.jpeg?w=1600\u0026amp;h=1600\" src=\"https:\/\/img-va.myshopline.com\/image\/store\/2000283284\/1650441738136\/296a7fea28b6441da8dea52149fd0600.jpeg?w=1600\u0026amp;h=1600\" data-loaded=\"true\" style=\"display: block; margin-left: auto; margin-right: auto;\" data-mce-src=\"https:\/\/img-va.myshopline.com\/image\/store\/2000283284\/1650441738136\/296a7fea28b6441da8dea52149fd0600.jpeg?w=1600\u0026amp;h=1600\" referrerpolicy=\"same-origin\" width=\"429\" height=\"429\"\u003e\u003c\/span\u003e\u003c\/p\u003e\n\u003cul data-mce-fragment=\"1\"\u003e\n\u003cli data-mce-fragment=\"1\"\u003e\u003cspan data-mce-fragment=\"1\" class=\"a-list-item\"\u003e\u003cstrong data-mce-fragment=\"1\"\u003e🌟 \u003cspan style=\"color: #2f6230;\"\u003ePractical golf accessories: \u003c\/span\u003e\u003c\/strong\u003e\u003cspan style=\"color: #404040;\"\u003eeach plastic golf seat designed with a shallow cup on the top, which plays a key role in firmly supporting the ball and reducing its rotation.\u003c\/span\u003e\u003c\/span\u003e\u003c\/li\u003e\n\u003c\/ul\u003e\n\u003cp data-mce-fragment=\"1\"\u003e\u003cimg data-mce-fragment=\"1\" class=\"lozad lazyloaded\" data-src=\"https:\/\/img-va.myshopline.com\/image\/store\/2000283284\/1650441738136\/e84ec4618c1f485d806427453f20d8a2.jpeg?w=1600\u0026amp;h=1600\" src=\"https:\/\/img-va.myshopline.com\/image\/store\/2000283284\/1650441738136\/e84ec4618c1f485d806427453f20d8a2.jpeg?w=1600\u0026amp;h=1600\" data-loaded=\"true\" style=\"display: block; margin-left: auto; margin-right: auto;\" data-mce-src=\"https:\/\/img-va.myshopline.com\/image\/store\/2000283284\/1650441738136\/e84ec4618c1f485d806427453f20d8a2.jpeg?w=1600\u0026amp;h=1600\" referrerpolicy=\"same-origin\" width=\"431\" height=\"431\"\u003e\u003c\/p\u003e\n\u003cul data-mce-fragment=\"1\"\u003e\n\u003cli data-mce-fragment=\"1\"\u003e\u003cspan data-mce-fragment=\"1\" class=\"a-list-item\"\u003e\u003cspan data-mce-fragment=\"1\" style=\"color: #e67e23;\" data-mce-style=\"color: #e67e23;\"\u003e\u003cstrong data-mce-fragment=\"1\"\u003e🌟\u003cspan style=\"color: #2f6230;\"\u003e Durable material:\u003c\/span\u003e\u003c\/strong\u003e \u003c\/span\u003e\u003cspan style=\"color: #404040;\"\u003emade of quality plastic material, these women's golf tees are lightweight and portable, so that people can easily carry them outdoors, durable and reusable, not easy to break and deform, can serve you for a long time.\u003c\/span\u003e\u003c\/span\u003e\u003c\/li\u003e\n\u003c\/ul\u003e\n\u003cp data-mce-fragment=\"1\"\u003e\u003cspan data-mce-fragment=\"1\" class=\"a-list-item\"\u003e\u003cimg data-mce-fragment=\"1\" class=\"lozad lazyloaded\" data-src=\"https:\/\/img-va.myshopline.com\/image\/store\/2000283284\/1650441738136\/4220c6cbfa074f469a957f95372a0f7a.jpeg?w=1600\u0026amp;h=1600\" src=\"https:\/\/img-va.myshopline.com\/image\/store\/2000283284\/1650441738136\/4220c6cbfa074f469a957f95372a0f7a.jpeg?w=1600\u0026amp;h=1600\" data-loaded=\"true\" style=\"display: block; margin-left: auto; margin-right: auto;\" data-mce-src=\"https:\/\/img-va.myshopline.com\/image\/store\/2000283284\/1650441738136\/4220c6cbfa074f469a957f95372a0f7a.jpeg?w=1600\u0026amp;h=1600\" referrerpolicy=\"same-origin\" width=\"437\" height=\"437\"\u003e\u003c\/span\u003e\u003c\/p\u003e\n\u003cul data-mce-fragment=\"1\" class=\"a-unordered-list a-vertical a-spacing-mini\"\u003e\n\u003cli data-mce-fragment=\"1\"\u003e\u003cspan data-mce-fragment=\"1\" class=\"a-list-item\"\u003e\u003cstrong data-mce-fragment=\"1\"\u003e🎁 \u003cspan data-mce-fragment=\"1\" style=\"color: #e67e23;\" data-mce-style=\"color: #e67e23;\"\u003e\u003cspan style=\"color: #2f6230;\"\u003eNice gift:\u003c\/span\u003e\u003cspan data-mce-fragment=\"1\" style=\"color: #000000;\" data-mce-style=\"color: #000000;\"\u003e \u003c\/span\u003e\u003c\/span\u003e\u003c\/strong\u003e\u003cspan style=\"color: #404040;\"\u003eBikini golf tee is beautifully designed, suitable for people who like to play golf, \u003cstrong data-mce-fragment=\"1\"\u003eno matter their skill or level, they will find them interesting and practical💝!\u003c\/strong\u003e\u003c\/span\u003e\u003c\/span\u003e\u003c\/li\u003e\n\u003c\/ul\u003e\n\u003cp data-mce-fragment=\"1\"\u003e\u003cimg data-mce-fragment=\"1\" data-loaded=\"true\" src=\"https:\/\/img-va.myshopline.com\/image\/store\/2000283284\/1650441738136\/2186934745d54c0499db1bfcbc860db6.jpeg?w=1600\u0026amp;h=1600\" data-src=\"https:\/\/img-va.myshopline.com\/image\/store\/2000283284\/1650441738136\/2186934745d54c0499db1bfcbc860db6.jpeg?w=1600\u0026amp;h=1600\" class=\"lozad lazyloaded\" style=\"display: block; margin-left: auto; margin-right: auto;\" data-mce-selected=\"1\" referrerpolicy=\"same-origin\" data-mce-src=\"https:\/\/img-va.myshopline.com\/image\/store\/2000283284\/1650441738136\/2186934745d54c0499db1bfcbc860db6.jpeg?w=1600\u0026amp;h=1600\" width=\"432\" height=\"432\"\u003e\u003c\/p\u003e\n\u003ch4\u003e\u003cspan data-mce-fragment=\"1\" class=\"a-list-item\" style=\"color: #404040;\"\u003e\u003cstrong\u003e \u003c\/strong\u003e\u003c\/span\u003e\u003c\/h4\u003e\n\u003ch4\u003e\u003cspan data-mce-fragment=\"1\" class=\"a-list-item\" style=\"color: #404040;\"\u003e\u003cspan style=\"color: #b2392c;\"\u003e\u003cstrong\u003eSPECIFICATION:\u003c\/strong\u003e\u003c\/span\u003e\u003cbr\u003e\u003c\/span\u003e\u003c\/h4\u003e\n\u003cul\u003e\n\u003cli\u003e\u003cspan data-mce-fragment=\"1\" class=\"a-list-item\" style=\"color: #404040;\"\u003e\u003cstrong\u003eMaterial:\u003c\/strong\u003e \u003cspan data-mce-fragment=\"1\" class=\"HwtZe\" jsname=\"jqKxS\" jsaction=\"mouseup:BR6jm\" lang=\"en\"\u003e\u003cspan data-mce-fragment=\"1\" class=\"jCAhz ChMk0b\" jscontroller=\"Gn4SMb\" jsname=\"txFAF\" jsaction=\"agoMJf:PFBcW;MZfLnc:P7O7bd;nt4Alf:pvnm0e,pfE8Hb,PFBcW;B01qod:dJXsye;H1e5u:iXtTIf;lYIUJf:hij5Wb;bmeZHc:iURhpf;Oxj3Xe:qAKMYb,yaf12d\"\u003e\u003cspan data-mce-fragment=\"1\" class=\"ryNqvb\" jsname=\"W297wb\" jsaction=\"click:E6Tfl,GFf3ac,tMZCfe; contextmenu:Nqw7Te,QP7LD; mouseout:Nqw7Te; mouseover:E6Tfl,c2aHje\"\u003eplastic\u003c\/span\u003e\u003c\/span\u003e\u003c\/span\u003e\u003cbr\u003e\u003c\/span\u003e\u003c\/li\u003e\n\u003cli\u003e\u003cspan data-mce-fragment=\"1\" class=\"a-list-item\" style=\"color: #404040;\"\u003e\u003cstrong\u003eColor:\u003c\/strong\u003e \u003cspan data-mce-fragment=\"1\" class=\"HwtZe\" jsname=\"jqKxS\" jsaction=\"mouseup:BR6jm\" lang=\"en\"\u003e\u003cspan data-mce-fragment=\"1\" class=\"jCAhz ChMk0b\" jscontroller=\"Gn4SMb\" jsname=\"txFAF\" jsaction=\"agoMJf:PFBcW;MZfLnc:P7O7bd;nt4Alf:pvnm0e,pfE8Hb,PFBcW;B01qod:dJXsye;H1e5u:iXtTIf;lYIUJf:hij5Wb;bmeZHc:iURhpf;Oxj3Xe:qAKMYb,yaf12d\"\u003e\u003cspan data-mce-fragment=\"1\" class=\"ryNqvb\" jsname=\"W297wb\" jsaction=\"click:E6Tfl,GFf3ac,tMZCfe; contextmenu:Nqw7Te,QP7LD; mouseout:Nqw7Te; mouseover:E6Tfl,c2aHje\"\u003eas shown\u003c\/span\u003e\u003c\/span\u003e\u003c\/span\u003e\u003cbr\u003e\u003c\/span\u003e\u003c\/li\u003e\n\u003cli\u003e\u003cspan data-mce-fragment=\"1\" class=\"a-list-item\" style=\"color: #404040;\"\u003e\u003cstrong\u003eSize:\u003c\/strong\u003e 75mm\u003cbr\u003e\u003c\/span\u003e\u003c\/li\u003e\n\u003c\/ul\u003e\n\u003ch4\u003e\u003cspan data-mce-fragment=\"1\" class=\"a-list-item\" style=\"color: #404040;\"\u003e\u003cimg data-mce-fragment=\"1\" style=\"display: block; margin-left: auto; margin-right: auto;\" alt=\"\" src=\"https:\/\/cdn.shopify.com\/s\/files\/1\/0365\/8779\/8667\/files\/468ef44610c31b5b50b747b4f9f5ee49_1332c651-bf3a-4a0f-b167-551ca125e2fb_480x480.jpg?v=1670393183\" data-mce-src=\"https:\/\/cdn.shopify.com\/s\/files\/1\/0365\/8779\/8667\/files\/468ef44610c31b5b50b747b4f9f5ee49_1332c651-bf3a-4a0f-b167-551ca125e2fb_480x480.jpg?v=1670393183\" width=\"382\" height=\"382\"\u003e\u003cbr\u003e\u003cspan style=\"color: #b2392c;\"\u003e\u003cstrong\u003ePACKAGE INCLUDES:\u003c\/strong\u003e\u003c\/span\u003e\u003cbr\u003e\u003c\/span\u003e\u003c\/h4\u003e\n\u003cul\u003e\n\u003cli\u003e\u003cspan data-mce-fragment=\"1\" class=\"a-list-item\" style=\"color: #404040;\"\u003e1 Set ×Funny Bikini Girl Golf Tees (6pcs)\u003c\/span\u003e\u003c\/li\u003e\n\u003c\/ul\u003e","published_at":"2022-12-11T19:48:02-10:00","created_at":"2022-12-11T19:48:13-10:00","vendor":"Suerteyay","type":"","tags":["sports \u0026 outdoors"],"price":1499,"price_min":1499,"price_max":1499,"available":true,"price_varies":false,"compare_at_price":2999,"compare_at_price_min":2999,"compare_at_price_max":2999,"compare_at_price_varies":false,"variants":[{"id":40354832679001,"title":"Default Title","option1":"Default Title","option2":null,"option3":null,"sku":"CP42245-E037","requires_shipping":true,"taxable":false,"featured_image":null,"available":true,"name":"Funny Bikini Girl Golf Tees (6pcs)","public_title":null,"options":["Default Title"],"price":1499,"weight":0,"compare_at_price":2999,"inventory_management":null,"barcode":"","requires_selling_plan":false,"selling_plan_allocations":[],"quantity_rule":{"min":1,"max":null,"increment":1}}],"images":["\/\/www.suerteyay.com\/cdn\/shop\/products\/FM2_24605f0d-3c0d-4fb4-8f6c-a62f5b296656.jpg?v=1670824094","\/\/www.suerteyay.com\/cdn\/shop\/products\/1_440f030d-2988-4e04-9f47-16914e19778a.jpg?v=1670824094","\/\/www.suerteyay.com\/cdn\/shop\/products\/2_ae2f796d-eafe-4685-93ba-09e6d59dfc9a.jpg?v=1670824094","\/\/www.suerteyay.com\/cdn\/shop\/products\/7_b36c4421-5aed-4e6a-ae66-ae4d5954dd48.jpg?v=1670824094","\/\/www.suerteyay.com\/cdn\/shop\/products\/FM1_715376ac-ca01-4f39-ba3f-641fb982bb52.jpg?v=1670824094","\/\/www.suerteyay.com\/cdn\/shop\/products\/9_0de8d3a8-9738-45b6-9134-ee55a8f1a6f4.jpg?v=1670824094","\/\/www.suerteyay.com\/cdn\/shop\/products\/8_37d83942-dbe4-4372-886a-eec683bf43e0.jpg?v=1670824094","\/\/www.suerteyay.com\/cdn\/shop\/products\/6_9aa023d7-8052-4e59-b66b-9fa2d8018332.jpg?v=1670824094","\/\/www.suerteyay.com\/cdn\/shop\/products\/3_e86856b2-4a0e-4778-93a8-c75b2b024814.jpg?v=1670824094","\/\/www.suerteyay.com\/cdn\/shop\/products\/4_ca1ac81b-8f72-4a05-8b07-ebbf027d2ca5.jpg?v=1670824094","\/\/www.suerteyay.com\/cdn\/shop\/products\/5_bd2ec71d-67c7-4c02-893e-cdd6747079ca.jpg?v=1670824094","\/\/www.suerteyay.com\/cdn\/shop\/products\/1_32109949-39e4-4e4e-9d3b-e38e7fad3385.jpg?v=1670824094"],"featured_image":"\/\/www.suerteyay.com\/cdn\/shop\/products\/FM2_24605f0d-3c0d-4fb4-8f6c-a62f5b296656.jpg?v=1670824094","options":["Title"],"media":[{"alt":null,"id":23386201391193,"position":1,"preview_image":{"aspect_ratio":1.0,"height":800,"width":800,"src":"\/\/www.suerteyay.com\/cdn\/shop\/products\/FM2_24605f0d-3c0d-4fb4-8f6c-a62f5b296656.jpg?v=1670824094"},"aspect_ratio":1.0,"height":800,"media_type":"image","src":"\/\/www.suerteyay.com\/cdn\/shop\/products\/FM2_24605f0d-3c0d-4fb4-8f6c-a62f5b296656.jpg?v=1670824094","width":800},{"alt":null,"id":23386201423961,"position":2,"preview_image":{"aspect_ratio":1.0,"height":800,"width":800,"src":"\/\/www.suerteyay.com\/cdn\/shop\/products\/1_440f030d-2988-4e04-9f47-16914e19778a.jpg?v=1670824094"},"aspect_ratio":1.0,"height":800,"media_type":"image","src":"\/\/www.suerteyay.com\/cdn\/shop\/products\/1_440f030d-2988-4e04-9f47-16914e19778a.jpg?v=1670824094","width":800},{"alt":null,"id":23386201456729,"position":3,"preview_image":{"aspect_ratio":1.0,"height":800,"width":800,"src":"\/\/www.suerteyay.com\/cdn\/shop\/products\/2_ae2f796d-eafe-4685-93ba-09e6d59dfc9a.jpg?v=1670824094"},"aspect_ratio":1.0,"height":800,"media_type":"image","src":"\/\/www.suerteyay.com\/cdn\/shop\/products\/2_ae2f796d-eafe-4685-93ba-09e6d59dfc9a.jpg?v=1670824094","width":800},{"alt":null,"id":23386201489497,"position":4,"preview_image":{"aspect_ratio":1.0,"height":800,"width":800,"src":"\/\/www.suerteyay.com\/cdn\/shop\/products\/7_b36c4421-5aed-4e6a-ae66-ae4d5954dd48.jpg?v=1670824094"},"aspect_ratio":1.0,"height":800,"media_type":"image","src":"\/\/www.suerteyay.com\/cdn\/shop\/products\/7_b36c4421-5aed-4e6a-ae66-ae4d5954dd48.jpg?v=1670824094","width":800},{"alt":null,"id":23386201522265,"position":5,"preview_image":{"aspect_ratio":1.0,"height":800,"width":800,"src":"\/\/www.suerteyay.com\/cdn\/shop\/products\/FM1_715376ac-ca01-4f39-ba3f-641fb982bb52.jpg?v=1670824094"},"aspect_ratio":1.0,"height":800,"media_type":"image","src":"\/\/www.suerteyay.com\/cdn\/shop\/products\/FM1_715376ac-ca01-4f39-ba3f-641fb982bb52.jpg?v=1670824094","width":800},{"alt":null,"id":23386201555033,"position":6,"preview_image":{"aspect_ratio":1.0,"height":800,"width":800,"src":"\/\/www.suerteyay.com\/cdn\/shop\/products\/9_0de8d3a8-9738-45b6-9134-ee55a8f1a6f4.jpg?v=1670824094"},"aspect_ratio":1.0,"height":800,"media_type":"image","src":"\/\/www.suerteyay.com\/cdn\/shop\/products\/9_0de8d3a8-9738-45b6-9134-ee55a8f1a6f4.jpg?v=1670824094","width":800},{"alt":null,"id":23386201587801,"position":7,"preview_image":{"aspect_ratio":1.0,"height":800,"width":800,"src":"\/\/www.suerteyay.com\/cdn\/shop\/products\/8_37d83942-dbe4-4372-886a-eec683bf43e0.jpg?v=1670824094"},"aspect_ratio":1.0,"height":800,"media_type":"image","src":"\/\/www.suerteyay.com\/cdn\/shop\/products\/8_37d83942-dbe4-4372-886a-eec683bf43e0.jpg?v=1670824094","width":800},{"alt":null,"id":23386201620569,"position":8,"preview_image":{"aspect_ratio":1.0,"height":800,"width":800,"src":"\/\/www.suerteyay.com\/cdn\/shop\/products\/6_9aa023d7-8052-4e59-b66b-9fa2d8018332.jpg?v=1670824094"},"aspect_ratio":1.0,"height":800,"media_type":"image","src":"\/\/www.suerteyay.com\/cdn\/shop\/products\/6_9aa023d7-8052-4e59-b66b-9fa2d8018332.jpg?v=1670824094","width":800},{"alt":null,"id":23386201653337,"position":9,"preview_image":{"aspect_ratio":1.0,"height":800,"width":800,"src":"\/\/www.suerteyay.com\/cdn\/shop\/products\/3_e86856b2-4a0e-4778-93a8-c75b2b024814.jpg?v=1670824094"},"aspect_ratio":1.0,"height":800,"media_type":"image","src":"\/\/www.suerteyay.com\/cdn\/shop\/products\/3_e86856b2-4a0e-4778-93a8-c75b2b024814.jpg?v=1670824094","width":800},{"alt":null,"id":23386201686105,"position":10,"preview_image":{"aspect_ratio":1.0,"height":800,"width":800,"src":"\/\/www.suerteyay.com\/cdn\/shop\/products\/4_ca1ac81b-8f72-4a05-8b07-ebbf027d2ca5.jpg?v=1670824094"},"aspect_ratio":1.0,"height":800,"media_type":"image","src":"\/\/www.suerteyay.com\/cdn\/shop\/products\/4_ca1ac81b-8f72-4a05-8b07-ebbf027d2ca5.jpg?v=1670824094","width":800},{"alt":null,"id":23386201718873,"position":11,"preview_image":{"aspect_ratio":1.0,"height":800,"width":800,"src":"\/\/www.suerteyay.com\/cdn\/shop\/products\/5_bd2ec71d-67c7-4c02-893e-cdd6747079ca.jpg?v=1670824094"},"aspect_ratio":1.0,"height":800,"media_type":"image","src":"\/\/www.suerteyay.com\/cdn\/shop\/products\/5_bd2ec71d-67c7-4c02-893e-cdd6747079ca.jpg?v=1670824094","width":800},{"alt":null,"id":23386201751641,"position":12,"preview_image":{"aspect_ratio":1.0,"height":800,"width":800,"src":"\/\/www.suerteyay.com\/cdn\/shop\/products\/1_32109949-39e4-4e4e-9d3b-e38e7fad3385.jpg?v=1670824094"},"aspect_ratio":1.0,"height":800,"media_type":"image","src":"\/\/www.suerteyay.com\/cdn\/shop\/products\/1_32109949-39e4-4e4e-9d3b-e38e7fad3385.jpg?v=1670824094","width":800}],"requires_selling_plan":false,"selling_plan_groups":[],"content":"\u003ch4 data-mce-fragment=\"1\" style=\"text-align: center;\"\u003e\u003cspan data-mce-fragment=\"1\" class=\"a-list-item\"\u003e\u003cstrong data-mce-fragment=\"1\"\u003e\u003cspan data-mce-fragment=\"1\" style=\"color: #e03e2d;\" data-mce-style=\"color: #e03e2d;\"\u003e💝\u003cspan style=\"color: #b2392c;\"\u003e Share with friends or golf lovers and trust me it will become a great conversation piece !\u003c\/span\u003e\u003c\/span\u003e\u003c\/strong\u003e\u003c\/span\u003e\u003c\/h4\u003e\n\u003cp data-mce-fragment=\"1\"\u003e\u003cspan data-mce-fragment=\"1\" class=\"a-list-item\"\u003e\u003cimg data-mce-fragment=\"1\" style=\"display: block; margin-left: auto; margin-right: auto;\" data-loaded=\"true\" src=\"https:\/\/img-va.myshopline.com\/image\/store\/2000283284\/1650441738136\/dd244dee0e6d40f8b7a790b1400ac165.jpeg?w=1600\u0026amp;h=1600\" data-src=\"https:\/\/img-va.myshopline.com\/image\/store\/2000283284\/1650441738136\/dd244dee0e6d40f8b7a790b1400ac165.jpeg?w=1600\u0026amp;h=1600\" class=\"lozad lazyloaded\" data-mce-selected=\"1\" data-mce-style=\"display: block; margin-left: auto; margin-right: auto;\" referrerpolicy=\"same-origin\" data-mce-src=\"https:\/\/img-va.myshopline.com\/image\/store\/2000283284\/1650441738136\/dd244dee0e6d40f8b7a790b1400ac165.jpeg?w=1600\u0026amp;h=1600\" width=\"426\" height=\"426\"\u003e\u003c\/span\u003e\u003c\/p\u003e\n\u003ch4 data-mce-fragment=\"1\"\u003e\u003cspan style=\"color: #b2392c;\"\u003e\u003cstrong\u003e\u003cspan data-mce-fragment=\"1\" class=\"a-list-item\"\u003eFEATURE:\u003c\/span\u003e\u003c\/strong\u003e\u003c\/span\u003e\u003c\/h4\u003e\n\u003cul data-mce-fragment=\"1\"\u003e\n\u003cli data-mce-fragment=\"1\"\u003e\u003cspan data-mce-fragment=\"1\" class=\"a-list-item\"\u003e\u003cspan data-mce-fragment=\"1\" style=\"color: #e67e23;\" data-mce-style=\"color: #e67e23;\"\u003e\u003cstrong data-mce-fragment=\"1\"\u003e🌟 \u003cspan style=\"color: #2f6230;\"\u003eAbundant golf tee set:\u003c\/span\u003e\u003c\/strong\u003e\u003c\/span\u003e \u003cspan style=\"color: #404040;\"\u003ethe set is composed of 6 pieces of bikini women's golf tees in 6 different colors. \u003cstrong data-mce-fragment=\"1\"\u003e \u003c\/strong\u003e\u003c\/span\u003e\u003c\/span\u003e\u003c\/li\u003e\n\u003c\/ul\u003e\n\u003cp data-mce-fragment=\"1\"\u003e\u003cspan data-mce-fragment=\"1\" class=\"a-list-item\"\u003e\u003cimg data-mce-fragment=\"1\" class=\"lozad lazyloaded\" data-src=\"https:\/\/img-va.myshopline.com\/image\/store\/2000283284\/1650441738136\/296a7fea28b6441da8dea52149fd0600.jpeg?w=1600\u0026amp;h=1600\" src=\"https:\/\/img-va.myshopline.com\/image\/store\/2000283284\/1650441738136\/296a7fea28b6441da8dea52149fd0600.jpeg?w=1600\u0026amp;h=1600\" data-loaded=\"true\" style=\"display: block; margin-left: auto; margin-right: auto;\" data-mce-src=\"https:\/\/img-va.myshopline.com\/image\/store\/2000283284\/1650441738136\/296a7fea28b6441da8dea52149fd0600.jpeg?w=1600\u0026amp;h=1600\" referrerpolicy=\"same-origin\" width=\"429\" height=\"429\"\u003e\u003c\/span\u003e\u003c\/p\u003e\n\u003cul data-mce-fragment=\"1\"\u003e\n\u003cli data-mce-fragment=\"1\"\u003e\u003cspan data-mce-fragment=\"1\" class=\"a-list-item\"\u003e\u003cstrong data-mce-fragment=\"1\"\u003e🌟 \u003cspan style=\"color: #2f6230;\"\u003ePractical golf accessories: \u003c\/span\u003e\u003c\/strong\u003e\u003cspan style=\"color: #404040;\"\u003eeach plastic golf seat designed with a shallow cup on the top, which plays a key role in firmly supporting the ball and reducing its rotation.\u003c\/span\u003e\u003c\/span\u003e\u003c\/li\u003e\n\u003c\/ul\u003e\n\u003cp data-mce-fragment=\"1\"\u003e\u003cimg data-mce-fragment=\"1\" class=\"lozad lazyloaded\" data-src=\"https:\/\/img-va.myshopline.com\/image\/store\/2000283284\/1650441738136\/e84ec4618c1f485d806427453f20d8a2.jpeg?w=1600\u0026amp;h=1600\" src=\"https:\/\/img-va.myshopline.com\/image\/store\/2000283284\/1650441738136\/e84ec4618c1f485d806427453f20d8a2.jpeg?w=1600\u0026amp;h=1600\" data-loaded=\"true\" style=\"display: block; margin-left: auto; margin-right: auto;\" data-mce-src=\"https:\/\/img-va.myshopline.com\/image\/store\/2000283284\/1650441738136\/e84ec4618c1f485d806427453f20d8a2.jpeg?w=1600\u0026amp;h=1600\" referrerpolicy=\"same-origin\" width=\"431\" height=\"431\"\u003e\u003c\/p\u003e\n\u003cul data-mce-fragment=\"1\"\u003e\n\u003cli data-mce-fragment=\"1\"\u003e\u003cspan data-mce-fragment=\"1\" class=\"a-list-item\"\u003e\u003cspan data-mce-fragment=\"1\" style=\"color: #e67e23;\" data-mce-style=\"color: #e67e23;\"\u003e\u003cstrong data-mce-fragment=\"1\"\u003e🌟\u003cspan style=\"color: #2f6230;\"\u003e Durable material:\u003c\/span\u003e\u003c\/strong\u003e \u003c\/span\u003e\u003cspan style=\"color: #404040;\"\u003emade of quality plastic material, these women's golf tees are lightweight and portable, so that people can easily carry them outdoors, durable and reusable, not easy to break and deform, can serve you for a long time.\u003c\/span\u003e\u003c\/span\u003e\u003c\/li\u003e\n\u003c\/ul\u003e\n\u003cp data-mce-fragment=\"1\"\u003e\u003cspan data-mce-fragment=\"1\" class=\"a-list-item\"\u003e\u003cimg data-mce-fragment=\"1\" class=\"lozad lazyloaded\" data-src=\"https:\/\/img-va.myshopline.com\/image\/store\/2000283284\/1650441738136\/4220c6cbfa074f469a957f95372a0f7a.jpeg?w=1600\u0026amp;h=1600\" src=\"https:\/\/img-va.myshopline.com\/image\/store\/2000283284\/1650441738136\/4220c6cbfa074f469a957f95372a0f7a.jpeg?w=1600\u0026amp;h=1600\" data-loaded=\"true\" style=\"display: block; margin-left: auto; margin-right: auto;\" data-mce-src=\"https:\/\/img-va.myshopline.com\/image\/store\/2000283284\/1650441738136\/4220c6cbfa074f469a957f95372a0f7a.jpeg?w=1600\u0026amp;h=1600\" referrerpolicy=\"same-origin\" width=\"437\" height=\"437\"\u003e\u003c\/span\u003e\u003c\/p\u003e\n\u003cul data-mce-fragment=\"1\" class=\"a-unordered-list a-vertical a-spacing-mini\"\u003e\n\u003cli data-mce-fragment=\"1\"\u003e\u003cspan data-mce-fragment=\"1\" class=\"a-list-item\"\u003e\u003cstrong data-mce-fragment=\"1\"\u003e🎁 \u003cspan data-mce-fragment=\"1\" style=\"color: #e67e23;\" data-mce-style=\"color: #e67e23;\"\u003e\u003cspan style=\"color: #2f6230;\"\u003eNice gift:\u003c\/span\u003e\u003cspan data-mce-fragment=\"1\" style=\"color: #000000;\" data-mce-style=\"color: #000000;\"\u003e \u003c\/span\u003e\u003c\/span\u003e\u003c\/strong\u003e\u003cspan style=\"color: #404040;\"\u003eBikini golf tee is beautifully designed, suitable for people who like to play golf, \u003cstrong data-mce-fragment=\"1\"\u003eno matter their skill or level, they will find them interesting and practical💝!\u003c\/strong\u003e\u003c\/span\u003e\u003c\/span\u003e\u003c\/li\u003e\n\u003c\/ul\u003e\n\u003cp data-mce-fragment=\"1\"\u003e\u003cimg data-mce-fragment=\"1\" data-loaded=\"true\" src=\"https:\/\/img-va.myshopline.com\/image\/store\/2000283284\/1650441738136\/2186934745d54c0499db1bfcbc860db6.jpeg?w=1600\u0026amp;h=1600\" data-src=\"https:\/\/img-va.myshopline.com\/image\/store\/2000283284\/1650441738136\/2186934745d54c0499db1bfcbc860db6.jpeg?w=1600\u0026amp;h=1600\" class=\"lozad lazyloaded\" style=\"display: block; margin-left: auto; margin-right: auto;\" data-mce-selected=\"1\" referrerpolicy=\"same-origin\" data-mce-src=\"https:\/\/img-va.myshopline.com\/image\/store\/2000283284\/1650441738136\/2186934745d54c0499db1bfcbc860db6.jpeg?w=1600\u0026amp;h=1600\" width=\"432\" height=\"432\"\u003e\u003c\/p\u003e\n\u003ch4\u003e\u003cspan data-mce-fragment=\"1\" class=\"a-list-item\" style=\"color: #404040;\"\u003e\u003cstrong\u003e \u003c\/strong\u003e\u003c\/span\u003e\u003c\/h4\u003e\n\u003ch4\u003e\u003cspan data-mce-fragment=\"1\" class=\"a-list-item\" style=\"color: #404040;\"\u003e\u003cspan style=\"color: #b2392c;\"\u003e\u003cstrong\u003eSPECIFICATION:\u003c\/strong\u003e\u003c\/span\u003e\u003cbr\u003e\u003c\/span\u003e\u003c\/h4\u003e\n\u003cul\u003e\n\u003cli\u003e\u003cspan data-mce-fragment=\"1\" class=\"a-list-item\" style=\"color: #404040;\"\u003e\u003cstrong\u003eMaterial:\u003c\/strong\u003e \u003cspan data-mce-fragment=\"1\" class=\"HwtZe\" jsname=\"jqKxS\" jsaction=\"mouseup:BR6jm\" lang=\"en\"\u003e\u003cspan data-mce-fragment=\"1\" class=\"jCAhz ChMk0b\" jscontroller=\"Gn4SMb\" jsname=\"txFAF\" jsaction=\"agoMJf:PFBcW;MZfLnc:P7O7bd;nt4Alf:pvnm0e,pfE8Hb,PFBcW;B01qod:dJXsye;H1e5u:iXtTIf;lYIUJf:hij5Wb;bmeZHc:iURhpf;Oxj3Xe:qAKMYb,yaf12d\"\u003e\u003cspan data-mce-fragment=\"1\" class=\"ryNqvb\" jsname=\"W297wb\" jsaction=\"click:E6Tfl,GFf3ac,tMZCfe; contextmenu:Nqw7Te,QP7LD; mouseout:Nqw7Te; mouseover:E6Tfl,c2aHje\"\u003eplastic\u003c\/span\u003e\u003c\/span\u003e\u003c\/span\u003e\u003cbr\u003e\u003c\/span\u003e\u003c\/li\u003e\n\u003cli\u003e\u003cspan data-mce-fragment=\"1\" class=\"a-list-item\" style=\"color: #404040;\"\u003e\u003cstrong\u003eColor:\u003c\/strong\u003e \u003cspan data-mce-fragment=\"1\" class=\"HwtZe\" jsname=\"jqKxS\" jsaction=\"mouseup:BR6jm\" lang=\"en\"\u003e\u003cspan data-mce-fragment=\"1\" class=\"jCAhz ChMk0b\" jscontroller=\"Gn4SMb\" jsname=\"txFAF\" jsaction=\"agoMJf:PFBcW;MZfLnc:P7O7bd;nt4Alf:pvnm0e,pfE8Hb,PFBcW;B01qod:dJXsye;H1e5u:iXtTIf;lYIUJf:hij5Wb;bmeZHc:iURhpf;Oxj3Xe:qAKMYb,yaf12d\"\u003e\u003cspan data-mce-fragment=\"1\" class=\"ryNqvb\" jsname=\"W297wb\" jsaction=\"click:E6Tfl,GFf3ac,tMZCfe; contextmenu:Nqw7Te,QP7LD; mouseout:Nqw7Te; mouseover:E6Tfl,c2aHje\"\u003eas shown\u003c\/span\u003e\u003c\/span\u003e\u003c\/span\u003e\u003cbr\u003e\u003c\/span\u003e\u003c\/li\u003e\n\u003cli\u003e\u003cspan data-mce-fragment=\"1\" class=\"a-list-item\" style=\"color: #404040;\"\u003e\u003cstrong\u003eSize:\u003c\/strong\u003e 75mm\u003cbr\u003e\u003c\/span\u003e\u003c\/li\u003e\n\u003c\/ul\u003e\n\u003ch4\u003e\u003cspan data-mce-fragment=\"1\" class=\"a-list-item\" style=\"color: #404040;\"\u003e\u003cimg data-mce-fragment=\"1\" style=\"display: block; margin-left: auto; margin-right: auto;\" alt=\"\" src=\"https:\/\/cdn.shopify.com\/s\/files\/1\/0365\/8779\/8667\/files\/468ef44610c31b5b50b747b4f9f5ee49_1332c651-bf3a-4a0f-b167-551ca125e2fb_480x480.jpg?v=1670393183\" data-mce-src=\"https:\/\/cdn.shopify.com\/s\/files\/1\/0365\/8779\/8667\/files\/468ef44610c31b5b50b747b4f9f5ee49_1332c651-bf3a-4a0f-b167-551ca125e2fb_480x480.jpg?v=1670393183\" width=\"382\" height=\"382\"\u003e\u003cbr\u003e\u003cspan style=\"color: #b2392c;\"\u003e\u003cstrong\u003ePACKAGE INCLUDES:\u003c\/strong\u003e\u003c\/span\u003e\u003cbr\u003e\u003c\/span\u003e\u003c\/h4\u003e\n\u003cul\u003e\n\u003cli\u003e\u003cspan data-mce-fragment=\"1\" class=\"a-list-item\" style=\"color: #404040;\"\u003e1 Set ×Funny Bikini Girl Golf Tees (6pcs)\u003c\/span\u003e\u003c\/li\u003e\n\u003c\/ul\u003e"}
Adding product to your cart
💝

Share with friends or golf lovers and trust me it will become a great conversation piece !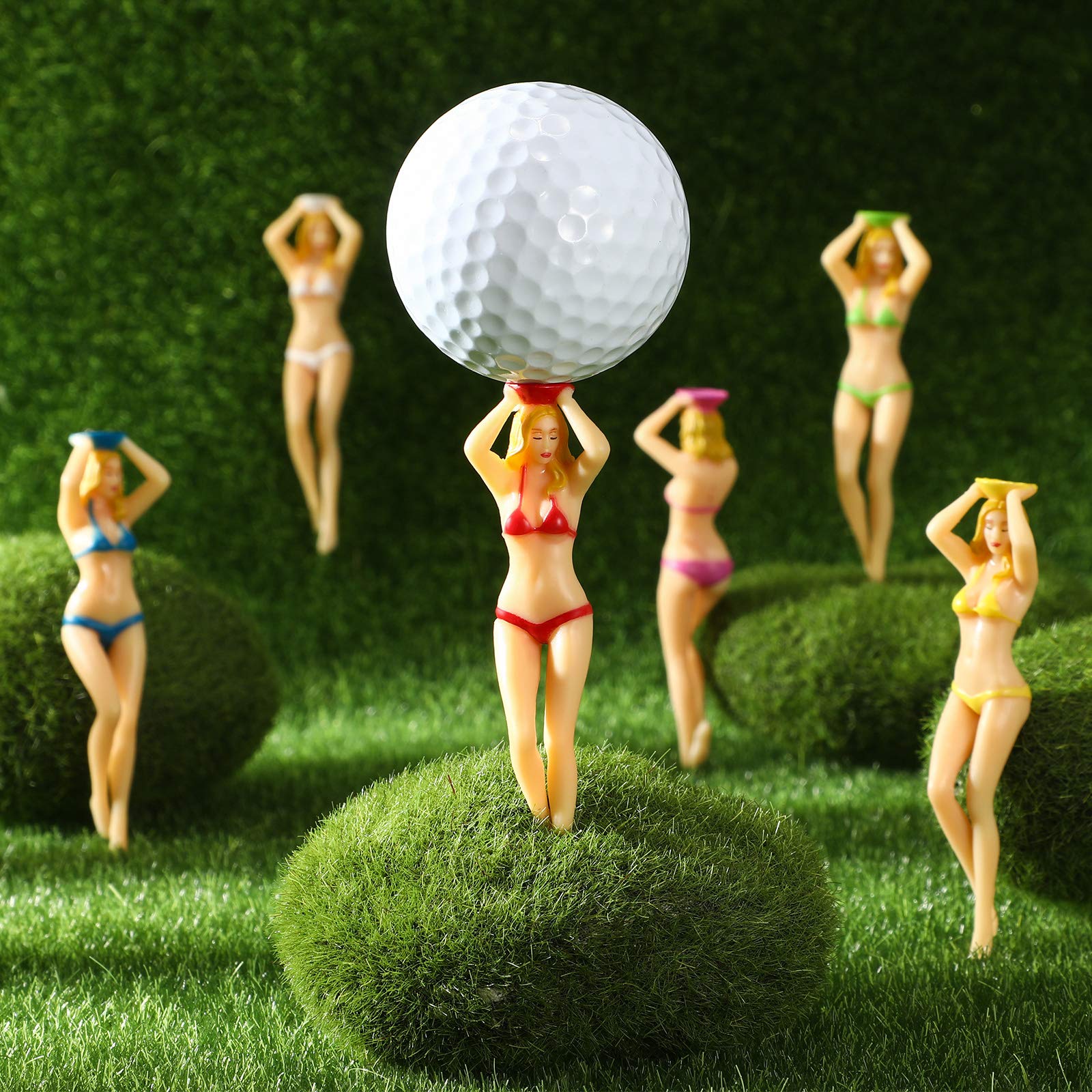 FEATURE:
🌟

Abundant golf tee set:

the set is composed of 6 pieces of bikini women's golf tees in 6 different colors.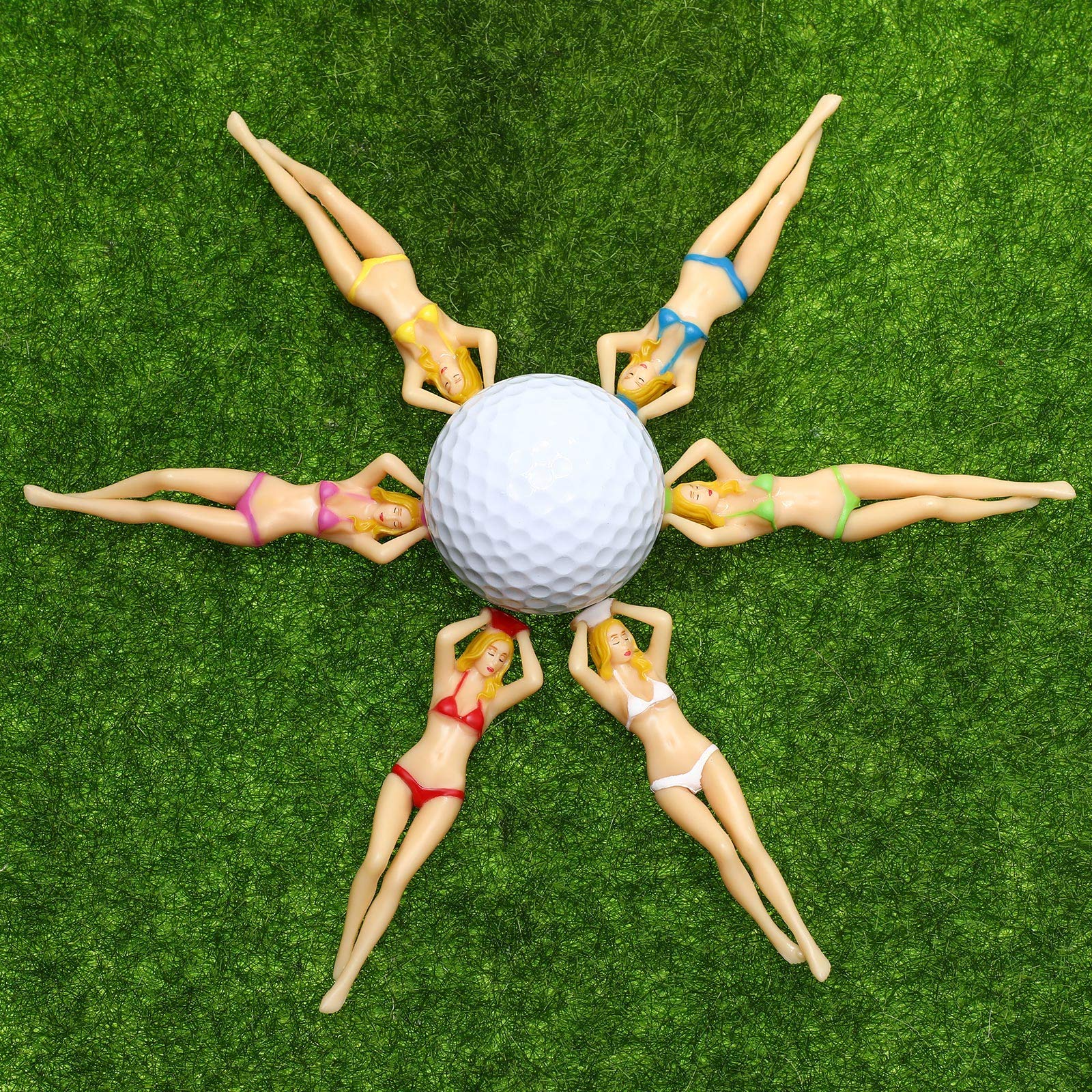 🌟

Practical golf accessories:

each plastic golf seat designed with a shallow cup on the top, which plays a key role in firmly supporting the ball and reducing its rotation.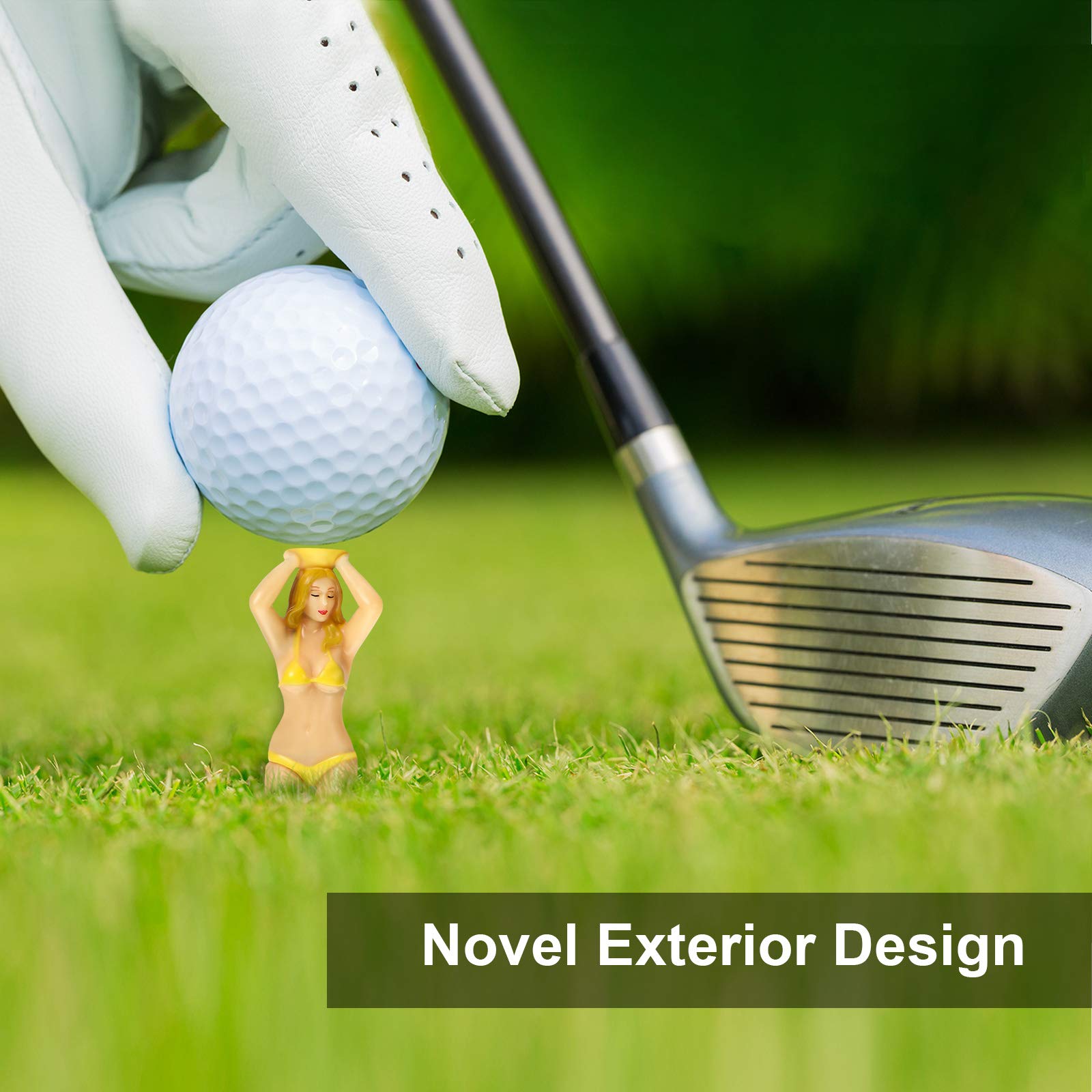 🌟

Durable material:

made of quality plastic material, these women's golf tees are lightweight and portable, so that people can easily carry them outdoors, durable and reusable, not easy to break and deform, can serve you for a long time.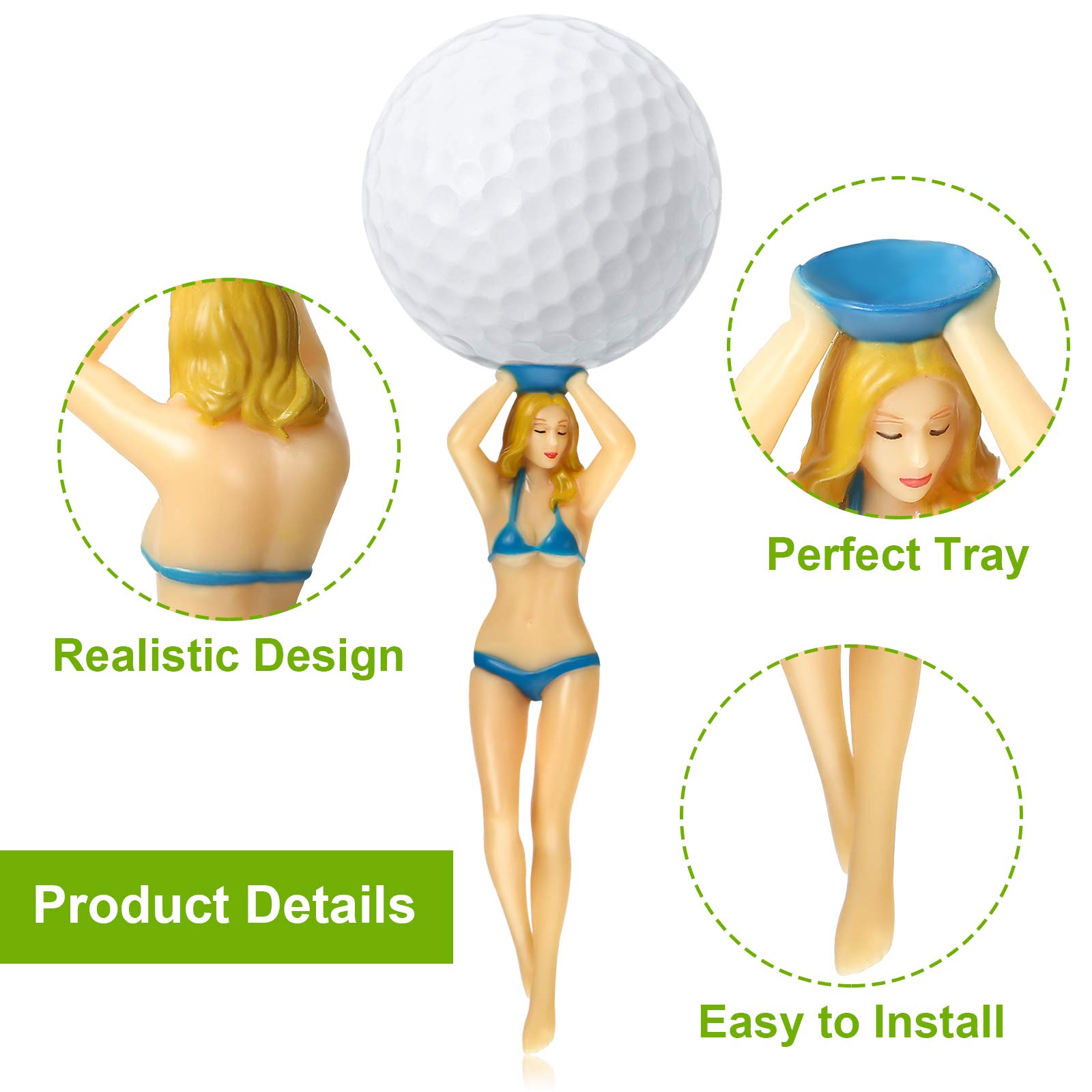 🎁

Nice gift:

Bikini golf tee is beautifully designed, suitable for people who like to play golf, no matter their skill or level, they will find them interesting and practical💝!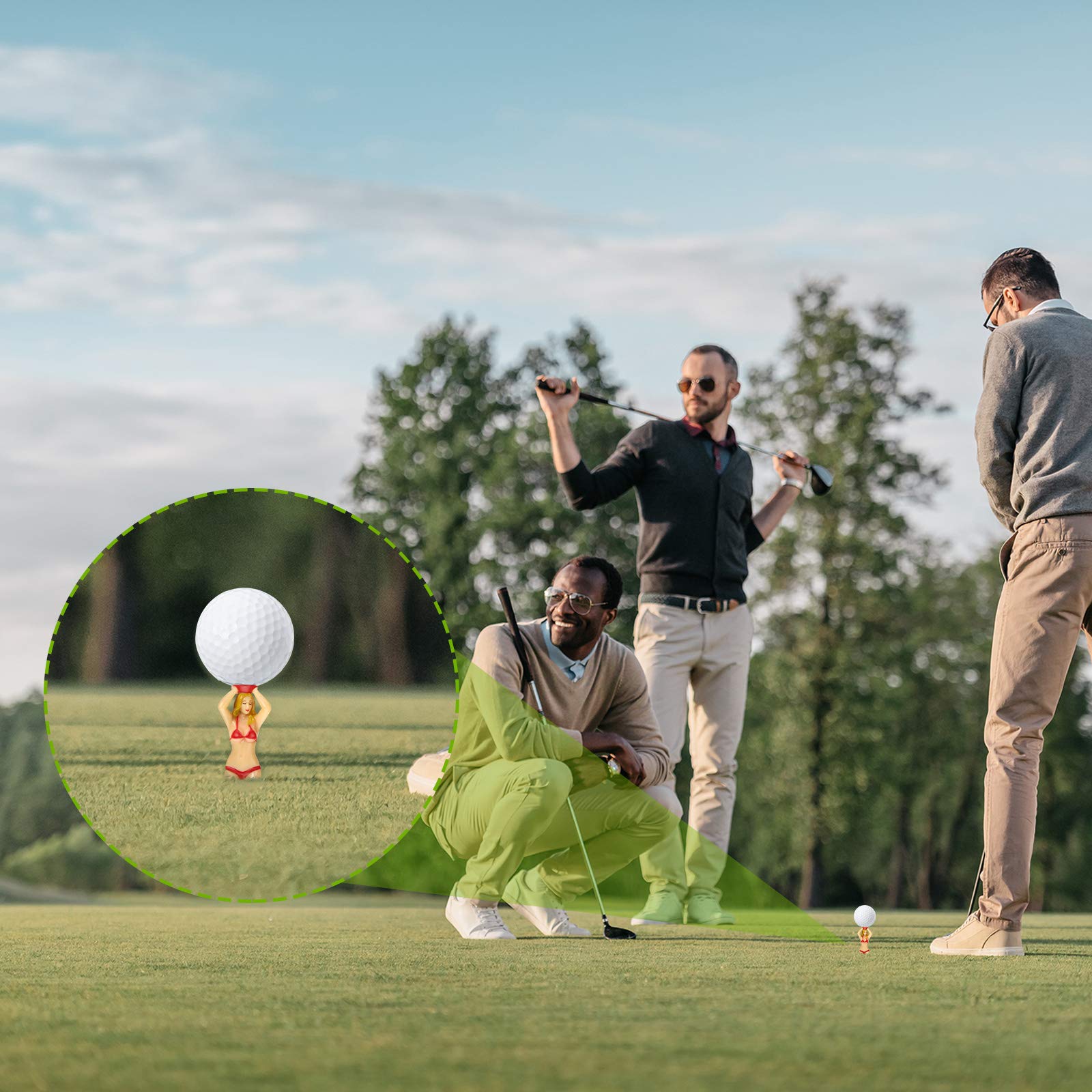 SPECIFICATION:

Material:

plastic



Color:

as shown



Size: 75mm


PACKAGE INCLUDES:

1 Set ×Funny Bikini Girl Golf Tees (6pcs)