{"id":7141698469977,"title":"Women High Waist Fake Top Lower Sweep","handle":"women-high-waist-fake-top-lower-sweep","description":"\u003cp\u003e\u003cspan style=\"color: #910000;\"\u003e\u003cstrong\u003eSometimes it is a bit embarrassing when we come across situations that we have to wear a short jacket or sweaters, But not anymore.\u003c\/strong\u003e\u003c\/span\u003e\u003c\/p\u003e\n\u003cp\u003e\u003cspan style=\"color: #ff8000;\"\u003e\u003cstrong\u003e😍It takes only 1 second to put on this Skirt to become a fashion Girl in Seconds.\u003c\/strong\u003e\u003c\/span\u003e\u003c\/p\u003e\n\u003cp\u003e\u003cspan style=\"color: #ff8000;\"\u003e\u003cstrong\u003e\u003cimg alt=\"\" src=\"https:\/\/cdn.shopifycdn.net\/s\/files\/1\/0529\/2562\/8588\/files\/10_a97cab7c-7a45-474d-b0c4-4029ee9fdf06_480x480.jpg?v=1630921704\" style=\"display: block; margin-left: auto; margin-right: auto;\"\u003e\u003c\/strong\u003e\u003c\/span\u003e\u003c\/p\u003e\n\u003cp\u003e\u003cspan style=\"color: #910000;\"\u003e\u003cstrong\u003eFEATURES:\u003c\/strong\u003e\u003c\/span\u003e\u003c\/p\u003e\n\u003cul\u003e\n\u003cli\u003e\n\u003cp\u003e\u003cspan style=\"color: #ff8000;\"\u003e\u003cstrong\u003eChic design:\u003c\/strong\u003e \u003c\/span\u003ethe fake top lower sweep comes with splitting design, stretchy high waist appearance will highlight your beautiful figure, its simple style can make you more charming and elegant\u003c\/p\u003e\n\u003c\/li\u003e\n\u003cli\u003e\n\u003cp\u003e\u003cstrong\u003e\u003cspan style=\"color: #ff8000;\"\u003eSoft and comfortable material:\u003c\/span\u003e \u003c\/strong\u003eMade of quality polyester fiber with good moisture absorption and permeability, soft, elastic and comfortable to wear\u003c\/p\u003e\n\u003c\/li\u003e\n\u003cli\u003e\n\u003cp\u003e\u003cspan style=\"color: #ff8000;\"\u003e\u003cstrong\u003eEasy to match:\u003c\/strong\u003e \u003c\/span\u003eA good decoration for sweatshirts, jackets, coats, and other casual clothes, very suitable for daily street shooting, shopping, etc.\u003c\/p\u003e\n\u003c\/li\u003e\n\u003c\/ul\u003e\n\u003cp\u003e\u003cimg alt=\"\" src=\"https:\/\/cdn.shopifycdn.net\/s\/files\/1\/0529\/2562\/8588\/files\/1_66b5d8f7-2b64-4984-a4d9-b8da44b90d2c_480x480.jpg?v=1630921725\" style=\"display: block; margin-left: auto; margin-right: auto;\"\u003e\u003c\/p\u003e\n\u003cp\u003e\u003cspan style=\"color: #910000;\"\u003e\u003cstrong\u003eSPECIFICATIONS:\u003c\/strong\u003e\u003c\/span\u003e\u003c\/p\u003e\n\u003cul\u003e\n\u003cli\u003eMaterial: Polyester Fiber\u003c\/li\u003e\n\u003cli\u003eSeason: Spring, Fall, Winter, Summer\u003c\/li\u003e\n\u003cli\u003eHand wash recommended, do not bleach, iron on low heat.\u003c\/li\u003e\n\u003c\/ul\u003e","published_at":"2022-09-01T16:02:52-10:00","created_at":"2022-09-01T16:03:04-10:00","vendor":"Suerteyay","type":"","tags":["clothing \u0026 accessories"],"price":1299,"price_min":1299,"price_max":1299,"available":true,"price_varies":false,"compare_at_price":2598,"compare_at_price_min":2598,"compare_at_price_max":2598,"compare_at_price_varies":false,"variants":[{"id":40190108303449,"title":"WHITE \/ S","option1":"WHITE","option2":"S","option3":null,"sku":"CP20377-C005-S00S","requires_shipping":true,"taxable":false,"featured_image":{"id":30177781153881,"product_id":7141698469977,"position":12,"created_at":"2022-09-01T16:03:10-10:00","updated_at":"2022-09-01T16:03:11-10:00","alt":null,"width":800,"height":800,"src":"https:\/\/cdn.shopify.com\/s\/files\/1\/0077\/6096\/9779\/products\/1_da18cdbe-41f8-479c-8b98-e100eb41ea90.jpg?v=1662084191","variant_ids":[40190108303449,40190108336217,40190108368985,40190108401753,40190108434521,40190108467289,40190108500057,40190108532825,40190108565593,40190108598361,40190108631129,40190108663897,40190108696665,40190108729433,40190108762201,40190108794969,40190108827737,40190108860505,40190108893273,40190108926041,40190108958809,40190108991577,40190109024345,40190109057113,40190109089881,40190109122649,40190109155417,40190109188185,40190109220953,40190109253721,40190109286489,40190109319257,40190109352025,40190109384793,40190109417561,40190109450329,40190109483097,40190109515865,40190109548633,40190109581401,40190109614169,40190109646937,40190109679705,40190109712473,40190109745241,40190109778009,40190109810777,40190109843545,40190109876313,40190109909081,40190109941849,40190109974617,40190110007385,40190110040153,40190110072921,40190110105689]},"available":true,"name":"Women High Waist Fake Top Lower Sweep - WHITE \/ S","public_title":"WHITE \/ S","options":["WHITE","S"],"price":1299,"weight":0,"compare_at_price":2598,"inventory_management":null,"barcode":null,"featured_media":{"alt":null,"id":22716331262041,"position":12,"preview_image":{"aspect_ratio":1.0,"height":800,"width":800,"src":"https:\/\/cdn.shopify.com\/s\/files\/1\/0077\/6096\/9779\/products\/1_da18cdbe-41f8-479c-8b98-e100eb41ea90.jpg?v=1662084191"}},"requires_selling_plan":false,"selling_plan_allocations":[],"quantity_rule":{"min":1,"max":null,"increment":1}},{"id":40190108336217,"title":"WHITE \/ M","option1":"WHITE","option2":"M","option3":null,"sku":"CP20377-C005-S00M","requires_shipping":true,"taxable":false,"featured_image":{"id":30177781153881,"product_id":7141698469977,"position":12,"created_at":"2022-09-01T16:03:10-10:00","updated_at":"2022-09-01T16:03:11-10:00","alt":null,"width":800,"height":800,"src":"https:\/\/cdn.shopify.com\/s\/files\/1\/0077\/6096\/9779\/products\/1_da18cdbe-41f8-479c-8b98-e100eb41ea90.jpg?v=1662084191","variant_ids":[40190108303449,40190108336217,40190108368985,40190108401753,40190108434521,40190108467289,40190108500057,40190108532825,40190108565593,40190108598361,40190108631129,40190108663897,40190108696665,40190108729433,40190108762201,40190108794969,40190108827737,40190108860505,40190108893273,40190108926041,40190108958809,40190108991577,40190109024345,40190109057113,40190109089881,40190109122649,40190109155417,40190109188185,40190109220953,40190109253721,40190109286489,40190109319257,40190109352025,40190109384793,40190109417561,40190109450329,40190109483097,40190109515865,40190109548633,40190109581401,40190109614169,40190109646937,40190109679705,40190109712473,40190109745241,40190109778009,40190109810777,40190109843545,40190109876313,40190109909081,40190109941849,40190109974617,40190110007385,40190110040153,40190110072921,40190110105689]},"available":true,"name":"Women High Waist Fake Top Lower Sweep - WHITE \/ M","public_title":"WHITE \/ M","options":["WHITE","M"],"price":1299,"weight":0,"compare_at_price":2598,"inventory_management":null,"barcode":null,"featured_media":{"alt":null,"id":22716331262041,"position":12,"preview_image":{"aspect_ratio":1.0,"height":800,"width":800,"src":"https:\/\/cdn.shopify.com\/s\/files\/1\/0077\/6096\/9779\/products\/1_da18cdbe-41f8-479c-8b98-e100eb41ea90.jpg?v=1662084191"}},"requires_selling_plan":false,"selling_plan_allocations":[],"quantity_rule":{"min":1,"max":null,"increment":1}},{"id":40190108368985,"title":"WHITE \/ L","option1":"WHITE","option2":"L","option3":null,"sku":"CP20377-C005-S00L","requires_shipping":true,"taxable":false,"featured_image":{"id":30177781153881,"product_id":7141698469977,"position":12,"created_at":"2022-09-01T16:03:10-10:00","updated_at":"2022-09-01T16:03:11-10:00","alt":null,"width":800,"height":800,"src":"https:\/\/cdn.shopify.com\/s\/files\/1\/0077\/6096\/9779\/products\/1_da18cdbe-41f8-479c-8b98-e100eb41ea90.jpg?v=1662084191","variant_ids":[40190108303449,40190108336217,40190108368985,40190108401753,40190108434521,40190108467289,40190108500057,40190108532825,40190108565593,40190108598361,40190108631129,40190108663897,40190108696665,40190108729433,40190108762201,40190108794969,40190108827737,40190108860505,40190108893273,40190108926041,40190108958809,40190108991577,40190109024345,40190109057113,40190109089881,40190109122649,40190109155417,40190109188185,40190109220953,40190109253721,40190109286489,40190109319257,40190109352025,40190109384793,40190109417561,40190109450329,40190109483097,40190109515865,40190109548633,40190109581401,40190109614169,40190109646937,40190109679705,40190109712473,40190109745241,40190109778009,40190109810777,40190109843545,40190109876313,40190109909081,40190109941849,40190109974617,40190110007385,40190110040153,40190110072921,40190110105689]},"available":true,"name":"Women High Waist Fake Top Lower Sweep - WHITE \/ L","public_title":"WHITE \/ L","options":["WHITE","L"],"price":1299,"weight":0,"compare_at_price":2598,"inventory_management":null,"barcode":null,"featured_media":{"alt":null,"id":22716331262041,"position":12,"preview_image":{"aspect_ratio":1.0,"height":800,"width":800,"src":"https:\/\/cdn.shopify.com\/s\/files\/1\/0077\/6096\/9779\/products\/1_da18cdbe-41f8-479c-8b98-e100eb41ea90.jpg?v=1662084191"}},"requires_selling_plan":false,"selling_plan_allocations":[],"quantity_rule":{"min":1,"max":null,"increment":1}},{"id":40190108401753,"title":"WHITE \/ XL","option1":"WHITE","option2":"XL","option3":null,"sku":"CP20377-C005-S00X","requires_shipping":true,"taxable":false,"featured_image":{"id":30177781153881,"product_id":7141698469977,"position":12,"created_at":"2022-09-01T16:03:10-10:00","updated_at":"2022-09-01T16:03:11-10:00","alt":null,"width":800,"height":800,"src":"https:\/\/cdn.shopify.com\/s\/files\/1\/0077\/6096\/9779\/products\/1_da18cdbe-41f8-479c-8b98-e100eb41ea90.jpg?v=1662084191","variant_ids":[40190108303449,40190108336217,40190108368985,40190108401753,40190108434521,40190108467289,40190108500057,40190108532825,40190108565593,40190108598361,40190108631129,40190108663897,40190108696665,40190108729433,40190108762201,40190108794969,40190108827737,40190108860505,40190108893273,40190108926041,40190108958809,40190108991577,40190109024345,40190109057113,40190109089881,40190109122649,40190109155417,40190109188185,40190109220953,40190109253721,40190109286489,40190109319257,40190109352025,40190109384793,40190109417561,40190109450329,40190109483097,40190109515865,40190109548633,40190109581401,40190109614169,40190109646937,40190109679705,40190109712473,40190109745241,40190109778009,40190109810777,40190109843545,40190109876313,40190109909081,40190109941849,40190109974617,40190110007385,40190110040153,40190110072921,40190110105689]},"available":true,"name":"Women High Waist Fake Top Lower Sweep - WHITE \/ XL","public_title":"WHITE \/ XL","options":["WHITE","XL"],"price":1299,"weight":0,"compare_at_price":2598,"inventory_management":null,"barcode":null,"featured_media":{"alt":null,"id":22716331262041,"position":12,"preview_image":{"aspect_ratio":1.0,"height":800,"width":800,"src":"https:\/\/cdn.shopify.com\/s\/files\/1\/0077\/6096\/9779\/products\/1_da18cdbe-41f8-479c-8b98-e100eb41ea90.jpg?v=1662084191"}},"requires_selling_plan":false,"selling_plan_allocations":[],"quantity_rule":{"min":1,"max":null,"increment":1}},{"id":40190108434521,"title":"WHITE \/ 2XL","option1":"WHITE","option2":"2XL","option3":null,"sku":"CP20377-C005-S02X","requires_shipping":true,"taxable":false,"featured_image":{"id":30177781153881,"product_id":7141698469977,"position":12,"created_at":"2022-09-01T16:03:10-10:00","updated_at":"2022-09-01T16:03:11-10:00","alt":null,"width":800,"height":800,"src":"https:\/\/cdn.shopify.com\/s\/files\/1\/0077\/6096\/9779\/products\/1_da18cdbe-41f8-479c-8b98-e100eb41ea90.jpg?v=1662084191","variant_ids":[40190108303449,40190108336217,40190108368985,40190108401753,40190108434521,40190108467289,40190108500057,40190108532825,40190108565593,40190108598361,40190108631129,40190108663897,40190108696665,40190108729433,40190108762201,40190108794969,40190108827737,40190108860505,40190108893273,40190108926041,40190108958809,40190108991577,40190109024345,40190109057113,40190109089881,40190109122649,40190109155417,40190109188185,40190109220953,40190109253721,40190109286489,40190109319257,40190109352025,40190109384793,40190109417561,40190109450329,40190109483097,40190109515865,40190109548633,40190109581401,40190109614169,40190109646937,40190109679705,40190109712473,40190109745241,40190109778009,40190109810777,40190109843545,40190109876313,40190109909081,40190109941849,40190109974617,40190110007385,40190110040153,40190110072921,40190110105689]},"available":true,"name":"Women High Waist Fake Top Lower Sweep - WHITE \/ 2XL","public_title":"WHITE \/ 2XL","options":["WHITE","2XL"],"price":1299,"weight":0,"compare_at_price":2598,"inventory_management":null,"barcode":null,"featured_media":{"alt":null,"id":22716331262041,"position":12,"preview_image":{"aspect_ratio":1.0,"height":800,"width":800,"src":"https:\/\/cdn.shopify.com\/s\/files\/1\/0077\/6096\/9779\/products\/1_da18cdbe-41f8-479c-8b98-e100eb41ea90.jpg?v=1662084191"}},"requires_selling_plan":false,"selling_plan_allocations":[],"quantity_rule":{"min":1,"max":null,"increment":1}},{"id":40190108467289,"title":"WHITE \/ 3XL","option1":"WHITE","option2":"3XL","option3":null,"sku":"CP20377-C005-S03X","requires_shipping":true,"taxable":false,"featured_image":{"id":30177781153881,"product_id":7141698469977,"position":12,"created_at":"2022-09-01T16:03:10-10:00","updated_at":"2022-09-01T16:03:11-10:00","alt":null,"width":800,"height":800,"src":"https:\/\/cdn.shopify.com\/s\/files\/1\/0077\/6096\/9779\/products\/1_da18cdbe-41f8-479c-8b98-e100eb41ea90.jpg?v=1662084191","variant_ids":[40190108303449,40190108336217,40190108368985,40190108401753,40190108434521,40190108467289,40190108500057,40190108532825,40190108565593,40190108598361,40190108631129,40190108663897,40190108696665,40190108729433,40190108762201,40190108794969,40190108827737,40190108860505,40190108893273,40190108926041,40190108958809,40190108991577,40190109024345,40190109057113,40190109089881,40190109122649,40190109155417,40190109188185,40190109220953,40190109253721,40190109286489,40190109319257,40190109352025,40190109384793,40190109417561,40190109450329,40190109483097,40190109515865,40190109548633,40190109581401,40190109614169,40190109646937,40190109679705,40190109712473,40190109745241,40190109778009,40190109810777,40190109843545,40190109876313,40190109909081,40190109941849,40190109974617,40190110007385,40190110040153,40190110072921,40190110105689]},"available":true,"name":"Women High Waist Fake Top Lower Sweep - WHITE \/ 3XL","public_title":"WHITE \/ 3XL","options":["WHITE","3XL"],"price":1299,"weight":0,"compare_at_price":2598,"inventory_management":null,"barcode":null,"featured_media":{"alt":null,"id":22716331262041,"position":12,"preview_image":{"aspect_ratio":1.0,"height":800,"width":800,"src":"https:\/\/cdn.shopify.com\/s\/files\/1\/0077\/6096\/9779\/products\/1_da18cdbe-41f8-479c-8b98-e100eb41ea90.jpg?v=1662084191"}},"requires_selling_plan":false,"selling_plan_allocations":[],"quantity_rule":{"min":1,"max":null,"increment":1}},{"id":40190108500057,"title":"WHITE \/ 4XL","option1":"WHITE","option2":"4XL","option3":null,"sku":"CP20377-C005-S04X","requires_shipping":true,"taxable":false,"featured_image":{"id":30177781153881,"product_id":7141698469977,"position":12,"created_at":"2022-09-01T16:03:10-10:00","updated_at":"2022-09-01T16:03:11-10:00","alt":null,"width":800,"height":800,"src":"https:\/\/cdn.shopify.com\/s\/files\/1\/0077\/6096\/9779\/products\/1_da18cdbe-41f8-479c-8b98-e100eb41ea90.jpg?v=1662084191","variant_ids":[40190108303449,40190108336217,40190108368985,40190108401753,40190108434521,40190108467289,40190108500057,40190108532825,40190108565593,40190108598361,40190108631129,40190108663897,40190108696665,40190108729433,40190108762201,40190108794969,40190108827737,40190108860505,40190108893273,40190108926041,40190108958809,40190108991577,40190109024345,40190109057113,40190109089881,40190109122649,40190109155417,40190109188185,40190109220953,40190109253721,40190109286489,40190109319257,40190109352025,40190109384793,40190109417561,40190109450329,40190109483097,40190109515865,40190109548633,40190109581401,40190109614169,40190109646937,40190109679705,40190109712473,40190109745241,40190109778009,40190109810777,40190109843545,40190109876313,40190109909081,40190109941849,40190109974617,40190110007385,40190110040153,40190110072921,40190110105689]},"available":true,"name":"Women High Waist Fake Top Lower Sweep - WHITE \/ 4XL","public_title":"WHITE \/ 4XL","options":["WHITE","4XL"],"price":1299,"weight":0,"compare_at_price":2598,"inventory_management":null,"barcode":null,"featured_media":{"alt":null,"id":22716331262041,"position":12,"preview_image":{"aspect_ratio":1.0,"height":800,"width":800,"src":"https:\/\/cdn.shopify.com\/s\/files\/1\/0077\/6096\/9779\/products\/1_da18cdbe-41f8-479c-8b98-e100eb41ea90.jpg?v=1662084191"}},"requires_selling_plan":false,"selling_plan_allocations":[],"quantity_rule":{"min":1,"max":null,"increment":1}},{"id":40190108532825,"title":"WHITE \/ 5XL","option1":"WHITE","option2":"5XL","option3":null,"sku":"CP20377-C005-S05X","requires_shipping":true,"taxable":false,"featured_image":{"id":30177781153881,"product_id":7141698469977,"position":12,"created_at":"2022-09-01T16:03:10-10:00","updated_at":"2022-09-01T16:03:11-10:00","alt":null,"width":800,"height":800,"src":"https:\/\/cdn.shopify.com\/s\/files\/1\/0077\/6096\/9779\/products\/1_da18cdbe-41f8-479c-8b98-e100eb41ea90.jpg?v=1662084191","variant_ids":[40190108303449,40190108336217,40190108368985,40190108401753,40190108434521,40190108467289,40190108500057,40190108532825,40190108565593,40190108598361,40190108631129,40190108663897,40190108696665,40190108729433,40190108762201,40190108794969,40190108827737,40190108860505,40190108893273,40190108926041,40190108958809,40190108991577,40190109024345,40190109057113,40190109089881,40190109122649,40190109155417,40190109188185,40190109220953,40190109253721,40190109286489,40190109319257,40190109352025,40190109384793,40190109417561,40190109450329,40190109483097,40190109515865,40190109548633,40190109581401,40190109614169,40190109646937,40190109679705,40190109712473,40190109745241,40190109778009,40190109810777,40190109843545,40190109876313,40190109909081,40190109941849,40190109974617,40190110007385,40190110040153,40190110072921,40190110105689]},"available":true,"name":"Women High Waist Fake Top Lower Sweep - WHITE \/ 5XL","public_title":"WHITE \/ 5XL","options":["WHITE","5XL"],"price":1299,"weight":0,"compare_at_price":2598,"inventory_management":null,"barcode":null,"featured_media":{"alt":null,"id":22716331262041,"position":12,"preview_image":{"aspect_ratio":1.0,"height":800,"width":800,"src":"https:\/\/cdn.shopify.com\/s\/files\/1\/0077\/6096\/9779\/products\/1_da18cdbe-41f8-479c-8b98-e100eb41ea90.jpg?v=1662084191"}},"requires_selling_plan":false,"selling_plan_allocations":[],"quantity_rule":{"min":1,"max":null,"increment":1}},{"id":40190108565593,"title":"BLACK \/ S","option1":"BLACK","option2":"S","option3":null,"sku":"CP20377-C001-S00S","requires_shipping":true,"taxable":false,"featured_image":{"id":30177781153881,"product_id":7141698469977,"position":12,"created_at":"2022-09-01T16:03:10-10:00","updated_at":"2022-09-01T16:03:11-10:00","alt":null,"width":800,"height":800,"src":"https:\/\/cdn.shopify.com\/s\/files\/1\/0077\/6096\/9779\/products\/1_da18cdbe-41f8-479c-8b98-e100eb41ea90.jpg?v=1662084191","variant_ids":[40190108303449,40190108336217,40190108368985,40190108401753,40190108434521,40190108467289,40190108500057,40190108532825,40190108565593,40190108598361,40190108631129,40190108663897,40190108696665,40190108729433,40190108762201,40190108794969,40190108827737,40190108860505,40190108893273,40190108926041,40190108958809,40190108991577,40190109024345,40190109057113,40190109089881,40190109122649,40190109155417,40190109188185,40190109220953,40190109253721,40190109286489,40190109319257,40190109352025,40190109384793,40190109417561,40190109450329,40190109483097,40190109515865,40190109548633,40190109581401,40190109614169,40190109646937,40190109679705,40190109712473,40190109745241,40190109778009,40190109810777,40190109843545,40190109876313,40190109909081,40190109941849,40190109974617,40190110007385,40190110040153,40190110072921,40190110105689]},"available":true,"name":"Women High Waist Fake Top Lower Sweep - BLACK \/ S","public_title":"BLACK \/ S","options":["BLACK","S"],"price":1299,"weight":0,"compare_at_price":2598,"inventory_management":null,"barcode":null,"featured_media":{"alt":null,"id":22716331262041,"position":12,"preview_image":{"aspect_ratio":1.0,"height":800,"width":800,"src":"https:\/\/cdn.shopify.com\/s\/files\/1\/0077\/6096\/9779\/products\/1_da18cdbe-41f8-479c-8b98-e100eb41ea90.jpg?v=1662084191"}},"requires_selling_plan":false,"selling_plan_allocations":[],"quantity_rule":{"min":1,"max":null,"increment":1}},{"id":40190108598361,"title":"BLACK \/ M","option1":"BLACK","option2":"M","option3":null,"sku":"CP20377-C001-S00M","requires_shipping":true,"taxable":false,"featured_image":{"id":30177781153881,"product_id":7141698469977,"position":12,"created_at":"2022-09-01T16:03:10-10:00","updated_at":"2022-09-01T16:03:11-10:00","alt":null,"width":800,"height":800,"src":"https:\/\/cdn.shopify.com\/s\/files\/1\/0077\/6096\/9779\/products\/1_da18cdbe-41f8-479c-8b98-e100eb41ea90.jpg?v=1662084191","variant_ids":[40190108303449,40190108336217,40190108368985,40190108401753,40190108434521,40190108467289,40190108500057,40190108532825,40190108565593,40190108598361,40190108631129,40190108663897,40190108696665,40190108729433,40190108762201,40190108794969,40190108827737,40190108860505,40190108893273,40190108926041,40190108958809,40190108991577,40190109024345,40190109057113,40190109089881,40190109122649,40190109155417,40190109188185,40190109220953,40190109253721,40190109286489,40190109319257,40190109352025,40190109384793,40190109417561,40190109450329,40190109483097,40190109515865,40190109548633,40190109581401,40190109614169,40190109646937,40190109679705,40190109712473,40190109745241,40190109778009,40190109810777,40190109843545,40190109876313,40190109909081,40190109941849,40190109974617,40190110007385,40190110040153,40190110072921,40190110105689]},"available":true,"name":"Women High Waist Fake Top Lower Sweep - BLACK \/ M","public_title":"BLACK \/ M","options":["BLACK","M"],"price":1299,"weight":0,"compare_at_price":2598,"inventory_management":null,"barcode":null,"featured_media":{"alt":null,"id":22716331262041,"position":12,"preview_image":{"aspect_ratio":1.0,"height":800,"width":800,"src":"https:\/\/cdn.shopify.com\/s\/files\/1\/0077\/6096\/9779\/products\/1_da18cdbe-41f8-479c-8b98-e100eb41ea90.jpg?v=1662084191"}},"requires_selling_plan":false,"selling_plan_allocations":[],"quantity_rule":{"min":1,"max":null,"increment":1}},{"id":40190108631129,"title":"BLACK \/ L","option1":"BLACK","option2":"L","option3":null,"sku":"CP20377-C001-S00L","requires_shipping":true,"taxable":false,"featured_image":{"id":30177781153881,"product_id":7141698469977,"position":12,"created_at":"2022-09-01T16:03:10-10:00","updated_at":"2022-09-01T16:03:11-10:00","alt":null,"width":800,"height":800,"src":"https:\/\/cdn.shopify.com\/s\/files\/1\/0077\/6096\/9779\/products\/1_da18cdbe-41f8-479c-8b98-e100eb41ea90.jpg?v=1662084191","variant_ids":[40190108303449,40190108336217,40190108368985,40190108401753,40190108434521,40190108467289,40190108500057,40190108532825,40190108565593,40190108598361,40190108631129,40190108663897,40190108696665,40190108729433,40190108762201,40190108794969,40190108827737,40190108860505,40190108893273,40190108926041,40190108958809,40190108991577,40190109024345,40190109057113,40190109089881,40190109122649,40190109155417,40190109188185,40190109220953,40190109253721,40190109286489,40190109319257,40190109352025,40190109384793,40190109417561,40190109450329,40190109483097,40190109515865,40190109548633,40190109581401,40190109614169,40190109646937,40190109679705,40190109712473,40190109745241,40190109778009,40190109810777,40190109843545,40190109876313,40190109909081,40190109941849,40190109974617,40190110007385,40190110040153,40190110072921,40190110105689]},"available":true,"name":"Women High Waist Fake Top Lower Sweep - BLACK \/ L","public_title":"BLACK \/ L","options":["BLACK","L"],"price":1299,"weight":0,"compare_at_price":2598,"inventory_management":null,"barcode":null,"featured_media":{"alt":null,"id":22716331262041,"position":12,"preview_image":{"aspect_ratio":1.0,"height":800,"width":800,"src":"https:\/\/cdn.shopify.com\/s\/files\/1\/0077\/6096\/9779\/products\/1_da18cdbe-41f8-479c-8b98-e100eb41ea90.jpg?v=1662084191"}},"requires_selling_plan":false,"selling_plan_allocations":[],"quantity_rule":{"min":1,"max":null,"increment":1}},{"id":40190108663897,"title":"BLACK \/ XL","option1":"BLACK","option2":"XL","option3":null,"sku":"CP20377-C001-S00X","requires_shipping":true,"taxable":false,"featured_image":{"id":30177781153881,"product_id":7141698469977,"position":12,"created_at":"2022-09-01T16:03:10-10:00","updated_at":"2022-09-01T16:03:11-10:00","alt":null,"width":800,"height":800,"src":"https:\/\/cdn.shopify.com\/s\/files\/1\/0077\/6096\/9779\/products\/1_da18cdbe-41f8-479c-8b98-e100eb41ea90.jpg?v=1662084191","variant_ids":[40190108303449,40190108336217,40190108368985,40190108401753,40190108434521,40190108467289,40190108500057,40190108532825,40190108565593,40190108598361,40190108631129,40190108663897,40190108696665,40190108729433,40190108762201,40190108794969,40190108827737,40190108860505,40190108893273,40190108926041,40190108958809,40190108991577,40190109024345,40190109057113,40190109089881,40190109122649,40190109155417,40190109188185,40190109220953,40190109253721,40190109286489,40190109319257,40190109352025,40190109384793,40190109417561,40190109450329,40190109483097,40190109515865,40190109548633,40190109581401,40190109614169,40190109646937,40190109679705,40190109712473,40190109745241,40190109778009,40190109810777,40190109843545,40190109876313,40190109909081,40190109941849,40190109974617,40190110007385,40190110040153,40190110072921,40190110105689]},"available":true,"name":"Women High Waist Fake Top Lower Sweep - BLACK \/ XL","public_title":"BLACK \/ XL","options":["BLACK","XL"],"price":1299,"weight":0,"compare_at_price":2598,"inventory_management":null,"barcode":null,"featured_media":{"alt":null,"id":22716331262041,"position":12,"preview_image":{"aspect_ratio":1.0,"height":800,"width":800,"src":"https:\/\/cdn.shopify.com\/s\/files\/1\/0077\/6096\/9779\/products\/1_da18cdbe-41f8-479c-8b98-e100eb41ea90.jpg?v=1662084191"}},"requires_selling_plan":false,"selling_plan_allocations":[],"quantity_rule":{"min":1,"max":null,"increment":1}},{"id":40190108696665,"title":"BLACK \/ 2XL","option1":"BLACK","option2":"2XL","option3":null,"sku":"CP20377-C001-S02X","requires_shipping":true,"taxable":false,"featured_image":{"id":30177781153881,"product_id":7141698469977,"position":12,"created_at":"2022-09-01T16:03:10-10:00","updated_at":"2022-09-01T16:03:11-10:00","alt":null,"width":800,"height":800,"src":"https:\/\/cdn.shopify.com\/s\/files\/1\/0077\/6096\/9779\/products\/1_da18cdbe-41f8-479c-8b98-e100eb41ea90.jpg?v=1662084191","variant_ids":[40190108303449,40190108336217,40190108368985,40190108401753,40190108434521,40190108467289,40190108500057,40190108532825,40190108565593,40190108598361,40190108631129,40190108663897,40190108696665,40190108729433,40190108762201,40190108794969,40190108827737,40190108860505,40190108893273,40190108926041,40190108958809,40190108991577,40190109024345,40190109057113,40190109089881,40190109122649,40190109155417,40190109188185,40190109220953,40190109253721,40190109286489,40190109319257,40190109352025,40190109384793,40190109417561,40190109450329,40190109483097,40190109515865,40190109548633,40190109581401,40190109614169,40190109646937,40190109679705,40190109712473,40190109745241,40190109778009,40190109810777,40190109843545,40190109876313,40190109909081,40190109941849,40190109974617,40190110007385,40190110040153,40190110072921,40190110105689]},"available":true,"name":"Women High Waist Fake Top Lower Sweep - BLACK \/ 2XL","public_title":"BLACK \/ 2XL","options":["BLACK","2XL"],"price":1299,"weight":0,"compare_at_price":2598,"inventory_management":null,"barcode":null,"featured_media":{"alt":null,"id":22716331262041,"position":12,"preview_image":{"aspect_ratio":1.0,"height":800,"width":800,"src":"https:\/\/cdn.shopify.com\/s\/files\/1\/0077\/6096\/9779\/products\/1_da18cdbe-41f8-479c-8b98-e100eb41ea90.jpg?v=1662084191"}},"requires_selling_plan":false,"selling_plan_allocations":[],"quantity_rule":{"min":1,"max":null,"increment":1}},{"id":40190108729433,"title":"BLACK \/ 3XL","option1":"BLACK","option2":"3XL","option3":null,"sku":"CP20377-C001-S03X","requires_shipping":true,"taxable":false,"featured_image":{"id":30177781153881,"product_id":7141698469977,"position":12,"created_at":"2022-09-01T16:03:10-10:00","updated_at":"2022-09-01T16:03:11-10:00","alt":null,"width":800,"height":800,"src":"https:\/\/cdn.shopify.com\/s\/files\/1\/0077\/6096\/9779\/products\/1_da18cdbe-41f8-479c-8b98-e100eb41ea90.jpg?v=1662084191","variant_ids":[40190108303449,40190108336217,40190108368985,40190108401753,40190108434521,40190108467289,40190108500057,40190108532825,40190108565593,40190108598361,40190108631129,40190108663897,40190108696665,40190108729433,40190108762201,40190108794969,40190108827737,40190108860505,40190108893273,40190108926041,40190108958809,40190108991577,40190109024345,40190109057113,40190109089881,40190109122649,40190109155417,40190109188185,40190109220953,40190109253721,40190109286489,40190109319257,40190109352025,40190109384793,40190109417561,40190109450329,40190109483097,40190109515865,40190109548633,40190109581401,40190109614169,40190109646937,40190109679705,40190109712473,40190109745241,40190109778009,40190109810777,40190109843545,40190109876313,40190109909081,40190109941849,40190109974617,40190110007385,40190110040153,40190110072921,40190110105689]},"available":true,"name":"Women High Waist Fake Top Lower Sweep - BLACK \/ 3XL","public_title":"BLACK \/ 3XL","options":["BLACK","3XL"],"price":1299,"weight":0,"compare_at_price":2598,"inventory_management":null,"barcode":null,"featured_media":{"alt":null,"id":22716331262041,"position":12,"preview_image":{"aspect_ratio":1.0,"height":800,"width":800,"src":"https:\/\/cdn.shopify.com\/s\/files\/1\/0077\/6096\/9779\/products\/1_da18cdbe-41f8-479c-8b98-e100eb41ea90.jpg?v=1662084191"}},"requires_selling_plan":false,"selling_plan_allocations":[],"quantity_rule":{"min":1,"max":null,"increment":1}},{"id":40190108762201,"title":"BLACK \/ 4XL","option1":"BLACK","option2":"4XL","option3":null,"sku":"CP20377-C001-S04X","requires_shipping":true,"taxable":false,"featured_image":{"id":30177781153881,"product_id":7141698469977,"position":12,"created_at":"2022-09-01T16:03:10-10:00","updated_at":"2022-09-01T16:03:11-10:00","alt":null,"width":800,"height":800,"src":"https:\/\/cdn.shopify.com\/s\/files\/1\/0077\/6096\/9779\/products\/1_da18cdbe-41f8-479c-8b98-e100eb41ea90.jpg?v=1662084191","variant_ids":[40190108303449,40190108336217,40190108368985,40190108401753,40190108434521,40190108467289,40190108500057,40190108532825,40190108565593,40190108598361,40190108631129,40190108663897,40190108696665,40190108729433,40190108762201,40190108794969,40190108827737,40190108860505,40190108893273,40190108926041,40190108958809,40190108991577,40190109024345,40190109057113,40190109089881,40190109122649,40190109155417,40190109188185,40190109220953,40190109253721,40190109286489,40190109319257,40190109352025,40190109384793,40190109417561,40190109450329,40190109483097,40190109515865,40190109548633,40190109581401,40190109614169,40190109646937,40190109679705,40190109712473,40190109745241,40190109778009,40190109810777,40190109843545,40190109876313,40190109909081,40190109941849,40190109974617,40190110007385,40190110040153,40190110072921,40190110105689]},"available":true,"name":"Women High Waist Fake Top Lower Sweep - BLACK \/ 4XL","public_title":"BLACK \/ 4XL","options":["BLACK","4XL"],"price":1299,"weight":0,"compare_at_price":2598,"inventory_management":null,"barcode":null,"featured_media":{"alt":null,"id":22716331262041,"position":12,"preview_image":{"aspect_ratio":1.0,"height":800,"width":800,"src":"https:\/\/cdn.shopify.com\/s\/files\/1\/0077\/6096\/9779\/products\/1_da18cdbe-41f8-479c-8b98-e100eb41ea90.jpg?v=1662084191"}},"requires_selling_plan":false,"selling_plan_allocations":[],"quantity_rule":{"min":1,"max":null,"increment":1}},{"id":40190108794969,"title":"BLACK \/ 5XL","option1":"BLACK","option2":"5XL","option3":null,"sku":"CP20377-C001-S05X","requires_shipping":true,"taxable":false,"featured_image":{"id":30177781153881,"product_id":7141698469977,"position":12,"created_at":"2022-09-01T16:03:10-10:00","updated_at":"2022-09-01T16:03:11-10:00","alt":null,"width":800,"height":800,"src":"https:\/\/cdn.shopify.com\/s\/files\/1\/0077\/6096\/9779\/products\/1_da18cdbe-41f8-479c-8b98-e100eb41ea90.jpg?v=1662084191","variant_ids":[40190108303449,40190108336217,40190108368985,40190108401753,40190108434521,40190108467289,40190108500057,40190108532825,40190108565593,40190108598361,40190108631129,40190108663897,40190108696665,40190108729433,40190108762201,40190108794969,40190108827737,40190108860505,40190108893273,40190108926041,40190108958809,40190108991577,40190109024345,40190109057113,40190109089881,40190109122649,40190109155417,40190109188185,40190109220953,40190109253721,40190109286489,40190109319257,40190109352025,40190109384793,40190109417561,40190109450329,40190109483097,40190109515865,40190109548633,40190109581401,40190109614169,40190109646937,40190109679705,40190109712473,40190109745241,40190109778009,40190109810777,40190109843545,40190109876313,40190109909081,40190109941849,40190109974617,40190110007385,40190110040153,40190110072921,40190110105689]},"available":true,"name":"Women High Waist Fake Top Lower Sweep - BLACK \/ 5XL","public_title":"BLACK \/ 5XL","options":["BLACK","5XL"],"price":1299,"weight":0,"compare_at_price":2598,"inventory_management":null,"barcode":null,"featured_media":{"alt":null,"id":22716331262041,"position":12,"preview_image":{"aspect_ratio":1.0,"height":800,"width":800,"src":"https:\/\/cdn.shopify.com\/s\/files\/1\/0077\/6096\/9779\/products\/1_da18cdbe-41f8-479c-8b98-e100eb41ea90.jpg?v=1662084191"}},"requires_selling_plan":false,"selling_plan_allocations":[],"quantity_rule":{"min":1,"max":null,"increment":1}},{"id":40190108827737,"title":"RED \/ S","option1":"RED","option2":"S","option3":null,"sku":"CP20377-C002-S00S","requires_shipping":true,"taxable":false,"featured_image":{"id":30177781153881,"product_id":7141698469977,"position":12,"created_at":"2022-09-01T16:03:10-10:00","updated_at":"2022-09-01T16:03:11-10:00","alt":null,"width":800,"height":800,"src":"https:\/\/cdn.shopify.com\/s\/files\/1\/0077\/6096\/9779\/products\/1_da18cdbe-41f8-479c-8b98-e100eb41ea90.jpg?v=1662084191","variant_ids":[40190108303449,40190108336217,40190108368985,40190108401753,40190108434521,40190108467289,40190108500057,40190108532825,40190108565593,40190108598361,40190108631129,40190108663897,40190108696665,40190108729433,40190108762201,40190108794969,40190108827737,40190108860505,40190108893273,40190108926041,40190108958809,40190108991577,40190109024345,40190109057113,40190109089881,40190109122649,40190109155417,40190109188185,40190109220953,40190109253721,40190109286489,40190109319257,40190109352025,40190109384793,40190109417561,40190109450329,40190109483097,40190109515865,40190109548633,40190109581401,40190109614169,40190109646937,40190109679705,40190109712473,40190109745241,40190109778009,40190109810777,40190109843545,40190109876313,40190109909081,40190109941849,40190109974617,40190110007385,40190110040153,40190110072921,40190110105689]},"available":true,"name":"Women High Waist Fake Top Lower Sweep - RED \/ S","public_title":"RED \/ S","options":["RED","S"],"price":1299,"weight":0,"compare_at_price":2598,"inventory_management":null,"barcode":null,"featured_media":{"alt":null,"id":22716331262041,"position":12,"preview_image":{"aspect_ratio":1.0,"height":800,"width":800,"src":"https:\/\/cdn.shopify.com\/s\/files\/1\/0077\/6096\/9779\/products\/1_da18cdbe-41f8-479c-8b98-e100eb41ea90.jpg?v=1662084191"}},"requires_selling_plan":false,"selling_plan_allocations":[],"quantity_rule":{"min":1,"max":null,"increment":1}},{"id":40190108860505,"title":"RED \/ M","option1":"RED","option2":"M","option3":null,"sku":"CP20377-C002-S00M","requires_shipping":true,"taxable":false,"featured_image":{"id":30177781153881,"product_id":7141698469977,"position":12,"created_at":"2022-09-01T16:03:10-10:00","updated_at":"2022-09-01T16:03:11-10:00","alt":null,"width":800,"height":800,"src":"https:\/\/cdn.shopify.com\/s\/files\/1\/0077\/6096\/9779\/products\/1_da18cdbe-41f8-479c-8b98-e100eb41ea90.jpg?v=1662084191","variant_ids":[40190108303449,40190108336217,40190108368985,40190108401753,40190108434521,40190108467289,40190108500057,40190108532825,40190108565593,40190108598361,40190108631129,40190108663897,40190108696665,40190108729433,40190108762201,40190108794969,40190108827737,40190108860505,40190108893273,40190108926041,40190108958809,40190108991577,40190109024345,40190109057113,40190109089881,40190109122649,40190109155417,40190109188185,40190109220953,40190109253721,40190109286489,40190109319257,40190109352025,40190109384793,40190109417561,40190109450329,40190109483097,40190109515865,40190109548633,40190109581401,40190109614169,40190109646937,40190109679705,40190109712473,40190109745241,40190109778009,40190109810777,40190109843545,40190109876313,40190109909081,40190109941849,40190109974617,40190110007385,40190110040153,40190110072921,40190110105689]},"available":true,"name":"Women High Waist Fake Top Lower Sweep - RED \/ M","public_title":"RED \/ M","options":["RED","M"],"price":1299,"weight":0,"compare_at_price":2598,"inventory_management":null,"barcode":null,"featured_media":{"alt":null,"id":22716331262041,"position":12,"preview_image":{"aspect_ratio":1.0,"height":800,"width":800,"src":"https:\/\/cdn.shopify.com\/s\/files\/1\/0077\/6096\/9779\/products\/1_da18cdbe-41f8-479c-8b98-e100eb41ea90.jpg?v=1662084191"}},"requires_selling_plan":false,"selling_plan_allocations":[],"quantity_rule":{"min":1,"max":null,"increment":1}},{"id":40190108893273,"title":"RED \/ L","option1":"RED","option2":"L","option3":null,"sku":"CP20377-C002-S00L","requires_shipping":true,"taxable":false,"featured_image":{"id":30177781153881,"product_id":7141698469977,"position":12,"created_at":"2022-09-01T16:03:10-10:00","updated_at":"2022-09-01T16:03:11-10:00","alt":null,"width":800,"height":800,"src":"https:\/\/cdn.shopify.com\/s\/files\/1\/0077\/6096\/9779\/products\/1_da18cdbe-41f8-479c-8b98-e100eb41ea90.jpg?v=1662084191","variant_ids":[40190108303449,40190108336217,40190108368985,40190108401753,40190108434521,40190108467289,40190108500057,40190108532825,40190108565593,40190108598361,40190108631129,40190108663897,40190108696665,40190108729433,40190108762201,40190108794969,40190108827737,40190108860505,40190108893273,40190108926041,40190108958809,40190108991577,40190109024345,40190109057113,40190109089881,40190109122649,40190109155417,40190109188185,40190109220953,40190109253721,40190109286489,40190109319257,40190109352025,40190109384793,40190109417561,40190109450329,40190109483097,40190109515865,40190109548633,40190109581401,40190109614169,40190109646937,40190109679705,40190109712473,40190109745241,40190109778009,40190109810777,40190109843545,40190109876313,40190109909081,40190109941849,40190109974617,40190110007385,40190110040153,40190110072921,40190110105689]},"available":true,"name":"Women High Waist Fake Top Lower Sweep - RED \/ L","public_title":"RED \/ L","options":["RED","L"],"price":1299,"weight":0,"compare_at_price":2598,"inventory_management":null,"barcode":null,"featured_media":{"alt":null,"id":22716331262041,"position":12,"preview_image":{"aspect_ratio":1.0,"height":800,"width":800,"src":"https:\/\/cdn.shopify.com\/s\/files\/1\/0077\/6096\/9779\/products\/1_da18cdbe-41f8-479c-8b98-e100eb41ea90.jpg?v=1662084191"}},"requires_selling_plan":false,"selling_plan_allocations":[],"quantity_rule":{"min":1,"max":null,"increment":1}},{"id":40190108926041,"title":"RED \/ XL","option1":"RED","option2":"XL","option3":null,"sku":"CP20377-C002-S00X","requires_shipping":true,"taxable":false,"featured_image":{"id":30177781153881,"product_id":7141698469977,"position":12,"created_at":"2022-09-01T16:03:10-10:00","updated_at":"2022-09-01T16:03:11-10:00","alt":null,"width":800,"height":800,"src":"https:\/\/cdn.shopify.com\/s\/files\/1\/0077\/6096\/9779\/products\/1_da18cdbe-41f8-479c-8b98-e100eb41ea90.jpg?v=1662084191","variant_ids":[40190108303449,40190108336217,40190108368985,40190108401753,40190108434521,40190108467289,40190108500057,40190108532825,40190108565593,40190108598361,40190108631129,40190108663897,40190108696665,40190108729433,40190108762201,40190108794969,40190108827737,40190108860505,40190108893273,40190108926041,40190108958809,40190108991577,40190109024345,40190109057113,40190109089881,40190109122649,40190109155417,40190109188185,40190109220953,40190109253721,40190109286489,40190109319257,40190109352025,40190109384793,40190109417561,40190109450329,40190109483097,40190109515865,40190109548633,40190109581401,40190109614169,40190109646937,40190109679705,40190109712473,40190109745241,40190109778009,40190109810777,40190109843545,40190109876313,40190109909081,40190109941849,40190109974617,40190110007385,40190110040153,40190110072921,40190110105689]},"available":true,"name":"Women High Waist Fake Top Lower Sweep - RED \/ XL","public_title":"RED \/ XL","options":["RED","XL"],"price":1299,"weight":0,"compare_at_price":2598,"inventory_management":null,"barcode":null,"featured_media":{"alt":null,"id":22716331262041,"position":12,"preview_image":{"aspect_ratio":1.0,"height":800,"width":800,"src":"https:\/\/cdn.shopify.com\/s\/files\/1\/0077\/6096\/9779\/products\/1_da18cdbe-41f8-479c-8b98-e100eb41ea90.jpg?v=1662084191"}},"requires_selling_plan":false,"selling_plan_allocations":[],"quantity_rule":{"min":1,"max":null,"increment":1}},{"id":40190108958809,"title":"RED \/ 2XL","option1":"RED","option2":"2XL","option3":null,"sku":"CP20377-C002-S02X","requires_shipping":true,"taxable":false,"featured_image":{"id":30177781153881,"product_id":7141698469977,"position":12,"created_at":"2022-09-01T16:03:10-10:00","updated_at":"2022-09-01T16:03:11-10:00","alt":null,"width":800,"height":800,"src":"https:\/\/cdn.shopify.com\/s\/files\/1\/0077\/6096\/9779\/products\/1_da18cdbe-41f8-479c-8b98-e100eb41ea90.jpg?v=1662084191","variant_ids":[40190108303449,40190108336217,40190108368985,40190108401753,40190108434521,40190108467289,40190108500057,40190108532825,40190108565593,40190108598361,40190108631129,40190108663897,40190108696665,40190108729433,40190108762201,40190108794969,40190108827737,40190108860505,40190108893273,40190108926041,40190108958809,40190108991577,40190109024345,40190109057113,40190109089881,40190109122649,40190109155417,40190109188185,40190109220953,40190109253721,40190109286489,40190109319257,40190109352025,40190109384793,40190109417561,40190109450329,40190109483097,40190109515865,40190109548633,40190109581401,40190109614169,40190109646937,40190109679705,40190109712473,40190109745241,40190109778009,40190109810777,40190109843545,40190109876313,40190109909081,40190109941849,40190109974617,40190110007385,40190110040153,40190110072921,40190110105689]},"available":true,"name":"Women High Waist Fake Top Lower Sweep - RED \/ 2XL","public_title":"RED \/ 2XL","options":["RED","2XL"],"price":1299,"weight":0,"compare_at_price":2598,"inventory_management":null,"barcode":null,"featured_media":{"alt":null,"id":22716331262041,"position":12,"preview_image":{"aspect_ratio":1.0,"height":800,"width":800,"src":"https:\/\/cdn.shopify.com\/s\/files\/1\/0077\/6096\/9779\/products\/1_da18cdbe-41f8-479c-8b98-e100eb41ea90.jpg?v=1662084191"}},"requires_selling_plan":false,"selling_plan_allocations":[],"quantity_rule":{"min":1,"max":null,"increment":1}},{"id":40190108991577,"title":"RED \/ 3XL","option1":"RED","option2":"3XL","option3":null,"sku":"CP20377-C002-S03X","requires_shipping":true,"taxable":false,"featured_image":{"id":30177781153881,"product_id":7141698469977,"position":12,"created_at":"2022-09-01T16:03:10-10:00","updated_at":"2022-09-01T16:03:11-10:00","alt":null,"width":800,"height":800,"src":"https:\/\/cdn.shopify.com\/s\/files\/1\/0077\/6096\/9779\/products\/1_da18cdbe-41f8-479c-8b98-e100eb41ea90.jpg?v=1662084191","variant_ids":[40190108303449,40190108336217,40190108368985,40190108401753,40190108434521,40190108467289,40190108500057,40190108532825,40190108565593,40190108598361,40190108631129,40190108663897,40190108696665,40190108729433,40190108762201,40190108794969,40190108827737,40190108860505,40190108893273,40190108926041,40190108958809,40190108991577,40190109024345,40190109057113,40190109089881,40190109122649,40190109155417,40190109188185,40190109220953,40190109253721,40190109286489,40190109319257,40190109352025,40190109384793,40190109417561,40190109450329,40190109483097,40190109515865,40190109548633,40190109581401,40190109614169,40190109646937,40190109679705,40190109712473,40190109745241,40190109778009,40190109810777,40190109843545,40190109876313,40190109909081,40190109941849,40190109974617,40190110007385,40190110040153,40190110072921,40190110105689]},"available":true,"name":"Women High Waist Fake Top Lower Sweep - RED \/ 3XL","public_title":"RED \/ 3XL","options":["RED","3XL"],"price":1299,"weight":0,"compare_at_price":2598,"inventory_management":null,"barcode":null,"featured_media":{"alt":null,"id":22716331262041,"position":12,"preview_image":{"aspect_ratio":1.0,"height":800,"width":800,"src":"https:\/\/cdn.shopify.com\/s\/files\/1\/0077\/6096\/9779\/products\/1_da18cdbe-41f8-479c-8b98-e100eb41ea90.jpg?v=1662084191"}},"requires_selling_plan":false,"selling_plan_allocations":[],"quantity_rule":{"min":1,"max":null,"increment":1}},{"id":40190109024345,"title":"RED \/ 4XL","option1":"RED","option2":"4XL","option3":null,"sku":"CP20377-C002-S04X","requires_shipping":true,"taxable":false,"featured_image":{"id":30177781153881,"product_id":7141698469977,"position":12,"created_at":"2022-09-01T16:03:10-10:00","updated_at":"2022-09-01T16:03:11-10:00","alt":null,"width":800,"height":800,"src":"https:\/\/cdn.shopify.com\/s\/files\/1\/0077\/6096\/9779\/products\/1_da18cdbe-41f8-479c-8b98-e100eb41ea90.jpg?v=1662084191","variant_ids":[40190108303449,40190108336217,40190108368985,40190108401753,40190108434521,40190108467289,40190108500057,40190108532825,40190108565593,40190108598361,40190108631129,40190108663897,40190108696665,40190108729433,40190108762201,40190108794969,40190108827737,40190108860505,40190108893273,40190108926041,40190108958809,40190108991577,40190109024345,40190109057113,40190109089881,40190109122649,40190109155417,40190109188185,40190109220953,40190109253721,40190109286489,40190109319257,40190109352025,40190109384793,40190109417561,40190109450329,40190109483097,40190109515865,40190109548633,40190109581401,40190109614169,40190109646937,40190109679705,40190109712473,40190109745241,40190109778009,40190109810777,40190109843545,40190109876313,40190109909081,40190109941849,40190109974617,40190110007385,40190110040153,40190110072921,40190110105689]},"available":true,"name":"Women High Waist Fake Top Lower Sweep - RED \/ 4XL","public_title":"RED \/ 4XL","options":["RED","4XL"],"price":1299,"weight":0,"compare_at_price":2598,"inventory_management":null,"barcode":null,"featured_media":{"alt":null,"id":22716331262041,"position":12,"preview_image":{"aspect_ratio":1.0,"height":800,"width":800,"src":"https:\/\/cdn.shopify.com\/s\/files\/1\/0077\/6096\/9779\/products\/1_da18cdbe-41f8-479c-8b98-e100eb41ea90.jpg?v=1662084191"}},"requires_selling_plan":false,"selling_plan_allocations":[],"quantity_rule":{"min":1,"max":null,"increment":1}},{"id":40190109057113,"title":"RED \/ 5XL","option1":"RED","option2":"5XL","option3":null,"sku":"CP20377-C002-S05X","requires_shipping":true,"taxable":false,"featured_image":{"id":30177781153881,"product_id":7141698469977,"position":12,"created_at":"2022-09-01T16:03:10-10:00","updated_at":"2022-09-01T16:03:11-10:00","alt":null,"width":800,"height":800,"src":"https:\/\/cdn.shopify.com\/s\/files\/1\/0077\/6096\/9779\/products\/1_da18cdbe-41f8-479c-8b98-e100eb41ea90.jpg?v=1662084191","variant_ids":[40190108303449,40190108336217,40190108368985,40190108401753,40190108434521,40190108467289,40190108500057,40190108532825,40190108565593,40190108598361,40190108631129,40190108663897,40190108696665,40190108729433,40190108762201,40190108794969,40190108827737,40190108860505,40190108893273,40190108926041,40190108958809,40190108991577,40190109024345,40190109057113,40190109089881,40190109122649,40190109155417,40190109188185,40190109220953,40190109253721,40190109286489,40190109319257,40190109352025,40190109384793,40190109417561,40190109450329,40190109483097,40190109515865,40190109548633,40190109581401,40190109614169,40190109646937,40190109679705,40190109712473,40190109745241,40190109778009,40190109810777,40190109843545,40190109876313,40190109909081,40190109941849,40190109974617,40190110007385,40190110040153,40190110072921,40190110105689]},"available":true,"name":"Women High Waist Fake Top Lower Sweep - RED \/ 5XL","public_title":"RED \/ 5XL","options":["RED","5XL"],"price":1299,"weight":0,"compare_at_price":2598,"inventory_management":null,"barcode":null,"featured_media":{"alt":null,"id":22716331262041,"position":12,"preview_image":{"aspect_ratio":1.0,"height":800,"width":800,"src":"https:\/\/cdn.shopify.com\/s\/files\/1\/0077\/6096\/9779\/products\/1_da18cdbe-41f8-479c-8b98-e100eb41ea90.jpg?v=1662084191"}},"requires_selling_plan":false,"selling_plan_allocations":[],"quantity_rule":{"min":1,"max":null,"increment":1}},{"id":40190109089881,"title":"PURPLE \/ S","option1":"PURPLE","option2":"S","option3":null,"sku":"CP20377-C013-S00S","requires_shipping":true,"taxable":false,"featured_image":{"id":30177781153881,"product_id":7141698469977,"position":12,"created_at":"2022-09-01T16:03:10-10:00","updated_at":"2022-09-01T16:03:11-10:00","alt":null,"width":800,"height":800,"src":"https:\/\/cdn.shopify.com\/s\/files\/1\/0077\/6096\/9779\/products\/1_da18cdbe-41f8-479c-8b98-e100eb41ea90.jpg?v=1662084191","variant_ids":[40190108303449,40190108336217,40190108368985,40190108401753,40190108434521,40190108467289,40190108500057,40190108532825,40190108565593,40190108598361,40190108631129,40190108663897,40190108696665,40190108729433,40190108762201,40190108794969,40190108827737,40190108860505,40190108893273,40190108926041,40190108958809,40190108991577,40190109024345,40190109057113,40190109089881,40190109122649,40190109155417,40190109188185,40190109220953,40190109253721,40190109286489,40190109319257,40190109352025,40190109384793,40190109417561,40190109450329,40190109483097,40190109515865,40190109548633,40190109581401,40190109614169,40190109646937,40190109679705,40190109712473,40190109745241,40190109778009,40190109810777,40190109843545,40190109876313,40190109909081,40190109941849,40190109974617,40190110007385,40190110040153,40190110072921,40190110105689]},"available":true,"name":"Women High Waist Fake Top Lower Sweep - PURPLE \/ S","public_title":"PURPLE \/ S","options":["PURPLE","S"],"price":1299,"weight":0,"compare_at_price":2598,"inventory_management":null,"barcode":null,"featured_media":{"alt":null,"id":22716331262041,"position":12,"preview_image":{"aspect_ratio":1.0,"height":800,"width":800,"src":"https:\/\/cdn.shopify.com\/s\/files\/1\/0077\/6096\/9779\/products\/1_da18cdbe-41f8-479c-8b98-e100eb41ea90.jpg?v=1662084191"}},"requires_selling_plan":false,"selling_plan_allocations":[],"quantity_rule":{"min":1,"max":null,"increment":1}},{"id":40190109122649,"title":"PURPLE \/ M","option1":"PURPLE","option2":"M","option3":null,"sku":"CP20377-C013-S00M","requires_shipping":true,"taxable":false,"featured_image":{"id":30177781153881,"product_id":7141698469977,"position":12,"created_at":"2022-09-01T16:03:10-10:00","updated_at":"2022-09-01T16:03:11-10:00","alt":null,"width":800,"height":800,"src":"https:\/\/cdn.shopify.com\/s\/files\/1\/0077\/6096\/9779\/products\/1_da18cdbe-41f8-479c-8b98-e100eb41ea90.jpg?v=1662084191","variant_ids":[40190108303449,40190108336217,40190108368985,40190108401753,40190108434521,40190108467289,40190108500057,40190108532825,40190108565593,40190108598361,40190108631129,40190108663897,40190108696665,40190108729433,40190108762201,40190108794969,40190108827737,40190108860505,40190108893273,40190108926041,40190108958809,40190108991577,40190109024345,40190109057113,40190109089881,40190109122649,40190109155417,40190109188185,40190109220953,40190109253721,40190109286489,40190109319257,40190109352025,40190109384793,40190109417561,40190109450329,40190109483097,40190109515865,40190109548633,40190109581401,40190109614169,40190109646937,40190109679705,40190109712473,40190109745241,40190109778009,40190109810777,40190109843545,40190109876313,40190109909081,40190109941849,40190109974617,40190110007385,40190110040153,40190110072921,40190110105689]},"available":true,"name":"Women High Waist Fake Top Lower Sweep - PURPLE \/ M","public_title":"PURPLE \/ M","options":["PURPLE","M"],"price":1299,"weight":0,"compare_at_price":2598,"inventory_management":null,"barcode":null,"featured_media":{"alt":null,"id":22716331262041,"position":12,"preview_image":{"aspect_ratio":1.0,"height":800,"width":800,"src":"https:\/\/cdn.shopify.com\/s\/files\/1\/0077\/6096\/9779\/products\/1_da18cdbe-41f8-479c-8b98-e100eb41ea90.jpg?v=1662084191"}},"requires_selling_plan":false,"selling_plan_allocations":[],"quantity_rule":{"min":1,"max":null,"increment":1}},{"id":40190109155417,"title":"PURPLE \/ L","option1":"PURPLE","option2":"L","option3":null,"sku":"CP20377-C013-S00L","requires_shipping":true,"taxable":false,"featured_image":{"id":30177781153881,"product_id":7141698469977,"position":12,"created_at":"2022-09-01T16:03:10-10:00","updated_at":"2022-09-01T16:03:11-10:00","alt":null,"width":800,"height":800,"src":"https:\/\/cdn.shopify.com\/s\/files\/1\/0077\/6096\/9779\/products\/1_da18cdbe-41f8-479c-8b98-e100eb41ea90.jpg?v=1662084191","variant_ids":[40190108303449,40190108336217,40190108368985,40190108401753,40190108434521,40190108467289,40190108500057,40190108532825,40190108565593,40190108598361,40190108631129,40190108663897,40190108696665,40190108729433,40190108762201,40190108794969,40190108827737,40190108860505,40190108893273,40190108926041,40190108958809,40190108991577,40190109024345,40190109057113,40190109089881,40190109122649,40190109155417,40190109188185,40190109220953,40190109253721,40190109286489,40190109319257,40190109352025,40190109384793,40190109417561,40190109450329,40190109483097,40190109515865,40190109548633,40190109581401,40190109614169,40190109646937,40190109679705,40190109712473,40190109745241,40190109778009,40190109810777,40190109843545,40190109876313,40190109909081,40190109941849,40190109974617,40190110007385,40190110040153,40190110072921,40190110105689]},"available":true,"name":"Women High Waist Fake Top Lower Sweep - PURPLE \/ L","public_title":"PURPLE \/ L","options":["PURPLE","L"],"price":1299,"weight":0,"compare_at_price":2598,"inventory_management":null,"barcode":null,"featured_media":{"alt":null,"id":22716331262041,"position":12,"preview_image":{"aspect_ratio":1.0,"height":800,"width":800,"src":"https:\/\/cdn.shopify.com\/s\/files\/1\/0077\/6096\/9779\/products\/1_da18cdbe-41f8-479c-8b98-e100eb41ea90.jpg?v=1662084191"}},"requires_selling_plan":false,"selling_plan_allocations":[],"quantity_rule":{"min":1,"max":null,"increment":1}},{"id":40190109188185,"title":"PURPLE \/ XL","option1":"PURPLE","option2":"XL","option3":null,"sku":"CP20377-C013-S00X","requires_shipping":true,"taxable":false,"featured_image":{"id":30177781153881,"product_id":7141698469977,"position":12,"created_at":"2022-09-01T16:03:10-10:00","updated_at":"2022-09-01T16:03:11-10:00","alt":null,"width":800,"height":800,"src":"https:\/\/cdn.shopify.com\/s\/files\/1\/0077\/6096\/9779\/products\/1_da18cdbe-41f8-479c-8b98-e100eb41ea90.jpg?v=1662084191","variant_ids":[40190108303449,40190108336217,40190108368985,40190108401753,40190108434521,40190108467289,40190108500057,40190108532825,40190108565593,40190108598361,40190108631129,40190108663897,40190108696665,40190108729433,40190108762201,40190108794969,40190108827737,40190108860505,40190108893273,40190108926041,40190108958809,40190108991577,40190109024345,40190109057113,40190109089881,40190109122649,40190109155417,40190109188185,40190109220953,40190109253721,40190109286489,40190109319257,40190109352025,40190109384793,40190109417561,40190109450329,40190109483097,40190109515865,40190109548633,40190109581401,40190109614169,40190109646937,40190109679705,40190109712473,40190109745241,40190109778009,40190109810777,40190109843545,40190109876313,40190109909081,40190109941849,40190109974617,40190110007385,40190110040153,40190110072921,40190110105689]},"available":true,"name":"Women High Waist Fake Top Lower Sweep - PURPLE \/ XL","public_title":"PURPLE \/ XL","options":["PURPLE","XL"],"price":1299,"weight":0,"compare_at_price":2598,"inventory_management":null,"barcode":null,"featured_media":{"alt":null,"id":22716331262041,"position":12,"preview_image":{"aspect_ratio":1.0,"height":800,"width":800,"src":"https:\/\/cdn.shopify.com\/s\/files\/1\/0077\/6096\/9779\/products\/1_da18cdbe-41f8-479c-8b98-e100eb41ea90.jpg?v=1662084191"}},"requires_selling_plan":false,"selling_plan_allocations":[],"quantity_rule":{"min":1,"max":null,"increment":1}},{"id":40190109220953,"title":"PURPLE \/ 2XL","option1":"PURPLE","option2":"2XL","option3":null,"sku":"CP20377-C013-S02X","requires_shipping":true,"taxable":false,"featured_image":{"id":30177781153881,"product_id":7141698469977,"position":12,"created_at":"2022-09-01T16:03:10-10:00","updated_at":"2022-09-01T16:03:11-10:00","alt":null,"width":800,"height":800,"src":"https:\/\/cdn.shopify.com\/s\/files\/1\/0077\/6096\/9779\/products\/1_da18cdbe-41f8-479c-8b98-e100eb41ea90.jpg?v=1662084191","variant_ids":[40190108303449,40190108336217,40190108368985,40190108401753,40190108434521,40190108467289,40190108500057,40190108532825,40190108565593,40190108598361,40190108631129,40190108663897,40190108696665,40190108729433,40190108762201,40190108794969,40190108827737,40190108860505,40190108893273,40190108926041,40190108958809,40190108991577,40190109024345,40190109057113,40190109089881,40190109122649,40190109155417,40190109188185,40190109220953,40190109253721,40190109286489,40190109319257,40190109352025,40190109384793,40190109417561,40190109450329,40190109483097,40190109515865,40190109548633,40190109581401,40190109614169,40190109646937,40190109679705,40190109712473,40190109745241,40190109778009,40190109810777,40190109843545,40190109876313,40190109909081,40190109941849,40190109974617,40190110007385,40190110040153,40190110072921,40190110105689]},"available":true,"name":"Women High Waist Fake Top Lower Sweep - PURPLE \/ 2XL","public_title":"PURPLE \/ 2XL","options":["PURPLE","2XL"],"price":1299,"weight":0,"compare_at_price":2598,"inventory_management":null,"barcode":null,"featured_media":{"alt":null,"id":22716331262041,"position":12,"preview_image":{"aspect_ratio":1.0,"height":800,"width":800,"src":"https:\/\/cdn.shopify.com\/s\/files\/1\/0077\/6096\/9779\/products\/1_da18cdbe-41f8-479c-8b98-e100eb41ea90.jpg?v=1662084191"}},"requires_selling_plan":false,"selling_plan_allocations":[],"quantity_rule":{"min":1,"max":null,"increment":1}},{"id":40190109253721,"title":"PURPLE \/ 3XL","option1":"PURPLE","option2":"3XL","option3":null,"sku":"CP20377-C013-S03X","requires_shipping":true,"taxable":false,"featured_image":{"id":30177781153881,"product_id":7141698469977,"position":12,"created_at":"2022-09-01T16:03:10-10:00","updated_at":"2022-09-01T16:03:11-10:00","alt":null,"width":800,"height":800,"src":"https:\/\/cdn.shopify.com\/s\/files\/1\/0077\/6096\/9779\/products\/1_da18cdbe-41f8-479c-8b98-e100eb41ea90.jpg?v=1662084191","variant_ids":[40190108303449,40190108336217,40190108368985,40190108401753,40190108434521,40190108467289,40190108500057,40190108532825,40190108565593,40190108598361,40190108631129,40190108663897,40190108696665,40190108729433,40190108762201,40190108794969,40190108827737,40190108860505,40190108893273,40190108926041,40190108958809,40190108991577,40190109024345,40190109057113,40190109089881,40190109122649,40190109155417,40190109188185,40190109220953,40190109253721,40190109286489,40190109319257,40190109352025,40190109384793,40190109417561,40190109450329,40190109483097,40190109515865,40190109548633,40190109581401,40190109614169,40190109646937,40190109679705,40190109712473,40190109745241,40190109778009,40190109810777,40190109843545,40190109876313,40190109909081,40190109941849,40190109974617,40190110007385,40190110040153,40190110072921,40190110105689]},"available":true,"name":"Women High Waist Fake Top Lower Sweep - PURPLE \/ 3XL","public_title":"PURPLE \/ 3XL","options":["PURPLE","3XL"],"price":1299,"weight":0,"compare_at_price":2598,"inventory_management":null,"barcode":null,"featured_media":{"alt":null,"id":22716331262041,"position":12,"preview_image":{"aspect_ratio":1.0,"height":800,"width":800,"src":"https:\/\/cdn.shopify.com\/s\/files\/1\/0077\/6096\/9779\/products\/1_da18cdbe-41f8-479c-8b98-e100eb41ea90.jpg?v=1662084191"}},"requires_selling_plan":false,"selling_plan_allocations":[],"quantity_rule":{"min":1,"max":null,"increment":1}},{"id":40190109286489,"title":"PURPLE \/ 4XL","option1":"PURPLE","option2":"4XL","option3":null,"sku":"CP20377-C013-S04X","requires_shipping":true,"taxable":false,"featured_image":{"id":30177781153881,"product_id":7141698469977,"position":12,"created_at":"2022-09-01T16:03:10-10:00","updated_at":"2022-09-01T16:03:11-10:00","alt":null,"width":800,"height":800,"src":"https:\/\/cdn.shopify.com\/s\/files\/1\/0077\/6096\/9779\/products\/1_da18cdbe-41f8-479c-8b98-e100eb41ea90.jpg?v=1662084191","variant_ids":[40190108303449,40190108336217,40190108368985,40190108401753,40190108434521,40190108467289,40190108500057,40190108532825,40190108565593,40190108598361,40190108631129,40190108663897,40190108696665,40190108729433,40190108762201,40190108794969,40190108827737,40190108860505,40190108893273,40190108926041,40190108958809,40190108991577,40190109024345,40190109057113,40190109089881,40190109122649,40190109155417,40190109188185,40190109220953,40190109253721,40190109286489,40190109319257,40190109352025,40190109384793,40190109417561,40190109450329,40190109483097,40190109515865,40190109548633,40190109581401,40190109614169,40190109646937,40190109679705,40190109712473,40190109745241,40190109778009,40190109810777,40190109843545,40190109876313,40190109909081,40190109941849,40190109974617,40190110007385,40190110040153,40190110072921,40190110105689]},"available":true,"name":"Women High Waist Fake Top Lower Sweep - PURPLE \/ 4XL","public_title":"PURPLE \/ 4XL","options":["PURPLE","4XL"],"price":1299,"weight":0,"compare_at_price":2598,"inventory_management":null,"barcode":null,"featured_media":{"alt":null,"id":22716331262041,"position":12,"preview_image":{"aspect_ratio":1.0,"height":800,"width":800,"src":"https:\/\/cdn.shopify.com\/s\/files\/1\/0077\/6096\/9779\/products\/1_da18cdbe-41f8-479c-8b98-e100eb41ea90.jpg?v=1662084191"}},"requires_selling_plan":false,"selling_plan_allocations":[],"quantity_rule":{"min":1,"max":null,"increment":1}},{"id":40190109319257,"title":"PURPLE \/ 5XL","option1":"PURPLE","option2":"5XL","option3":null,"sku":"CP20377-C013-S05X","requires_shipping":true,"taxable":false,"featured_image":{"id":30177781153881,"product_id":7141698469977,"position":12,"created_at":"2022-09-01T16:03:10-10:00","updated_at":"2022-09-01T16:03:11-10:00","alt":null,"width":800,"height":800,"src":"https:\/\/cdn.shopify.com\/s\/files\/1\/0077\/6096\/9779\/products\/1_da18cdbe-41f8-479c-8b98-e100eb41ea90.jpg?v=1662084191","variant_ids":[40190108303449,40190108336217,40190108368985,40190108401753,40190108434521,40190108467289,40190108500057,40190108532825,40190108565593,40190108598361,40190108631129,40190108663897,40190108696665,40190108729433,40190108762201,40190108794969,40190108827737,40190108860505,40190108893273,40190108926041,40190108958809,40190108991577,40190109024345,40190109057113,40190109089881,40190109122649,40190109155417,40190109188185,40190109220953,40190109253721,40190109286489,40190109319257,40190109352025,40190109384793,40190109417561,40190109450329,40190109483097,40190109515865,40190109548633,40190109581401,40190109614169,40190109646937,40190109679705,40190109712473,40190109745241,40190109778009,40190109810777,40190109843545,40190109876313,40190109909081,40190109941849,40190109974617,40190110007385,40190110040153,40190110072921,40190110105689]},"available":true,"name":"Women High Waist Fake Top Lower Sweep - PURPLE \/ 5XL","public_title":"PURPLE \/ 5XL","options":["PURPLE","5XL"],"price":1299,"weight":0,"compare_at_price":2598,"inventory_management":null,"barcode":null,"featured_media":{"alt":null,"id":22716331262041,"position":12,"preview_image":{"aspect_ratio":1.0,"height":800,"width":800,"src":"https:\/\/cdn.shopify.com\/s\/files\/1\/0077\/6096\/9779\/products\/1_da18cdbe-41f8-479c-8b98-e100eb41ea90.jpg?v=1662084191"}},"requires_selling_plan":false,"selling_plan_allocations":[],"quantity_rule":{"min":1,"max":null,"increment":1}},{"id":40190109352025,"title":"BLACK AND WHITE GRID \/ S","option1":"BLACK AND WHITE GRID","option2":"S","option3":null,"sku":"CP20377-C026-S00S","requires_shipping":true,"taxable":false,"featured_image":{"id":30177781153881,"product_id":7141698469977,"position":12,"created_at":"2022-09-01T16:03:10-10:00","updated_at":"2022-09-01T16:03:11-10:00","alt":null,"width":800,"height":800,"src":"https:\/\/cdn.shopify.com\/s\/files\/1\/0077\/6096\/9779\/products\/1_da18cdbe-41f8-479c-8b98-e100eb41ea90.jpg?v=1662084191","variant_ids":[40190108303449,40190108336217,40190108368985,40190108401753,40190108434521,40190108467289,40190108500057,40190108532825,40190108565593,40190108598361,40190108631129,40190108663897,40190108696665,40190108729433,40190108762201,40190108794969,40190108827737,40190108860505,40190108893273,40190108926041,40190108958809,40190108991577,40190109024345,40190109057113,40190109089881,40190109122649,40190109155417,40190109188185,40190109220953,40190109253721,40190109286489,40190109319257,40190109352025,40190109384793,40190109417561,40190109450329,40190109483097,40190109515865,40190109548633,40190109581401,40190109614169,40190109646937,40190109679705,40190109712473,40190109745241,40190109778009,40190109810777,40190109843545,40190109876313,40190109909081,40190109941849,40190109974617,40190110007385,40190110040153,40190110072921,40190110105689]},"available":true,"name":"Women High Waist Fake Top Lower Sweep - BLACK AND WHITE GRID \/ S","public_title":"BLACK AND WHITE GRID \/ S","options":["BLACK AND WHITE GRID","S"],"price":1299,"weight":0,"compare_at_price":2598,"inventory_management":null,"barcode":null,"featured_media":{"alt":null,"id":22716331262041,"position":12,"preview_image":{"aspect_ratio":1.0,"height":800,"width":800,"src":"https:\/\/cdn.shopify.com\/s\/files\/1\/0077\/6096\/9779\/products\/1_da18cdbe-41f8-479c-8b98-e100eb41ea90.jpg?v=1662084191"}},"requires_selling_plan":false,"selling_plan_allocations":[],"quantity_rule":{"min":1,"max":null,"increment":1}},{"id":40190109384793,"title":"BLACK AND WHITE GRID \/ M","option1":"BLACK AND WHITE GRID","option2":"M","option3":null,"sku":"CP20377-C026-S00M","requires_shipping":true,"taxable":false,"featured_image":{"id":30177781153881,"product_id":7141698469977,"position":12,"created_at":"2022-09-01T16:03:10-10:00","updated_at":"2022-09-01T16:03:11-10:00","alt":null,"width":800,"height":800,"src":"https:\/\/cdn.shopify.com\/s\/files\/1\/0077\/6096\/9779\/products\/1_da18cdbe-41f8-479c-8b98-e100eb41ea90.jpg?v=1662084191","variant_ids":[40190108303449,40190108336217,40190108368985,40190108401753,40190108434521,40190108467289,40190108500057,40190108532825,40190108565593,40190108598361,40190108631129,40190108663897,40190108696665,40190108729433,40190108762201,40190108794969,40190108827737,40190108860505,40190108893273,40190108926041,40190108958809,40190108991577,40190109024345,40190109057113,40190109089881,40190109122649,40190109155417,40190109188185,40190109220953,40190109253721,40190109286489,40190109319257,40190109352025,40190109384793,40190109417561,40190109450329,40190109483097,40190109515865,40190109548633,40190109581401,40190109614169,40190109646937,40190109679705,40190109712473,40190109745241,40190109778009,40190109810777,40190109843545,40190109876313,40190109909081,40190109941849,40190109974617,40190110007385,40190110040153,40190110072921,40190110105689]},"available":true,"name":"Women High Waist Fake Top Lower Sweep - BLACK AND WHITE GRID \/ M","public_title":"BLACK AND WHITE GRID \/ M","options":["BLACK AND WHITE GRID","M"],"price":1299,"weight":0,"compare_at_price":2598,"inventory_management":null,"barcode":null,"featured_media":{"alt":null,"id":22716331262041,"position":12,"preview_image":{"aspect_ratio":1.0,"height":800,"width":800,"src":"https:\/\/cdn.shopify.com\/s\/files\/1\/0077\/6096\/9779\/products\/1_da18cdbe-41f8-479c-8b98-e100eb41ea90.jpg?v=1662084191"}},"requires_selling_plan":false,"selling_plan_allocations":[],"quantity_rule":{"min":1,"max":null,"increment":1}},{"id":40190109417561,"title":"BLACK AND WHITE GRID \/ L","option1":"BLACK AND WHITE GRID","option2":"L","option3":null,"sku":"CP20377-C026-S00L","requires_shipping":true,"taxable":false,"featured_image":{"id":30177781153881,"product_id":7141698469977,"position":12,"created_at":"2022-09-01T16:03:10-10:00","updated_at":"2022-09-01T16:03:11-10:00","alt":null,"width":800,"height":800,"src":"https:\/\/cdn.shopify.com\/s\/files\/1\/0077\/6096\/9779\/products\/1_da18cdbe-41f8-479c-8b98-e100eb41ea90.jpg?v=1662084191","variant_ids":[40190108303449,40190108336217,40190108368985,40190108401753,40190108434521,40190108467289,40190108500057,40190108532825,40190108565593,40190108598361,40190108631129,40190108663897,40190108696665,40190108729433,40190108762201,40190108794969,40190108827737,40190108860505,40190108893273,40190108926041,40190108958809,40190108991577,40190109024345,40190109057113,40190109089881,40190109122649,40190109155417,40190109188185,40190109220953,40190109253721,40190109286489,40190109319257,40190109352025,40190109384793,40190109417561,40190109450329,40190109483097,40190109515865,40190109548633,40190109581401,40190109614169,40190109646937,40190109679705,40190109712473,40190109745241,40190109778009,40190109810777,40190109843545,40190109876313,40190109909081,40190109941849,40190109974617,40190110007385,40190110040153,40190110072921,40190110105689]},"available":true,"name":"Women High Waist Fake Top Lower Sweep - BLACK AND WHITE GRID \/ L","public_title":"BLACK AND WHITE GRID \/ L","options":["BLACK AND WHITE GRID","L"],"price":1299,"weight":0,"compare_at_price":2598,"inventory_management":null,"barcode":null,"featured_media":{"alt":null,"id":22716331262041,"position":12,"preview_image":{"aspect_ratio":1.0,"height":800,"width":800,"src":"https:\/\/cdn.shopify.com\/s\/files\/1\/0077\/6096\/9779\/products\/1_da18cdbe-41f8-479c-8b98-e100eb41ea90.jpg?v=1662084191"}},"requires_selling_plan":false,"selling_plan_allocations":[],"quantity_rule":{"min":1,"max":null,"increment":1}},{"id":40190109450329,"title":"BLACK AND WHITE GRID \/ XL","option1":"BLACK AND WHITE GRID","option2":"XL","option3":null,"sku":"CP20377-C026-S00X","requires_shipping":true,"taxable":false,"featured_image":{"id":30177781153881,"product_id":7141698469977,"position":12,"created_at":"2022-09-01T16:03:10-10:00","updated_at":"2022-09-01T16:03:11-10:00","alt":null,"width":800,"height":800,"src":"https:\/\/cdn.shopify.com\/s\/files\/1\/0077\/6096\/9779\/products\/1_da18cdbe-41f8-479c-8b98-e100eb41ea90.jpg?v=1662084191","variant_ids":[40190108303449,40190108336217,40190108368985,40190108401753,40190108434521,40190108467289,40190108500057,40190108532825,40190108565593,40190108598361,40190108631129,40190108663897,40190108696665,40190108729433,40190108762201,40190108794969,40190108827737,40190108860505,40190108893273,40190108926041,40190108958809,40190108991577,40190109024345,40190109057113,40190109089881,40190109122649,40190109155417,40190109188185,40190109220953,40190109253721,40190109286489,40190109319257,40190109352025,40190109384793,40190109417561,40190109450329,40190109483097,40190109515865,40190109548633,40190109581401,40190109614169,40190109646937,40190109679705,40190109712473,40190109745241,40190109778009,40190109810777,40190109843545,40190109876313,40190109909081,40190109941849,40190109974617,40190110007385,40190110040153,40190110072921,40190110105689]},"available":true,"name":"Women High Waist Fake Top Lower Sweep - BLACK AND WHITE GRID \/ XL","public_title":"BLACK AND WHITE GRID \/ XL","options":["BLACK AND WHITE GRID","XL"],"price":1299,"weight":0,"compare_at_price":2598,"inventory_management":null,"barcode":null,"featured_media":{"alt":null,"id":22716331262041,"position":12,"preview_image":{"aspect_ratio":1.0,"height":800,"width":800,"src":"https:\/\/cdn.shopify.com\/s\/files\/1\/0077\/6096\/9779\/products\/1_da18cdbe-41f8-479c-8b98-e100eb41ea90.jpg?v=1662084191"}},"requires_selling_plan":false,"selling_plan_allocations":[],"quantity_rule":{"min":1,"max":null,"increment":1}},{"id":40190109483097,"title":"BLACK AND WHITE GRID \/ 2XL","option1":"BLACK AND WHITE GRID","option2":"2XL","option3":null,"sku":"CP20377-C026-S02X","requires_shipping":true,"taxable":false,"featured_image":{"id":30177781153881,"product_id":7141698469977,"position":12,"created_at":"2022-09-01T16:03:10-10:00","updated_at":"2022-09-01T16:03:11-10:00","alt":null,"width":800,"height":800,"src":"https:\/\/cdn.shopify.com\/s\/files\/1\/0077\/6096\/9779\/products\/1_da18cdbe-41f8-479c-8b98-e100eb41ea90.jpg?v=1662084191","variant_ids":[40190108303449,40190108336217,40190108368985,40190108401753,40190108434521,40190108467289,40190108500057,40190108532825,40190108565593,40190108598361,40190108631129,40190108663897,40190108696665,40190108729433,40190108762201,40190108794969,40190108827737,40190108860505,40190108893273,40190108926041,40190108958809,40190108991577,40190109024345,40190109057113,40190109089881,40190109122649,40190109155417,40190109188185,40190109220953,40190109253721,40190109286489,40190109319257,40190109352025,40190109384793,40190109417561,40190109450329,40190109483097,40190109515865,40190109548633,40190109581401,40190109614169,40190109646937,40190109679705,40190109712473,40190109745241,40190109778009,40190109810777,40190109843545,40190109876313,40190109909081,40190109941849,40190109974617,40190110007385,40190110040153,40190110072921,40190110105689]},"available":true,"name":"Women High Waist Fake Top Lower Sweep - BLACK AND WHITE GRID \/ 2XL","public_title":"BLACK AND WHITE GRID \/ 2XL","options":["BLACK AND WHITE GRID","2XL"],"price":1299,"weight":0,"compare_at_price":2598,"inventory_management":null,"barcode":null,"featured_media":{"alt":null,"id":22716331262041,"position":12,"preview_image":{"aspect_ratio":1.0,"height":800,"width":800,"src":"https:\/\/cdn.shopify.com\/s\/files\/1\/0077\/6096\/9779\/products\/1_da18cdbe-41f8-479c-8b98-e100eb41ea90.jpg?v=1662084191"}},"requires_selling_plan":false,"selling_plan_allocations":[],"quantity_rule":{"min":1,"max":null,"increment":1}},{"id":40190109515865,"title":"BLACK AND WHITE GRID \/ 3XL","option1":"BLACK AND WHITE GRID","option2":"3XL","option3":null,"sku":"CP20377-C026-S03X","requires_shipping":true,"taxable":false,"featured_image":{"id":30177781153881,"product_id":7141698469977,"position":12,"created_at":"2022-09-01T16:03:10-10:00","updated_at":"2022-09-01T16:03:11-10:00","alt":null,"width":800,"height":800,"src":"https:\/\/cdn.shopify.com\/s\/files\/1\/0077\/6096\/9779\/products\/1_da18cdbe-41f8-479c-8b98-e100eb41ea90.jpg?v=1662084191","variant_ids":[40190108303449,40190108336217,40190108368985,40190108401753,40190108434521,40190108467289,40190108500057,40190108532825,40190108565593,40190108598361,40190108631129,40190108663897,40190108696665,40190108729433,40190108762201,40190108794969,40190108827737,40190108860505,40190108893273,40190108926041,40190108958809,40190108991577,40190109024345,40190109057113,40190109089881,40190109122649,40190109155417,40190109188185,40190109220953,40190109253721,40190109286489,40190109319257,40190109352025,40190109384793,40190109417561,40190109450329,40190109483097,40190109515865,40190109548633,40190109581401,40190109614169,40190109646937,40190109679705,40190109712473,40190109745241,40190109778009,40190109810777,40190109843545,40190109876313,40190109909081,40190109941849,40190109974617,40190110007385,40190110040153,40190110072921,40190110105689]},"available":true,"name":"Women High Waist Fake Top Lower Sweep - BLACK AND WHITE GRID \/ 3XL","public_title":"BLACK AND WHITE GRID \/ 3XL","options":["BLACK AND WHITE GRID","3XL"],"price":1299,"weight":0,"compare_at_price":2598,"inventory_management":null,"barcode":null,"featured_media":{"alt":null,"id":22716331262041,"position":12,"preview_image":{"aspect_ratio":1.0,"height":800,"width":800,"src":"https:\/\/cdn.shopify.com\/s\/files\/1\/0077\/6096\/9779\/products\/1_da18cdbe-41f8-479c-8b98-e100eb41ea90.jpg?v=1662084191"}},"requires_selling_plan":false,"selling_plan_allocations":[],"quantity_rule":{"min":1,"max":null,"increment":1}},{"id":40190109548633,"title":"BLACK AND WHITE GRID \/ 4XL","option1":"BLACK AND WHITE GRID","option2":"4XL","option3":null,"sku":"CP20377-C026-S04X","requires_shipping":true,"taxable":false,"featured_image":{"id":30177781153881,"product_id":7141698469977,"position":12,"created_at":"2022-09-01T16:03:10-10:00","updated_at":"2022-09-01T16:03:11-10:00","alt":null,"width":800,"height":800,"src":"https:\/\/cdn.shopify.com\/s\/files\/1\/0077\/6096\/9779\/products\/1_da18cdbe-41f8-479c-8b98-e100eb41ea90.jpg?v=1662084191","variant_ids":[40190108303449,40190108336217,40190108368985,40190108401753,40190108434521,40190108467289,40190108500057,40190108532825,40190108565593,40190108598361,40190108631129,40190108663897,40190108696665,40190108729433,40190108762201,40190108794969,40190108827737,40190108860505,40190108893273,40190108926041,40190108958809,40190108991577,40190109024345,40190109057113,40190109089881,40190109122649,40190109155417,40190109188185,40190109220953,40190109253721,40190109286489,40190109319257,40190109352025,40190109384793,40190109417561,40190109450329,40190109483097,40190109515865,40190109548633,40190109581401,40190109614169,40190109646937,40190109679705,40190109712473,40190109745241,40190109778009,40190109810777,40190109843545,40190109876313,40190109909081,40190109941849,40190109974617,40190110007385,40190110040153,40190110072921,40190110105689]},"available":true,"name":"Women High Waist Fake Top Lower Sweep - BLACK AND WHITE GRID \/ 4XL","public_title":"BLACK AND WHITE GRID \/ 4XL","options":["BLACK AND WHITE GRID","4XL"],"price":1299,"weight":0,"compare_at_price":2598,"inventory_management":null,"barcode":null,"featured_media":{"alt":null,"id":22716331262041,"position":12,"preview_image":{"aspect_ratio":1.0,"height":800,"width":800,"src":"https:\/\/cdn.shopify.com\/s\/files\/1\/0077\/6096\/9779\/products\/1_da18cdbe-41f8-479c-8b98-e100eb41ea90.jpg?v=1662084191"}},"requires_selling_plan":false,"selling_plan_allocations":[],"quantity_rule":{"min":1,"max":null,"increment":1}},{"id":40190109581401,"title":"BLACK AND WHITE GRID \/ 5XL","option1":"BLACK AND WHITE GRID","option2":"5XL","option3":null,"sku":"CP20377-C026-S05X","requires_shipping":true,"taxable":false,"featured_image":{"id":30177781153881,"product_id":7141698469977,"position":12,"created_at":"2022-09-01T16:03:10-10:00","updated_at":"2022-09-01T16:03:11-10:00","alt":null,"width":800,"height":800,"src":"https:\/\/cdn.shopify.com\/s\/files\/1\/0077\/6096\/9779\/products\/1_da18cdbe-41f8-479c-8b98-e100eb41ea90.jpg?v=1662084191","variant_ids":[40190108303449,40190108336217,40190108368985,40190108401753,40190108434521,40190108467289,40190108500057,40190108532825,40190108565593,40190108598361,40190108631129,40190108663897,40190108696665,40190108729433,40190108762201,40190108794969,40190108827737,40190108860505,40190108893273,40190108926041,40190108958809,40190108991577,40190109024345,40190109057113,40190109089881,40190109122649,40190109155417,40190109188185,40190109220953,40190109253721,40190109286489,40190109319257,40190109352025,40190109384793,40190109417561,40190109450329,40190109483097,40190109515865,40190109548633,40190109581401,40190109614169,40190109646937,40190109679705,40190109712473,40190109745241,40190109778009,40190109810777,40190109843545,40190109876313,40190109909081,40190109941849,40190109974617,40190110007385,40190110040153,40190110072921,40190110105689]},"available":true,"name":"Women High Waist Fake Top Lower Sweep - BLACK AND WHITE GRID \/ 5XL","public_title":"BLACK AND WHITE GRID \/ 5XL","options":["BLACK AND WHITE GRID","5XL"],"price":1299,"weight":0,"compare_at_price":2598,"inventory_management":null,"barcode":null,"featured_media":{"alt":null,"id":22716331262041,"position":12,"preview_image":{"aspect_ratio":1.0,"height":800,"width":800,"src":"https:\/\/cdn.shopify.com\/s\/files\/1\/0077\/6096\/9779\/products\/1_da18cdbe-41f8-479c-8b98-e100eb41ea90.jpg?v=1662084191"}},"requires_selling_plan":false,"selling_plan_allocations":[],"quantity_rule":{"min":1,"max":null,"increment":1}},{"id":40190109614169,"title":"BLUE AND WHITE STRIPES \/ S","option1":"BLUE AND WHITE STRIPES","option2":"S","option3":null,"sku":"CP20377-C306-S00S","requires_shipping":true,"taxable":false,"featured_image":{"id":30177781153881,"product_id":7141698469977,"position":12,"created_at":"2022-09-01T16:03:10-10:00","updated_at":"2022-09-01T16:03:11-10:00","alt":null,"width":800,"height":800,"src":"https:\/\/cdn.shopify.com\/s\/files\/1\/0077\/6096\/9779\/products\/1_da18cdbe-41f8-479c-8b98-e100eb41ea90.jpg?v=1662084191","variant_ids":[40190108303449,40190108336217,40190108368985,40190108401753,40190108434521,40190108467289,40190108500057,40190108532825,40190108565593,40190108598361,40190108631129,40190108663897,40190108696665,40190108729433,40190108762201,40190108794969,40190108827737,40190108860505,40190108893273,40190108926041,40190108958809,40190108991577,40190109024345,40190109057113,40190109089881,40190109122649,40190109155417,40190109188185,40190109220953,40190109253721,40190109286489,40190109319257,40190109352025,40190109384793,40190109417561,40190109450329,40190109483097,40190109515865,40190109548633,40190109581401,40190109614169,40190109646937,40190109679705,40190109712473,40190109745241,40190109778009,40190109810777,40190109843545,40190109876313,40190109909081,40190109941849,40190109974617,40190110007385,40190110040153,40190110072921,40190110105689]},"available":true,"name":"Women High Waist Fake Top Lower Sweep - BLUE AND WHITE STRIPES \/ S","public_title":"BLUE AND WHITE STRIPES \/ S","options":["BLUE AND WHITE STRIPES","S"],"price":1299,"weight":0,"compare_at_price":2598,"inventory_management":null,"barcode":null,"featured_media":{"alt":null,"id":22716331262041,"position":12,"preview_image":{"aspect_ratio":1.0,"height":800,"width":800,"src":"https:\/\/cdn.shopify.com\/s\/files\/1\/0077\/6096\/9779\/products\/1_da18cdbe-41f8-479c-8b98-e100eb41ea90.jpg?v=1662084191"}},"requires_selling_plan":false,"selling_plan_allocations":[],"quantity_rule":{"min":1,"max":null,"increment":1}},{"id":40190109646937,"title":"BLUE AND WHITE STRIPES \/ M","option1":"BLUE AND WHITE STRIPES","option2":"M","option3":null,"sku":"CP20377-C306-S00M","requires_shipping":true,"taxable":false,"featured_image":{"id":30177781153881,"product_id":7141698469977,"position":12,"created_at":"2022-09-01T16:03:10-10:00","updated_at":"2022-09-01T16:03:11-10:00","alt":null,"width":800,"height":800,"src":"https:\/\/cdn.shopify.com\/s\/files\/1\/0077\/6096\/9779\/products\/1_da18cdbe-41f8-479c-8b98-e100eb41ea90.jpg?v=1662084191","variant_ids":[40190108303449,40190108336217,40190108368985,40190108401753,40190108434521,40190108467289,40190108500057,40190108532825,40190108565593,40190108598361,40190108631129,40190108663897,40190108696665,40190108729433,40190108762201,40190108794969,40190108827737,40190108860505,40190108893273,40190108926041,40190108958809,40190108991577,40190109024345,40190109057113,40190109089881,40190109122649,40190109155417,40190109188185,40190109220953,40190109253721,40190109286489,40190109319257,40190109352025,40190109384793,40190109417561,40190109450329,40190109483097,40190109515865,40190109548633,40190109581401,40190109614169,40190109646937,40190109679705,40190109712473,40190109745241,40190109778009,40190109810777,40190109843545,40190109876313,40190109909081,40190109941849,40190109974617,40190110007385,40190110040153,40190110072921,40190110105689]},"available":true,"name":"Women High Waist Fake Top Lower Sweep - BLUE AND WHITE STRIPES \/ M","public_title":"BLUE AND WHITE STRIPES \/ M","options":["BLUE AND WHITE STRIPES","M"],"price":1299,"weight":0,"compare_at_price":2598,"inventory_management":null,"barcode":null,"featured_media":{"alt":null,"id":22716331262041,"position":12,"preview_image":{"aspect_ratio":1.0,"height":800,"width":800,"src":"https:\/\/cdn.shopify.com\/s\/files\/1\/0077\/6096\/9779\/products\/1_da18cdbe-41f8-479c-8b98-e100eb41ea90.jpg?v=1662084191"}},"requires_selling_plan":false,"selling_plan_allocations":[],"quantity_rule":{"min":1,"max":null,"increment":1}},{"id":40190109679705,"title":"BLUE AND WHITE STRIPES \/ L","option1":"BLUE AND WHITE STRIPES","option2":"L","option3":null,"sku":"CP20377-C306-S00L","requires_shipping":true,"taxable":false,"featured_image":{"id":30177781153881,"product_id":7141698469977,"position":12,"created_at":"2022-09-01T16:03:10-10:00","updated_at":"2022-09-01T16:03:11-10:00","alt":null,"width":800,"height":800,"src":"https:\/\/cdn.shopify.com\/s\/files\/1\/0077\/6096\/9779\/products\/1_da18cdbe-41f8-479c-8b98-e100eb41ea90.jpg?v=1662084191","variant_ids":[40190108303449,40190108336217,40190108368985,40190108401753,40190108434521,40190108467289,40190108500057,40190108532825,40190108565593,40190108598361,40190108631129,40190108663897,40190108696665,40190108729433,40190108762201,40190108794969,40190108827737,40190108860505,40190108893273,40190108926041,40190108958809,40190108991577,40190109024345,40190109057113,40190109089881,40190109122649,40190109155417,40190109188185,40190109220953,40190109253721,40190109286489,40190109319257,40190109352025,40190109384793,40190109417561,40190109450329,40190109483097,40190109515865,40190109548633,40190109581401,40190109614169,40190109646937,40190109679705,40190109712473,40190109745241,40190109778009,40190109810777,40190109843545,40190109876313,40190109909081,40190109941849,40190109974617,40190110007385,40190110040153,40190110072921,40190110105689]},"available":true,"name":"Women High Waist Fake Top Lower Sweep - BLUE AND WHITE STRIPES \/ L","public_title":"BLUE AND WHITE STRIPES \/ L","options":["BLUE AND WHITE STRIPES","L"],"price":1299,"weight":0,"compare_at_price":2598,"inventory_management":null,"barcode":null,"featured_media":{"alt":null,"id":22716331262041,"position":12,"preview_image":{"aspect_ratio":1.0,"height":800,"width":800,"src":"https:\/\/cdn.shopify.com\/s\/files\/1\/0077\/6096\/9779\/products\/1_da18cdbe-41f8-479c-8b98-e100eb41ea90.jpg?v=1662084191"}},"requires_selling_plan":false,"selling_plan_allocations":[],"quantity_rule":{"min":1,"max":null,"increment":1}},{"id":40190109712473,"title":"BLUE AND WHITE STRIPES \/ XL","option1":"BLUE AND WHITE STRIPES","option2":"XL","option3":null,"sku":"CP20377-C306-S00X","requires_shipping":true,"taxable":false,"featured_image":{"id":30177781153881,"product_id":7141698469977,"position":12,"created_at":"2022-09-01T16:03:10-10:00","updated_at":"2022-09-01T16:03:11-10:00","alt":null,"width":800,"height":800,"src":"https:\/\/cdn.shopify.com\/s\/files\/1\/0077\/6096\/9779\/products\/1_da18cdbe-41f8-479c-8b98-e100eb41ea90.jpg?v=1662084191","variant_ids":[40190108303449,40190108336217,40190108368985,40190108401753,40190108434521,40190108467289,40190108500057,40190108532825,40190108565593,40190108598361,40190108631129,40190108663897,40190108696665,40190108729433,40190108762201,40190108794969,40190108827737,40190108860505,40190108893273,40190108926041,40190108958809,40190108991577,40190109024345,40190109057113,40190109089881,40190109122649,40190109155417,40190109188185,40190109220953,40190109253721,40190109286489,40190109319257,40190109352025,40190109384793,40190109417561,40190109450329,40190109483097,40190109515865,40190109548633,40190109581401,40190109614169,40190109646937,40190109679705,40190109712473,40190109745241,40190109778009,40190109810777,40190109843545,40190109876313,40190109909081,40190109941849,40190109974617,40190110007385,40190110040153,40190110072921,40190110105689]},"available":true,"name":"Women High Waist Fake Top Lower Sweep - BLUE AND WHITE STRIPES \/ XL","public_title":"BLUE AND WHITE STRIPES \/ XL","options":["BLUE AND WHITE STRIPES","XL"],"price":1299,"weight":0,"compare_at_price":2598,"inventory_management":null,"barcode":null,"featured_media":{"alt":null,"id":22716331262041,"position":12,"preview_image":{"aspect_ratio":1.0,"height":800,"width":800,"src":"https:\/\/cdn.shopify.com\/s\/files\/1\/0077\/6096\/9779\/products\/1_da18cdbe-41f8-479c-8b98-e100eb41ea90.jpg?v=1662084191"}},"requires_selling_plan":false,"selling_plan_allocations":[],"quantity_rule":{"min":1,"max":null,"increment":1}},{"id":40190109745241,"title":"BLUE AND WHITE STRIPES \/ 2XL","option1":"BLUE AND WHITE STRIPES","option2":"2XL","option3":null,"sku":"CP20377-C306-S02X","requires_shipping":true,"taxable":false,"featured_image":{"id":30177781153881,"product_id":7141698469977,"position":12,"created_at":"2022-09-01T16:03:10-10:00","updated_at":"2022-09-01T16:03:11-10:00","alt":null,"width":800,"height":800,"src":"https:\/\/cdn.shopify.com\/s\/files\/1\/0077\/6096\/9779\/products\/1_da18cdbe-41f8-479c-8b98-e100eb41ea90.jpg?v=1662084191","variant_ids":[40190108303449,40190108336217,40190108368985,40190108401753,40190108434521,40190108467289,40190108500057,40190108532825,40190108565593,40190108598361,40190108631129,40190108663897,40190108696665,40190108729433,40190108762201,40190108794969,40190108827737,40190108860505,40190108893273,40190108926041,40190108958809,40190108991577,40190109024345,40190109057113,40190109089881,40190109122649,40190109155417,40190109188185,40190109220953,40190109253721,40190109286489,40190109319257,40190109352025,40190109384793,40190109417561,40190109450329,40190109483097,40190109515865,40190109548633,40190109581401,40190109614169,40190109646937,40190109679705,40190109712473,40190109745241,40190109778009,40190109810777,40190109843545,40190109876313,40190109909081,40190109941849,40190109974617,40190110007385,40190110040153,40190110072921,40190110105689]},"available":true,"name":"Women High Waist Fake Top Lower Sweep - BLUE AND WHITE STRIPES \/ 2XL","public_title":"BLUE AND WHITE STRIPES \/ 2XL","options":["BLUE AND WHITE STRIPES","2XL"],"price":1299,"weight":0,"compare_at_price":2598,"inventory_management":null,"barcode":null,"featured_media":{"alt":null,"id":22716331262041,"position":12,"preview_image":{"aspect_ratio":1.0,"height":800,"width":800,"src":"https:\/\/cdn.shopify.com\/s\/files\/1\/0077\/6096\/9779\/products\/1_da18cdbe-41f8-479c-8b98-e100eb41ea90.jpg?v=1662084191"}},"requires_selling_plan":false,"selling_plan_allocations":[],"quantity_rule":{"min":1,"max":null,"increment":1}},{"id":40190109778009,"title":"BLUE AND WHITE STRIPES \/ 3XL","option1":"BLUE AND WHITE STRIPES","option2":"3XL","option3":null,"sku":"CP20377-C306-S03X","requires_shipping":true,"taxable":false,"featured_image":{"id":30177781153881,"product_id":7141698469977,"position":12,"created_at":"2022-09-01T16:03:10-10:00","updated_at":"2022-09-01T16:03:11-10:00","alt":null,"width":800,"height":800,"src":"https:\/\/cdn.shopify.com\/s\/files\/1\/0077\/6096\/9779\/products\/1_da18cdbe-41f8-479c-8b98-e100eb41ea90.jpg?v=1662084191","variant_ids":[40190108303449,40190108336217,40190108368985,40190108401753,40190108434521,40190108467289,40190108500057,40190108532825,40190108565593,40190108598361,40190108631129,40190108663897,40190108696665,40190108729433,40190108762201,40190108794969,40190108827737,40190108860505,40190108893273,40190108926041,40190108958809,40190108991577,40190109024345,40190109057113,40190109089881,40190109122649,40190109155417,40190109188185,40190109220953,40190109253721,40190109286489,40190109319257,40190109352025,40190109384793,40190109417561,40190109450329,40190109483097,40190109515865,40190109548633,40190109581401,40190109614169,40190109646937,40190109679705,40190109712473,40190109745241,40190109778009,40190109810777,40190109843545,40190109876313,40190109909081,40190109941849,40190109974617,40190110007385,40190110040153,40190110072921,40190110105689]},"available":true,"name":"Women High Waist Fake Top Lower Sweep - BLUE AND WHITE STRIPES \/ 3XL","public_title":"BLUE AND WHITE STRIPES \/ 3XL","options":["BLUE AND WHITE STRIPES","3XL"],"price":1299,"weight":0,"compare_at_price":2598,"inventory_management":null,"barcode":null,"featured_media":{"alt":null,"id":22716331262041,"position":12,"preview_image":{"aspect_ratio":1.0,"height":800,"width":800,"src":"https:\/\/cdn.shopify.com\/s\/files\/1\/0077\/6096\/9779\/products\/1_da18cdbe-41f8-479c-8b98-e100eb41ea90.jpg?v=1662084191"}},"requires_selling_plan":false,"selling_plan_allocations":[],"quantity_rule":{"min":1,"max":null,"increment":1}},{"id":40190109810777,"title":"BLUE AND WHITE STRIPES \/ 4XL","option1":"BLUE AND WHITE STRIPES","option2":"4XL","option3":null,"sku":"CP20377-C306-S04X","requires_shipping":true,"taxable":false,"featured_image":{"id":30177781153881,"product_id":7141698469977,"position":12,"created_at":"2022-09-01T16:03:10-10:00","updated_at":"2022-09-01T16:03:11-10:00","alt":null,"width":800,"height":800,"src":"https:\/\/cdn.shopify.com\/s\/files\/1\/0077\/6096\/9779\/products\/1_da18cdbe-41f8-479c-8b98-e100eb41ea90.jpg?v=1662084191","variant_ids":[40190108303449,40190108336217,40190108368985,40190108401753,40190108434521,40190108467289,40190108500057,40190108532825,40190108565593,40190108598361,40190108631129,40190108663897,40190108696665,40190108729433,40190108762201,40190108794969,40190108827737,40190108860505,40190108893273,40190108926041,40190108958809,40190108991577,40190109024345,40190109057113,40190109089881,40190109122649,40190109155417,40190109188185,40190109220953,40190109253721,40190109286489,40190109319257,40190109352025,40190109384793,40190109417561,40190109450329,40190109483097,40190109515865,40190109548633,40190109581401,40190109614169,40190109646937,40190109679705,40190109712473,40190109745241,40190109778009,40190109810777,40190109843545,40190109876313,40190109909081,40190109941849,40190109974617,40190110007385,40190110040153,40190110072921,40190110105689]},"available":true,"name":"Women High Waist Fake Top Lower Sweep - BLUE AND WHITE STRIPES \/ 4XL","public_title":"BLUE AND WHITE STRIPES \/ 4XL","options":["BLUE AND WHITE STRIPES","4XL"],"price":1299,"weight":0,"compare_at_price":2598,"inventory_management":null,"barcode":null,"featured_media":{"alt":null,"id":22716331262041,"position":12,"preview_image":{"aspect_ratio":1.0,"height":800,"width":800,"src":"https:\/\/cdn.shopify.com\/s\/files\/1\/0077\/6096\/9779\/products\/1_da18cdbe-41f8-479c-8b98-e100eb41ea90.jpg?v=1662084191"}},"requires_selling_plan":false,"selling_plan_allocations":[],"quantity_rule":{"min":1,"max":null,"increment":1}},{"id":40190109843545,"title":"BLUE AND WHITE STRIPES \/ 5XL","option1":"BLUE AND WHITE STRIPES","option2":"5XL","option3":null,"sku":"CP20377-C306-S05X","requires_shipping":true,"taxable":false,"featured_image":{"id":30177781153881,"product_id":7141698469977,"position":12,"created_at":"2022-09-01T16:03:10-10:00","updated_at":"2022-09-01T16:03:11-10:00","alt":null,"width":800,"height":800,"src":"https:\/\/cdn.shopify.com\/s\/files\/1\/0077\/6096\/9779\/products\/1_da18cdbe-41f8-479c-8b98-e100eb41ea90.jpg?v=1662084191","variant_ids":[40190108303449,40190108336217,40190108368985,40190108401753,40190108434521,40190108467289,40190108500057,40190108532825,40190108565593,40190108598361,40190108631129,40190108663897,40190108696665,40190108729433,40190108762201,40190108794969,40190108827737,40190108860505,40190108893273,40190108926041,40190108958809,40190108991577,40190109024345,40190109057113,40190109089881,40190109122649,40190109155417,40190109188185,40190109220953,40190109253721,40190109286489,40190109319257,40190109352025,40190109384793,40190109417561,40190109450329,40190109483097,40190109515865,40190109548633,40190109581401,40190109614169,40190109646937,40190109679705,40190109712473,40190109745241,40190109778009,40190109810777,40190109843545,40190109876313,40190109909081,40190109941849,40190109974617,40190110007385,40190110040153,40190110072921,40190110105689]},"available":true,"name":"Women High Waist Fake Top Lower Sweep - BLUE AND WHITE STRIPES \/ 5XL","public_title":"BLUE AND WHITE STRIPES \/ 5XL","options":["BLUE AND WHITE STRIPES","5XL"],"price":1299,"weight":0,"compare_at_price":2598,"inventory_management":null,"barcode":null,"featured_media":{"alt":null,"id":22716331262041,"position":12,"preview_image":{"aspect_ratio":1.0,"height":800,"width":800,"src":"https:\/\/cdn.shopify.com\/s\/files\/1\/0077\/6096\/9779\/products\/1_da18cdbe-41f8-479c-8b98-e100eb41ea90.jpg?v=1662084191"}},"requires_selling_plan":false,"selling_plan_allocations":[],"quantity_rule":{"min":1,"max":null,"increment":1}},{"id":40190109876313,"title":"BLACK AND WHITE STRIPES \/ S","option1":"BLACK AND WHITE STRIPES","option2":"S","option3":null,"sku":"CP20377-C277-S00S","requires_shipping":true,"taxable":false,"featured_image":{"id":30177781153881,"product_id":7141698469977,"position":12,"created_at":"2022-09-01T16:03:10-10:00","updated_at":"2022-09-01T16:03:11-10:00","alt":null,"width":800,"height":800,"src":"https:\/\/cdn.shopify.com\/s\/files\/1\/0077\/6096\/9779\/products\/1_da18cdbe-41f8-479c-8b98-e100eb41ea90.jpg?v=1662084191","variant_ids":[40190108303449,40190108336217,40190108368985,40190108401753,40190108434521,40190108467289,40190108500057,40190108532825,40190108565593,40190108598361,40190108631129,40190108663897,40190108696665,40190108729433,40190108762201,40190108794969,40190108827737,40190108860505,40190108893273,40190108926041,40190108958809,40190108991577,40190109024345,40190109057113,40190109089881,40190109122649,40190109155417,40190109188185,40190109220953,40190109253721,40190109286489,40190109319257,40190109352025,40190109384793,40190109417561,40190109450329,40190109483097,40190109515865,40190109548633,40190109581401,40190109614169,40190109646937,40190109679705,40190109712473,40190109745241,40190109778009,40190109810777,40190109843545,40190109876313,40190109909081,40190109941849,40190109974617,40190110007385,40190110040153,40190110072921,40190110105689]},"available":true,"name":"Women High Waist Fake Top Lower Sweep - BLACK AND WHITE STRIPES \/ S","public_title":"BLACK AND WHITE STRIPES \/ S","options":["BLACK AND WHITE STRIPES","S"],"price":1299,"weight":0,"compare_at_price":2598,"inventory_management":null,"barcode":null,"featured_media":{"alt":null,"id":22716331262041,"position":12,"preview_image":{"aspect_ratio":1.0,"height":800,"width":800,"src":"https:\/\/cdn.shopify.com\/s\/files\/1\/0077\/6096\/9779\/products\/1_da18cdbe-41f8-479c-8b98-e100eb41ea90.jpg?v=1662084191"}},"requires_selling_plan":false,"selling_plan_allocations":[],"quantity_rule":{"min":1,"max":null,"increment":1}},{"id":40190109909081,"title":"BLACK AND WHITE STRIPES \/ M","option1":"BLACK AND WHITE STRIPES","option2":"M","option3":null,"sku":"CP20377-C277-S00M","requires_shipping":true,"taxable":false,"featured_image":{"id":30177781153881,"product_id":7141698469977,"position":12,"created_at":"2022-09-01T16:03:10-10:00","updated_at":"2022-09-01T16:03:11-10:00","alt":null,"width":800,"height":800,"src":"https:\/\/cdn.shopify.com\/s\/files\/1\/0077\/6096\/9779\/products\/1_da18cdbe-41f8-479c-8b98-e100eb41ea90.jpg?v=1662084191","variant_ids":[40190108303449,40190108336217,40190108368985,40190108401753,40190108434521,40190108467289,40190108500057,40190108532825,40190108565593,40190108598361,40190108631129,40190108663897,40190108696665,40190108729433,40190108762201,40190108794969,40190108827737,40190108860505,40190108893273,40190108926041,40190108958809,40190108991577,40190109024345,40190109057113,40190109089881,40190109122649,40190109155417,40190109188185,40190109220953,40190109253721,40190109286489,40190109319257,40190109352025,40190109384793,40190109417561,40190109450329,40190109483097,40190109515865,40190109548633,40190109581401,40190109614169,40190109646937,40190109679705,40190109712473,40190109745241,40190109778009,40190109810777,40190109843545,40190109876313,40190109909081,40190109941849,40190109974617,40190110007385,40190110040153,40190110072921,40190110105689]},"available":true,"name":"Women High Waist Fake Top Lower Sweep - BLACK AND WHITE STRIPES \/ M","public_title":"BLACK AND WHITE STRIPES \/ M","options":["BLACK AND WHITE STRIPES","M"],"price":1299,"weight":0,"compare_at_price":2598,"inventory_management":null,"barcode":null,"featured_media":{"alt":null,"id":22716331262041,"position":12,"preview_image":{"aspect_ratio":1.0,"height":800,"width":800,"src":"https:\/\/cdn.shopify.com\/s\/files\/1\/0077\/6096\/9779\/products\/1_da18cdbe-41f8-479c-8b98-e100eb41ea90.jpg?v=1662084191"}},"requires_selling_plan":false,"selling_plan_allocations":[],"quantity_rule":{"min":1,"max":null,"increment":1}},{"id":40190109941849,"title":"BLACK AND WHITE STRIPES \/ L","option1":"BLACK AND WHITE STRIPES","option2":"L","option3":null,"sku":"CP20377-C277-S00L","requires_shipping":true,"taxable":false,"featured_image":{"id":30177781153881,"product_id":7141698469977,"position":12,"created_at":"2022-09-01T16:03:10-10:00","updated_at":"2022-09-01T16:03:11-10:00","alt":null,"width":800,"height":800,"src":"https:\/\/cdn.shopify.com\/s\/files\/1\/0077\/6096\/9779\/products\/1_da18cdbe-41f8-479c-8b98-e100eb41ea90.jpg?v=1662084191","variant_ids":[40190108303449,40190108336217,40190108368985,40190108401753,40190108434521,40190108467289,40190108500057,40190108532825,40190108565593,40190108598361,40190108631129,40190108663897,40190108696665,40190108729433,40190108762201,40190108794969,40190108827737,40190108860505,40190108893273,40190108926041,40190108958809,40190108991577,40190109024345,40190109057113,40190109089881,40190109122649,40190109155417,40190109188185,40190109220953,40190109253721,40190109286489,40190109319257,40190109352025,40190109384793,40190109417561,40190109450329,40190109483097,40190109515865,40190109548633,40190109581401,40190109614169,40190109646937,40190109679705,40190109712473,40190109745241,40190109778009,40190109810777,40190109843545,40190109876313,40190109909081,40190109941849,40190109974617,40190110007385,40190110040153,40190110072921,40190110105689]},"available":true,"name":"Women High Waist Fake Top Lower Sweep - BLACK AND WHITE STRIPES \/ L","public_title":"BLACK AND WHITE STRIPES \/ L","options":["BLACK AND WHITE STRIPES","L"],"price":1299,"weight":0,"compare_at_price":2598,"inventory_management":null,"barcode":null,"featured_media":{"alt":null,"id":22716331262041,"position":12,"preview_image":{"aspect_ratio":1.0,"height":800,"width":800,"src":"https:\/\/cdn.shopify.com\/s\/files\/1\/0077\/6096\/9779\/products\/1_da18cdbe-41f8-479c-8b98-e100eb41ea90.jpg?v=1662084191"}},"requires_selling_plan":false,"selling_plan_allocations":[],"quantity_rule":{"min":1,"max":null,"increment":1}},{"id":40190109974617,"title":"BLACK AND WHITE STRIPES \/ XL","option1":"BLACK AND WHITE STRIPES","option2":"XL","option3":null,"sku":"CP20377-C277-S00X","requires_shipping":true,"taxable":false,"featured_image":{"id":30177781153881,"product_id":7141698469977,"position":12,"created_at":"2022-09-01T16:03:10-10:00","updated_at":"2022-09-01T16:03:11-10:00","alt":null,"width":800,"height":800,"src":"https:\/\/cdn.shopify.com\/s\/files\/1\/0077\/6096\/9779\/products\/1_da18cdbe-41f8-479c-8b98-e100eb41ea90.jpg?v=1662084191","variant_ids":[40190108303449,40190108336217,40190108368985,40190108401753,40190108434521,40190108467289,40190108500057,40190108532825,40190108565593,40190108598361,40190108631129,40190108663897,40190108696665,40190108729433,40190108762201,40190108794969,40190108827737,40190108860505,40190108893273,40190108926041,40190108958809,40190108991577,40190109024345,40190109057113,40190109089881,40190109122649,40190109155417,40190109188185,40190109220953,40190109253721,40190109286489,40190109319257,40190109352025,40190109384793,40190109417561,40190109450329,40190109483097,40190109515865,40190109548633,40190109581401,40190109614169,40190109646937,40190109679705,40190109712473,40190109745241,40190109778009,40190109810777,40190109843545,40190109876313,40190109909081,40190109941849,40190109974617,40190110007385,40190110040153,40190110072921,40190110105689]},"available":true,"name":"Women High Waist Fake Top Lower Sweep - BLACK AND WHITE STRIPES \/ XL","public_title":"BLACK AND WHITE STRIPES \/ XL","options":["BLACK AND WHITE STRIPES","XL"],"price":1299,"weight":0,"compare_at_price":2598,"inventory_management":null,"barcode":null,"featured_media":{"alt":null,"id":22716331262041,"position":12,"preview_image":{"aspect_ratio":1.0,"height":800,"width":800,"src":"https:\/\/cdn.shopify.com\/s\/files\/1\/0077\/6096\/9779\/products\/1_da18cdbe-41f8-479c-8b98-e100eb41ea90.jpg?v=1662084191"}},"requires_selling_plan":false,"selling_plan_allocations":[],"quantity_rule":{"min":1,"max":null,"increment":1}},{"id":40190110007385,"title":"BLACK AND WHITE STRIPES \/ 2XL","option1":"BLACK AND WHITE STRIPES","option2":"2XL","option3":null,"sku":"CP20377-C277-S02X","requires_shipping":true,"taxable":false,"featured_image":{"id":30177781153881,"product_id":7141698469977,"position":12,"created_at":"2022-09-01T16:03:10-10:00","updated_at":"2022-09-01T16:03:11-10:00","alt":null,"width":800,"height":800,"src":"https:\/\/cdn.shopify.com\/s\/files\/1\/0077\/6096\/9779\/products\/1_da18cdbe-41f8-479c-8b98-e100eb41ea90.jpg?v=1662084191","variant_ids":[40190108303449,40190108336217,40190108368985,40190108401753,40190108434521,40190108467289,40190108500057,40190108532825,40190108565593,40190108598361,40190108631129,40190108663897,40190108696665,40190108729433,40190108762201,40190108794969,40190108827737,40190108860505,40190108893273,40190108926041,40190108958809,40190108991577,40190109024345,40190109057113,40190109089881,40190109122649,40190109155417,40190109188185,40190109220953,40190109253721,40190109286489,40190109319257,40190109352025,40190109384793,40190109417561,40190109450329,40190109483097,40190109515865,40190109548633,40190109581401,40190109614169,40190109646937,40190109679705,40190109712473,40190109745241,40190109778009,40190109810777,40190109843545,40190109876313,40190109909081,40190109941849,40190109974617,40190110007385,40190110040153,40190110072921,40190110105689]},"available":true,"name":"Women High Waist Fake Top Lower Sweep - BLACK AND WHITE STRIPES \/ 2XL","public_title":"BLACK AND WHITE STRIPES \/ 2XL","options":["BLACK AND WHITE STRIPES","2XL"],"price":1299,"weight":0,"compare_at_price":2598,"inventory_management":null,"barcode":null,"featured_media":{"alt":null,"id":22716331262041,"position":12,"preview_image":{"aspect_ratio":1.0,"height":800,"width":800,"src":"https:\/\/cdn.shopify.com\/s\/files\/1\/0077\/6096\/9779\/products\/1_da18cdbe-41f8-479c-8b98-e100eb41ea90.jpg?v=1662084191"}},"requires_selling_plan":false,"selling_plan_allocations":[],"quantity_rule":{"min":1,"max":null,"increment":1}},{"id":40190110040153,"title":"BLACK AND WHITE STRIPES \/ 3XL","option1":"BLACK AND WHITE STRIPES","option2":"3XL","option3":null,"sku":"CP20377-C277-S03X","requires_shipping":true,"taxable":false,"featured_image":{"id":30177781153881,"product_id":7141698469977,"position":12,"created_at":"2022-09-01T16:03:10-10:00","updated_at":"2022-09-01T16:03:11-10:00","alt":null,"width":800,"height":800,"src":"https:\/\/cdn.shopify.com\/s\/files\/1\/0077\/6096\/9779\/products\/1_da18cdbe-41f8-479c-8b98-e100eb41ea90.jpg?v=1662084191","variant_ids":[40190108303449,40190108336217,40190108368985,40190108401753,40190108434521,40190108467289,40190108500057,40190108532825,40190108565593,40190108598361,40190108631129,40190108663897,40190108696665,40190108729433,40190108762201,40190108794969,40190108827737,40190108860505,40190108893273,40190108926041,40190108958809,40190108991577,40190109024345,40190109057113,40190109089881,40190109122649,40190109155417,40190109188185,40190109220953,40190109253721,40190109286489,40190109319257,40190109352025,40190109384793,40190109417561,40190109450329,40190109483097,40190109515865,40190109548633,40190109581401,40190109614169,40190109646937,40190109679705,40190109712473,40190109745241,40190109778009,40190109810777,40190109843545,40190109876313,40190109909081,40190109941849,40190109974617,40190110007385,40190110040153,40190110072921,40190110105689]},"available":true,"name":"Women High Waist Fake Top Lower Sweep - BLACK AND WHITE STRIPES \/ 3XL","public_title":"BLACK AND WHITE STRIPES \/ 3XL","options":["BLACK AND WHITE STRIPES","3XL"],"price":1299,"weight":0,"compare_at_price":2598,"inventory_management":null,"barcode":null,"featured_media":{"alt":null,"id":22716331262041,"position":12,"preview_image":{"aspect_ratio":1.0,"height":800,"width":800,"src":"https:\/\/cdn.shopify.com\/s\/files\/1\/0077\/6096\/9779\/products\/1_da18cdbe-41f8-479c-8b98-e100eb41ea90.jpg?v=1662084191"}},"requires_selling_plan":false,"selling_plan_allocations":[],"quantity_rule":{"min":1,"max":null,"increment":1}},{"id":40190110072921,"title":"BLACK AND WHITE STRIPES \/ 4XL","option1":"BLACK AND WHITE STRIPES","option2":"4XL","option3":null,"sku":"CP20377-C277-S04X","requires_shipping":true,"taxable":false,"featured_image":{"id":30177781153881,"product_id":7141698469977,"position":12,"created_at":"2022-09-01T16:03:10-10:00","updated_at":"2022-09-01T16:03:11-10:00","alt":null,"width":800,"height":800,"src":"https:\/\/cdn.shopify.com\/s\/files\/1\/0077\/6096\/9779\/products\/1_da18cdbe-41f8-479c-8b98-e100eb41ea90.jpg?v=1662084191","variant_ids":[40190108303449,40190108336217,40190108368985,40190108401753,40190108434521,40190108467289,40190108500057,40190108532825,40190108565593,40190108598361,40190108631129,40190108663897,40190108696665,40190108729433,40190108762201,40190108794969,40190108827737,40190108860505,40190108893273,40190108926041,40190108958809,40190108991577,40190109024345,40190109057113,40190109089881,40190109122649,40190109155417,40190109188185,40190109220953,40190109253721,40190109286489,40190109319257,40190109352025,40190109384793,40190109417561,40190109450329,40190109483097,40190109515865,40190109548633,40190109581401,40190109614169,40190109646937,40190109679705,40190109712473,40190109745241,40190109778009,40190109810777,40190109843545,40190109876313,40190109909081,40190109941849,40190109974617,40190110007385,40190110040153,40190110072921,40190110105689]},"available":true,"name":"Women High Waist Fake Top Lower Sweep - BLACK AND WHITE STRIPES \/ 4XL","public_title":"BLACK AND WHITE STRIPES \/ 4XL","options":["BLACK AND WHITE STRIPES","4XL"],"price":1299,"weight":0,"compare_at_price":2598,"inventory_management":null,"barcode":null,"featured_media":{"alt":null,"id":22716331262041,"position":12,"preview_image":{"aspect_ratio":1.0,"height":800,"width":800,"src":"https:\/\/cdn.shopify.com\/s\/files\/1\/0077\/6096\/9779\/products\/1_da18cdbe-41f8-479c-8b98-e100eb41ea90.jpg?v=1662084191"}},"requires_selling_plan":false,"selling_plan_allocations":[],"quantity_rule":{"min":1,"max":null,"increment":1}},{"id":40190110105689,"title":"BLACK AND WHITE STRIPES \/ 5XL","option1":"BLACK AND WHITE STRIPES","option2":"5XL","option3":null,"sku":"CP20377-C277-S05X","requires_shipping":true,"taxable":false,"featured_image":{"id":30177781153881,"product_id":7141698469977,"position":12,"created_at":"2022-09-01T16:03:10-10:00","updated_at":"2022-09-01T16:03:11-10:00","alt":null,"width":800,"height":800,"src":"https:\/\/cdn.shopify.com\/s\/files\/1\/0077\/6096\/9779\/products\/1_da18cdbe-41f8-479c-8b98-e100eb41ea90.jpg?v=1662084191","variant_ids":[40190108303449,40190108336217,40190108368985,40190108401753,40190108434521,40190108467289,40190108500057,40190108532825,40190108565593,40190108598361,40190108631129,40190108663897,40190108696665,40190108729433,40190108762201,40190108794969,40190108827737,40190108860505,40190108893273,40190108926041,40190108958809,40190108991577,40190109024345,40190109057113,40190109089881,40190109122649,40190109155417,40190109188185,40190109220953,40190109253721,40190109286489,40190109319257,40190109352025,40190109384793,40190109417561,40190109450329,40190109483097,40190109515865,40190109548633,40190109581401,40190109614169,40190109646937,40190109679705,40190109712473,40190109745241,40190109778009,40190109810777,40190109843545,40190109876313,40190109909081,40190109941849,40190109974617,40190110007385,40190110040153,40190110072921,40190110105689]},"available":true,"name":"Women High Waist Fake Top Lower Sweep - BLACK AND WHITE STRIPES \/ 5XL","public_title":"BLACK AND WHITE STRIPES \/ 5XL","options":["BLACK AND WHITE STRIPES","5XL"],"price":1299,"weight":0,"compare_at_price":2598,"inventory_management":null,"barcode":null,"featured_media":{"alt":null,"id":22716331262041,"position":12,"preview_image":{"aspect_ratio":1.0,"height":800,"width":800,"src":"https:\/\/cdn.shopify.com\/s\/files\/1\/0077\/6096\/9779\/products\/1_da18cdbe-41f8-479c-8b98-e100eb41ea90.jpg?v=1662084191"}},"requires_selling_plan":false,"selling_plan_allocations":[],"quantity_rule":{"min":1,"max":null,"increment":1}}],"images":["\/\/cdn.shopify.com\/s\/files\/1\/0077\/6096\/9779\/products\/2_1b45dcef-0dd4-4d0a-8023-fca4b9882d41.jpg?v=1662084184","\/\/cdn.shopify.com\/s\/files\/1\/0077\/6096\/9779\/products\/1_b5d10162-a6bb-4dc0-ae9a-b63501ad815e.jpg?v=1662084184","\/\/cdn.shopify.com\/s\/files\/1\/0077\/6096\/9779\/products\/3_19d36b51-e05b-49c4-aa8e-a7a43d95d091.jpg?v=1662084184","\/\/cdn.shopify.com\/s\/files\/1\/0077\/6096\/9779\/products\/5_7af9a970-feb8-49d7-b0c7-bdbb98534e8e.jpg?v=1662084184","\/\/cdn.shopify.com\/s\/files\/1\/0077\/6096\/9779\/products\/4_e33366fd-1202-469f-b75d-06d4100af3ba.jpg?v=1662084184","\/\/cdn.shopify.com\/s\/files\/1\/0077\/6096\/9779\/products\/6_c77cc7ea-6d1a-4593-a84e-ad2666385b50.jpg?v=1662084184","\/\/cdn.shopify.com\/s\/files\/1\/0077\/6096\/9779\/products\/352897d66e4c995305985cc29ae85d8d.jpg?v=1662084184","\/\/cdn.shopify.com\/s\/files\/1\/0077\/6096\/9779\/products\/8_f6b63d32-d239-4c3b-8c61-8c5a05edb386.jpg?v=1662084184","\/\/cdn.shopify.com\/s\/files\/1\/0077\/6096\/9779\/products\/2_1ef940a5-4c64-4da8-9e7a-7e6929238f01.jpg?v=1662084184","\/\/cdn.shopify.com\/s\/files\/1\/0077\/6096\/9779\/products\/9_fc9c2d7d-d6bb-4084-b9c8-db2cd454f84f.jpg?v=1662084184","\/\/cdn.shopify.com\/s\/files\/1\/0077\/6096\/9779\/products\/10_29a77404-90b5-42f4-bdb2-bbe469de7139.jpg?v=1662084184","\/\/cdn.shopify.com\/s\/files\/1\/0077\/6096\/9779\/products\/1_da18cdbe-41f8-479c-8b98-e100eb41ea90.jpg?v=1662084191"],"featured_image":"\/\/cdn.shopify.com\/s\/files\/1\/0077\/6096\/9779\/products\/2_1b45dcef-0dd4-4d0a-8023-fca4b9882d41.jpg?v=1662084184","options":["Color","Size"],"media":[{"alt":null,"id":22716330770521,"position":1,"preview_image":{"aspect_ratio":1.0,"height":800,"width":800,"src":"https:\/\/cdn.shopify.com\/s\/files\/1\/0077\/6096\/9779\/products\/2_1b45dcef-0dd4-4d0a-8023-fca4b9882d41.jpg?v=1662084184"},"aspect_ratio":1.0,"height":800,"media_type":"image","src":"https:\/\/cdn.shopify.com\/s\/files\/1\/0077\/6096\/9779\/products\/2_1b45dcef-0dd4-4d0a-8023-fca4b9882d41.jpg?v=1662084184","width":800},{"alt":null,"id":22716330803289,"position":2,"preview_image":{"aspect_ratio":1.0,"height":800,"width":800,"src":"https:\/\/cdn.shopify.com\/s\/files\/1\/0077\/6096\/9779\/products\/1_b5d10162-a6bb-4dc0-ae9a-b63501ad815e.jpg?v=1662084184"},"aspect_ratio":1.0,"height":800,"media_type":"image","src":"https:\/\/cdn.shopify.com\/s\/files\/1\/0077\/6096\/9779\/products\/1_b5d10162-a6bb-4dc0-ae9a-b63501ad815e.jpg?v=1662084184","width":800},{"alt":null,"id":22716330836057,"position":3,"preview_image":{"aspect_ratio":1.0,"height":800,"width":800,"src":"https:\/\/cdn.shopify.com\/s\/files\/1\/0077\/6096\/9779\/products\/3_19d36b51-e05b-49c4-aa8e-a7a43d95d091.jpg?v=1662084184"},"aspect_ratio":1.0,"height":800,"media_type":"image","src":"https:\/\/cdn.shopify.com\/s\/files\/1\/0077\/6096\/9779\/products\/3_19d36b51-e05b-49c4-aa8e-a7a43d95d091.jpg?v=1662084184","width":800},{"alt":null,"id":22716330868825,"position":4,"preview_image":{"aspect_ratio":1.0,"height":800,"width":800,"src":"https:\/\/cdn.shopify.com\/s\/files\/1\/0077\/6096\/9779\/products\/5_7af9a970-feb8-49d7-b0c7-bdbb98534e8e.jpg?v=1662084184"},"aspect_ratio":1.0,"height":800,"media_type":"image","src":"https:\/\/cdn.shopify.com\/s\/files\/1\/0077\/6096\/9779\/products\/5_7af9a970-feb8-49d7-b0c7-bdbb98534e8e.jpg?v=1662084184","width":800},{"alt":null,"id":22716330901593,"position":5,"preview_image":{"aspect_ratio":1.0,"height":800,"width":800,"src":"https:\/\/cdn.shopify.com\/s\/files\/1\/0077\/6096\/9779\/products\/4_e33366fd-1202-469f-b75d-06d4100af3ba.jpg?v=1662084184"},"aspect_ratio":1.0,"height":800,"media_type":"image","src":"https:\/\/cdn.shopify.com\/s\/files\/1\/0077\/6096\/9779\/products\/4_e33366fd-1202-469f-b75d-06d4100af3ba.jpg?v=1662084184","width":800},{"alt":null,"id":22716330934361,"position":6,"preview_image":{"aspect_ratio":1.0,"height":800,"width":800,"src":"https:\/\/cdn.shopify.com\/s\/files\/1\/0077\/6096\/9779\/products\/6_c77cc7ea-6d1a-4593-a84e-ad2666385b50.jpg?v=1662084184"},"aspect_ratio":1.0,"height":800,"media_type":"image","src":"https:\/\/cdn.shopify.com\/s\/files\/1\/0077\/6096\/9779\/products\/6_c77cc7ea-6d1a-4593-a84e-ad2666385b50.jpg?v=1662084184","width":800},{"alt":null,"id":22716330967129,"position":7,"preview_image":{"aspect_ratio":1.0,"height":640,"width":640,"src":"https:\/\/cdn.shopify.com\/s\/files\/1\/0077\/6096\/9779\/products\/352897d66e4c995305985cc29ae85d8d.jpg?v=1662084184"},"aspect_ratio":1.0,"height":640,"media_type":"image","src":"https:\/\/cdn.shopify.com\/s\/files\/1\/0077\/6096\/9779\/products\/352897d66e4c995305985cc29ae85d8d.jpg?v=1662084184","width":640},{"alt":null,"id":22716330999897,"position":8,"preview_image":{"aspect_ratio":1.0,"height":800,"width":800,"src":"https:\/\/cdn.shopify.com\/s\/files\/1\/0077\/6096\/9779\/products\/8_f6b63d32-d239-4c3b-8c61-8c5a05edb386.jpg?v=1662084184"},"aspect_ratio":1.0,"height":800,"media_type":"image","src":"https:\/\/cdn.shopify.com\/s\/files\/1\/0077\/6096\/9779\/products\/8_f6b63d32-d239-4c3b-8c61-8c5a05edb386.jpg?v=1662084184","width":800},{"alt":null,"id":22716331032665,"position":9,"preview_image":{"aspect_ratio":1.0,"height":800,"width":800,"src":"https:\/\/cdn.shopify.com\/s\/files\/1\/0077\/6096\/9779\/products\/2_1ef940a5-4c64-4da8-9e7a-7e6929238f01.jpg?v=1662084184"},"aspect_ratio":1.0,"height":800,"media_type":"image","src":"https:\/\/cdn.shopify.com\/s\/files\/1\/0077\/6096\/9779\/products\/2_1ef940a5-4c64-4da8-9e7a-7e6929238f01.jpg?v=1662084184","width":800},{"alt":null,"id":22716331065433,"position":10,"preview_image":{"aspect_ratio":1.0,"height":800,"width":800,"src":"https:\/\/cdn.shopify.com\/s\/files\/1\/0077\/6096\/9779\/products\/9_fc9c2d7d-d6bb-4084-b9c8-db2cd454f84f.jpg?v=1662084184"},"aspect_ratio":1.0,"height":800,"media_type":"image","src":"https:\/\/cdn.shopify.com\/s\/files\/1\/0077\/6096\/9779\/products\/9_fc9c2d7d-d6bb-4084-b9c8-db2cd454f84f.jpg?v=1662084184","width":800},{"alt":null,"id":22716331098201,"position":11,"preview_image":{"aspect_ratio":1.0,"height":800,"width":800,"src":"https:\/\/cdn.shopify.com\/s\/files\/1\/0077\/6096\/9779\/products\/10_29a77404-90b5-42f4-bdb2-bbe469de7139.jpg?v=1662084184"},"aspect_ratio":1.0,"height":800,"media_type":"image","src":"https:\/\/cdn.shopify.com\/s\/files\/1\/0077\/6096\/9779\/products\/10_29a77404-90b5-42f4-bdb2-bbe469de7139.jpg?v=1662084184","width":800},{"alt":null,"id":22716331262041,"position":12,"preview_image":{"aspect_ratio":1.0,"height":800,"width":800,"src":"https:\/\/cdn.shopify.com\/s\/files\/1\/0077\/6096\/9779\/products\/1_da18cdbe-41f8-479c-8b98-e100eb41ea90.jpg?v=1662084191"},"aspect_ratio":1.0,"height":800,"media_type":"image","src":"https:\/\/cdn.shopify.com\/s\/files\/1\/0077\/6096\/9779\/products\/1_da18cdbe-41f8-479c-8b98-e100eb41ea90.jpg?v=1662084191","width":800}],"requires_selling_plan":false,"selling_plan_groups":[],"content":"\u003cp\u003e\u003cspan style=\"color: #910000;\"\u003e\u003cstrong\u003eSometimes it is a bit embarrassing when we come across situations that we have to wear a short jacket or sweaters, But not anymore.\u003c\/strong\u003e\u003c\/span\u003e\u003c\/p\u003e\n\u003cp\u003e\u003cspan style=\"color: #ff8000;\"\u003e\u003cstrong\u003e😍It takes only 1 second to put on this Skirt to become a fashion Girl in Seconds.\u003c\/strong\u003e\u003c\/span\u003e\u003c\/p\u003e\n\u003cp\u003e\u003cspan style=\"color: #ff8000;\"\u003e\u003cstrong\u003e\u003cimg alt=\"\" src=\"https:\/\/cdn.shopifycdn.net\/s\/files\/1\/0529\/2562\/8588\/files\/10_a97cab7c-7a45-474d-b0c4-4029ee9fdf06_480x480.jpg?v=1630921704\" style=\"display: block; margin-left: auto; margin-right: auto;\"\u003e\u003c\/strong\u003e\u003c\/span\u003e\u003c\/p\u003e\n\u003cp\u003e\u003cspan style=\"color: #910000;\"\u003e\u003cstrong\u003eFEATURES:\u003c\/strong\u003e\u003c\/span\u003e\u003c\/p\u003e\n\u003cul\u003e\n\u003cli\u003e\n\u003cp\u003e\u003cspan style=\"color: #ff8000;\"\u003e\u003cstrong\u003eChic design:\u003c\/strong\u003e \u003c\/span\u003ethe fake top lower sweep comes with splitting design, stretchy high waist appearance will highlight your beautiful figure, its simple style can make you more charming and elegant\u003c\/p\u003e\n\u003c\/li\u003e\n\u003cli\u003e\n\u003cp\u003e\u003cstrong\u003e\u003cspan style=\"color: #ff8000;\"\u003eSoft and comfortable material:\u003c\/span\u003e \u003c\/strong\u003eMade of quality polyester fiber with good moisture absorption and permeability, soft, elastic and comfortable to wear\u003c\/p\u003e\n\u003c\/li\u003e\n\u003cli\u003e\n\u003cp\u003e\u003cspan style=\"color: #ff8000;\"\u003e\u003cstrong\u003eEasy to match:\u003c\/strong\u003e \u003c\/span\u003eA good decoration for sweatshirts, jackets, coats, and other casual clothes, very suitable for daily street shooting, shopping, etc.\u003c\/p\u003e\n\u003c\/li\u003e\n\u003c\/ul\u003e\n\u003cp\u003e\u003cimg alt=\"\" src=\"https:\/\/cdn.shopifycdn.net\/s\/files\/1\/0529\/2562\/8588\/files\/1_66b5d8f7-2b64-4984-a4d9-b8da44b90d2c_480x480.jpg?v=1630921725\" style=\"display: block; margin-left: auto; margin-right: auto;\"\u003e\u003c\/p\u003e\n\u003cp\u003e\u003cspan style=\"color: #910000;\"\u003e\u003cstrong\u003eSPECIFICATIONS:\u003c\/strong\u003e\u003c\/span\u003e\u003c\/p\u003e\n\u003cul\u003e\n\u003cli\u003eMaterial: Polyester Fiber\u003c\/li\u003e\n\u003cli\u003eSeason: Spring, Fall, Winter, Summer\u003c\/li\u003e\n\u003cli\u003eHand wash recommended, do not bleach, iron on low heat.\u003c\/li\u003e\n\u003c\/ul\u003e"}
Adding product to your cart
Sometimes it is a bit embarrassing when we come across situations that we have to wear a short jacket or sweaters, But not anymore.
😍It takes only 1 second to put on this Skirt to become a fashion Girl in Seconds.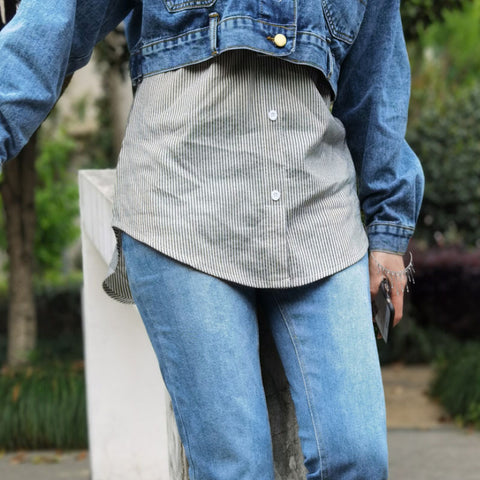 FEATURES:
Chic design: the fake top lower sweep comes with splitting design, stretchy high waist appearance will highlight your beautiful figure, its simple style can make you more charming and elegant

Soft and comfortable material: Made of quality polyester fiber with good moisture absorption and permeability, soft, elastic and comfortable to wear

Easy to match: A good decoration for sweatshirts, jackets, coats, and other casual clothes, very suitable for daily street shooting, shopping, etc.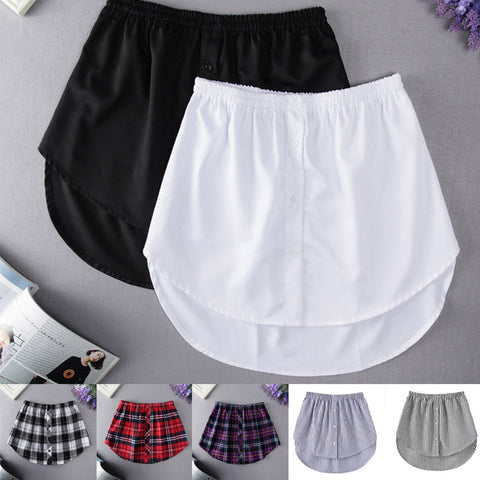 SPECIFICATIONS:
Material: Polyester Fiber
Season: Spring, Fall, Winter, Summer
Hand wash recommended, do not bleach, iron on low heat.