{"id":7118705295449,"title":"4-in-1 Lineman Plier","handle":"4-in-1-lineman-plier","description":"\u003ch4 style=\"text-align: center;\"\u003e\u003cstrong\u003e🔩👨‍🔧\u003c\/strong\u003e\u003c\/h4\u003e\n\u003ch4 style=\"text-align: center;\" data-mce-fragment=\"1\"\u003e\u003cspan style=\"color: #c42828;\"\u003e\u003cstrong\u003eBEST MADE TOOLS, TOOLS THAT MAKE TOUGH REPAIRS FAST AND FUN.\u003c\/strong\u003e\u003c\/span\u003e\u003c\/h4\u003e\n\u003cp\u003e\u003cspan style=\"color: #c42828;\"\u003e\u003cstrong\u003e\u003cimg src=\"https:\/\/img.cdncloud.top\/uploader\/02c04ea2c82c823688b52b296f234e44.gif\" style=\"display: block; margin-left: auto; margin-right: auto;\" width=\"300\" height=\"375\"\u003e\u003c\/strong\u003e\u003c\/span\u003e\u003c\/p\u003e\n\u003ch4 style=\"text-align: center;\" data-mce-fragment=\"1\"\u003e\u003cspan style=\"color: #af8d22;\"\u003e\u003cstrong\u003e4-in-1 Lineman Plier to Remove Stuck, Damage, Security, Specialty or Rusted Screws where all screwdrivers fail.\u003c\/strong\u003e\u003c\/span\u003e\u003c\/h4\u003e\n\u003cbr data-mce-fragment=\"1\"\u003e\n\u003ch3 data-mce-fragment=\"1\"\u003e\u003cspan style=\"color: #df3a0b;\"\u003e\u003cstrong\u003eFEATURES\u003c\/strong\u003e\u003c\/span\u003e\u003c\/h3\u003e\n\u003cul\u003e\n\u003cli\u003e\u003cspan style=\"font-weight: 400;\" data-mce-fragment=\"1\" data-mce-style=\"font-weight: 400;\"\u003e\u003cspan style=\"color: #976d43;\"\u003e\u003cstrong\u003e4-in-1 Multi-Function Wire Pliers\u003c\/strong\u003e\u003c\/span\u003e - FUTE Wire Pliers is designed with wire stripper+crimper+cutter+pliers all in one.It's professional designed for lineman.\u003c\/span\u003e\u003c\/li\u003e\n\u003c\/ul\u003e\n\u003cdiv\u003e\u003cimg src=\"https:\/\/cdn.shopifycdn.net\/s\/files\/1\/0549\/0350\/5101\/products\/2_68a15126-4dc4-475e-9706-bc066a54bf0f_480x480.jpg?v=1655960969\" alt=\"\" style=\"display: block; margin-left: auto; margin-right: auto;\" width=\"400\" height=\"400\" data-mce-fragment=\"1\" data-mce-src=\"https:\/\/cdn.shopifycdn.net\/s\/files\/1\/0549\/0350\/5101\/products\/2_68a15126-4dc4-475e-9706-bc066a54bf0f_480x480.jpg?v=1655960969\"\u003e\u003c\/div\u003e\n\u003cul\u003e\n\u003cli\u003e\u003cspan style=\"font-weight: 400;\" data-mce-fragment=\"1\" data-mce-style=\"font-weight: 400;\"\u003e\u003cspan style=\"color: #976d43;\"\u003e\u003cstrong\u003eNon-Slip Comfortable Handles\u003c\/strong\u003e\u003c\/span\u003e - The handle is made of environmental PP+TPR materials, provides extra comfort and reduces hand fatigue.\u003c\/span\u003e\u003c\/li\u003e\n\u003c\/ul\u003e\n\u003cdiv\u003e\u003cimg src=\"https:\/\/cdn.shopifycdn.net\/s\/files\/1\/0549\/0350\/5101\/products\/74b96dbb2d19db9758ba306fc55ad040_480x480.jpg?v=1655960969\" alt=\"\" style=\"display: block; margin-left: auto; margin-right: auto;\" width=\"400\" height=\"400\" data-mce-fragment=\"1\" data-mce-src=\"https:\/\/cdn.shopifycdn.net\/s\/files\/1\/0549\/0350\/5101\/products\/74b96dbb2d19db9758ba306fc55ad040_480x480.jpg?v=1655960969\"\u003e\u003c\/div\u003e\n\u003cul\u003e\n\u003cli\u003e\u003cspan style=\"font-weight: 400;\" data-mce-fragment=\"1\" data-mce-style=\"font-weight: 400;\"\u003e\u003cspan style=\"color: #976d43;\"\u003e\u003cstrong\u003eSave Your Money\u003c\/strong\u003e\u003c\/span\u003e - Just one piece this multi-function combination plier can solve your stripping,crimping,cutting works,save your money and is easy to carry.\u003c\/span\u003e\u003c\/li\u003e\n\u003c\/ul\u003e\n\u003cdiv\u003e\u003cimg src=\"https:\/\/cdn.shopifycdn.net\/s\/files\/1\/0549\/0350\/5101\/products\/5_915da22a-eea7-4422-9491-789c6bc5a008_480x480.jpg?v=1655960969\" alt=\"\" style=\"display: block; margin-left: auto; margin-right: auto;\" width=\"400\" height=\"400\" data-mce-fragment=\"1\" data-mce-src=\"https:\/\/cdn.shopifycdn.net\/s\/files\/1\/0549\/0350\/5101\/products\/5_915da22a-eea7-4422-9491-789c6bc5a008_480x480.jpg?v=1655960969\"\u003e\u003c\/div\u003e\n\u003ch3 data-mce-fragment=\"1\"\u003e\u003cspan style=\"color: #df3a0b;\"\u003e\u003cstrong\u003eBENEFITS\u003c\/strong\u003e\u003c\/span\u003e\u003c\/h3\u003e\n\u003col\u003e\n\u003cli\u003e\u003cspan style=\"font-weight: 400;\" data-mce-fragment=\"1\" data-mce-style=\"font-weight: 400;\"\u003eMulti-purpose pliers for removing stuck screws, rounded nuts\/bolts, cutting wire and twisting.\u003c\/span\u003e\u003c\/li\u003e\n\u003cli\u003e\u003cspan style=\"font-weight: 400;\" data-mce-fragment=\"1\" data-mce-style=\"font-weight: 400;\"\u003eBoth vertical and horizontal serrations grasp a screw head or nut\/bolt without slipping.\u003c\/span\u003e\u003c\/li\u003e\n\u003cli\u003e\u003cspan style=\"font-weight: 400;\" data-mce-fragment=\"1\" data-mce-style=\"font-weight: 400;\"\u003eElaborate angle of serrations also enables you to bite truss screws (lower-profile dome head).\u003c\/span\u003e\u003c\/li\u003e\n\u003cli\u003e\u003cspan style=\"font-weight: 400;\" data-mce-fragment=\"1\" data-mce-style=\"font-weight: 400;\"\u003eCrest and troughs on horizontally-serrated jaws are designed to mesh with each other, so as to grab a very thin plate securely.\u003c\/span\u003e\u003c\/li\u003e\n\u003c\/ol\u003e\n\u003cdiv\u003e\u003cimg src=\"https:\/\/cdn.shopifycdn.net\/s\/files\/1\/0549\/0350\/5101\/products\/6_3f71acdc-533a-4897-bd5c-284a4c5e99ea_480x480.jpg?v=1655960969\" alt=\"\" style=\"display: block; margin-left: auto; margin-right: auto;\" width=\"400\" height=\"400\" data-mce-fragment=\"1\" data-mce-src=\"https:\/\/cdn.shopifycdn.net\/s\/files\/1\/0549\/0350\/5101\/products\/6_3f71acdc-533a-4897-bd5c-284a4c5e99ea_480x480.jpg?v=1655960969\"\u003e\u003c\/div\u003e\n\u003ch3 data-mce-fragment=\"1\"\u003e\u003cspan style=\"color: #df3a0b;\"\u003e\u003cstrong\u003eSPECIFICATIONS\u003c\/strong\u003e\u003c\/span\u003e\u003c\/h3\u003e\n\u003cul\u003e\n\u003cli\u003e\u003cspan style=\"font-weight: 400;\" data-mce-fragment=\"1\" data-mce-style=\"font-weight: 400;\"\u003e\u003cstrong\u003eMaterial\u003c\/strong\u003e: PVC + alloy steel\u003c\/span\u003e\u003c\/li\u003e\n\u003cli\u003e\u003cspan style=\"font-weight: 400;\" data-mce-fragment=\"1\" data-mce-style=\"font-weight: 400;\"\u003e\u003cstrong\u003eColor\u003c\/strong\u003e: orange, yellow\u003c\/span\u003e\u003c\/li\u003e\n\u003cli\u003e\u003cspan style=\"font-weight: 400;\" data-mce-fragment=\"1\" data-mce-style=\"font-weight: 400;\"\u003e\u003cstrong\u003eWeight\u003c\/strong\u003e: 420g \/ 0.9lb\u003c\/span\u003e\u003c\/li\u003e\n\u003cli\u003e\u003cspan style=\"font-weight: 400;\" data-mce-fragment=\"1\" data-mce-style=\"font-weight: 400;\"\u003e\u003cstrong\u003eSize\u003c\/strong\u003e: 9 inches\u003c\/span\u003e\u003c\/li\u003e\n\u003c\/ul\u003e\n\u003ch3 data-mce-fragment=\"1\"\u003e\u003cspan style=\"color: #df3a0b;\"\u003e\u003cstrong\u003ePACKAGE INCLUDED\u003c\/strong\u003e\u003c\/span\u003e\u003c\/h3\u003e\n\u003cul\u003e\n\u003cli\u003e\u003cspan style=\"font-weight: 400;\" data-mce-fragment=\"1\" data-mce-style=\"font-weight: 400;\"\u003e1 × 4-in-1 Lineman Plier\u003c\/span\u003e\u003c\/li\u003e\n\u003c\/ul\u003e","published_at":"2022-07-27T19:07:06-10:00","created_at":"2022-07-27T19:07:11-10:00","vendor":"Suerteyay","type":"","tags":["tools"],"price":2799,"price_min":2799,"price_max":2799,"available":true,"price_varies":false,"compare_at_price":3999,"compare_at_price_min":3999,"compare_at_price_max":3999,"compare_at_price_varies":false,"variants":[{"id":40119220371545,"title":"orange","option1":"orange","option2":null,"option3":null,"sku":"GJ32823-X25887","requires_shipping":true,"taxable":false,"featured_image":{"id":29973658370137,"product_id":7118705295449,"position":8,"created_at":"2022-07-27T19:07:17-10:00","updated_at":"2022-07-27T19:07:17-10:00","alt":null,"width":800,"height":800,"src":"\/\/www.suerteyay.com\/cdn\/shop\/products\/2_1ed286fd-703e-47c2-848f-35182189aac9.jpg?v=1658984837","variant_ids":[40119220371545]},"available":true,"name":"4-in-1 Lineman Plier - orange","public_title":"orange","options":["orange"],"price":2799,"weight":0,"compare_at_price":3999,"inventory_management":null,"barcode":null,"featured_media":{"alt":null,"id":22441393815641,"position":8,"preview_image":{"aspect_ratio":1.0,"height":800,"width":800,"src":"\/\/www.suerteyay.com\/cdn\/shop\/products\/2_1ed286fd-703e-47c2-848f-35182189aac9.jpg?v=1658984837"}},"requires_selling_plan":false,"selling_plan_allocations":[],"quantity_rule":{"min":1,"max":null,"increment":1}},{"id":40119220404313,"title":"yellow","option1":"yellow","option2":null,"option3":null,"sku":"GJ32823-X25888","requires_shipping":true,"taxable":false,"featured_image":{"id":29973658042457,"product_id":7118705295449,"position":7,"created_at":"2022-07-27T19:07:15-10:00","updated_at":"2022-07-27T19:07:15-10:00","alt":null,"width":800,"height":800,"src":"\/\/www.suerteyay.com\/cdn\/shop\/products\/33ffae0206d3c7cd1aadac09875e5e96_d86b7d2f-9a9f-4840-a7dd-35235db5c1ff.jpg?v=1658984835","variant_ids":[40119220404313]},"available":true,"name":"4-in-1 Lineman Plier - yellow","public_title":"yellow","options":["yellow"],"price":2799,"weight":0,"compare_at_price":3999,"inventory_management":null,"barcode":null,"featured_media":{"alt":null,"id":22441393487961,"position":7,"preview_image":{"aspect_ratio":1.0,"height":800,"width":800,"src":"\/\/www.suerteyay.com\/cdn\/shop\/products\/33ffae0206d3c7cd1aadac09875e5e96_d86b7d2f-9a9f-4840-a7dd-35235db5c1ff.jpg?v=1658984835"}},"requires_selling_plan":false,"selling_plan_allocations":[],"quantity_rule":{"min":1,"max":null,"increment":1}}],"images":["\/\/www.suerteyay.com\/cdn\/shop\/products\/74b96dbb2d19db9758ba306fc55ad040_ed9c5c94-c0af-4585-b8d2-40a2ec0ee32a.jpg?v=1658984832","\/\/www.suerteyay.com\/cdn\/shop\/products\/2_68a15126-4dc4-475e-9706-bc066a54bf0f.jpg?v=1658984832","\/\/www.suerteyay.com\/cdn\/shop\/products\/3_2fcbe6b2-60f0-4e5c-a2ce-17db826ab6a8.jpg?v=1658984832","\/\/www.suerteyay.com\/cdn\/shop\/products\/4_453ef221-f189-4bf8-832f-b7c80aa20281.jpg?v=1658984832","\/\/www.suerteyay.com\/cdn\/shop\/products\/5_915da22a-eea7-4422-9491-789c6bc5a008.jpg?v=1658984832","\/\/www.suerteyay.com\/cdn\/shop\/products\/6_3f71acdc-533a-4897-bd5c-284a4c5e99ea.jpg?v=1658984832","\/\/www.suerteyay.com\/cdn\/shop\/products\/33ffae0206d3c7cd1aadac09875e5e96_d86b7d2f-9a9f-4840-a7dd-35235db5c1ff.jpg?v=1658984835","\/\/www.suerteyay.com\/cdn\/shop\/products\/2_1ed286fd-703e-47c2-848f-35182189aac9.jpg?v=1658984837"],"featured_image":"\/\/www.suerteyay.com\/cdn\/shop\/products\/74b96dbb2d19db9758ba306fc55ad040_ed9c5c94-c0af-4585-b8d2-40a2ec0ee32a.jpg?v=1658984832","options":["Color"],"media":[{"alt":null,"id":22441393127513,"position":1,"preview_image":{"aspect_ratio":1.0,"height":800,"width":800,"src":"\/\/www.suerteyay.com\/cdn\/shop\/products\/74b96dbb2d19db9758ba306fc55ad040_ed9c5c94-c0af-4585-b8d2-40a2ec0ee32a.jpg?v=1658984832"},"aspect_ratio":1.0,"height":800,"media_type":"image","src":"\/\/www.suerteyay.com\/cdn\/shop\/products\/74b96dbb2d19db9758ba306fc55ad040_ed9c5c94-c0af-4585-b8d2-40a2ec0ee32a.jpg?v=1658984832","width":800},{"alt":null,"id":22441393160281,"position":2,"preview_image":{"aspect_ratio":1.0,"height":800,"width":800,"src":"\/\/www.suerteyay.com\/cdn\/shop\/products\/2_68a15126-4dc4-475e-9706-bc066a54bf0f.jpg?v=1658984832"},"aspect_ratio":1.0,"height":800,"media_type":"image","src":"\/\/www.suerteyay.com\/cdn\/shop\/products\/2_68a15126-4dc4-475e-9706-bc066a54bf0f.jpg?v=1658984832","width":800},{"alt":null,"id":22441393193049,"position":3,"preview_image":{"aspect_ratio":1.0,"height":800,"width":800,"src":"\/\/www.suerteyay.com\/cdn\/shop\/products\/3_2fcbe6b2-60f0-4e5c-a2ce-17db826ab6a8.jpg?v=1658984832"},"aspect_ratio":1.0,"height":800,"media_type":"image","src":"\/\/www.suerteyay.com\/cdn\/shop\/products\/3_2fcbe6b2-60f0-4e5c-a2ce-17db826ab6a8.jpg?v=1658984832","width":800},{"alt":null,"id":22441393225817,"position":4,"preview_image":{"aspect_ratio":1.0,"height":800,"width":800,"src":"\/\/www.suerteyay.com\/cdn\/shop\/products\/4_453ef221-f189-4bf8-832f-b7c80aa20281.jpg?v=1658984832"},"aspect_ratio":1.0,"height":800,"media_type":"image","src":"\/\/www.suerteyay.com\/cdn\/shop\/products\/4_453ef221-f189-4bf8-832f-b7c80aa20281.jpg?v=1658984832","width":800},{"alt":null,"id":22441393258585,"position":5,"preview_image":{"aspect_ratio":1.0,"height":800,"width":800,"src":"\/\/www.suerteyay.com\/cdn\/shop\/products\/5_915da22a-eea7-4422-9491-789c6bc5a008.jpg?v=1658984832"},"aspect_ratio":1.0,"height":800,"media_type":"image","src":"\/\/www.suerteyay.com\/cdn\/shop\/products\/5_915da22a-eea7-4422-9491-789c6bc5a008.jpg?v=1658984832","width":800},{"alt":null,"id":22441393291353,"position":6,"preview_image":{"aspect_ratio":1.0,"height":800,"width":800,"src":"\/\/www.suerteyay.com\/cdn\/shop\/products\/6_3f71acdc-533a-4897-bd5c-284a4c5e99ea.jpg?v=1658984832"},"aspect_ratio":1.0,"height":800,"media_type":"image","src":"\/\/www.suerteyay.com\/cdn\/shop\/products\/6_3f71acdc-533a-4897-bd5c-284a4c5e99ea.jpg?v=1658984832","width":800},{"alt":null,"id":22441393487961,"position":7,"preview_image":{"aspect_ratio":1.0,"height":800,"width":800,"src":"\/\/www.suerteyay.com\/cdn\/shop\/products\/33ffae0206d3c7cd1aadac09875e5e96_d86b7d2f-9a9f-4840-a7dd-35235db5c1ff.jpg?v=1658984835"},"aspect_ratio":1.0,"height":800,"media_type":"image","src":"\/\/www.suerteyay.com\/cdn\/shop\/products\/33ffae0206d3c7cd1aadac09875e5e96_d86b7d2f-9a9f-4840-a7dd-35235db5c1ff.jpg?v=1658984835","width":800},{"alt":null,"id":22441393815641,"position":8,"preview_image":{"aspect_ratio":1.0,"height":800,"width":800,"src":"\/\/www.suerteyay.com\/cdn\/shop\/products\/2_1ed286fd-703e-47c2-848f-35182189aac9.jpg?v=1658984837"},"aspect_ratio":1.0,"height":800,"media_type":"image","src":"\/\/www.suerteyay.com\/cdn\/shop\/products\/2_1ed286fd-703e-47c2-848f-35182189aac9.jpg?v=1658984837","width":800}],"requires_selling_plan":false,"selling_plan_groups":[],"content":"\u003ch4 style=\"text-align: center;\"\u003e\u003cstrong\u003e🔩👨‍🔧\u003c\/strong\u003e\u003c\/h4\u003e\n\u003ch4 style=\"text-align: center;\" data-mce-fragment=\"1\"\u003e\u003cspan style=\"color: #c42828;\"\u003e\u003cstrong\u003eBEST MADE TOOLS, TOOLS THAT MAKE TOUGH REPAIRS FAST AND FUN.\u003c\/strong\u003e\u003c\/span\u003e\u003c\/h4\u003e\n\u003cp\u003e\u003cspan style=\"color: #c42828;\"\u003e\u003cstrong\u003e\u003cimg src=\"https:\/\/img.cdncloud.top\/uploader\/02c04ea2c82c823688b52b296f234e44.gif\" style=\"display: block; margin-left: auto; margin-right: auto;\" width=\"300\" height=\"375\"\u003e\u003c\/strong\u003e\u003c\/span\u003e\u003c\/p\u003e\n\u003ch4 style=\"text-align: center;\" data-mce-fragment=\"1\"\u003e\u003cspan style=\"color: #af8d22;\"\u003e\u003cstrong\u003e4-in-1 Lineman Plier to Remove Stuck, Damage, Security, Specialty or Rusted Screws where all screwdrivers fail.\u003c\/strong\u003e\u003c\/span\u003e\u003c\/h4\u003e\n\u003cbr data-mce-fragment=\"1\"\u003e\n\u003ch3 data-mce-fragment=\"1\"\u003e\u003cspan style=\"color: #df3a0b;\"\u003e\u003cstrong\u003eFEATURES\u003c\/strong\u003e\u003c\/span\u003e\u003c\/h3\u003e\n\u003cul\u003e\n\u003cli\u003e\u003cspan style=\"font-weight: 400;\" data-mce-fragment=\"1\" data-mce-style=\"font-weight: 400;\"\u003e\u003cspan style=\"color: #976d43;\"\u003e\u003cstrong\u003e4-in-1 Multi-Function Wire Pliers\u003c\/strong\u003e\u003c\/span\u003e - FUTE Wire Pliers is designed with wire stripper+crimper+cutter+pliers all in one.It's professional designed for lineman.\u003c\/span\u003e\u003c\/li\u003e\n\u003c\/ul\u003e\n\u003cdiv\u003e\u003cimg src=\"https:\/\/cdn.shopifycdn.net\/s\/files\/1\/0549\/0350\/5101\/products\/2_68a15126-4dc4-475e-9706-bc066a54bf0f_480x480.jpg?v=1655960969\" alt=\"\" style=\"display: block; margin-left: auto; margin-right: auto;\" width=\"400\" height=\"400\" data-mce-fragment=\"1\" data-mce-src=\"https:\/\/cdn.shopifycdn.net\/s\/files\/1\/0549\/0350\/5101\/products\/2_68a15126-4dc4-475e-9706-bc066a54bf0f_480x480.jpg?v=1655960969\"\u003e\u003c\/div\u003e\n\u003cul\u003e\n\u003cli\u003e\u003cspan style=\"font-weight: 400;\" data-mce-fragment=\"1\" data-mce-style=\"font-weight: 400;\"\u003e\u003cspan style=\"color: #976d43;\"\u003e\u003cstrong\u003eNon-Slip Comfortable Handles\u003c\/strong\u003e\u003c\/span\u003e - The handle is made of environmental PP+TPR materials, provides extra comfort and reduces hand fatigue.\u003c\/span\u003e\u003c\/li\u003e\n\u003c\/ul\u003e\n\u003cdiv\u003e\u003cimg src=\"https:\/\/cdn.shopifycdn.net\/s\/files\/1\/0549\/0350\/5101\/products\/74b96dbb2d19db9758ba306fc55ad040_480x480.jpg?v=1655960969\" alt=\"\" style=\"display: block; margin-left: auto; margin-right: auto;\" width=\"400\" height=\"400\" data-mce-fragment=\"1\" data-mce-src=\"https:\/\/cdn.shopifycdn.net\/s\/files\/1\/0549\/0350\/5101\/products\/74b96dbb2d19db9758ba306fc55ad040_480x480.jpg?v=1655960969\"\u003e\u003c\/div\u003e\n\u003cul\u003e\n\u003cli\u003e\u003cspan style=\"font-weight: 400;\" data-mce-fragment=\"1\" data-mce-style=\"font-weight: 400;\"\u003e\u003cspan style=\"color: #976d43;\"\u003e\u003cstrong\u003eSave Your Money\u003c\/strong\u003e\u003c\/span\u003e - Just one piece this multi-function combination plier can solve your stripping,crimping,cutting works,save your money and is easy to carry.\u003c\/span\u003e\u003c\/li\u003e\n\u003c\/ul\u003e\n\u003cdiv\u003e\u003cimg src=\"https:\/\/cdn.shopifycdn.net\/s\/files\/1\/0549\/0350\/5101\/products\/5_915da22a-eea7-4422-9491-789c6bc5a008_480x480.jpg?v=1655960969\" alt=\"\" style=\"display: block; margin-left: auto; margin-right: auto;\" width=\"400\" height=\"400\" data-mce-fragment=\"1\" data-mce-src=\"https:\/\/cdn.shopifycdn.net\/s\/files\/1\/0549\/0350\/5101\/products\/5_915da22a-eea7-4422-9491-789c6bc5a008_480x480.jpg?v=1655960969\"\u003e\u003c\/div\u003e\n\u003ch3 data-mce-fragment=\"1\"\u003e\u003cspan style=\"color: #df3a0b;\"\u003e\u003cstrong\u003eBENEFITS\u003c\/strong\u003e\u003c\/span\u003e\u003c\/h3\u003e\n\u003col\u003e\n\u003cli\u003e\u003cspan style=\"font-weight: 400;\" data-mce-fragment=\"1\" data-mce-style=\"font-weight: 400;\"\u003eMulti-purpose pliers for removing stuck screws, rounded nuts\/bolts, cutting wire and twisting.\u003c\/span\u003e\u003c\/li\u003e\n\u003cli\u003e\u003cspan style=\"font-weight: 400;\" data-mce-fragment=\"1\" data-mce-style=\"font-weight: 400;\"\u003eBoth vertical and horizontal serrations grasp a screw head or nut\/bolt without slipping.\u003c\/span\u003e\u003c\/li\u003e\n\u003cli\u003e\u003cspan style=\"font-weight: 400;\" data-mce-fragment=\"1\" data-mce-style=\"font-weight: 400;\"\u003eElaborate angle of serrations also enables you to bite truss screws (lower-profile dome head).\u003c\/span\u003e\u003c\/li\u003e\n\u003cli\u003e\u003cspan style=\"font-weight: 400;\" data-mce-fragment=\"1\" data-mce-style=\"font-weight: 400;\"\u003eCrest and troughs on horizontally-serrated jaws are designed to mesh with each other, so as to grab a very thin plate securely.\u003c\/span\u003e\u003c\/li\u003e\n\u003c\/ol\u003e\n\u003cdiv\u003e\u003cimg src=\"https:\/\/cdn.shopifycdn.net\/s\/files\/1\/0549\/0350\/5101\/products\/6_3f71acdc-533a-4897-bd5c-284a4c5e99ea_480x480.jpg?v=1655960969\" alt=\"\" style=\"display: block; margin-left: auto; margin-right: auto;\" width=\"400\" height=\"400\" data-mce-fragment=\"1\" data-mce-src=\"https:\/\/cdn.shopifycdn.net\/s\/files\/1\/0549\/0350\/5101\/products\/6_3f71acdc-533a-4897-bd5c-284a4c5e99ea_480x480.jpg?v=1655960969\"\u003e\u003c\/div\u003e\n\u003ch3 data-mce-fragment=\"1\"\u003e\u003cspan style=\"color: #df3a0b;\"\u003e\u003cstrong\u003eSPECIFICATIONS\u003c\/strong\u003e\u003c\/span\u003e\u003c\/h3\u003e\n\u003cul\u003e\n\u003cli\u003e\u003cspan style=\"font-weight: 400;\" data-mce-fragment=\"1\" data-mce-style=\"font-weight: 400;\"\u003e\u003cstrong\u003eMaterial\u003c\/strong\u003e: PVC + alloy steel\u003c\/span\u003e\u003c\/li\u003e\n\u003cli\u003e\u003cspan style=\"font-weight: 400;\" data-mce-fragment=\"1\" data-mce-style=\"font-weight: 400;\"\u003e\u003cstrong\u003eColor\u003c\/strong\u003e: orange, yellow\u003c\/span\u003e\u003c\/li\u003e\n\u003cli\u003e\u003cspan style=\"font-weight: 400;\" data-mce-fragment=\"1\" data-mce-style=\"font-weight: 400;\"\u003e\u003cstrong\u003eWeight\u003c\/strong\u003e: 420g \/ 0.9lb\u003c\/span\u003e\u003c\/li\u003e\n\u003cli\u003e\u003cspan style=\"font-weight: 400;\" data-mce-fragment=\"1\" data-mce-style=\"font-weight: 400;\"\u003e\u003cstrong\u003eSize\u003c\/strong\u003e: 9 inches\u003c\/span\u003e\u003c\/li\u003e\n\u003c\/ul\u003e\n\u003ch3 data-mce-fragment=\"1\"\u003e\u003cspan style=\"color: #df3a0b;\"\u003e\u003cstrong\u003ePACKAGE INCLUDED\u003c\/strong\u003e\u003c\/span\u003e\u003c\/h3\u003e\n\u003cul\u003e\n\u003cli\u003e\u003cspan style=\"font-weight: 400;\" data-mce-fragment=\"1\" data-mce-style=\"font-weight: 400;\"\u003e1 × 4-in-1 Lineman Plier\u003c\/span\u003e\u003c\/li\u003e\n\u003c\/ul\u003e"}
Adding product to your cart
🔩👨‍🔧
BEST MADE TOOLS, TOOLS THAT MAKE TOUGH REPAIRS FAST AND FUN.
4-in-1 Lineman Plier to Remove Stuck, Damage, Security, Specialty or Rusted Screws where all screwdrivers fail.
FEATURES
4-in-1 Multi-Function Wire Pliers - FUTE Wire Pliers is designed with wire stripper+crimper+cutter+pliers all in one.It's professional designed for lineman.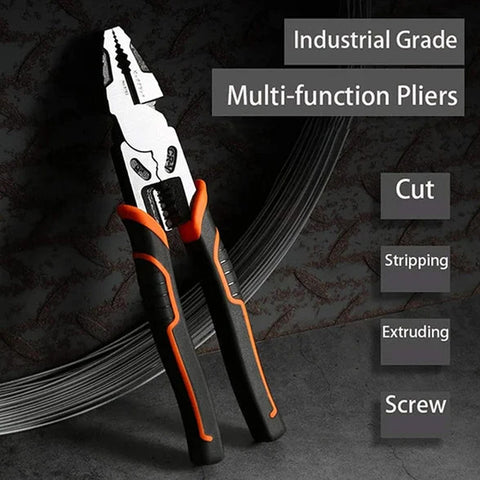 Non-Slip Comfortable Handles - The handle is made of environmental PP+TPR materials, provides extra comfort and reduces hand fatigue.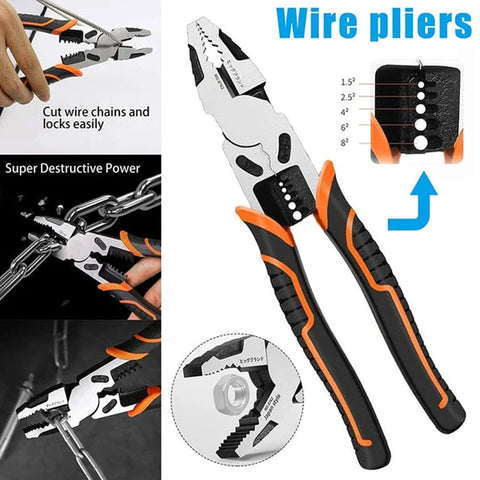 Save Your Money - Just one piece this multi-function combination plier can solve your stripping,crimping,cutting works,save your money and is easy to carry.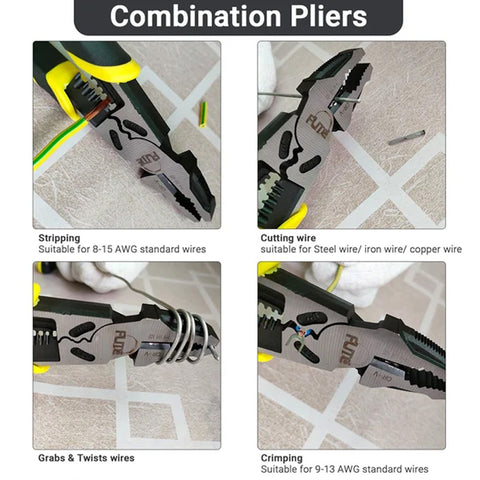 BENEFITS
Multi-purpose pliers for removing stuck screws, rounded nuts/bolts, cutting wire and twisting.

Both vertical and horizontal serrations grasp a screw head or nut/bolt without slipping.

Elaborate angle of serrations also enables you to bite truss screws (lower-profile dome head).

Crest and troughs on horizontally-serrated jaws are designed to mesh with each other, so as to grab a very thin plate securely.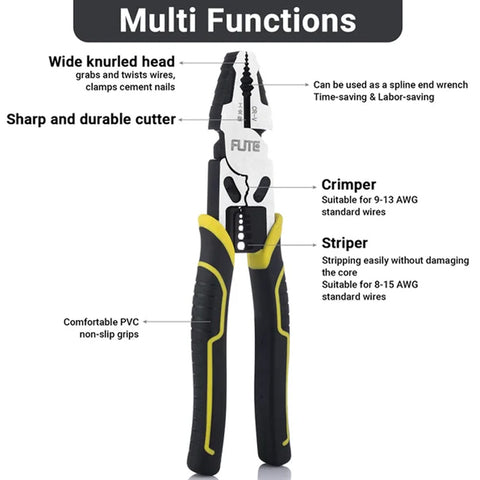 SPECIFICATIONS
Material: PVC + alloy steel
Color: orange, yellow
Weight: 420g / 0.9lb
Size: 9 inches
PACKAGE INCLUDED