{"id":7256224071769,"title":"Automatic Quick Cup Washer","handle":"automatic-quick-cup-washer","description":"\u003cp data-mce-fragment=\"1\"\u003e\u003cstrong data-mce-fragment=\"1\"\u003e\u003cb data-mce-fragment=\"1\"\u003eNo need to clean the inside of the cup manually, the cup is clean in a few seconds by pressing down.\u003c\/b\u003e\u003c\/strong\u003e\u003c\/p\u003e\n\u003cp data-mce-fragment=\"1\"\u003e\u003cstrong data-mce-fragment=\"1\"\u003e\u003cb data-mce-fragment=\"1\"\u003e\u003cimg data-loaded=\"true\" src=\"https:\/\/cdn.shopifycdn.net\/s\/files\/1\/0592\/7747\/6020\/files\/01_1_480x480.gif?v=1639992463\" data-src=\"https:\/\/cdn.shopifycdn.net\/s\/files\/1\/0592\/7747\/6020\/files\/01_1_480x480.gif?v=1639992463\" alt=\"\" class=\"lozad lazyloaded\" style=\"display: block; margin-left: auto; margin-right: auto;\"\u003e\u003c\/b\u003e\u003c\/strong\u003e\u003c\/p\u003e\n\u003cp data-mce-fragment=\"1\"\u003e\u003cspan style=\"color: #ff8000;\"\u003e\u003cstrong data-mce-fragment=\"1\"\u003e\u003cb data-mce-fragment=\"1\"\u003eMain features\u003c\/b\u003e\u003c\/strong\u003e\u003c\/span\u003e\u003c\/p\u003e\n\u003cp data-mce-fragment=\"1\"\u003e\u003cstrong data-mce-fragment=\"1\"\u003e\u003cb data-mce-fragment=\"1\"\u003e➤\u003cspan\u003e \u003c\/span\u003e\u003c\/b\u003e\u003c\/strong\u003e\u003cstrong data-mce-fragment=\"1\"\u003e\u003cb data-mce-fragment=\"1\"\u003ePowerful cleaning.\u003c\/b\u003e\u003c\/strong\u003e\u003c\/p\u003e\n\u003cp data-mce-fragment=\"1\"\u003ePowerful water jets\u003cspan\u003e \u003c\/span\u003e\u003cstrong data-mce-fragment=\"1\"\u003e\u003cb data-mce-fragment=\"1\"\u003ethoroughly rinse residue in seconds\u003c\/b\u003e\u003c\/strong\u003e, while a subtle overhang directs the water flow to the kitchen sink for\u003cspan\u003e \u003c\/span\u003e\u003cstrong data-mce-fragment=\"1\"\u003e\u003cb data-mce-fragment=\"1\"\u003eeasy cleanup.\u003c\/b\u003e\u003c\/strong\u003e\u003c\/p\u003e\n\u003cp data-mce-fragment=\"1\"\u003e \u003c\/p\u003e\n\u003cp data-mce-fragment=\"1\"\u003e\u003cimg data-loaded=\"true\" src=\"https:\/\/cdn.shopifycdn.net\/s\/files\/1\/0592\/7747\/6020\/files\/ia_100000008804_480x480.jpg?v=1639994687\" alt=\"\" data-src=\"https:\/\/cdn.shopifycdn.net\/s\/files\/1\/0592\/7747\/6020\/files\/ia_100000008804_480x480.jpg?v=1639994687\" class=\"lozad lazyloaded\" style=\"display: block; margin-left: auto; margin-right: auto;\" data-mce-src=\"https:\/\/cdn.shopifycdn.net\/s\/files\/1\/0592\/7747\/6020\/files\/ia_100000008804_480x480.jpg?v=1639994687\" data-mce-selected=\"1\"\u003e\u003c\/p\u003e\n\u003cp data-mce-fragment=\"1\"\u003e\u003cstrong data-mce-fragment=\"1\"\u003e\u003cb data-mce-fragment=\"1\"\u003e➤ Wide range of applications.\u003c\/b\u003e\u003c\/strong\u003e\u003c\/p\u003e\n\u003cp data-mce-fragment=\"1\"\u003eFrom baby bottles to wine glasses to travel mugs, it's\u003cspan\u003e \u003c\/span\u003e\u003cstrong data-mce-fragment=\"1\"\u003e\u003cb data-mce-fragment=\"1\"\u003eeasy to rinse almost any drinking utensil\u003c\/b\u003e\u003c\/strong\u003e, so you can\u003cspan\u003e \u003c\/span\u003e\u003cstrong data-mce-fragment=\"1\"\u003e\u003cb data-mce-fragment=\"1\"\u003ereduce soaking and scrubbing time\u003c\/b\u003e\u003c\/strong\u003e, reduce\u003cstrong data-mce-fragment=\"1\"\u003e\u003cb data-mce-fragment=\"1\"\u003e labor intensity,\u003c\/b\u003e\u003c\/strong\u003e increase\u003cspan\u003e \u003c\/span\u003e\u003cstrong data-mce-fragment=\"1\"\u003e\u003cb data-mce-fragment=\"1\"\u003eefficiency\u003c\/b\u003e\u003c\/strong\u003e and improve\u003cspan\u003e \u003c\/span\u003e\u003cstrong data-mce-fragment=\"1\"\u003e\u003cb data-mce-fragment=\"1\"\u003ecleanliness\u003c\/b\u003e\u003c\/strong\u003e. It's the first choice for washing cups in the kitchen.\u003c\/p\u003e\n\u003cp data-mce-fragment=\"1\"\u003e\u003cimg data-loaded=\"true\" src=\"https:\/\/cdn.shopifycdn.net\/s\/files\/1\/0592\/7747\/6020\/files\/ia_700004756_480x480.jpg?v=1639994604\" alt=\"\" data-src=\"https:\/\/cdn.shopifycdn.net\/s\/files\/1\/0592\/7747\/6020\/files\/ia_700004756_480x480.jpg?v=1639994604\" class=\"lozad lazyloaded\" style=\"display: block; margin-left: auto; margin-right: auto;\" data-mce-src=\"https:\/\/cdn.shopifycdn.net\/s\/files\/1\/0592\/7747\/6020\/files\/ia_700004756_480x480.jpg?v=1639994604\" data-mce-selected=\"1\"\u003e\u003c\/p\u003e\n\u003cp data-mce-fragment=\"1\"\u003e\u003cstrong data-mce-fragment=\"1\"\u003e\u003cb data-mce-fragment=\"1\"\u003e➤Easy to use.\u003c\/b\u003e\u003c\/strong\u003e\u003c\/p\u003e\n\u003cp data-mce-fragment=\"1\"\u003e\u003cstrong data-mce-fragment=\"1\"\u003e\u003cb data-mce-fragment=\"1\"\u003eTurn the mug mouth down\u003c\/b\u003e\u003c\/strong\u003e and\u003cspan\u003e \u003c\/span\u003e\u003cstrong data-mce-fragment=\"1\"\u003e\u003cb data-mce-fragment=\"1\"\u003egently press the bottom of the mug\u003c\/b\u003e\u003c\/strong\u003e to automatically spray water for cleaning. After cleaning the cup, remove the cup, stop spraying water and the cleaning is complete.\u003c\/p\u003e\n\u003cp data-mce-fragment=\"1\"\u003e\u003cimg data-loaded=\"true\" src=\"https:\/\/cdn.shopifycdn.net\/s\/files\/1\/0592\/7747\/6020\/files\/ia_100003903_480x480.jpg?v=1639994758\" data-src=\"https:\/\/cdn.shopifycdn.net\/s\/files\/1\/0592\/7747\/6020\/files\/ia_100003903_480x480.jpg?v=1639994758\" alt=\"\" class=\"lozad lazyloaded\" style=\"display: block; margin-left: auto; margin-right: auto;\"\u003e\u003c\/p\u003e\n\u003cp data-mce-fragment=\"1\"\u003e\u003cstrong data-mce-fragment=\"1\"\u003e\u003cb data-mce-fragment=\"1\"\u003e➤ Easy to install.\u003c\/b\u003e\u003c\/strong\u003e\u003c\/p\u003e\n\u003cp data-mce-fragment=\"1\"\u003eWhen high-quality ABS material, the body is copper, surface plating,\u003cspan\u003e \u003c\/span\u003e\u003cstrong data-mce-fragment=\"1\"\u003e\u003cb data-mce-fragment=\"1\"\u003edurable\u003c\/b\u003e\u003c\/strong\u003e, it can be\u003cspan\u003e \u003c\/span\u003e\u003cstrong data-mce-fragment=\"1\"\u003e\u003cb data-mce-fragment=\"1\"\u003ecoordinated with any faucet\u003c\/b\u003e\u003c\/strong\u003e and can be easily installed in empty standard countertop holes. The required supply line (included) can be connected to either the hot or cold water supply line.\u003c\/p\u003e\n\u003cp data-mce-fragment=\"1\"\u003e\u003cimg data-loaded=\"true\" src=\"https:\/\/cdn.shopifycdn.net\/s\/files\/1\/0592\/7747\/6020\/files\/ia_100003902_480x480.jpg?v=1639994771\" data-src=\"https:\/\/cdn.shopifycdn.net\/s\/files\/1\/0592\/7747\/6020\/files\/ia_100003902_480x480.jpg?v=1639994771\" alt=\"\" class=\"lozad lazyloaded\" style=\"display: block; margin-left: auto; margin-right: auto;\"\u003e\u003c\/p\u003e\n\u003cp data-mce-fragment=\"1\"\u003e\u003cstrong data-mce-fragment=\"1\"\u003e\u003cb data-mce-fragment=\"1\"\u003e➤ Installation Guidelines.\u003c\/b\u003e\u003c\/strong\u003e\u003c\/p\u003e\n\u003cp data-mce-fragment=\"1\"\u003eThere must be at least 2 inches of space around the mounting hole and no more than 2.25 inches from the center of the hole to the edge of the sink - ensure that water flows into the sink rather than pooling on your countertop.\u003cbr\u003e\u003cimg data-loaded=\"true\" src=\"https:\/\/cdn.shopifycdn.net\/s\/files\/1\/0592\/7747\/6020\/files\/01_2_480x480.gif?v=1639994856\" alt=\"\" data-src=\"https:\/\/cdn.shopifycdn.net\/s\/files\/1\/0592\/7747\/6020\/files\/01_2_480x480.gif?v=1639994856\" class=\"lozad lazyloaded\" style=\"display: block; margin-left: auto; margin-right: auto;\" data-mce-fragment=\"1\" data-mce-src=\"https:\/\/cdn.shopifycdn.net\/s\/files\/1\/0592\/7747\/6020\/files\/01_2_480x480.gif?v=1639994856\"\u003e\u003c\/p\u003e\n\u003cp\u003e\u003cspan style=\"color: #ff8000;\"\u003e\u003cstrong\u003eSpecifications\u003c\/strong\u003e\u003c\/span\u003e\u003cbr\u003e\u003c\/p\u003e\n\u003cdiv class=\"table-wraper-fix\"\u003e\n\u003ctable style=\"width: 467.365px;\" data-mce-fragment=\"1\"\u003e\n\u003ctbody data-mce-fragment=\"1\"\u003e\n\u003ctr data-mce-fragment=\"1\"\u003e\n\u003cth style=\"width: 158.885px;\" scope=\"row\" data-mce-fragment=\"1\"\u003e\n\u003cspan\u003eDimension\u003c\/span\u003e\u003cbr\u003e\u003cspan\u003e(H*W*D)\u003c\/span\u003e\n\u003c\/th\u003e\n\u003ctd style=\"width: 292.479px;\" data-mce-fragment=\"1\"\u003e\n\u003cul\u003e\n\u003cli style=\"text-align: left;\"\u003e\u003cspan\u003e17.5x 9x 1.2 cm \/ 6.9 x 3.6 x 0.5 inches\u003c\/span\u003e\u003c\/li\u003e\n\u003c\/ul\u003e\n\u003c\/td\u003e\n\u003c\/tr\u003e\n\u003ctr data-mce-fragment=\"1\"\u003e\n\u003cth style=\"width: 158.885px;\" scope=\"row\" data-mce-fragment=\"1\"\u003e\u003cspan\u003eMaterial\u003c\/span\u003e\u003c\/th\u003e\n\u003ctd style=\"width: 292.479px;\" data-mce-fragment=\"1\"\u003e\n\u003cul\u003e\n\u003cli\u003eStainless steel\u003c\/li\u003e\n\u003c\/ul\u003e\n\u003c\/td\u003e\n\u003c\/tr\u003e\n\u003ctr data-mce-fragment=\"1\"\u003e\n\u003cth style=\"width: 158.885px;\" scope=\"row\" data-mce-fragment=\"1\"\u003e\u003cspan\u003eProduct Weight\u003c\/span\u003e\u003c\/th\u003e\n\u003ctd style=\"width: 292.479px;\" data-mce-fragment=\"1\"\u003e\n\u003cul data-mce-fragment=\"1\"\u003e\n\u003cli data-mce-fragment=\"1\"\u003e\u003cspan\u003e860g \/ 1.9 lb\u003c\/span\u003e\u003c\/li\u003e\n\u003c\/ul\u003e\n\u003c\/td\u003e\n\u003c\/tr\u003e\n\u003ctr data-mce-fragment=\"1\"\u003e\n\u003cth style=\"width: 158.885px;\" scope=\"row\" data-mce-fragment=\"1\"\u003e\u003cspan\u003eColors\u003c\/span\u003e\u003c\/th\u003e\n\u003ctd style=\"width: 292.479px;\" data-mce-fragment=\"1\"\u003e\n\u003cul data-mce-fragment=\"1\"\u003e\n\u003cli data-mce-fragment=\"1\"\u003e\u003cspan\u003eBlack\u003c\/span\u003e\u003c\/li\u003e\n\u003c\/ul\u003e\n\u003c\/td\u003e\n\u003c\/tr\u003e\n\u003ctr data-mce-fragment=\"1\"\u003e\n\u003cth style=\"width: 158.885px;\" scope=\"row\" data-mce-fragment=\"1\"\u003e\u003cspan\u003ePackage Contents\u003c\/span\u003e\u003c\/th\u003e\n\u003ctd style=\"width: 292.479px;\" data-mce-fragment=\"1\"\u003e\n\u003cul data-mce-fragment=\"1\"\u003e\n\u003cli data-mce-fragment=\"1\"\u003e1 * Cup cleaning machine\u003c\/li\u003e\n\u003c\/ul\u003e\n\u003c\/td\u003e\n\u003c\/tr\u003e\n\u003c\/tbody\u003e\n\u003c\/table\u003e\n\u003c\/div\u003e\n\u003ch5\u003e\u003cstrong\u003e\u003cbr\u003e\u003cspan style=\"color: #ff8000;\"\u003eNote\u003c\/span\u003e\u003c\/strong\u003e\u003c\/h5\u003e\n\u003cul\u003e\n\u003cli\u003e\u003cspan\u003eDue to manual measurements, please allow slight measurement deviations.\u003c\/span\u003e\u003c\/li\u003e\n\u003cli\u003e\u003cspan\u003eDue to the different display and lighting effects, the actual color of the item may be slightly different from the color displayed in the picture.\u003c\/span\u003e\u003c\/li\u003e\n\u003cli\u003e\u003cspan\u003eRegarding the water pipes and tee connector in our value set, you also can buy them at your local hardware store\u003c\/span\u003e\u003c\/li\u003e\n\u003c\/ul\u003e\n\u003cp data-mce-fragment=\"1\"\u003e \u003c\/p\u003e","published_at":"2023-03-12T16:53:49-10:00","created_at":"2023-03-12T16:53:55-10:00","vendor":"Suerteyay","type":"","tags":["gadgets"],"price":3199,"price_min":3199,"price_max":3499,"available":true,"price_varies":true,"compare_at_price":6398,"compare_at_price_min":6398,"compare_at_price_max":6998,"compare_at_price_varies":true,"variants":[{"id":40436017627225,"title":"Rinser","option1":"Rinser","option2":null,"option3":null,"sku":"CP18576-X16651","requires_shipping":true,"taxable":false,"featured_image":null,"available":true,"name":"Automatic Quick Cup Washer - Rinser","public_title":"Rinser","options":["Rinser"],"price":3199,"weight":0,"compare_at_price":6398,"inventory_management":null,"barcode":null,"requires_selling_plan":false,"selling_plan_allocations":[],"quantity_rule":{"min":1,"max":null,"increment":1}},{"id":40436017659993,"title":"Rinser + Water Pipe","option1":"Rinser + Water Pipe","option2":null,"option3":null,"sku":"CP18576-X16652","requires_shipping":true,"taxable":false,"featured_image":null,"available":true,"name":"Automatic Quick Cup Washer - Rinser + Water Pipe","public_title":"Rinser + Water Pipe","options":["Rinser + Water Pipe"],"price":3499,"weight":0,"compare_at_price":6998,"inventory_management":null,"barcode":null,"requires_selling_plan":false,"selling_plan_allocations":[],"quantity_rule":{"min":1,"max":null,"increment":1}}],"images":["\/\/www.suerteyay.com\/cdn\/shop\/products\/4ee0482982cfa89bb4d1cff3333a55e6_9ad957b3-942b-4228-9311-a576674cc134.png?v=1678676035","\/\/www.suerteyay.com\/cdn\/shop\/products\/2_2fcf3b76-f7e4-44e4-998d-64134ffb2656.png?v=1678676035","\/\/www.suerteyay.com\/cdn\/shop\/products\/2_9b0869d3-b0e7-48a6-ad33-93eafae42d7f.webp?v=1678676035","\/\/www.suerteyay.com\/cdn\/shop\/products\/3_db9d99ec-9d82-4110-b04b-c5ec82b598bf.png?v=1678676035","\/\/www.suerteyay.com\/cdn\/shop\/products\/4_5fa9b67d-3fb4-44ec-8105-95b0f80cfb20.png?v=1678676035","\/\/www.suerteyay.com\/cdn\/shop\/products\/4_d0d94d50-54ea-4a41-8b1e-093b5a1f92a8.webp?v=1678676035","\/\/www.suerteyay.com\/cdn\/shop\/products\/5_91cc3f1b-ea70-40d3-ae0c-a17d2d54f7ee.webp?v=1678676035","\/\/www.suerteyay.com\/cdn\/shop\/products\/6_9d71ccd2-b8d8-4136-ac5c-559e1ef3eef6.webp?v=1678676035"],"featured_image":"\/\/www.suerteyay.com\/cdn\/shop\/products\/4ee0482982cfa89bb4d1cff3333a55e6_9ad957b3-942b-4228-9311-a576674cc134.png?v=1678676035","options":["Style"],"media":[{"alt":null,"id":23869783015513,"position":1,"preview_image":{"aspect_ratio":1.0,"height":800,"width":800,"src":"\/\/www.suerteyay.com\/cdn\/shop\/products\/4ee0482982cfa89bb4d1cff3333a55e6_9ad957b3-942b-4228-9311-a576674cc134.png?v=1678676035"},"aspect_ratio":1.0,"height":800,"media_type":"image","src":"\/\/www.suerteyay.com\/cdn\/shop\/products\/4ee0482982cfa89bb4d1cff3333a55e6_9ad957b3-942b-4228-9311-a576674cc134.png?v=1678676035","width":800},{"alt":null,"id":23869783048281,"position":2,"preview_image":{"aspect_ratio":1.0,"height":800,"width":800,"src":"\/\/www.suerteyay.com\/cdn\/shop\/products\/2_2fcf3b76-f7e4-44e4-998d-64134ffb2656.png?v=1678676035"},"aspect_ratio":1.0,"height":800,"media_type":"image","src":"\/\/www.suerteyay.com\/cdn\/shop\/products\/2_2fcf3b76-f7e4-44e4-998d-64134ffb2656.png?v=1678676035","width":800},{"alt":null,"id":23869783081049,"position":3,"preview_image":{"aspect_ratio":1.0,"height":800,"width":800,"src":"\/\/www.suerteyay.com\/cdn\/shop\/products\/2_9b0869d3-b0e7-48a6-ad33-93eafae42d7f.webp?v=1678676035"},"aspect_ratio":1.0,"height":800,"media_type":"image","src":"\/\/www.suerteyay.com\/cdn\/shop\/products\/2_9b0869d3-b0e7-48a6-ad33-93eafae42d7f.webp?v=1678676035","width":800},{"alt":null,"id":23869783113817,"position":4,"preview_image":{"aspect_ratio":1.0,"height":800,"width":800,"src":"\/\/www.suerteyay.com\/cdn\/shop\/products\/3_db9d99ec-9d82-4110-b04b-c5ec82b598bf.png?v=1678676035"},"aspect_ratio":1.0,"height":800,"media_type":"image","src":"\/\/www.suerteyay.com\/cdn\/shop\/products\/3_db9d99ec-9d82-4110-b04b-c5ec82b598bf.png?v=1678676035","width":800},{"alt":null,"id":23869783146585,"position":5,"preview_image":{"aspect_ratio":1.0,"height":800,"width":800,"src":"\/\/www.suerteyay.com\/cdn\/shop\/products\/4_5fa9b67d-3fb4-44ec-8105-95b0f80cfb20.png?v=1678676035"},"aspect_ratio":1.0,"height":800,"media_type":"image","src":"\/\/www.suerteyay.com\/cdn\/shop\/products\/4_5fa9b67d-3fb4-44ec-8105-95b0f80cfb20.png?v=1678676035","width":800},{"alt":null,"id":23869783179353,"position":6,"preview_image":{"aspect_ratio":1.0,"height":800,"width":800,"src":"\/\/www.suerteyay.com\/cdn\/shop\/products\/4_d0d94d50-54ea-4a41-8b1e-093b5a1f92a8.webp?v=1678676035"},"aspect_ratio":1.0,"height":800,"media_type":"image","src":"\/\/www.suerteyay.com\/cdn\/shop\/products\/4_d0d94d50-54ea-4a41-8b1e-093b5a1f92a8.webp?v=1678676035","width":800},{"alt":null,"id":23869783212121,"position":7,"preview_image":{"aspect_ratio":1.0,"height":800,"width":800,"src":"\/\/www.suerteyay.com\/cdn\/shop\/products\/5_91cc3f1b-ea70-40d3-ae0c-a17d2d54f7ee.webp?v=1678676035"},"aspect_ratio":1.0,"height":800,"media_type":"image","src":"\/\/www.suerteyay.com\/cdn\/shop\/products\/5_91cc3f1b-ea70-40d3-ae0c-a17d2d54f7ee.webp?v=1678676035","width":800},{"alt":null,"id":23869783244889,"position":8,"preview_image":{"aspect_ratio":1.0,"height":800,"width":800,"src":"\/\/www.suerteyay.com\/cdn\/shop\/products\/6_9d71ccd2-b8d8-4136-ac5c-559e1ef3eef6.webp?v=1678676035"},"aspect_ratio":1.0,"height":800,"media_type":"image","src":"\/\/www.suerteyay.com\/cdn\/shop\/products\/6_9d71ccd2-b8d8-4136-ac5c-559e1ef3eef6.webp?v=1678676035","width":800}],"requires_selling_plan":false,"selling_plan_groups":[],"content":"\u003cp data-mce-fragment=\"1\"\u003e\u003cstrong data-mce-fragment=\"1\"\u003e\u003cb data-mce-fragment=\"1\"\u003eNo need to clean the inside of the cup manually, the cup is clean in a few seconds by pressing down.\u003c\/b\u003e\u003c\/strong\u003e\u003c\/p\u003e\n\u003cp data-mce-fragment=\"1\"\u003e\u003cstrong data-mce-fragment=\"1\"\u003e\u003cb data-mce-fragment=\"1\"\u003e\u003cimg data-loaded=\"true\" src=\"https:\/\/cdn.shopifycdn.net\/s\/files\/1\/0592\/7747\/6020\/files\/01_1_480x480.gif?v=1639992463\" data-src=\"https:\/\/cdn.shopifycdn.net\/s\/files\/1\/0592\/7747\/6020\/files\/01_1_480x480.gif?v=1639992463\" alt=\"\" class=\"lozad lazyloaded\" style=\"display: block; margin-left: auto; margin-right: auto;\"\u003e\u003c\/b\u003e\u003c\/strong\u003e\u003c\/p\u003e\n\u003cp data-mce-fragment=\"1\"\u003e\u003cspan style=\"color: #ff8000;\"\u003e\u003cstrong data-mce-fragment=\"1\"\u003e\u003cb data-mce-fragment=\"1\"\u003eMain features\u003c\/b\u003e\u003c\/strong\u003e\u003c\/span\u003e\u003c\/p\u003e\n\u003cp data-mce-fragment=\"1\"\u003e\u003cstrong data-mce-fragment=\"1\"\u003e\u003cb data-mce-fragment=\"1\"\u003e➤\u003cspan\u003e \u003c\/span\u003e\u003c\/b\u003e\u003c\/strong\u003e\u003cstrong data-mce-fragment=\"1\"\u003e\u003cb data-mce-fragment=\"1\"\u003ePowerful cleaning.\u003c\/b\u003e\u003c\/strong\u003e\u003c\/p\u003e\n\u003cp data-mce-fragment=\"1\"\u003ePowerful water jets\u003cspan\u003e \u003c\/span\u003e\u003cstrong data-mce-fragment=\"1\"\u003e\u003cb data-mce-fragment=\"1\"\u003ethoroughly rinse residue in seconds\u003c\/b\u003e\u003c\/strong\u003e, while a subtle overhang directs the water flow to the kitchen sink for\u003cspan\u003e \u003c\/span\u003e\u003cstrong data-mce-fragment=\"1\"\u003e\u003cb data-mce-fragment=\"1\"\u003eeasy cleanup.\u003c\/b\u003e\u003c\/strong\u003e\u003c\/p\u003e\n\u003cp data-mce-fragment=\"1\"\u003e \u003c\/p\u003e\n\u003cp data-mce-fragment=\"1\"\u003e\u003cimg data-loaded=\"true\" src=\"https:\/\/cdn.shopifycdn.net\/s\/files\/1\/0592\/7747\/6020\/files\/ia_100000008804_480x480.jpg?v=1639994687\" alt=\"\" data-src=\"https:\/\/cdn.shopifycdn.net\/s\/files\/1\/0592\/7747\/6020\/files\/ia_100000008804_480x480.jpg?v=1639994687\" class=\"lozad lazyloaded\" style=\"display: block; margin-left: auto; margin-right: auto;\" data-mce-src=\"https:\/\/cdn.shopifycdn.net\/s\/files\/1\/0592\/7747\/6020\/files\/ia_100000008804_480x480.jpg?v=1639994687\" data-mce-selected=\"1\"\u003e\u003c\/p\u003e\n\u003cp data-mce-fragment=\"1\"\u003e\u003cstrong data-mce-fragment=\"1\"\u003e\u003cb data-mce-fragment=\"1\"\u003e➤ Wide range of applications.\u003c\/b\u003e\u003c\/strong\u003e\u003c\/p\u003e\n\u003cp data-mce-fragment=\"1\"\u003eFrom baby bottles to wine glasses to travel mugs, it's\u003cspan\u003e \u003c\/span\u003e\u003cstrong data-mce-fragment=\"1\"\u003e\u003cb data-mce-fragment=\"1\"\u003eeasy to rinse almost any drinking utensil\u003c\/b\u003e\u003c\/strong\u003e, so you can\u003cspan\u003e \u003c\/span\u003e\u003cstrong data-mce-fragment=\"1\"\u003e\u003cb data-mce-fragment=\"1\"\u003ereduce soaking and scrubbing time\u003c\/b\u003e\u003c\/strong\u003e, reduce\u003cstrong data-mce-fragment=\"1\"\u003e\u003cb data-mce-fragment=\"1\"\u003e labor intensity,\u003c\/b\u003e\u003c\/strong\u003e increase\u003cspan\u003e \u003c\/span\u003e\u003cstrong data-mce-fragment=\"1\"\u003e\u003cb data-mce-fragment=\"1\"\u003eefficiency\u003c\/b\u003e\u003c\/strong\u003e and improve\u003cspan\u003e \u003c\/span\u003e\u003cstrong data-mce-fragment=\"1\"\u003e\u003cb data-mce-fragment=\"1\"\u003ecleanliness\u003c\/b\u003e\u003c\/strong\u003e. It's the first choice for washing cups in the kitchen.\u003c\/p\u003e\n\u003cp data-mce-fragment=\"1\"\u003e\u003cimg data-loaded=\"true\" src=\"https:\/\/cdn.shopifycdn.net\/s\/files\/1\/0592\/7747\/6020\/files\/ia_700004756_480x480.jpg?v=1639994604\" alt=\"\" data-src=\"https:\/\/cdn.shopifycdn.net\/s\/files\/1\/0592\/7747\/6020\/files\/ia_700004756_480x480.jpg?v=1639994604\" class=\"lozad lazyloaded\" style=\"display: block; margin-left: auto; margin-right: auto;\" data-mce-src=\"https:\/\/cdn.shopifycdn.net\/s\/files\/1\/0592\/7747\/6020\/files\/ia_700004756_480x480.jpg?v=1639994604\" data-mce-selected=\"1\"\u003e\u003c\/p\u003e\n\u003cp data-mce-fragment=\"1\"\u003e\u003cstrong data-mce-fragment=\"1\"\u003e\u003cb data-mce-fragment=\"1\"\u003e➤Easy to use.\u003c\/b\u003e\u003c\/strong\u003e\u003c\/p\u003e\n\u003cp data-mce-fragment=\"1\"\u003e\u003cstrong data-mce-fragment=\"1\"\u003e\u003cb data-mce-fragment=\"1\"\u003eTurn the mug mouth down\u003c\/b\u003e\u003c\/strong\u003e and\u003cspan\u003e \u003c\/span\u003e\u003cstrong data-mce-fragment=\"1\"\u003e\u003cb data-mce-fragment=\"1\"\u003egently press the bottom of the mug\u003c\/b\u003e\u003c\/strong\u003e to automatically spray water for cleaning. After cleaning the cup, remove the cup, stop spraying water and the cleaning is complete.\u003c\/p\u003e\n\u003cp data-mce-fragment=\"1\"\u003e\u003cimg data-loaded=\"true\" src=\"https:\/\/cdn.shopifycdn.net\/s\/files\/1\/0592\/7747\/6020\/files\/ia_100003903_480x480.jpg?v=1639994758\" data-src=\"https:\/\/cdn.shopifycdn.net\/s\/files\/1\/0592\/7747\/6020\/files\/ia_100003903_480x480.jpg?v=1639994758\" alt=\"\" class=\"lozad lazyloaded\" style=\"display: block; margin-left: auto; margin-right: auto;\"\u003e\u003c\/p\u003e\n\u003cp data-mce-fragment=\"1\"\u003e\u003cstrong data-mce-fragment=\"1\"\u003e\u003cb data-mce-fragment=\"1\"\u003e➤ Easy to install.\u003c\/b\u003e\u003c\/strong\u003e\u003c\/p\u003e\n\u003cp data-mce-fragment=\"1\"\u003eWhen high-quality ABS material, the body is copper, surface plating,\u003cspan\u003e \u003c\/span\u003e\u003cstrong data-mce-fragment=\"1\"\u003e\u003cb data-mce-fragment=\"1\"\u003edurable\u003c\/b\u003e\u003c\/strong\u003e, it can be\u003cspan\u003e \u003c\/span\u003e\u003cstrong data-mce-fragment=\"1\"\u003e\u003cb data-mce-fragment=\"1\"\u003ecoordinated with any faucet\u003c\/b\u003e\u003c\/strong\u003e and can be easily installed in empty standard countertop holes. The required supply line (included) can be connected to either the hot or cold water supply line.\u003c\/p\u003e\n\u003cp data-mce-fragment=\"1\"\u003e\u003cimg data-loaded=\"true\" src=\"https:\/\/cdn.shopifycdn.net\/s\/files\/1\/0592\/7747\/6020\/files\/ia_100003902_480x480.jpg?v=1639994771\" data-src=\"https:\/\/cdn.shopifycdn.net\/s\/files\/1\/0592\/7747\/6020\/files\/ia_100003902_480x480.jpg?v=1639994771\" alt=\"\" class=\"lozad lazyloaded\" style=\"display: block; margin-left: auto; margin-right: auto;\"\u003e\u003c\/p\u003e\n\u003cp data-mce-fragment=\"1\"\u003e\u003cstrong data-mce-fragment=\"1\"\u003e\u003cb data-mce-fragment=\"1\"\u003e➤ Installation Guidelines.\u003c\/b\u003e\u003c\/strong\u003e\u003c\/p\u003e\n\u003cp data-mce-fragment=\"1\"\u003eThere must be at least 2 inches of space around the mounting hole and no more than 2.25 inches from the center of the hole to the edge of the sink - ensure that water flows into the sink rather than pooling on your countertop.\u003cbr\u003e\u003cimg data-loaded=\"true\" src=\"https:\/\/cdn.shopifycdn.net\/s\/files\/1\/0592\/7747\/6020\/files\/01_2_480x480.gif?v=1639994856\" alt=\"\" data-src=\"https:\/\/cdn.shopifycdn.net\/s\/files\/1\/0592\/7747\/6020\/files\/01_2_480x480.gif?v=1639994856\" class=\"lozad lazyloaded\" style=\"display: block; margin-left: auto; margin-right: auto;\" data-mce-fragment=\"1\" data-mce-src=\"https:\/\/cdn.shopifycdn.net\/s\/files\/1\/0592\/7747\/6020\/files\/01_2_480x480.gif?v=1639994856\"\u003e\u003c\/p\u003e\n\u003cp\u003e\u003cspan style=\"color: #ff8000;\"\u003e\u003cstrong\u003eSpecifications\u003c\/strong\u003e\u003c\/span\u003e\u003cbr\u003e\u003c\/p\u003e\n\u003cdiv class=\"table-wraper-fix\"\u003e\n\u003ctable style=\"width: 467.365px;\" data-mce-fragment=\"1\"\u003e\n\u003ctbody data-mce-fragment=\"1\"\u003e\n\u003ctr data-mce-fragment=\"1\"\u003e\n\u003cth style=\"width: 158.885px;\" scope=\"row\" data-mce-fragment=\"1\"\u003e\n\u003cspan\u003eDimension\u003c\/span\u003e\u003cbr\u003e\u003cspan\u003e(H*W*D)\u003c\/span\u003e\n\u003c\/th\u003e\n\u003ctd style=\"width: 292.479px;\" data-mce-fragment=\"1\"\u003e\n\u003cul\u003e\n\u003cli style=\"text-align: left;\"\u003e\u003cspan\u003e17.5x 9x 1.2 cm \/ 6.9 x 3.6 x 0.5 inches\u003c\/span\u003e\u003c\/li\u003e\n\u003c\/ul\u003e\n\u003c\/td\u003e\n\u003c\/tr\u003e\n\u003ctr data-mce-fragment=\"1\"\u003e\n\u003cth style=\"width: 158.885px;\" scope=\"row\" data-mce-fragment=\"1\"\u003e\u003cspan\u003eMaterial\u003c\/span\u003e\u003c\/th\u003e\n\u003ctd style=\"width: 292.479px;\" data-mce-fragment=\"1\"\u003e\n\u003cul\u003e\n\u003cli\u003eStainless steel\u003c\/li\u003e\n\u003c\/ul\u003e\n\u003c\/td\u003e\n\u003c\/tr\u003e\n\u003ctr data-mce-fragment=\"1\"\u003e\n\u003cth style=\"width: 158.885px;\" scope=\"row\" data-mce-fragment=\"1\"\u003e\u003cspan\u003eProduct Weight\u003c\/span\u003e\u003c\/th\u003e\n\u003ctd style=\"width: 292.479px;\" data-mce-fragment=\"1\"\u003e\n\u003cul data-mce-fragment=\"1\"\u003e\n\u003cli data-mce-fragment=\"1\"\u003e\u003cspan\u003e860g \/ 1.9 lb\u003c\/span\u003e\u003c\/li\u003e\n\u003c\/ul\u003e\n\u003c\/td\u003e\n\u003c\/tr\u003e\n\u003ctr data-mce-fragment=\"1\"\u003e\n\u003cth style=\"width: 158.885px;\" scope=\"row\" data-mce-fragment=\"1\"\u003e\u003cspan\u003eColors\u003c\/span\u003e\u003c\/th\u003e\n\u003ctd style=\"width: 292.479px;\" data-mce-fragment=\"1\"\u003e\n\u003cul data-mce-fragment=\"1\"\u003e\n\u003cli data-mce-fragment=\"1\"\u003e\u003cspan\u003eBlack\u003c\/span\u003e\u003c\/li\u003e\n\u003c\/ul\u003e\n\u003c\/td\u003e\n\u003c\/tr\u003e\n\u003ctr data-mce-fragment=\"1\"\u003e\n\u003cth style=\"width: 158.885px;\" scope=\"row\" data-mce-fragment=\"1\"\u003e\u003cspan\u003ePackage Contents\u003c\/span\u003e\u003c\/th\u003e\n\u003ctd style=\"width: 292.479px;\" data-mce-fragment=\"1\"\u003e\n\u003cul data-mce-fragment=\"1\"\u003e\n\u003cli data-mce-fragment=\"1\"\u003e1 * Cup cleaning machine\u003c\/li\u003e\n\u003c\/ul\u003e\n\u003c\/td\u003e\n\u003c\/tr\u003e\n\u003c\/tbody\u003e\n\u003c\/table\u003e\n\u003c\/div\u003e\n\u003ch5\u003e\u003cstrong\u003e\u003cbr\u003e\u003cspan style=\"color: #ff8000;\"\u003eNote\u003c\/span\u003e\u003c\/strong\u003e\u003c\/h5\u003e\n\u003cul\u003e\n\u003cli\u003e\u003cspan\u003eDue to manual measurements, please allow slight measurement deviations.\u003c\/span\u003e\u003c\/li\u003e\n\u003cli\u003e\u003cspan\u003eDue to the different display and lighting effects, the actual color of the item may be slightly different from the color displayed in the picture.\u003c\/span\u003e\u003c\/li\u003e\n\u003cli\u003e\u003cspan\u003eRegarding the water pipes and tee connector in our value set, you also can buy them at your local hardware store\u003c\/span\u003e\u003c\/li\u003e\n\u003c\/ul\u003e\n\u003cp data-mce-fragment=\"1\"\u003e \u003c\/p\u003e"}
Adding product to your cart
No need to clean the inside of the cup manually, the cup is clean in a few seconds by pressing down.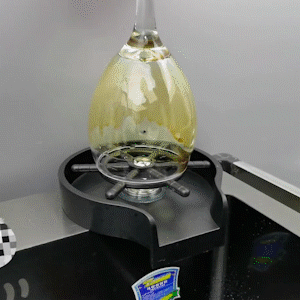 Main features
➤ Powerful cleaning.
Powerful water jets thoroughly rinse residue in seconds, while a subtle overhang directs the water flow to the kitchen sink for easy cleanup.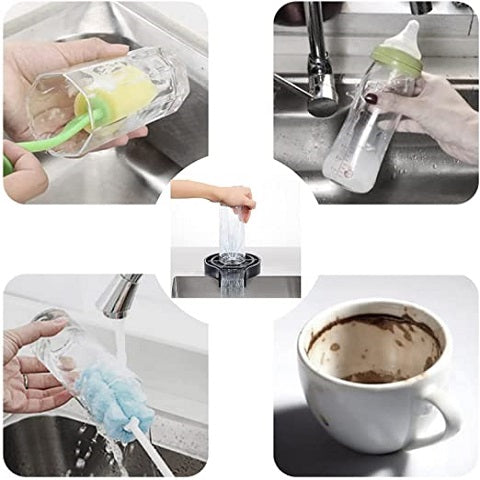 ➤ Wide range of applications.
From baby bottles to wine glasses to travel mugs, it's easy to rinse almost any drinking utensil, so you can reduce soaking and scrubbing time, reduce labor intensity, increase efficiency and improve cleanliness. It's the first choice for washing cups in the kitchen.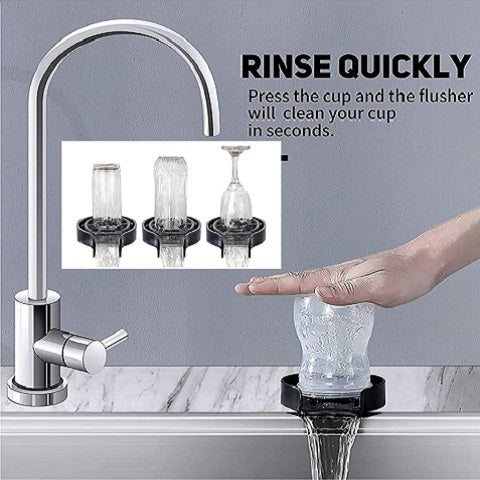 ➤Easy to use.
Turn the mug mouth down and gently press the bottom of the mug to automatically spray water for cleaning. After cleaning the cup, remove the cup, stop spraying water and the cleaning is complete.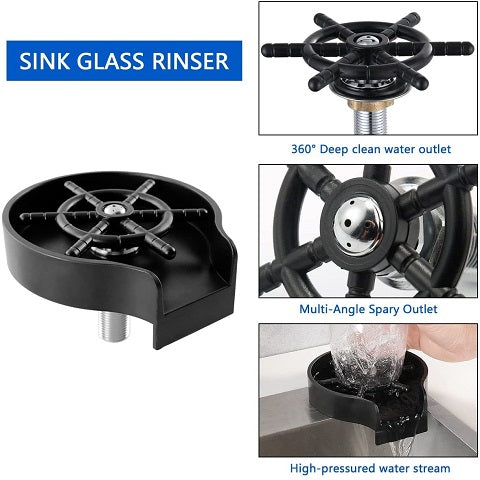 ➤ Easy to install.
When high-quality ABS material, the body is copper, surface plating, durable, it can be coordinated with any faucet and can be easily installed in empty standard countertop holes. The required supply line (included) can be connected to either the hot or cold water supply line.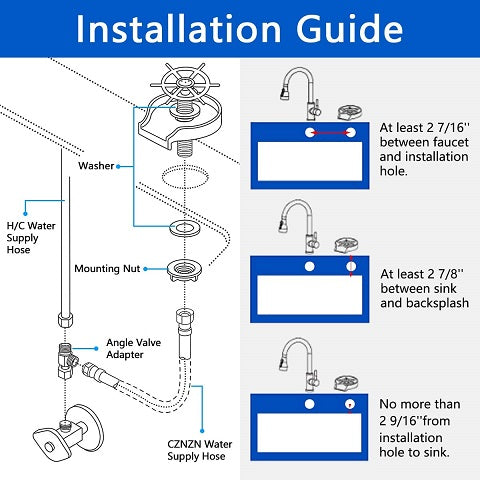 ➤ Installation Guidelines.
There must be at least 2 inches of space around the mounting hole and no more than 2.25 inches from the center of the hole to the edge of the sink - ensure that water flows into the sink rather than pooling on your countertop.

Specifications

Dimension




(H*W*D)

17.5x 9x 1.2 cm / 6.9 x 3.6 x 0.5 inches

Material

Product Weight

Colors

Package Contents



Note
Due to manual measurements, please allow slight measurement deviations.

Due to the different display and lighting effects, the actual color of the item may be slightly different from the color displayed in the picture.

Regarding the water pipes and tee connector in our value set, you also can buy them at your local hardware store