"Best bike alarm in the market period! Immediately after opening it, I knew it was high quality and the alarm is super loud. I would 200% highly recommend this product to anyone who wants to keep their bikes safe, it is exceptionally good for deterring thieves! Keep up the great work and make products like this more often!"
Riding a bike is one of the most cherished outdoor activities in the world, however, it can be extremely. stressful at times due to constantly worrying about bike theft. This results in bicyclists attempting to use bike locks that unfortunately can be cut through with ease due to the existence of power tools. Not having a device that prevents theft results in unwanted losses and headaches.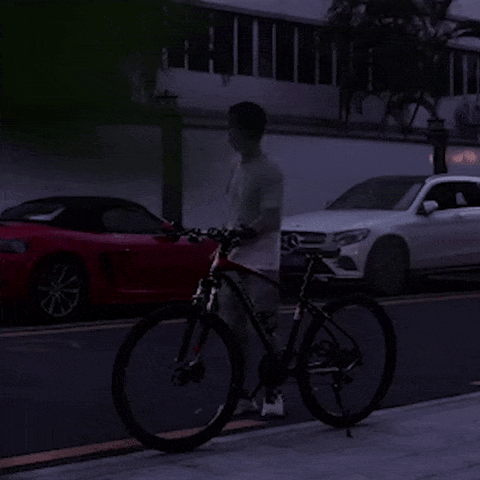 Introducing the sophisticated 5-in-1 tail light with a built-in alarm, bicyclists can rest easy knowing their bikes are safe and secure at last. In the event of attempted theft, it sets off a blaring alarm to deter the bike thief. Experience the joys of having access to a security tool that effectively prevents theft and saves precious money and heartaches in the process.
FEATURES
ANTI-THEFT ALARM: With security in mind, it features a built-in vibration sensor and a 110dB siren alarm. It deters bike thieves from committing the crime and alerts nearby people of the theft attempt.
ULTRA-BRIGHT DESIGN: it features 31 LEDs with 6 different light modes that are visible up to 150 ft away. This phenomenal perk ensures a bike can be seen in foggy/rainy conditions or even in the dead of night.
AUTO BRAKE LIGHT: The high-tech device senses braking and puts off a brake light on the tail end of the bicycle. this effectively prevents most car-bike related accidents by letting drivers know when braking is occurring.
TURN SIGNALS: It includes a wireless remote control device that is used for turn signals. This incredible feature ensures bicyclists are safe from harm while on the roads.
WEATHERPROOF: Designed to be durable with high and low-temperature resistance, waterproof, and windproof. Ride with confidence, knowing its ability to withstand harsh weather conditions.
USB RECHARGEABLE: Enjoy the convenience of recharging it anywhere via a USB cable. When fully charged, it lasts up to 70 hours of continuous usage.
HOW TO ARM IT
1) Press the lock button for a beep sound
2) Wait 3 seconds for another beep sound
3) This alarm is now armed
SPECIFICATIONS
Anti-theft Vibration Alarm: 7 adjustable sensitivity
Loud 110dB Bike Horn: 3 different tones
Tail Light Battery: 3.7v lithium battery
Tail Light Battery Life: Up to 11 hours
Bike Tail Light: 6 light modes
Max Light Output: 160 lumens
Waterproof: IP65 Waterproof
PACKAGE:
(1) x Tail Light Alarm
(1) x Tail Light Mount
(1) x Wireless Remote
(1) x Remote Mount
(1) x Charging Cable
(1) x User Manual