{"id":7145450668121,"title":"Court Style Corset Body Shaping Shapewear","handle":"court-style-corset-body-shaping-shapewear","description":"\u003ch3 data-mce-fragment=\"1\"\u003e\u003cspan style=\"color: #ff2a00;\" data-mce-fragment=\"1\"\u003eFEATURES\u003c\/span\u003e\u003c\/h3\u003e\n\u003cul\u003e\n\u003cli\u003e\n\u003cp\u003e\u003cspan data-mce-fragment=\"1\"\u003e360 degrees of firm control,trimming waist, tummy and hips,Breathable and comfortable shell design, Wide and Adjustable strap.\u003c\/span\u003e\u003c\/p\u003e\n\u003c\/li\u003e\n\u003c\/ul\u003e\n\u003cdiv\u003e\u003cimg src=\"https:\/\/cdn.shopifycdn.net\/s\/files\/1\/0356\/3048\/1544\/products\/2_eabae165-6b4b-412a-8fea-7637ee68be9b_480x480.jpg?v=1661825825\" alt=\"\" style=\"display: block; margin-left: auto; margin-right: auto;\" data-mce-fragment=\"1\" data-mce-src=\"https:\/\/cdn.shopifycdn.net\/s\/files\/1\/0356\/3048\/1544\/products\/2_eabae165-6b4b-412a-8fea-7637ee68be9b_480x480.jpg?v=1661825825\"\u003e\u003c\/div\u003e\n\u003cul\u003e\n\u003cli\u003e\n\u003cp\u003eShaping Your Little Bend, shape your body, lift your buttocks and close your abdomen.\u003c\/p\u003e\n\u003c\/li\u003e\n\u003c\/ul\u003e\n\u003cdiv\u003e\u003cimg src=\"https:\/\/cdn.shopifycdn.net\/s\/files\/1\/0356\/3048\/1544\/files\/01_c609d982-1883-4ee9-b0f1-3ae5aa91f610_480x480.jpg?v=1661826204\" alt=\"\" style=\"display: block; margin-left: auto; margin-right: auto;\" data-mce-fragment=\"1\" data-mce-src=\"https:\/\/cdn.shopifycdn.net\/s\/files\/1\/0356\/3048\/1544\/files\/01_c609d982-1883-4ee9-b0f1-3ae5aa91f610_480x480.jpg?v=1661826204\"\u003e\u003c\/div\u003e\n\u003cul\u003e\n\u003cli\u003e\n\u003cp\u003eSoft elastic comfortable waist to let your body breath naturally.\u003c\/p\u003e\n\u003c\/li\u003e\n\u003c\/ul\u003e\n\u003cdiv\u003e\u003cimg src=\"https:\/\/cdn.shopifycdn.net\/s\/files\/1\/0356\/3048\/1544\/files\/1_4c04c13b-74ac-4e13-95a2-f84c03ffd931_480x480.jpg?v=1661826251\" alt=\"\" style=\"display: block; margin-left: auto; margin-right: auto;\" data-mce-fragment=\"1\" data-mce-src=\"https:\/\/cdn.shopifycdn.net\/s\/files\/1\/0356\/3048\/1544\/files\/1_4c04c13b-74ac-4e13-95a2-f84c03ffd931_480x480.jpg?v=1661826251\"\u003e\u003c\/div\u003e\n\u003cul\u003e\n\u003cli\u003e\n\u003cp\u003eWear the Shaper under jacket or dress around the house, Maximum comfort and freedom of movement, Wear Your Own Bra feature for fit flexibility.\u003c\/p\u003e\n\u003c\/li\u003e\n\u003c\/ul\u003e\n\u003ch3 data-mce-fragment=\"1\"\u003e\u003cspan style=\"color: #ff2a00;\" data-mce-fragment=\"1\"\u003eSPECIFICATIONS\u003c\/span\u003e\u003c\/h3\u003e\n\u003cul data-mce-fragment=\"1\"\u003e\n\u003cli data-mce-fragment=\"1\"\u003e\n\u003cp data-mce-fragment=\"1\"\u003e\u003cstrong data-mce-fragment=\"1\"\u003e\u003c\/strong\u003e\u003cstrong data-mce-fragment=\"1\"\u003eWeight:\u003c\/strong\u003e\u003cspan data-mce-fragment=\"1\"\u003e 210\u003c\/span\u003eg\u003c\/p\u003e\n\u003c\/li\u003e\n\u003cli data-mce-fragment=\"1\"\u003e\n\u003cp data-mce-fragment=\"1\"\u003e\u003cstrong data-mce-fragment=\"1\"\u003eColor:\u003c\/strong\u003e\u003cspan data-mce-fragment=\"1\"\u003e \u003cspan class=\"Polaris-Badge_2qgie\" data-mce-fragment=\"1\"\u003eWhite, \u003c\/span\u003e\u003cspan class=\"Polaris-Badge_2qgie\" data-mce-fragment=\"1\"\u003eBlack, \u003c\/span\u003e\u003cspan class=\"Polaris-Badge_2qgie\" data-mce-fragment=\"1\"\u003eRed, \u003c\/span\u003e\u003cspan class=\"Polaris-Badge_2qgie\" data-mce-fragment=\"1\"\u003eBlue\u003c\/span\u003e\u003c\/span\u003e\u003c\/p\u003e\n\u003c\/li\u003e\n\u003cli data-mce-fragment=\"1\"\u003e\n\u003cp data-mce-fragment=\"1\"\u003e\u003cstrong data-mce-fragment=\"1\"\u003eMaterial: \u003c\/strong\u003ePolyester, Cotton\u003c\/p\u003e\n\u003c\/li\u003e\n\u003cli data-mce-fragment=\"1\"\u003e\n\u003cp data-mce-fragment=\"1\"\u003e\u003cstrong data-mce-fragment=\"1\"\u003eSize:\u003cspan data-mce-fragment=\"1\"\u003e \u003c\/span\u003e\u003c\/strong\u003e\u003c\/p\u003e\n\u003c\/li\u003e\n\u003c\/ul\u003e\n\u003ctable style=\"width: 80.6384%;\"\u003e\n\u003ctbody\u003e\n\u003ctr\u003e\n\u003ctd style=\"width: 20.9699%; text-align: center;\"\u003eSize(cm\/in)\u003c\/td\u003e\n\u003ctd style=\"width: 27.0301%; text-align: center;\"\u003eBust\u003c\/td\u003e\n\u003ctd style=\"width: 27%; text-align: center;\"\u003e Waist\u003c\/td\u003e\n\u003c\/tr\u003e\n\u003ctr\u003e\n\u003ctd style=\"width: 20.9699%; text-align: center;\"\u003eS\u003c\/td\u003e\n\u003ctd style=\"width: 27.0301%; text-align: center;\"\u003e80-85\/31.5-33.5\u003c\/td\u003e\n\u003ctd style=\"width: 27%; text-align: center;\"\u003e60-65\/23.6-25.6\u003c\/td\u003e\n\u003c\/tr\u003e\n\u003ctr\u003e\n\u003ctd style=\"width: 20.9699%; text-align: center;\"\u003eM\u003c\/td\u003e\n\u003ctd style=\"width: 27.0301%; text-align: center;\"\u003e85-90\/33.5-35.4\u003c\/td\u003e\n\u003ctd style=\"width: 27%; text-align: center;\"\u003e65-70\/25.6-27.6\u003c\/td\u003e\n\u003c\/tr\u003e\n\u003ctr\u003e\n\u003ctd style=\"width: 20.9699%; text-align: center;\"\u003eL\u003c\/td\u003e\n\u003ctd style=\"width: 27.0301%; text-align: center;\"\u003e90-95\/35.4-37.4\u003c\/td\u003e\n\u003ctd style=\"width: 27%; text-align: center;\"\u003e70-75\/27.6-29.5\u003c\/td\u003e\n\u003c\/tr\u003e\n\u003ctr\u003e\n\u003ctd style=\"width: 20.9699%; text-align: center;\"\u003eXL\u003c\/td\u003e\n\u003ctd style=\"width: 27.0301%; text-align: center;\"\u003e95-100\/37.4-39.4\u003c\/td\u003e\n\u003ctd style=\"width: 27%; text-align: center;\"\u003e75-80\/29.5-31.5\u003c\/td\u003e\n\u003c\/tr\u003e\n\u003ctr\u003e\n\u003ctd style=\"width: 20.9699%; text-align: center;\"\u003e2XL\u003c\/td\u003e\n\u003ctd style=\"width: 27.0301%; text-align: center;\"\u003e100-105\/39.4-41.3\u003c\/td\u003e\n\u003ctd style=\"width: 27%; text-align: center;\"\u003e80-85\/31.5-33.5\u003c\/td\u003e\n\u003c\/tr\u003e\n\u003ctr\u003e\n\u003ctd style=\"width: 20.9699%; text-align: center;\"\u003e3XL\u003c\/td\u003e\n\u003ctd style=\"width: 27.0301%; text-align: center;\"\u003e105-110\/41.3-43.3\u003c\/td\u003e\n\u003ctd style=\"width: 27%; text-align: center;\"\u003e85-92\/33.5-36.2\u003c\/td\u003e\n\u003c\/tr\u003e\n\u003ctr\u003e\n\u003ctd style=\"width: 20.9699%; text-align: center;\"\u003e4XL\u003c\/td\u003e\n\u003ctd style=\"width: 27.0301%; text-align: center;\"\u003e110-115\/43.3-45.3\u003c\/td\u003e\n\u003ctd style=\"width: 27%; text-align: center;\"\u003e92-97\/36.2-38.2\u003c\/td\u003e\n\u003c\/tr\u003e\n\u003ctr\u003e\n\u003ctd style=\"width: 20.9699%; text-align: center;\"\u003e5XL\u003c\/td\u003e\n\u003ctd style=\"width: 27.0301%; text-align: center;\"\u003e115-122\/45.3-48.0\u003c\/td\u003e\n\u003ctd style=\"width: 27%; text-align: center;\"\u003e97-102\/38.2-40.2\u003c\/td\u003e\n\u003c\/tr\u003e\n\u003ctr\u003e\n\u003ctd style=\"width: 20.9699%; text-align: center;\"\u003e6XL\u003c\/td\u003e\n\u003ctd style=\"width: 27.0301%; text-align: center;\"\u003e122-127\/48.0-50\u003c\/td\u003e\n\u003ctd style=\"width: 27%; text-align: center;\"\u003e102-107\/40.2-42.1\u003c\/td\u003e\n\u003c\/tr\u003e\n\u003c\/tbody\u003e\n\u003c\/table\u003e\n\u003cul data-mce-fragment=\"1\"\u003e\u003c\/ul\u003e\n\u003cul data-mce-fragment=\"1\"\u003e\u003c\/ul\u003e\n\u003cul data-mce-fragment=\"1\"\u003e\u003c\/ul\u003e\n\u003cul data-mce-fragment=\"1\"\u003e\u003c\/ul\u003e\n\u003ch3 data-mce-fragment=\"1\"\u003e\u003cspan style=\"color: #ff2a00;\" data-mce-style=\"color: #ff2a00;\" data-mce-fragment=\"1\"\u003ePACKAGE\u003c\/span\u003e\u003c\/h3\u003e\n\u003cul data-mce-fragment=\"1\"\u003e\n\u003cli data-mce-fragment=\"1\"\u003e1 * Court Style Corset Body Shaping Shapewear\u003c\/li\u003e\n\u003c\/ul\u003e\n\u003ch3 data-mce-fragment=\"1\"\u003e\u003cspan style=\"color: #ff2a00;\" data-mce-style=\"color: #ff2a00;\" data-mce-fragment=\"1\"\u003e\u003cstrong data-mce-fragment=\"1\"\u003eNOTE\u003c\/strong\u003e\u003c\/span\u003e\u003c\/h3\u003e\n\u003cul data-mce-fragment=\"1\"\u003e\n\u003cli data-mce-fragment=\"1\"\u003e\n\u003cp data-mce-fragment=\"1\"\u003ePlease allow slight measurement deviations due to manual measurement.\u003c\/p\u003e\n\u003c\/li\u003e\n\u003cli data-mce-fragment=\"1\"\u003e\n\u003cp data-mce-fragment=\"1\"\u003eDue to the different monitor and light effect, the actual color of the item might be slightly different from the color showed in the pictures\u003c\/p\u003e\n\u003c\/li\u003e\n\u003c\/ul\u003e","published_at":"2022-09-07T16:38:16-10:00","created_at":"2022-09-07T16:38:31-10:00","vendor":"Suerteyay","type":"","tags":["underwear"],"price":2699,"price_min":2699,"price_max":2699,"available":true,"price_varies":false,"compare_at_price":5399,"compare_at_price_min":5399,"compare_at_price_max":5399,"compare_at_price_varies":false,"variants":[{"id":40203902156889,"title":"White \/ S","option1":"White","option2":"S","option3":null,"sku":"UN16866-C005-S00S","requires_shipping":true,"taxable":false,"featured_image":{"id":30214182076505,"product_id":7145450668121,"position":20,"created_at":"2022-09-07T16:38:35-10:00","updated_at":"2022-09-07T16:38:35-10:00","alt":null,"width":800,"height":800,"src":"\/\/www.suerteyay.com\/cdn\/shop\/products\/d92e076f69cb1a6f81c9bab8cd8f57a2_76b8e0c2-843e-46c0-bcbd-db74e97c191d.jpg?v=1662604715","variant_ids":[40203902156889,40203902189657,40203902222425,40203902255193,40203902287961,40203902320729,40203902353497,40203902386265,40203902419033]},"available":true,"name":"Court Style Corset Body Shaping Shapewear - White \/ S","public_title":"White \/ S","options":["White","S"],"price":2699,"weight":0,"compare_at_price":5399,"inventory_management":null,"barcode":null,"featured_media":{"alt":null,"id":22754559688793,"position":20,"preview_image":{"aspect_ratio":1.0,"height":800,"width":800,"src":"\/\/www.suerteyay.com\/cdn\/shop\/products\/d92e076f69cb1a6f81c9bab8cd8f57a2_76b8e0c2-843e-46c0-bcbd-db74e97c191d.jpg?v=1662604715"}},"requires_selling_plan":false,"selling_plan_allocations":[],"quantity_rule":{"min":1,"max":null,"increment":1}},{"id":40203902189657,"title":"White \/ M","option1":"White","option2":"M","option3":null,"sku":"UN16866-C005-S00M","requires_shipping":true,"taxable":false,"featured_image":{"id":30214182076505,"product_id":7145450668121,"position":20,"created_at":"2022-09-07T16:38:35-10:00","updated_at":"2022-09-07T16:38:35-10:00","alt":null,"width":800,"height":800,"src":"\/\/www.suerteyay.com\/cdn\/shop\/products\/d92e076f69cb1a6f81c9bab8cd8f57a2_76b8e0c2-843e-46c0-bcbd-db74e97c191d.jpg?v=1662604715","variant_ids":[40203902156889,40203902189657,40203902222425,40203902255193,40203902287961,40203902320729,40203902353497,40203902386265,40203902419033]},"available":true,"name":"Court Style Corset Body Shaping Shapewear - White \/ M","public_title":"White \/ M","options":["White","M"],"price":2699,"weight":0,"compare_at_price":5399,"inventory_management":null,"barcode":null,"featured_media":{"alt":null,"id":22754559688793,"position":20,"preview_image":{"aspect_ratio":1.0,"height":800,"width":800,"src":"\/\/www.suerteyay.com\/cdn\/shop\/products\/d92e076f69cb1a6f81c9bab8cd8f57a2_76b8e0c2-843e-46c0-bcbd-db74e97c191d.jpg?v=1662604715"}},"requires_selling_plan":false,"selling_plan_allocations":[],"quantity_rule":{"min":1,"max":null,"increment":1}},{"id":40203902222425,"title":"White \/ L","option1":"White","option2":"L","option3":null,"sku":"UN16866-C005-S00L","requires_shipping":true,"taxable":false,"featured_image":{"id":30214182076505,"product_id":7145450668121,"position":20,"created_at":"2022-09-07T16:38:35-10:00","updated_at":"2022-09-07T16:38:35-10:00","alt":null,"width":800,"height":800,"src":"\/\/www.suerteyay.com\/cdn\/shop\/products\/d92e076f69cb1a6f81c9bab8cd8f57a2_76b8e0c2-843e-46c0-bcbd-db74e97c191d.jpg?v=1662604715","variant_ids":[40203902156889,40203902189657,40203902222425,40203902255193,40203902287961,40203902320729,40203902353497,40203902386265,40203902419033]},"available":true,"name":"Court Style Corset Body Shaping Shapewear - White \/ L","public_title":"White \/ L","options":["White","L"],"price":2699,"weight":0,"compare_at_price":5399,"inventory_management":null,"barcode":null,"featured_media":{"alt":null,"id":22754559688793,"position":20,"preview_image":{"aspect_ratio":1.0,"height":800,"width":800,"src":"\/\/www.suerteyay.com\/cdn\/shop\/products\/d92e076f69cb1a6f81c9bab8cd8f57a2_76b8e0c2-843e-46c0-bcbd-db74e97c191d.jpg?v=1662604715"}},"requires_selling_plan":false,"selling_plan_allocations":[],"quantity_rule":{"min":1,"max":null,"increment":1}},{"id":40203902255193,"title":"White \/ XL","option1":"White","option2":"XL","option3":null,"sku":"UN16866-C005-S00X","requires_shipping":true,"taxable":false,"featured_image":{"id":30214182076505,"product_id":7145450668121,"position":20,"created_at":"2022-09-07T16:38:35-10:00","updated_at":"2022-09-07T16:38:35-10:00","alt":null,"width":800,"height":800,"src":"\/\/www.suerteyay.com\/cdn\/shop\/products\/d92e076f69cb1a6f81c9bab8cd8f57a2_76b8e0c2-843e-46c0-bcbd-db74e97c191d.jpg?v=1662604715","variant_ids":[40203902156889,40203902189657,40203902222425,40203902255193,40203902287961,40203902320729,40203902353497,40203902386265,40203902419033]},"available":true,"name":"Court Style Corset Body Shaping Shapewear - White \/ XL","public_title":"White \/ XL","options":["White","XL"],"price":2699,"weight":0,"compare_at_price":5399,"inventory_management":null,"barcode":null,"featured_media":{"alt":null,"id":22754559688793,"position":20,"preview_image":{"aspect_ratio":1.0,"height":800,"width":800,"src":"\/\/www.suerteyay.com\/cdn\/shop\/products\/d92e076f69cb1a6f81c9bab8cd8f57a2_76b8e0c2-843e-46c0-bcbd-db74e97c191d.jpg?v=1662604715"}},"requires_selling_plan":false,"selling_plan_allocations":[],"quantity_rule":{"min":1,"max":null,"increment":1}},{"id":40203902287961,"title":"White \/ 2XL","option1":"White","option2":"2XL","option3":null,"sku":"UN16866-C005-S02X","requires_shipping":true,"taxable":false,"featured_image":{"id":30214182076505,"product_id":7145450668121,"position":20,"created_at":"2022-09-07T16:38:35-10:00","updated_at":"2022-09-07T16:38:35-10:00","alt":null,"width":800,"height":800,"src":"\/\/www.suerteyay.com\/cdn\/shop\/products\/d92e076f69cb1a6f81c9bab8cd8f57a2_76b8e0c2-843e-46c0-bcbd-db74e97c191d.jpg?v=1662604715","variant_ids":[40203902156889,40203902189657,40203902222425,40203902255193,40203902287961,40203902320729,40203902353497,40203902386265,40203902419033]},"available":true,"name":"Court Style Corset Body Shaping Shapewear - White \/ 2XL","public_title":"White \/ 2XL","options":["White","2XL"],"price":2699,"weight":0,"compare_at_price":5399,"inventory_management":null,"barcode":null,"featured_media":{"alt":null,"id":22754559688793,"position":20,"preview_image":{"aspect_ratio":1.0,"height":800,"width":800,"src":"\/\/www.suerteyay.com\/cdn\/shop\/products\/d92e076f69cb1a6f81c9bab8cd8f57a2_76b8e0c2-843e-46c0-bcbd-db74e97c191d.jpg?v=1662604715"}},"requires_selling_plan":false,"selling_plan_allocations":[],"quantity_rule":{"min":1,"max":null,"increment":1}},{"id":40203902320729,"title":"White \/ 3XL","option1":"White","option2":"3XL","option3":null,"sku":"UN16866-C005-S03X","requires_shipping":true,"taxable":false,"featured_image":{"id":30214182076505,"product_id":7145450668121,"position":20,"created_at":"2022-09-07T16:38:35-10:00","updated_at":"2022-09-07T16:38:35-10:00","alt":null,"width":800,"height":800,"src":"\/\/www.suerteyay.com\/cdn\/shop\/products\/d92e076f69cb1a6f81c9bab8cd8f57a2_76b8e0c2-843e-46c0-bcbd-db74e97c191d.jpg?v=1662604715","variant_ids":[40203902156889,40203902189657,40203902222425,40203902255193,40203902287961,40203902320729,40203902353497,40203902386265,40203902419033]},"available":true,"name":"Court Style Corset Body Shaping Shapewear - White \/ 3XL","public_title":"White \/ 3XL","options":["White","3XL"],"price":2699,"weight":0,"compare_at_price":5399,"inventory_management":null,"barcode":null,"featured_media":{"alt":null,"id":22754559688793,"position":20,"preview_image":{"aspect_ratio":1.0,"height":800,"width":800,"src":"\/\/www.suerteyay.com\/cdn\/shop\/products\/d92e076f69cb1a6f81c9bab8cd8f57a2_76b8e0c2-843e-46c0-bcbd-db74e97c191d.jpg?v=1662604715"}},"requires_selling_plan":false,"selling_plan_allocations":[],"quantity_rule":{"min":1,"max":null,"increment":1}},{"id":40203902353497,"title":"White \/ 4XL","option1":"White","option2":"4XL","option3":null,"sku":"UN16866-C005-S04X","requires_shipping":true,"taxable":false,"featured_image":{"id":30214182076505,"product_id":7145450668121,"position":20,"created_at":"2022-09-07T16:38:35-10:00","updated_at":"2022-09-07T16:38:35-10:00","alt":null,"width":800,"height":800,"src":"\/\/www.suerteyay.com\/cdn\/shop\/products\/d92e076f69cb1a6f81c9bab8cd8f57a2_76b8e0c2-843e-46c0-bcbd-db74e97c191d.jpg?v=1662604715","variant_ids":[40203902156889,40203902189657,40203902222425,40203902255193,40203902287961,40203902320729,40203902353497,40203902386265,40203902419033]},"available":true,"name":"Court Style Corset Body Shaping Shapewear - White \/ 4XL","public_title":"White \/ 4XL","options":["White","4XL"],"price":2699,"weight":0,"compare_at_price":5399,"inventory_management":null,"barcode":null,"featured_media":{"alt":null,"id":22754559688793,"position":20,"preview_image":{"aspect_ratio":1.0,"height":800,"width":800,"src":"\/\/www.suerteyay.com\/cdn\/shop\/products\/d92e076f69cb1a6f81c9bab8cd8f57a2_76b8e0c2-843e-46c0-bcbd-db74e97c191d.jpg?v=1662604715"}},"requires_selling_plan":false,"selling_plan_allocations":[],"quantity_rule":{"min":1,"max":null,"increment":1}},{"id":40203902386265,"title":"White \/ 5XL","option1":"White","option2":"5XL","option3":null,"sku":"UN16866-C005-S05X","requires_shipping":true,"taxable":false,"featured_image":{"id":30214182076505,"product_id":7145450668121,"position":20,"created_at":"2022-09-07T16:38:35-10:00","updated_at":"2022-09-07T16:38:35-10:00","alt":null,"width":800,"height":800,"src":"\/\/www.suerteyay.com\/cdn\/shop\/products\/d92e076f69cb1a6f81c9bab8cd8f57a2_76b8e0c2-843e-46c0-bcbd-db74e97c191d.jpg?v=1662604715","variant_ids":[40203902156889,40203902189657,40203902222425,40203902255193,40203902287961,40203902320729,40203902353497,40203902386265,40203902419033]},"available":true,"name":"Court Style Corset Body Shaping Shapewear - White \/ 5XL","public_title":"White \/ 5XL","options":["White","5XL"],"price":2699,"weight":0,"compare_at_price":5399,"inventory_management":null,"barcode":null,"featured_media":{"alt":null,"id":22754559688793,"position":20,"preview_image":{"aspect_ratio":1.0,"height":800,"width":800,"src":"\/\/www.suerteyay.com\/cdn\/shop\/products\/d92e076f69cb1a6f81c9bab8cd8f57a2_76b8e0c2-843e-46c0-bcbd-db74e97c191d.jpg?v=1662604715"}},"requires_selling_plan":false,"selling_plan_allocations":[],"quantity_rule":{"min":1,"max":null,"increment":1}},{"id":40203902419033,"title":"White \/ 6XL","option1":"White","option2":"6XL","option3":null,"sku":"UN16866-C005-S06X","requires_shipping":true,"taxable":false,"featured_image":{"id":30214182076505,"product_id":7145450668121,"position":20,"created_at":"2022-09-07T16:38:35-10:00","updated_at":"2022-09-07T16:38:35-10:00","alt":null,"width":800,"height":800,"src":"\/\/www.suerteyay.com\/cdn\/shop\/products\/d92e076f69cb1a6f81c9bab8cd8f57a2_76b8e0c2-843e-46c0-bcbd-db74e97c191d.jpg?v=1662604715","variant_ids":[40203902156889,40203902189657,40203902222425,40203902255193,40203902287961,40203902320729,40203902353497,40203902386265,40203902419033]},"available":true,"name":"Court Style Corset Body Shaping Shapewear - White \/ 6XL","public_title":"White \/ 6XL","options":["White","6XL"],"price":2699,"weight":0,"compare_at_price":5399,"inventory_management":null,"barcode":null,"featured_media":{"alt":null,"id":22754559688793,"position":20,"preview_image":{"aspect_ratio":1.0,"height":800,"width":800,"src":"\/\/www.suerteyay.com\/cdn\/shop\/products\/d92e076f69cb1a6f81c9bab8cd8f57a2_76b8e0c2-843e-46c0-bcbd-db74e97c191d.jpg?v=1662604715"}},"requires_selling_plan":false,"selling_plan_allocations":[],"quantity_rule":{"min":1,"max":null,"increment":1}},{"id":40203902451801,"title":"Black \/ S","option1":"Black","option2":"S","option3":null,"sku":"UN16866-C001-S00S","requires_shipping":true,"taxable":false,"featured_image":{"id":30214182436953,"product_id":7145450668121,"position":22,"created_at":"2022-09-07T16:38:39-10:00","updated_at":"2022-09-07T16:38:39-10:00","alt":null,"width":800,"height":800,"src":"\/\/www.suerteyay.com\/cdn\/shop\/products\/8b9cc7c9808a81fc8db0eaf67a4d79d7_bee3acdd-2172-4557-9df3-bd4b8c611fe9.jpg?v=1662604719","variant_ids":[40203902451801,40203902484569,40203902517337,40203902550105,40203902582873,40203902615641,40203902648409,40203902681177,40203902713945]},"available":true,"name":"Court Style Corset Body Shaping Shapewear - Black \/ S","public_title":"Black \/ S","options":["Black","S"],"price":2699,"weight":0,"compare_at_price":5399,"inventory_management":null,"barcode":null,"featured_media":{"alt":null,"id":22754560049241,"position":22,"preview_image":{"aspect_ratio":1.0,"height":800,"width":800,"src":"\/\/www.suerteyay.com\/cdn\/shop\/products\/8b9cc7c9808a81fc8db0eaf67a4d79d7_bee3acdd-2172-4557-9df3-bd4b8c611fe9.jpg?v=1662604719"}},"requires_selling_plan":false,"selling_plan_allocations":[],"quantity_rule":{"min":1,"max":null,"increment":1}},{"id":40203902484569,"title":"Black \/ M","option1":"Black","option2":"M","option3":null,"sku":"UN16866-C001-S00M","requires_shipping":true,"taxable":false,"featured_image":{"id":30214182436953,"product_id":7145450668121,"position":22,"created_at":"2022-09-07T16:38:39-10:00","updated_at":"2022-09-07T16:38:39-10:00","alt":null,"width":800,"height":800,"src":"\/\/www.suerteyay.com\/cdn\/shop\/products\/8b9cc7c9808a81fc8db0eaf67a4d79d7_bee3acdd-2172-4557-9df3-bd4b8c611fe9.jpg?v=1662604719","variant_ids":[40203902451801,40203902484569,40203902517337,40203902550105,40203902582873,40203902615641,40203902648409,40203902681177,40203902713945]},"available":true,"name":"Court Style Corset Body Shaping Shapewear - Black \/ M","public_title":"Black \/ M","options":["Black","M"],"price":2699,"weight":0,"compare_at_price":5399,"inventory_management":null,"barcode":null,"featured_media":{"alt":null,"id":22754560049241,"position":22,"preview_image":{"aspect_ratio":1.0,"height":800,"width":800,"src":"\/\/www.suerteyay.com\/cdn\/shop\/products\/8b9cc7c9808a81fc8db0eaf67a4d79d7_bee3acdd-2172-4557-9df3-bd4b8c611fe9.jpg?v=1662604719"}},"requires_selling_plan":false,"selling_plan_allocations":[],"quantity_rule":{"min":1,"max":null,"increment":1}},{"id":40203902517337,"title":"Black \/ L","option1":"Black","option2":"L","option3":null,"sku":"UN16866-C001-S00L","requires_shipping":true,"taxable":false,"featured_image":{"id":30214182436953,"product_id":7145450668121,"position":22,"created_at":"2022-09-07T16:38:39-10:00","updated_at":"2022-09-07T16:38:39-10:00","alt":null,"width":800,"height":800,"src":"\/\/www.suerteyay.com\/cdn\/shop\/products\/8b9cc7c9808a81fc8db0eaf67a4d79d7_bee3acdd-2172-4557-9df3-bd4b8c611fe9.jpg?v=1662604719","variant_ids":[40203902451801,40203902484569,40203902517337,40203902550105,40203902582873,40203902615641,40203902648409,40203902681177,40203902713945]},"available":true,"name":"Court Style Corset Body Shaping Shapewear - Black \/ L","public_title":"Black \/ L","options":["Black","L"],"price":2699,"weight":0,"compare_at_price":5399,"inventory_management":null,"barcode":null,"featured_media":{"alt":null,"id":22754560049241,"position":22,"preview_image":{"aspect_ratio":1.0,"height":800,"width":800,"src":"\/\/www.suerteyay.com\/cdn\/shop\/products\/8b9cc7c9808a81fc8db0eaf67a4d79d7_bee3acdd-2172-4557-9df3-bd4b8c611fe9.jpg?v=1662604719"}},"requires_selling_plan":false,"selling_plan_allocations":[],"quantity_rule":{"min":1,"max":null,"increment":1}},{"id":40203902550105,"title":"Black \/ XL","option1":"Black","option2":"XL","option3":null,"sku":"UN16866-C001-S00X","requires_shipping":true,"taxable":false,"featured_image":{"id":30214182436953,"product_id":7145450668121,"position":22,"created_at":"2022-09-07T16:38:39-10:00","updated_at":"2022-09-07T16:38:39-10:00","alt":null,"width":800,"height":800,"src":"\/\/www.suerteyay.com\/cdn\/shop\/products\/8b9cc7c9808a81fc8db0eaf67a4d79d7_bee3acdd-2172-4557-9df3-bd4b8c611fe9.jpg?v=1662604719","variant_ids":[40203902451801,40203902484569,40203902517337,40203902550105,40203902582873,40203902615641,40203902648409,40203902681177,40203902713945]},"available":true,"name":"Court Style Corset Body Shaping Shapewear - Black \/ XL","public_title":"Black \/ XL","options":["Black","XL"],"price":2699,"weight":0,"compare_at_price":5399,"inventory_management":null,"barcode":null,"featured_media":{"alt":null,"id":22754560049241,"position":22,"preview_image":{"aspect_ratio":1.0,"height":800,"width":800,"src":"\/\/www.suerteyay.com\/cdn\/shop\/products\/8b9cc7c9808a81fc8db0eaf67a4d79d7_bee3acdd-2172-4557-9df3-bd4b8c611fe9.jpg?v=1662604719"}},"requires_selling_plan":false,"selling_plan_allocations":[],"quantity_rule":{"min":1,"max":null,"increment":1}},{"id":40203902582873,"title":"Black \/ 2XL","option1":"Black","option2":"2XL","option3":null,"sku":"UN16866-C001-S02X","requires_shipping":true,"taxable":false,"featured_image":{"id":30214182436953,"product_id":7145450668121,"position":22,"created_at":"2022-09-07T16:38:39-10:00","updated_at":"2022-09-07T16:38:39-10:00","alt":null,"width":800,"height":800,"src":"\/\/www.suerteyay.com\/cdn\/shop\/products\/8b9cc7c9808a81fc8db0eaf67a4d79d7_bee3acdd-2172-4557-9df3-bd4b8c611fe9.jpg?v=1662604719","variant_ids":[40203902451801,40203902484569,40203902517337,40203902550105,40203902582873,40203902615641,40203902648409,40203902681177,40203902713945]},"available":true,"name":"Court Style Corset Body Shaping Shapewear - Black \/ 2XL","public_title":"Black \/ 2XL","options":["Black","2XL"],"price":2699,"weight":0,"compare_at_price":5399,"inventory_management":null,"barcode":null,"featured_media":{"alt":null,"id":22754560049241,"position":22,"preview_image":{"aspect_ratio":1.0,"height":800,"width":800,"src":"\/\/www.suerteyay.com\/cdn\/shop\/products\/8b9cc7c9808a81fc8db0eaf67a4d79d7_bee3acdd-2172-4557-9df3-bd4b8c611fe9.jpg?v=1662604719"}},"requires_selling_plan":false,"selling_plan_allocations":[],"quantity_rule":{"min":1,"max":null,"increment":1}},{"id":40203902615641,"title":"Black \/ 3XL","option1":"Black","option2":"3XL","option3":null,"sku":"UN16866-C001-S03X","requires_shipping":true,"taxable":false,"featured_image":{"id":30214182436953,"product_id":7145450668121,"position":22,"created_at":"2022-09-07T16:38:39-10:00","updated_at":"2022-09-07T16:38:39-10:00","alt":null,"width":800,"height":800,"src":"\/\/www.suerteyay.com\/cdn\/shop\/products\/8b9cc7c9808a81fc8db0eaf67a4d79d7_bee3acdd-2172-4557-9df3-bd4b8c611fe9.jpg?v=1662604719","variant_ids":[40203902451801,40203902484569,40203902517337,40203902550105,40203902582873,40203902615641,40203902648409,40203902681177,40203902713945]},"available":true,"name":"Court Style Corset Body Shaping Shapewear - Black \/ 3XL","public_title":"Black \/ 3XL","options":["Black","3XL"],"price":2699,"weight":0,"compare_at_price":5399,"inventory_management":null,"barcode":null,"featured_media":{"alt":null,"id":22754560049241,"position":22,"preview_image":{"aspect_ratio":1.0,"height":800,"width":800,"src":"\/\/www.suerteyay.com\/cdn\/shop\/products\/8b9cc7c9808a81fc8db0eaf67a4d79d7_bee3acdd-2172-4557-9df3-bd4b8c611fe9.jpg?v=1662604719"}},"requires_selling_plan":false,"selling_plan_allocations":[],"quantity_rule":{"min":1,"max":null,"increment":1}},{"id":40203902648409,"title":"Black \/ 4XL","option1":"Black","option2":"4XL","option3":null,"sku":"UN16866-C001-S04X","requires_shipping":true,"taxable":false,"featured_image":{"id":30214182436953,"product_id":7145450668121,"position":22,"created_at":"2022-09-07T16:38:39-10:00","updated_at":"2022-09-07T16:38:39-10:00","alt":null,"width":800,"height":800,"src":"\/\/www.suerteyay.com\/cdn\/shop\/products\/8b9cc7c9808a81fc8db0eaf67a4d79d7_bee3acdd-2172-4557-9df3-bd4b8c611fe9.jpg?v=1662604719","variant_ids":[40203902451801,40203902484569,40203902517337,40203902550105,40203902582873,40203902615641,40203902648409,40203902681177,40203902713945]},"available":true,"name":"Court Style Corset Body Shaping Shapewear - Black \/ 4XL","public_title":"Black \/ 4XL","options":["Black","4XL"],"price":2699,"weight":0,"compare_at_price":5399,"inventory_management":null,"barcode":null,"featured_media":{"alt":null,"id":22754560049241,"position":22,"preview_image":{"aspect_ratio":1.0,"height":800,"width":800,"src":"\/\/www.suerteyay.com\/cdn\/shop\/products\/8b9cc7c9808a81fc8db0eaf67a4d79d7_bee3acdd-2172-4557-9df3-bd4b8c611fe9.jpg?v=1662604719"}},"requires_selling_plan":false,"selling_plan_allocations":[],"quantity_rule":{"min":1,"max":null,"increment":1}},{"id":40203902681177,"title":"Black \/ 5XL","option1":"Black","option2":"5XL","option3":null,"sku":"UN16866-C001-S05X","requires_shipping":true,"taxable":false,"featured_image":{"id":30214182436953,"product_id":7145450668121,"position":22,"created_at":"2022-09-07T16:38:39-10:00","updated_at":"2022-09-07T16:38:39-10:00","alt":null,"width":800,"height":800,"src":"\/\/www.suerteyay.com\/cdn\/shop\/products\/8b9cc7c9808a81fc8db0eaf67a4d79d7_bee3acdd-2172-4557-9df3-bd4b8c611fe9.jpg?v=1662604719","variant_ids":[40203902451801,40203902484569,40203902517337,40203902550105,40203902582873,40203902615641,40203902648409,40203902681177,40203902713945]},"available":true,"name":"Court Style Corset Body Shaping Shapewear - Black \/ 5XL","public_title":"Black \/ 5XL","options":["Black","5XL"],"price":2699,"weight":0,"compare_at_price":5399,"inventory_management":null,"barcode":null,"featured_media":{"alt":null,"id":22754560049241,"position":22,"preview_image":{"aspect_ratio":1.0,"height":800,"width":800,"src":"\/\/www.suerteyay.com\/cdn\/shop\/products\/8b9cc7c9808a81fc8db0eaf67a4d79d7_bee3acdd-2172-4557-9df3-bd4b8c611fe9.jpg?v=1662604719"}},"requires_selling_plan":false,"selling_plan_allocations":[],"quantity_rule":{"min":1,"max":null,"increment":1}},{"id":40203902713945,"title":"Black \/ 6XL","option1":"Black","option2":"6XL","option3":null,"sku":"UN16866-C001-S06X","requires_shipping":true,"taxable":false,"featured_image":{"id":30214182436953,"product_id":7145450668121,"position":22,"created_at":"2022-09-07T16:38:39-10:00","updated_at":"2022-09-07T16:38:39-10:00","alt":null,"width":800,"height":800,"src":"\/\/www.suerteyay.com\/cdn\/shop\/products\/8b9cc7c9808a81fc8db0eaf67a4d79d7_bee3acdd-2172-4557-9df3-bd4b8c611fe9.jpg?v=1662604719","variant_ids":[40203902451801,40203902484569,40203902517337,40203902550105,40203902582873,40203902615641,40203902648409,40203902681177,40203902713945]},"available":true,"name":"Court Style Corset Body Shaping Shapewear - Black \/ 6XL","public_title":"Black \/ 6XL","options":["Black","6XL"],"price":2699,"weight":0,"compare_at_price":5399,"inventory_management":null,"barcode":null,"featured_media":{"alt":null,"id":22754560049241,"position":22,"preview_image":{"aspect_ratio":1.0,"height":800,"width":800,"src":"\/\/www.suerteyay.com\/cdn\/shop\/products\/8b9cc7c9808a81fc8db0eaf67a4d79d7_bee3acdd-2172-4557-9df3-bd4b8c611fe9.jpg?v=1662604719"}},"requires_selling_plan":false,"selling_plan_allocations":[],"quantity_rule":{"min":1,"max":null,"increment":1}},{"id":40203902746713,"title":"Red \/ S","option1":"Red","option2":"S","option3":null,"sku":"UN16866-C002-S00S","requires_shipping":true,"taxable":false,"featured_image":{"id":30214182207577,"product_id":7145450668121,"position":21,"created_at":"2022-09-07T16:38:37-10:00","updated_at":"2022-09-07T16:38:37-10:00","alt":null,"width":800,"height":800,"src":"\/\/www.suerteyay.com\/cdn\/shop\/products\/520f764beb1954cab793b251ed2a5a3f_a18f157d-df86-49a4-9079-4b915de00a0a.jpg?v=1662604717","variant_ids":[40203902746713,40203902779481,40203902812249,40203902845017,40203902877785,40203902910553,40203902943321,40203902976089,40203903008857]},"available":true,"name":"Court Style Corset Body Shaping Shapewear - Red \/ S","public_title":"Red \/ S","options":["Red","S"],"price":2699,"weight":0,"compare_at_price":5399,"inventory_management":null,"barcode":null,"featured_media":{"alt":null,"id":22754559721561,"position":21,"preview_image":{"aspect_ratio":1.0,"height":800,"width":800,"src":"\/\/www.suerteyay.com\/cdn\/shop\/products\/520f764beb1954cab793b251ed2a5a3f_a18f157d-df86-49a4-9079-4b915de00a0a.jpg?v=1662604717"}},"requires_selling_plan":false,"selling_plan_allocations":[],"quantity_rule":{"min":1,"max":null,"increment":1}},{"id":40203902779481,"title":"Red \/ M","option1":"Red","option2":"M","option3":null,"sku":"UN16866-C002-S00M","requires_shipping":true,"taxable":false,"featured_image":{"id":30214182207577,"product_id":7145450668121,"position":21,"created_at":"2022-09-07T16:38:37-10:00","updated_at":"2022-09-07T16:38:37-10:00","alt":null,"width":800,"height":800,"src":"\/\/www.suerteyay.com\/cdn\/shop\/products\/520f764beb1954cab793b251ed2a5a3f_a18f157d-df86-49a4-9079-4b915de00a0a.jpg?v=1662604717","variant_ids":[40203902746713,40203902779481,40203902812249,40203902845017,40203902877785,40203902910553,40203902943321,40203902976089,40203903008857]},"available":true,"name":"Court Style Corset Body Shaping Shapewear - Red \/ M","public_title":"Red \/ M","options":["Red","M"],"price":2699,"weight":0,"compare_at_price":5399,"inventory_management":null,"barcode":null,"featured_media":{"alt":null,"id":22754559721561,"position":21,"preview_image":{"aspect_ratio":1.0,"height":800,"width":800,"src":"\/\/www.suerteyay.com\/cdn\/shop\/products\/520f764beb1954cab793b251ed2a5a3f_a18f157d-df86-49a4-9079-4b915de00a0a.jpg?v=1662604717"}},"requires_selling_plan":false,"selling_plan_allocations":[],"quantity_rule":{"min":1,"max":null,"increment":1}},{"id":40203902812249,"title":"Red \/ L","option1":"Red","option2":"L","option3":null,"sku":"UN16866-C002-S00L","requires_shipping":true,"taxable":false,"featured_image":{"id":30214182207577,"product_id":7145450668121,"position":21,"created_at":"2022-09-07T16:38:37-10:00","updated_at":"2022-09-07T16:38:37-10:00","alt":null,"width":800,"height":800,"src":"\/\/www.suerteyay.com\/cdn\/shop\/products\/520f764beb1954cab793b251ed2a5a3f_a18f157d-df86-49a4-9079-4b915de00a0a.jpg?v=1662604717","variant_ids":[40203902746713,40203902779481,40203902812249,40203902845017,40203902877785,40203902910553,40203902943321,40203902976089,40203903008857]},"available":true,"name":"Court Style Corset Body Shaping Shapewear - Red \/ L","public_title":"Red \/ L","options":["Red","L"],"price":2699,"weight":0,"compare_at_price":5399,"inventory_management":null,"barcode":null,"featured_media":{"alt":null,"id":22754559721561,"position":21,"preview_image":{"aspect_ratio":1.0,"height":800,"width":800,"src":"\/\/www.suerteyay.com\/cdn\/shop\/products\/520f764beb1954cab793b251ed2a5a3f_a18f157d-df86-49a4-9079-4b915de00a0a.jpg?v=1662604717"}},"requires_selling_plan":false,"selling_plan_allocations":[],"quantity_rule":{"min":1,"max":null,"increment":1}},{"id":40203902845017,"title":"Red \/ XL","option1":"Red","option2":"XL","option3":null,"sku":"UN16866-C002-S00X","requires_shipping":true,"taxable":false,"featured_image":{"id":30214182207577,"product_id":7145450668121,"position":21,"created_at":"2022-09-07T16:38:37-10:00","updated_at":"2022-09-07T16:38:37-10:00","alt":null,"width":800,"height":800,"src":"\/\/www.suerteyay.com\/cdn\/shop\/products\/520f764beb1954cab793b251ed2a5a3f_a18f157d-df86-49a4-9079-4b915de00a0a.jpg?v=1662604717","variant_ids":[40203902746713,40203902779481,40203902812249,40203902845017,40203902877785,40203902910553,40203902943321,40203902976089,40203903008857]},"available":true,"name":"Court Style Corset Body Shaping Shapewear - Red \/ XL","public_title":"Red \/ XL","options":["Red","XL"],"price":2699,"weight":0,"compare_at_price":5399,"inventory_management":null,"barcode":null,"featured_media":{"alt":null,"id":22754559721561,"position":21,"preview_image":{"aspect_ratio":1.0,"height":800,"width":800,"src":"\/\/www.suerteyay.com\/cdn\/shop\/products\/520f764beb1954cab793b251ed2a5a3f_a18f157d-df86-49a4-9079-4b915de00a0a.jpg?v=1662604717"}},"requires_selling_plan":false,"selling_plan_allocations":[],"quantity_rule":{"min":1,"max":null,"increment":1}},{"id":40203902877785,"title":"Red \/ 2XL","option1":"Red","option2":"2XL","option3":null,"sku":"UN16866-C002-S02X","requires_shipping":true,"taxable":false,"featured_image":{"id":30214182207577,"product_id":7145450668121,"position":21,"created_at":"2022-09-07T16:38:37-10:00","updated_at":"2022-09-07T16:38:37-10:00","alt":null,"width":800,"height":800,"src":"\/\/www.suerteyay.com\/cdn\/shop\/products\/520f764beb1954cab793b251ed2a5a3f_a18f157d-df86-49a4-9079-4b915de00a0a.jpg?v=1662604717","variant_ids":[40203902746713,40203902779481,40203902812249,40203902845017,40203902877785,40203902910553,40203902943321,40203902976089,40203903008857]},"available":true,"name":"Court Style Corset Body Shaping Shapewear - Red \/ 2XL","public_title":"Red \/ 2XL","options":["Red","2XL"],"price":2699,"weight":0,"compare_at_price":5399,"inventory_management":null,"barcode":null,"featured_media":{"alt":null,"id":22754559721561,"position":21,"preview_image":{"aspect_ratio":1.0,"height":800,"width":800,"src":"\/\/www.suerteyay.com\/cdn\/shop\/products\/520f764beb1954cab793b251ed2a5a3f_a18f157d-df86-49a4-9079-4b915de00a0a.jpg?v=1662604717"}},"requires_selling_plan":false,"selling_plan_allocations":[],"quantity_rule":{"min":1,"max":null,"increment":1}},{"id":40203902910553,"title":"Red \/ 3XL","option1":"Red","option2":"3XL","option3":null,"sku":"UN16866-C002-S03X","requires_shipping":true,"taxable":false,"featured_image":{"id":30214182207577,"product_id":7145450668121,"position":21,"created_at":"2022-09-07T16:38:37-10:00","updated_at":"2022-09-07T16:38:37-10:00","alt":null,"width":800,"height":800,"src":"\/\/www.suerteyay.com\/cdn\/shop\/products\/520f764beb1954cab793b251ed2a5a3f_a18f157d-df86-49a4-9079-4b915de00a0a.jpg?v=1662604717","variant_ids":[40203902746713,40203902779481,40203902812249,40203902845017,40203902877785,40203902910553,40203902943321,40203902976089,40203903008857]},"available":true,"name":"Court Style Corset Body Shaping Shapewear - Red \/ 3XL","public_title":"Red \/ 3XL","options":["Red","3XL"],"price":2699,"weight":0,"compare_at_price":5399,"inventory_management":null,"barcode":null,"featured_media":{"alt":null,"id":22754559721561,"position":21,"preview_image":{"aspect_ratio":1.0,"height":800,"width":800,"src":"\/\/www.suerteyay.com\/cdn\/shop\/products\/520f764beb1954cab793b251ed2a5a3f_a18f157d-df86-49a4-9079-4b915de00a0a.jpg?v=1662604717"}},"requires_selling_plan":false,"selling_plan_allocations":[],"quantity_rule":{"min":1,"max":null,"increment":1}},{"id":40203902943321,"title":"Red \/ 4XL","option1":"Red","option2":"4XL","option3":null,"sku":"UN16866-C002-S04X","requires_shipping":true,"taxable":false,"featured_image":{"id":30214182207577,"product_id":7145450668121,"position":21,"created_at":"2022-09-07T16:38:37-10:00","updated_at":"2022-09-07T16:38:37-10:00","alt":null,"width":800,"height":800,"src":"\/\/www.suerteyay.com\/cdn\/shop\/products\/520f764beb1954cab793b251ed2a5a3f_a18f157d-df86-49a4-9079-4b915de00a0a.jpg?v=1662604717","variant_ids":[40203902746713,40203902779481,40203902812249,40203902845017,40203902877785,40203902910553,40203902943321,40203902976089,40203903008857]},"available":true,"name":"Court Style Corset Body Shaping Shapewear - Red \/ 4XL","public_title":"Red \/ 4XL","options":["Red","4XL"],"price":2699,"weight":0,"compare_at_price":5399,"inventory_management":null,"barcode":null,"featured_media":{"alt":null,"id":22754559721561,"position":21,"preview_image":{"aspect_ratio":1.0,"height":800,"width":800,"src":"\/\/www.suerteyay.com\/cdn\/shop\/products\/520f764beb1954cab793b251ed2a5a3f_a18f157d-df86-49a4-9079-4b915de00a0a.jpg?v=1662604717"}},"requires_selling_plan":false,"selling_plan_allocations":[],"quantity_rule":{"min":1,"max":null,"increment":1}},{"id":40203902976089,"title":"Red \/ 5XL","option1":"Red","option2":"5XL","option3":null,"sku":"UN16866-C002-S05X","requires_shipping":true,"taxable":false,"featured_image":{"id":30214182207577,"product_id":7145450668121,"position":21,"created_at":"2022-09-07T16:38:37-10:00","updated_at":"2022-09-07T16:38:37-10:00","alt":null,"width":800,"height":800,"src":"\/\/www.suerteyay.com\/cdn\/shop\/products\/520f764beb1954cab793b251ed2a5a3f_a18f157d-df86-49a4-9079-4b915de00a0a.jpg?v=1662604717","variant_ids":[40203902746713,40203902779481,40203902812249,40203902845017,40203902877785,40203902910553,40203902943321,40203902976089,40203903008857]},"available":true,"name":"Court Style Corset Body Shaping Shapewear - Red \/ 5XL","public_title":"Red \/ 5XL","options":["Red","5XL"],"price":2699,"weight":0,"compare_at_price":5399,"inventory_management":null,"barcode":null,"featured_media":{"alt":null,"id":22754559721561,"position":21,"preview_image":{"aspect_ratio":1.0,"height":800,"width":800,"src":"\/\/www.suerteyay.com\/cdn\/shop\/products\/520f764beb1954cab793b251ed2a5a3f_a18f157d-df86-49a4-9079-4b915de00a0a.jpg?v=1662604717"}},"requires_selling_plan":false,"selling_plan_allocations":[],"quantity_rule":{"min":1,"max":null,"increment":1}},{"id":40203903008857,"title":"Red \/ 6XL","option1":"Red","option2":"6XL","option3":null,"sku":"UN16866-C002-S06X","requires_shipping":true,"taxable":false,"featured_image":{"id":30214182207577,"product_id":7145450668121,"position":21,"created_at":"2022-09-07T16:38:37-10:00","updated_at":"2022-09-07T16:38:37-10:00","alt":null,"width":800,"height":800,"src":"\/\/www.suerteyay.com\/cdn\/shop\/products\/520f764beb1954cab793b251ed2a5a3f_a18f157d-df86-49a4-9079-4b915de00a0a.jpg?v=1662604717","variant_ids":[40203902746713,40203902779481,40203902812249,40203902845017,40203902877785,40203902910553,40203902943321,40203902976089,40203903008857]},"available":true,"name":"Court Style Corset Body Shaping Shapewear - Red \/ 6XL","public_title":"Red \/ 6XL","options":["Red","6XL"],"price":2699,"weight":0,"compare_at_price":5399,"inventory_management":null,"barcode":null,"featured_media":{"alt":null,"id":22754559721561,"position":21,"preview_image":{"aspect_ratio":1.0,"height":800,"width":800,"src":"\/\/www.suerteyay.com\/cdn\/shop\/products\/520f764beb1954cab793b251ed2a5a3f_a18f157d-df86-49a4-9079-4b915de00a0a.jpg?v=1662604717"}},"requires_selling_plan":false,"selling_plan_allocations":[],"quantity_rule":{"min":1,"max":null,"increment":1}},{"id":40203903041625,"title":"Blue \/ S","option1":"Blue","option2":"S","option3":null,"sku":"UN16866-C008-S00S","requires_shipping":true,"taxable":false,"featured_image":{"id":30214182666329,"product_id":7145450668121,"position":23,"created_at":"2022-09-07T16:38:44-10:00","updated_at":"2022-09-07T16:38:44-10:00","alt":null,"width":800,"height":800,"src":"\/\/www.suerteyay.com\/cdn\/shop\/products\/000878ce6144c05ffac949f66b05a18b_d7c994dc-1a8f-4a7e-b0ae-775ce81ac4eb.jpg?v=1662604724","variant_ids":[40203903041625,40203903074393,40203903107161,40203903139929,40203903172697,40203903205465,40203903238233,40203903271001,40203903303769]},"available":true,"name":"Court Style Corset Body Shaping Shapewear - Blue \/ S","public_title":"Blue \/ S","options":["Blue","S"],"price":2699,"weight":0,"compare_at_price":5399,"inventory_management":null,"barcode":null,"featured_media":{"alt":null,"id":22754560278617,"position":23,"preview_image":{"aspect_ratio":1.0,"height":800,"width":800,"src":"\/\/www.suerteyay.com\/cdn\/shop\/products\/000878ce6144c05ffac949f66b05a18b_d7c994dc-1a8f-4a7e-b0ae-775ce81ac4eb.jpg?v=1662604724"}},"requires_selling_plan":false,"selling_plan_allocations":[],"quantity_rule":{"min":1,"max":null,"increment":1}},{"id":40203903074393,"title":"Blue \/ M","option1":"Blue","option2":"M","option3":null,"sku":"UN16866-C008-S00M","requires_shipping":true,"taxable":false,"featured_image":{"id":30214182666329,"product_id":7145450668121,"position":23,"created_at":"2022-09-07T16:38:44-10:00","updated_at":"2022-09-07T16:38:44-10:00","alt":null,"width":800,"height":800,"src":"\/\/www.suerteyay.com\/cdn\/shop\/products\/000878ce6144c05ffac949f66b05a18b_d7c994dc-1a8f-4a7e-b0ae-775ce81ac4eb.jpg?v=1662604724","variant_ids":[40203903041625,40203903074393,40203903107161,40203903139929,40203903172697,40203903205465,40203903238233,40203903271001,40203903303769]},"available":true,"name":"Court Style Corset Body Shaping Shapewear - Blue \/ M","public_title":"Blue \/ M","options":["Blue","M"],"price":2699,"weight":0,"compare_at_price":5399,"inventory_management":null,"barcode":null,"featured_media":{"alt":null,"id":22754560278617,"position":23,"preview_image":{"aspect_ratio":1.0,"height":800,"width":800,"src":"\/\/www.suerteyay.com\/cdn\/shop\/products\/000878ce6144c05ffac949f66b05a18b_d7c994dc-1a8f-4a7e-b0ae-775ce81ac4eb.jpg?v=1662604724"}},"requires_selling_plan":false,"selling_plan_allocations":[],"quantity_rule":{"min":1,"max":null,"increment":1}},{"id":40203903107161,"title":"Blue \/ L","option1":"Blue","option2":"L","option3":null,"sku":"UN16866-C008-S00L","requires_shipping":true,"taxable":false,"featured_image":{"id":30214182666329,"product_id":7145450668121,"position":23,"created_at":"2022-09-07T16:38:44-10:00","updated_at":"2022-09-07T16:38:44-10:00","alt":null,"width":800,"height":800,"src":"\/\/www.suerteyay.com\/cdn\/shop\/products\/000878ce6144c05ffac949f66b05a18b_d7c994dc-1a8f-4a7e-b0ae-775ce81ac4eb.jpg?v=1662604724","variant_ids":[40203903041625,40203903074393,40203903107161,40203903139929,40203903172697,40203903205465,40203903238233,40203903271001,40203903303769]},"available":true,"name":"Court Style Corset Body Shaping Shapewear - Blue \/ L","public_title":"Blue \/ L","options":["Blue","L"],"price":2699,"weight":0,"compare_at_price":5399,"inventory_management":null,"barcode":null,"featured_media":{"alt":null,"id":22754560278617,"position":23,"preview_image":{"aspect_ratio":1.0,"height":800,"width":800,"src":"\/\/www.suerteyay.com\/cdn\/shop\/products\/000878ce6144c05ffac949f66b05a18b_d7c994dc-1a8f-4a7e-b0ae-775ce81ac4eb.jpg?v=1662604724"}},"requires_selling_plan":false,"selling_plan_allocations":[],"quantity_rule":{"min":1,"max":null,"increment":1}},{"id":40203903139929,"title":"Blue \/ XL","option1":"Blue","option2":"XL","option3":null,"sku":"UN16866-C008-S00X","requires_shipping":true,"taxable":false,"featured_image":{"id":30214182666329,"product_id":7145450668121,"position":23,"created_at":"2022-09-07T16:38:44-10:00","updated_at":"2022-09-07T16:38:44-10:00","alt":null,"width":800,"height":800,"src":"\/\/www.suerteyay.com\/cdn\/shop\/products\/000878ce6144c05ffac949f66b05a18b_d7c994dc-1a8f-4a7e-b0ae-775ce81ac4eb.jpg?v=1662604724","variant_ids":[40203903041625,40203903074393,40203903107161,40203903139929,40203903172697,40203903205465,40203903238233,40203903271001,40203903303769]},"available":true,"name":"Court Style Corset Body Shaping Shapewear - Blue \/ XL","public_title":"Blue \/ XL","options":["Blue","XL"],"price":2699,"weight":0,"compare_at_price":5399,"inventory_management":null,"barcode":null,"featured_media":{"alt":null,"id":22754560278617,"position":23,"preview_image":{"aspect_ratio":1.0,"height":800,"width":800,"src":"\/\/www.suerteyay.com\/cdn\/shop\/products\/000878ce6144c05ffac949f66b05a18b_d7c994dc-1a8f-4a7e-b0ae-775ce81ac4eb.jpg?v=1662604724"}},"requires_selling_plan":false,"selling_plan_allocations":[],"quantity_rule":{"min":1,"max":null,"increment":1}},{"id":40203903172697,"title":"Blue \/ 2XL","option1":"Blue","option2":"2XL","option3":null,"sku":"UN16866-C008-S02X","requires_shipping":true,"taxable":false,"featured_image":{"id":30214182666329,"product_id":7145450668121,"position":23,"created_at":"2022-09-07T16:38:44-10:00","updated_at":"2022-09-07T16:38:44-10:00","alt":null,"width":800,"height":800,"src":"\/\/www.suerteyay.com\/cdn\/shop\/products\/000878ce6144c05ffac949f66b05a18b_d7c994dc-1a8f-4a7e-b0ae-775ce81ac4eb.jpg?v=1662604724","variant_ids":[40203903041625,40203903074393,40203903107161,40203903139929,40203903172697,40203903205465,40203903238233,40203903271001,40203903303769]},"available":true,"name":"Court Style Corset Body Shaping Shapewear - Blue \/ 2XL","public_title":"Blue \/ 2XL","options":["Blue","2XL"],"price":2699,"weight":0,"compare_at_price":5399,"inventory_management":null,"barcode":null,"featured_media":{"alt":null,"id":22754560278617,"position":23,"preview_image":{"aspect_ratio":1.0,"height":800,"width":800,"src":"\/\/www.suerteyay.com\/cdn\/shop\/products\/000878ce6144c05ffac949f66b05a18b_d7c994dc-1a8f-4a7e-b0ae-775ce81ac4eb.jpg?v=1662604724"}},"requires_selling_plan":false,"selling_plan_allocations":[],"quantity_rule":{"min":1,"max":null,"increment":1}},{"id":40203903205465,"title":"Blue \/ 3XL","option1":"Blue","option2":"3XL","option3":null,"sku":"UN16866-C008-S03X","requires_shipping":true,"taxable":false,"featured_image":{"id":30214182666329,"product_id":7145450668121,"position":23,"created_at":"2022-09-07T16:38:44-10:00","updated_at":"2022-09-07T16:38:44-10:00","alt":null,"width":800,"height":800,"src":"\/\/www.suerteyay.com\/cdn\/shop\/products\/000878ce6144c05ffac949f66b05a18b_d7c994dc-1a8f-4a7e-b0ae-775ce81ac4eb.jpg?v=1662604724","variant_ids":[40203903041625,40203903074393,40203903107161,40203903139929,40203903172697,40203903205465,40203903238233,40203903271001,40203903303769]},"available":true,"name":"Court Style Corset Body Shaping Shapewear - Blue \/ 3XL","public_title":"Blue \/ 3XL","options":["Blue","3XL"],"price":2699,"weight":0,"compare_at_price":5399,"inventory_management":null,"barcode":null,"featured_media":{"alt":null,"id":22754560278617,"position":23,"preview_image":{"aspect_ratio":1.0,"height":800,"width":800,"src":"\/\/www.suerteyay.com\/cdn\/shop\/products\/000878ce6144c05ffac949f66b05a18b_d7c994dc-1a8f-4a7e-b0ae-775ce81ac4eb.jpg?v=1662604724"}},"requires_selling_plan":false,"selling_plan_allocations":[],"quantity_rule":{"min":1,"max":null,"increment":1}},{"id":40203903238233,"title":"Blue \/ 4XL","option1":"Blue","option2":"4XL","option3":null,"sku":"UN16866-C008-S04X","requires_shipping":true,"taxable":false,"featured_image":{"id":30214182666329,"product_id":7145450668121,"position":23,"created_at":"2022-09-07T16:38:44-10:00","updated_at":"2022-09-07T16:38:44-10:00","alt":null,"width":800,"height":800,"src":"\/\/www.suerteyay.com\/cdn\/shop\/products\/000878ce6144c05ffac949f66b05a18b_d7c994dc-1a8f-4a7e-b0ae-775ce81ac4eb.jpg?v=1662604724","variant_ids":[40203903041625,40203903074393,40203903107161,40203903139929,40203903172697,40203903205465,40203903238233,40203903271001,40203903303769]},"available":true,"name":"Court Style Corset Body Shaping Shapewear - Blue \/ 4XL","public_title":"Blue \/ 4XL","options":["Blue","4XL"],"price":2699,"weight":0,"compare_at_price":5399,"inventory_management":null,"barcode":null,"featured_media":{"alt":null,"id":22754560278617,"position":23,"preview_image":{"aspect_ratio":1.0,"height":800,"width":800,"src":"\/\/www.suerteyay.com\/cdn\/shop\/products\/000878ce6144c05ffac949f66b05a18b_d7c994dc-1a8f-4a7e-b0ae-775ce81ac4eb.jpg?v=1662604724"}},"requires_selling_plan":false,"selling_plan_allocations":[],"quantity_rule":{"min":1,"max":null,"increment":1}},{"id":40203903271001,"title":"Blue \/ 5XL","option1":"Blue","option2":"5XL","option3":null,"sku":"UN16866-C008-S05X","requires_shipping":true,"taxable":false,"featured_image":{"id":30214182666329,"product_id":7145450668121,"position":23,"created_at":"2022-09-07T16:38:44-10:00","updated_at":"2022-09-07T16:38:44-10:00","alt":null,"width":800,"height":800,"src":"\/\/www.suerteyay.com\/cdn\/shop\/products\/000878ce6144c05ffac949f66b05a18b_d7c994dc-1a8f-4a7e-b0ae-775ce81ac4eb.jpg?v=1662604724","variant_ids":[40203903041625,40203903074393,40203903107161,40203903139929,40203903172697,40203903205465,40203903238233,40203903271001,40203903303769]},"available":true,"name":"Court Style Corset Body Shaping Shapewear - Blue \/ 5XL","public_title":"Blue \/ 5XL","options":["Blue","5XL"],"price":2699,"weight":0,"compare_at_price":5399,"inventory_management":null,"barcode":null,"featured_media":{"alt":null,"id":22754560278617,"position":23,"preview_image":{"aspect_ratio":1.0,"height":800,"width":800,"src":"\/\/www.suerteyay.com\/cdn\/shop\/products\/000878ce6144c05ffac949f66b05a18b_d7c994dc-1a8f-4a7e-b0ae-775ce81ac4eb.jpg?v=1662604724"}},"requires_selling_plan":false,"selling_plan_allocations":[],"quantity_rule":{"min":1,"max":null,"increment":1}},{"id":40203903303769,"title":"Blue \/ 6XL","option1":"Blue","option2":"6XL","option3":null,"sku":"UN16866-C008-S06X","requires_shipping":true,"taxable":false,"featured_image":{"id":30214182666329,"product_id":7145450668121,"position":23,"created_at":"2022-09-07T16:38:44-10:00","updated_at":"2022-09-07T16:38:44-10:00","alt":null,"width":800,"height":800,"src":"\/\/www.suerteyay.com\/cdn\/shop\/products\/000878ce6144c05ffac949f66b05a18b_d7c994dc-1a8f-4a7e-b0ae-775ce81ac4eb.jpg?v=1662604724","variant_ids":[40203903041625,40203903074393,40203903107161,40203903139929,40203903172697,40203903205465,40203903238233,40203903271001,40203903303769]},"available":true,"name":"Court Style Corset Body Shaping Shapewear - Blue \/ 6XL","public_title":"Blue \/ 6XL","options":["Blue","6XL"],"price":2699,"weight":0,"compare_at_price":5399,"inventory_management":null,"barcode":null,"featured_media":{"alt":null,"id":22754560278617,"position":23,"preview_image":{"aspect_ratio":1.0,"height":800,"width":800,"src":"\/\/www.suerteyay.com\/cdn\/shop\/products\/000878ce6144c05ffac949f66b05a18b_d7c994dc-1a8f-4a7e-b0ae-775ce81ac4eb.jpg?v=1662604724"}},"requires_selling_plan":false,"selling_plan_allocations":[],"quantity_rule":{"min":1,"max":null,"increment":1}}],"images":["\/\/www.suerteyay.com\/cdn\/shop\/products\/01_c964c097-5366-4b0d-8fad-336e3963fcde.jpg?v=1662604711","\/\/www.suerteyay.com\/cdn\/shop\/products\/02_ac4baaa4-9a71-41a4-bd82-507111607749.jpg?v=1662604711","\/\/www.suerteyay.com\/cdn\/shop\/products\/03_06b0c6ca-ec00-4b9f-ad9e-7892cbb145b7.jpg?v=1662604711","\/\/www.suerteyay.com\/cdn\/shop\/products\/04_4e82b597-1502-4545-863b-a615d339e96b.jpg?v=1662604711","\/\/www.suerteyay.com\/cdn\/shop\/products\/05_2d2014b2-9ab6-4217-8ff0-81e52fbea132.jpg?v=1662604711","\/\/www.suerteyay.com\/cdn\/shop\/products\/06_ba204ad7-9882-470a-9ab9-46f9f8122664.jpg?v=1662604711","\/\/www.suerteyay.com\/cdn\/shop\/products\/07_056ca124-f2ff-47b6-b58f-69ce9da72ce5.jpg?v=1662604711","\/\/www.suerteyay.com\/cdn\/shop\/products\/08_86f585ae-139b-4d66-8291-a1284143db01.jpg?v=1662604711","\/\/www.suerteyay.com\/cdn\/shop\/products\/09_3aee87b4-13e0-48c5-8a2a-bb3492db7600.jpg?v=1662604711","\/\/www.suerteyay.com\/cdn\/shop\/products\/10_5140115a-9763-4de3-ba90-f02b7b9d8b5b.jpg?v=1662604711","\/\/www.suerteyay.com\/cdn\/shop\/products\/11_450cc341-3314-4284-adff-fa66de499c30.jpg?v=1662604711","\/\/www.suerteyay.com\/cdn\/shop\/products\/12_87a6fcce-08ea-4083-973d-443a62239516.jpg?v=1662604711","\/\/www.suerteyay.com\/cdn\/shop\/products\/13_aad6c33e-0023-4bf3-8670-6404b642b6ec.jpg?v=1662604711","\/\/www.suerteyay.com\/cdn\/shop\/products\/d92e076f69cb1a6f81c9bab8cd8f57a2_57da5ca9-522a-4c38-87db-d28483efa468.jpg?v=1662604711","\/\/www.suerteyay.com\/cdn\/shop\/products\/1_946e291e-07e6-4e2b-81ab-e689b36a6739.jpg?v=1662604711","\/\/www.suerteyay.com\/cdn\/shop\/products\/2_eabae165-6b4b-412a-8fea-7637ee68be9b.jpg?v=1662604711","\/\/www.suerteyay.com\/cdn\/shop\/products\/8b9cc7c9808a81fc8db0eaf67a4d79d7_33c46825-d196-4ac5-b826-25eacae14e04.jpg?v=1662604711","\/\/www.suerteyay.com\/cdn\/shop\/products\/520f764beb1954cab793b251ed2a5a3f_6ebdc971-6a48-4119-a8f1-ba7aae4c52cf.jpg?v=1662604711","\/\/www.suerteyay.com\/cdn\/shop\/products\/000878ce6144c05ffac949f66b05a18b_90db73d9-7a72-4abd-ad4e-91120342f267.jpg?v=1662604711","\/\/www.suerteyay.com\/cdn\/shop\/products\/d92e076f69cb1a6f81c9bab8cd8f57a2_76b8e0c2-843e-46c0-bcbd-db74e97c191d.jpg?v=1662604715","\/\/www.suerteyay.com\/cdn\/shop\/products\/520f764beb1954cab793b251ed2a5a3f_a18f157d-df86-49a4-9079-4b915de00a0a.jpg?v=1662604717","\/\/www.suerteyay.com\/cdn\/shop\/products\/8b9cc7c9808a81fc8db0eaf67a4d79d7_bee3acdd-2172-4557-9df3-bd4b8c611fe9.jpg?v=1662604719","\/\/www.suerteyay.com\/cdn\/shop\/products\/000878ce6144c05ffac949f66b05a18b_d7c994dc-1a8f-4a7e-b0ae-775ce81ac4eb.jpg?v=1662604724"],"featured_image":"\/\/www.suerteyay.com\/cdn\/shop\/products\/01_c964c097-5366-4b0d-8fad-336e3963fcde.jpg?v=1662604711","options":["Color","Size"],"media":[{"alt":null,"id":22754558967897,"position":1,"preview_image":{"aspect_ratio":1.0,"height":800,"width":800,"src":"\/\/www.suerteyay.com\/cdn\/shop\/products\/01_c964c097-5366-4b0d-8fad-336e3963fcde.jpg?v=1662604711"},"aspect_ratio":1.0,"height":800,"media_type":"image","src":"\/\/www.suerteyay.com\/cdn\/shop\/products\/01_c964c097-5366-4b0d-8fad-336e3963fcde.jpg?v=1662604711","width":800},{"alt":null,"id":22754559000665,"position":2,"preview_image":{"aspect_ratio":1.0,"height":800,"width":800,"src":"\/\/www.suerteyay.com\/cdn\/shop\/products\/02_ac4baaa4-9a71-41a4-bd82-507111607749.jpg?v=1662604711"},"aspect_ratio":1.0,"height":800,"media_type":"image","src":"\/\/www.suerteyay.com\/cdn\/shop\/products\/02_ac4baaa4-9a71-41a4-bd82-507111607749.jpg?v=1662604711","width":800},{"alt":null,"id":22754559033433,"position":3,"preview_image":{"aspect_ratio":1.0,"height":800,"width":800,"src":"\/\/www.suerteyay.com\/cdn\/shop\/products\/03_06b0c6ca-ec00-4b9f-ad9e-7892cbb145b7.jpg?v=1662604711"},"aspect_ratio":1.0,"height":800,"media_type":"image","src":"\/\/www.suerteyay.com\/cdn\/shop\/products\/03_06b0c6ca-ec00-4b9f-ad9e-7892cbb145b7.jpg?v=1662604711","width":800},{"alt":null,"id":22754559066201,"position":4,"preview_image":{"aspect_ratio":1.0,"height":800,"width":800,"src":"\/\/www.suerteyay.com\/cdn\/shop\/products\/04_4e82b597-1502-4545-863b-a615d339e96b.jpg?v=1662604711"},"aspect_ratio":1.0,"height":800,"media_type":"image","src":"\/\/www.suerteyay.com\/cdn\/shop\/products\/04_4e82b597-1502-4545-863b-a615d339e96b.jpg?v=1662604711","width":800},{"alt":null,"id":22754559098969,"position":5,"preview_image":{"aspect_ratio":1.0,"height":800,"width":800,"src":"\/\/www.suerteyay.com\/cdn\/shop\/products\/05_2d2014b2-9ab6-4217-8ff0-81e52fbea132.jpg?v=1662604711"},"aspect_ratio":1.0,"height":800,"media_type":"image","src":"\/\/www.suerteyay.com\/cdn\/shop\/products\/05_2d2014b2-9ab6-4217-8ff0-81e52fbea132.jpg?v=1662604711","width":800},{"alt":null,"id":22754559131737,"position":6,"preview_image":{"aspect_ratio":1.0,"height":800,"width":800,"src":"\/\/www.suerteyay.com\/cdn\/shop\/products\/06_ba204ad7-9882-470a-9ab9-46f9f8122664.jpg?v=1662604711"},"aspect_ratio":1.0,"height":800,"media_type":"image","src":"\/\/www.suerteyay.com\/cdn\/shop\/products\/06_ba204ad7-9882-470a-9ab9-46f9f8122664.jpg?v=1662604711","width":800},{"alt":null,"id":22754559164505,"position":7,"preview_image":{"aspect_ratio":1.0,"height":800,"width":800,"src":"\/\/www.suerteyay.com\/cdn\/shop\/products\/07_056ca124-f2ff-47b6-b58f-69ce9da72ce5.jpg?v=1662604711"},"aspect_ratio":1.0,"height":800,"media_type":"image","src":"\/\/www.suerteyay.com\/cdn\/shop\/products\/07_056ca124-f2ff-47b6-b58f-69ce9da72ce5.jpg?v=1662604711","width":800},{"alt":null,"id":22754559197273,"position":8,"preview_image":{"aspect_ratio":1.0,"height":800,"width":800,"src":"\/\/www.suerteyay.com\/cdn\/shop\/products\/08_86f585ae-139b-4d66-8291-a1284143db01.jpg?v=1662604711"},"aspect_ratio":1.0,"height":800,"media_type":"image","src":"\/\/www.suerteyay.com\/cdn\/shop\/products\/08_86f585ae-139b-4d66-8291-a1284143db01.jpg?v=1662604711","width":800},{"alt":null,"id":22754559230041,"position":9,"preview_image":{"aspect_ratio":1.0,"height":800,"width":800,"src":"\/\/www.suerteyay.com\/cdn\/shop\/products\/09_3aee87b4-13e0-48c5-8a2a-bb3492db7600.jpg?v=1662604711"},"aspect_ratio":1.0,"height":800,"media_type":"image","src":"\/\/www.suerteyay.com\/cdn\/shop\/products\/09_3aee87b4-13e0-48c5-8a2a-bb3492db7600.jpg?v=1662604711","width":800},{"alt":null,"id":22754559262809,"position":10,"preview_image":{"aspect_ratio":1.0,"height":800,"width":800,"src":"\/\/www.suerteyay.com\/cdn\/shop\/products\/10_5140115a-9763-4de3-ba90-f02b7b9d8b5b.jpg?v=1662604711"},"aspect_ratio":1.0,"height":800,"media_type":"image","src":"\/\/www.suerteyay.com\/cdn\/shop\/products\/10_5140115a-9763-4de3-ba90-f02b7b9d8b5b.jpg?v=1662604711","width":800},{"alt":null,"id":22754559295577,"position":11,"preview_image":{"aspect_ratio":1.0,"height":800,"width":800,"src":"\/\/www.suerteyay.com\/cdn\/shop\/products\/11_450cc341-3314-4284-adff-fa66de499c30.jpg?v=1662604711"},"aspect_ratio":1.0,"height":800,"media_type":"image","src":"\/\/www.suerteyay.com\/cdn\/shop\/products\/11_450cc341-3314-4284-adff-fa66de499c30.jpg?v=1662604711","width":800},{"alt":null,"id":22754559328345,"position":12,"preview_image":{"aspect_ratio":1.0,"height":800,"width":800,"src":"\/\/www.suerteyay.com\/cdn\/shop\/products\/12_87a6fcce-08ea-4083-973d-443a62239516.jpg?v=1662604711"},"aspect_ratio":1.0,"height":800,"media_type":"image","src":"\/\/www.suerteyay.com\/cdn\/shop\/products\/12_87a6fcce-08ea-4083-973d-443a62239516.jpg?v=1662604711","width":800},{"alt":null,"id":22754559361113,"position":13,"preview_image":{"aspect_ratio":1.0,"height":800,"width":800,"src":"\/\/www.suerteyay.com\/cdn\/shop\/products\/13_aad6c33e-0023-4bf3-8670-6404b642b6ec.jpg?v=1662604711"},"aspect_ratio":1.0,"height":800,"media_type":"image","src":"\/\/www.suerteyay.com\/cdn\/shop\/products\/13_aad6c33e-0023-4bf3-8670-6404b642b6ec.jpg?v=1662604711","width":800},{"alt":null,"id":22754559393881,"position":14,"preview_image":{"aspect_ratio":1.0,"height":800,"width":800,"src":"\/\/www.suerteyay.com\/cdn\/shop\/products\/d92e076f69cb1a6f81c9bab8cd8f57a2_57da5ca9-522a-4c38-87db-d28483efa468.jpg?v=1662604711"},"aspect_ratio":1.0,"height":800,"media_type":"image","src":"\/\/www.suerteyay.com\/cdn\/shop\/products\/d92e076f69cb1a6f81c9bab8cd8f57a2_57da5ca9-522a-4c38-87db-d28483efa468.jpg?v=1662604711","width":800},{"alt":null,"id":22754559426649,"position":15,"preview_image":{"aspect_ratio":1.0,"height":800,"width":800,"src":"\/\/www.suerteyay.com\/cdn\/shop\/products\/1_946e291e-07e6-4e2b-81ab-e689b36a6739.jpg?v=1662604711"},"aspect_ratio":1.0,"height":800,"media_type":"image","src":"\/\/www.suerteyay.com\/cdn\/shop\/products\/1_946e291e-07e6-4e2b-81ab-e689b36a6739.jpg?v=1662604711","width":800},{"alt":null,"id":22754559459417,"position":16,"preview_image":{"aspect_ratio":1.0,"height":800,"width":800,"src":"\/\/www.suerteyay.com\/cdn\/shop\/products\/2_eabae165-6b4b-412a-8fea-7637ee68be9b.jpg?v=1662604711"},"aspect_ratio":1.0,"height":800,"media_type":"image","src":"\/\/www.suerteyay.com\/cdn\/shop\/products\/2_eabae165-6b4b-412a-8fea-7637ee68be9b.jpg?v=1662604711","width":800},{"alt":null,"id":22754559492185,"position":17,"preview_image":{"aspect_ratio":1.0,"height":800,"width":800,"src":"\/\/www.suerteyay.com\/cdn\/shop\/products\/8b9cc7c9808a81fc8db0eaf67a4d79d7_33c46825-d196-4ac5-b826-25eacae14e04.jpg?v=1662604711"},"aspect_ratio":1.0,"height":800,"media_type":"image","src":"\/\/www.suerteyay.com\/cdn\/shop\/products\/8b9cc7c9808a81fc8db0eaf67a4d79d7_33c46825-d196-4ac5-b826-25eacae14e04.jpg?v=1662604711","width":800},{"alt":null,"id":22754559524953,"position":18,"preview_image":{"aspect_ratio":1.0,"height":800,"width":800,"src":"\/\/www.suerteyay.com\/cdn\/shop\/products\/520f764beb1954cab793b251ed2a5a3f_6ebdc971-6a48-4119-a8f1-ba7aae4c52cf.jpg?v=1662604711"},"aspect_ratio":1.0,"height":800,"media_type":"image","src":"\/\/www.suerteyay.com\/cdn\/shop\/products\/520f764beb1954cab793b251ed2a5a3f_6ebdc971-6a48-4119-a8f1-ba7aae4c52cf.jpg?v=1662604711","width":800},{"alt":null,"id":22754559557721,"position":19,"preview_image":{"aspect_ratio":1.0,"height":800,"width":800,"src":"\/\/www.suerteyay.com\/cdn\/shop\/products\/000878ce6144c05ffac949f66b05a18b_90db73d9-7a72-4abd-ad4e-91120342f267.jpg?v=1662604711"},"aspect_ratio":1.0,"height":800,"media_type":"image","src":"\/\/www.suerteyay.com\/cdn\/shop\/products\/000878ce6144c05ffac949f66b05a18b_90db73d9-7a72-4abd-ad4e-91120342f267.jpg?v=1662604711","width":800},{"alt":null,"id":22754559688793,"position":20,"preview_image":{"aspect_ratio":1.0,"height":800,"width":800,"src":"\/\/www.suerteyay.com\/cdn\/shop\/products\/d92e076f69cb1a6f81c9bab8cd8f57a2_76b8e0c2-843e-46c0-bcbd-db74e97c191d.jpg?v=1662604715"},"aspect_ratio":1.0,"height":800,"media_type":"image","src":"\/\/www.suerteyay.com\/cdn\/shop\/products\/d92e076f69cb1a6f81c9bab8cd8f57a2_76b8e0c2-843e-46c0-bcbd-db74e97c191d.jpg?v=1662604715","width":800},{"alt":null,"id":22754559721561,"position":21,"preview_image":{"aspect_ratio":1.0,"height":800,"width":800,"src":"\/\/www.suerteyay.com\/cdn\/shop\/products\/520f764beb1954cab793b251ed2a5a3f_a18f157d-df86-49a4-9079-4b915de00a0a.jpg?v=1662604717"},"aspect_ratio":1.0,"height":800,"media_type":"image","src":"\/\/www.suerteyay.com\/cdn\/shop\/products\/520f764beb1954cab793b251ed2a5a3f_a18f157d-df86-49a4-9079-4b915de00a0a.jpg?v=1662604717","width":800},{"alt":null,"id":22754560049241,"position":22,"preview_image":{"aspect_ratio":1.0,"height":800,"width":800,"src":"\/\/www.suerteyay.com\/cdn\/shop\/products\/8b9cc7c9808a81fc8db0eaf67a4d79d7_bee3acdd-2172-4557-9df3-bd4b8c611fe9.jpg?v=1662604719"},"aspect_ratio":1.0,"height":800,"media_type":"image","src":"\/\/www.suerteyay.com\/cdn\/shop\/products\/8b9cc7c9808a81fc8db0eaf67a4d79d7_bee3acdd-2172-4557-9df3-bd4b8c611fe9.jpg?v=1662604719","width":800},{"alt":null,"id":22754560278617,"position":23,"preview_image":{"aspect_ratio":1.0,"height":800,"width":800,"src":"\/\/www.suerteyay.com\/cdn\/shop\/products\/000878ce6144c05ffac949f66b05a18b_d7c994dc-1a8f-4a7e-b0ae-775ce81ac4eb.jpg?v=1662604724"},"aspect_ratio":1.0,"height":800,"media_type":"image","src":"\/\/www.suerteyay.com\/cdn\/shop\/products\/000878ce6144c05ffac949f66b05a18b_d7c994dc-1a8f-4a7e-b0ae-775ce81ac4eb.jpg?v=1662604724","width":800}],"requires_selling_plan":false,"selling_plan_groups":[],"content":"\u003ch3 data-mce-fragment=\"1\"\u003e\u003cspan style=\"color: #ff2a00;\" data-mce-fragment=\"1\"\u003eFEATURES\u003c\/span\u003e\u003c\/h3\u003e\n\u003cul\u003e\n\u003cli\u003e\n\u003cp\u003e\u003cspan data-mce-fragment=\"1\"\u003e360 degrees of firm control,trimming waist, tummy and hips,Breathable and comfortable shell design, Wide and Adjustable strap.\u003c\/span\u003e\u003c\/p\u003e\n\u003c\/li\u003e\n\u003c\/ul\u003e\n\u003cdiv\u003e\u003cimg src=\"https:\/\/cdn.shopifycdn.net\/s\/files\/1\/0356\/3048\/1544\/products\/2_eabae165-6b4b-412a-8fea-7637ee68be9b_480x480.jpg?v=1661825825\" alt=\"\" style=\"display: block; margin-left: auto; margin-right: auto;\" data-mce-fragment=\"1\" data-mce-src=\"https:\/\/cdn.shopifycdn.net\/s\/files\/1\/0356\/3048\/1544\/products\/2_eabae165-6b4b-412a-8fea-7637ee68be9b_480x480.jpg?v=1661825825\"\u003e\u003c\/div\u003e\n\u003cul\u003e\n\u003cli\u003e\n\u003cp\u003eShaping Your Little Bend, shape your body, lift your buttocks and close your abdomen.\u003c\/p\u003e\n\u003c\/li\u003e\n\u003c\/ul\u003e\n\u003cdiv\u003e\u003cimg src=\"https:\/\/cdn.shopifycdn.net\/s\/files\/1\/0356\/3048\/1544\/files\/01_c609d982-1883-4ee9-b0f1-3ae5aa91f610_480x480.jpg?v=1661826204\" alt=\"\" style=\"display: block; margin-left: auto; margin-right: auto;\" data-mce-fragment=\"1\" data-mce-src=\"https:\/\/cdn.shopifycdn.net\/s\/files\/1\/0356\/3048\/1544\/files\/01_c609d982-1883-4ee9-b0f1-3ae5aa91f610_480x480.jpg?v=1661826204\"\u003e\u003c\/div\u003e\n\u003cul\u003e\n\u003cli\u003e\n\u003cp\u003eSoft elastic comfortable waist to let your body breath naturally.\u003c\/p\u003e\n\u003c\/li\u003e\n\u003c\/ul\u003e\n\u003cdiv\u003e\u003cimg src=\"https:\/\/cdn.shopifycdn.net\/s\/files\/1\/0356\/3048\/1544\/files\/1_4c04c13b-74ac-4e13-95a2-f84c03ffd931_480x480.jpg?v=1661826251\" alt=\"\" style=\"display: block; margin-left: auto; margin-right: auto;\" data-mce-fragment=\"1\" data-mce-src=\"https:\/\/cdn.shopifycdn.net\/s\/files\/1\/0356\/3048\/1544\/files\/1_4c04c13b-74ac-4e13-95a2-f84c03ffd931_480x480.jpg?v=1661826251\"\u003e\u003c\/div\u003e\n\u003cul\u003e\n\u003cli\u003e\n\u003cp\u003eWear the Shaper under jacket or dress around the house, Maximum comfort and freedom of movement, Wear Your Own Bra feature for fit flexibility.\u003c\/p\u003e\n\u003c\/li\u003e\n\u003c\/ul\u003e\n\u003ch3 data-mce-fragment=\"1\"\u003e\u003cspan style=\"color: #ff2a00;\" data-mce-fragment=\"1\"\u003eSPECIFICATIONS\u003c\/span\u003e\u003c\/h3\u003e\n\u003cul data-mce-fragment=\"1\"\u003e\n\u003cli data-mce-fragment=\"1\"\u003e\n\u003cp data-mce-fragment=\"1\"\u003e\u003cstrong data-mce-fragment=\"1\"\u003e\u003c\/strong\u003e\u003cstrong data-mce-fragment=\"1\"\u003eWeight:\u003c\/strong\u003e\u003cspan data-mce-fragment=\"1\"\u003e 210\u003c\/span\u003eg\u003c\/p\u003e\n\u003c\/li\u003e\n\u003cli data-mce-fragment=\"1\"\u003e\n\u003cp data-mce-fragment=\"1\"\u003e\u003cstrong data-mce-fragment=\"1\"\u003eColor:\u003c\/strong\u003e\u003cspan data-mce-fragment=\"1\"\u003e \u003cspan class=\"Polaris-Badge_2qgie\" data-mce-fragment=\"1\"\u003eWhite, \u003c\/span\u003e\u003cspan class=\"Polaris-Badge_2qgie\" data-mce-fragment=\"1\"\u003eBlack, \u003c\/span\u003e\u003cspan class=\"Polaris-Badge_2qgie\" data-mce-fragment=\"1\"\u003eRed, \u003c\/span\u003e\u003cspan class=\"Polaris-Badge_2qgie\" data-mce-fragment=\"1\"\u003eBlue\u003c\/span\u003e\u003c\/span\u003e\u003c\/p\u003e\n\u003c\/li\u003e\n\u003cli data-mce-fragment=\"1\"\u003e\n\u003cp data-mce-fragment=\"1\"\u003e\u003cstrong data-mce-fragment=\"1\"\u003eMaterial: \u003c\/strong\u003ePolyester, Cotton\u003c\/p\u003e\n\u003c\/li\u003e\n\u003cli data-mce-fragment=\"1\"\u003e\n\u003cp data-mce-fragment=\"1\"\u003e\u003cstrong data-mce-fragment=\"1\"\u003eSize:\u003cspan data-mce-fragment=\"1\"\u003e \u003c\/span\u003e\u003c\/strong\u003e\u003c\/p\u003e\n\u003c\/li\u003e\n\u003c\/ul\u003e\n\u003ctable style=\"width: 80.6384%;\"\u003e\n\u003ctbody\u003e\n\u003ctr\u003e\n\u003ctd style=\"width: 20.9699%; text-align: center;\"\u003eSize(cm\/in)\u003c\/td\u003e\n\u003ctd style=\"width: 27.0301%; text-align: center;\"\u003eBust\u003c\/td\u003e\n\u003ctd style=\"width: 27%; text-align: center;\"\u003e Waist\u003c\/td\u003e\n\u003c\/tr\u003e\n\u003ctr\u003e\n\u003ctd style=\"width: 20.9699%; text-align: center;\"\u003eS\u003c\/td\u003e\n\u003ctd style=\"width: 27.0301%; text-align: center;\"\u003e80-85\/31.5-33.5\u003c\/td\u003e\n\u003ctd style=\"width: 27%; text-align: center;\"\u003e60-65\/23.6-25.6\u003c\/td\u003e\n\u003c\/tr\u003e\n\u003ctr\u003e\n\u003ctd style=\"width: 20.9699%; text-align: center;\"\u003eM\u003c\/td\u003e\n\u003ctd style=\"width: 27.0301%; text-align: center;\"\u003e85-90\/33.5-35.4\u003c\/td\u003e\n\u003ctd style=\"width: 27%; text-align: center;\"\u003e65-70\/25.6-27.6\u003c\/td\u003e\n\u003c\/tr\u003e\n\u003ctr\u003e\n\u003ctd style=\"width: 20.9699%; text-align: center;\"\u003eL\u003c\/td\u003e\n\u003ctd style=\"width: 27.0301%; text-align: center;\"\u003e90-95\/35.4-37.4\u003c\/td\u003e\n\u003ctd style=\"width: 27%; text-align: center;\"\u003e70-75\/27.6-29.5\u003c\/td\u003e\n\u003c\/tr\u003e\n\u003ctr\u003e\n\u003ctd style=\"width: 20.9699%; text-align: center;\"\u003eXL\u003c\/td\u003e\n\u003ctd style=\"width: 27.0301%; text-align: center;\"\u003e95-100\/37.4-39.4\u003c\/td\u003e\n\u003ctd style=\"width: 27%; text-align: center;\"\u003e75-80\/29.5-31.5\u003c\/td\u003e\n\u003c\/tr\u003e\n\u003ctr\u003e\n\u003ctd style=\"width: 20.9699%; text-align: center;\"\u003e2XL\u003c\/td\u003e\n\u003ctd style=\"width: 27.0301%; text-align: center;\"\u003e100-105\/39.4-41.3\u003c\/td\u003e\n\u003ctd style=\"width: 27%; text-align: center;\"\u003e80-85\/31.5-33.5\u003c\/td\u003e\n\u003c\/tr\u003e\n\u003ctr\u003e\n\u003ctd style=\"width: 20.9699%; text-align: center;\"\u003e3XL\u003c\/td\u003e\n\u003ctd style=\"width: 27.0301%; text-align: center;\"\u003e105-110\/41.3-43.3\u003c\/td\u003e\n\u003ctd style=\"width: 27%; text-align: center;\"\u003e85-92\/33.5-36.2\u003c\/td\u003e\n\u003c\/tr\u003e\n\u003ctr\u003e\n\u003ctd style=\"width: 20.9699%; text-align: center;\"\u003e4XL\u003c\/td\u003e\n\u003ctd style=\"width: 27.0301%; text-align: center;\"\u003e110-115\/43.3-45.3\u003c\/td\u003e\n\u003ctd style=\"width: 27%; text-align: center;\"\u003e92-97\/36.2-38.2\u003c\/td\u003e\n\u003c\/tr\u003e\n\u003ctr\u003e\n\u003ctd style=\"width: 20.9699%; text-align: center;\"\u003e5XL\u003c\/td\u003e\n\u003ctd style=\"width: 27.0301%; text-align: center;\"\u003e115-122\/45.3-48.0\u003c\/td\u003e\n\u003ctd style=\"width: 27%; text-align: center;\"\u003e97-102\/38.2-40.2\u003c\/td\u003e\n\u003c\/tr\u003e\n\u003ctr\u003e\n\u003ctd style=\"width: 20.9699%; text-align: center;\"\u003e6XL\u003c\/td\u003e\n\u003ctd style=\"width: 27.0301%; text-align: center;\"\u003e122-127\/48.0-50\u003c\/td\u003e\n\u003ctd style=\"width: 27%; text-align: center;\"\u003e102-107\/40.2-42.1\u003c\/td\u003e\n\u003c\/tr\u003e\n\u003c\/tbody\u003e\n\u003c\/table\u003e\n\u003cul data-mce-fragment=\"1\"\u003e\u003c\/ul\u003e\n\u003cul data-mce-fragment=\"1\"\u003e\u003c\/ul\u003e\n\u003cul data-mce-fragment=\"1\"\u003e\u003c\/ul\u003e\n\u003cul data-mce-fragment=\"1\"\u003e\u003c\/ul\u003e\n\u003ch3 data-mce-fragment=\"1\"\u003e\u003cspan style=\"color: #ff2a00;\" data-mce-style=\"color: #ff2a00;\" data-mce-fragment=\"1\"\u003ePACKAGE\u003c\/span\u003e\u003c\/h3\u003e\n\u003cul data-mce-fragment=\"1\"\u003e\n\u003cli data-mce-fragment=\"1\"\u003e1 * Court Style Corset Body Shaping Shapewear\u003c\/li\u003e\n\u003c\/ul\u003e\n\u003ch3 data-mce-fragment=\"1\"\u003e\u003cspan style=\"color: #ff2a00;\" data-mce-style=\"color: #ff2a00;\" data-mce-fragment=\"1\"\u003e\u003cstrong data-mce-fragment=\"1\"\u003eNOTE\u003c\/strong\u003e\u003c\/span\u003e\u003c\/h3\u003e\n\u003cul data-mce-fragment=\"1\"\u003e\n\u003cli data-mce-fragment=\"1\"\u003e\n\u003cp data-mce-fragment=\"1\"\u003ePlease allow slight measurement deviations due to manual measurement.\u003c\/p\u003e\n\u003c\/li\u003e\n\u003cli data-mce-fragment=\"1\"\u003e\n\u003cp data-mce-fragment=\"1\"\u003eDue to the different monitor and light effect, the actual color of the item might be slightly different from the color showed in the pictures\u003c\/p\u003e\n\u003c\/li\u003e\n\u003c\/ul\u003e"}
Adding product to your cart
FEATURES
360 degrees of firm control,trimming waist, tummy and hips,Breathable and comfortable shell design, Wide and Adjustable strap.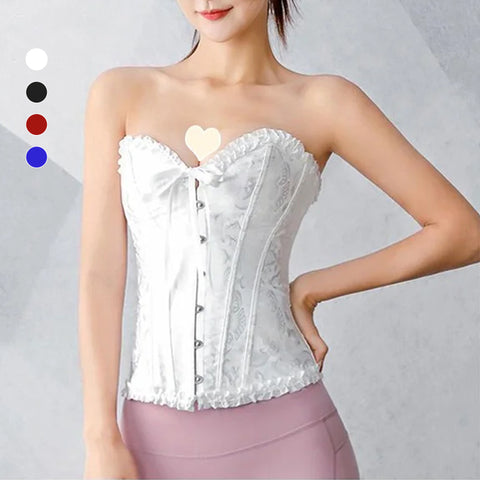 Shaping Your Little Bend, shape your body, lift your buttocks and close your abdomen.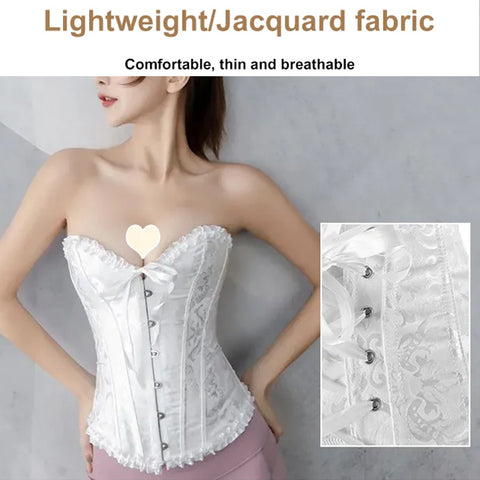 Soft elastic comfortable waist to let your body breath naturally.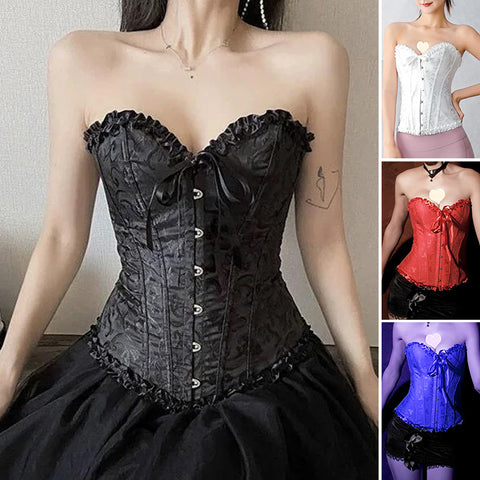 Wear the Shaper under jacket or dress around the house, Maximum comfort and freedom of movement, Wear Your Own Bra feature for fit flexibility.
SPECIFICATIONS
Weight: 210g

Color: White, Black, Red, Blue

Material: Polyester, Cotton

Size: 
| | | |
| --- | --- | --- |
| Size(cm/in) | Bust |  Waist |
| S | 80-85/31.5-33.5 | 60-65/23.6-25.6 |
| M | 85-90/33.5-35.4 | 65-70/25.6-27.6 |
| L | 90-95/35.4-37.4 | 70-75/27.6-29.5 |
| XL | 95-100/37.4-39.4 | 75-80/29.5-31.5 |
| 2XL | 100-105/39.4-41.3 | 80-85/31.5-33.5 |
| 3XL | 105-110/41.3-43.3 | 85-92/33.5-36.2 |
| 4XL | 110-115/43.3-45.3 | 92-97/36.2-38.2 |
| 5XL | 115-122/45.3-48.0 | 97-102/38.2-40.2 |
| 6XL | 122-127/48.0-50 | 102-107/40.2-42.1 |
PACKAGE
1 * Court Style Corset Body Shaping Shapewear
NOTE
Please allow slight measurement deviations due to manual measurement.

Due to the different monitor and light effect, the actual color of the item might be slightly different from the color showed in the pictures