{"id":7176154316889,"title":"Jacquard Thick Touch Screen Gloves","handle":"jacquard-thick-touch-screen-gloves","description":"\u003cp data-mce-fragment=\"1\"\u003e\u003cspan style=\"color: #d985a7;\" data-mce-fragment=\"1\"\u003e\u003cstrong data-mce-fragment=\"1\"\u003eFEATURES\u003c\/strong\u003e\u003c\/span\u003e\u003c\/p\u003e\n\u003cul\u003e\n\u003cli\u003e\n\u003cp\u003e\u003cspan data-mce-fragment=\"1\"\u003e\u003cspan style=\"color: #b69a73;\"\u003e\u003cstrong\u003eChoose:\u003c\/strong\u003e \u003c\/span\u003eThere are 7 colors to choose from to match your different wearing styles, enough to let you switch between classic and trendy at any time.\u003c\/span\u003e\u003c\/p\u003e\n\u003c\/li\u003e\n\u003c\/ul\u003e\n\u003cdiv\u003e\u003cimg src=\"https:\/\/cdn.shopifycdn.net\/s\/files\/1\/0356\/3048\/1544\/files\/2_a4d4ce2c-a0d6-4939-860b-5028f1584b3c_480x480.jpg?v=1666768055\" alt=\"\" style=\"display: block; margin-left: auto; margin-right: auto;\" data-mce-fragment=\"1\" data-mce-src=\"https:\/\/cdn.shopifycdn.net\/s\/files\/1\/0356\/3048\/1544\/files\/2_a4d4ce2c-a0d6-4939-860b-5028f1584b3c_480x480.jpg?v=1666768055\"\u003e\u003c\/div\u003e\n\u003cul\u003e\n\u003cli\u003e\n\u003cp\u003e\u003cstrong\u003e\u003cspan style=\"color: #b69a73;\"\u003eOne Size For Most Peolpe: \u003c\/span\u003e\u003c\/strong\u003eEach texting glove measures about 8.75 inches long and 4 inches wide at the wrist section, medium size, good elasticity, fits almost all women, ladies and girls, Don't worry about it slipping out of your hands.\u003c\/p\u003e\n\u003c\/li\u003e\n\u003c\/ul\u003e\n\u003cdiv\u003e\u003cimg src=\"https:\/\/cdn.shopifycdn.net\/s\/files\/1\/0356\/3048\/1544\/files\/1_21651c88-739f-415e-94d3-46787d5497e1_480x480.jpg?v=1666768072\" alt=\"\" style=\"display: block; margin-left: auto; margin-right: auto;\" data-mce-fragment=\"1\" data-mce-src=\"https:\/\/cdn.shopifycdn.net\/s\/files\/1\/0356\/3048\/1544\/files\/1_21651c88-739f-415e-94d3-46787d5497e1_480x480.jpg?v=1666768072\"\u003e\u003c\/div\u003e\n\u003cul\u003e\n\u003cli\u003e\n\u003cp\u003e\u003cspan style=\"color: #af936c;\"\u003e\u003cstrong\u003ePractical Touchscreen Design:\u003c\/strong\u003e \u003c\/span\u003eConductive fabric on fingertips (thumb and index finger), compatible with smartphones, tablets, smart watches, car drivers with touchscreens, allowing you to play on touchscreen devices without worrying about freezing your hands.\u003c\/p\u003e\n\u003c\/li\u003e\n\u003c\/ul\u003e\n\u003cdiv\u003e\u003cimg src=\"https:\/\/cdn.shopifycdn.net\/s\/files\/1\/0356\/3048\/1544\/files\/08_639a5a58-f008-4e8c-824e-53051b6a2c5f_480x480.jpg?v=1666768123\" alt=\"\" style=\"display: block; margin-left: auto; margin-right: auto;\" data-mce-fragment=\"1\" data-mce-src=\"https:\/\/cdn.shopifycdn.net\/s\/files\/1\/0356\/3048\/1544\/files\/08_639a5a58-f008-4e8c-824e-53051b6a2c5f_480x480.jpg?v=1666768123\"\u003e\u003c\/div\u003e\n\u003cul\u003e\n\u003cli\u003e\n\u003cp\u003e\u003cspan style=\"color: #b69a73;\"\u003e\u003cstrong\u003eWarm and Comfortable:\u003c\/strong\u003e \u003c\/span\u003eMade of high-quality chenille material, our thermal texting gloves are designed with a soft and warm lining, thick and comfortable, to provide heat to your hands on cold days and keep them as warm as possible.\u003c\/p\u003e\n\u003c\/li\u003e\n\u003c\/ul\u003e\n\u003cdiv\u003e\u003cimg src=\"https:\/\/cdn.shopifycdn.net\/s\/files\/1\/0356\/3048\/1544\/files\/07_bf0ab29e-ed76-4e6b-a8d9-90963f5d2f07_480x480.jpg?v=1666768141\" alt=\"\" style=\"display: block; margin-left: auto; margin-right: auto;\" data-mce-fragment=\"1\" data-mce-src=\"https:\/\/cdn.shopifycdn.net\/s\/files\/1\/0356\/3048\/1544\/files\/07_bf0ab29e-ed76-4e6b-a8d9-90963f5d2f07_480x480.jpg?v=1666768141\"\u003e\u003c\/div\u003e\n\u003cul\u003e\n\u003cli\u003e\n\u003cp\u003e\u003cspan style=\"color: #b69a73;\"\u003e\u003cstrong\u003eThoughtful Design:\u003c\/strong\u003e \u003c\/span\u003eOur winter gloves with elasticated cuffs keep the gloves close to the skin for a comfortable fit, making them a warm and practical holiday winter gift for your loved ones, friends and family.\u003c\/p\u003e\n\u003c\/li\u003e\n\u003c\/ul\u003e\n\u003cp data-mce-fragment=\"1\"\u003e\u003cspan style=\"color: #d985a7;\" data-mce-fragment=\"1\"\u003e\u003cstrong data-mce-fragment=\"1\"\u003eSPECIFICATIONS\u003c\/strong\u003e\u003c\/span\u003e\u003cspan data-mce-fragment=\"1\"\u003e\u003c\/span\u003e\u003c\/p\u003e\n\u003cul data-mce-fragment=\"1\"\u003e\n\u003cli data-mce-fragment=\"1\"\u003e\n\u003cp data-mce-fragment=\"1\"\u003e\u003cstrong data-mce-fragment=\"1\"\u003eMaterial:\u003c\/strong\u003e\u003cspan data-mce-fragment=\"1\"\u003e Acrylic\u003c\/span\u003e\u003c\/p\u003e\n\u003c\/li\u003e\n\u003cli data-mce-fragment=\"1\"\u003e\n\u003cp data-mce-fragment=\"1\"\u003e\u003cstrong data-mce-fragment=\"1\"\u003eWeight:\u003c\/strong\u003e\u003cspan data-mce-fragment=\"1\"\u003e 60\u003c\/span\u003eg\u003c\/p\u003e\n\u003c\/li\u003e\n\u003cli data-mce-fragment=\"1\"\u003e\n\u003cp data-mce-fragment=\"1\"\u003e\u003cstrong data-mce-fragment=\"1\"\u003e\u003cspan class=\"Polaris-TextStyle--variationStrong_rpyvj\" data-mce-fragment=\"1\"\u003eColor:\u003c\/span\u003e\u003c\/strong\u003e\u003cspan class=\"Polaris-TextStyle--variationStrong_rpyvj\" data-mce-fragment=\"1\"\u003e\u003cspan data-mce-fragment=\"1\"\u003e \u003cspan class=\"Polaris-Badge_2qgie\" data-mce-fragment=\"1\"\u003eRed, \u003c\/span\u003e\u003cspan class=\"Polaris-Badge_2qgie\" data-mce-fragment=\"1\"\u003eKhaki, \u003c\/span\u003e\u003cspan class=\"Polaris-Badge_2qgie\" data-mce-fragment=\"1\"\u003eBlack, \u003c\/span\u003e\u003cspan class=\"Polaris-Badge_2qgie\" data-mce-fragment=\"1\"\u003eWhite, \u003c\/span\u003e\u003cspan class=\"Polaris-Badge_2qgie\" data-mce-fragment=\"1\"\u003eGrey, \u003c\/span\u003e\u003cspan class=\"Polaris-Badge_2qgie\" data-mce-fragment=\"1\"\u003ePink, \u003c\/span\u003e\u003cspan class=\"Polaris-Badge_2qgie\" data-mce-fragment=\"1\"\u003eBeige\u003c\/span\u003e\u003c\/span\u003e\u003c\/span\u003e\u003c\/p\u003e\n\u003c\/li\u003e\n\u003cli data-mce-fragment=\"1\"\u003e\n\u003cp data-mce-fragment=\"1\"\u003e\u003cspan data-mce-fragment=\"1\"\u003e\u003cstrong data-mce-fragment=\"1\"\u003eSize:\u003c\/strong\u003e  One Size Fits All\u003c\/span\u003e\u003c\/p\u003e\n\u003c\/li\u003e\n\u003c\/ul\u003e\n\u003cul data-mce-fragment=\"1\"\u003e\u003c\/ul\u003e\n\u003cul data-mce-fragment=\"1\"\u003e\u003c\/ul\u003e\n\u003cul data-mce-fragment=\"1\"\u003e\u003c\/ul\u003e\n\u003cul data-mce-fragment=\"1\"\u003e\u003c\/ul\u003e\n\u003cul data-mce-fragment=\"1\"\u003e\u003c\/ul\u003e\n\u003cul data-mce-fragment=\"1\"\u003e\u003c\/ul\u003e\n\u003cul data-mce-fragment=\"1\"\u003e\u003c\/ul\u003e\n\u003cul data-mce-fragment=\"1\"\u003e\u003c\/ul\u003e\n\u003cspan style=\"color: #d985a7;\" data-mce-fragment=\"1\"\u003e\u003cstrong data-mce-fragment=\"1\"\u003ePACKAGE\u003c\/strong\u003e\u003c\/span\u003e\u003cspan data-mce-fragment=\"1\"\u003e\u003c\/span\u003e\u003cspan data-mce-fragment=\"1\"\u003e\u003c\/span\u003e\u003cspan data-mce-fragment=\"1\"\u003e\u003c\/span\u003e\u003cspan data-mce-fragment=\"1\"\u003e\u003c\/span\u003e\u003cspan data-mce-fragment=\"1\"\u003e\u003c\/span\u003e\u003cspan data-mce-fragment=\"1\"\u003e\u003c\/span\u003e\u003cspan data-mce-fragment=\"1\"\u003e\u003c\/span\u003e\u003cspan data-mce-fragment=\"1\"\u003e\u003c\/span\u003e\u003cspan data-mce-fragment=\"1\"\u003e\u003c\/span\u003e\u003cspan data-mce-fragment=\"1\"\u003e\u003c\/span\u003e\u003cspan data-mce-fragment=\"1\"\u003e\u003c\/span\u003e\u003cspan data-mce-fragment=\"1\"\u003e\u003c\/span\u003e\u003cspan data-mce-fragment=\"1\"\u003e\u003c\/span\u003e\u003cspan data-mce-fragment=\"1\"\u003e\u003c\/span\u003e\u003cspan data-mce-fragment=\"1\"\u003e\u003c\/span\u003e\u003cspan data-mce-fragment=\"1\"\u003e\u003c\/span\u003e\u003cspan data-mce-fragment=\"1\"\u003e\u003c\/span\u003e\u003cspan data-mce-fragment=\"1\"\u003e\u003c\/span\u003e\u003cspan data-mce-fragment=\"1\"\u003e\u003c\/span\u003e\u003cspan data-mce-fragment=\"1\"\u003e\u003c\/span\u003e\n\u003cul data-mce-fragment=\"1\"\u003e\n\u003cli data-mce-fragment=\"1\"\u003e1 Pair * Jacquard Thick Touch Screen Gloves\u003c\/li\u003e\n\u003c\/ul\u003e\n\u003cspan style=\"color: #d985a7;\" data-mce-fragment=\"1\"\u003e\u003cstrong data-mce-fragment=\"1\"\u003eNOTE\u003c\/strong\u003e\u003c\/span\u003e\u003cspan data-mce-fragment=\"1\"\u003e\u003c\/span\u003e\u003cspan data-mce-fragment=\"1\"\u003e\u003c\/span\u003e\u003cspan data-mce-fragment=\"1\"\u003e\u003c\/span\u003e\u003cspan data-mce-fragment=\"1\"\u003e\u003c\/span\u003e\u003cspan data-mce-fragment=\"1\"\u003e\u003c\/span\u003e\u003cspan data-mce-fragment=\"1\"\u003e\u003c\/span\u003e\u003cspan data-mce-fragment=\"1\"\u003e\u003c\/span\u003e\u003cspan data-mce-fragment=\"1\"\u003e\u003c\/span\u003e\u003cspan data-mce-fragment=\"1\"\u003e\u003c\/span\u003e\u003cspan data-mce-fragment=\"1\"\u003e\u003c\/span\u003e\u003cspan data-mce-fragment=\"1\"\u003e\u003c\/span\u003e\u003cspan data-mce-fragment=\"1\"\u003e\u003c\/span\u003e\u003cspan data-mce-fragment=\"1\"\u003e\u003c\/span\u003e\u003cspan data-mce-fragment=\"1\"\u003e\u003c\/span\u003e\u003cspan data-mce-fragment=\"1\"\u003e\u003c\/span\u003e\u003cspan data-mce-fragment=\"1\"\u003e\u003c\/span\u003e\u003cspan data-mce-fragment=\"1\"\u003e\u003c\/span\u003e\u003cspan data-mce-fragment=\"1\"\u003e\u003c\/span\u003e\u003cspan data-mce-fragment=\"1\"\u003e\u003c\/span\u003e\u003cspan data-mce-fragment=\"1\"\u003e\u003c\/span\u003e\n\u003cul data-mce-fragment=\"1\"\u003e\n\u003cli data-mce-fragment=\"1\"\u003e\n\u003cp data-mce-fragment=\"1\"\u003e\u003cspan data-mce-fragment=\"1\"\u003ePlease allow slight measurement deviations due to manual measurement.\u003c\/span\u003e\u003c\/p\u003e\n\u003c\/li\u003e\n\u003cli data-mce-fragment=\"1\"\u003e\n\u003cp data-mce-fragment=\"1\"\u003e\u003cspan data-mce-fragment=\"1\"\u003eDue to the different monitor and light effect, the actual color of the item might be slightly different from the color showed in the pictures.\u003c\/span\u003e\u003c\/p\u003e\n\u003c\/li\u003e\n\u003c\/ul\u003e","published_at":"2022-10-25T21:30:07-10:00","created_at":"2022-10-25T21:30:14-10:00","vendor":"Suerteyay","type":"","tags":["gloves"],"price":799,"price_min":799,"price_max":799,"available":true,"price_varies":false,"compare_at_price":1599,"compare_at_price_min":1599,"compare_at_price_max":1599,"compare_at_price_varies":false,"variants":[{"id":40299827298393,"title":"Red","option1":"Red","option2":null,"option3":null,"sku":"GL39662-C002-S098","requires_shipping":true,"taxable":false,"featured_image":{"id":30482141610073,"product_id":7176154316889,"position":15,"created_at":"2022-10-25T21:30:23-10:00","updated_at":"2022-10-25T21:30:23-10:00","alt":null,"width":800,"height":800,"src":"\/\/www.suerteyay.com\/cdn\/shop\/products\/520f764beb1954cab793b251ed2a5a3f_85e1ec18-da7d-4775-aa16-a67f8643ac46.jpg?v=1666769423","variant_ids":[40299827298393]},"available":true,"name":"Jacquard Thick Touch Screen Gloves - Red","public_title":"Red","options":["Red"],"price":799,"weight":0,"compare_at_price":1599,"inventory_management":null,"barcode":null,"featured_media":{"alt":null,"id":23026120523865,"position":15,"preview_image":{"aspect_ratio":1.0,"height":800,"width":800,"src":"\/\/www.suerteyay.com\/cdn\/shop\/products\/520f764beb1954cab793b251ed2a5a3f_85e1ec18-da7d-4775-aa16-a67f8643ac46.jpg?v=1666769423"}},"requires_selling_plan":false,"selling_plan_allocations":[],"quantity_rule":{"min":1,"max":null,"increment":1}},{"id":40299827331161,"title":"Khaki","option1":"Khaki","option2":null,"option3":null,"sku":"GL39662-C011-S098","requires_shipping":true,"taxable":false,"featured_image":{"id":30482142199897,"product_id":7176154316889,"position":17,"created_at":"2022-10-25T21:30:26-10:00","updated_at":"2022-10-25T21:30:26-10:00","alt":null,"width":800,"height":800,"src":"\/\/www.suerteyay.com\/cdn\/shop\/products\/f6e6e9bd25c344b5c1fd5e9c73a56039_f5a42b25-f35a-47c3-a153-9b22c13386f2.jpg?v=1666769426","variant_ids":[40299827331161]},"available":true,"name":"Jacquard Thick Touch Screen Gloves - Khaki","public_title":"Khaki","options":["Khaki"],"price":799,"weight":0,"compare_at_price":1599,"inventory_management":null,"barcode":null,"featured_media":{"alt":null,"id":23026121146457,"position":17,"preview_image":{"aspect_ratio":1.0,"height":800,"width":800,"src":"\/\/www.suerteyay.com\/cdn\/shop\/products\/f6e6e9bd25c344b5c1fd5e9c73a56039_f5a42b25-f35a-47c3-a153-9b22c13386f2.jpg?v=1666769426"}},"requires_selling_plan":false,"selling_plan_allocations":[],"quantity_rule":{"min":1,"max":null,"increment":1}},{"id":40299827363929,"title":"Black","option1":"Black","option2":null,"option3":null,"sku":"GL39662-C001-S098","requires_shipping":true,"taxable":false,"featured_image":{"id":30482140397657,"product_id":7176154316889,"position":11,"created_at":"2022-10-25T21:30:17-10:00","updated_at":"2022-10-25T21:30:17-10:00","alt":null,"width":800,"height":800,"src":"\/\/www.suerteyay.com\/cdn\/shop\/products\/8b9cc7c9808a81fc8db0eaf67a4d79d7_2a3cf84f-5b23-4d8a-8a14-d53bbcc46e3d.jpg?v=1666769417","variant_ids":[40299827363929]},"available":true,"name":"Jacquard Thick Touch Screen Gloves - Black","public_title":"Black","options":["Black"],"price":799,"weight":0,"compare_at_price":1599,"inventory_management":null,"barcode":null,"featured_media":{"alt":null,"id":23026119344217,"position":11,"preview_image":{"aspect_ratio":1.0,"height":800,"width":800,"src":"\/\/www.suerteyay.com\/cdn\/shop\/products\/8b9cc7c9808a81fc8db0eaf67a4d79d7_2a3cf84f-5b23-4d8a-8a14-d53bbcc46e3d.jpg?v=1666769417"}},"requires_selling_plan":false,"selling_plan_allocations":[],"quantity_rule":{"min":1,"max":null,"increment":1}},{"id":40299827396697,"title":"White","option1":"White","option2":null,"option3":null,"sku":"GL39662-C005-S098","requires_shipping":true,"taxable":false,"featured_image":{"id":30482140659801,"product_id":7176154316889,"position":12,"created_at":"2022-10-25T21:30:18-10:00","updated_at":"2022-10-25T21:30:18-10:00","alt":null,"width":800,"height":800,"src":"\/\/www.suerteyay.com\/cdn\/shop\/products\/d92e076f69cb1a6f81c9bab8cd8f57a2_f5fa2c81-960b-480b-b15b-6136eee8c3fe.jpg?v=1666769418","variant_ids":[40299827396697]},"available":true,"name":"Jacquard Thick Touch Screen Gloves - White","public_title":"White","options":["White"],"price":799,"weight":0,"compare_at_price":1599,"inventory_management":null,"barcode":null,"featured_media":{"alt":null,"id":23026119606361,"position":12,"preview_image":{"aspect_ratio":1.0,"height":800,"width":800,"src":"\/\/www.suerteyay.com\/cdn\/shop\/products\/d92e076f69cb1a6f81c9bab8cd8f57a2_f5fa2c81-960b-480b-b15b-6136eee8c3fe.jpg?v=1666769418"}},"requires_selling_plan":false,"selling_plan_allocations":[],"quantity_rule":{"min":1,"max":null,"increment":1}},{"id":40299827429465,"title":"Grey","option1":"Grey","option2":null,"option3":null,"sku":"GL39662-C006-S098","requires_shipping":true,"taxable":false,"featured_image":{"id":30482141970521,"product_id":7176154316889,"position":16,"created_at":"2022-10-25T21:30:24-10:00","updated_at":"2022-10-25T21:30:24-10:00","alt":null,"width":800,"height":800,"src":"\/\/www.suerteyay.com\/cdn\/shop\/products\/86d6b6668dd249b94188acb64812e4bf_59415d16-ff76-4559-ad00-2831af61008b.jpg?v=1666769424","variant_ids":[40299827429465]},"available":true,"name":"Jacquard Thick Touch Screen Gloves - Grey","public_title":"Grey","options":["Grey"],"price":799,"weight":0,"compare_at_price":1599,"inventory_management":null,"barcode":null,"featured_media":{"alt":null,"id":23026120917081,"position":16,"preview_image":{"aspect_ratio":1.0,"height":800,"width":800,"src":"\/\/www.suerteyay.com\/cdn\/shop\/products\/86d6b6668dd249b94188acb64812e4bf_59415d16-ff76-4559-ad00-2831af61008b.jpg?v=1666769424"}},"requires_selling_plan":false,"selling_plan_allocations":[],"quantity_rule":{"min":1,"max":null,"increment":1}},{"id":40299827462233,"title":"Pink","option1":"Pink","option2":null,"option3":null,"sku":"GL39662-C009-S098","requires_shipping":true,"taxable":false,"featured_image":{"id":30482141413465,"product_id":7176154316889,"position":14,"created_at":"2022-10-25T21:30:21-10:00","updated_at":"2022-10-25T21:30:21-10:00","alt":null,"width":800,"height":800,"src":"\/\/www.suerteyay.com\/cdn\/shop\/products\/ea1809cbd788a494639fafa729384a56_34bdea05-822f-48f1-8453-937edada967b.jpg?v=1666769421","variant_ids":[40299827462233]},"available":true,"name":"Jacquard Thick Touch Screen Gloves - Pink","public_title":"Pink","options":["Pink"],"price":799,"weight":0,"compare_at_price":1599,"inventory_management":null,"barcode":null,"featured_media":{"alt":null,"id":23026120360025,"position":14,"preview_image":{"aspect_ratio":1.0,"height":800,"width":800,"src":"\/\/www.suerteyay.com\/cdn\/shop\/products\/ea1809cbd788a494639fafa729384a56_34bdea05-822f-48f1-8453-937edada967b.jpg?v=1666769421"}},"requires_selling_plan":false,"selling_plan_allocations":[],"quantity_rule":{"min":1,"max":null,"increment":1}},{"id":40299827495001,"title":"Beige","option1":"Beige","option2":null,"option3":null,"sku":"GL39662-C010-S098","requires_shipping":true,"taxable":false,"featured_image":{"id":30482141184089,"product_id":7176154316889,"position":13,"created_at":"2022-10-25T21:30:20-10:00","updated_at":"2022-10-25T21:30:20-10:00","alt":null,"width":800,"height":800,"src":"\/\/www.suerteyay.com\/cdn\/shop\/products\/380f150dbe8f3bc026ebe92cc846a9a5_887b8274-f657-4664-8ffc-ee1fe66d1774.jpg?v=1666769420","variant_ids":[40299827495001]},"available":true,"name":"Jacquard Thick Touch Screen Gloves - Beige","public_title":"Beige","options":["Beige"],"price":799,"weight":0,"compare_at_price":1599,"inventory_management":null,"barcode":null,"featured_media":{"alt":null,"id":23026120130649,"position":13,"preview_image":{"aspect_ratio":1.0,"height":800,"width":800,"src":"\/\/www.suerteyay.com\/cdn\/shop\/products\/380f150dbe8f3bc026ebe92cc846a9a5_887b8274-f657-4664-8ffc-ee1fe66d1774.jpg?v=1666769420"}},"requires_selling_plan":false,"selling_plan_allocations":[],"quantity_rule":{"min":1,"max":null,"increment":1}}],"images":["\/\/www.suerteyay.com\/cdn\/shop\/products\/01_0f00ff94-02e8-4489-924d-a166f374c21b.jpg?v=1666769414","\/\/www.suerteyay.com\/cdn\/shop\/products\/02_0eb04bb9-52d4-4b34-b351-b114e43bc1f1.jpg?v=1666769414","\/\/www.suerteyay.com\/cdn\/shop\/products\/03_1bfced08-a547-4fab-b045-74f643d18ceb.jpg?v=1666769414","\/\/www.suerteyay.com\/cdn\/shop\/products\/04_22eb214e-3e4a-4a14-9321-205cac391372.jpg?v=1666769414","\/\/www.suerteyay.com\/cdn\/shop\/products\/05_7ecb1137-7f61-4e26-80df-4de0adf86b29.jpg?v=1666769414","\/\/www.suerteyay.com\/cdn\/shop\/products\/06_aa96909d-78b7-4f4d-becd-a365ae7a4001.jpg?v=1666769414","\/\/www.suerteyay.com\/cdn\/shop\/products\/07_b02f2e09-a4cf-4a8d-91a0-d8d8e7f2f229.jpg?v=1666769414","\/\/www.suerteyay.com\/cdn\/shop\/products\/08_b911db2a-a7c4-48cf-ac0b-a9b2050fdf15.jpg?v=1666769414","\/\/www.suerteyay.com\/cdn\/shop\/products\/1_0ce994d4-b242-40c2-8847-856f739315bb.jpg?v=1666769414","\/\/www.suerteyay.com\/cdn\/shop\/products\/2_e68a745f-6dce-455c-9665-6ea19616ef67.jpg?v=1666769414","\/\/www.suerteyay.com\/cdn\/shop\/products\/8b9cc7c9808a81fc8db0eaf67a4d79d7_2a3cf84f-5b23-4d8a-8a14-d53bbcc46e3d.jpg?v=1666769417","\/\/www.suerteyay.com\/cdn\/shop\/products\/d92e076f69cb1a6f81c9bab8cd8f57a2_f5fa2c81-960b-480b-b15b-6136eee8c3fe.jpg?v=1666769418","\/\/www.suerteyay.com\/cdn\/shop\/products\/380f150dbe8f3bc026ebe92cc846a9a5_887b8274-f657-4664-8ffc-ee1fe66d1774.jpg?v=1666769420","\/\/www.suerteyay.com\/cdn\/shop\/products\/ea1809cbd788a494639fafa729384a56_34bdea05-822f-48f1-8453-937edada967b.jpg?v=1666769421","\/\/www.suerteyay.com\/cdn\/shop\/products\/520f764beb1954cab793b251ed2a5a3f_85e1ec18-da7d-4775-aa16-a67f8643ac46.jpg?v=1666769423","\/\/www.suerteyay.com\/cdn\/shop\/products\/86d6b6668dd249b94188acb64812e4bf_59415d16-ff76-4559-ad00-2831af61008b.jpg?v=1666769424","\/\/www.suerteyay.com\/cdn\/shop\/products\/f6e6e9bd25c344b5c1fd5e9c73a56039_f5a42b25-f35a-47c3-a153-9b22c13386f2.jpg?v=1666769426"],"featured_image":"\/\/www.suerteyay.com\/cdn\/shop\/products\/01_0f00ff94-02e8-4489-924d-a166f374c21b.jpg?v=1666769414","options":["Color"],"media":[{"alt":null,"id":23026118426713,"position":1,"preview_image":{"aspect_ratio":1.0,"height":800,"width":800,"src":"\/\/www.suerteyay.com\/cdn\/shop\/products\/01_0f00ff94-02e8-4489-924d-a166f374c21b.jpg?v=1666769414"},"aspect_ratio":1.0,"height":800,"media_type":"image","src":"\/\/www.suerteyay.com\/cdn\/shop\/products\/01_0f00ff94-02e8-4489-924d-a166f374c21b.jpg?v=1666769414","width":800},{"alt":null,"id":23026118459481,"position":2,"preview_image":{"aspect_ratio":1.0,"height":800,"width":800,"src":"\/\/www.suerteyay.com\/cdn\/shop\/products\/02_0eb04bb9-52d4-4b34-b351-b114e43bc1f1.jpg?v=1666769414"},"aspect_ratio":1.0,"height":800,"media_type":"image","src":"\/\/www.suerteyay.com\/cdn\/shop\/products\/02_0eb04bb9-52d4-4b34-b351-b114e43bc1f1.jpg?v=1666769414","width":800},{"alt":null,"id":23026118492249,"position":3,"preview_image":{"aspect_ratio":1.0,"height":800,"width":800,"src":"\/\/www.suerteyay.com\/cdn\/shop\/products\/03_1bfced08-a547-4fab-b045-74f643d18ceb.jpg?v=1666769414"},"aspect_ratio":1.0,"height":800,"media_type":"image","src":"\/\/www.suerteyay.com\/cdn\/shop\/products\/03_1bfced08-a547-4fab-b045-74f643d18ceb.jpg?v=1666769414","width":800},{"alt":null,"id":23026118525017,"position":4,"preview_image":{"aspect_ratio":1.0,"height":800,"width":800,"src":"\/\/www.suerteyay.com\/cdn\/shop\/products\/04_22eb214e-3e4a-4a14-9321-205cac391372.jpg?v=1666769414"},"aspect_ratio":1.0,"height":800,"media_type":"image","src":"\/\/www.suerteyay.com\/cdn\/shop\/products\/04_22eb214e-3e4a-4a14-9321-205cac391372.jpg?v=1666769414","width":800},{"alt":null,"id":23026118557785,"position":5,"preview_image":{"aspect_ratio":1.0,"height":800,"width":800,"src":"\/\/www.suerteyay.com\/cdn\/shop\/products\/05_7ecb1137-7f61-4e26-80df-4de0adf86b29.jpg?v=1666769414"},"aspect_ratio":1.0,"height":800,"media_type":"image","src":"\/\/www.suerteyay.com\/cdn\/shop\/products\/05_7ecb1137-7f61-4e26-80df-4de0adf86b29.jpg?v=1666769414","width":800},{"alt":null,"id":23026118623321,"position":6,"preview_image":{"aspect_ratio":1.0,"height":800,"width":800,"src":"\/\/www.suerteyay.com\/cdn\/shop\/products\/06_aa96909d-78b7-4f4d-becd-a365ae7a4001.jpg?v=1666769414"},"aspect_ratio":1.0,"height":800,"media_type":"image","src":"\/\/www.suerteyay.com\/cdn\/shop\/products\/06_aa96909d-78b7-4f4d-becd-a365ae7a4001.jpg?v=1666769414","width":800},{"alt":null,"id":23026118656089,"position":7,"preview_image":{"aspect_ratio":1.0,"height":800,"width":800,"src":"\/\/www.suerteyay.com\/cdn\/shop\/products\/07_b02f2e09-a4cf-4a8d-91a0-d8d8e7f2f229.jpg?v=1666769414"},"aspect_ratio":1.0,"height":800,"media_type":"image","src":"\/\/www.suerteyay.com\/cdn\/shop\/products\/07_b02f2e09-a4cf-4a8d-91a0-d8d8e7f2f229.jpg?v=1666769414","width":800},{"alt":null,"id":23026118688857,"position":8,"preview_image":{"aspect_ratio":1.0,"height":800,"width":800,"src":"\/\/www.suerteyay.com\/cdn\/shop\/products\/08_b911db2a-a7c4-48cf-ac0b-a9b2050fdf15.jpg?v=1666769414"},"aspect_ratio":1.0,"height":800,"media_type":"image","src":"\/\/www.suerteyay.com\/cdn\/shop\/products\/08_b911db2a-a7c4-48cf-ac0b-a9b2050fdf15.jpg?v=1666769414","width":800},{"alt":null,"id":23026118721625,"position":9,"preview_image":{"aspect_ratio":1.0,"height":800,"width":800,"src":"\/\/www.suerteyay.com\/cdn\/shop\/products\/1_0ce994d4-b242-40c2-8847-856f739315bb.jpg?v=1666769414"},"aspect_ratio":1.0,"height":800,"media_type":"image","src":"\/\/www.suerteyay.com\/cdn\/shop\/products\/1_0ce994d4-b242-40c2-8847-856f739315bb.jpg?v=1666769414","width":800},{"alt":null,"id":23026118754393,"position":10,"preview_image":{"aspect_ratio":1.0,"height":800,"width":800,"src":"\/\/www.suerteyay.com\/cdn\/shop\/products\/2_e68a745f-6dce-455c-9665-6ea19616ef67.jpg?v=1666769414"},"aspect_ratio":1.0,"height":800,"media_type":"image","src":"\/\/www.suerteyay.com\/cdn\/shop\/products\/2_e68a745f-6dce-455c-9665-6ea19616ef67.jpg?v=1666769414","width":800},{"alt":null,"id":23026119344217,"position":11,"preview_image":{"aspect_ratio":1.0,"height":800,"width":800,"src":"\/\/www.suerteyay.com\/cdn\/shop\/products\/8b9cc7c9808a81fc8db0eaf67a4d79d7_2a3cf84f-5b23-4d8a-8a14-d53bbcc46e3d.jpg?v=1666769417"},"aspect_ratio":1.0,"height":800,"media_type":"image","src":"\/\/www.suerteyay.com\/cdn\/shop\/products\/8b9cc7c9808a81fc8db0eaf67a4d79d7_2a3cf84f-5b23-4d8a-8a14-d53bbcc46e3d.jpg?v=1666769417","width":800},{"alt":null,"id":23026119606361,"position":12,"preview_image":{"aspect_ratio":1.0,"height":800,"width":800,"src":"\/\/www.suerteyay.com\/cdn\/shop\/products\/d92e076f69cb1a6f81c9bab8cd8f57a2_f5fa2c81-960b-480b-b15b-6136eee8c3fe.jpg?v=1666769418"},"aspect_ratio":1.0,"height":800,"media_type":"image","src":"\/\/www.suerteyay.com\/cdn\/shop\/products\/d92e076f69cb1a6f81c9bab8cd8f57a2_f5fa2c81-960b-480b-b15b-6136eee8c3fe.jpg?v=1666769418","width":800},{"alt":null,"id":23026120130649,"position":13,"preview_image":{"aspect_ratio":1.0,"height":800,"width":800,"src":"\/\/www.suerteyay.com\/cdn\/shop\/products\/380f150dbe8f3bc026ebe92cc846a9a5_887b8274-f657-4664-8ffc-ee1fe66d1774.jpg?v=1666769420"},"aspect_ratio":1.0,"height":800,"media_type":"image","src":"\/\/www.suerteyay.com\/cdn\/shop\/products\/380f150dbe8f3bc026ebe92cc846a9a5_887b8274-f657-4664-8ffc-ee1fe66d1774.jpg?v=1666769420","width":800},{"alt":null,"id":23026120360025,"position":14,"preview_image":{"aspect_ratio":1.0,"height":800,"width":800,"src":"\/\/www.suerteyay.com\/cdn\/shop\/products\/ea1809cbd788a494639fafa729384a56_34bdea05-822f-48f1-8453-937edada967b.jpg?v=1666769421"},"aspect_ratio":1.0,"height":800,"media_type":"image","src":"\/\/www.suerteyay.com\/cdn\/shop\/products\/ea1809cbd788a494639fafa729384a56_34bdea05-822f-48f1-8453-937edada967b.jpg?v=1666769421","width":800},{"alt":null,"id":23026120523865,"position":15,"preview_image":{"aspect_ratio":1.0,"height":800,"width":800,"src":"\/\/www.suerteyay.com\/cdn\/shop\/products\/520f764beb1954cab793b251ed2a5a3f_85e1ec18-da7d-4775-aa16-a67f8643ac46.jpg?v=1666769423"},"aspect_ratio":1.0,"height":800,"media_type":"image","src":"\/\/www.suerteyay.com\/cdn\/shop\/products\/520f764beb1954cab793b251ed2a5a3f_85e1ec18-da7d-4775-aa16-a67f8643ac46.jpg?v=1666769423","width":800},{"alt":null,"id":23026120917081,"position":16,"preview_image":{"aspect_ratio":1.0,"height":800,"width":800,"src":"\/\/www.suerteyay.com\/cdn\/shop\/products\/86d6b6668dd249b94188acb64812e4bf_59415d16-ff76-4559-ad00-2831af61008b.jpg?v=1666769424"},"aspect_ratio":1.0,"height":800,"media_type":"image","src":"\/\/www.suerteyay.com\/cdn\/shop\/products\/86d6b6668dd249b94188acb64812e4bf_59415d16-ff76-4559-ad00-2831af61008b.jpg?v=1666769424","width":800},{"alt":null,"id":23026121146457,"position":17,"preview_image":{"aspect_ratio":1.0,"height":800,"width":800,"src":"\/\/www.suerteyay.com\/cdn\/shop\/products\/f6e6e9bd25c344b5c1fd5e9c73a56039_f5a42b25-f35a-47c3-a153-9b22c13386f2.jpg?v=1666769426"},"aspect_ratio":1.0,"height":800,"media_type":"image","src":"\/\/www.suerteyay.com\/cdn\/shop\/products\/f6e6e9bd25c344b5c1fd5e9c73a56039_f5a42b25-f35a-47c3-a153-9b22c13386f2.jpg?v=1666769426","width":800}],"requires_selling_plan":false,"selling_plan_groups":[],"content":"\u003cp data-mce-fragment=\"1\"\u003e\u003cspan style=\"color: #d985a7;\" data-mce-fragment=\"1\"\u003e\u003cstrong data-mce-fragment=\"1\"\u003eFEATURES\u003c\/strong\u003e\u003c\/span\u003e\u003c\/p\u003e\n\u003cul\u003e\n\u003cli\u003e\n\u003cp\u003e\u003cspan data-mce-fragment=\"1\"\u003e\u003cspan style=\"color: #b69a73;\"\u003e\u003cstrong\u003eChoose:\u003c\/strong\u003e \u003c\/span\u003eThere are 7 colors to choose from to match your different wearing styles, enough to let you switch between classic and trendy at any time.\u003c\/span\u003e\u003c\/p\u003e\n\u003c\/li\u003e\n\u003c\/ul\u003e\n\u003cdiv\u003e\u003cimg src=\"https:\/\/cdn.shopifycdn.net\/s\/files\/1\/0356\/3048\/1544\/files\/2_a4d4ce2c-a0d6-4939-860b-5028f1584b3c_480x480.jpg?v=1666768055\" alt=\"\" style=\"display: block; margin-left: auto; margin-right: auto;\" data-mce-fragment=\"1\" data-mce-src=\"https:\/\/cdn.shopifycdn.net\/s\/files\/1\/0356\/3048\/1544\/files\/2_a4d4ce2c-a0d6-4939-860b-5028f1584b3c_480x480.jpg?v=1666768055\"\u003e\u003c\/div\u003e\n\u003cul\u003e\n\u003cli\u003e\n\u003cp\u003e\u003cstrong\u003e\u003cspan style=\"color: #b69a73;\"\u003eOne Size For Most Peolpe: \u003c\/span\u003e\u003c\/strong\u003eEach texting glove measures about 8.75 inches long and 4 inches wide at the wrist section, medium size, good elasticity, fits almost all women, ladies and girls, Don't worry about it slipping out of your hands.\u003c\/p\u003e\n\u003c\/li\u003e\n\u003c\/ul\u003e\n\u003cdiv\u003e\u003cimg src=\"https:\/\/cdn.shopifycdn.net\/s\/files\/1\/0356\/3048\/1544\/files\/1_21651c88-739f-415e-94d3-46787d5497e1_480x480.jpg?v=1666768072\" alt=\"\" style=\"display: block; margin-left: auto; margin-right: auto;\" data-mce-fragment=\"1\" data-mce-src=\"https:\/\/cdn.shopifycdn.net\/s\/files\/1\/0356\/3048\/1544\/files\/1_21651c88-739f-415e-94d3-46787d5497e1_480x480.jpg?v=1666768072\"\u003e\u003c\/div\u003e\n\u003cul\u003e\n\u003cli\u003e\n\u003cp\u003e\u003cspan style=\"color: #af936c;\"\u003e\u003cstrong\u003ePractical Touchscreen Design:\u003c\/strong\u003e \u003c\/span\u003eConductive fabric on fingertips (thumb and index finger), compatible with smartphones, tablets, smart watches, car drivers with touchscreens, allowing you to play on touchscreen devices without worrying about freezing your hands.\u003c\/p\u003e\n\u003c\/li\u003e\n\u003c\/ul\u003e\n\u003cdiv\u003e\u003cimg src=\"https:\/\/cdn.shopifycdn.net\/s\/files\/1\/0356\/3048\/1544\/files\/08_639a5a58-f008-4e8c-824e-53051b6a2c5f_480x480.jpg?v=1666768123\" alt=\"\" style=\"display: block; margin-left: auto; margin-right: auto;\" data-mce-fragment=\"1\" data-mce-src=\"https:\/\/cdn.shopifycdn.net\/s\/files\/1\/0356\/3048\/1544\/files\/08_639a5a58-f008-4e8c-824e-53051b6a2c5f_480x480.jpg?v=1666768123\"\u003e\u003c\/div\u003e\n\u003cul\u003e\n\u003cli\u003e\n\u003cp\u003e\u003cspan style=\"color: #b69a73;\"\u003e\u003cstrong\u003eWarm and Comfortable:\u003c\/strong\u003e \u003c\/span\u003eMade of high-quality chenille material, our thermal texting gloves are designed with a soft and warm lining, thick and comfortable, to provide heat to your hands on cold days and keep them as warm as possible.\u003c\/p\u003e\n\u003c\/li\u003e\n\u003c\/ul\u003e\n\u003cdiv\u003e\u003cimg src=\"https:\/\/cdn.shopifycdn.net\/s\/files\/1\/0356\/3048\/1544\/files\/07_bf0ab29e-ed76-4e6b-a8d9-90963f5d2f07_480x480.jpg?v=1666768141\" alt=\"\" style=\"display: block; margin-left: auto; margin-right: auto;\" data-mce-fragment=\"1\" data-mce-src=\"https:\/\/cdn.shopifycdn.net\/s\/files\/1\/0356\/3048\/1544\/files\/07_bf0ab29e-ed76-4e6b-a8d9-90963f5d2f07_480x480.jpg?v=1666768141\"\u003e\u003c\/div\u003e\n\u003cul\u003e\n\u003cli\u003e\n\u003cp\u003e\u003cspan style=\"color: #b69a73;\"\u003e\u003cstrong\u003eThoughtful Design:\u003c\/strong\u003e \u003c\/span\u003eOur winter gloves with elasticated cuffs keep the gloves close to the skin for a comfortable fit, making them a warm and practical holiday winter gift for your loved ones, friends and family.\u003c\/p\u003e\n\u003c\/li\u003e\n\u003c\/ul\u003e\n\u003cp data-mce-fragment=\"1\"\u003e\u003cspan style=\"color: #d985a7;\" data-mce-fragment=\"1\"\u003e\u003cstrong data-mce-fragment=\"1\"\u003eSPECIFICATIONS\u003c\/strong\u003e\u003c\/span\u003e\u003cspan data-mce-fragment=\"1\"\u003e\u003c\/span\u003e\u003c\/p\u003e\n\u003cul data-mce-fragment=\"1\"\u003e\n\u003cli data-mce-fragment=\"1\"\u003e\n\u003cp data-mce-fragment=\"1\"\u003e\u003cstrong data-mce-fragment=\"1\"\u003eMaterial:\u003c\/strong\u003e\u003cspan data-mce-fragment=\"1\"\u003e Acrylic\u003c\/span\u003e\u003c\/p\u003e\n\u003c\/li\u003e\n\u003cli data-mce-fragment=\"1\"\u003e\n\u003cp data-mce-fragment=\"1\"\u003e\u003cstrong data-mce-fragment=\"1\"\u003eWeight:\u003c\/strong\u003e\u003cspan data-mce-fragment=\"1\"\u003e 60\u003c\/span\u003eg\u003c\/p\u003e\n\u003c\/li\u003e\n\u003cli data-mce-fragment=\"1\"\u003e\n\u003cp data-mce-fragment=\"1\"\u003e\u003cstrong data-mce-fragment=\"1\"\u003e\u003cspan class=\"Polaris-TextStyle--variationStrong_rpyvj\" data-mce-fragment=\"1\"\u003eColor:\u003c\/span\u003e\u003c\/strong\u003e\u003cspan class=\"Polaris-TextStyle--variationStrong_rpyvj\" data-mce-fragment=\"1\"\u003e\u003cspan data-mce-fragment=\"1\"\u003e \u003cspan class=\"Polaris-Badge_2qgie\" data-mce-fragment=\"1\"\u003eRed, \u003c\/span\u003e\u003cspan class=\"Polaris-Badge_2qgie\" data-mce-fragment=\"1\"\u003eKhaki, \u003c\/span\u003e\u003cspan class=\"Polaris-Badge_2qgie\" data-mce-fragment=\"1\"\u003eBlack, \u003c\/span\u003e\u003cspan class=\"Polaris-Badge_2qgie\" data-mce-fragment=\"1\"\u003eWhite, \u003c\/span\u003e\u003cspan class=\"Polaris-Badge_2qgie\" data-mce-fragment=\"1\"\u003eGrey, \u003c\/span\u003e\u003cspan class=\"Polaris-Badge_2qgie\" data-mce-fragment=\"1\"\u003ePink, \u003c\/span\u003e\u003cspan class=\"Polaris-Badge_2qgie\" data-mce-fragment=\"1\"\u003eBeige\u003c\/span\u003e\u003c\/span\u003e\u003c\/span\u003e\u003c\/p\u003e\n\u003c\/li\u003e\n\u003cli data-mce-fragment=\"1\"\u003e\n\u003cp data-mce-fragment=\"1\"\u003e\u003cspan data-mce-fragment=\"1\"\u003e\u003cstrong data-mce-fragment=\"1\"\u003eSize:\u003c\/strong\u003e  One Size Fits All\u003c\/span\u003e\u003c\/p\u003e\n\u003c\/li\u003e\n\u003c\/ul\u003e\n\u003cul data-mce-fragment=\"1\"\u003e\u003c\/ul\u003e\n\u003cul data-mce-fragment=\"1\"\u003e\u003c\/ul\u003e\n\u003cul data-mce-fragment=\"1\"\u003e\u003c\/ul\u003e\n\u003cul data-mce-fragment=\"1\"\u003e\u003c\/ul\u003e\n\u003cul data-mce-fragment=\"1\"\u003e\u003c\/ul\u003e\n\u003cul data-mce-fragment=\"1\"\u003e\u003c\/ul\u003e\n\u003cul data-mce-fragment=\"1\"\u003e\u003c\/ul\u003e\n\u003cul data-mce-fragment=\"1\"\u003e\u003c\/ul\u003e\n\u003cspan style=\"color: #d985a7;\" data-mce-fragment=\"1\"\u003e\u003cstrong data-mce-fragment=\"1\"\u003ePACKAGE\u003c\/strong\u003e\u003c\/span\u003e\u003cspan data-mce-fragment=\"1\"\u003e\u003c\/span\u003e\u003cspan data-mce-fragment=\"1\"\u003e\u003c\/span\u003e\u003cspan data-mce-fragment=\"1\"\u003e\u003c\/span\u003e\u003cspan data-mce-fragment=\"1\"\u003e\u003c\/span\u003e\u003cspan data-mce-fragment=\"1\"\u003e\u003c\/span\u003e\u003cspan data-mce-fragment=\"1\"\u003e\u003c\/span\u003e\u003cspan data-mce-fragment=\"1\"\u003e\u003c\/span\u003e\u003cspan data-mce-fragment=\"1\"\u003e\u003c\/span\u003e\u003cspan data-mce-fragment=\"1\"\u003e\u003c\/span\u003e\u003cspan data-mce-fragment=\"1\"\u003e\u003c\/span\u003e\u003cspan data-mce-fragment=\"1\"\u003e\u003c\/span\u003e\u003cspan data-mce-fragment=\"1\"\u003e\u003c\/span\u003e\u003cspan data-mce-fragment=\"1\"\u003e\u003c\/span\u003e\u003cspan data-mce-fragment=\"1\"\u003e\u003c\/span\u003e\u003cspan data-mce-fragment=\"1\"\u003e\u003c\/span\u003e\u003cspan data-mce-fragment=\"1\"\u003e\u003c\/span\u003e\u003cspan data-mce-fragment=\"1\"\u003e\u003c\/span\u003e\u003cspan data-mce-fragment=\"1\"\u003e\u003c\/span\u003e\u003cspan data-mce-fragment=\"1\"\u003e\u003c\/span\u003e\u003cspan data-mce-fragment=\"1\"\u003e\u003c\/span\u003e\n\u003cul data-mce-fragment=\"1\"\u003e\n\u003cli data-mce-fragment=\"1\"\u003e1 Pair * Jacquard Thick Touch Screen Gloves\u003c\/li\u003e\n\u003c\/ul\u003e\n\u003cspan style=\"color: #d985a7;\" data-mce-fragment=\"1\"\u003e\u003cstrong data-mce-fragment=\"1\"\u003eNOTE\u003c\/strong\u003e\u003c\/span\u003e\u003cspan data-mce-fragment=\"1\"\u003e\u003c\/span\u003e\u003cspan data-mce-fragment=\"1\"\u003e\u003c\/span\u003e\u003cspan data-mce-fragment=\"1\"\u003e\u003c\/span\u003e\u003cspan data-mce-fragment=\"1\"\u003e\u003c\/span\u003e\u003cspan data-mce-fragment=\"1\"\u003e\u003c\/span\u003e\u003cspan data-mce-fragment=\"1\"\u003e\u003c\/span\u003e\u003cspan data-mce-fragment=\"1\"\u003e\u003c\/span\u003e\u003cspan data-mce-fragment=\"1\"\u003e\u003c\/span\u003e\u003cspan data-mce-fragment=\"1\"\u003e\u003c\/span\u003e\u003cspan data-mce-fragment=\"1\"\u003e\u003c\/span\u003e\u003cspan data-mce-fragment=\"1\"\u003e\u003c\/span\u003e\u003cspan data-mce-fragment=\"1\"\u003e\u003c\/span\u003e\u003cspan data-mce-fragment=\"1\"\u003e\u003c\/span\u003e\u003cspan data-mce-fragment=\"1\"\u003e\u003c\/span\u003e\u003cspan data-mce-fragment=\"1\"\u003e\u003c\/span\u003e\u003cspan data-mce-fragment=\"1\"\u003e\u003c\/span\u003e\u003cspan data-mce-fragment=\"1\"\u003e\u003c\/span\u003e\u003cspan data-mce-fragment=\"1\"\u003e\u003c\/span\u003e\u003cspan data-mce-fragment=\"1\"\u003e\u003c\/span\u003e\u003cspan data-mce-fragment=\"1\"\u003e\u003c\/span\u003e\n\u003cul data-mce-fragment=\"1\"\u003e\n\u003cli data-mce-fragment=\"1\"\u003e\n\u003cp data-mce-fragment=\"1\"\u003e\u003cspan data-mce-fragment=\"1\"\u003ePlease allow slight measurement deviations due to manual measurement.\u003c\/span\u003e\u003c\/p\u003e\n\u003c\/li\u003e\n\u003cli data-mce-fragment=\"1\"\u003e\n\u003cp data-mce-fragment=\"1\"\u003e\u003cspan data-mce-fragment=\"1\"\u003eDue to the different monitor and light effect, the actual color of the item might be slightly different from the color showed in the pictures.\u003c\/span\u003e\u003c\/p\u003e\n\u003c\/li\u003e\n\u003c\/ul\u003e"}
Adding product to your cart
FEATURES
Choose: There are 7 colors to choose from to match your different wearing styles, enough to let you switch between classic and trendy at any time.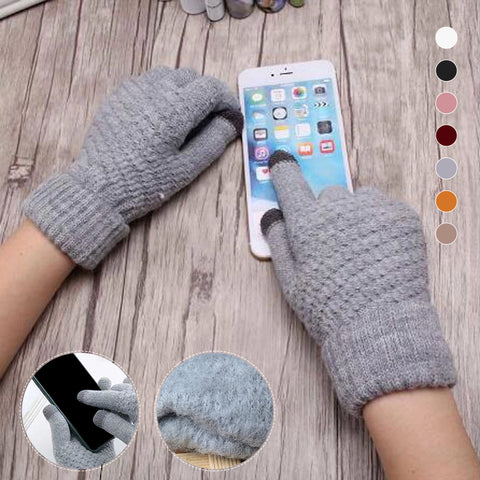 One Size For Most Peolpe: Each texting glove measures about 8.75 inches long and 4 inches wide at the wrist section, medium size, good elasticity, fits almost all women, ladies and girls, Don't worry about it slipping out of your hands.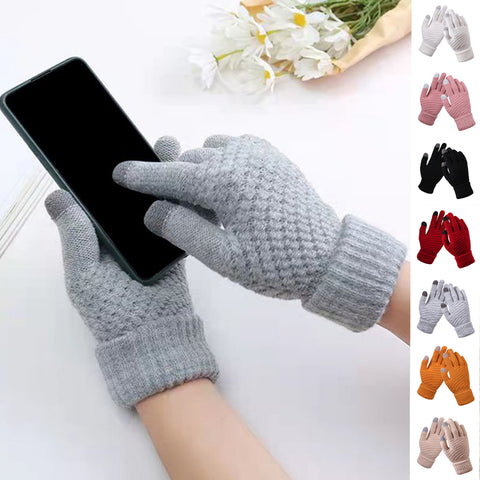 Practical Touchscreen Design: Conductive fabric on fingertips (thumb and index finger), compatible with smartphones, tablets, smart watches, car drivers with touchscreens, allowing you to play on touchscreen devices without worrying about freezing your hands.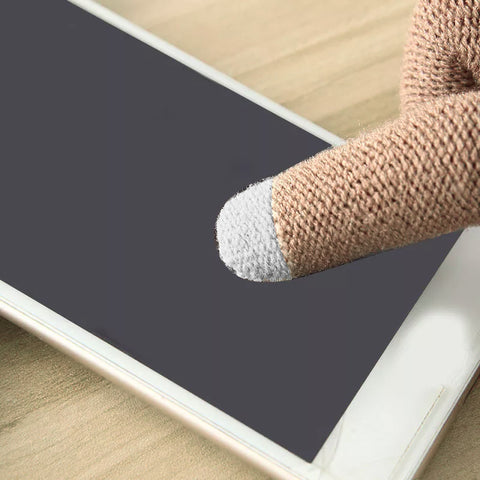 Warm and Comfortable: Made of high-quality chenille material, our thermal texting gloves are designed with a soft and warm lining, thick and comfortable, to provide heat to your hands on cold days and keep them as warm as possible.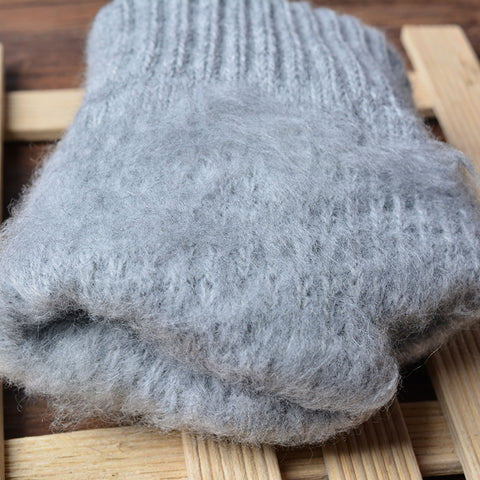 Thoughtful Design: Our winter gloves with elasticated cuffs keep the gloves close to the skin for a comfortable fit, making them a warm and practical holiday winter gift for your loved ones, friends and family.
SPECIFICATIONS
Material: Acrylic

Weight: 60g

Color: Red, Khaki, Black, White, Grey, Pink, Beige

Size:  One Size Fits All
PACKAGE
1 Pair * Jacquard Thick Touch Screen Gloves
NOTE
Please allow slight measurement deviations due to manual measurement.

Due to the different monitor and light effect, the actual color of the item might be slightly different from the color showed in the pictures.