{"id":7141223104601,"title":"Ladies Fashion Lace Socks (6 Pairs)","handle":"ladies-fashion-lace-socks-6-pairs","description":"\u003cp data-mce-fragment=\"1\"\u003e\u003cspan data-mce-fragment=\"1\" style=\"color: #ff2a00;\"\u003e\u003cstrong data-mce-fragment=\"1\"\u003eFEATURES\u003c\/strong\u003e\u003c\/span\u003e\u003c\/p\u003e\n\u003cul data-mce-fragment=\"1\"\u003e\n\u003cli data-mce-fragment=\"1\"\u003eLace mesh socks, light, soft and elastic, comfortable and breathable, sexy and versatile.\u003c\/li\u003e\n\u003c\/ul\u003e\n\u003cp data-mce-fragment=\"1\"\u003e\u003cimg class=\"sep-lazyload lazyautosizes lazyloaded\" data-sizes=\"auto\" alt=\"\" data-src=\"https:\/\/cdn.shoplazza.com\/9d6ae0f37668a8b293c849ba51bc7615.gif\" width=\"484\" height=\"484\" sizes=\"300px\" src=\"https:\/\/cdn.shoplazza.com\/9d6ae0f37668a8b293c849ba51bc7615.gif\" data-mce-fragment=\"1\" style=\"display: block; margin-left: auto; margin-right: auto;\" data-mce-src=\"https:\/\/cdn.shoplazza.com\/9d6ae0f37668a8b293c849ba51bc7615.gif\"\u003e\u003c\/p\u003e\n\u003cul data-mce-fragment=\"1\"\u003e\n\u003cli data-mce-fragment=\"1\"\u003e\n\u003cstrong data-mce-fragment=\"1\"\u003eExquisite Pattern:\u003c\/strong\u003e\u003cspan data-mce-fragment=\"1\"\u003e \u003c\/span\u003eElegant and delicate lace embroidery pattern, classic and versatile color, can be matched with all kinds of shoes.\u003cbr data-mce-fragment=\"1\"\u003e\n\u003c\/li\u003e\n\u003c\/ul\u003e\n\u003cp data-mce-fragment=\"1\"\u003e\u003cimg class=\"sep-lazyload lazyautosizes lazyloaded\" data-sizes=\"auto\" alt=\"\" width=\"480\" height=\"148\" data-srcset=\"https:\/\/cdn.shoplazza.com\/2d4c40ee26b330bc54a2a516955b8912_900.jpeg 48w, https:\/\/cdn.shoplazza.com\/2d4c40ee26b330bc54a2a516955b8912_900.jpeg 180w, https:\/\/cdn.shoplazza.com\/2d4c40ee26b330bc54a2a516955b8912_900.jpeg 360w, https:\/\/cdn.shoplazza.com\/2d4c40ee26b330bc54a2a516955b8912_900.jpeg 540w, https:\/\/cdn.shoplazza.com\/2d4c40ee26b330bc54a2a516955b8912_900.jpeg 720w, https:\/\/cdn.shoplazza.com\/2d4c40ee26b330bc54a2a516955b8912_900.jpeg 900w, https:\/\/cdn.shoplazza.com\/2d4c40ee26b330bc54a2a516955b8912_900.jpeg 1024w, https:\/\/cdn.shoplazza.com\/2d4c40ee26b330bc54a2a516955b8912_900.jpeg 1280w, https:\/\/cdn.shoplazza.com\/2d4c40ee26b330bc54a2a516955b8912_900.jpeg 1366w, https:\/\/cdn.shoplazza.com\/2d4c40ee26b330bc54a2a516955b8912_900.jpeg 1440w, https:\/\/cdn.shoplazza.com\/2d4c40ee26b330bc54a2a516955b8912_900.jpeg 1536w, https:\/\/cdn.shoplazza.com\/2d4c40ee26b330bc54a2a516955b8912_900.jpeg 1600w, https:\/\/cdn.shoplazza.com\/2d4c40ee26b330bc54a2a516955b8912_900.jpeg 1920w, https:\/\/cdn.shoplazza.com\/2d4c40ee26b330bc54a2a516955b8912_900.jpeg 2056w, https:\/\/cdn.shoplazza.com\/2d4c40ee26b330bc54a2a516955b8912_900.jpeg 2560w, https:\/\/cdn.shoplazza.com\/2d4c40ee26b330bc54a2a516955b8912_900.jpeg 2732w, https:\/\/cdn.shoplazza.com\/2d4c40ee26b330bc54a2a516955b8912_900.jpeg 2880w, https:\/\/cdn.shoplazza.com\/2d4c40ee26b330bc54a2a516955b8912_900.jpeg 3072w, https:\/\/cdn.shoplazza.com\/2d4c40ee26b330bc54a2a516955b8912_900.jpeg 3200w, https:\/\/cdn.shoplazza.com\/2d4c40ee26b330bc54a2a516955b8912_900.jpeg 3840w\" sizes=\"480px\" srcset=\"https:\/\/cdn.shoplazza.com\/2d4c40ee26b330bc54a2a516955b8912_900.jpeg 48w, https:\/\/cdn.shoplazza.com\/2d4c40ee26b330bc54a2a516955b8912_900.jpeg 180w, https:\/\/cdn.shoplazza.com\/2d4c40ee26b330bc54a2a516955b8912_900.jpeg 360w, https:\/\/cdn.shoplazza.com\/2d4c40ee26b330bc54a2a516955b8912_900.jpeg 540w, https:\/\/cdn.shoplazza.com\/2d4c40ee26b330bc54a2a516955b8912_900.jpeg 720w, https:\/\/cdn.shoplazza.com\/2d4c40ee26b330bc54a2a516955b8912_900.jpeg 900w, https:\/\/cdn.shoplazza.com\/2d4c40ee26b330bc54a2a516955b8912_900.jpeg 1024w, https:\/\/cdn.shoplazza.com\/2d4c40ee26b330bc54a2a516955b8912_900.jpeg 1280w, https:\/\/cdn.shoplazza.com\/2d4c40ee26b330bc54a2a516955b8912_900.jpeg 1366w, https:\/\/cdn.shoplazza.com\/2d4c40ee26b330bc54a2a516955b8912_900.jpeg 1440w, https:\/\/cdn.shoplazza.com\/2d4c40ee26b330bc54a2a516955b8912_900.jpeg 1536w, https:\/\/cdn.shoplazza.com\/2d4c40ee26b330bc54a2a516955b8912_900.jpeg 1600w, https:\/\/cdn.shoplazza.com\/2d4c40ee26b330bc54a2a516955b8912_900.jpeg 1920w, https:\/\/cdn.shoplazza.com\/2d4c40ee26b330bc54a2a516955b8912_900.jpeg 2056w, https:\/\/cdn.shoplazza.com\/2d4c40ee26b330bc54a2a516955b8912_900.jpeg 2560w, https:\/\/cdn.shoplazza.com\/2d4c40ee26b330bc54a2a516955b8912_900.jpeg 2732w, https:\/\/cdn.shoplazza.com\/2d4c40ee26b330bc54a2a516955b8912_900.jpeg 2880w, https:\/\/cdn.shoplazza.com\/2d4c40ee26b330bc54a2a516955b8912_900.jpeg 3072w, https:\/\/cdn.shoplazza.com\/2d4c40ee26b330bc54a2a516955b8912_900.jpeg 3200w, https:\/\/cdn.shoplazza.com\/2d4c40ee26b330bc54a2a516955b8912_900.jpeg 3840w\" data-mce-fragment=\"1\" style=\"display: block; margin-left: auto; margin-right: auto;\"\u003e\u003c\/p\u003e\n\u003cul data-mce-fragment=\"1\"\u003e\n\u003cli data-mce-fragment=\"1\"\u003e\n\u003cstrong data-mce-fragment=\"1\"\u003eComfortable and High-elastic mesh:\u003c\/strong\u003e\u003cspan data-mce-fragment=\"1\"\u003e \u003c\/span\u003eSelected high-quality lace mesh, high elasticity does not strangle the feet, breathable and not stuffy.\u003cbr data-mce-fragment=\"1\"\u003e\n\u003c\/li\u003e\n\u003c\/ul\u003e\n\u003cp data-mce-fragment=\"1\"\u003e\u003cimg class=\"sep-lazyload lazyautosizes lazyloaded\" data-sizes=\"auto\" alt=\"\" width=\"480\" height=\"297\" data-srcset=\"https:\/\/cdn.shoplazza.com\/8aa3c1b469ea25c7db606aa716153c78_900.jpeg 48w, https:\/\/cdn.shoplazza.com\/8aa3c1b469ea25c7db606aa716153c78_900.jpeg 180w, https:\/\/cdn.shoplazza.com\/8aa3c1b469ea25c7db606aa716153c78_900.jpeg 360w, https:\/\/cdn.shoplazza.com\/8aa3c1b469ea25c7db606aa716153c78_900.jpeg 540w, https:\/\/cdn.shoplazza.com\/8aa3c1b469ea25c7db606aa716153c78_900.jpeg 720w, https:\/\/cdn.shoplazza.com\/8aa3c1b469ea25c7db606aa716153c78_900.jpeg 900w, https:\/\/cdn.shoplazza.com\/8aa3c1b469ea25c7db606aa716153c78_900.jpeg 1024w, https:\/\/cdn.shoplazza.com\/8aa3c1b469ea25c7db606aa716153c78_900.jpeg 1280w, https:\/\/cdn.shoplazza.com\/8aa3c1b469ea25c7db606aa716153c78_900.jpeg 1366w, https:\/\/cdn.shoplazza.com\/8aa3c1b469ea25c7db606aa716153c78_900.jpeg 1440w, https:\/\/cdn.shoplazza.com\/8aa3c1b469ea25c7db606aa716153c78_900.jpeg 1536w, https:\/\/cdn.shoplazza.com\/8aa3c1b469ea25c7db606aa716153c78_900.jpeg 1600w, https:\/\/cdn.shoplazza.com\/8aa3c1b469ea25c7db606aa716153c78_900.jpeg 1920w, https:\/\/cdn.shoplazza.com\/8aa3c1b469ea25c7db606aa716153c78_900.jpeg 2056w, https:\/\/cdn.shoplazza.com\/8aa3c1b469ea25c7db606aa716153c78_900.jpeg 2560w, https:\/\/cdn.shoplazza.com\/8aa3c1b469ea25c7db606aa716153c78_900.jpeg 2732w, https:\/\/cdn.shoplazza.com\/8aa3c1b469ea25c7db606aa716153c78_900.jpeg 2880w, https:\/\/cdn.shoplazza.com\/8aa3c1b469ea25c7db606aa716153c78_900.jpeg 3072w, https:\/\/cdn.shoplazza.com\/8aa3c1b469ea25c7db606aa716153c78_900.jpeg 3200w, https:\/\/cdn.shoplazza.com\/8aa3c1b469ea25c7db606aa716153c78_900.jpeg 3840w\" sizes=\"480px\" srcset=\"https:\/\/cdn.shoplazza.com\/8aa3c1b469ea25c7db606aa716153c78_900.jpeg 48w, https:\/\/cdn.shoplazza.com\/8aa3c1b469ea25c7db606aa716153c78_900.jpeg 180w, https:\/\/cdn.shoplazza.com\/8aa3c1b469ea25c7db606aa716153c78_900.jpeg 360w, https:\/\/cdn.shoplazza.com\/8aa3c1b469ea25c7db606aa716153c78_900.jpeg 540w, https:\/\/cdn.shoplazza.com\/8aa3c1b469ea25c7db606aa716153c78_900.jpeg 720w, https:\/\/cdn.shoplazza.com\/8aa3c1b469ea25c7db606aa716153c78_900.jpeg 900w, https:\/\/cdn.shoplazza.com\/8aa3c1b469ea25c7db606aa716153c78_900.jpeg 1024w, https:\/\/cdn.shoplazza.com\/8aa3c1b469ea25c7db606aa716153c78_900.jpeg 1280w, https:\/\/cdn.shoplazza.com\/8aa3c1b469ea25c7db606aa716153c78_900.jpeg 1366w, https:\/\/cdn.shoplazza.com\/8aa3c1b469ea25c7db606aa716153c78_900.jpeg 1440w, https:\/\/cdn.shoplazza.com\/8aa3c1b469ea25c7db606aa716153c78_900.jpeg 1536w, https:\/\/cdn.shoplazza.com\/8aa3c1b469ea25c7db606aa716153c78_900.jpeg 1600w, https:\/\/cdn.shoplazza.com\/8aa3c1b469ea25c7db606aa716153c78_900.jpeg 1920w, https:\/\/cdn.shoplazza.com\/8aa3c1b469ea25c7db606aa716153c78_900.jpeg 2056w, https:\/\/cdn.shoplazza.com\/8aa3c1b469ea25c7db606aa716153c78_900.jpeg 2560w, https:\/\/cdn.shoplazza.com\/8aa3c1b469ea25c7db606aa716153c78_900.jpeg 2732w, https:\/\/cdn.shoplazza.com\/8aa3c1b469ea25c7db606aa716153c78_900.jpeg 2880w, https:\/\/cdn.shoplazza.com\/8aa3c1b469ea25c7db606aa716153c78_900.jpeg 3072w, https:\/\/cdn.shoplazza.com\/8aa3c1b469ea25c7db606aa716153c78_900.jpeg 3200w, https:\/\/cdn.shoplazza.com\/8aa3c1b469ea25c7db606aa716153c78_900.jpeg 3840w\" data-mce-fragment=\"1\" style=\"display: block; margin-left: auto; margin-right: auto;\"\u003e\u003c\/p\u003e\n\u003cul data-mce-fragment=\"1\"\u003e\n\u003cli data-mce-fragment=\"1\"\u003e\n\u003cp data-mce-fragment=\"1\"\u003e\u003cstrong data-mce-fragment=\"1\"\u003eHigh-quality Long-staple Cotton:\u003c\/strong\u003e\u003cspan data-mce-fragment=\"1\"\u003e \u003c\/span\u003eThe bottom is made of light and soft long-staple cotton, which has been exposed to 3000HRS of wind and sun. More comfortable and breathable, sweat absorption and non-slip, keep the soles of the feet dry.\u003c\/p\u003e\n\u003c\/li\u003e\n\u003cli data-mce-fragment=\"1\"\u003e\n\u003cp data-mce-fragment=\"1\"\u003e\u003cstrong data-mce-fragment=\"1\"\u003eNovel Style:\u003c\/strong\u003e\u003cspan data-mce-fragment=\"1\"\u003e \u003c\/span\u003enovel and chic with lady shoes and a small fragrance dress, the fabric is breathable and comfortable, and the lace style is elegant.\u003c\/p\u003e\n\u003c\/li\u003e\n\u003c\/ul\u003e\n\u003cp data-mce-fragment=\"1\"\u003e\u003cspan data-mce-fragment=\"1\" style=\"color: #ff2a00;\"\u003e\u003cstrong data-mce-fragment=\"1\"\u003eSPECIFICATIONS\u003c\/strong\u003e\u003c\/span\u003e\u003c\/p\u003e\n\u003cul data-mce-fragment=\"1\"\u003e\n\u003cli data-mce-fragment=\"1\"\u003e\n\u003cp data-mce-fragment=\"1\"\u003e\u003cstrong data-mce-fragment=\"1\"\u003eColor:\u003c\/strong\u003e\u003cspan data-mce-fragment=\"1\"\u003e \u003cspan class=\"Polaris-Badge_2qgie\" data-mce-fragment=\"1\"\u003eMixed colors, \u003c\/span\u003e\u003cspan class=\"Polaris-Badge_2qgie\" data-mce-fragment=\"1\"\u003eWhite, \u003c\/span\u003e\u003cspan class=\"Polaris-Badge_2qgie\" data-mce-fragment=\"1\"\u003eBlack, \u003c\/span\u003e\u003cspan class=\"Polaris-Badge_2qgie\" data-mce-fragment=\"1\"\u003eSkin tone, \u003c\/span\u003e\u003cspan class=\"Polaris-Badge_2qgie\" data-mce-fragment=\"1\"\u003eGray\u003c\/span\u003e\u003c\/span\u003e\u003c\/p\u003e\n\u003c\/li\u003e\n\u003cli data-mce-fragment=\"1\"\u003e\n\u003cp data-mce-fragment=\"1\"\u003e\u003cspan data-mce-fragment=\"1\"\u003e\u003cspan class=\"Polaris-Badge_2qgie\" data-mce-fragment=\"1\"\u003e\u003cstrong data-mce-fragment=\"1\"\u003eWeight: \u003c\/strong\u003e20g\u003c\/span\u003e\u003c\/span\u003e\u003c\/p\u003e\n\u003c\/li\u003e\n\u003cli data-mce-fragment=\"1\"\u003e\n\u003cp data-mce-fragment=\"1\"\u003e\u003cspan data-mce-fragment=\"1\"\u003e\u003cspan class=\"Polaris-Badge_2qgie\" data-mce-fragment=\"1\"\u003e\u003cstrong data-mce-fragment=\"1\"\u003eMaterial: \u003c\/strong\u003e\u003c\/span\u003e\u003c\/span\u003ePolyester, Cotton\u003c\/p\u003e\n\u003c\/li\u003e\n\u003cli data-mce-fragment=\"1\"\u003e\n\u003cstrong data-mce-fragment=\"1\"\u003eFunction:\u003c\/strong\u003e\u003cspan data-mce-fragment=\"1\"\u003e \u003c\/span\u003eBreathable, invisible, anti-friction\u003c\/li\u003e\n\u003c\/ul\u003e\n\u003cul data-mce-fragment=\"1\"\u003e\u003c\/ul\u003e\n\u003cspan data-mce-fragment=\"1\" style=\"color: #ff2a00;\"\u003e\u003cstrong data-mce-fragment=\"1\"\u003ePACKAGE\u003c\/strong\u003e\u003c\/span\u003e\u003cbr data-mce-fragment=\"1\"\u003e\n\u003cul data-mce-fragment=\"1\"\u003e\n\u003cli data-mce-fragment=\"1\"\u003e6 * Pairs of Ladies Fashion Lace Socks\u003c\/li\u003e\n\u003c\/ul\u003e\n\u003cspan data-mce-fragment=\"1\" style=\"color: #ff2a00;\"\u003e\u003cstrong data-mce-fragment=\"1\"\u003eNOTE\u003c\/strong\u003e\u003c\/span\u003e\u003cbr data-mce-fragment=\"1\"\u003e\n\u003cul data-mce-fragment=\"1\"\u003e\n\u003cli data-mce-fragment=\"1\"\u003e\n\u003cp data-mce-fragment=\"1\"\u003ePlease allow slight measurement deviation due to manual measurement.\u003c\/p\u003e\n\u003c\/li\u003e\n\u003cli data-mce-fragment=\"1\"\u003e\n\u003cp data-mce-fragment=\"1\"\u003eDue to the different monitor and light effect, the actual color of the item might be slightly different from the color showed on the pictures.\u003c\/p\u003e\n\u003c\/li\u003e\n\u003c\/ul\u003e","published_at":"2022-08-31T16:37:14-10:00","created_at":"2022-08-31T16:37:32-10:00","vendor":"Suerteyay","type":"","tags":["socks"],"price":999,"price_min":999,"price_max":999,"available":true,"price_varies":false,"compare_at_price":1999,"compare_at_price_min":1999,"compare_at_price_max":1999,"compare_at_price_varies":false,"variants":[{"id":40186903232601,"title":"White \/ 6 Pairs","option1":"White","option2":"6 Pairs","option3":null,"sku":"SO32526-Z05313","requires_shipping":true,"taxable":false,"featured_image":{"id":30172533358681,"product_id":7141223104601,"position":18,"created_at":"2022-08-31T16:37:36-10:00","updated_at":"2022-08-31T16:37:36-10:00","alt":null,"width":800,"height":800,"src":"https:\/\/cdn.shopify.com\/s\/files\/1\/0077\/6096\/9779\/products\/2_f4ff8962-77e4-4ef3-bc32-18108fda9651.jpg?v=1661999856","variant_ids":[40186903232601]},"available":true,"name":"Ladies Fashion Lace Socks (6 Pairs) - White \/ 6 Pairs","public_title":"White \/ 6 Pairs","options":["White","6 Pairs"],"price":999,"weight":0,"compare_at_price":1999,"inventory_management":null,"barcode":null,"featured_media":{"alt":null,"id":22709213364313,"position":18,"preview_image":{"aspect_ratio":1.0,"height":800,"width":800,"src":"https:\/\/cdn.shopify.com\/s\/files\/1\/0077\/6096\/9779\/products\/2_f4ff8962-77e4-4ef3-bc32-18108fda9651.jpg?v=1661999856"}},"requires_selling_plan":false,"selling_plan_allocations":[],"quantity_rule":{"min":1,"max":null,"increment":1}},{"id":40186903265369,"title":"Black \/ 6 Pairs","option1":"Black","option2":"6 Pairs","option3":null,"sku":"SO32526-Z05312","requires_shipping":true,"taxable":false,"featured_image":{"id":30172533325913,"product_id":7141223104601,"position":17,"created_at":"2022-08-31T16:37:35-10:00","updated_at":"2022-08-31T16:37:35-10:00","alt":null,"width":800,"height":800,"src":"https:\/\/cdn.shopify.com\/s\/files\/1\/0077\/6096\/9779\/products\/5_d9eefe78-9f83-46f5-a296-95f3c916fe01.jpg?v=1661999855","variant_ids":[40186903265369]},"available":true,"name":"Ladies Fashion Lace Socks (6 Pairs) - Black \/ 6 Pairs","public_title":"Black \/ 6 Pairs","options":["Black","6 Pairs"],"price":999,"weight":0,"compare_at_price":1999,"inventory_management":null,"barcode":null,"featured_media":{"alt":null,"id":22709213331545,"position":17,"preview_image":{"aspect_ratio":1.0,"height":800,"width":800,"src":"https:\/\/cdn.shopify.com\/s\/files\/1\/0077\/6096\/9779\/products\/5_d9eefe78-9f83-46f5-a296-95f3c916fe01.jpg?v=1661999855"}},"requires_selling_plan":false,"selling_plan_allocations":[],"quantity_rule":{"min":1,"max":null,"increment":1}},{"id":40186903298137,"title":"Skin tone \/ 6 Pairs","option1":"Skin tone","option2":"6 Pairs","option3":null,"sku":"SO32526-Z05315","requires_shipping":true,"taxable":false,"featured_image":{"id":30172533424217,"product_id":7141223104601,"position":20,"created_at":"2022-08-31T16:37:39-10:00","updated_at":"2022-08-31T16:37:39-10:00","alt":null,"width":800,"height":800,"src":"https:\/\/cdn.shopify.com\/s\/files\/1\/0077\/6096\/9779\/products\/4_044dff88-dca5-4960-acf2-50491bed6533.jpg?v=1661999859","variant_ids":[40186903298137]},"available":true,"name":"Ladies Fashion Lace Socks (6 Pairs) - Skin tone \/ 6 Pairs","public_title":"Skin tone \/ 6 Pairs","options":["Skin tone","6 Pairs"],"price":999,"weight":0,"compare_at_price":1999,"inventory_management":null,"barcode":null,"featured_media":{"alt":null,"id":22709213462617,"position":20,"preview_image":{"aspect_ratio":1.0,"height":800,"width":800,"src":"https:\/\/cdn.shopify.com\/s\/files\/1\/0077\/6096\/9779\/products\/4_044dff88-dca5-4960-acf2-50491bed6533.jpg?v=1661999859"}},"requires_selling_plan":false,"selling_plan_allocations":[],"quantity_rule":{"min":1,"max":null,"increment":1}},{"id":40186903330905,"title":"Gray \/ 6 Pairs","option1":"Gray","option2":"6 Pairs","option3":null,"sku":"SO32526-Z05314","requires_shipping":true,"taxable":false,"featured_image":{"id":30172533391449,"product_id":7141223104601,"position":19,"created_at":"2022-08-31T16:37:38-10:00","updated_at":"2022-08-31T16:37:38-10:00","alt":null,"width":800,"height":800,"src":"https:\/\/cdn.shopify.com\/s\/files\/1\/0077\/6096\/9779\/products\/3_7215cfec-680b-4513-911d-44ebd46126d2.jpg?v=1661999858","variant_ids":[40186903330905]},"available":true,"name":"Ladies Fashion Lace Socks (6 Pairs) - Gray \/ 6 Pairs","public_title":"Gray \/ 6 Pairs","options":["Gray","6 Pairs"],"price":999,"weight":0,"compare_at_price":1999,"inventory_management":null,"barcode":null,"featured_media":{"alt":null,"id":22709213429849,"position":19,"preview_image":{"aspect_ratio":1.0,"height":800,"width":800,"src":"https:\/\/cdn.shopify.com\/s\/files\/1\/0077\/6096\/9779\/products\/3_7215cfec-680b-4513-911d-44ebd46126d2.jpg?v=1661999858"}},"requires_selling_plan":false,"selling_plan_allocations":[],"quantity_rule":{"min":1,"max":null,"increment":1}}],"images":["\/\/cdn.shopify.com\/s\/files\/1\/0077\/6096\/9779\/products\/1_b35d26ba-02aa-49b0-bc94-fef35758eb56.jpg?v=1661999852","\/\/cdn.shopify.com\/s\/files\/1\/0077\/6096\/9779\/products\/2_b90c5299-4ec1-469b-9ecd-7ee01490b3a4.jpg?v=1661999852","\/\/cdn.shopify.com\/s\/files\/1\/0077\/6096\/9779\/products\/3_25f997f8-ad9f-4453-a250-c778c627a02c.jpg?v=1661999852","\/\/cdn.shopify.com\/s\/files\/1\/0077\/6096\/9779\/products\/4_b246ba2a-7147-4999-97ac-b84eb083d7a5.jpg?v=1661999852","\/\/cdn.shopify.com\/s\/files\/1\/0077\/6096\/9779\/products\/5_edcb2bac-b4a7-417a-a145-3e3b17b7f713.jpg?v=1661999852","\/\/cdn.shopify.com\/s\/files\/1\/0077\/6096\/9779\/products\/6_cf068776-cd44-4046-8300-d96e64cd3f97.jpg?v=1661999852","\/\/cdn.shopify.com\/s\/files\/1\/0077\/6096\/9779\/products\/7_76ec8134-97eb-48c1-9bb2-046724f814e7.jpg?v=1661999852","\/\/cdn.shopify.com\/s\/files\/1\/0077\/6096\/9779\/products\/8_45a74b5f-29b0-4ef3-a8a2-e9557b1dbe70.jpg?v=1661999852","\/\/cdn.shopify.com\/s\/files\/1\/0077\/6096\/9779\/products\/9_0b3e4140-4ddd-45ba-adb4-779c67e38c62.jpg?v=1661999852","\/\/cdn.shopify.com\/s\/files\/1\/0077\/6096\/9779\/products\/1_852c8f03-cdce-4622-8649-1a4423c07de7.jpg?v=1661999852","\/\/cdn.shopify.com\/s\/files\/1\/0077\/6096\/9779\/products\/9f51552b11f9d48d1aa47638aceefcfb_b6ef3f57-3937-46f8-a0e9-27573686871f.jpg?v=1661999852","\/\/cdn.shopify.com\/s\/files\/1\/0077\/6096\/9779\/products\/2_5943f60f-cbd2-4700-859f-305e07522636.jpg?v=1661999852","\/\/cdn.shopify.com\/s\/files\/1\/0077\/6096\/9779\/products\/2_ad805e5c-0105-4d6a-a7f2-a9c33d749d67.jpg?v=1661999852","\/\/cdn.shopify.com\/s\/files\/1\/0077\/6096\/9779\/products\/3_073aa88e-11df-4ae8-9dfd-60261e3422a9.jpg?v=1661999852","\/\/cdn.shopify.com\/s\/files\/1\/0077\/6096\/9779\/products\/4_c35bfd0c-06c9-44f8-9f43-d4a1040be3c3.jpg?v=1661999852","\/\/cdn.shopify.com\/s\/files\/1\/0077\/6096\/9779\/products\/5_ec3c7fb9-3432-4fdc-a372-2b45e52b7b62.jpg?v=1661999852","\/\/cdn.shopify.com\/s\/files\/1\/0077\/6096\/9779\/products\/5_d9eefe78-9f83-46f5-a296-95f3c916fe01.jpg?v=1661999855","\/\/cdn.shopify.com\/s\/files\/1\/0077\/6096\/9779\/products\/2_f4ff8962-77e4-4ef3-bc32-18108fda9651.jpg?v=1661999856","\/\/cdn.shopify.com\/s\/files\/1\/0077\/6096\/9779\/products\/3_7215cfec-680b-4513-911d-44ebd46126d2.jpg?v=1661999858","\/\/cdn.shopify.com\/s\/files\/1\/0077\/6096\/9779\/products\/4_044dff88-dca5-4960-acf2-50491bed6533.jpg?v=1661999859"],"featured_image":"\/\/cdn.shopify.com\/s\/files\/1\/0077\/6096\/9779\/products\/1_b35d26ba-02aa-49b0-bc94-fef35758eb56.jpg?v=1661999852","options":["Color","Quantity"],"media":[{"alt":null,"id":22709212807257,"position":1,"preview_image":{"aspect_ratio":1.0,"height":800,"width":800,"src":"https:\/\/cdn.shopify.com\/s\/files\/1\/0077\/6096\/9779\/products\/1_b35d26ba-02aa-49b0-bc94-fef35758eb56.jpg?v=1661999852"},"aspect_ratio":1.0,"height":800,"media_type":"image","src":"https:\/\/cdn.shopify.com\/s\/files\/1\/0077\/6096\/9779\/products\/1_b35d26ba-02aa-49b0-bc94-fef35758eb56.jpg?v=1661999852","width":800},{"alt":null,"id":22709212840025,"position":2,"preview_image":{"aspect_ratio":1.0,"height":800,"width":800,"src":"https:\/\/cdn.shopify.com\/s\/files\/1\/0077\/6096\/9779\/products\/2_b90c5299-4ec1-469b-9ecd-7ee01490b3a4.jpg?v=1661999852"},"aspect_ratio":1.0,"height":800,"media_type":"image","src":"https:\/\/cdn.shopify.com\/s\/files\/1\/0077\/6096\/9779\/products\/2_b90c5299-4ec1-469b-9ecd-7ee01490b3a4.jpg?v=1661999852","width":800},{"alt":null,"id":22709212872793,"position":3,"preview_image":{"aspect_ratio":1.0,"height":800,"width":800,"src":"https:\/\/cdn.shopify.com\/s\/files\/1\/0077\/6096\/9779\/products\/3_25f997f8-ad9f-4453-a250-c778c627a02c.jpg?v=1661999852"},"aspect_ratio":1.0,"height":800,"media_type":"image","src":"https:\/\/cdn.shopify.com\/s\/files\/1\/0077\/6096\/9779\/products\/3_25f997f8-ad9f-4453-a250-c778c627a02c.jpg?v=1661999852","width":800},{"alt":null,"id":22709212905561,"position":4,"preview_image":{"aspect_ratio":1.0,"height":800,"width":800,"src":"https:\/\/cdn.shopify.com\/s\/files\/1\/0077\/6096\/9779\/products\/4_b246ba2a-7147-4999-97ac-b84eb083d7a5.jpg?v=1661999852"},"aspect_ratio":1.0,"height":800,"media_type":"image","src":"https:\/\/cdn.shopify.com\/s\/files\/1\/0077\/6096\/9779\/products\/4_b246ba2a-7147-4999-97ac-b84eb083d7a5.jpg?v=1661999852","width":800},{"alt":null,"id":22709212938329,"position":5,"preview_image":{"aspect_ratio":1.0,"height":800,"width":800,"src":"https:\/\/cdn.shopify.com\/s\/files\/1\/0077\/6096\/9779\/products\/5_edcb2bac-b4a7-417a-a145-3e3b17b7f713.jpg?v=1661999852"},"aspect_ratio":1.0,"height":800,"media_type":"image","src":"https:\/\/cdn.shopify.com\/s\/files\/1\/0077\/6096\/9779\/products\/5_edcb2bac-b4a7-417a-a145-3e3b17b7f713.jpg?v=1661999852","width":800},{"alt":null,"id":22709212971097,"position":6,"preview_image":{"aspect_ratio":1.0,"height":800,"width":800,"src":"https:\/\/cdn.shopify.com\/s\/files\/1\/0077\/6096\/9779\/products\/6_cf068776-cd44-4046-8300-d96e64cd3f97.jpg?v=1661999852"},"aspect_ratio":1.0,"height":800,"media_type":"image","src":"https:\/\/cdn.shopify.com\/s\/files\/1\/0077\/6096\/9779\/products\/6_cf068776-cd44-4046-8300-d96e64cd3f97.jpg?v=1661999852","width":800},{"alt":null,"id":22709213003865,"position":7,"preview_image":{"aspect_ratio":1.0,"height":800,"width":800,"src":"https:\/\/cdn.shopify.com\/s\/files\/1\/0077\/6096\/9779\/products\/7_76ec8134-97eb-48c1-9bb2-046724f814e7.jpg?v=1661999852"},"aspect_ratio":1.0,"height":800,"media_type":"image","src":"https:\/\/cdn.shopify.com\/s\/files\/1\/0077\/6096\/9779\/products\/7_76ec8134-97eb-48c1-9bb2-046724f814e7.jpg?v=1661999852","width":800},{"alt":null,"id":22709213036633,"position":8,"preview_image":{"aspect_ratio":1.0,"height":800,"width":800,"src":"https:\/\/cdn.shopify.com\/s\/files\/1\/0077\/6096\/9779\/products\/8_45a74b5f-29b0-4ef3-a8a2-e9557b1dbe70.jpg?v=1661999852"},"aspect_ratio":1.0,"height":800,"media_type":"image","src":"https:\/\/cdn.shopify.com\/s\/files\/1\/0077\/6096\/9779\/products\/8_45a74b5f-29b0-4ef3-a8a2-e9557b1dbe70.jpg?v=1661999852","width":800},{"alt":null,"id":22709213069401,"position":9,"preview_image":{"aspect_ratio":1.0,"height":800,"width":800,"src":"https:\/\/cdn.shopify.com\/s\/files\/1\/0077\/6096\/9779\/products\/9_0b3e4140-4ddd-45ba-adb4-779c67e38c62.jpg?v=1661999852"},"aspect_ratio":1.0,"height":800,"media_type":"image","src":"https:\/\/cdn.shopify.com\/s\/files\/1\/0077\/6096\/9779\/products\/9_0b3e4140-4ddd-45ba-adb4-779c67e38c62.jpg?v=1661999852","width":800},{"alt":null,"id":22709213102169,"position":10,"preview_image":{"aspect_ratio":1.0,"height":800,"width":800,"src":"https:\/\/cdn.shopify.com\/s\/files\/1\/0077\/6096\/9779\/products\/1_852c8f03-cdce-4622-8649-1a4423c07de7.jpg?v=1661999852"},"aspect_ratio":1.0,"height":800,"media_type":"image","src":"https:\/\/cdn.shopify.com\/s\/files\/1\/0077\/6096\/9779\/products\/1_852c8f03-cdce-4622-8649-1a4423c07de7.jpg?v=1661999852","width":800},{"alt":null,"id":22709213134937,"position":11,"preview_image":{"aspect_ratio":1.0,"height":800,"width":800,"src":"https:\/\/cdn.shopify.com\/s\/files\/1\/0077\/6096\/9779\/products\/9f51552b11f9d48d1aa47638aceefcfb_b6ef3f57-3937-46f8-a0e9-27573686871f.jpg?v=1661999852"},"aspect_ratio":1.0,"height":800,"media_type":"image","src":"https:\/\/cdn.shopify.com\/s\/files\/1\/0077\/6096\/9779\/products\/9f51552b11f9d48d1aa47638aceefcfb_b6ef3f57-3937-46f8-a0e9-27573686871f.jpg?v=1661999852","width":800},{"alt":null,"id":22709213167705,"position":12,"preview_image":{"aspect_ratio":1.0,"height":800,"width":800,"src":"https:\/\/cdn.shopify.com\/s\/files\/1\/0077\/6096\/9779\/products\/2_5943f60f-cbd2-4700-859f-305e07522636.jpg?v=1661999852"},"aspect_ratio":1.0,"height":800,"media_type":"image","src":"https:\/\/cdn.shopify.com\/s\/files\/1\/0077\/6096\/9779\/products\/2_5943f60f-cbd2-4700-859f-305e07522636.jpg?v=1661999852","width":800},{"alt":null,"id":22709213200473,"position":13,"preview_image":{"aspect_ratio":1.0,"height":800,"width":800,"src":"https:\/\/cdn.shopify.com\/s\/files\/1\/0077\/6096\/9779\/products\/2_ad805e5c-0105-4d6a-a7f2-a9c33d749d67.jpg?v=1661999852"},"aspect_ratio":1.0,"height":800,"media_type":"image","src":"https:\/\/cdn.shopify.com\/s\/files\/1\/0077\/6096\/9779\/products\/2_ad805e5c-0105-4d6a-a7f2-a9c33d749d67.jpg?v=1661999852","width":800},{"alt":null,"id":22709213233241,"position":14,"preview_image":{"aspect_ratio":1.0,"height":800,"width":800,"src":"https:\/\/cdn.shopify.com\/s\/files\/1\/0077\/6096\/9779\/products\/3_073aa88e-11df-4ae8-9dfd-60261e3422a9.jpg?v=1661999852"},"aspect_ratio":1.0,"height":800,"media_type":"image","src":"https:\/\/cdn.shopify.com\/s\/files\/1\/0077\/6096\/9779\/products\/3_073aa88e-11df-4ae8-9dfd-60261e3422a9.jpg?v=1661999852","width":800},{"alt":null,"id":22709213266009,"position":15,"preview_image":{"aspect_ratio":1.0,"height":800,"width":800,"src":"https:\/\/cdn.shopify.com\/s\/files\/1\/0077\/6096\/9779\/products\/4_c35bfd0c-06c9-44f8-9f43-d4a1040be3c3.jpg?v=1661999852"},"aspect_ratio":1.0,"height":800,"media_type":"image","src":"https:\/\/cdn.shopify.com\/s\/files\/1\/0077\/6096\/9779\/products\/4_c35bfd0c-06c9-44f8-9f43-d4a1040be3c3.jpg?v=1661999852","width":800},{"alt":null,"id":22709213298777,"position":16,"preview_image":{"aspect_ratio":1.0,"height":800,"width":800,"src":"https:\/\/cdn.shopify.com\/s\/files\/1\/0077\/6096\/9779\/products\/5_ec3c7fb9-3432-4fdc-a372-2b45e52b7b62.jpg?v=1661999852"},"aspect_ratio":1.0,"height":800,"media_type":"image","src":"https:\/\/cdn.shopify.com\/s\/files\/1\/0077\/6096\/9779\/products\/5_ec3c7fb9-3432-4fdc-a372-2b45e52b7b62.jpg?v=1661999852","width":800},{"alt":null,"id":22709213331545,"position":17,"preview_image":{"aspect_ratio":1.0,"height":800,"width":800,"src":"https:\/\/cdn.shopify.com\/s\/files\/1\/0077\/6096\/9779\/products\/5_d9eefe78-9f83-46f5-a296-95f3c916fe01.jpg?v=1661999855"},"aspect_ratio":1.0,"height":800,"media_type":"image","src":"https:\/\/cdn.shopify.com\/s\/files\/1\/0077\/6096\/9779\/products\/5_d9eefe78-9f83-46f5-a296-95f3c916fe01.jpg?v=1661999855","width":800},{"alt":null,"id":22709213364313,"position":18,"preview_image":{"aspect_ratio":1.0,"height":800,"width":800,"src":"https:\/\/cdn.shopify.com\/s\/files\/1\/0077\/6096\/9779\/products\/2_f4ff8962-77e4-4ef3-bc32-18108fda9651.jpg?v=1661999856"},"aspect_ratio":1.0,"height":800,"media_type":"image","src":"https:\/\/cdn.shopify.com\/s\/files\/1\/0077\/6096\/9779\/products\/2_f4ff8962-77e4-4ef3-bc32-18108fda9651.jpg?v=1661999856","width":800},{"alt":null,"id":22709213429849,"position":19,"preview_image":{"aspect_ratio":1.0,"height":800,"width":800,"src":"https:\/\/cdn.shopify.com\/s\/files\/1\/0077\/6096\/9779\/products\/3_7215cfec-680b-4513-911d-44ebd46126d2.jpg?v=1661999858"},"aspect_ratio":1.0,"height":800,"media_type":"image","src":"https:\/\/cdn.shopify.com\/s\/files\/1\/0077\/6096\/9779\/products\/3_7215cfec-680b-4513-911d-44ebd46126d2.jpg?v=1661999858","width":800},{"alt":null,"id":22709213462617,"position":20,"preview_image":{"aspect_ratio":1.0,"height":800,"width":800,"src":"https:\/\/cdn.shopify.com\/s\/files\/1\/0077\/6096\/9779\/products\/4_044dff88-dca5-4960-acf2-50491bed6533.jpg?v=1661999859"},"aspect_ratio":1.0,"height":800,"media_type":"image","src":"https:\/\/cdn.shopify.com\/s\/files\/1\/0077\/6096\/9779\/products\/4_044dff88-dca5-4960-acf2-50491bed6533.jpg?v=1661999859","width":800}],"requires_selling_plan":false,"selling_plan_groups":[],"content":"\u003cp data-mce-fragment=\"1\"\u003e\u003cspan data-mce-fragment=\"1\" style=\"color: #ff2a00;\"\u003e\u003cstrong data-mce-fragment=\"1\"\u003eFEATURES\u003c\/strong\u003e\u003c\/span\u003e\u003c\/p\u003e\n\u003cul data-mce-fragment=\"1\"\u003e\n\u003cli data-mce-fragment=\"1\"\u003eLace mesh socks, light, soft and elastic, comfortable and breathable, sexy and versatile.\u003c\/li\u003e\n\u003c\/ul\u003e\n\u003cp data-mce-fragment=\"1\"\u003e\u003cimg class=\"sep-lazyload lazyautosizes lazyloaded\" data-sizes=\"auto\" alt=\"\" data-src=\"https:\/\/cdn.shoplazza.com\/9d6ae0f37668a8b293c849ba51bc7615.gif\" width=\"484\" height=\"484\" sizes=\"300px\" src=\"https:\/\/cdn.shoplazza.com\/9d6ae0f37668a8b293c849ba51bc7615.gif\" data-mce-fragment=\"1\" style=\"display: block; margin-left: auto; margin-right: auto;\" data-mce-src=\"https:\/\/cdn.shoplazza.com\/9d6ae0f37668a8b293c849ba51bc7615.gif\"\u003e\u003c\/p\u003e\n\u003cul data-mce-fragment=\"1\"\u003e\n\u003cli data-mce-fragment=\"1\"\u003e\n\u003cstrong data-mce-fragment=\"1\"\u003eExquisite Pattern:\u003c\/strong\u003e\u003cspan data-mce-fragment=\"1\"\u003e \u003c\/span\u003eElegant and delicate lace embroidery pattern, classic and versatile color, can be matched with all kinds of shoes.\u003cbr data-mce-fragment=\"1\"\u003e\n\u003c\/li\u003e\n\u003c\/ul\u003e\n\u003cp data-mce-fragment=\"1\"\u003e\u003cimg class=\"sep-lazyload lazyautosizes lazyloaded\" data-sizes=\"auto\" alt=\"\" width=\"480\" height=\"148\" data-srcset=\"https:\/\/cdn.shoplazza.com\/2d4c40ee26b330bc54a2a516955b8912_900.jpeg 48w, https:\/\/cdn.shoplazza.com\/2d4c40ee26b330bc54a2a516955b8912_900.jpeg 180w, https:\/\/cdn.shoplazza.com\/2d4c40ee26b330bc54a2a516955b8912_900.jpeg 360w, https:\/\/cdn.shoplazza.com\/2d4c40ee26b330bc54a2a516955b8912_900.jpeg 540w, https:\/\/cdn.shoplazza.com\/2d4c40ee26b330bc54a2a516955b8912_900.jpeg 720w, https:\/\/cdn.shoplazza.com\/2d4c40ee26b330bc54a2a516955b8912_900.jpeg 900w, https:\/\/cdn.shoplazza.com\/2d4c40ee26b330bc54a2a516955b8912_900.jpeg 1024w, https:\/\/cdn.shoplazza.com\/2d4c40ee26b330bc54a2a516955b8912_900.jpeg 1280w, https:\/\/cdn.shoplazza.com\/2d4c40ee26b330bc54a2a516955b8912_900.jpeg 1366w, https:\/\/cdn.shoplazza.com\/2d4c40ee26b330bc54a2a516955b8912_900.jpeg 1440w, https:\/\/cdn.shoplazza.com\/2d4c40ee26b330bc54a2a516955b8912_900.jpeg 1536w, https:\/\/cdn.shoplazza.com\/2d4c40ee26b330bc54a2a516955b8912_900.jpeg 1600w, https:\/\/cdn.shoplazza.com\/2d4c40ee26b330bc54a2a516955b8912_900.jpeg 1920w, https:\/\/cdn.shoplazza.com\/2d4c40ee26b330bc54a2a516955b8912_900.jpeg 2056w, https:\/\/cdn.shoplazza.com\/2d4c40ee26b330bc54a2a516955b8912_900.jpeg 2560w, https:\/\/cdn.shoplazza.com\/2d4c40ee26b330bc54a2a516955b8912_900.jpeg 2732w, https:\/\/cdn.shoplazza.com\/2d4c40ee26b330bc54a2a516955b8912_900.jpeg 2880w, https:\/\/cdn.shoplazza.com\/2d4c40ee26b330bc54a2a516955b8912_900.jpeg 3072w, https:\/\/cdn.shoplazza.com\/2d4c40ee26b330bc54a2a516955b8912_900.jpeg 3200w, https:\/\/cdn.shoplazza.com\/2d4c40ee26b330bc54a2a516955b8912_900.jpeg 3840w\" sizes=\"480px\" srcset=\"https:\/\/cdn.shoplazza.com\/2d4c40ee26b330bc54a2a516955b8912_900.jpeg 48w, https:\/\/cdn.shoplazza.com\/2d4c40ee26b330bc54a2a516955b8912_900.jpeg 180w, https:\/\/cdn.shoplazza.com\/2d4c40ee26b330bc54a2a516955b8912_900.jpeg 360w, https:\/\/cdn.shoplazza.com\/2d4c40ee26b330bc54a2a516955b8912_900.jpeg 540w, https:\/\/cdn.shoplazza.com\/2d4c40ee26b330bc54a2a516955b8912_900.jpeg 720w, https:\/\/cdn.shoplazza.com\/2d4c40ee26b330bc54a2a516955b8912_900.jpeg 900w, https:\/\/cdn.shoplazza.com\/2d4c40ee26b330bc54a2a516955b8912_900.jpeg 1024w, https:\/\/cdn.shoplazza.com\/2d4c40ee26b330bc54a2a516955b8912_900.jpeg 1280w, https:\/\/cdn.shoplazza.com\/2d4c40ee26b330bc54a2a516955b8912_900.jpeg 1366w, https:\/\/cdn.shoplazza.com\/2d4c40ee26b330bc54a2a516955b8912_900.jpeg 1440w, https:\/\/cdn.shoplazza.com\/2d4c40ee26b330bc54a2a516955b8912_900.jpeg 1536w, https:\/\/cdn.shoplazza.com\/2d4c40ee26b330bc54a2a516955b8912_900.jpeg 1600w, https:\/\/cdn.shoplazza.com\/2d4c40ee26b330bc54a2a516955b8912_900.jpeg 1920w, https:\/\/cdn.shoplazza.com\/2d4c40ee26b330bc54a2a516955b8912_900.jpeg 2056w, https:\/\/cdn.shoplazza.com\/2d4c40ee26b330bc54a2a516955b8912_900.jpeg 2560w, https:\/\/cdn.shoplazza.com\/2d4c40ee26b330bc54a2a516955b8912_900.jpeg 2732w, https:\/\/cdn.shoplazza.com\/2d4c40ee26b330bc54a2a516955b8912_900.jpeg 2880w, https:\/\/cdn.shoplazza.com\/2d4c40ee26b330bc54a2a516955b8912_900.jpeg 3072w, https:\/\/cdn.shoplazza.com\/2d4c40ee26b330bc54a2a516955b8912_900.jpeg 3200w, https:\/\/cdn.shoplazza.com\/2d4c40ee26b330bc54a2a516955b8912_900.jpeg 3840w\" data-mce-fragment=\"1\" style=\"display: block; margin-left: auto; margin-right: auto;\"\u003e\u003c\/p\u003e\n\u003cul data-mce-fragment=\"1\"\u003e\n\u003cli data-mce-fragment=\"1\"\u003e\n\u003cstrong data-mce-fragment=\"1\"\u003eComfortable and High-elastic mesh:\u003c\/strong\u003e\u003cspan data-mce-fragment=\"1\"\u003e \u003c\/span\u003eSelected high-quality lace mesh, high elasticity does not strangle the feet, breathable and not stuffy.\u003cbr data-mce-fragment=\"1\"\u003e\n\u003c\/li\u003e\n\u003c\/ul\u003e\n\u003cp data-mce-fragment=\"1\"\u003e\u003cimg class=\"sep-lazyload lazyautosizes lazyloaded\" data-sizes=\"auto\" alt=\"\" width=\"480\" height=\"297\" data-srcset=\"https:\/\/cdn.shoplazza.com\/8aa3c1b469ea25c7db606aa716153c78_900.jpeg 48w, https:\/\/cdn.shoplazza.com\/8aa3c1b469ea25c7db606aa716153c78_900.jpeg 180w, https:\/\/cdn.shoplazza.com\/8aa3c1b469ea25c7db606aa716153c78_900.jpeg 360w, https:\/\/cdn.shoplazza.com\/8aa3c1b469ea25c7db606aa716153c78_900.jpeg 540w, https:\/\/cdn.shoplazza.com\/8aa3c1b469ea25c7db606aa716153c78_900.jpeg 720w, https:\/\/cdn.shoplazza.com\/8aa3c1b469ea25c7db606aa716153c78_900.jpeg 900w, https:\/\/cdn.shoplazza.com\/8aa3c1b469ea25c7db606aa716153c78_900.jpeg 1024w, https:\/\/cdn.shoplazza.com\/8aa3c1b469ea25c7db606aa716153c78_900.jpeg 1280w, https:\/\/cdn.shoplazza.com\/8aa3c1b469ea25c7db606aa716153c78_900.jpeg 1366w, https:\/\/cdn.shoplazza.com\/8aa3c1b469ea25c7db606aa716153c78_900.jpeg 1440w, https:\/\/cdn.shoplazza.com\/8aa3c1b469ea25c7db606aa716153c78_900.jpeg 1536w, https:\/\/cdn.shoplazza.com\/8aa3c1b469ea25c7db606aa716153c78_900.jpeg 1600w, https:\/\/cdn.shoplazza.com\/8aa3c1b469ea25c7db606aa716153c78_900.jpeg 1920w, https:\/\/cdn.shoplazza.com\/8aa3c1b469ea25c7db606aa716153c78_900.jpeg 2056w, https:\/\/cdn.shoplazza.com\/8aa3c1b469ea25c7db606aa716153c78_900.jpeg 2560w, https:\/\/cdn.shoplazza.com\/8aa3c1b469ea25c7db606aa716153c78_900.jpeg 2732w, https:\/\/cdn.shoplazza.com\/8aa3c1b469ea25c7db606aa716153c78_900.jpeg 2880w, https:\/\/cdn.shoplazza.com\/8aa3c1b469ea25c7db606aa716153c78_900.jpeg 3072w, https:\/\/cdn.shoplazza.com\/8aa3c1b469ea25c7db606aa716153c78_900.jpeg 3200w, https:\/\/cdn.shoplazza.com\/8aa3c1b469ea25c7db606aa716153c78_900.jpeg 3840w\" sizes=\"480px\" srcset=\"https:\/\/cdn.shoplazza.com\/8aa3c1b469ea25c7db606aa716153c78_900.jpeg 48w, https:\/\/cdn.shoplazza.com\/8aa3c1b469ea25c7db606aa716153c78_900.jpeg 180w, https:\/\/cdn.shoplazza.com\/8aa3c1b469ea25c7db606aa716153c78_900.jpeg 360w, https:\/\/cdn.shoplazza.com\/8aa3c1b469ea25c7db606aa716153c78_900.jpeg 540w, https:\/\/cdn.shoplazza.com\/8aa3c1b469ea25c7db606aa716153c78_900.jpeg 720w, https:\/\/cdn.shoplazza.com\/8aa3c1b469ea25c7db606aa716153c78_900.jpeg 900w, https:\/\/cdn.shoplazza.com\/8aa3c1b469ea25c7db606aa716153c78_900.jpeg 1024w, https:\/\/cdn.shoplazza.com\/8aa3c1b469ea25c7db606aa716153c78_900.jpeg 1280w, https:\/\/cdn.shoplazza.com\/8aa3c1b469ea25c7db606aa716153c78_900.jpeg 1366w, https:\/\/cdn.shoplazza.com\/8aa3c1b469ea25c7db606aa716153c78_900.jpeg 1440w, https:\/\/cdn.shoplazza.com\/8aa3c1b469ea25c7db606aa716153c78_900.jpeg 1536w, https:\/\/cdn.shoplazza.com\/8aa3c1b469ea25c7db606aa716153c78_900.jpeg 1600w, https:\/\/cdn.shoplazza.com\/8aa3c1b469ea25c7db606aa716153c78_900.jpeg 1920w, https:\/\/cdn.shoplazza.com\/8aa3c1b469ea25c7db606aa716153c78_900.jpeg 2056w, https:\/\/cdn.shoplazza.com\/8aa3c1b469ea25c7db606aa716153c78_900.jpeg 2560w, https:\/\/cdn.shoplazza.com\/8aa3c1b469ea25c7db606aa716153c78_900.jpeg 2732w, https:\/\/cdn.shoplazza.com\/8aa3c1b469ea25c7db606aa716153c78_900.jpeg 2880w, https:\/\/cdn.shoplazza.com\/8aa3c1b469ea25c7db606aa716153c78_900.jpeg 3072w, https:\/\/cdn.shoplazza.com\/8aa3c1b469ea25c7db606aa716153c78_900.jpeg 3200w, https:\/\/cdn.shoplazza.com\/8aa3c1b469ea25c7db606aa716153c78_900.jpeg 3840w\" data-mce-fragment=\"1\" style=\"display: block; margin-left: auto; margin-right: auto;\"\u003e\u003c\/p\u003e\n\u003cul data-mce-fragment=\"1\"\u003e\n\u003cli data-mce-fragment=\"1\"\u003e\n\u003cp data-mce-fragment=\"1\"\u003e\u003cstrong data-mce-fragment=\"1\"\u003eHigh-quality Long-staple Cotton:\u003c\/strong\u003e\u003cspan data-mce-fragment=\"1\"\u003e \u003c\/span\u003eThe bottom is made of light and soft long-staple cotton, which has been exposed to 3000HRS of wind and sun. More comfortable and breathable, sweat absorption and non-slip, keep the soles of the feet dry.\u003c\/p\u003e\n\u003c\/li\u003e\n\u003cli data-mce-fragment=\"1\"\u003e\n\u003cp data-mce-fragment=\"1\"\u003e\u003cstrong data-mce-fragment=\"1\"\u003eNovel Style:\u003c\/strong\u003e\u003cspan data-mce-fragment=\"1\"\u003e \u003c\/span\u003enovel and chic with lady shoes and a small fragrance dress, the fabric is breathable and comfortable, and the lace style is elegant.\u003c\/p\u003e\n\u003c\/li\u003e\n\u003c\/ul\u003e\n\u003cp data-mce-fragment=\"1\"\u003e\u003cspan data-mce-fragment=\"1\" style=\"color: #ff2a00;\"\u003e\u003cstrong data-mce-fragment=\"1\"\u003eSPECIFICATIONS\u003c\/strong\u003e\u003c\/span\u003e\u003c\/p\u003e\n\u003cul data-mce-fragment=\"1\"\u003e\n\u003cli data-mce-fragment=\"1\"\u003e\n\u003cp data-mce-fragment=\"1\"\u003e\u003cstrong data-mce-fragment=\"1\"\u003eColor:\u003c\/strong\u003e\u003cspan data-mce-fragment=\"1\"\u003e \u003cspan class=\"Polaris-Badge_2qgie\" data-mce-fragment=\"1\"\u003eMixed colors, \u003c\/span\u003e\u003cspan class=\"Polaris-Badge_2qgie\" data-mce-fragment=\"1\"\u003eWhite, \u003c\/span\u003e\u003cspan class=\"Polaris-Badge_2qgie\" data-mce-fragment=\"1\"\u003eBlack, \u003c\/span\u003e\u003cspan class=\"Polaris-Badge_2qgie\" data-mce-fragment=\"1\"\u003eSkin tone, \u003c\/span\u003e\u003cspan class=\"Polaris-Badge_2qgie\" data-mce-fragment=\"1\"\u003eGray\u003c\/span\u003e\u003c\/span\u003e\u003c\/p\u003e\n\u003c\/li\u003e\n\u003cli data-mce-fragment=\"1\"\u003e\n\u003cp data-mce-fragment=\"1\"\u003e\u003cspan data-mce-fragment=\"1\"\u003e\u003cspan class=\"Polaris-Badge_2qgie\" data-mce-fragment=\"1\"\u003e\u003cstrong data-mce-fragment=\"1\"\u003eWeight: \u003c\/strong\u003e20g\u003c\/span\u003e\u003c\/span\u003e\u003c\/p\u003e\n\u003c\/li\u003e\n\u003cli data-mce-fragment=\"1\"\u003e\n\u003cp data-mce-fragment=\"1\"\u003e\u003cspan data-mce-fragment=\"1\"\u003e\u003cspan class=\"Polaris-Badge_2qgie\" data-mce-fragment=\"1\"\u003e\u003cstrong data-mce-fragment=\"1\"\u003eMaterial: \u003c\/strong\u003e\u003c\/span\u003e\u003c\/span\u003ePolyester, Cotton\u003c\/p\u003e\n\u003c\/li\u003e\n\u003cli data-mce-fragment=\"1\"\u003e\n\u003cstrong data-mce-fragment=\"1\"\u003eFunction:\u003c\/strong\u003e\u003cspan data-mce-fragment=\"1\"\u003e \u003c\/span\u003eBreathable, invisible, anti-friction\u003c\/li\u003e\n\u003c\/ul\u003e\n\u003cul data-mce-fragment=\"1\"\u003e\u003c\/ul\u003e\n\u003cspan data-mce-fragment=\"1\" style=\"color: #ff2a00;\"\u003e\u003cstrong data-mce-fragment=\"1\"\u003ePACKAGE\u003c\/strong\u003e\u003c\/span\u003e\u003cbr data-mce-fragment=\"1\"\u003e\n\u003cul data-mce-fragment=\"1\"\u003e\n\u003cli data-mce-fragment=\"1\"\u003e6 * Pairs of Ladies Fashion Lace Socks\u003c\/li\u003e\n\u003c\/ul\u003e\n\u003cspan data-mce-fragment=\"1\" style=\"color: #ff2a00;\"\u003e\u003cstrong data-mce-fragment=\"1\"\u003eNOTE\u003c\/strong\u003e\u003c\/span\u003e\u003cbr data-mce-fragment=\"1\"\u003e\n\u003cul data-mce-fragment=\"1\"\u003e\n\u003cli data-mce-fragment=\"1\"\u003e\n\u003cp data-mce-fragment=\"1\"\u003ePlease allow slight measurement deviation due to manual measurement.\u003c\/p\u003e\n\u003c\/li\u003e\n\u003cli data-mce-fragment=\"1\"\u003e\n\u003cp data-mce-fragment=\"1\"\u003eDue to the different monitor and light effect, the actual color of the item might be slightly different from the color showed on the pictures.\u003c\/p\u003e\n\u003c\/li\u003e\n\u003c\/ul\u003e"}
Adding product to your cart
FEATURES
Lace mesh socks, light, soft and elastic, comfortable and breathable, sexy and versatile.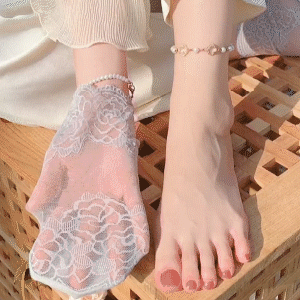 Exquisite Pattern:

 

Elegant and delicate lace embroidery pattern, classic and versatile color, can be matched with all kinds of shoes.


Comfortable and High-elastic mesh:

 

Selected high-quality lace mesh, high elasticity does not strangle the feet, breathable and not stuffy.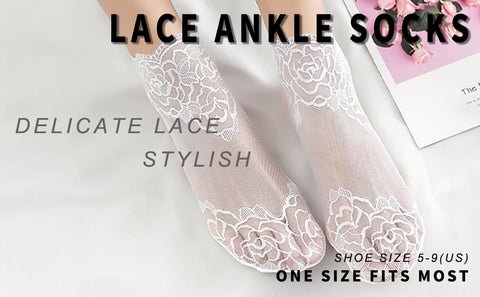 High-quality Long-staple Cotton: The bottom is made of light and soft long-staple cotton, which has been exposed to 3000HRS of wind and sun. More comfortable and breathable, sweat absorption and non-slip, keep the soles of the feet dry.

Novel Style: novel and chic with lady shoes and a small fragrance dress, the fabric is breathable and comfortable, and the lace style is elegant.
SPECIFICATIONS
Color: Mixed colors, White, Black, Skin tone, Gray

Weight: 20g

Material: Polyester, Cotton

Function:

 

Breathable, invisible, anti-friction
PACKAGE
6 * Pairs of Ladies Fashion Lace Socks
NOTE
Please allow slight measurement deviation due to manual measurement.

Due to the different monitor and light effect, the actual color of the item might be slightly different from the color showed on the pictures.