{"id":7137783709785,"title":"Leopard Print Stitching V-Neck Loose Pullover","handle":"leopard-print-stitching-v-neck-loose-pullover","description":"\u003cp data-mce-fragment=\"1\"\u003e\u003cspan style=\"color: #ff2a00;\" data-mce-fragment=\"1\"\u003e\u003cstrong data-mce-fragment=\"1\"\u003eFEATURES\u003c\/strong\u003e\u003c\/span\u003e\u003c\/p\u003e\n\u003cul\u003e\n\u003cli\u003e\n\u003cp\u003e\u003cspan data-mce-fragment=\"1\"\u003e\u003cspan style=\"color: #1a5da7;\"\u003e\u003cstrong\u003eHIGH-QUALITY MATERIAL:\u003c\/strong\u003e \u003c\/span\u003eBreathable, lightweight material and elastic knitted fabric are soft and comfortable to wear.\u003c\/span\u003e\u003c\/p\u003e\n\u003c\/li\u003e\n\u003c\/ul\u003e\n\u003cdiv\u003e\u003cimg src=\"https:\/\/cdn.shopifycdn.net\/s\/files\/1\/0356\/3048\/1544\/products\/13_fec81cdf-3a0a-4967-9c03-d67cc274f94c_480x480.jpg?v=1661332776\" alt=\"\" style=\"display: block; margin-left: auto; margin-right: auto;\" data-mce-fragment=\"1\" data-mce-src=\"https:\/\/cdn.shopifycdn.net\/s\/files\/1\/0356\/3048\/1544\/products\/13_fec81cdf-3a0a-4967-9c03-d67cc274f94c_480x480.jpg?v=1661332776\"\u003e\u003c\/div\u003e\n\u003cul\u003e\n\u003cli\u003e\n\u003cp\u003e\u003cspan style=\"color: #1a5da7;\"\u003e\u003cstrong\u003eSUITABLE OCCASION:\u003c\/strong\u003e\u003c\/span\u003e For casual, party, work, date, school, sports, vacation, street wear or casual everyday wear, it's a great gift idea for christmas, for holidays.\u003c\/p\u003e\n\u003c\/li\u003e\n\u003c\/ul\u003e\n\u003cdiv\u003e\u003cimg src=\"https:\/\/cdn.shopifycdn.net\/s\/files\/1\/0356\/3048\/1544\/products\/12_044e169b-8296-4363-b4cc-2a45b3171384_480x480.jpg?v=1661332756\" alt=\"\" style=\"display: block; margin-left: auto; margin-right: auto;\" data-mce-fragment=\"1\" data-mce-src=\"https:\/\/cdn.shopifycdn.net\/s\/files\/1\/0356\/3048\/1544\/products\/12_044e169b-8296-4363-b4cc-2a45b3171384_480x480.jpg?v=1661332756\"\u003e\u003c\/div\u003e\n\u003cul\u003e\n\u003cli\u003e\n\u003cp\u003e\u003cspan style=\"color: #185da8;\"\u003e\u003cstrong\u003eUNIQUE DESIGN:\u003c\/strong\u003e \u003c\/span\u003eThis tunic top is made of high quality fabric, well made, super soft and comfortable. Classic color block leopard patchwork long sleeve sweater , animal print and loose fitting tops for women. Casual cheetah versatile long sleeve fit for every season. A new trend and Fashionable direction of women fall clothing will makes you look energetic, elegant.\u003c\/p\u003e\n\u003c\/li\u003e\n\u003c\/ul\u003e\n\u003cp data-mce-fragment=\"1\"\u003e\u003cspan style=\"color: #ff2a00;\" data-mce-fragment=\"1\"\u003e\u003cstrong data-mce-fragment=\"1\"\u003eSPECIFICATIONS\u003c\/strong\u003e\u003c\/span\u003e\u003c\/p\u003e\n\u003cul data-mce-fragment=\"1\"\u003e\n\u003cli data-mce-fragment=\"1\"\u003e\n\u003cp data-mce-fragment=\"1\"\u003e\u003cstrong data-mce-fragment=\"1\"\u003eWeight:\u003c\/strong\u003e\u003cspan data-mce-fragment=\"1\"\u003e 220g\u003c\/span\u003e\u003cbr data-mce-fragment=\"1\"\u003e\u003c\/p\u003e\n\u003c\/li\u003e\n\u003cli data-mce-fragment=\"1\"\u003e\n\u003cp data-mce-fragment=\"1\"\u003e\u003cstrong data-mce-fragment=\"1\"\u003eColor:\u003c\/strong\u003e\u003cspan data-mce-fragment=\"1\"\u003e B\u003cspan class=\"Polaris-Badge_2qgie\" data-mce-fragment=\"1\"\u003elack, \u003c\/span\u003e\u003cspan class=\"Polaris-Badge_2qgie\" data-mce-fragment=\"1\"\u003egrey, \u003c\/span\u003e\u003cspan class=\"Polaris-Badge_2qgie\" data-mce-fragment=\"1\"\u003eburgundy, \u003c\/span\u003e\u003cspan class=\"Polaris-Badge_2qgie\" data-mce-fragment=\"1\"\u003eblue\u003c\/span\u003e\u003c\/span\u003e\u003c\/p\u003e\n\u003c\/li\u003e\n\u003cli data-mce-fragment=\"1\"\u003e\n\u003cp data-mce-fragment=\"1\"\u003e\u003cspan data-mce-fragment=\"1\"\u003e\u003cspan class=\"Polaris-Badge_2qgie\" data-mce-fragment=\"1\"\u003e\u003c\/span\u003e\u003c\/span\u003e\u003cstrong data-mce-fragment=\"1\"\u003eMaterial:\u003c\/strong\u003e\u003cspan data-mce-fragment=\"1\"\u003e Polyester, Cotton\u003c\/span\u003e\u003c\/p\u003e\n\u003c\/li\u003e\n\u003cli data-mce-fragment=\"1\"\u003e\n\u003cp data-mce-fragment=\"1\"\u003e\u003cstrong data-mce-fragment=\"1\"\u003eSize:\u003c\/strong\u003e\u003cspan data-mce-fragment=\"1\"\u003e \u003c\/span\u003e\u003c\/p\u003e\n\u003c\/li\u003e\n\u003c\/ul\u003e\n\u003ctable style=\"width: 83.6793%;\" data-mce-fragment=\"1\"\u003e\n\u003ctbody data-mce-fragment=\"1\"\u003e\n\u003ctr data-mce-fragment=\"1\"\u003e\n\u003ctd style=\"width: 16%; text-align: center;\" data-mce-fragment=\"1\"\u003eSize(cm\/in)\u003c\/td\u003e\n\u003ctd style=\"width: 16%; text-align: center;\" data-mce-fragment=\"1\"\u003eBust\u003c\/td\u003e\n\u003ctd style=\"width: 17%; text-align: center;\" data-mce-fragment=\"1\"\u003eSleeve\u003c\/td\u003e\n\u003ctd style=\"width: 22.447%; text-align: center;\" data-mce-fragment=\"1\"\u003e Length\u003c\/td\u003e\n\u003c\/tr\u003e\n\u003ctr data-mce-fragment=\"1\"\u003e\n\u003ctd style=\"width: 16%; text-align: center;\" data-mce-fragment=\"1\"\u003eS\u003c\/td\u003e\n\u003ctd style=\"width: 16%; text-align: center;\" data-mce-fragment=\"1\"\u003e100\u003cspan data-mce-fragment=\"1\"\u003e\/39.37\u003c\/span\u003e\n\u003c\/td\u003e\n\u003ctd style=\"width: 17%; text-align: center;\" data-mce-fragment=\"1\"\u003e68\/26.77\u003c\/td\u003e\n\u003ctd style=\"width: 22.447%; text-align: center;\" data-mce-fragment=\"1\"\u003e73\u003cspan data-mce-fragment=\"1\"\u003e\/28.74\u003c\/span\u003e\n\u003c\/td\u003e\n\u003c\/tr\u003e\n\u003ctr data-mce-fragment=\"1\"\u003e\n\u003ctd style=\"width: 16%; text-align: center;\" data-mce-fragment=\"1\"\u003eM\u003c\/td\u003e\n\u003ctd style=\"width: 16%; text-align: center;\" data-mce-fragment=\"1\"\u003e\u003cspan\u003e104\/40.94\u003c\/span\u003e\u003c\/td\u003e\n\u003ctd style=\"width: 17%; text-align: center;\" data-mce-fragment=\"1\"\u003e69\/27.17\u003c\/td\u003e\n\u003ctd style=\"width: 22.447%; text-align: center;\" data-mce-fragment=\"1\"\u003e74\u003cspan data-mce-fragment=\"1\"\u003e\/29.13\u003c\/span\u003e\n\u003c\/td\u003e\n\u003c\/tr\u003e\n\u003ctr data-mce-fragment=\"1\"\u003e\n\u003ctd style=\"width: 16%; text-align: center;\" data-mce-fragment=\"1\"\u003eL\u003c\/td\u003e\n\u003ctd style=\"width: 16%; text-align: center;\" data-mce-fragment=\"1\"\u003e\u003cspan\u003e108\/42.52\u003c\/span\u003e\u003c\/td\u003e\n\u003ctd style=\"width: 17%; text-align: center;\" data-mce-fragment=\"1\"\u003e70\/27.56\u003c\/td\u003e\n\u003ctd style=\"width: 22.447%; text-align: center;\" data-mce-fragment=\"1\"\u003e75\u003cspan data-mce-fragment=\"1\"\u003e\/29.53\u003c\/span\u003e\n\u003c\/td\u003e\n\u003c\/tr\u003e\n\u003ctr data-mce-fragment=\"1\"\u003e\n\u003ctd style=\"width: 16%; text-align: center;\" data-mce-fragment=\"1\"\u003eXL\u003c\/td\u003e\n\u003ctd style=\"width: 16%; text-align: center;\" data-mce-fragment=\"1\"\u003e112\/\u003cspan data-mce-fragment=\"1\"\u003e44.09\u003c\/span\u003e\n\u003c\/td\u003e\n\u003ctd style=\"width: 17%; text-align: center;\" data-mce-fragment=\"1\"\u003e71\/27.95\u003c\/td\u003e\n\u003ctd style=\"width: 22.447%; text-align: center;\" data-mce-fragment=\"1\"\u003e76\/29.92\u003c\/td\u003e\n\u003c\/tr\u003e\n\u003ctr data-mce-fragment=\"1\"\u003e\n\u003ctd style=\"width: 16%; text-align: center;\" data-mce-fragment=\"1\"\u003e2XL\u003c\/td\u003e\n\u003ctd style=\"width: 16%; text-align: center;\" data-mce-fragment=\"1\"\u003e116\/\u003cspan data-mce-fragment=\"1\"\u003e45.67\u003c\/span\u003e\n\u003c\/td\u003e\n\u003ctd style=\"width: 17%; text-align: center;\" data-mce-fragment=\"1\"\u003e72\/28.35\u003c\/td\u003e\n\u003ctd style=\"width: 22.447%; text-align: center;\" data-mce-fragment=\"1\"\u003e77\/30.31\u003c\/td\u003e\n\u003c\/tr\u003e\n\u003ctr data-mce-fragment=\"1\"\u003e\n\u003ctd style=\"width: 16%; text-align: center;\" data-mce-fragment=\"1\"\u003e3XL\u003c\/td\u003e\n\u003ctd style=\"width: 16%; text-align: center;\" data-mce-fragment=\"1\"\u003e120\u003cspan data-mce-fragment=\"1\"\u003e\/47.24\u003c\/span\u003e\n\u003c\/td\u003e\n\u003ctd style=\"width: 17%; text-align: center;\" data-mce-fragment=\"1\"\u003e73\/28.74\u003c\/td\u003e\n\u003ctd style=\"width: 22.447%; text-align: center;\" data-mce-fragment=\"1\"\u003e78\/30.71\u003c\/td\u003e\n\u003c\/tr\u003e\n\u003ctr data-mce-fragment=\"1\"\u003e\n\u003ctd style=\"width: 16%; text-align: center;\" data-mce-fragment=\"1\"\u003e4XL\u003c\/td\u003e\n\u003ctd style=\"width: 16%; text-align: center;\" data-mce-fragment=\"1\"\u003e124\u003cspan data-mce-fragment=\"1\"\u003e\/48.82\u003c\/span\u003e\n\u003c\/td\u003e\n\u003ctd style=\"width: 17%; text-align: center;\" data-mce-fragment=\"1\"\u003e74\/29.13\u003c\/td\u003e\n\u003ctd style=\"width: 22.447%; text-align: center;\" data-mce-fragment=\"1\"\u003e79\/31.10\u003c\/td\u003e\n\u003c\/tr\u003e\n\u003ctr data-mce-fragment=\"1\"\u003e\n\u003ctd style=\"width: 16%; text-align: center;\" data-mce-fragment=\"1\"\u003e5XL\u003c\/td\u003e\n\u003ctd style=\"width: 16%; text-align: center;\" data-mce-fragment=\"1\"\u003e128\/50.39\u003c\/td\u003e\n\u003ctd style=\"width: 17%; text-align: center;\" data-mce-fragment=\"1\"\u003e75\/29.53\u003c\/td\u003e\n\u003ctd style=\"width: 22.447%; text-align: center;\" data-mce-fragment=\"1\"\u003e80\/31.50\u003c\/td\u003e\n\u003c\/tr\u003e\n\u003c\/tbody\u003e\n\u003c\/table\u003e\n\u003cbr\u003e\n\u003cul data-mce-fragment=\"1\"\u003e\u003c\/ul\u003e\n\u003cul data-mce-fragment=\"1\"\u003e\u003c\/ul\u003e\n\u003cp data-mce-fragment=\"1\"\u003e\u003cspan style=\"color: #ff2a00;\" data-mce-fragment=\"1\"\u003e\u003cb data-mce-fragment=\"1\"\u003ePACKAGE\u003c\/b\u003e\u003c\/span\u003e\u003c\/p\u003e\n\u003cul data-mce-fragment=\"1\"\u003e\n\u003cli data-mce-fragment=\"1\"\u003e1\u003cb data-mce-fragment=\"1\"\u003e\u003cspan data-mce-fragment=\"1\"\u003e \u003c\/span\u003e*\u003c\/b\u003e\u003cspan data-mce-fragment=\"1\"\u003e Leopard Print Stitching V-Neck Loose Pullover\u003c\/span\u003e\n\u003c\/li\u003e\n\u003c\/ul\u003e\n\u003cp data-mce-fragment=\"1\"\u003e\u003cspan style=\"color: #ff2a00;\" data-mce-fragment=\"1\"\u003e\u003cstrong data-mce-fragment=\"1\"\u003eNOTE\u003c\/strong\u003e\u003c\/span\u003e\u003c\/p\u003e\n\u003cul data-mce-fragment=\"1\"\u003e\n\u003cli data-mce-fragment=\"1\"\u003e\n\u003cp data-mce-fragment=\"1\"\u003ePlease allow slight measuring deviation due to manual measurement.\u003cbr data-mce-fragment=\"1\"\u003e\u003c\/p\u003e\n\u003c\/li\u003e\n\u003cli data-mce-fragment=\"1\"\u003e\n\u003cp data-mce-fragment=\"1\"\u003eDue to the different monitor and light effect, the actual color of the item might be slightly different from the color showed on the pictures.\u003c\/p\u003e\n\u003c\/li\u003e\n\u003c\/ul\u003e","published_at":"2022-08-24T16:51:31-10:00","created_at":"2022-08-24T16:51:43-10:00","vendor":"Suerteyay","type":"","tags":["t-shirt"],"price":2499,"price_min":2499,"price_max":2499,"available":true,"price_varies":false,"compare_at_price":4998,"compare_at_price_min":4998,"compare_at_price_max":4998,"compare_at_price_varies":false,"variants":[{"id":40176169287769,"title":"black \/ S","option1":"black","option2":"S","option3":null,"sku":"TS36320-C001-S00S","requires_shipping":true,"taxable":false,"featured_image":{"id":30136302108761,"product_id":7137783709785,"position":14,"created_at":"2022-08-24T16:51:52-10:00","updated_at":"2022-08-24T16:51:52-10:00","alt":null,"width":800,"height":800,"src":"\/\/www.suerteyay.com\/cdn\/shop\/products\/7_ca54ba89-3032-432e-84bf-dee9d739dc67.jpg?v=1661395912","variant_ids":[40176169287769,40176169320537,40176169353305,40176169386073,40176169418841,40176169451609,40176169484377,40176169517145]},"available":true,"name":"Leopard Print Stitching V-Neck Loose Pullover - black \/ S","public_title":"black \/ S","options":["black","S"],"price":2499,"weight":0,"compare_at_price":4998,"inventory_management":null,"barcode":null,"featured_media":{"alt":null,"id":22663474085977,"position":14,"preview_image":{"aspect_ratio":1.0,"height":800,"width":800,"src":"\/\/www.suerteyay.com\/cdn\/shop\/products\/7_ca54ba89-3032-432e-84bf-dee9d739dc67.jpg?v=1661395912"}},"requires_selling_plan":false,"selling_plan_allocations":[],"quantity_rule":{"min":1,"max":null,"increment":1}},{"id":40176169320537,"title":"black \/ M","option1":"black","option2":"M","option3":null,"sku":"TS36320-C001-S00M","requires_shipping":true,"taxable":false,"featured_image":{"id":30136302108761,"product_id":7137783709785,"position":14,"created_at":"2022-08-24T16:51:52-10:00","updated_at":"2022-08-24T16:51:52-10:00","alt":null,"width":800,"height":800,"src":"\/\/www.suerteyay.com\/cdn\/shop\/products\/7_ca54ba89-3032-432e-84bf-dee9d739dc67.jpg?v=1661395912","variant_ids":[40176169287769,40176169320537,40176169353305,40176169386073,40176169418841,40176169451609,40176169484377,40176169517145]},"available":true,"name":"Leopard Print Stitching V-Neck Loose Pullover - black \/ M","public_title":"black \/ M","options":["black","M"],"price":2499,"weight":0,"compare_at_price":4998,"inventory_management":null,"barcode":null,"featured_media":{"alt":null,"id":22663474085977,"position":14,"preview_image":{"aspect_ratio":1.0,"height":800,"width":800,"src":"\/\/www.suerteyay.com\/cdn\/shop\/products\/7_ca54ba89-3032-432e-84bf-dee9d739dc67.jpg?v=1661395912"}},"requires_selling_plan":false,"selling_plan_allocations":[],"quantity_rule":{"min":1,"max":null,"increment":1}},{"id":40176169353305,"title":"black \/ L","option1":"black","option2":"L","option3":null,"sku":"TS36320-C001-S00L","requires_shipping":true,"taxable":false,"featured_image":{"id":30136302108761,"product_id":7137783709785,"position":14,"created_at":"2022-08-24T16:51:52-10:00","updated_at":"2022-08-24T16:51:52-10:00","alt":null,"width":800,"height":800,"src":"\/\/www.suerteyay.com\/cdn\/shop\/products\/7_ca54ba89-3032-432e-84bf-dee9d739dc67.jpg?v=1661395912","variant_ids":[40176169287769,40176169320537,40176169353305,40176169386073,40176169418841,40176169451609,40176169484377,40176169517145]},"available":true,"name":"Leopard Print Stitching V-Neck Loose Pullover - black \/ L","public_title":"black \/ L","options":["black","L"],"price":2499,"weight":0,"compare_at_price":4998,"inventory_management":null,"barcode":null,"featured_media":{"alt":null,"id":22663474085977,"position":14,"preview_image":{"aspect_ratio":1.0,"height":800,"width":800,"src":"\/\/www.suerteyay.com\/cdn\/shop\/products\/7_ca54ba89-3032-432e-84bf-dee9d739dc67.jpg?v=1661395912"}},"requires_selling_plan":false,"selling_plan_allocations":[],"quantity_rule":{"min":1,"max":null,"increment":1}},{"id":40176169386073,"title":"black \/ XL","option1":"black","option2":"XL","option3":null,"sku":"TS36320-C001-S00X","requires_shipping":true,"taxable":false,"featured_image":{"id":30136302108761,"product_id":7137783709785,"position":14,"created_at":"2022-08-24T16:51:52-10:00","updated_at":"2022-08-24T16:51:52-10:00","alt":null,"width":800,"height":800,"src":"\/\/www.suerteyay.com\/cdn\/shop\/products\/7_ca54ba89-3032-432e-84bf-dee9d739dc67.jpg?v=1661395912","variant_ids":[40176169287769,40176169320537,40176169353305,40176169386073,40176169418841,40176169451609,40176169484377,40176169517145]},"available":true,"name":"Leopard Print Stitching V-Neck Loose Pullover - black \/ XL","public_title":"black \/ XL","options":["black","XL"],"price":2499,"weight":0,"compare_at_price":4998,"inventory_management":null,"barcode":null,"featured_media":{"alt":null,"id":22663474085977,"position":14,"preview_image":{"aspect_ratio":1.0,"height":800,"width":800,"src":"\/\/www.suerteyay.com\/cdn\/shop\/products\/7_ca54ba89-3032-432e-84bf-dee9d739dc67.jpg?v=1661395912"}},"requires_selling_plan":false,"selling_plan_allocations":[],"quantity_rule":{"min":1,"max":null,"increment":1}},{"id":40176169418841,"title":"black \/ 2XL","option1":"black","option2":"2XL","option3":null,"sku":"TS36320-C001-S02X","requires_shipping":true,"taxable":false,"featured_image":{"id":30136302108761,"product_id":7137783709785,"position":14,"created_at":"2022-08-24T16:51:52-10:00","updated_at":"2022-08-24T16:51:52-10:00","alt":null,"width":800,"height":800,"src":"\/\/www.suerteyay.com\/cdn\/shop\/products\/7_ca54ba89-3032-432e-84bf-dee9d739dc67.jpg?v=1661395912","variant_ids":[40176169287769,40176169320537,40176169353305,40176169386073,40176169418841,40176169451609,40176169484377,40176169517145]},"available":true,"name":"Leopard Print Stitching V-Neck Loose Pullover - black \/ 2XL","public_title":"black \/ 2XL","options":["black","2XL"],"price":2499,"weight":0,"compare_at_price":4998,"inventory_management":null,"barcode":null,"featured_media":{"alt":null,"id":22663474085977,"position":14,"preview_image":{"aspect_ratio":1.0,"height":800,"width":800,"src":"\/\/www.suerteyay.com\/cdn\/shop\/products\/7_ca54ba89-3032-432e-84bf-dee9d739dc67.jpg?v=1661395912"}},"requires_selling_plan":false,"selling_plan_allocations":[],"quantity_rule":{"min":1,"max":null,"increment":1}},{"id":40176169451609,"title":"black \/ 3XL","option1":"black","option2":"3XL","option3":null,"sku":"TS36320-C001-S03X","requires_shipping":true,"taxable":false,"featured_image":{"id":30136302108761,"product_id":7137783709785,"position":14,"created_at":"2022-08-24T16:51:52-10:00","updated_at":"2022-08-24T16:51:52-10:00","alt":null,"width":800,"height":800,"src":"\/\/www.suerteyay.com\/cdn\/shop\/products\/7_ca54ba89-3032-432e-84bf-dee9d739dc67.jpg?v=1661395912","variant_ids":[40176169287769,40176169320537,40176169353305,40176169386073,40176169418841,40176169451609,40176169484377,40176169517145]},"available":true,"name":"Leopard Print Stitching V-Neck Loose Pullover - black \/ 3XL","public_title":"black \/ 3XL","options":["black","3XL"],"price":2499,"weight":0,"compare_at_price":4998,"inventory_management":null,"barcode":null,"featured_media":{"alt":null,"id":22663474085977,"position":14,"preview_image":{"aspect_ratio":1.0,"height":800,"width":800,"src":"\/\/www.suerteyay.com\/cdn\/shop\/products\/7_ca54ba89-3032-432e-84bf-dee9d739dc67.jpg?v=1661395912"}},"requires_selling_plan":false,"selling_plan_allocations":[],"quantity_rule":{"min":1,"max":null,"increment":1}},{"id":40176169484377,"title":"black \/ 4XL","option1":"black","option2":"4XL","option3":null,"sku":"TS36320-C001-S04X","requires_shipping":true,"taxable":false,"featured_image":{"id":30136302108761,"product_id":7137783709785,"position":14,"created_at":"2022-08-24T16:51:52-10:00","updated_at":"2022-08-24T16:51:52-10:00","alt":null,"width":800,"height":800,"src":"\/\/www.suerteyay.com\/cdn\/shop\/products\/7_ca54ba89-3032-432e-84bf-dee9d739dc67.jpg?v=1661395912","variant_ids":[40176169287769,40176169320537,40176169353305,40176169386073,40176169418841,40176169451609,40176169484377,40176169517145]},"available":true,"name":"Leopard Print Stitching V-Neck Loose Pullover - black \/ 4XL","public_title":"black \/ 4XL","options":["black","4XL"],"price":2499,"weight":0,"compare_at_price":4998,"inventory_management":null,"barcode":null,"featured_media":{"alt":null,"id":22663474085977,"position":14,"preview_image":{"aspect_ratio":1.0,"height":800,"width":800,"src":"\/\/www.suerteyay.com\/cdn\/shop\/products\/7_ca54ba89-3032-432e-84bf-dee9d739dc67.jpg?v=1661395912"}},"requires_selling_plan":false,"selling_plan_allocations":[],"quantity_rule":{"min":1,"max":null,"increment":1}},{"id":40176169517145,"title":"black \/ 5XL","option1":"black","option2":"5XL","option3":null,"sku":"TS36320-C001-S05X","requires_shipping":true,"taxable":false,"featured_image":{"id":30136302108761,"product_id":7137783709785,"position":14,"created_at":"2022-08-24T16:51:52-10:00","updated_at":"2022-08-24T16:51:52-10:00","alt":null,"width":800,"height":800,"src":"\/\/www.suerteyay.com\/cdn\/shop\/products\/7_ca54ba89-3032-432e-84bf-dee9d739dc67.jpg?v=1661395912","variant_ids":[40176169287769,40176169320537,40176169353305,40176169386073,40176169418841,40176169451609,40176169484377,40176169517145]},"available":true,"name":"Leopard Print Stitching V-Neck Loose Pullover - black \/ 5XL","public_title":"black \/ 5XL","options":["black","5XL"],"price":2499,"weight":0,"compare_at_price":4998,"inventory_management":null,"barcode":null,"featured_media":{"alt":null,"id":22663474085977,"position":14,"preview_image":{"aspect_ratio":1.0,"height":800,"width":800,"src":"\/\/www.suerteyay.com\/cdn\/shop\/products\/7_ca54ba89-3032-432e-84bf-dee9d739dc67.jpg?v=1661395912"}},"requires_selling_plan":false,"selling_plan_allocations":[],"quantity_rule":{"min":1,"max":null,"increment":1}},{"id":40176169549913,"title":"grey \/ S","option1":"grey","option2":"S","option3":null,"sku":"TS36320-C006-S00S","requires_shipping":true,"taxable":false,"featured_image":{"id":30136302370905,"product_id":7137783709785,"position":15,"created_at":"2022-08-24T16:51:54-10:00","updated_at":"2022-08-24T16:51:54-10:00","alt":null,"width":800,"height":800,"src":"\/\/www.suerteyay.com\/cdn\/shop\/products\/9_06805190-3097-4179-8cb0-4fed0094219c.jpg?v=1661395914","variant_ids":[40176169549913,40176169582681,40176169615449,40176169648217,40176169680985,40176169713753,40176169746521,40176169779289]},"available":true,"name":"Leopard Print Stitching V-Neck Loose Pullover - grey \/ S","public_title":"grey \/ S","options":["grey","S"],"price":2499,"weight":0,"compare_at_price":4998,"inventory_management":null,"barcode":null,"featured_media":{"alt":null,"id":22663474348121,"position":15,"preview_image":{"aspect_ratio":1.0,"height":800,"width":800,"src":"\/\/www.suerteyay.com\/cdn\/shop\/products\/9_06805190-3097-4179-8cb0-4fed0094219c.jpg?v=1661395914"}},"requires_selling_plan":false,"selling_plan_allocations":[],"quantity_rule":{"min":1,"max":null,"increment":1}},{"id":40176169582681,"title":"grey \/ M","option1":"grey","option2":"M","option3":null,"sku":"TS36320-C006-S00M","requires_shipping":true,"taxable":false,"featured_image":{"id":30136302370905,"product_id":7137783709785,"position":15,"created_at":"2022-08-24T16:51:54-10:00","updated_at":"2022-08-24T16:51:54-10:00","alt":null,"width":800,"height":800,"src":"\/\/www.suerteyay.com\/cdn\/shop\/products\/9_06805190-3097-4179-8cb0-4fed0094219c.jpg?v=1661395914","variant_ids":[40176169549913,40176169582681,40176169615449,40176169648217,40176169680985,40176169713753,40176169746521,40176169779289]},"available":true,"name":"Leopard Print Stitching V-Neck Loose Pullover - grey \/ M","public_title":"grey \/ M","options":["grey","M"],"price":2499,"weight":0,"compare_at_price":4998,"inventory_management":null,"barcode":null,"featured_media":{"alt":null,"id":22663474348121,"position":15,"preview_image":{"aspect_ratio":1.0,"height":800,"width":800,"src":"\/\/www.suerteyay.com\/cdn\/shop\/products\/9_06805190-3097-4179-8cb0-4fed0094219c.jpg?v=1661395914"}},"requires_selling_plan":false,"selling_plan_allocations":[],"quantity_rule":{"min":1,"max":null,"increment":1}},{"id":40176169615449,"title":"grey \/ L","option1":"grey","option2":"L","option3":null,"sku":"TS36320-C006-S00L","requires_shipping":true,"taxable":false,"featured_image":{"id":30136302370905,"product_id":7137783709785,"position":15,"created_at":"2022-08-24T16:51:54-10:00","updated_at":"2022-08-24T16:51:54-10:00","alt":null,"width":800,"height":800,"src":"\/\/www.suerteyay.com\/cdn\/shop\/products\/9_06805190-3097-4179-8cb0-4fed0094219c.jpg?v=1661395914","variant_ids":[40176169549913,40176169582681,40176169615449,40176169648217,40176169680985,40176169713753,40176169746521,40176169779289]},"available":true,"name":"Leopard Print Stitching V-Neck Loose Pullover - grey \/ L","public_title":"grey \/ L","options":["grey","L"],"price":2499,"weight":0,"compare_at_price":4998,"inventory_management":null,"barcode":null,"featured_media":{"alt":null,"id":22663474348121,"position":15,"preview_image":{"aspect_ratio":1.0,"height":800,"width":800,"src":"\/\/www.suerteyay.com\/cdn\/shop\/products\/9_06805190-3097-4179-8cb0-4fed0094219c.jpg?v=1661395914"}},"requires_selling_plan":false,"selling_plan_allocations":[],"quantity_rule":{"min":1,"max":null,"increment":1}},{"id":40176169648217,"title":"grey \/ XL","option1":"grey","option2":"XL","option3":null,"sku":"TS36320-C006-S00X","requires_shipping":true,"taxable":false,"featured_image":{"id":30136302370905,"product_id":7137783709785,"position":15,"created_at":"2022-08-24T16:51:54-10:00","updated_at":"2022-08-24T16:51:54-10:00","alt":null,"width":800,"height":800,"src":"\/\/www.suerteyay.com\/cdn\/shop\/products\/9_06805190-3097-4179-8cb0-4fed0094219c.jpg?v=1661395914","variant_ids":[40176169549913,40176169582681,40176169615449,40176169648217,40176169680985,40176169713753,40176169746521,40176169779289]},"available":true,"name":"Leopard Print Stitching V-Neck Loose Pullover - grey \/ XL","public_title":"grey \/ XL","options":["grey","XL"],"price":2499,"weight":0,"compare_at_price":4998,"inventory_management":null,"barcode":null,"featured_media":{"alt":null,"id":22663474348121,"position":15,"preview_image":{"aspect_ratio":1.0,"height":800,"width":800,"src":"\/\/www.suerteyay.com\/cdn\/shop\/products\/9_06805190-3097-4179-8cb0-4fed0094219c.jpg?v=1661395914"}},"requires_selling_plan":false,"selling_plan_allocations":[],"quantity_rule":{"min":1,"max":null,"increment":1}},{"id":40176169680985,"title":"grey \/ 2XL","option1":"grey","option2":"2XL","option3":null,"sku":"TS36320-C006-S02X","requires_shipping":true,"taxable":false,"featured_image":{"id":30136302370905,"product_id":7137783709785,"position":15,"created_at":"2022-08-24T16:51:54-10:00","updated_at":"2022-08-24T16:51:54-10:00","alt":null,"width":800,"height":800,"src":"\/\/www.suerteyay.com\/cdn\/shop\/products\/9_06805190-3097-4179-8cb0-4fed0094219c.jpg?v=1661395914","variant_ids":[40176169549913,40176169582681,40176169615449,40176169648217,40176169680985,40176169713753,40176169746521,40176169779289]},"available":true,"name":"Leopard Print Stitching V-Neck Loose Pullover - grey \/ 2XL","public_title":"grey \/ 2XL","options":["grey","2XL"],"price":2499,"weight":0,"compare_at_price":4998,"inventory_management":null,"barcode":null,"featured_media":{"alt":null,"id":22663474348121,"position":15,"preview_image":{"aspect_ratio":1.0,"height":800,"width":800,"src":"\/\/www.suerteyay.com\/cdn\/shop\/products\/9_06805190-3097-4179-8cb0-4fed0094219c.jpg?v=1661395914"}},"requires_selling_plan":false,"selling_plan_allocations":[],"quantity_rule":{"min":1,"max":null,"increment":1}},{"id":40176169713753,"title":"grey \/ 3XL","option1":"grey","option2":"3XL","option3":null,"sku":"TS36320-C006-S03X","requires_shipping":true,"taxable":false,"featured_image":{"id":30136302370905,"product_id":7137783709785,"position":15,"created_at":"2022-08-24T16:51:54-10:00","updated_at":"2022-08-24T16:51:54-10:00","alt":null,"width":800,"height":800,"src":"\/\/www.suerteyay.com\/cdn\/shop\/products\/9_06805190-3097-4179-8cb0-4fed0094219c.jpg?v=1661395914","variant_ids":[40176169549913,40176169582681,40176169615449,40176169648217,40176169680985,40176169713753,40176169746521,40176169779289]},"available":true,"name":"Leopard Print Stitching V-Neck Loose Pullover - grey \/ 3XL","public_title":"grey \/ 3XL","options":["grey","3XL"],"price":2499,"weight":0,"compare_at_price":4998,"inventory_management":null,"barcode":null,"featured_media":{"alt":null,"id":22663474348121,"position":15,"preview_image":{"aspect_ratio":1.0,"height":800,"width":800,"src":"\/\/www.suerteyay.com\/cdn\/shop\/products\/9_06805190-3097-4179-8cb0-4fed0094219c.jpg?v=1661395914"}},"requires_selling_plan":false,"selling_plan_allocations":[],"quantity_rule":{"min":1,"max":null,"increment":1}},{"id":40176169746521,"title":"grey \/ 4XL","option1":"grey","option2":"4XL","option3":null,"sku":"TS36320-C006-S04X","requires_shipping":true,"taxable":false,"featured_image":{"id":30136302370905,"product_id":7137783709785,"position":15,"created_at":"2022-08-24T16:51:54-10:00","updated_at":"2022-08-24T16:51:54-10:00","alt":null,"width":800,"height":800,"src":"\/\/www.suerteyay.com\/cdn\/shop\/products\/9_06805190-3097-4179-8cb0-4fed0094219c.jpg?v=1661395914","variant_ids":[40176169549913,40176169582681,40176169615449,40176169648217,40176169680985,40176169713753,40176169746521,40176169779289]},"available":true,"name":"Leopard Print Stitching V-Neck Loose Pullover - grey \/ 4XL","public_title":"grey \/ 4XL","options":["grey","4XL"],"price":2499,"weight":0,"compare_at_price":4998,"inventory_management":null,"barcode":null,"featured_media":{"alt":null,"id":22663474348121,"position":15,"preview_image":{"aspect_ratio":1.0,"height":800,"width":800,"src":"\/\/www.suerteyay.com\/cdn\/shop\/products\/9_06805190-3097-4179-8cb0-4fed0094219c.jpg?v=1661395914"}},"requires_selling_plan":false,"selling_plan_allocations":[],"quantity_rule":{"min":1,"max":null,"increment":1}},{"id":40176169779289,"title":"grey \/ 5XL","option1":"grey","option2":"5XL","option3":null,"sku":"TS36320-C006-S05X","requires_shipping":true,"taxable":false,"featured_image":{"id":30136302370905,"product_id":7137783709785,"position":15,"created_at":"2022-08-24T16:51:54-10:00","updated_at":"2022-08-24T16:51:54-10:00","alt":null,"width":800,"height":800,"src":"\/\/www.suerteyay.com\/cdn\/shop\/products\/9_06805190-3097-4179-8cb0-4fed0094219c.jpg?v=1661395914","variant_ids":[40176169549913,40176169582681,40176169615449,40176169648217,40176169680985,40176169713753,40176169746521,40176169779289]},"available":true,"name":"Leopard Print Stitching V-Neck Loose Pullover - grey \/ 5XL","public_title":"grey \/ 5XL","options":["grey","5XL"],"price":2499,"weight":0,"compare_at_price":4998,"inventory_management":null,"barcode":null,"featured_media":{"alt":null,"id":22663474348121,"position":15,"preview_image":{"aspect_ratio":1.0,"height":800,"width":800,"src":"\/\/www.suerteyay.com\/cdn\/shop\/products\/9_06805190-3097-4179-8cb0-4fed0094219c.jpg?v=1661395914"}},"requires_selling_plan":false,"selling_plan_allocations":[],"quantity_rule":{"min":1,"max":null,"increment":1}},{"id":40176169812057,"title":"burgundy \/ S","option1":"burgundy","option2":"S","option3":null,"sku":"TS36320-C020-S00S","requires_shipping":true,"taxable":false,"featured_image":{"id":30136301846617,"product_id":7137783709785,"position":13,"created_at":"2022-08-24T16:51:50-10:00","updated_at":"2022-08-24T16:51:50-10:00","alt":null,"width":800,"height":800,"src":"\/\/www.suerteyay.com\/cdn\/shop\/products\/5_5d6ca061-b09a-4c6c-9b74-f8212fdaaccb.jpg?v=1661395910","variant_ids":[40176169812057,40176169844825,40176169877593,40176169910361,40176169943129,40176169975897,40176170008665,40176170041433]},"available":true,"name":"Leopard Print Stitching V-Neck Loose Pullover - burgundy \/ S","public_title":"burgundy \/ S","options":["burgundy","S"],"price":2499,"weight":0,"compare_at_price":4998,"inventory_management":null,"barcode":null,"featured_media":{"alt":null,"id":22663473823833,"position":13,"preview_image":{"aspect_ratio":1.0,"height":800,"width":800,"src":"\/\/www.suerteyay.com\/cdn\/shop\/products\/5_5d6ca061-b09a-4c6c-9b74-f8212fdaaccb.jpg?v=1661395910"}},"requires_selling_plan":false,"selling_plan_allocations":[],"quantity_rule":{"min":1,"max":null,"increment":1}},{"id":40176169844825,"title":"burgundy \/ M","option1":"burgundy","option2":"M","option3":null,"sku":"TS36320-C020-S00M","requires_shipping":true,"taxable":false,"featured_image":{"id":30136301846617,"product_id":7137783709785,"position":13,"created_at":"2022-08-24T16:51:50-10:00","updated_at":"2022-08-24T16:51:50-10:00","alt":null,"width":800,"height":800,"src":"\/\/www.suerteyay.com\/cdn\/shop\/products\/5_5d6ca061-b09a-4c6c-9b74-f8212fdaaccb.jpg?v=1661395910","variant_ids":[40176169812057,40176169844825,40176169877593,40176169910361,40176169943129,40176169975897,40176170008665,40176170041433]},"available":true,"name":"Leopard Print Stitching V-Neck Loose Pullover - burgundy \/ M","public_title":"burgundy \/ M","options":["burgundy","M"],"price":2499,"weight":0,"compare_at_price":4998,"inventory_management":null,"barcode":null,"featured_media":{"alt":null,"id":22663473823833,"position":13,"preview_image":{"aspect_ratio":1.0,"height":800,"width":800,"src":"\/\/www.suerteyay.com\/cdn\/shop\/products\/5_5d6ca061-b09a-4c6c-9b74-f8212fdaaccb.jpg?v=1661395910"}},"requires_selling_plan":false,"selling_plan_allocations":[],"quantity_rule":{"min":1,"max":null,"increment":1}},{"id":40176169877593,"title":"burgundy \/ L","option1":"burgundy","option2":"L","option3":null,"sku":"TS36320-C020-S00L","requires_shipping":true,"taxable":false,"featured_image":{"id":30136301846617,"product_id":7137783709785,"position":13,"created_at":"2022-08-24T16:51:50-10:00","updated_at":"2022-08-24T16:51:50-10:00","alt":null,"width":800,"height":800,"src":"\/\/www.suerteyay.com\/cdn\/shop\/products\/5_5d6ca061-b09a-4c6c-9b74-f8212fdaaccb.jpg?v=1661395910","variant_ids":[40176169812057,40176169844825,40176169877593,40176169910361,40176169943129,40176169975897,40176170008665,40176170041433]},"available":true,"name":"Leopard Print Stitching V-Neck Loose Pullover - burgundy \/ L","public_title":"burgundy \/ L","options":["burgundy","L"],"price":2499,"weight":0,"compare_at_price":4998,"inventory_management":null,"barcode":null,"featured_media":{"alt":null,"id":22663473823833,"position":13,"preview_image":{"aspect_ratio":1.0,"height":800,"width":800,"src":"\/\/www.suerteyay.com\/cdn\/shop\/products\/5_5d6ca061-b09a-4c6c-9b74-f8212fdaaccb.jpg?v=1661395910"}},"requires_selling_plan":false,"selling_plan_allocations":[],"quantity_rule":{"min":1,"max":null,"increment":1}},{"id":40176169910361,"title":"burgundy \/ XL","option1":"burgundy","option2":"XL","option3":null,"sku":"TS36320-C020-S00X","requires_shipping":true,"taxable":false,"featured_image":{"id":30136301846617,"product_id":7137783709785,"position":13,"created_at":"2022-08-24T16:51:50-10:00","updated_at":"2022-08-24T16:51:50-10:00","alt":null,"width":800,"height":800,"src":"\/\/www.suerteyay.com\/cdn\/shop\/products\/5_5d6ca061-b09a-4c6c-9b74-f8212fdaaccb.jpg?v=1661395910","variant_ids":[40176169812057,40176169844825,40176169877593,40176169910361,40176169943129,40176169975897,40176170008665,40176170041433]},"available":true,"name":"Leopard Print Stitching V-Neck Loose Pullover - burgundy \/ XL","public_title":"burgundy \/ XL","options":["burgundy","XL"],"price":2499,"weight":0,"compare_at_price":4998,"inventory_management":null,"barcode":null,"featured_media":{"alt":null,"id":22663473823833,"position":13,"preview_image":{"aspect_ratio":1.0,"height":800,"width":800,"src":"\/\/www.suerteyay.com\/cdn\/shop\/products\/5_5d6ca061-b09a-4c6c-9b74-f8212fdaaccb.jpg?v=1661395910"}},"requires_selling_plan":false,"selling_plan_allocations":[],"quantity_rule":{"min":1,"max":null,"increment":1}},{"id":40176169943129,"title":"burgundy \/ 2XL","option1":"burgundy","option2":"2XL","option3":null,"sku":"TS36320-C020-S02X","requires_shipping":true,"taxable":false,"featured_image":{"id":30136301846617,"product_id":7137783709785,"position":13,"created_at":"2022-08-24T16:51:50-10:00","updated_at":"2022-08-24T16:51:50-10:00","alt":null,"width":800,"height":800,"src":"\/\/www.suerteyay.com\/cdn\/shop\/products\/5_5d6ca061-b09a-4c6c-9b74-f8212fdaaccb.jpg?v=1661395910","variant_ids":[40176169812057,40176169844825,40176169877593,40176169910361,40176169943129,40176169975897,40176170008665,40176170041433]},"available":true,"name":"Leopard Print Stitching V-Neck Loose Pullover - burgundy \/ 2XL","public_title":"burgundy \/ 2XL","options":["burgundy","2XL"],"price":2499,"weight":0,"compare_at_price":4998,"inventory_management":null,"barcode":null,"featured_media":{"alt":null,"id":22663473823833,"position":13,"preview_image":{"aspect_ratio":1.0,"height":800,"width":800,"src":"\/\/www.suerteyay.com\/cdn\/shop\/products\/5_5d6ca061-b09a-4c6c-9b74-f8212fdaaccb.jpg?v=1661395910"}},"requires_selling_plan":false,"selling_plan_allocations":[],"quantity_rule":{"min":1,"max":null,"increment":1}},{"id":40176169975897,"title":"burgundy \/ 3XL","option1":"burgundy","option2":"3XL","option3":null,"sku":"TS36320-C020-S03X","requires_shipping":true,"taxable":false,"featured_image":{"id":30136301846617,"product_id":7137783709785,"position":13,"created_at":"2022-08-24T16:51:50-10:00","updated_at":"2022-08-24T16:51:50-10:00","alt":null,"width":800,"height":800,"src":"\/\/www.suerteyay.com\/cdn\/shop\/products\/5_5d6ca061-b09a-4c6c-9b74-f8212fdaaccb.jpg?v=1661395910","variant_ids":[40176169812057,40176169844825,40176169877593,40176169910361,40176169943129,40176169975897,40176170008665,40176170041433]},"available":true,"name":"Leopard Print Stitching V-Neck Loose Pullover - burgundy \/ 3XL","public_title":"burgundy \/ 3XL","options":["burgundy","3XL"],"price":2499,"weight":0,"compare_at_price":4998,"inventory_management":null,"barcode":null,"featured_media":{"alt":null,"id":22663473823833,"position":13,"preview_image":{"aspect_ratio":1.0,"height":800,"width":800,"src":"\/\/www.suerteyay.com\/cdn\/shop\/products\/5_5d6ca061-b09a-4c6c-9b74-f8212fdaaccb.jpg?v=1661395910"}},"requires_selling_plan":false,"selling_plan_allocations":[],"quantity_rule":{"min":1,"max":null,"increment":1}},{"id":40176170008665,"title":"burgundy \/ 4XL","option1":"burgundy","option2":"4XL","option3":null,"sku":"TS36320-C020-S04X","requires_shipping":true,"taxable":false,"featured_image":{"id":30136301846617,"product_id":7137783709785,"position":13,"created_at":"2022-08-24T16:51:50-10:00","updated_at":"2022-08-24T16:51:50-10:00","alt":null,"width":800,"height":800,"src":"\/\/www.suerteyay.com\/cdn\/shop\/products\/5_5d6ca061-b09a-4c6c-9b74-f8212fdaaccb.jpg?v=1661395910","variant_ids":[40176169812057,40176169844825,40176169877593,40176169910361,40176169943129,40176169975897,40176170008665,40176170041433]},"available":true,"name":"Leopard Print Stitching V-Neck Loose Pullover - burgundy \/ 4XL","public_title":"burgundy \/ 4XL","options":["burgundy","4XL"],"price":2499,"weight":0,"compare_at_price":4998,"inventory_management":null,"barcode":null,"featured_media":{"alt":null,"id":22663473823833,"position":13,"preview_image":{"aspect_ratio":1.0,"height":800,"width":800,"src":"\/\/www.suerteyay.com\/cdn\/shop\/products\/5_5d6ca061-b09a-4c6c-9b74-f8212fdaaccb.jpg?v=1661395910"}},"requires_selling_plan":false,"selling_plan_allocations":[],"quantity_rule":{"min":1,"max":null,"increment":1}},{"id":40176170041433,"title":"burgundy \/ 5XL","option1":"burgundy","option2":"5XL","option3":null,"sku":"TS36320-C020-S05X","requires_shipping":true,"taxable":false,"featured_image":{"id":30136301846617,"product_id":7137783709785,"position":13,"created_at":"2022-08-24T16:51:50-10:00","updated_at":"2022-08-24T16:51:50-10:00","alt":null,"width":800,"height":800,"src":"\/\/www.suerteyay.com\/cdn\/shop\/products\/5_5d6ca061-b09a-4c6c-9b74-f8212fdaaccb.jpg?v=1661395910","variant_ids":[40176169812057,40176169844825,40176169877593,40176169910361,40176169943129,40176169975897,40176170008665,40176170041433]},"available":true,"name":"Leopard Print Stitching V-Neck Loose Pullover - burgundy \/ 5XL","public_title":"burgundy \/ 5XL","options":["burgundy","5XL"],"price":2499,"weight":0,"compare_at_price":4998,"inventory_management":null,"barcode":null,"featured_media":{"alt":null,"id":22663473823833,"position":13,"preview_image":{"aspect_ratio":1.0,"height":800,"width":800,"src":"\/\/www.suerteyay.com\/cdn\/shop\/products\/5_5d6ca061-b09a-4c6c-9b74-f8212fdaaccb.jpg?v=1661395910"}},"requires_selling_plan":false,"selling_plan_allocations":[],"quantity_rule":{"min":1,"max":null,"increment":1}},{"id":40176170074201,"title":"blue \/ S","option1":"blue","option2":"S","option3":null,"sku":"TS36320-C008-S00S","requires_shipping":true,"taxable":false,"featured_image":{"id":30136301617241,"product_id":7137783709785,"position":12,"created_at":"2022-08-24T16:51:48-10:00","updated_at":"2022-08-24T16:51:48-10:00","alt":null,"width":800,"height":800,"src":"\/\/www.suerteyay.com\/cdn\/shop\/products\/1_6c57a02b-34db-4b45-8073-607618f8b5fa.jpg?v=1661395908","variant_ids":[40176170074201,40176170106969,40176170139737,40176170172505,40176170205273,40176170238041,40176170270809,40176170303577]},"available":true,"name":"Leopard Print Stitching V-Neck Loose Pullover - blue \/ S","public_title":"blue \/ S","options":["blue","S"],"price":2499,"weight":0,"compare_at_price":4998,"inventory_management":null,"barcode":null,"featured_media":{"alt":null,"id":22663473594457,"position":12,"preview_image":{"aspect_ratio":1.0,"height":800,"width":800,"src":"\/\/www.suerteyay.com\/cdn\/shop\/products\/1_6c57a02b-34db-4b45-8073-607618f8b5fa.jpg?v=1661395908"}},"requires_selling_plan":false,"selling_plan_allocations":[],"quantity_rule":{"min":1,"max":null,"increment":1}},{"id":40176170106969,"title":"blue \/ M","option1":"blue","option2":"M","option3":null,"sku":"TS36320-C008-S00M","requires_shipping":true,"taxable":false,"featured_image":{"id":30136301617241,"product_id":7137783709785,"position":12,"created_at":"2022-08-24T16:51:48-10:00","updated_at":"2022-08-24T16:51:48-10:00","alt":null,"width":800,"height":800,"src":"\/\/www.suerteyay.com\/cdn\/shop\/products\/1_6c57a02b-34db-4b45-8073-607618f8b5fa.jpg?v=1661395908","variant_ids":[40176170074201,40176170106969,40176170139737,40176170172505,40176170205273,40176170238041,40176170270809,40176170303577]},"available":true,"name":"Leopard Print Stitching V-Neck Loose Pullover - blue \/ M","public_title":"blue \/ M","options":["blue","M"],"price":2499,"weight":0,"compare_at_price":4998,"inventory_management":null,"barcode":null,"featured_media":{"alt":null,"id":22663473594457,"position":12,"preview_image":{"aspect_ratio":1.0,"height":800,"width":800,"src":"\/\/www.suerteyay.com\/cdn\/shop\/products\/1_6c57a02b-34db-4b45-8073-607618f8b5fa.jpg?v=1661395908"}},"requires_selling_plan":false,"selling_plan_allocations":[],"quantity_rule":{"min":1,"max":null,"increment":1}},{"id":40176170139737,"title":"blue \/ L","option1":"blue","option2":"L","option3":null,"sku":"TS36320-C008-S00L","requires_shipping":true,"taxable":false,"featured_image":{"id":30136301617241,"product_id":7137783709785,"position":12,"created_at":"2022-08-24T16:51:48-10:00","updated_at":"2022-08-24T16:51:48-10:00","alt":null,"width":800,"height":800,"src":"\/\/www.suerteyay.com\/cdn\/shop\/products\/1_6c57a02b-34db-4b45-8073-607618f8b5fa.jpg?v=1661395908","variant_ids":[40176170074201,40176170106969,40176170139737,40176170172505,40176170205273,40176170238041,40176170270809,40176170303577]},"available":true,"name":"Leopard Print Stitching V-Neck Loose Pullover - blue \/ L","public_title":"blue \/ L","options":["blue","L"],"price":2499,"weight":0,"compare_at_price":4998,"inventory_management":null,"barcode":null,"featured_media":{"alt":null,"id":22663473594457,"position":12,"preview_image":{"aspect_ratio":1.0,"height":800,"width":800,"src":"\/\/www.suerteyay.com\/cdn\/shop\/products\/1_6c57a02b-34db-4b45-8073-607618f8b5fa.jpg?v=1661395908"}},"requires_selling_plan":false,"selling_plan_allocations":[],"quantity_rule":{"min":1,"max":null,"increment":1}},{"id":40176170172505,"title":"blue \/ XL","option1":"blue","option2":"XL","option3":null,"sku":"TS36320-C008-S00X","requires_shipping":true,"taxable":false,"featured_image":{"id":30136301617241,"product_id":7137783709785,"position":12,"created_at":"2022-08-24T16:51:48-10:00","updated_at":"2022-08-24T16:51:48-10:00","alt":null,"width":800,"height":800,"src":"\/\/www.suerteyay.com\/cdn\/shop\/products\/1_6c57a02b-34db-4b45-8073-607618f8b5fa.jpg?v=1661395908","variant_ids":[40176170074201,40176170106969,40176170139737,40176170172505,40176170205273,40176170238041,40176170270809,40176170303577]},"available":true,"name":"Leopard Print Stitching V-Neck Loose Pullover - blue \/ XL","public_title":"blue \/ XL","options":["blue","XL"],"price":2499,"weight":0,"compare_at_price":4998,"inventory_management":null,"barcode":null,"featured_media":{"alt":null,"id":22663473594457,"position":12,"preview_image":{"aspect_ratio":1.0,"height":800,"width":800,"src":"\/\/www.suerteyay.com\/cdn\/shop\/products\/1_6c57a02b-34db-4b45-8073-607618f8b5fa.jpg?v=1661395908"}},"requires_selling_plan":false,"selling_plan_allocations":[],"quantity_rule":{"min":1,"max":null,"increment":1}},{"id":40176170205273,"title":"blue \/ 2XL","option1":"blue","option2":"2XL","option3":null,"sku":"TS36320-C008-S02X","requires_shipping":true,"taxable":false,"featured_image":{"id":30136301617241,"product_id":7137783709785,"position":12,"created_at":"2022-08-24T16:51:48-10:00","updated_at":"2022-08-24T16:51:48-10:00","alt":null,"width":800,"height":800,"src":"\/\/www.suerteyay.com\/cdn\/shop\/products\/1_6c57a02b-34db-4b45-8073-607618f8b5fa.jpg?v=1661395908","variant_ids":[40176170074201,40176170106969,40176170139737,40176170172505,40176170205273,40176170238041,40176170270809,40176170303577]},"available":true,"name":"Leopard Print Stitching V-Neck Loose Pullover - blue \/ 2XL","public_title":"blue \/ 2XL","options":["blue","2XL"],"price":2499,"weight":0,"compare_at_price":4998,"inventory_management":null,"barcode":null,"featured_media":{"alt":null,"id":22663473594457,"position":12,"preview_image":{"aspect_ratio":1.0,"height":800,"width":800,"src":"\/\/www.suerteyay.com\/cdn\/shop\/products\/1_6c57a02b-34db-4b45-8073-607618f8b5fa.jpg?v=1661395908"}},"requires_selling_plan":false,"selling_plan_allocations":[],"quantity_rule":{"min":1,"max":null,"increment":1}},{"id":40176170238041,"title":"blue \/ 3XL","option1":"blue","option2":"3XL","option3":null,"sku":"TS36320-C008-S03X","requires_shipping":true,"taxable":false,"featured_image":{"id":30136301617241,"product_id":7137783709785,"position":12,"created_at":"2022-08-24T16:51:48-10:00","updated_at":"2022-08-24T16:51:48-10:00","alt":null,"width":800,"height":800,"src":"\/\/www.suerteyay.com\/cdn\/shop\/products\/1_6c57a02b-34db-4b45-8073-607618f8b5fa.jpg?v=1661395908","variant_ids":[40176170074201,40176170106969,40176170139737,40176170172505,40176170205273,40176170238041,40176170270809,40176170303577]},"available":true,"name":"Leopard Print Stitching V-Neck Loose Pullover - blue \/ 3XL","public_title":"blue \/ 3XL","options":["blue","3XL"],"price":2499,"weight":0,"compare_at_price":4998,"inventory_management":null,"barcode":null,"featured_media":{"alt":null,"id":22663473594457,"position":12,"preview_image":{"aspect_ratio":1.0,"height":800,"width":800,"src":"\/\/www.suerteyay.com\/cdn\/shop\/products\/1_6c57a02b-34db-4b45-8073-607618f8b5fa.jpg?v=1661395908"}},"requires_selling_plan":false,"selling_plan_allocations":[],"quantity_rule":{"min":1,"max":null,"increment":1}},{"id":40176170270809,"title":"blue \/ 4XL","option1":"blue","option2":"4XL","option3":null,"sku":"TS36320-C008-S04X","requires_shipping":true,"taxable":false,"featured_image":{"id":30136301617241,"product_id":7137783709785,"position":12,"created_at":"2022-08-24T16:51:48-10:00","updated_at":"2022-08-24T16:51:48-10:00","alt":null,"width":800,"height":800,"src":"\/\/www.suerteyay.com\/cdn\/shop\/products\/1_6c57a02b-34db-4b45-8073-607618f8b5fa.jpg?v=1661395908","variant_ids":[40176170074201,40176170106969,40176170139737,40176170172505,40176170205273,40176170238041,40176170270809,40176170303577]},"available":true,"name":"Leopard Print Stitching V-Neck Loose Pullover - blue \/ 4XL","public_title":"blue \/ 4XL","options":["blue","4XL"],"price":2499,"weight":0,"compare_at_price":4998,"inventory_management":null,"barcode":null,"featured_media":{"alt":null,"id":22663473594457,"position":12,"preview_image":{"aspect_ratio":1.0,"height":800,"width":800,"src":"\/\/www.suerteyay.com\/cdn\/shop\/products\/1_6c57a02b-34db-4b45-8073-607618f8b5fa.jpg?v=1661395908"}},"requires_selling_plan":false,"selling_plan_allocations":[],"quantity_rule":{"min":1,"max":null,"increment":1}},{"id":40176170303577,"title":"blue \/ 5XL","option1":"blue","option2":"5XL","option3":null,"sku":"TS36320-C008-S05X","requires_shipping":true,"taxable":false,"featured_image":{"id":30136301617241,"product_id":7137783709785,"position":12,"created_at":"2022-08-24T16:51:48-10:00","updated_at":"2022-08-24T16:51:48-10:00","alt":null,"width":800,"height":800,"src":"\/\/www.suerteyay.com\/cdn\/shop\/products\/1_6c57a02b-34db-4b45-8073-607618f8b5fa.jpg?v=1661395908","variant_ids":[40176170074201,40176170106969,40176170139737,40176170172505,40176170205273,40176170238041,40176170270809,40176170303577]},"available":true,"name":"Leopard Print Stitching V-Neck Loose Pullover - blue \/ 5XL","public_title":"blue \/ 5XL","options":["blue","5XL"],"price":2499,"weight":0,"compare_at_price":4998,"inventory_management":null,"barcode":null,"featured_media":{"alt":null,"id":22663473594457,"position":12,"preview_image":{"aspect_ratio":1.0,"height":800,"width":800,"src":"\/\/www.suerteyay.com\/cdn\/shop\/products\/1_6c57a02b-34db-4b45-8073-607618f8b5fa.jpg?v=1661395908"}},"requires_selling_plan":false,"selling_plan_allocations":[],"quantity_rule":{"min":1,"max":null,"increment":1}}],"images":["\/\/www.suerteyay.com\/cdn\/shop\/products\/1_4a21752f-859c-4bf0-86c3-43c47fbf806a.jpg?v=1661395903","\/\/www.suerteyay.com\/cdn\/shop\/products\/2_0b04ccf2-223a-4128-9a39-e55cf7b9238b.jpg?v=1661395903","\/\/www.suerteyay.com\/cdn\/shop\/products\/4_519cf355-8638-4096-acb6-1b6892bce71b.jpg?v=1661395903","\/\/www.suerteyay.com\/cdn\/shop\/products\/5_0af35894-ddec-4390-8d85-6374cdbb9457.jpg?v=1661395903","\/\/www.suerteyay.com\/cdn\/shop\/products\/6_752490d3-a7b1-453b-b28e-0f563fad8987.jpg?v=1661395903","\/\/www.suerteyay.com\/cdn\/shop\/products\/8_73d21886-88fd-4efa-be1a-2df63b95fe67.jpg?v=1661395903","\/\/www.suerteyay.com\/cdn\/shop\/products\/9_35990f28-7643-4336-9814-bf94a5a34a93.jpg?v=1661395903","\/\/www.suerteyay.com\/cdn\/shop\/products\/10_60e00ab3-0b9c-4abd-a835-0eb4f9eb3017.jpg?v=1661395903","\/\/www.suerteyay.com\/cdn\/shop\/products\/11_21e80bb2-e132-49dc-a7e2-8492a2cb66c1.jpg?v=1661395903","\/\/www.suerteyay.com\/cdn\/shop\/products\/12_044e169b-8296-4363-b4cc-2a45b3171384.jpg?v=1661395903","\/\/www.suerteyay.com\/cdn\/shop\/products\/13_fec81cdf-3a0a-4967-9c03-d67cc274f94c.jpg?v=1661395903","\/\/www.suerteyay.com\/cdn\/shop\/products\/1_6c57a02b-34db-4b45-8073-607618f8b5fa.jpg?v=1661395908","\/\/www.suerteyay.com\/cdn\/shop\/products\/5_5d6ca061-b09a-4c6c-9b74-f8212fdaaccb.jpg?v=1661395910","\/\/www.suerteyay.com\/cdn\/shop\/products\/7_ca54ba89-3032-432e-84bf-dee9d739dc67.jpg?v=1661395912","\/\/www.suerteyay.com\/cdn\/shop\/products\/9_06805190-3097-4179-8cb0-4fed0094219c.jpg?v=1661395914"],"featured_image":"\/\/www.suerteyay.com\/cdn\/shop\/products\/1_4a21752f-859c-4bf0-86c3-43c47fbf806a.jpg?v=1661395903","options":["Color","Size"],"media":[{"alt":null,"id":22663472611417,"position":1,"preview_image":{"aspect_ratio":1.0,"height":800,"width":800,"src":"\/\/www.suerteyay.com\/cdn\/shop\/products\/1_4a21752f-859c-4bf0-86c3-43c47fbf806a.jpg?v=1661395903"},"aspect_ratio":1.0,"height":800,"media_type":"image","src":"\/\/www.suerteyay.com\/cdn\/shop\/products\/1_4a21752f-859c-4bf0-86c3-43c47fbf806a.jpg?v=1661395903","width":800},{"alt":null,"id":22663472644185,"position":2,"preview_image":{"aspect_ratio":1.0,"height":800,"width":800,"src":"\/\/www.suerteyay.com\/cdn\/shop\/products\/2_0b04ccf2-223a-4128-9a39-e55cf7b9238b.jpg?v=1661395903"},"aspect_ratio":1.0,"height":800,"media_type":"image","src":"\/\/www.suerteyay.com\/cdn\/shop\/products\/2_0b04ccf2-223a-4128-9a39-e55cf7b9238b.jpg?v=1661395903","width":800},{"alt":null,"id":22663472676953,"position":3,"preview_image":{"aspect_ratio":1.0,"height":800,"width":800,"src":"\/\/www.suerteyay.com\/cdn\/shop\/products\/4_519cf355-8638-4096-acb6-1b6892bce71b.jpg?v=1661395903"},"aspect_ratio":1.0,"height":800,"media_type":"image","src":"\/\/www.suerteyay.com\/cdn\/shop\/products\/4_519cf355-8638-4096-acb6-1b6892bce71b.jpg?v=1661395903","width":800},{"alt":null,"id":22663472709721,"position":4,"preview_image":{"aspect_ratio":1.0,"height":800,"width":800,"src":"\/\/www.suerteyay.com\/cdn\/shop\/products\/5_0af35894-ddec-4390-8d85-6374cdbb9457.jpg?v=1661395903"},"aspect_ratio":1.0,"height":800,"media_type":"image","src":"\/\/www.suerteyay.com\/cdn\/shop\/products\/5_0af35894-ddec-4390-8d85-6374cdbb9457.jpg?v=1661395903","width":800},{"alt":null,"id":22663472742489,"position":5,"preview_image":{"aspect_ratio":1.0,"height":800,"width":800,"src":"\/\/www.suerteyay.com\/cdn\/shop\/products\/6_752490d3-a7b1-453b-b28e-0f563fad8987.jpg?v=1661395903"},"aspect_ratio":1.0,"height":800,"media_type":"image","src":"\/\/www.suerteyay.com\/cdn\/shop\/products\/6_752490d3-a7b1-453b-b28e-0f563fad8987.jpg?v=1661395903","width":800},{"alt":null,"id":22663472775257,"position":6,"preview_image":{"aspect_ratio":1.0,"height":800,"width":800,"src":"\/\/www.suerteyay.com\/cdn\/shop\/products\/8_73d21886-88fd-4efa-be1a-2df63b95fe67.jpg?v=1661395903"},"aspect_ratio":1.0,"height":800,"media_type":"image","src":"\/\/www.suerteyay.com\/cdn\/shop\/products\/8_73d21886-88fd-4efa-be1a-2df63b95fe67.jpg?v=1661395903","width":800},{"alt":null,"id":22663472808025,"position":7,"preview_image":{"aspect_ratio":1.0,"height":800,"width":800,"src":"\/\/www.suerteyay.com\/cdn\/shop\/products\/9_35990f28-7643-4336-9814-bf94a5a34a93.jpg?v=1661395903"},"aspect_ratio":1.0,"height":800,"media_type":"image","src":"\/\/www.suerteyay.com\/cdn\/shop\/products\/9_35990f28-7643-4336-9814-bf94a5a34a93.jpg?v=1661395903","width":800},{"alt":null,"id":22663472840793,"position":8,"preview_image":{"aspect_ratio":1.0,"height":800,"width":800,"src":"\/\/www.suerteyay.com\/cdn\/shop\/products\/10_60e00ab3-0b9c-4abd-a835-0eb4f9eb3017.jpg?v=1661395903"},"aspect_ratio":1.0,"height":800,"media_type":"image","src":"\/\/www.suerteyay.com\/cdn\/shop\/products\/10_60e00ab3-0b9c-4abd-a835-0eb4f9eb3017.jpg?v=1661395903","width":800},{"alt":null,"id":22663472873561,"position":9,"preview_image":{"aspect_ratio":1.0,"height":800,"width":800,"src":"\/\/www.suerteyay.com\/cdn\/shop\/products\/11_21e80bb2-e132-49dc-a7e2-8492a2cb66c1.jpg?v=1661395903"},"aspect_ratio":1.0,"height":800,"media_type":"image","src":"\/\/www.suerteyay.com\/cdn\/shop\/products\/11_21e80bb2-e132-49dc-a7e2-8492a2cb66c1.jpg?v=1661395903","width":800},{"alt":null,"id":22663472906329,"position":10,"preview_image":{"aspect_ratio":1.0,"height":800,"width":800,"src":"\/\/www.suerteyay.com\/cdn\/shop\/products\/12_044e169b-8296-4363-b4cc-2a45b3171384.jpg?v=1661395903"},"aspect_ratio":1.0,"height":800,"media_type":"image","src":"\/\/www.suerteyay.com\/cdn\/shop\/products\/12_044e169b-8296-4363-b4cc-2a45b3171384.jpg?v=1661395903","width":800},{"alt":null,"id":22663472939097,"position":11,"preview_image":{"aspect_ratio":1.0,"height":800,"width":800,"src":"\/\/www.suerteyay.com\/cdn\/shop\/products\/13_fec81cdf-3a0a-4967-9c03-d67cc274f94c.jpg?v=1661395903"},"aspect_ratio":1.0,"height":800,"media_type":"image","src":"\/\/www.suerteyay.com\/cdn\/shop\/products\/13_fec81cdf-3a0a-4967-9c03-d67cc274f94c.jpg?v=1661395903","width":800},{"alt":null,"id":22663473594457,"position":12,"preview_image":{"aspect_ratio":1.0,"height":800,"width":800,"src":"\/\/www.suerteyay.com\/cdn\/shop\/products\/1_6c57a02b-34db-4b45-8073-607618f8b5fa.jpg?v=1661395908"},"aspect_ratio":1.0,"height":800,"media_type":"image","src":"\/\/www.suerteyay.com\/cdn\/shop\/products\/1_6c57a02b-34db-4b45-8073-607618f8b5fa.jpg?v=1661395908","width":800},{"alt":null,"id":22663473823833,"position":13,"preview_image":{"aspect_ratio":1.0,"height":800,"width":800,"src":"\/\/www.suerteyay.com\/cdn\/shop\/products\/5_5d6ca061-b09a-4c6c-9b74-f8212fdaaccb.jpg?v=1661395910"},"aspect_ratio":1.0,"height":800,"media_type":"image","src":"\/\/www.suerteyay.com\/cdn\/shop\/products\/5_5d6ca061-b09a-4c6c-9b74-f8212fdaaccb.jpg?v=1661395910","width":800},{"alt":null,"id":22663474085977,"position":14,"preview_image":{"aspect_ratio":1.0,"height":800,"width":800,"src":"\/\/www.suerteyay.com\/cdn\/shop\/products\/7_ca54ba89-3032-432e-84bf-dee9d739dc67.jpg?v=1661395912"},"aspect_ratio":1.0,"height":800,"media_type":"image","src":"\/\/www.suerteyay.com\/cdn\/shop\/products\/7_ca54ba89-3032-432e-84bf-dee9d739dc67.jpg?v=1661395912","width":800},{"alt":null,"id":22663474348121,"position":15,"preview_image":{"aspect_ratio":1.0,"height":800,"width":800,"src":"\/\/www.suerteyay.com\/cdn\/shop\/products\/9_06805190-3097-4179-8cb0-4fed0094219c.jpg?v=1661395914"},"aspect_ratio":1.0,"height":800,"media_type":"image","src":"\/\/www.suerteyay.com\/cdn\/shop\/products\/9_06805190-3097-4179-8cb0-4fed0094219c.jpg?v=1661395914","width":800}],"requires_selling_plan":false,"selling_plan_groups":[],"content":"\u003cp data-mce-fragment=\"1\"\u003e\u003cspan style=\"color: #ff2a00;\" data-mce-fragment=\"1\"\u003e\u003cstrong data-mce-fragment=\"1\"\u003eFEATURES\u003c\/strong\u003e\u003c\/span\u003e\u003c\/p\u003e\n\u003cul\u003e\n\u003cli\u003e\n\u003cp\u003e\u003cspan data-mce-fragment=\"1\"\u003e\u003cspan style=\"color: #1a5da7;\"\u003e\u003cstrong\u003eHIGH-QUALITY MATERIAL:\u003c\/strong\u003e \u003c\/span\u003eBreathable, lightweight material and elastic knitted fabric are soft and comfortable to wear.\u003c\/span\u003e\u003c\/p\u003e\n\u003c\/li\u003e\n\u003c\/ul\u003e\n\u003cdiv\u003e\u003cimg src=\"https:\/\/cdn.shopifycdn.net\/s\/files\/1\/0356\/3048\/1544\/products\/13_fec81cdf-3a0a-4967-9c03-d67cc274f94c_480x480.jpg?v=1661332776\" alt=\"\" style=\"display: block; margin-left: auto; margin-right: auto;\" data-mce-fragment=\"1\" data-mce-src=\"https:\/\/cdn.shopifycdn.net\/s\/files\/1\/0356\/3048\/1544\/products\/13_fec81cdf-3a0a-4967-9c03-d67cc274f94c_480x480.jpg?v=1661332776\"\u003e\u003c\/div\u003e\n\u003cul\u003e\n\u003cli\u003e\n\u003cp\u003e\u003cspan style=\"color: #1a5da7;\"\u003e\u003cstrong\u003eSUITABLE OCCASION:\u003c\/strong\u003e\u003c\/span\u003e For casual, party, work, date, school, sports, vacation, street wear or casual everyday wear, it's a great gift idea for christmas, for holidays.\u003c\/p\u003e\n\u003c\/li\u003e\n\u003c\/ul\u003e\n\u003cdiv\u003e\u003cimg src=\"https:\/\/cdn.shopifycdn.net\/s\/files\/1\/0356\/3048\/1544\/products\/12_044e169b-8296-4363-b4cc-2a45b3171384_480x480.jpg?v=1661332756\" alt=\"\" style=\"display: block; margin-left: auto; margin-right: auto;\" data-mce-fragment=\"1\" data-mce-src=\"https:\/\/cdn.shopifycdn.net\/s\/files\/1\/0356\/3048\/1544\/products\/12_044e169b-8296-4363-b4cc-2a45b3171384_480x480.jpg?v=1661332756\"\u003e\u003c\/div\u003e\n\u003cul\u003e\n\u003cli\u003e\n\u003cp\u003e\u003cspan style=\"color: #185da8;\"\u003e\u003cstrong\u003eUNIQUE DESIGN:\u003c\/strong\u003e \u003c\/span\u003eThis tunic top is made of high quality fabric, well made, super soft and comfortable. Classic color block leopard patchwork long sleeve sweater , animal print and loose fitting tops for women. Casual cheetah versatile long sleeve fit for every season. A new trend and Fashionable direction of women fall clothing will makes you look energetic, elegant.\u003c\/p\u003e\n\u003c\/li\u003e\n\u003c\/ul\u003e\n\u003cp data-mce-fragment=\"1\"\u003e\u003cspan style=\"color: #ff2a00;\" data-mce-fragment=\"1\"\u003e\u003cstrong data-mce-fragment=\"1\"\u003eSPECIFICATIONS\u003c\/strong\u003e\u003c\/span\u003e\u003c\/p\u003e\n\u003cul data-mce-fragment=\"1\"\u003e\n\u003cli data-mce-fragment=\"1\"\u003e\n\u003cp data-mce-fragment=\"1\"\u003e\u003cstrong data-mce-fragment=\"1\"\u003eWeight:\u003c\/strong\u003e\u003cspan data-mce-fragment=\"1\"\u003e 220g\u003c\/span\u003e\u003cbr data-mce-fragment=\"1\"\u003e\u003c\/p\u003e\n\u003c\/li\u003e\n\u003cli data-mce-fragment=\"1\"\u003e\n\u003cp data-mce-fragment=\"1\"\u003e\u003cstrong data-mce-fragment=\"1\"\u003eColor:\u003c\/strong\u003e\u003cspan data-mce-fragment=\"1\"\u003e B\u003cspan class=\"Polaris-Badge_2qgie\" data-mce-fragment=\"1\"\u003elack, \u003c\/span\u003e\u003cspan class=\"Polaris-Badge_2qgie\" data-mce-fragment=\"1\"\u003egrey, \u003c\/span\u003e\u003cspan class=\"Polaris-Badge_2qgie\" data-mce-fragment=\"1\"\u003eburgundy, \u003c\/span\u003e\u003cspan class=\"Polaris-Badge_2qgie\" data-mce-fragment=\"1\"\u003eblue\u003c\/span\u003e\u003c\/span\u003e\u003c\/p\u003e\n\u003c\/li\u003e\n\u003cli data-mce-fragment=\"1\"\u003e\n\u003cp data-mce-fragment=\"1\"\u003e\u003cspan data-mce-fragment=\"1\"\u003e\u003cspan class=\"Polaris-Badge_2qgie\" data-mce-fragment=\"1\"\u003e\u003c\/span\u003e\u003c\/span\u003e\u003cstrong data-mce-fragment=\"1\"\u003eMaterial:\u003c\/strong\u003e\u003cspan data-mce-fragment=\"1\"\u003e Polyester, Cotton\u003c\/span\u003e\u003c\/p\u003e\n\u003c\/li\u003e\n\u003cli data-mce-fragment=\"1\"\u003e\n\u003cp data-mce-fragment=\"1\"\u003e\u003cstrong data-mce-fragment=\"1\"\u003eSize:\u003c\/strong\u003e\u003cspan data-mce-fragment=\"1\"\u003e \u003c\/span\u003e\u003c\/p\u003e\n\u003c\/li\u003e\n\u003c\/ul\u003e\n\u003ctable style=\"width: 83.6793%;\" data-mce-fragment=\"1\"\u003e\n\u003ctbody data-mce-fragment=\"1\"\u003e\n\u003ctr data-mce-fragment=\"1\"\u003e\n\u003ctd style=\"width: 16%; text-align: center;\" data-mce-fragment=\"1\"\u003eSize(cm\/in)\u003c\/td\u003e\n\u003ctd style=\"width: 16%; text-align: center;\" data-mce-fragment=\"1\"\u003eBust\u003c\/td\u003e\n\u003ctd style=\"width: 17%; text-align: center;\" data-mce-fragment=\"1\"\u003eSleeve\u003c\/td\u003e\n\u003ctd style=\"width: 22.447%; text-align: center;\" data-mce-fragment=\"1\"\u003e Length\u003c\/td\u003e\n\u003c\/tr\u003e\n\u003ctr data-mce-fragment=\"1\"\u003e\n\u003ctd style=\"width: 16%; text-align: center;\" data-mce-fragment=\"1\"\u003eS\u003c\/td\u003e\n\u003ctd style=\"width: 16%; text-align: center;\" data-mce-fragment=\"1\"\u003e100\u003cspan data-mce-fragment=\"1\"\u003e\/39.37\u003c\/span\u003e\n\u003c\/td\u003e\n\u003ctd style=\"width: 17%; text-align: center;\" data-mce-fragment=\"1\"\u003e68\/26.77\u003c\/td\u003e\n\u003ctd style=\"width: 22.447%; text-align: center;\" data-mce-fragment=\"1\"\u003e73\u003cspan data-mce-fragment=\"1\"\u003e\/28.74\u003c\/span\u003e\n\u003c\/td\u003e\n\u003c\/tr\u003e\n\u003ctr data-mce-fragment=\"1\"\u003e\n\u003ctd style=\"width: 16%; text-align: center;\" data-mce-fragment=\"1\"\u003eM\u003c\/td\u003e\n\u003ctd style=\"width: 16%; text-align: center;\" data-mce-fragment=\"1\"\u003e\u003cspan\u003e104\/40.94\u003c\/span\u003e\u003c\/td\u003e\n\u003ctd style=\"width: 17%; text-align: center;\" data-mce-fragment=\"1\"\u003e69\/27.17\u003c\/td\u003e\n\u003ctd style=\"width: 22.447%; text-align: center;\" data-mce-fragment=\"1\"\u003e74\u003cspan data-mce-fragment=\"1\"\u003e\/29.13\u003c\/span\u003e\n\u003c\/td\u003e\n\u003c\/tr\u003e\n\u003ctr data-mce-fragment=\"1\"\u003e\n\u003ctd style=\"width: 16%; text-align: center;\" data-mce-fragment=\"1\"\u003eL\u003c\/td\u003e\n\u003ctd style=\"width: 16%; text-align: center;\" data-mce-fragment=\"1\"\u003e\u003cspan\u003e108\/42.52\u003c\/span\u003e\u003c\/td\u003e\n\u003ctd style=\"width: 17%; text-align: center;\" data-mce-fragment=\"1\"\u003e70\/27.56\u003c\/td\u003e\n\u003ctd style=\"width: 22.447%; text-align: center;\" data-mce-fragment=\"1\"\u003e75\u003cspan data-mce-fragment=\"1\"\u003e\/29.53\u003c\/span\u003e\n\u003c\/td\u003e\n\u003c\/tr\u003e\n\u003ctr data-mce-fragment=\"1\"\u003e\n\u003ctd style=\"width: 16%; text-align: center;\" data-mce-fragment=\"1\"\u003eXL\u003c\/td\u003e\n\u003ctd style=\"width: 16%; text-align: center;\" data-mce-fragment=\"1\"\u003e112\/\u003cspan data-mce-fragment=\"1\"\u003e44.09\u003c\/span\u003e\n\u003c\/td\u003e\n\u003ctd style=\"width: 17%; text-align: center;\" data-mce-fragment=\"1\"\u003e71\/27.95\u003c\/td\u003e\n\u003ctd style=\"width: 22.447%; text-align: center;\" data-mce-fragment=\"1\"\u003e76\/29.92\u003c\/td\u003e\n\u003c\/tr\u003e\n\u003ctr data-mce-fragment=\"1\"\u003e\n\u003ctd style=\"width: 16%; text-align: center;\" data-mce-fragment=\"1\"\u003e2XL\u003c\/td\u003e\n\u003ctd style=\"width: 16%; text-align: center;\" data-mce-fragment=\"1\"\u003e116\/\u003cspan data-mce-fragment=\"1\"\u003e45.67\u003c\/span\u003e\n\u003c\/td\u003e\n\u003ctd style=\"width: 17%; text-align: center;\" data-mce-fragment=\"1\"\u003e72\/28.35\u003c\/td\u003e\n\u003ctd style=\"width: 22.447%; text-align: center;\" data-mce-fragment=\"1\"\u003e77\/30.31\u003c\/td\u003e\n\u003c\/tr\u003e\n\u003ctr data-mce-fragment=\"1\"\u003e\n\u003ctd style=\"width: 16%; text-align: center;\" data-mce-fragment=\"1\"\u003e3XL\u003c\/td\u003e\n\u003ctd style=\"width: 16%; text-align: center;\" data-mce-fragment=\"1\"\u003e120\u003cspan data-mce-fragment=\"1\"\u003e\/47.24\u003c\/span\u003e\n\u003c\/td\u003e\n\u003ctd style=\"width: 17%; text-align: center;\" data-mce-fragment=\"1\"\u003e73\/28.74\u003c\/td\u003e\n\u003ctd style=\"width: 22.447%; text-align: center;\" data-mce-fragment=\"1\"\u003e78\/30.71\u003c\/td\u003e\n\u003c\/tr\u003e\n\u003ctr data-mce-fragment=\"1\"\u003e\n\u003ctd style=\"width: 16%; text-align: center;\" data-mce-fragment=\"1\"\u003e4XL\u003c\/td\u003e\n\u003ctd style=\"width: 16%; text-align: center;\" data-mce-fragment=\"1\"\u003e124\u003cspan data-mce-fragment=\"1\"\u003e\/48.82\u003c\/span\u003e\n\u003c\/td\u003e\n\u003ctd style=\"width: 17%; text-align: center;\" data-mce-fragment=\"1\"\u003e74\/29.13\u003c\/td\u003e\n\u003ctd style=\"width: 22.447%; text-align: center;\" data-mce-fragment=\"1\"\u003e79\/31.10\u003c\/td\u003e\n\u003c\/tr\u003e\n\u003ctr data-mce-fragment=\"1\"\u003e\n\u003ctd style=\"width: 16%; text-align: center;\" data-mce-fragment=\"1\"\u003e5XL\u003c\/td\u003e\n\u003ctd style=\"width: 16%; text-align: center;\" data-mce-fragment=\"1\"\u003e128\/50.39\u003c\/td\u003e\n\u003ctd style=\"width: 17%; text-align: center;\" data-mce-fragment=\"1\"\u003e75\/29.53\u003c\/td\u003e\n\u003ctd style=\"width: 22.447%; text-align: center;\" data-mce-fragment=\"1\"\u003e80\/31.50\u003c\/td\u003e\n\u003c\/tr\u003e\n\u003c\/tbody\u003e\n\u003c\/table\u003e\n\u003cbr\u003e\n\u003cul data-mce-fragment=\"1\"\u003e\u003c\/ul\u003e\n\u003cul data-mce-fragment=\"1\"\u003e\u003c\/ul\u003e\n\u003cp data-mce-fragment=\"1\"\u003e\u003cspan style=\"color: #ff2a00;\" data-mce-fragment=\"1\"\u003e\u003cb data-mce-fragment=\"1\"\u003ePACKAGE\u003c\/b\u003e\u003c\/span\u003e\u003c\/p\u003e\n\u003cul data-mce-fragment=\"1\"\u003e\n\u003cli data-mce-fragment=\"1\"\u003e1\u003cb data-mce-fragment=\"1\"\u003e\u003cspan data-mce-fragment=\"1\"\u003e \u003c\/span\u003e*\u003c\/b\u003e\u003cspan data-mce-fragment=\"1\"\u003e Leopard Print Stitching V-Neck Loose Pullover\u003c\/span\u003e\n\u003c\/li\u003e\n\u003c\/ul\u003e\n\u003cp data-mce-fragment=\"1\"\u003e\u003cspan style=\"color: #ff2a00;\" data-mce-fragment=\"1\"\u003e\u003cstrong data-mce-fragment=\"1\"\u003eNOTE\u003c\/strong\u003e\u003c\/span\u003e\u003c\/p\u003e\n\u003cul data-mce-fragment=\"1\"\u003e\n\u003cli data-mce-fragment=\"1\"\u003e\n\u003cp data-mce-fragment=\"1\"\u003ePlease allow slight measuring deviation due to manual measurement.\u003cbr data-mce-fragment=\"1\"\u003e\u003c\/p\u003e\n\u003c\/li\u003e\n\u003cli data-mce-fragment=\"1\"\u003e\n\u003cp data-mce-fragment=\"1\"\u003eDue to the different monitor and light effect, the actual color of the item might be slightly different from the color showed on the pictures.\u003c\/p\u003e\n\u003c\/li\u003e\n\u003c\/ul\u003e"}
Adding product to your cart
FEATURES
HIGH-QUALITY MATERIAL: Breathable, lightweight material and elastic knitted fabric are soft and comfortable to wear.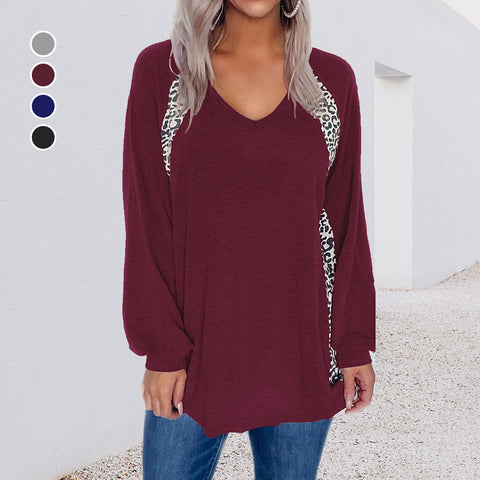 SUITABLE OCCASION: For casual, party, work, date, school, sports, vacation, street wear or casual everyday wear, it's a great gift idea for christmas, for holidays.
UNIQUE DESIGN: This tunic top is made of high quality fabric, well made, super soft and comfortable. Classic color block leopard patchwork long sleeve sweater , animal print and loose fitting tops for women. Casual cheetah versatile long sleeve fit for every season. A new trend and Fashionable direction of women fall clothing will makes you look energetic, elegant.
SPECIFICATIONS
Weight: 220g


Color: Black, grey, burgundy, blue

Material: Polyester, Cotton

Size: 
Size(cm/in)
Bust
Sleeve
 Length
S
100

/39.37

68/26.77
73

/28.74

M

104/40.94

69/27.17
74

/29.13

L

108/42.52

70/27.56
75

/29.53

XL
112/

44.09

71/27.95
76/29.92
2XL
116/

45.67

72/28.35
77/30.31
3XL
120

/47.24

73/28.74
78/30.71
4XL
124

/48.82

74/29.13
79/31.10
5XL
128/50.39
75/29.53
80/31.50
PACKAGE
1

 

*

Leopard Print Stitching V-Neck Loose Pullover
NOTE
Please allow slight measuring deviation due to manual measurement.


Due to the different monitor and light effect, the actual color of the item might be slightly different from the color showed on the pictures.