{"id":7283211436121,"title":"Multi Compatible Fast Charging Car Charger","handle":"multi-compatible-fast-charging-car-charger","description":"\u003cp data-mce-fragment=\"1\"\u003e\u003cspan data-mce-fragment=\"1\" style=\"color: #4587cf;\"\u003e\u003cstrong data-mce-fragment=\"1\"\u003eFEATURES:\u003c\/strong\u003e\u003c\/span\u003e\u003c\/p\u003e\n\u003cul id=\"mylist\"\u003e\n\u003cli class=\"mylistitemclass\"\u003e\n\u003cspan style=\"color: #b85e32;\"\u003e \u003c\/span\u003e\u003cspan\u003e\u003cspan style=\"color: #b85e32;\"\u003e\u003cstrong\u003e[30W super fast charging speed] -\u003c\/strong\u003e\u003c\/span\u003e \u003c\/span\u003eThe fast car charger provides PD 30W (maximum) output, which can quickly charge iPhone 11 from 0% to 50% in 30 minutes.\u003c\/li\u003e\n\u003c\/ul\u003e\n\u003cp\u003e\u003cimg style=\"display: block; margin-left: auto; margin-right: auto;\" src=\"https:\/\/cdn.shopify.com\/s\/files\/1\/0356\/3048\/1544\/files\/FM2_74116ea1-1390-4884-9a6d-4836c4f95bcd_480x480.jpg?v=1676344654\" alt=\"\"\u003e\u003c\/p\u003e\n\u003cul id=\"mylist\"\u003e\n\u003cli class=\"mylistitemclass\"\u003e\n\u003cspan style=\"color: #b85e31;\"\u003e \u003cstrong\u003e[Charging two devices at the same time] -\u003c\/strong\u003e \u003c\/span\u003eThe on-board charger can charge two devices at the same time. When charging two devices at the same time, fast charging is supported.\u003c\/li\u003e\n\u003c\/ul\u003e\n\u003cp\u003e\u003cimg srcset=\"https:\/\/img.staticdj.com\/c3f9f9e872f22ccd047542d4d483d07b_1920.webp 48w, https:\/\/img.staticdj.com\/c3f9f9e872f22ccd047542d4d483d07b_1920.webp 180w, https:\/\/img.staticdj.com\/c3f9f9e872f22ccd047542d4d483d07b_1920.webp 360w, https:\/\/img.staticdj.com\/c3f9f9e872f22ccd047542d4d483d07b_1920.webp 540w, https:\/\/img.staticdj.com\/c3f9f9e872f22ccd047542d4d483d07b_1920.webp 720w, https:\/\/img.staticdj.com\/c3f9f9e872f22ccd047542d4d483d07b_1920.webp 900w, https:\/\/img.staticdj.com\/c3f9f9e872f22ccd047542d4d483d07b_1920.webp 1024w, https:\/\/img.staticdj.com\/c3f9f9e872f22ccd047542d4d483d07b_1920.webp 1280w, https:\/\/img.staticdj.com\/c3f9f9e872f22ccd047542d4d483d07b_1920.webp 1366w, https:\/\/img.staticdj.com\/c3f9f9e872f22ccd047542d4d483d07b_1920.webp 1440w, https:\/\/img.staticdj.com\/c3f9f9e872f22ccd047542d4d483d07b_1920.webp 1536w, https:\/\/img.staticdj.com\/c3f9f9e872f22ccd047542d4d483d07b_1920.webp 1600w, https:\/\/img.staticdj.com\/c3f9f9e872f22ccd047542d4d483d07b_1920.webp 1920w, https:\/\/img.staticdj.com\/c3f9f9e872f22ccd047542d4d483d07b_1920.webp 2056w, https:\/\/img.staticdj.com\/c3f9f9e872f22ccd047542d4d483d07b_1920.webp 2560w, https:\/\/img.staticdj.com\/c3f9f9e872f22ccd047542d4d483d07b_1920.webp 2732w, https:\/\/img.staticdj.com\/c3f9f9e872f22ccd047542d4d483d07b_1920.webp 2880w, https:\/\/img.staticdj.com\/c3f9f9e872f22ccd047542d4d483d07b_1920.webp 3072w, https:\/\/img.staticdj.com\/c3f9f9e872f22ccd047542d4d483d07b_1920.webp 3200w, https:\/\/img.staticdj.com\/c3f9f9e872f22ccd047542d4d483d07b_1920.webp 3840w\" sizes=\"1137px\" data-srcset=\"https:\/\/img.staticdj.com\/c3f9f9e872f22ccd047542d4d483d07b_1920.webp 48w, https:\/\/img.staticdj.com\/c3f9f9e872f22ccd047542d4d483d07b_1920.webp 180w, https:\/\/img.staticdj.com\/c3f9f9e872f22ccd047542d4d483d07b_1920.webp 360w, https:\/\/img.staticdj.com\/c3f9f9e872f22ccd047542d4d483d07b_1920.webp 540w, https:\/\/img.staticdj.com\/c3f9f9e872f22ccd047542d4d483d07b_1920.webp 720w, https:\/\/img.staticdj.com\/c3f9f9e872f22ccd047542d4d483d07b_1920.webp 900w, https:\/\/img.staticdj.com\/c3f9f9e872f22ccd047542d4d483d07b_1920.webp 1024w, https:\/\/img.staticdj.com\/c3f9f9e872f22ccd047542d4d483d07b_1920.webp 1280w, https:\/\/img.staticdj.com\/c3f9f9e872f22ccd047542d4d483d07b_1920.webp 1366w, https:\/\/img.staticdj.com\/c3f9f9e872f22ccd047542d4d483d07b_1920.webp 1440w, https:\/\/img.staticdj.com\/c3f9f9e872f22ccd047542d4d483d07b_1920.webp 1536w, https:\/\/img.staticdj.com\/c3f9f9e872f22ccd047542d4d483d07b_1920.webp 1600w, https:\/\/img.staticdj.com\/c3f9f9e872f22ccd047542d4d483d07b_1920.webp 1920w, https:\/\/img.staticdj.com\/c3f9f9e872f22ccd047542d4d483d07b_1920.webp 2056w, https:\/\/img.staticdj.com\/c3f9f9e872f22ccd047542d4d483d07b_1920.webp 2560w, https:\/\/img.staticdj.com\/c3f9f9e872f22ccd047542d4d483d07b_1920.webp 2732w, https:\/\/img.staticdj.com\/c3f9f9e872f22ccd047542d4d483d07b_1920.webp 2880w, https:\/\/img.staticdj.com\/c3f9f9e872f22ccd047542d4d483d07b_1920.webp 3072w, https:\/\/img.staticdj.com\/c3f9f9e872f22ccd047542d4d483d07b_1920.webp 3200w, https:\/\/img.staticdj.com\/c3f9f9e872f22ccd047542d4d483d07b_1920.webp 3840w\" data-aspect-ratio=\"1.00\" height=\"480\" width=\"480\" alt=\"\" data-sizes=\"auto\" class=\"sep-lazyload lazyautosizes lazyloaded\" style=\"display: block; margin-left: auto; margin-right: auto;\"\u003e\u003c\/p\u003e\n\u003cul id=\"mylist\"\u003e\n\u003cli\u003e\n\u003cspan style=\"color: #b85e33;\"\u003e \u003cstrong\u003e [Super mini size and smooth appearance] -\u003c\/strong\u003e \u003c\/span\u003eThe diameter is only 20 mm. The upgraded mini model reduces the size by 50%, which is smaller than a coin. Invisible interface design, delicate appearance, small size, no space, small handle design, more easy to plug.\u003c\/li\u003e\n\u003c\/ul\u003e\n\u003cdiv style=\"text-align: center;\"\u003e\u003cimg style=\"font-size: 1.4em;\" data-mce-fragment=\"1\" alt=\"\" src=\"https:\/\/cdn.shopify.com\/s\/files\/1\/0356\/3048\/1544\/files\/1_7c2217f2-ec10-44c1-9e60-32094572382e_480x480.jpg?v=1676344689\" data-mce-src=\"https:\/\/cdn.shopify.com\/s\/files\/1\/0356\/3048\/1544\/files\/1_7c2217f2-ec10-44c1-9e60-32094572382e_480x480.jpg?v=1676344689\"\u003e\u003c\/div\u003e\n\u003cul\u003e\n\u003cli\u003e\n\u003cspan style=\"color: #b85e31;\"\u003e \u003cstrong\u003e [High quality and safety] -\u003c\/strong\u003e \u003c\/span\u003eThe metal material has fast heat conduction and is equipped with intelligent chip over-temperature protection. The car is not hot when charged for a long time, and it is safer to charge at low temperature.\u003c\/li\u003e\n\u003c\/ul\u003e\n\u003cp\u003e\u003cimg srcset=\"https:\/\/img.staticdj.com\/f307ef3c6ebc55767e9ad14fcd97e08e_1920.webp 48w, https:\/\/img.staticdj.com\/f307ef3c6ebc55767e9ad14fcd97e08e_1920.webp 180w, https:\/\/img.staticdj.com\/f307ef3c6ebc55767e9ad14fcd97e08e_1920.webp 360w, https:\/\/img.staticdj.com\/f307ef3c6ebc55767e9ad14fcd97e08e_1920.webp 540w, https:\/\/img.staticdj.com\/f307ef3c6ebc55767e9ad14fcd97e08e_1920.webp 720w, https:\/\/img.staticdj.com\/f307ef3c6ebc55767e9ad14fcd97e08e_1920.webp 900w, https:\/\/img.staticdj.com\/f307ef3c6ebc55767e9ad14fcd97e08e_1920.webp 1024w, https:\/\/img.staticdj.com\/f307ef3c6ebc55767e9ad14fcd97e08e_1920.webp 1280w, https:\/\/img.staticdj.com\/f307ef3c6ebc55767e9ad14fcd97e08e_1920.webp 1366w, https:\/\/img.staticdj.com\/f307ef3c6ebc55767e9ad14fcd97e08e_1920.webp 1440w, https:\/\/img.staticdj.com\/f307ef3c6ebc55767e9ad14fcd97e08e_1920.webp 1536w, https:\/\/img.staticdj.com\/f307ef3c6ebc55767e9ad14fcd97e08e_1920.webp 1600w, https:\/\/img.staticdj.com\/f307ef3c6ebc55767e9ad14fcd97e08e_1920.webp 1920w, https:\/\/img.staticdj.com\/f307ef3c6ebc55767e9ad14fcd97e08e_1920.webp 2056w, https:\/\/img.staticdj.com\/f307ef3c6ebc55767e9ad14fcd97e08e_1920.webp 2560w, https:\/\/img.staticdj.com\/f307ef3c6ebc55767e9ad14fcd97e08e_1920.webp 2732w, https:\/\/img.staticdj.com\/f307ef3c6ebc55767e9ad14fcd97e08e_1920.webp 2880w, https:\/\/img.staticdj.com\/f307ef3c6ebc55767e9ad14fcd97e08e_1920.webp 3072w, https:\/\/img.staticdj.com\/f307ef3c6ebc55767e9ad14fcd97e08e_1920.webp 3200w, https:\/\/img.staticdj.com\/f307ef3c6ebc55767e9ad14fcd97e08e_1920.webp 3840w\" sizes=\"1137px\" data-srcset=\"https:\/\/img.staticdj.com\/f307ef3c6ebc55767e9ad14fcd97e08e_1920.webp 48w, https:\/\/img.staticdj.com\/f307ef3c6ebc55767e9ad14fcd97e08e_1920.webp 180w, https:\/\/img.staticdj.com\/f307ef3c6ebc55767e9ad14fcd97e08e_1920.webp 360w, https:\/\/img.staticdj.com\/f307ef3c6ebc55767e9ad14fcd97e08e_1920.webp 540w, https:\/\/img.staticdj.com\/f307ef3c6ebc55767e9ad14fcd97e08e_1920.webp 720w, https:\/\/img.staticdj.com\/f307ef3c6ebc55767e9ad14fcd97e08e_1920.webp 900w, https:\/\/img.staticdj.com\/f307ef3c6ebc55767e9ad14fcd97e08e_1920.webp 1024w, https:\/\/img.staticdj.com\/f307ef3c6ebc55767e9ad14fcd97e08e_1920.webp 1280w, https:\/\/img.staticdj.com\/f307ef3c6ebc55767e9ad14fcd97e08e_1920.webp 1366w, https:\/\/img.staticdj.com\/f307ef3c6ebc55767e9ad14fcd97e08e_1920.webp 1440w, https:\/\/img.staticdj.com\/f307ef3c6ebc55767e9ad14fcd97e08e_1920.webp 1536w, https:\/\/img.staticdj.com\/f307ef3c6ebc55767e9ad14fcd97e08e_1920.webp 1600w, https:\/\/img.staticdj.com\/f307ef3c6ebc55767e9ad14fcd97e08e_1920.webp 1920w, https:\/\/img.staticdj.com\/f307ef3c6ebc55767e9ad14fcd97e08e_1920.webp 2056w, https:\/\/img.staticdj.com\/f307ef3c6ebc55767e9ad14fcd97e08e_1920.webp 2560w, https:\/\/img.staticdj.com\/f307ef3c6ebc55767e9ad14fcd97e08e_1920.webp 2732w, https:\/\/img.staticdj.com\/f307ef3c6ebc55767e9ad14fcd97e08e_1920.webp 2880w, https:\/\/img.staticdj.com\/f307ef3c6ebc55767e9ad14fcd97e08e_1920.webp 3072w, https:\/\/img.staticdj.com\/f307ef3c6ebc55767e9ad14fcd97e08e_1920.webp 3200w, https:\/\/img.staticdj.com\/f307ef3c6ebc55767e9ad14fcd97e08e_1920.webp 3840w\" width=\"485\" height=\"485\" alt=\"\" data-sizes=\"auto\" class=\"sep-lazyload lazyautosizes lazyloaded\" style=\"display: block; margin-left: auto; margin-right: auto;\"\u003e\u003c\/p\u003e\n\u003cul\u003e\n\u003cli\u003e\n\u003cspan\u003e\u003cspan style=\"color: #b85e31;\"\u003e\u003cstrong\u003e [Universal compatibility] -\u003c\/strong\u003e\u003c\/span\u003e \u003c\/span\u003eUSB+type-c dual interface, fast charging car charger can charge various devices, including mobile phones, tablets, etc.\u003c\/li\u003e\n\u003c\/ul\u003e\n\u003cp data-mce-fragment=\"1\"\u003e\u003cspan data-mce-fragment=\"1\" style=\"color: #4587cf;\"\u003e\u003cstrong data-mce-fragment=\"1\"\u003eSPECIFICATIONS: \u003c\/strong\u003e\u003c\/span\u003e\u003c\/p\u003e\n\u003cul data-mce-fragment=\"1\"\u003e\n\u003cli data-mce-fragment=\"1\"\u003e\n\u003cp data-mce-fragment=\"1\"\u003e\u003cstrong data-mce-fragment=\"1\"\u003eMaterial:\u003c\/strong\u003e\u003cspan data-mce-fragment=\"1\"\u003e Zinc alloy+Pc\u003c\/span\u003e\u003cbr data-mce-fragment=\"1\"\u003e\u003c\/p\u003e\n\u003c\/li\u003e\n\u003cli data-mce-fragment=\"1\"\u003e\n\u003cp data-mce-fragment=\"1\"\u003e\u003cstrong data-mce-fragment=\"1\"\u003eWeight:\u003c\/strong\u003e\u003cspan data-mce-fragment=\"1\"\u003e \u003c\/span\u003eabout 100g\u003c\/p\u003e\n\u003c\/li\u003e\n\u003cli data-mce-fragment=\"1\"\u003e\n\u003cp data-mce-fragment=\"1\"\u003e\u003cstrong data-mce-fragment=\"1\"\u003eColor:\u003c\/strong\u003e\u003cspan data-mce-fragment=\"1\"\u003e Black, Silver\u003c\/span\u003e\u003c\/p\u003e\n\u003c\/li\u003e\n\u003cli data-mce-fragment=\"1\"\u003e\n\u003cp\u003e\u003cspan data-mce-fragment=\"1\"\u003e\u003cstrong\u003eInput voltage:\u003c\/strong\u003e 12-24V\u003cbr\u003e\u003c\/span\u003e\u003c\/p\u003e\n\u003c\/li\u003e\n\u003cli data-mce-fragment=\"1\"\u003e\n\u003cp\u003e\u003cspan data-mce-fragment=\"1\"\u003e\u003cstrong\u003eOutput voltage:\u003c\/strong\u003e 15V\u003cbr\u003e\u003c\/span\u003e\u003c\/p\u003e\n\u003c\/li\u003e\n\u003cli data-mce-fragment=\"1\"\u003e\n\u003cp\u003e\u003cspan data-mce-fragment=\"1\"\u003e\u003cstrong\u003eOutput current:\u003c\/strong\u003e 5000mAh\u003cbr\u003e\u003c\/span\u003e\u003c\/p\u003e\n\u003c\/li\u003e\n\u003cli data-mce-fragment=\"1\"\u003e\n\u003cp\u003e\u003cstrong\u003eWorking temperature:\u003c\/strong\u003e less than 60℃\u003c\/p\u003e\n\u003c\/li\u003e\n\u003cli data-mce-fragment=\"1\"\u003e\n\u003cp\u003e\u003cspan data-mce-fragment=\"1\"\u003e\u003cstrong\u003eOutput interface:\u003c\/strong\u003e USB + TYPE-C\u003cbr\u003e\u003c\/span\u003e\u003c\/p\u003e\n\u003c\/li\u003e\n\u003cli data-mce-fragment=\"1\"\u003e\n\u003cp\u003e\u003cstrong\u003ePower: \u003c\/strong\u003e30W\u003c\/p\u003e\n\u003c\/li\u003e\n\u003cli data-mce-fragment=\"1\"\u003e\n\u003cp\u003e\u003cspan data-mce-fragment=\"1\"\u003e\u003cstrong\u003eApplicable charging range:\u003c\/strong\u003e Compatible with PD2.0\/PD3.0\/QC\u003c\/span\u003e\u003c\/p\u003e\n\u003c\/li\u003e\n\u003c\/ul\u003e\n\u003cp data-mce-fragment=\"1\"\u003e\u003cspan data-mce-fragment=\"1\" style=\"color: #4587cf;\"\u003e\u003cstrong data-mce-fragment=\"1\"\u003ePACKAGE:\u003c\/strong\u003e\u003c\/span\u003e\u003cbr data-mce-fragment=\"1\"\u003e\u003c\/p\u003e\n\u003cul data-mce-fragment=\"1\"\u003e\n\u003cli data-mce-fragment=\"1\"\u003e1 * Multi Compatible Fast Charging Car Charger\u003c\/li\u003e\n\u003c\/ul\u003e\n\u003cp data-mce-fragment=\"1\"\u003e\u003cspan data-mce-fragment=\"1\" style=\"color: #4587cf;\"\u003e\u003cstrong data-mce-fragment=\"1\"\u003eNOTES: \u003c\/strong\u003e\u003c\/span\u003e\u003c\/p\u003e\n\u003cul data-mce-fragment=\"1\"\u003e\n\u003cli data-mce-fragment=\"1\"\u003e\n\u003cp data-mce-fragment=\"1\"\u003ePlease allow slight measurement deviations due to manual measurement.\u003c\/p\u003e\n\u003c\/li\u003e\n\u003cli data-mce-fragment=\"1\"\u003e\n\u003cp data-mce-fragment=\"1\"\u003eDue to the different monitor and light effect, the actual color of the item might be slightly different from the color showed on the pictures.\u003c\/p\u003e\n\u003c\/li\u003e\n\u003c\/ul\u003e","published_at":"2023-04-19T17:22:16-10:00","created_at":"2023-04-19T17:22:37-10:00","vendor":"Suerteyay","type":"","tags":["car accessories","phone charging"],"price":1999,"price_min":1999,"price_max":1999,"available":true,"price_varies":false,"compare_at_price":3999,"compare_at_price_min":3999,"compare_at_price_max":3999,"compare_at_price_varies":false,"variants":[{"id":40469303623769,"title":"Black \/ PD+QC","option1":"Black","option2":"PD+QC","option3":null,"sku":"EC45019-C001-X36818","requires_shipping":true,"taxable":false,"featured_image":{"id":31548476293209,"product_id":7283211436121,"position":19,"created_at":"2023-04-19T17:22:40-10:00","updated_at":"2023-04-19T17:22:40-10:00","alt":null,"width":800,"height":800,"src":"\/\/www.suerteyay.com\/cdn\/shop\/products\/sku2_6cc89c2d-1a85-48e3-8e70-52afb3ad933f.jpg?v=1681960960","variant_ids":[40469303623769]},"available":true,"name":"Multi Compatible Fast Charging Car Charger - Black \/ PD+QC","public_title":"Black \/ PD+QC","options":["Black","PD+QC"],"price":1999,"weight":0,"compare_at_price":3999,"inventory_management":null,"barcode":null,"featured_media":{"alt":null,"id":24101743591513,"position":19,"preview_image":{"aspect_ratio":1.0,"height":800,"width":800,"src":"\/\/www.suerteyay.com\/cdn\/shop\/products\/sku2_6cc89c2d-1a85-48e3-8e70-52afb3ad933f.jpg?v=1681960960"}},"requires_selling_plan":false,"selling_plan_allocations":[],"quantity_rule":{"min":1,"max":null,"increment":1}},{"id":40469303656537,"title":"Black \/ PD+QC+Double Type-C","option1":"Black","option2":"PD+QC+Double Type-C","option3":null,"sku":"EC45019-C001-X36819","requires_shipping":true,"taxable":false,"featured_image":{"id":31548476391513,"product_id":7283211436121,"position":20,"created_at":"2023-04-19T17:22:41-10:00","updated_at":"2023-04-19T17:22:41-10:00","alt":null,"width":800,"height":800,"src":"\/\/www.suerteyay.com\/cdn\/shop\/products\/sku4_a94f98d0-17ef-41de-af13-c601a8c85fc7.jpg?v=1681960961","variant_ids":[40469303656537]},"available":true,"name":"Multi Compatible Fast Charging Car Charger - Black \/ PD+QC+Double Type-C","public_title":"Black \/ PD+QC+Double Type-C","options":["Black","PD+QC+Double Type-C"],"price":1999,"weight":0,"compare_at_price":3999,"inventory_management":null,"barcode":null,"featured_media":{"alt":null,"id":24101743689817,"position":20,"preview_image":{"aspect_ratio":1.0,"height":800,"width":800,"src":"\/\/www.suerteyay.com\/cdn\/shop\/products\/sku4_a94f98d0-17ef-41de-af13-c601a8c85fc7.jpg?v=1681960961"}},"requires_selling_plan":false,"selling_plan_allocations":[],"quantity_rule":{"min":1,"max":null,"increment":1}},{"id":40469303689305,"title":"Silver \/ PD+QC","option1":"Silver","option2":"PD+QC","option3":null,"sku":"EC45019-C054-X36818","requires_shipping":true,"taxable":false,"featured_image":{"id":31548476424281,"product_id":7283211436121,"position":21,"created_at":"2023-04-19T17:22:42-10:00","updated_at":"2023-04-19T17:22:42-10:00","alt":null,"width":800,"height":800,"src":"\/\/www.suerteyay.com\/cdn\/shop\/products\/sku1_50b8ebe9-b5ef-4669-abe9-70fa20c1b71d.jpg?v=1681960962","variant_ids":[40469303689305]},"available":true,"name":"Multi Compatible Fast Charging Car Charger - Silver \/ PD+QC","public_title":"Silver \/ PD+QC","options":["Silver","PD+QC"],"price":1999,"weight":0,"compare_at_price":3999,"inventory_management":null,"barcode":null,"featured_media":{"alt":null,"id":24101743722585,"position":21,"preview_image":{"aspect_ratio":1.0,"height":800,"width":800,"src":"\/\/www.suerteyay.com\/cdn\/shop\/products\/sku1_50b8ebe9-b5ef-4669-abe9-70fa20c1b71d.jpg?v=1681960962"}},"requires_selling_plan":false,"selling_plan_allocations":[],"quantity_rule":{"min":1,"max":null,"increment":1}},{"id":40469303722073,"title":"Silver \/ PD+QC+Double Type-C","option1":"Silver","option2":"PD+QC+Double Type-C","option3":null,"sku":"EC45019-C054-X36819","requires_shipping":true,"taxable":false,"featured_image":{"id":31548476522585,"product_id":7283211436121,"position":22,"created_at":"2023-04-19T17:22:44-10:00","updated_at":"2023-04-19T17:22:44-10:00","alt":null,"width":800,"height":800,"src":"\/\/www.suerteyay.com\/cdn\/shop\/products\/sku3_97183879-029c-4526-bb0c-7ba8ecc7d969.jpg?v=1681960964","variant_ids":[40469303722073]},"available":true,"name":"Multi Compatible Fast Charging Car Charger - Silver \/ PD+QC+Double Type-C","public_title":"Silver \/ PD+QC+Double Type-C","options":["Silver","PD+QC+Double Type-C"],"price":1999,"weight":0,"compare_at_price":3999,"inventory_management":null,"barcode":null,"featured_media":{"alt":null,"id":24101743820889,"position":22,"preview_image":{"aspect_ratio":1.0,"height":800,"width":800,"src":"\/\/www.suerteyay.com\/cdn\/shop\/products\/sku3_97183879-029c-4526-bb0c-7ba8ecc7d969.jpg?v=1681960964"}},"requires_selling_plan":false,"selling_plan_allocations":[],"quantity_rule":{"min":1,"max":null,"increment":1}}],"images":["\/\/www.suerteyay.com\/cdn\/shop\/products\/1_e306ef1e-6743-459e-b4e4-25e75d2e2182.jpg?v=1681960957","\/\/www.suerteyay.com\/cdn\/shop\/products\/2_eec53498-da56-4010-b919-9e9230568fc1.jpg?v=1681960957","\/\/www.suerteyay.com\/cdn\/shop\/products\/3_34819df2-261b-433c-8b19-34df41c10da5.jpg?v=1681960957","\/\/www.suerteyay.com\/cdn\/shop\/products\/4_b5683255-cedb-4e40-b3e1-41fe4b0a02ca.jpg?v=1681960957","\/\/www.suerteyay.com\/cdn\/shop\/products\/5_75852389-50a9-48f8-afd9-e97c399f0a4d.jpg?v=1681960957","\/\/www.suerteyay.com\/cdn\/shop\/products\/6_9e866bbd-cf5d-4ce5-bdbf-2e2540a7a547.jpg?v=1681960957","\/\/www.suerteyay.com\/cdn\/shop\/products\/7_9d1489f1-b2a3-488e-ad8f-fb50341cc99f.jpg?v=1681960957","\/\/www.suerteyay.com\/cdn\/shop\/products\/8_339261d9-af21-4493-90d4-68b3199df2fa.jpg?v=1681960957","\/\/www.suerteyay.com\/cdn\/shop\/products\/9_6d242a4d-80b9-45e5-8923-957209bf0333.jpg?v=1681960957","\/\/www.suerteyay.com\/cdn\/shop\/products\/10_b68d7a92-8152-4ef8-a9cd-3d3e14717f0b.jpg?v=1681960957","\/\/www.suerteyay.com\/cdn\/shop\/products\/11_ead06f97-df5e-4bc1-b0f3-1114ccbbfe48.jpg?v=1681960957","\/\/www.suerteyay.com\/cdn\/shop\/products\/12_6bdbfaab-75b4-4127-b402-1cd048e58c95.jpg?v=1681960957","\/\/www.suerteyay.com\/cdn\/shop\/products\/FM1_1723b71b-b395-4d54-a32d-7a29df8a14c3.jpg?v=1681960957","\/\/www.suerteyay.com\/cdn\/shop\/products\/FM2_1442c81d-330a-439e-8168-9b1f65a28b88.jpg?v=1681960957","\/\/www.suerteyay.com\/cdn\/shop\/products\/sku3_50b4f42f-07fc-4d9f-8d34-b56f9570bb8e.jpg?v=1681960957","\/\/www.suerteyay.com\/cdn\/shop\/products\/sku2_e346bd1a-cc16-40c5-8178-389f646b07d9.jpg?v=1681960957","\/\/www.suerteyay.com\/cdn\/shop\/products\/sku1_651965ff-d472-4bea-8c1d-05ef09597781.jpg?v=1681960957","\/\/www.suerteyay.com\/cdn\/shop\/products\/sku4_cd3b8b80-f8e5-455c-b0c0-103f4658d94b.jpg?v=1681960957","\/\/www.suerteyay.com\/cdn\/shop\/products\/sku2_6cc89c2d-1a85-48e3-8e70-52afb3ad933f.jpg?v=1681960960","\/\/www.suerteyay.com\/cdn\/shop\/products\/sku4_a94f98d0-17ef-41de-af13-c601a8c85fc7.jpg?v=1681960961","\/\/www.suerteyay.com\/cdn\/shop\/products\/sku1_50b8ebe9-b5ef-4669-abe9-70fa20c1b71d.jpg?v=1681960962","\/\/www.suerteyay.com\/cdn\/shop\/products\/sku3_97183879-029c-4526-bb0c-7ba8ecc7d969.jpg?v=1681960964"],"featured_image":"\/\/www.suerteyay.com\/cdn\/shop\/products\/1_e306ef1e-6743-459e-b4e4-25e75d2e2182.jpg?v=1681960957","options":["Color","Style"],"media":[{"alt":null,"id":24101742968921,"position":1,"preview_image":{"aspect_ratio":1.0,"height":800,"width":800,"src":"\/\/www.suerteyay.com\/cdn\/shop\/products\/1_e306ef1e-6743-459e-b4e4-25e75d2e2182.jpg?v=1681960957"},"aspect_ratio":1.0,"height":800,"media_type":"image","src":"\/\/www.suerteyay.com\/cdn\/shop\/products\/1_e306ef1e-6743-459e-b4e4-25e75d2e2182.jpg?v=1681960957","width":800},{"alt":null,"id":24101743001689,"position":2,"preview_image":{"aspect_ratio":1.0,"height":800,"width":800,"src":"\/\/www.suerteyay.com\/cdn\/shop\/products\/2_eec53498-da56-4010-b919-9e9230568fc1.jpg?v=1681960957"},"aspect_ratio":1.0,"height":800,"media_type":"image","src":"\/\/www.suerteyay.com\/cdn\/shop\/products\/2_eec53498-da56-4010-b919-9e9230568fc1.jpg?v=1681960957","width":800},{"alt":null,"id":24101743034457,"position":3,"preview_image":{"aspect_ratio":1.0,"height":800,"width":800,"src":"\/\/www.suerteyay.com\/cdn\/shop\/products\/3_34819df2-261b-433c-8b19-34df41c10da5.jpg?v=1681960957"},"aspect_ratio":1.0,"height":800,"media_type":"image","src":"\/\/www.suerteyay.com\/cdn\/shop\/products\/3_34819df2-261b-433c-8b19-34df41c10da5.jpg?v=1681960957","width":800},{"alt":null,"id":24101743067225,"position":4,"preview_image":{"aspect_ratio":1.0,"height":800,"width":800,"src":"\/\/www.suerteyay.com\/cdn\/shop\/products\/4_b5683255-cedb-4e40-b3e1-41fe4b0a02ca.jpg?v=1681960957"},"aspect_ratio":1.0,"height":800,"media_type":"image","src":"\/\/www.suerteyay.com\/cdn\/shop\/products\/4_b5683255-cedb-4e40-b3e1-41fe4b0a02ca.jpg?v=1681960957","width":800},{"alt":null,"id":24101743099993,"position":5,"preview_image":{"aspect_ratio":1.0,"height":800,"width":800,"src":"\/\/www.suerteyay.com\/cdn\/shop\/products\/5_75852389-50a9-48f8-afd9-e97c399f0a4d.jpg?v=1681960957"},"aspect_ratio":1.0,"height":800,"media_type":"image","src":"\/\/www.suerteyay.com\/cdn\/shop\/products\/5_75852389-50a9-48f8-afd9-e97c399f0a4d.jpg?v=1681960957","width":800},{"alt":null,"id":24101743132761,"position":6,"preview_image":{"aspect_ratio":1.0,"height":800,"width":800,"src":"\/\/www.suerteyay.com\/cdn\/shop\/products\/6_9e866bbd-cf5d-4ce5-bdbf-2e2540a7a547.jpg?v=1681960957"},"aspect_ratio":1.0,"height":800,"media_type":"image","src":"\/\/www.suerteyay.com\/cdn\/shop\/products\/6_9e866bbd-cf5d-4ce5-bdbf-2e2540a7a547.jpg?v=1681960957","width":800},{"alt":null,"id":24101743165529,"position":7,"preview_image":{"aspect_ratio":1.0,"height":800,"width":800,"src":"\/\/www.suerteyay.com\/cdn\/shop\/products\/7_9d1489f1-b2a3-488e-ad8f-fb50341cc99f.jpg?v=1681960957"},"aspect_ratio":1.0,"height":800,"media_type":"image","src":"\/\/www.suerteyay.com\/cdn\/shop\/products\/7_9d1489f1-b2a3-488e-ad8f-fb50341cc99f.jpg?v=1681960957","width":800},{"alt":null,"id":24101743198297,"position":8,"preview_image":{"aspect_ratio":1.0,"height":800,"width":800,"src":"\/\/www.suerteyay.com\/cdn\/shop\/products\/8_339261d9-af21-4493-90d4-68b3199df2fa.jpg?v=1681960957"},"aspect_ratio":1.0,"height":800,"media_type":"image","src":"\/\/www.suerteyay.com\/cdn\/shop\/products\/8_339261d9-af21-4493-90d4-68b3199df2fa.jpg?v=1681960957","width":800},{"alt":null,"id":24101743231065,"position":9,"preview_image":{"aspect_ratio":1.0,"height":800,"width":800,"src":"\/\/www.suerteyay.com\/cdn\/shop\/products\/9_6d242a4d-80b9-45e5-8923-957209bf0333.jpg?v=1681960957"},"aspect_ratio":1.0,"height":800,"media_type":"image","src":"\/\/www.suerteyay.com\/cdn\/shop\/products\/9_6d242a4d-80b9-45e5-8923-957209bf0333.jpg?v=1681960957","width":800},{"alt":null,"id":24101743263833,"position":10,"preview_image":{"aspect_ratio":1.0,"height":800,"width":800,"src":"\/\/www.suerteyay.com\/cdn\/shop\/products\/10_b68d7a92-8152-4ef8-a9cd-3d3e14717f0b.jpg?v=1681960957"},"aspect_ratio":1.0,"height":800,"media_type":"image","src":"\/\/www.suerteyay.com\/cdn\/shop\/products\/10_b68d7a92-8152-4ef8-a9cd-3d3e14717f0b.jpg?v=1681960957","width":800},{"alt":null,"id":24101743296601,"position":11,"preview_image":{"aspect_ratio":1.0,"height":800,"width":800,"src":"\/\/www.suerteyay.com\/cdn\/shop\/products\/11_ead06f97-df5e-4bc1-b0f3-1114ccbbfe48.jpg?v=1681960957"},"aspect_ratio":1.0,"height":800,"media_type":"image","src":"\/\/www.suerteyay.com\/cdn\/shop\/products\/11_ead06f97-df5e-4bc1-b0f3-1114ccbbfe48.jpg?v=1681960957","width":800},{"alt":null,"id":24101743329369,"position":12,"preview_image":{"aspect_ratio":1.0,"height":800,"width":800,"src":"\/\/www.suerteyay.com\/cdn\/shop\/products\/12_6bdbfaab-75b4-4127-b402-1cd048e58c95.jpg?v=1681960957"},"aspect_ratio":1.0,"height":800,"media_type":"image","src":"\/\/www.suerteyay.com\/cdn\/shop\/products\/12_6bdbfaab-75b4-4127-b402-1cd048e58c95.jpg?v=1681960957","width":800},{"alt":null,"id":24101743362137,"position":13,"preview_image":{"aspect_ratio":1.0,"height":800,"width":800,"src":"\/\/www.suerteyay.com\/cdn\/shop\/products\/FM1_1723b71b-b395-4d54-a32d-7a29df8a14c3.jpg?v=1681960957"},"aspect_ratio":1.0,"height":800,"media_type":"image","src":"\/\/www.suerteyay.com\/cdn\/shop\/products\/FM1_1723b71b-b395-4d54-a32d-7a29df8a14c3.jpg?v=1681960957","width":800},{"alt":null,"id":24101743394905,"position":14,"preview_image":{"aspect_ratio":1.0,"height":800,"width":800,"src":"\/\/www.suerteyay.com\/cdn\/shop\/products\/FM2_1442c81d-330a-439e-8168-9b1f65a28b88.jpg?v=1681960957"},"aspect_ratio":1.0,"height":800,"media_type":"image","src":"\/\/www.suerteyay.com\/cdn\/shop\/products\/FM2_1442c81d-330a-439e-8168-9b1f65a28b88.jpg?v=1681960957","width":800},{"alt":null,"id":24101743427673,"position":15,"preview_image":{"aspect_ratio":1.0,"height":800,"width":800,"src":"\/\/www.suerteyay.com\/cdn\/shop\/products\/sku3_50b4f42f-07fc-4d9f-8d34-b56f9570bb8e.jpg?v=1681960957"},"aspect_ratio":1.0,"height":800,"media_type":"image","src":"\/\/www.suerteyay.com\/cdn\/shop\/products\/sku3_50b4f42f-07fc-4d9f-8d34-b56f9570bb8e.jpg?v=1681960957","width":800},{"alt":null,"id":24101743460441,"position":16,"preview_image":{"aspect_ratio":1.0,"height":800,"width":800,"src":"\/\/www.suerteyay.com\/cdn\/shop\/products\/sku2_e346bd1a-cc16-40c5-8178-389f646b07d9.jpg?v=1681960957"},"aspect_ratio":1.0,"height":800,"media_type":"image","src":"\/\/www.suerteyay.com\/cdn\/shop\/products\/sku2_e346bd1a-cc16-40c5-8178-389f646b07d9.jpg?v=1681960957","width":800},{"alt":null,"id":24101743493209,"position":17,"preview_image":{"aspect_ratio":1.0,"height":800,"width":800,"src":"\/\/www.suerteyay.com\/cdn\/shop\/products\/sku1_651965ff-d472-4bea-8c1d-05ef09597781.jpg?v=1681960957"},"aspect_ratio":1.0,"height":800,"media_type":"image","src":"\/\/www.suerteyay.com\/cdn\/shop\/products\/sku1_651965ff-d472-4bea-8c1d-05ef09597781.jpg?v=1681960957","width":800},{"alt":null,"id":24101743525977,"position":18,"preview_image":{"aspect_ratio":1.0,"height":800,"width":800,"src":"\/\/www.suerteyay.com\/cdn\/shop\/products\/sku4_cd3b8b80-f8e5-455c-b0c0-103f4658d94b.jpg?v=1681960957"},"aspect_ratio":1.0,"height":800,"media_type":"image","src":"\/\/www.suerteyay.com\/cdn\/shop\/products\/sku4_cd3b8b80-f8e5-455c-b0c0-103f4658d94b.jpg?v=1681960957","width":800},{"alt":null,"id":24101743591513,"position":19,"preview_image":{"aspect_ratio":1.0,"height":800,"width":800,"src":"\/\/www.suerteyay.com\/cdn\/shop\/products\/sku2_6cc89c2d-1a85-48e3-8e70-52afb3ad933f.jpg?v=1681960960"},"aspect_ratio":1.0,"height":800,"media_type":"image","src":"\/\/www.suerteyay.com\/cdn\/shop\/products\/sku2_6cc89c2d-1a85-48e3-8e70-52afb3ad933f.jpg?v=1681960960","width":800},{"alt":null,"id":24101743689817,"position":20,"preview_image":{"aspect_ratio":1.0,"height":800,"width":800,"src":"\/\/www.suerteyay.com\/cdn\/shop\/products\/sku4_a94f98d0-17ef-41de-af13-c601a8c85fc7.jpg?v=1681960961"},"aspect_ratio":1.0,"height":800,"media_type":"image","src":"\/\/www.suerteyay.com\/cdn\/shop\/products\/sku4_a94f98d0-17ef-41de-af13-c601a8c85fc7.jpg?v=1681960961","width":800},{"alt":null,"id":24101743722585,"position":21,"preview_image":{"aspect_ratio":1.0,"height":800,"width":800,"src":"\/\/www.suerteyay.com\/cdn\/shop\/products\/sku1_50b8ebe9-b5ef-4669-abe9-70fa20c1b71d.jpg?v=1681960962"},"aspect_ratio":1.0,"height":800,"media_type":"image","src":"\/\/www.suerteyay.com\/cdn\/shop\/products\/sku1_50b8ebe9-b5ef-4669-abe9-70fa20c1b71d.jpg?v=1681960962","width":800},{"alt":null,"id":24101743820889,"position":22,"preview_image":{"aspect_ratio":1.0,"height":800,"width":800,"src":"\/\/www.suerteyay.com\/cdn\/shop\/products\/sku3_97183879-029c-4526-bb0c-7ba8ecc7d969.jpg?v=1681960964"},"aspect_ratio":1.0,"height":800,"media_type":"image","src":"\/\/www.suerteyay.com\/cdn\/shop\/products\/sku3_97183879-029c-4526-bb0c-7ba8ecc7d969.jpg?v=1681960964","width":800}],"requires_selling_plan":false,"selling_plan_groups":[],"content":"\u003cp data-mce-fragment=\"1\"\u003e\u003cspan data-mce-fragment=\"1\" style=\"color: #4587cf;\"\u003e\u003cstrong data-mce-fragment=\"1\"\u003eFEATURES:\u003c\/strong\u003e\u003c\/span\u003e\u003c\/p\u003e\n\u003cul id=\"mylist\"\u003e\n\u003cli class=\"mylistitemclass\"\u003e\n\u003cspan style=\"color: #b85e32;\"\u003e \u003c\/span\u003e\u003cspan\u003e\u003cspan style=\"color: #b85e32;\"\u003e\u003cstrong\u003e[30W super fast charging speed] -\u003c\/strong\u003e\u003c\/span\u003e \u003c\/span\u003eThe fast car charger provides PD 30W (maximum) output, which can quickly charge iPhone 11 from 0% to 50% in 30 minutes.\u003c\/li\u003e\n\u003c\/ul\u003e\n\u003cp\u003e\u003cimg style=\"display: block; margin-left: auto; margin-right: auto;\" src=\"https:\/\/cdn.shopify.com\/s\/files\/1\/0356\/3048\/1544\/files\/FM2_74116ea1-1390-4884-9a6d-4836c4f95bcd_480x480.jpg?v=1676344654\" alt=\"\"\u003e\u003c\/p\u003e\n\u003cul id=\"mylist\"\u003e\n\u003cli class=\"mylistitemclass\"\u003e\n\u003cspan style=\"color: #b85e31;\"\u003e \u003cstrong\u003e[Charging two devices at the same time] -\u003c\/strong\u003e \u003c\/span\u003eThe on-board charger can charge two devices at the same time. When charging two devices at the same time, fast charging is supported.\u003c\/li\u003e\n\u003c\/ul\u003e\n\u003cp\u003e\u003cimg srcset=\"https:\/\/img.staticdj.com\/c3f9f9e872f22ccd047542d4d483d07b_1920.webp 48w, https:\/\/img.staticdj.com\/c3f9f9e872f22ccd047542d4d483d07b_1920.webp 180w, https:\/\/img.staticdj.com\/c3f9f9e872f22ccd047542d4d483d07b_1920.webp 360w, https:\/\/img.staticdj.com\/c3f9f9e872f22ccd047542d4d483d07b_1920.webp 540w, https:\/\/img.staticdj.com\/c3f9f9e872f22ccd047542d4d483d07b_1920.webp 720w, https:\/\/img.staticdj.com\/c3f9f9e872f22ccd047542d4d483d07b_1920.webp 900w, https:\/\/img.staticdj.com\/c3f9f9e872f22ccd047542d4d483d07b_1920.webp 1024w, https:\/\/img.staticdj.com\/c3f9f9e872f22ccd047542d4d483d07b_1920.webp 1280w, https:\/\/img.staticdj.com\/c3f9f9e872f22ccd047542d4d483d07b_1920.webp 1366w, https:\/\/img.staticdj.com\/c3f9f9e872f22ccd047542d4d483d07b_1920.webp 1440w, https:\/\/img.staticdj.com\/c3f9f9e872f22ccd047542d4d483d07b_1920.webp 1536w, https:\/\/img.staticdj.com\/c3f9f9e872f22ccd047542d4d483d07b_1920.webp 1600w, https:\/\/img.staticdj.com\/c3f9f9e872f22ccd047542d4d483d07b_1920.webp 1920w, https:\/\/img.staticdj.com\/c3f9f9e872f22ccd047542d4d483d07b_1920.webp 2056w, https:\/\/img.staticdj.com\/c3f9f9e872f22ccd047542d4d483d07b_1920.webp 2560w, https:\/\/img.staticdj.com\/c3f9f9e872f22ccd047542d4d483d07b_1920.webp 2732w, https:\/\/img.staticdj.com\/c3f9f9e872f22ccd047542d4d483d07b_1920.webp 2880w, https:\/\/img.staticdj.com\/c3f9f9e872f22ccd047542d4d483d07b_1920.webp 3072w, https:\/\/img.staticdj.com\/c3f9f9e872f22ccd047542d4d483d07b_1920.webp 3200w, https:\/\/img.staticdj.com\/c3f9f9e872f22ccd047542d4d483d07b_1920.webp 3840w\" sizes=\"1137px\" data-srcset=\"https:\/\/img.staticdj.com\/c3f9f9e872f22ccd047542d4d483d07b_1920.webp 48w, https:\/\/img.staticdj.com\/c3f9f9e872f22ccd047542d4d483d07b_1920.webp 180w, https:\/\/img.staticdj.com\/c3f9f9e872f22ccd047542d4d483d07b_1920.webp 360w, https:\/\/img.staticdj.com\/c3f9f9e872f22ccd047542d4d483d07b_1920.webp 540w, https:\/\/img.staticdj.com\/c3f9f9e872f22ccd047542d4d483d07b_1920.webp 720w, https:\/\/img.staticdj.com\/c3f9f9e872f22ccd047542d4d483d07b_1920.webp 900w, https:\/\/img.staticdj.com\/c3f9f9e872f22ccd047542d4d483d07b_1920.webp 1024w, https:\/\/img.staticdj.com\/c3f9f9e872f22ccd047542d4d483d07b_1920.webp 1280w, https:\/\/img.staticdj.com\/c3f9f9e872f22ccd047542d4d483d07b_1920.webp 1366w, https:\/\/img.staticdj.com\/c3f9f9e872f22ccd047542d4d483d07b_1920.webp 1440w, https:\/\/img.staticdj.com\/c3f9f9e872f22ccd047542d4d483d07b_1920.webp 1536w, https:\/\/img.staticdj.com\/c3f9f9e872f22ccd047542d4d483d07b_1920.webp 1600w, https:\/\/img.staticdj.com\/c3f9f9e872f22ccd047542d4d483d07b_1920.webp 1920w, https:\/\/img.staticdj.com\/c3f9f9e872f22ccd047542d4d483d07b_1920.webp 2056w, https:\/\/img.staticdj.com\/c3f9f9e872f22ccd047542d4d483d07b_1920.webp 2560w, https:\/\/img.staticdj.com\/c3f9f9e872f22ccd047542d4d483d07b_1920.webp 2732w, https:\/\/img.staticdj.com\/c3f9f9e872f22ccd047542d4d483d07b_1920.webp 2880w, https:\/\/img.staticdj.com\/c3f9f9e872f22ccd047542d4d483d07b_1920.webp 3072w, https:\/\/img.staticdj.com\/c3f9f9e872f22ccd047542d4d483d07b_1920.webp 3200w, https:\/\/img.staticdj.com\/c3f9f9e872f22ccd047542d4d483d07b_1920.webp 3840w\" data-aspect-ratio=\"1.00\" height=\"480\" width=\"480\" alt=\"\" data-sizes=\"auto\" class=\"sep-lazyload lazyautosizes lazyloaded\" style=\"display: block; margin-left: auto; margin-right: auto;\"\u003e\u003c\/p\u003e\n\u003cul id=\"mylist\"\u003e\n\u003cli\u003e\n\u003cspan style=\"color: #b85e33;\"\u003e \u003cstrong\u003e [Super mini size and smooth appearance] -\u003c\/strong\u003e \u003c\/span\u003eThe diameter is only 20 mm. The upgraded mini model reduces the size by 50%, which is smaller than a coin. Invisible interface design, delicate appearance, small size, no space, small handle design, more easy to plug.\u003c\/li\u003e\n\u003c\/ul\u003e\n\u003cdiv style=\"text-align: center;\"\u003e\u003cimg style=\"font-size: 1.4em;\" data-mce-fragment=\"1\" alt=\"\" src=\"https:\/\/cdn.shopify.com\/s\/files\/1\/0356\/3048\/1544\/files\/1_7c2217f2-ec10-44c1-9e60-32094572382e_480x480.jpg?v=1676344689\" data-mce-src=\"https:\/\/cdn.shopify.com\/s\/files\/1\/0356\/3048\/1544\/files\/1_7c2217f2-ec10-44c1-9e60-32094572382e_480x480.jpg?v=1676344689\"\u003e\u003c\/div\u003e\n\u003cul\u003e\n\u003cli\u003e\n\u003cspan style=\"color: #b85e31;\"\u003e \u003cstrong\u003e [High quality and safety] -\u003c\/strong\u003e \u003c\/span\u003eThe metal material has fast heat conduction and is equipped with intelligent chip over-temperature protection. The car is not hot when charged for a long time, and it is safer to charge at low temperature.\u003c\/li\u003e\n\u003c\/ul\u003e\n\u003cp\u003e\u003cimg srcset=\"https:\/\/img.staticdj.com\/f307ef3c6ebc55767e9ad14fcd97e08e_1920.webp 48w, https:\/\/img.staticdj.com\/f307ef3c6ebc55767e9ad14fcd97e08e_1920.webp 180w, https:\/\/img.staticdj.com\/f307ef3c6ebc55767e9ad14fcd97e08e_1920.webp 360w, https:\/\/img.staticdj.com\/f307ef3c6ebc55767e9ad14fcd97e08e_1920.webp 540w, https:\/\/img.staticdj.com\/f307ef3c6ebc55767e9ad14fcd97e08e_1920.webp 720w, https:\/\/img.staticdj.com\/f307ef3c6ebc55767e9ad14fcd97e08e_1920.webp 900w, https:\/\/img.staticdj.com\/f307ef3c6ebc55767e9ad14fcd97e08e_1920.webp 1024w, https:\/\/img.staticdj.com\/f307ef3c6ebc55767e9ad14fcd97e08e_1920.webp 1280w, https:\/\/img.staticdj.com\/f307ef3c6ebc55767e9ad14fcd97e08e_1920.webp 1366w, https:\/\/img.staticdj.com\/f307ef3c6ebc55767e9ad14fcd97e08e_1920.webp 1440w, https:\/\/img.staticdj.com\/f307ef3c6ebc55767e9ad14fcd97e08e_1920.webp 1536w, https:\/\/img.staticdj.com\/f307ef3c6ebc55767e9ad14fcd97e08e_1920.webp 1600w, https:\/\/img.staticdj.com\/f307ef3c6ebc55767e9ad14fcd97e08e_1920.webp 1920w, https:\/\/img.staticdj.com\/f307ef3c6ebc55767e9ad14fcd97e08e_1920.webp 2056w, https:\/\/img.staticdj.com\/f307ef3c6ebc55767e9ad14fcd97e08e_1920.webp 2560w, https:\/\/img.staticdj.com\/f307ef3c6ebc55767e9ad14fcd97e08e_1920.webp 2732w, https:\/\/img.staticdj.com\/f307ef3c6ebc55767e9ad14fcd97e08e_1920.webp 2880w, https:\/\/img.staticdj.com\/f307ef3c6ebc55767e9ad14fcd97e08e_1920.webp 3072w, https:\/\/img.staticdj.com\/f307ef3c6ebc55767e9ad14fcd97e08e_1920.webp 3200w, https:\/\/img.staticdj.com\/f307ef3c6ebc55767e9ad14fcd97e08e_1920.webp 3840w\" sizes=\"1137px\" data-srcset=\"https:\/\/img.staticdj.com\/f307ef3c6ebc55767e9ad14fcd97e08e_1920.webp 48w, https:\/\/img.staticdj.com\/f307ef3c6ebc55767e9ad14fcd97e08e_1920.webp 180w, https:\/\/img.staticdj.com\/f307ef3c6ebc55767e9ad14fcd97e08e_1920.webp 360w, https:\/\/img.staticdj.com\/f307ef3c6ebc55767e9ad14fcd97e08e_1920.webp 540w, https:\/\/img.staticdj.com\/f307ef3c6ebc55767e9ad14fcd97e08e_1920.webp 720w, https:\/\/img.staticdj.com\/f307ef3c6ebc55767e9ad14fcd97e08e_1920.webp 900w, https:\/\/img.staticdj.com\/f307ef3c6ebc55767e9ad14fcd97e08e_1920.webp 1024w, https:\/\/img.staticdj.com\/f307ef3c6ebc55767e9ad14fcd97e08e_1920.webp 1280w, https:\/\/img.staticdj.com\/f307ef3c6ebc55767e9ad14fcd97e08e_1920.webp 1366w, https:\/\/img.staticdj.com\/f307ef3c6ebc55767e9ad14fcd97e08e_1920.webp 1440w, https:\/\/img.staticdj.com\/f307ef3c6ebc55767e9ad14fcd97e08e_1920.webp 1536w, https:\/\/img.staticdj.com\/f307ef3c6ebc55767e9ad14fcd97e08e_1920.webp 1600w, https:\/\/img.staticdj.com\/f307ef3c6ebc55767e9ad14fcd97e08e_1920.webp 1920w, https:\/\/img.staticdj.com\/f307ef3c6ebc55767e9ad14fcd97e08e_1920.webp 2056w, https:\/\/img.staticdj.com\/f307ef3c6ebc55767e9ad14fcd97e08e_1920.webp 2560w, https:\/\/img.staticdj.com\/f307ef3c6ebc55767e9ad14fcd97e08e_1920.webp 2732w, https:\/\/img.staticdj.com\/f307ef3c6ebc55767e9ad14fcd97e08e_1920.webp 2880w, https:\/\/img.staticdj.com\/f307ef3c6ebc55767e9ad14fcd97e08e_1920.webp 3072w, https:\/\/img.staticdj.com\/f307ef3c6ebc55767e9ad14fcd97e08e_1920.webp 3200w, https:\/\/img.staticdj.com\/f307ef3c6ebc55767e9ad14fcd97e08e_1920.webp 3840w\" width=\"485\" height=\"485\" alt=\"\" data-sizes=\"auto\" class=\"sep-lazyload lazyautosizes lazyloaded\" style=\"display: block; margin-left: auto; margin-right: auto;\"\u003e\u003c\/p\u003e\n\u003cul\u003e\n\u003cli\u003e\n\u003cspan\u003e\u003cspan style=\"color: #b85e31;\"\u003e\u003cstrong\u003e [Universal compatibility] -\u003c\/strong\u003e\u003c\/span\u003e \u003c\/span\u003eUSB+type-c dual interface, fast charging car charger can charge various devices, including mobile phones, tablets, etc.\u003c\/li\u003e\n\u003c\/ul\u003e\n\u003cp data-mce-fragment=\"1\"\u003e\u003cspan data-mce-fragment=\"1\" style=\"color: #4587cf;\"\u003e\u003cstrong data-mce-fragment=\"1\"\u003eSPECIFICATIONS: \u003c\/strong\u003e\u003c\/span\u003e\u003c\/p\u003e\n\u003cul data-mce-fragment=\"1\"\u003e\n\u003cli data-mce-fragment=\"1\"\u003e\n\u003cp data-mce-fragment=\"1\"\u003e\u003cstrong data-mce-fragment=\"1\"\u003eMaterial:\u003c\/strong\u003e\u003cspan data-mce-fragment=\"1\"\u003e Zinc alloy+Pc\u003c\/span\u003e\u003cbr data-mce-fragment=\"1\"\u003e\u003c\/p\u003e\n\u003c\/li\u003e\n\u003cli data-mce-fragment=\"1\"\u003e\n\u003cp data-mce-fragment=\"1\"\u003e\u003cstrong data-mce-fragment=\"1\"\u003eWeight:\u003c\/strong\u003e\u003cspan data-mce-fragment=\"1\"\u003e \u003c\/span\u003eabout 100g\u003c\/p\u003e\n\u003c\/li\u003e\n\u003cli data-mce-fragment=\"1\"\u003e\n\u003cp data-mce-fragment=\"1\"\u003e\u003cstrong data-mce-fragment=\"1\"\u003eColor:\u003c\/strong\u003e\u003cspan data-mce-fragment=\"1\"\u003e Black, Silver\u003c\/span\u003e\u003c\/p\u003e\n\u003c\/li\u003e\n\u003cli data-mce-fragment=\"1\"\u003e\n\u003cp\u003e\u003cspan data-mce-fragment=\"1\"\u003e\u003cstrong\u003eInput voltage:\u003c\/strong\u003e 12-24V\u003cbr\u003e\u003c\/span\u003e\u003c\/p\u003e\n\u003c\/li\u003e\n\u003cli data-mce-fragment=\"1\"\u003e\n\u003cp\u003e\u003cspan data-mce-fragment=\"1\"\u003e\u003cstrong\u003eOutput voltage:\u003c\/strong\u003e 15V\u003cbr\u003e\u003c\/span\u003e\u003c\/p\u003e\n\u003c\/li\u003e\n\u003cli data-mce-fragment=\"1\"\u003e\n\u003cp\u003e\u003cspan data-mce-fragment=\"1\"\u003e\u003cstrong\u003eOutput current:\u003c\/strong\u003e 5000mAh\u003cbr\u003e\u003c\/span\u003e\u003c\/p\u003e\n\u003c\/li\u003e\n\u003cli data-mce-fragment=\"1\"\u003e\n\u003cp\u003e\u003cstrong\u003eWorking temperature:\u003c\/strong\u003e less than 60℃\u003c\/p\u003e\n\u003c\/li\u003e\n\u003cli data-mce-fragment=\"1\"\u003e\n\u003cp\u003e\u003cspan data-mce-fragment=\"1\"\u003e\u003cstrong\u003eOutput interface:\u003c\/strong\u003e USB + TYPE-C\u003cbr\u003e\u003c\/span\u003e\u003c\/p\u003e\n\u003c\/li\u003e\n\u003cli data-mce-fragment=\"1\"\u003e\n\u003cp\u003e\u003cstrong\u003ePower: \u003c\/strong\u003e30W\u003c\/p\u003e\n\u003c\/li\u003e\n\u003cli data-mce-fragment=\"1\"\u003e\n\u003cp\u003e\u003cspan data-mce-fragment=\"1\"\u003e\u003cstrong\u003eApplicable charging range:\u003c\/strong\u003e Compatible with PD2.0\/PD3.0\/QC\u003c\/span\u003e\u003c\/p\u003e\n\u003c\/li\u003e\n\u003c\/ul\u003e\n\u003cp data-mce-fragment=\"1\"\u003e\u003cspan data-mce-fragment=\"1\" style=\"color: #4587cf;\"\u003e\u003cstrong data-mce-fragment=\"1\"\u003ePACKAGE:\u003c\/strong\u003e\u003c\/span\u003e\u003cbr data-mce-fragment=\"1\"\u003e\u003c\/p\u003e\n\u003cul data-mce-fragment=\"1\"\u003e\n\u003cli data-mce-fragment=\"1\"\u003e1 * Multi Compatible Fast Charging Car Charger\u003c\/li\u003e\n\u003c\/ul\u003e\n\u003cp data-mce-fragment=\"1\"\u003e\u003cspan data-mce-fragment=\"1\" style=\"color: #4587cf;\"\u003e\u003cstrong data-mce-fragment=\"1\"\u003eNOTES: \u003c\/strong\u003e\u003c\/span\u003e\u003c\/p\u003e\n\u003cul data-mce-fragment=\"1\"\u003e\n\u003cli data-mce-fragment=\"1\"\u003e\n\u003cp data-mce-fragment=\"1\"\u003ePlease allow slight measurement deviations due to manual measurement.\u003c\/p\u003e\n\u003c\/li\u003e\n\u003cli data-mce-fragment=\"1\"\u003e\n\u003cp data-mce-fragment=\"1\"\u003eDue to the different monitor and light effect, the actual color of the item might be slightly different from the color showed on the pictures.\u003c\/p\u003e\n\u003c\/li\u003e\n\u003c\/ul\u003e"}
Adding product to your cart
FEATURES:
 

[30W super fast charging speed] - The fast car charger provides PD 30W (maximum) output, which can quickly charge iPhone 11 from 0% to 50% in 30 minutes.
 [Charging two devices at the same time] - The on-board charger can charge two devices at the same time. When charging two devices at the same time, fast charging is supported.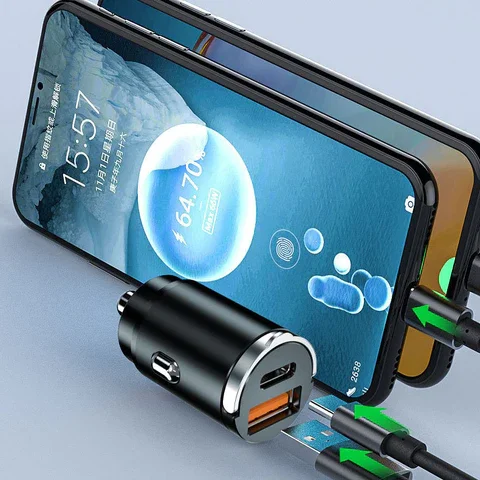 [Super mini size and smooth appearance] - The diameter is only 20 mm. The upgraded mini model reduces the size by 50%, which is smaller than a coin. Invisible interface design, delicate appearance, small size, no space, small handle design, more easy to plug.
 [High quality and safety] - The metal material has fast heat conduction and is equipped with intelligent chip over-temperature protection. The car is not hot when charged for a long time, and it is safer to charge at low temperature.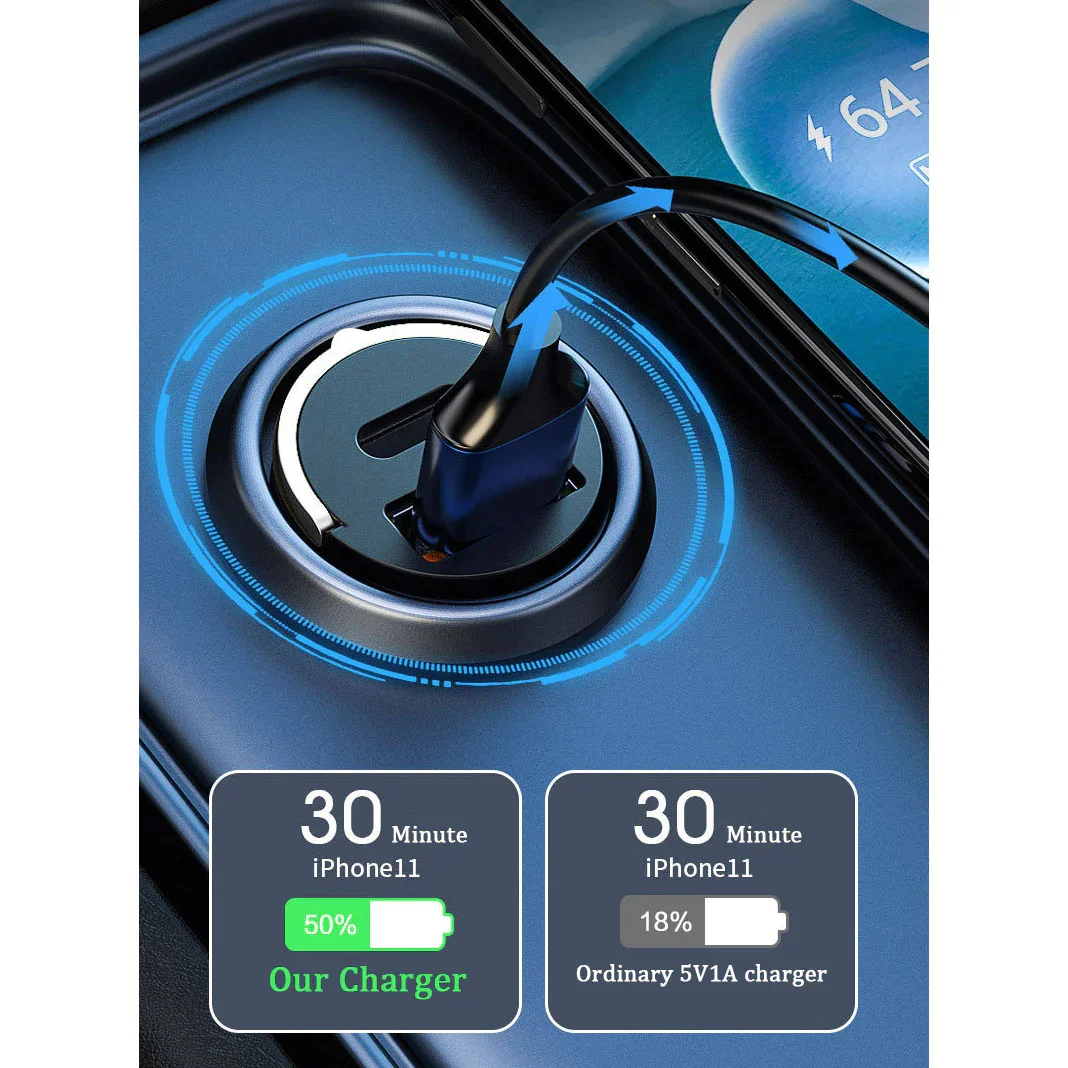 [Universal compatibility] - USB+type-c dual interface, fast charging car charger can charge various devices, including mobile phones, tablets, etc.
SPECIFICATIONS: 
Material: Zinc alloy+Pc


Weight: about 100g

Color: Black, Silver

Input voltage: 12-24V


Output voltage: 15V


Output current: 5000mAh


Working temperature: less than 60℃

Output interface: USB + TYPE-C


Power: 30W

Applicable charging range: Compatible with PD2.0/PD3.0/QC
PACKAGE:

1 * Multi Compatible Fast Charging Car Charger
NOTES: 
Please allow slight measurement deviations due to manual measurement.

Due to the different monitor and light effect, the actual color of the item might be slightly different from the color showed on the pictures.