{"id":7186826657881,"title":"Original Brass Portable Smoking Set","handle":"original-brass-portable-smoking-set","description":"\u003cp\u003e\u003cspan style=\"color: #ff8000;\"\u003e\u003cstrong\u003eThe original brass pipe we all know and love, It features a permanent screen and a lid, and includes a Poker, a Stash Pod, and a Tar Trap.\u003c\/strong\u003e\u003c\/span\u003e\u003c\/p\u003e\n\u003cp\u003e\u003cimg data-loaded=\"true\" srcset=\"https:\/\/img.staticdj.com\/716551f7319f096b0d86b14ebb23ab9e_2056.png 48w, https:\/\/img.staticdj.com\/716551f7319f096b0d86b14ebb23ab9e_2056.png 180w, https:\/\/img.staticdj.com\/716551f7319f096b0d86b14ebb23ab9e_2056.png 540w, https:\/\/img.staticdj.com\/716551f7319f096b0d86b14ebb23ab9e_2056.png 720w, https:\/\/img.staticdj.com\/716551f7319f096b0d86b14ebb23ab9e_2056.png 900w, https:\/\/img.staticdj.com\/716551f7319f096b0d86b14ebb23ab9e_2056.png 1024w, https:\/\/img.staticdj.com\/716551f7319f096b0d86b14ebb23ab9e_2056.png 1280w, https:\/\/img.staticdj.com\/716551f7319f096b0d86b14ebb23ab9e_2056.png 1366w, https:\/\/img.staticdj.com\/716551f7319f096b0d86b14ebb23ab9e_2056.png 1440w, https:\/\/img.staticdj.com\/716551f7319f096b0d86b14ebb23ab9e_2056.png 1536w, https:\/\/img.staticdj.com\/716551f7319f096b0d86b14ebb23ab9e_2056.png 1600w, https:\/\/img.staticdj.com\/716551f7319f096b0d86b14ebb23ab9e_2056.png 1920w, https:\/\/img.staticdj.com\/716551f7319f096b0d86b14ebb23ab9e_2056.png 2056w, https:\/\/img.staticdj.com\/716551f7319f096b0d86b14ebb23ab9e_2056.png 2560w, https:\/\/img.staticdj.com\/716551f7319f096b0d86b14ebb23ab9e_2056.png 2732w, https:\/\/img.staticdj.com\/716551f7319f096b0d86b14ebb23ab9e_2056.png 2880w, https:\/\/img.staticdj.com\/716551f7319f096b0d86b14ebb23ab9e_2056.png 3072w, https:\/\/img.staticdj.com\/716551f7319f096b0d86b14ebb23ab9e_2056.png 3200w, https:\/\/img.staticdj.com\/716551f7319f096b0d86b14ebb23ab9e_2056.png 3840w\" data-sizes=\"auto\" height=\"440\" width=\"440\" alt=\"\" data-srcset=\"https:\/\/img.staticdj.com\/716551f7319f096b0d86b14ebb23ab9e_2056.png 48w, https:\/\/img.staticdj.com\/716551f7319f096b0d86b14ebb23ab9e_2056.png 180w, https:\/\/img.staticdj.com\/716551f7319f096b0d86b14ebb23ab9e_2056.png 540w, https:\/\/img.staticdj.com\/716551f7319f096b0d86b14ebb23ab9e_2056.png 720w, https:\/\/img.staticdj.com\/716551f7319f096b0d86b14ebb23ab9e_2056.png 900w, https:\/\/img.staticdj.com\/716551f7319f096b0d86b14ebb23ab9e_2056.png 1024w, https:\/\/img.staticdj.com\/716551f7319f096b0d86b14ebb23ab9e_2056.png 1280w, https:\/\/img.staticdj.com\/716551f7319f096b0d86b14ebb23ab9e_2056.png 1366w, https:\/\/img.staticdj.com\/716551f7319f096b0d86b14ebb23ab9e_2056.png 1440w, https:\/\/img.staticdj.com\/716551f7319f096b0d86b14ebb23ab9e_2056.png 1536w, https:\/\/img.staticdj.com\/716551f7319f096b0d86b14ebb23ab9e_2056.png 1600w, https:\/\/img.staticdj.com\/716551f7319f096b0d86b14ebb23ab9e_2056.png 1920w, https:\/\/img.staticdj.com\/716551f7319f096b0d86b14ebb23ab9e_2056.png 2056w, https:\/\/img.staticdj.com\/716551f7319f096b0d86b14ebb23ab9e_2056.png 2560w, https:\/\/img.staticdj.com\/716551f7319f096b0d86b14ebb23ab9e_2056.png 2732w, https:\/\/img.staticdj.com\/716551f7319f096b0d86b14ebb23ab9e_2056.png 2880w, https:\/\/img.staticdj.com\/716551f7319f096b0d86b14ebb23ab9e_2056.png 3072w, https:\/\/img.staticdj.com\/716551f7319f096b0d86b14ebb23ab9e_2056.png 3200w, https:\/\/img.staticdj.com\/716551f7319f096b0d86b14ebb23ab9e_2056.png 3840w\" sizes=\"924px\" class=\"lozad lazyload sep-lazyload lazyloaded\" style=\"display: block; margin-left: auto; margin-right: auto;\" referrerpolicy=\"same-origin\"\u003e\u003c\/p\u003e\n\u003cp\u003e\u003cstrong\u003e\u003cspan style=\"color: #ff2a00;\"\u003eFEATURES\u003c\/span\u003e\u003c\/strong\u003e\u003c\/p\u003e\n\u003cul\u003e\n\u003cli\u003e\n\u003cp\u003e\u003cspan\u003e\u003cstrong\u003eUpgraded Product:\u003c\/strong\u003e This product is used to filter tar, nicotine, and other harmful substances in cigarettes and tobacco. Improved filter device, can cool the smoke with water, and increase the filtering effect of small particles by 20%. \u003c\/span\u003e\u003c\/p\u003e\n\u003c\/li\u003e\n\u003cli\u003e\n\u003cp\u003e\u003cspan\u003e\u003cstrong\u003ePremium Environmentally Material:\u003c\/strong\u003eShisha body and smoke pans is made from brass. safe and healthy\u003c\/span\u003e\u003c\/p\u003e\n\u003c\/li\u003e\n\u003cli\u003e\n\u003cp\u003e\u003cspan\u003e\u003cstrong\u003ePortable:\u003c\/strong\u003e The design is exquisite and compact. You can put it in your pocket and use it anytime, anywhere. When used, it can effectively avoid the smell of tobacco or cigarettes on the fingers.\u003c\/span\u003e\u003c\/p\u003e\n\u003c\/li\u003e\n\u003c\/ul\u003e\n\u003cp\u003e\u003cspan\u003e\u003cspan\u003e\u003cstrong\u003e\u003cspan color=\"#ff2a00\" style=\"color: #ff2a00;\"\u003eHOW TO CLEAN\u003c\/span\u003e\u003c\/strong\u003e\u003c\/span\u003e\u003c\/span\u003e\u003c\/p\u003e\n\u003cul\u003e\n\u003cli\u003e\u003cspan\u003e\u003cspan\u003eEvery Proto Pipe has a permanent screen in the solid brass bowl. The poker helps you clean resin and debris out the bowl when the screen becomes clogged. Then you can clean the entire pipe using olive oil and a polishing cloth.\u003c\/span\u003e\u003c\/span\u003e\u003c\/li\u003e\n\u003c\/ul\u003e\n\u003cul\u003e\u003c\/ul\u003e\n\u003cp\u003e\u003cspan\u003e\u003cimg alt=\"\" src=\"https:\/\/cdn.shopify.com\/s\/files\/1\/0572\/7662\/9167\/files\/6_25047cd9-8704-4791-a2af-e4efadd72bfb_480x480.webp?v=1668526747\" style=\"display: block; margin-left: auto; margin-right: auto;\" width=\"440\" height=\"440\"\u003e\u003c\/span\u003e\u003c\/p\u003e\n\u003cp data-mce-fragment=\"1\"\u003e\u003cstrong\u003e \u003cspan style=\"color: #ff2a00;\" data-mce-fragment=\"1\"\u003eSPECIFICATIONS\u003c\/span\u003e\u003c\/strong\u003e\u003cspan data-mce-fragment=\"1\"\u003e\u003c\/span\u003e\u003c\/p\u003e\n\u003cul data-mce-fragment=\"1\"\u003e\n\u003cli data-mce-fragment=\"1\"\u003e\n\u003cp\u003e\u003cstrong data-mce-fragment=\"1\"\u003e\u003cspan data-mce-fragment=\"1\"\u003eItem Type: \u003c\/span\u003e\u003c\/strong\u003eSmoking Set\u003c\/p\u003e\n\u003c\/li\u003e\n\u003cli data-mce-fragment=\"1\"\u003e\n\u003cp data-mce-fragment=\"1\"\u003e\u003cstrong data-mce-fragment=\"1\"\u003e\u003cspan data-mce-fragment=\"1\"\u003eColor: \u003c\/span\u003e\u003c\/strong\u003e\u003cspan data-mce-fragment=\"1\"\u003e \u003cspan class=\"Polaris-Badge_2qgie\" data-mce-fragment=\"1\" mce-data-marked=\"1\"\u003eGold\u003c\/span\u003e\u003c\/span\u003e\u003c\/p\u003e\n\u003c\/li\u003e\n\u003cli data-mce-fragment=\"1\"\u003e\n\u003cp data-mce-fragment=\"1\"\u003e\u003cstrong data-mce-fragment=\"1\"\u003e\u003cspan data-mce-fragment=\"1\"\u003eWeight\u003c\/span\u003e\u003c\/strong\u003e\u003cspan data-mce-fragment=\"1\"\u003e: 92g\u003c\/span\u003e\u003cspan data-mce-fragment=\"1\"\u003e\u003c\/span\u003e\u003c\/p\u003e\n\u003c\/li\u003e\n\u003cli data-mce-fragment=\"1\"\u003e\n\u003cp data-mce-fragment=\"1\"\u003e\u003cstrong data-mce-fragment=\"1\"\u003e\u003cspan data-mce-fragment=\"1\"\u003eMaterial: \u003c\/span\u003e\u003c\/strong\u003eBrass\u003c\/p\u003e\n\u003c\/li\u003e\n\u003cli data-mce-fragment=\"1\"\u003e\n\u003cp data-mce-fragment=\"1\"\u003e\u003cstrong data-mce-fragment=\"1\"\u003e\u003cspan data-mce-fragment=\"1\"\u003eSize: \u003c\/span\u003e\u003c\/strong\u003e\u003cspan data-mce-fragment=\"1\"\u003e 86mm\/ 3.3in\u003c\/span\u003e\u003c\/p\u003e\n\u003c\/li\u003e\n\u003c\/ul\u003e\n\u003cul data-mce-fragment=\"1\"\u003e\u003c\/ul\u003e\n\u003cul data-mce-fragment=\"1\"\u003e\u003c\/ul\u003e\n\u003cp\u003e\u003cstrong\u003e\u003cspan style=\"color: #ff2a00;\" data-mce-fragment=\"1\"\u003ePACKAGE\u003c\/span\u003e\u003c\/strong\u003e\u003c\/p\u003e\n\u003cul data-mce-fragment=\"1\"\u003e\n\u003cli data-mce-fragment=\"1\"\u003e\u003cspan data-mce-fragment=\"1\"\u003e1 * Brass Smoking Set\u003c\/span\u003e\u003c\/li\u003e\n\u003c\/ul\u003e\n\u003cp\u003e\u003cspan style=\"color: #ff2a00;\" data-mce-fragment=\"1\"\u003e\u003cb data-mce-fragment=\"1\"\u003eNOTE\u003c\/b\u003e\u003c\/span\u003e\u003c\/p\u003e\n\u003cul data-mce-fragment=\"1\"\u003e\n\u003cli data-mce-fragment=\"1\"\u003e\n\u003cp data-mce-fragment=\"1\"\u003e\u003cspan data-mce-fragment=\"1\"\u003ePlease allow slight measurement deviations due to manual measurement.\u003c\/span\u003e\u003c\/p\u003e\n\u003c\/li\u003e\n\u003cli data-mce-fragment=\"1\"\u003e\n\u003cp data-mce-fragment=\"1\"\u003e\u003cspan data-mce-fragment=\"1\"\u003eDue to the different monitor and light effect, the actual color of the item might be slightly different from the color showed on the picture.\u003c\/span\u003e\u003c\/p\u003e\n\u003c\/li\u003e\n\u003c\/ul\u003e","published_at":"2022-11-17T17:31:45-10:00","created_at":"2022-11-17T17:31:51-10:00","vendor":"Suerteyay","type":"","tags":["accessories"],"price":1699,"price_min":1699,"price_max":1699,"available":true,"price_varies":false,"compare_at_price":3398,"compare_at_price_min":3398,"compare_at_price_max":3398,"compare_at_price_varies":false,"variants":[{"id":40328594358361,"title":"Default Title","option1":"Default Title","option2":null,"option3":null,"sku":"CP33093-E037","requires_shipping":true,"taxable":false,"featured_image":null,"available":true,"name":"Original Brass Portable Smoking Set","public_title":null,"options":["Default Title"],"price":1699,"weight":0,"compare_at_price":3398,"inventory_management":null,"barcode":null,"requires_selling_plan":false,"selling_plan_allocations":[],"quantity_rule":{"min":1,"max":null,"increment":1}}],"images":["\/\/www.suerteyay.com\/cdn\/shop\/products\/25_fe9b3891-fe6b-4ca8-802f-08f997056f35.jpg?v=1668742311","\/\/www.suerteyay.com\/cdn\/shop\/products\/26_351d2edc-2eea-4f9c-a0ee-76df5adf606c.jpg?v=1668742311","\/\/www.suerteyay.com\/cdn\/shop\/products\/27_53a13578-2735-4c0d-bfc0-1e2f6287b5e2.jpg?v=1668742311","\/\/www.suerteyay.com\/cdn\/shop\/products\/5_a75f5514-b411-40dc-98ab-83ecaeac9f21.jpg?v=1668742311","\/\/www.suerteyay.com\/cdn\/shop\/products\/29_5871d981-6693-4b9a-bd57-41a4a7bb959b.jpg?v=1668742311","\/\/www.suerteyay.com\/cdn\/shop\/products\/20_5e0d6266-0fa5-4394-a3b4-a27f703dff5b.jpg?v=1668742311","\/\/www.suerteyay.com\/cdn\/shop\/products\/19_ee9f674f-46b3-4550-b547-0ebf539c2262.jpg?v=1668742311","\/\/www.suerteyay.com\/cdn\/shop\/products\/32_c196a00d-22c5-4f00-90b1-fa4769892f00.jpg?v=1668742311"],"featured_image":"\/\/www.suerteyay.com\/cdn\/shop\/products\/25_fe9b3891-fe6b-4ca8-802f-08f997056f35.jpg?v=1668742311","options":["Title"],"media":[{"alt":null,"id":23212706070617,"position":1,"preview_image":{"aspect_ratio":1.0,"height":800,"width":800,"src":"\/\/www.suerteyay.com\/cdn\/shop\/products\/25_fe9b3891-fe6b-4ca8-802f-08f997056f35.jpg?v=1668742311"},"aspect_ratio":1.0,"height":800,"media_type":"image","src":"\/\/www.suerteyay.com\/cdn\/shop\/products\/25_fe9b3891-fe6b-4ca8-802f-08f997056f35.jpg?v=1668742311","width":800},{"alt":null,"id":23212706103385,"position":2,"preview_image":{"aspect_ratio":1.0,"height":800,"width":800,"src":"\/\/www.suerteyay.com\/cdn\/shop\/products\/26_351d2edc-2eea-4f9c-a0ee-76df5adf606c.jpg?v=1668742311"},"aspect_ratio":1.0,"height":800,"media_type":"image","src":"\/\/www.suerteyay.com\/cdn\/shop\/products\/26_351d2edc-2eea-4f9c-a0ee-76df5adf606c.jpg?v=1668742311","width":800},{"alt":null,"id":23212706136153,"position":3,"preview_image":{"aspect_ratio":1.0,"height":800,"width":800,"src":"\/\/www.suerteyay.com\/cdn\/shop\/products\/27_53a13578-2735-4c0d-bfc0-1e2f6287b5e2.jpg?v=1668742311"},"aspect_ratio":1.0,"height":800,"media_type":"image","src":"\/\/www.suerteyay.com\/cdn\/shop\/products\/27_53a13578-2735-4c0d-bfc0-1e2f6287b5e2.jpg?v=1668742311","width":800},{"alt":null,"id":23212706168921,"position":4,"preview_image":{"aspect_ratio":1.0,"height":716,"width":716,"src":"\/\/www.suerteyay.com\/cdn\/shop\/products\/5_a75f5514-b411-40dc-98ab-83ecaeac9f21.jpg?v=1668742311"},"aspect_ratio":1.0,"height":716,"media_type":"image","src":"\/\/www.suerteyay.com\/cdn\/shop\/products\/5_a75f5514-b411-40dc-98ab-83ecaeac9f21.jpg?v=1668742311","width":716},{"alt":null,"id":23212706201689,"position":5,"preview_image":{"aspect_ratio":1.0,"height":800,"width":800,"src":"\/\/www.suerteyay.com\/cdn\/shop\/products\/29_5871d981-6693-4b9a-bd57-41a4a7bb959b.jpg?v=1668742311"},"aspect_ratio":1.0,"height":800,"media_type":"image","src":"\/\/www.suerteyay.com\/cdn\/shop\/products\/29_5871d981-6693-4b9a-bd57-41a4a7bb959b.jpg?v=1668742311","width":800},{"alt":null,"id":23212706234457,"position":6,"preview_image":{"aspect_ratio":1.0,"height":800,"width":800,"src":"\/\/www.suerteyay.com\/cdn\/shop\/products\/20_5e0d6266-0fa5-4394-a3b4-a27f703dff5b.jpg?v=1668742311"},"aspect_ratio":1.0,"height":800,"media_type":"image","src":"\/\/www.suerteyay.com\/cdn\/shop\/products\/20_5e0d6266-0fa5-4394-a3b4-a27f703dff5b.jpg?v=1668742311","width":800},{"alt":null,"id":23212706267225,"position":7,"preview_image":{"aspect_ratio":1.0,"height":800,"width":800,"src":"\/\/www.suerteyay.com\/cdn\/shop\/products\/19_ee9f674f-46b3-4550-b547-0ebf539c2262.jpg?v=1668742311"},"aspect_ratio":1.0,"height":800,"media_type":"image","src":"\/\/www.suerteyay.com\/cdn\/shop\/products\/19_ee9f674f-46b3-4550-b547-0ebf539c2262.jpg?v=1668742311","width":800},{"alt":null,"id":23212706299993,"position":8,"preview_image":{"aspect_ratio":1.0,"height":800,"width":800,"src":"\/\/www.suerteyay.com\/cdn\/shop\/products\/32_c196a00d-22c5-4f00-90b1-fa4769892f00.jpg?v=1668742311"},"aspect_ratio":1.0,"height":800,"media_type":"image","src":"\/\/www.suerteyay.com\/cdn\/shop\/products\/32_c196a00d-22c5-4f00-90b1-fa4769892f00.jpg?v=1668742311","width":800}],"requires_selling_plan":false,"selling_plan_groups":[],"content":"\u003cp\u003e\u003cspan style=\"color: #ff8000;\"\u003e\u003cstrong\u003eThe original brass pipe we all know and love, It features a permanent screen and a lid, and includes a Poker, a Stash Pod, and a Tar Trap.\u003c\/strong\u003e\u003c\/span\u003e\u003c\/p\u003e\n\u003cp\u003e\u003cimg data-loaded=\"true\" srcset=\"https:\/\/img.staticdj.com\/716551f7319f096b0d86b14ebb23ab9e_2056.png 48w, https:\/\/img.staticdj.com\/716551f7319f096b0d86b14ebb23ab9e_2056.png 180w, https:\/\/img.staticdj.com\/716551f7319f096b0d86b14ebb23ab9e_2056.png 540w, https:\/\/img.staticdj.com\/716551f7319f096b0d86b14ebb23ab9e_2056.png 720w, https:\/\/img.staticdj.com\/716551f7319f096b0d86b14ebb23ab9e_2056.png 900w, https:\/\/img.staticdj.com\/716551f7319f096b0d86b14ebb23ab9e_2056.png 1024w, https:\/\/img.staticdj.com\/716551f7319f096b0d86b14ebb23ab9e_2056.png 1280w, https:\/\/img.staticdj.com\/716551f7319f096b0d86b14ebb23ab9e_2056.png 1366w, https:\/\/img.staticdj.com\/716551f7319f096b0d86b14ebb23ab9e_2056.png 1440w, https:\/\/img.staticdj.com\/716551f7319f096b0d86b14ebb23ab9e_2056.png 1536w, https:\/\/img.staticdj.com\/716551f7319f096b0d86b14ebb23ab9e_2056.png 1600w, https:\/\/img.staticdj.com\/716551f7319f096b0d86b14ebb23ab9e_2056.png 1920w, https:\/\/img.staticdj.com\/716551f7319f096b0d86b14ebb23ab9e_2056.png 2056w, https:\/\/img.staticdj.com\/716551f7319f096b0d86b14ebb23ab9e_2056.png 2560w, https:\/\/img.staticdj.com\/716551f7319f096b0d86b14ebb23ab9e_2056.png 2732w, https:\/\/img.staticdj.com\/716551f7319f096b0d86b14ebb23ab9e_2056.png 2880w, https:\/\/img.staticdj.com\/716551f7319f096b0d86b14ebb23ab9e_2056.png 3072w, https:\/\/img.staticdj.com\/716551f7319f096b0d86b14ebb23ab9e_2056.png 3200w, https:\/\/img.staticdj.com\/716551f7319f096b0d86b14ebb23ab9e_2056.png 3840w\" data-sizes=\"auto\" height=\"440\" width=\"440\" alt=\"\" data-srcset=\"https:\/\/img.staticdj.com\/716551f7319f096b0d86b14ebb23ab9e_2056.png 48w, https:\/\/img.staticdj.com\/716551f7319f096b0d86b14ebb23ab9e_2056.png 180w, https:\/\/img.staticdj.com\/716551f7319f096b0d86b14ebb23ab9e_2056.png 540w, https:\/\/img.staticdj.com\/716551f7319f096b0d86b14ebb23ab9e_2056.png 720w, https:\/\/img.staticdj.com\/716551f7319f096b0d86b14ebb23ab9e_2056.png 900w, https:\/\/img.staticdj.com\/716551f7319f096b0d86b14ebb23ab9e_2056.png 1024w, https:\/\/img.staticdj.com\/716551f7319f096b0d86b14ebb23ab9e_2056.png 1280w, https:\/\/img.staticdj.com\/716551f7319f096b0d86b14ebb23ab9e_2056.png 1366w, https:\/\/img.staticdj.com\/716551f7319f096b0d86b14ebb23ab9e_2056.png 1440w, https:\/\/img.staticdj.com\/716551f7319f096b0d86b14ebb23ab9e_2056.png 1536w, https:\/\/img.staticdj.com\/716551f7319f096b0d86b14ebb23ab9e_2056.png 1600w, https:\/\/img.staticdj.com\/716551f7319f096b0d86b14ebb23ab9e_2056.png 1920w, https:\/\/img.staticdj.com\/716551f7319f096b0d86b14ebb23ab9e_2056.png 2056w, https:\/\/img.staticdj.com\/716551f7319f096b0d86b14ebb23ab9e_2056.png 2560w, https:\/\/img.staticdj.com\/716551f7319f096b0d86b14ebb23ab9e_2056.png 2732w, https:\/\/img.staticdj.com\/716551f7319f096b0d86b14ebb23ab9e_2056.png 2880w, https:\/\/img.staticdj.com\/716551f7319f096b0d86b14ebb23ab9e_2056.png 3072w, https:\/\/img.staticdj.com\/716551f7319f096b0d86b14ebb23ab9e_2056.png 3200w, https:\/\/img.staticdj.com\/716551f7319f096b0d86b14ebb23ab9e_2056.png 3840w\" sizes=\"924px\" class=\"lozad lazyload sep-lazyload lazyloaded\" style=\"display: block; margin-left: auto; margin-right: auto;\" referrerpolicy=\"same-origin\"\u003e\u003c\/p\u003e\n\u003cp\u003e\u003cstrong\u003e\u003cspan style=\"color: #ff2a00;\"\u003eFEATURES\u003c\/span\u003e\u003c\/strong\u003e\u003c\/p\u003e\n\u003cul\u003e\n\u003cli\u003e\n\u003cp\u003e\u003cspan\u003e\u003cstrong\u003eUpgraded Product:\u003c\/strong\u003e This product is used to filter tar, nicotine, and other harmful substances in cigarettes and tobacco. Improved filter device, can cool the smoke with water, and increase the filtering effect of small particles by 20%. \u003c\/span\u003e\u003c\/p\u003e\n\u003c\/li\u003e\n\u003cli\u003e\n\u003cp\u003e\u003cspan\u003e\u003cstrong\u003ePremium Environmentally Material:\u003c\/strong\u003eShisha body and smoke pans is made from brass. safe and healthy\u003c\/span\u003e\u003c\/p\u003e\n\u003c\/li\u003e\n\u003cli\u003e\n\u003cp\u003e\u003cspan\u003e\u003cstrong\u003ePortable:\u003c\/strong\u003e The design is exquisite and compact. You can put it in your pocket and use it anytime, anywhere. When used, it can effectively avoid the smell of tobacco or cigarettes on the fingers.\u003c\/span\u003e\u003c\/p\u003e\n\u003c\/li\u003e\n\u003c\/ul\u003e\n\u003cp\u003e\u003cspan\u003e\u003cspan\u003e\u003cstrong\u003e\u003cspan color=\"#ff2a00\" style=\"color: #ff2a00;\"\u003eHOW TO CLEAN\u003c\/span\u003e\u003c\/strong\u003e\u003c\/span\u003e\u003c\/span\u003e\u003c\/p\u003e\n\u003cul\u003e\n\u003cli\u003e\u003cspan\u003e\u003cspan\u003eEvery Proto Pipe has a permanent screen in the solid brass bowl. The poker helps you clean resin and debris out the bowl when the screen becomes clogged. Then you can clean the entire pipe using olive oil and a polishing cloth.\u003c\/span\u003e\u003c\/span\u003e\u003c\/li\u003e\n\u003c\/ul\u003e\n\u003cul\u003e\u003c\/ul\u003e\n\u003cp\u003e\u003cspan\u003e\u003cimg alt=\"\" src=\"https:\/\/cdn.shopify.com\/s\/files\/1\/0572\/7662\/9167\/files\/6_25047cd9-8704-4791-a2af-e4efadd72bfb_480x480.webp?v=1668526747\" style=\"display: block; margin-left: auto; margin-right: auto;\" width=\"440\" height=\"440\"\u003e\u003c\/span\u003e\u003c\/p\u003e\n\u003cp data-mce-fragment=\"1\"\u003e\u003cstrong\u003e \u003cspan style=\"color: #ff2a00;\" data-mce-fragment=\"1\"\u003eSPECIFICATIONS\u003c\/span\u003e\u003c\/strong\u003e\u003cspan data-mce-fragment=\"1\"\u003e\u003c\/span\u003e\u003c\/p\u003e\n\u003cul data-mce-fragment=\"1\"\u003e\n\u003cli data-mce-fragment=\"1\"\u003e\n\u003cp\u003e\u003cstrong data-mce-fragment=\"1\"\u003e\u003cspan data-mce-fragment=\"1\"\u003eItem Type: \u003c\/span\u003e\u003c\/strong\u003eSmoking Set\u003c\/p\u003e\n\u003c\/li\u003e\n\u003cli data-mce-fragment=\"1\"\u003e\n\u003cp data-mce-fragment=\"1\"\u003e\u003cstrong data-mce-fragment=\"1\"\u003e\u003cspan data-mce-fragment=\"1\"\u003eColor: \u003c\/span\u003e\u003c\/strong\u003e\u003cspan data-mce-fragment=\"1\"\u003e \u003cspan class=\"Polaris-Badge_2qgie\" data-mce-fragment=\"1\" mce-data-marked=\"1\"\u003eGold\u003c\/span\u003e\u003c\/span\u003e\u003c\/p\u003e\n\u003c\/li\u003e\n\u003cli data-mce-fragment=\"1\"\u003e\n\u003cp data-mce-fragment=\"1\"\u003e\u003cstrong data-mce-fragment=\"1\"\u003e\u003cspan data-mce-fragment=\"1\"\u003eWeight\u003c\/span\u003e\u003c\/strong\u003e\u003cspan data-mce-fragment=\"1\"\u003e: 92g\u003c\/span\u003e\u003cspan data-mce-fragment=\"1\"\u003e\u003c\/span\u003e\u003c\/p\u003e\n\u003c\/li\u003e\n\u003cli data-mce-fragment=\"1\"\u003e\n\u003cp data-mce-fragment=\"1\"\u003e\u003cstrong data-mce-fragment=\"1\"\u003e\u003cspan data-mce-fragment=\"1\"\u003eMaterial: \u003c\/span\u003e\u003c\/strong\u003eBrass\u003c\/p\u003e\n\u003c\/li\u003e\n\u003cli data-mce-fragment=\"1\"\u003e\n\u003cp data-mce-fragment=\"1\"\u003e\u003cstrong data-mce-fragment=\"1\"\u003e\u003cspan data-mce-fragment=\"1\"\u003eSize: \u003c\/span\u003e\u003c\/strong\u003e\u003cspan data-mce-fragment=\"1\"\u003e 86mm\/ 3.3in\u003c\/span\u003e\u003c\/p\u003e\n\u003c\/li\u003e\n\u003c\/ul\u003e\n\u003cul data-mce-fragment=\"1\"\u003e\u003c\/ul\u003e\n\u003cul data-mce-fragment=\"1\"\u003e\u003c\/ul\u003e\n\u003cp\u003e\u003cstrong\u003e\u003cspan style=\"color: #ff2a00;\" data-mce-fragment=\"1\"\u003ePACKAGE\u003c\/span\u003e\u003c\/strong\u003e\u003c\/p\u003e\n\u003cul data-mce-fragment=\"1\"\u003e\n\u003cli data-mce-fragment=\"1\"\u003e\u003cspan data-mce-fragment=\"1\"\u003e1 * Brass Smoking Set\u003c\/span\u003e\u003c\/li\u003e\n\u003c\/ul\u003e\n\u003cp\u003e\u003cspan style=\"color: #ff2a00;\" data-mce-fragment=\"1\"\u003e\u003cb data-mce-fragment=\"1\"\u003eNOTE\u003c\/b\u003e\u003c\/span\u003e\u003c\/p\u003e\n\u003cul data-mce-fragment=\"1\"\u003e\n\u003cli data-mce-fragment=\"1\"\u003e\n\u003cp data-mce-fragment=\"1\"\u003e\u003cspan data-mce-fragment=\"1\"\u003ePlease allow slight measurement deviations due to manual measurement.\u003c\/span\u003e\u003c\/p\u003e\n\u003c\/li\u003e\n\u003cli data-mce-fragment=\"1\"\u003e\n\u003cp data-mce-fragment=\"1\"\u003e\u003cspan data-mce-fragment=\"1\"\u003eDue to the different monitor and light effect, the actual color of the item might be slightly different from the color showed on the picture.\u003c\/span\u003e\u003c\/p\u003e\n\u003c\/li\u003e\n\u003c\/ul\u003e"}
Adding product to your cart
The original brass pipe we all know and love, It features a permanent screen and a lid, and includes a Poker, a Stash Pod, and a Tar Trap.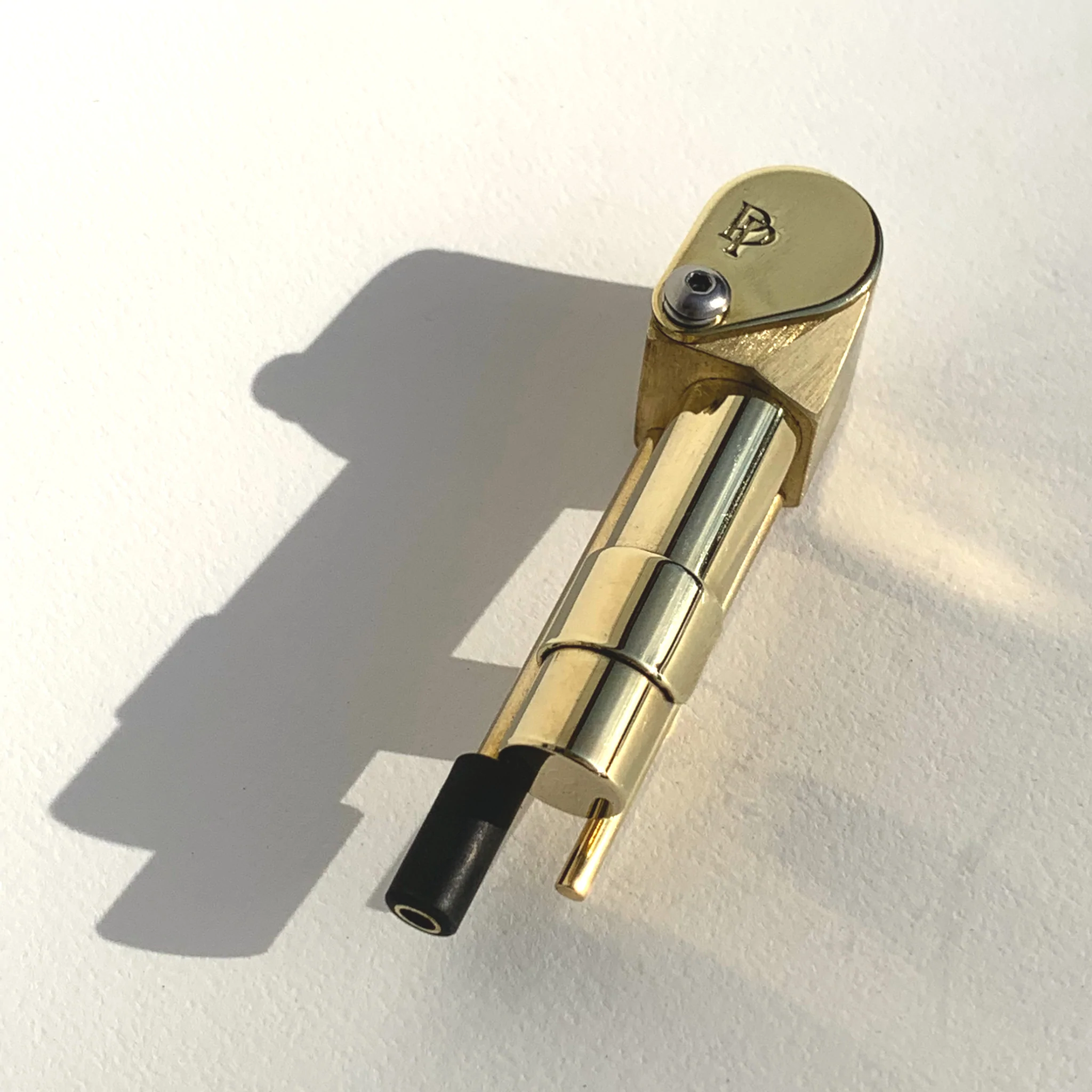 FEATURES
Upgraded Product: This product is used to filter tar, nicotine, and other harmful substances in cigarettes and tobacco. Improved filter device, can cool the smoke with water, and increase the filtering effect of small particles by 20%.

Premium Environmentally Material:Shisha body and smoke pans is made from brass. safe and healthy

Portable: The design is exquisite and compact. You can put it in your pocket and use it anytime, anywhere. When used, it can effectively avoid the smell of tobacco or cigarettes on the fingers.
HOW TO CLEAN
Every Proto Pipe has a permanent screen in the solid brass bowl. The poker helps you clean resin and debris out the bowl when the screen becomes clogged. Then you can clean the entire pipe using olive oil and a polishing cloth.
SPECIFICATIONS
Item Type: Smoking Set

Color:  Gold

Weight: 92g

Material: Brass

Size:  86mm/ 3.3in
PACKAGE
NOTE
Please allow slight measurement deviations due to manual measurement.

Due to the different monitor and light effect, the actual color of the item might be slightly different from the color showed on the picture.