{"id":7178683580505,"title":"Outdoor Ultra-bright Laser Waterproof Flashlight","handle":"outdoor-ultra-bright-laser-waterproof-flashlight","description":"\u003ch3 style=\"text-align: center;\" data-mce-fragment=\"1\"\u003e\u003cspan style=\"color: #ff2a00;\" data-mce-fragment=\"1\"\u003e\u003cstrong data-mce-fragment=\"1\"\u003e🤩A flashlight with a long range of up to 1500 meters🔦 Amazing Super Bright🌟Flashlight✅ 30x BRIGHTER than a standard one🔦🔦\u003c\/strong\u003e\u003c\/span\u003e\u003c\/h3\u003e\n\u003cp\u003e\u003cspan style=\"color: #ff2a00;\" data-mce-fragment=\"1\"\u003e\u003cstrong data-mce-fragment=\"1\"\u003e\u003cimg src=\"https:\/\/img.staticdj.com\/ba4be033f93405ae64e080915b970806.gif\" style=\"display: block; margin-left: auto; margin-right: auto;\"\u003e\u003c\/strong\u003e\u003c\/span\u003e\u003c\/p\u003e\n\u003cp data-mce-fragment=\"1\"\u003e\u003cspan style=\"color: #ff8000;\" data-mce-fragment=\"1\"\u003e\u003cstrong data-mce-fragment=\"1\"\u003eFEATURES\u003c\/strong\u003e\u003c\/span\u003e\u003c\/p\u003e\n\u003cul\u003e\n\u003cli\u003e【\u003cstrong\u003eIP65 Waterproof Material\u003c\/strong\u003e】Non-slip and IP65 waterproof flashlight are suitable for outdoor environment and adverse weather conditions. Made of aluminum alloy, protect your heavy duty flashlights from scratched, corrosion, rust, and break.\u003c\/li\u003e\n\u003c\/ul\u003e\n\u003cp\u003e\u003cimg src=\"https:\/\/img.staticdj.com\/f9e0ec0e5a79a210c6e249defe0e6829.gif\" sizes=\"592px\" data-aspect-ratio=\"0.56\" height=\"226\" width=\"403\" data-src=\"https:\/\/img.staticdj.com\/f9e0ec0e5a79a210c6e249defe0e6829.gif\" loading=\"lazy\" data-sizes=\"auto\" class=\"sep-lazyload lazyautosizes lazyloaded\" style=\"display: block; margin-left: auto; margin-right: auto;\"\u003e\u003c\/p\u003e\n\u003cul\u003e\n\u003cli\u003eThis is a LED Spotlight flashlight, which adopts XHP series lamp beads to provide super bright light, and the beam distance exceeds 1500 meters.Light up your way forward.\u003c\/li\u003e\n\u003c\/ul\u003e\n\u003cp\u003e\u003cimg srcset=\"https:\/\/img.staticdj.com\/b31dec455e308fb9a26c4d2892339d22_720.png 48w, https:\/\/img.staticdj.com\/b31dec455e308fb9a26c4d2892339d22_720.png 180w, https:\/\/img.staticdj.com\/b31dec455e308fb9a26c4d2892339d22_720.png 540w, https:\/\/img.staticdj.com\/b31dec455e308fb9a26c4d2892339d22_720.png 720w, https:\/\/img.staticdj.com\/b31dec455e308fb9a26c4d2892339d22_720.png 900w, https:\/\/img.staticdj.com\/b31dec455e308fb9a26c4d2892339d22_720.png 1024w, https:\/\/img.staticdj.com\/b31dec455e308fb9a26c4d2892339d22_720.png 1280w, https:\/\/img.staticdj.com\/b31dec455e308fb9a26c4d2892339d22_720.png 1366w, https:\/\/img.staticdj.com\/b31dec455e308fb9a26c4d2892339d22_720.png 1440w, https:\/\/img.staticdj.com\/b31dec455e308fb9a26c4d2892339d22_720.png 1536w, https:\/\/img.staticdj.com\/b31dec455e308fb9a26c4d2892339d22_720.png 1600w, https:\/\/img.staticdj.com\/b31dec455e308fb9a26c4d2892339d22_720.png 1920w, https:\/\/img.staticdj.com\/b31dec455e308fb9a26c4d2892339d22_720.png 2056w, https:\/\/img.staticdj.com\/b31dec455e308fb9a26c4d2892339d22_720.png 2560w, https:\/\/img.staticdj.com\/b31dec455e308fb9a26c4d2892339d22_720.png 2732w, https:\/\/img.staticdj.com\/b31dec455e308fb9a26c4d2892339d22_720.png 2880w, https:\/\/img.staticdj.com\/b31dec455e308fb9a26c4d2892339d22_720.png 3072w, https:\/\/img.staticdj.com\/b31dec455e308fb9a26c4d2892339d22_720.png 3200w, https:\/\/img.staticdj.com\/b31dec455e308fb9a26c4d2892339d22_720.png 3840w\" sizes=\"555px\" data-srcset=\"https:\/\/img.staticdj.com\/b31dec455e308fb9a26c4d2892339d22_720.png 48w, https:\/\/img.staticdj.com\/b31dec455e308fb9a26c4d2892339d22_720.png 180w, https:\/\/img.staticdj.com\/b31dec455e308fb9a26c4d2892339d22_720.png 540w, https:\/\/img.staticdj.com\/b31dec455e308fb9a26c4d2892339d22_720.png 720w, https:\/\/img.staticdj.com\/b31dec455e308fb9a26c4d2892339d22_720.png 900w, https:\/\/img.staticdj.com\/b31dec455e308fb9a26c4d2892339d22_720.png 1024w, https:\/\/img.staticdj.com\/b31dec455e308fb9a26c4d2892339d22_720.png 1280w, https:\/\/img.staticdj.com\/b31dec455e308fb9a26c4d2892339d22_720.png 1366w, https:\/\/img.staticdj.com\/b31dec455e308fb9a26c4d2892339d22_720.png 1440w, https:\/\/img.staticdj.com\/b31dec455e308fb9a26c4d2892339d22_720.png 1536w, https:\/\/img.staticdj.com\/b31dec455e308fb9a26c4d2892339d22_720.png 1600w, https:\/\/img.staticdj.com\/b31dec455e308fb9a26c4d2892339d22_720.png 1920w, https:\/\/img.staticdj.com\/b31dec455e308fb9a26c4d2892339d22_720.png 2056w, https:\/\/img.staticdj.com\/b31dec455e308fb9a26c4d2892339d22_720.png 2560w, https:\/\/img.staticdj.com\/b31dec455e308fb9a26c4d2892339d22_720.png 2732w, https:\/\/img.staticdj.com\/b31dec455e308fb9a26c4d2892339d22_720.png 2880w, https:\/\/img.staticdj.com\/b31dec455e308fb9a26c4d2892339d22_720.png 3072w, https:\/\/img.staticdj.com\/b31dec455e308fb9a26c4d2892339d22_720.png 3200w, https:\/\/img.staticdj.com\/b31dec455e308fb9a26c4d2892339d22_720.png 3840w\" height=\"362\" width=\"408\" alt=\"\" loading=\"lazy\" data-sizes=\"auto\" class=\"sep-lazyload lazyautosizes lazyloaded\" style=\"display: block; margin-left: auto; margin-right: auto;\"\u003e\u003c\/p\u003e\n\u003cul\u003e\n\u003cli\u003eUltra-high power, ultra-bright lighting, clearly visible peripheral vision.\u003c\/li\u003e\n\u003c\/ul\u003e\n\u003cp\u003e\u003cimg srcset=\"https:\/\/img.staticdj.com\/bfaa0f75fa0e5e7cf6544bb0efb1740b_720.png 48w, https:\/\/img.staticdj.com\/bfaa0f75fa0e5e7cf6544bb0efb1740b_720.png 180w, https:\/\/img.staticdj.com\/bfaa0f75fa0e5e7cf6544bb0efb1740b_720.png 540w, https:\/\/img.staticdj.com\/bfaa0f75fa0e5e7cf6544bb0efb1740b_720.png 720w, https:\/\/img.staticdj.com\/bfaa0f75fa0e5e7cf6544bb0efb1740b_720.png 900w, https:\/\/img.staticdj.com\/bfaa0f75fa0e5e7cf6544bb0efb1740b_720.png 1024w, https:\/\/img.staticdj.com\/bfaa0f75fa0e5e7cf6544bb0efb1740b_720.png 1280w, https:\/\/img.staticdj.com\/bfaa0f75fa0e5e7cf6544bb0efb1740b_720.png 1366w, https:\/\/img.staticdj.com\/bfaa0f75fa0e5e7cf6544bb0efb1740b_720.png 1440w, https:\/\/img.staticdj.com\/bfaa0f75fa0e5e7cf6544bb0efb1740b_720.png 1536w, https:\/\/img.staticdj.com\/bfaa0f75fa0e5e7cf6544bb0efb1740b_720.png 1600w, https:\/\/img.staticdj.com\/bfaa0f75fa0e5e7cf6544bb0efb1740b_720.png 1920w, https:\/\/img.staticdj.com\/bfaa0f75fa0e5e7cf6544bb0efb1740b_720.png 2056w, https:\/\/img.staticdj.com\/bfaa0f75fa0e5e7cf6544bb0efb1740b_720.png 2560w, https:\/\/img.staticdj.com\/bfaa0f75fa0e5e7cf6544bb0efb1740b_720.png 2732w, https:\/\/img.staticdj.com\/bfaa0f75fa0e5e7cf6544bb0efb1740b_720.png 2880w, https:\/\/img.staticdj.com\/bfaa0f75fa0e5e7cf6544bb0efb1740b_720.png 3072w, https:\/\/img.staticdj.com\/bfaa0f75fa0e5e7cf6544bb0efb1740b_720.png 3200w, https:\/\/img.staticdj.com\/bfaa0f75fa0e5e7cf6544bb0efb1740b_720.png 3840w\" sizes=\"500px\" data-srcset=\"https:\/\/img.staticdj.com\/bfaa0f75fa0e5e7cf6544bb0efb1740b_720.png 48w, https:\/\/img.staticdj.com\/bfaa0f75fa0e5e7cf6544bb0efb1740b_720.png 180w, https:\/\/img.staticdj.com\/bfaa0f75fa0e5e7cf6544bb0efb1740b_720.png 540w, https:\/\/img.staticdj.com\/bfaa0f75fa0e5e7cf6544bb0efb1740b_720.png 720w, https:\/\/img.staticdj.com\/bfaa0f75fa0e5e7cf6544bb0efb1740b_720.png 900w, https:\/\/img.staticdj.com\/bfaa0f75fa0e5e7cf6544bb0efb1740b_720.png 1024w, https:\/\/img.staticdj.com\/bfaa0f75fa0e5e7cf6544bb0efb1740b_720.png 1280w, https:\/\/img.staticdj.com\/bfaa0f75fa0e5e7cf6544bb0efb1740b_720.png 1366w, https:\/\/img.staticdj.com\/bfaa0f75fa0e5e7cf6544bb0efb1740b_720.png 1440w, https:\/\/img.staticdj.com\/bfaa0f75fa0e5e7cf6544bb0efb1740b_720.png 1536w, https:\/\/img.staticdj.com\/bfaa0f75fa0e5e7cf6544bb0efb1740b_720.png 1600w, https:\/\/img.staticdj.com\/bfaa0f75fa0e5e7cf6544bb0efb1740b_720.png 1920w, https:\/\/img.staticdj.com\/bfaa0f75fa0e5e7cf6544bb0efb1740b_720.png 2056w, https:\/\/img.staticdj.com\/bfaa0f75fa0e5e7cf6544bb0efb1740b_720.png 2560w, https:\/\/img.staticdj.com\/bfaa0f75fa0e5e7cf6544bb0efb1740b_720.png 2732w, https:\/\/img.staticdj.com\/bfaa0f75fa0e5e7cf6544bb0efb1740b_720.png 2880w, https:\/\/img.staticdj.com\/bfaa0f75fa0e5e7cf6544bb0efb1740b_720.png 3072w, https:\/\/img.staticdj.com\/bfaa0f75fa0e5e7cf6544bb0efb1740b_720.png 3200w, https:\/\/img.staticdj.com\/bfaa0f75fa0e5e7cf6544bb0efb1740b_720.png 3840w\" height=\"473\" width=\"500\" alt=\"\" loading=\"lazy\" data-sizes=\"auto\" class=\"sep-lazyload lazyautosizes lazyloaded\" style=\"display: block; margin-left: auto; margin-right: auto;\"\u003e\u003c\/p\u003e\n\u003cul\u003e\n\u003cli\u003eDisplay the battery percentage, clearly grasp the remaining battery.\u003c\/li\u003e\n\u003c\/ul\u003e\n\u003cp\u003e\u003cimg srcset=\"https:\/\/img.staticdj.com\/57073d783b8f1240c9de9c6fd11614f6_720.png 48w, https:\/\/img.staticdj.com\/57073d783b8f1240c9de9c6fd11614f6_720.png 180w, https:\/\/img.staticdj.com\/57073d783b8f1240c9de9c6fd11614f6_720.png 540w, https:\/\/img.staticdj.com\/57073d783b8f1240c9de9c6fd11614f6_720.png 720w, https:\/\/img.staticdj.com\/57073d783b8f1240c9de9c6fd11614f6_720.png 900w, https:\/\/img.staticdj.com\/57073d783b8f1240c9de9c6fd11614f6_720.png 1024w, https:\/\/img.staticdj.com\/57073d783b8f1240c9de9c6fd11614f6_720.png 1280w, https:\/\/img.staticdj.com\/57073d783b8f1240c9de9c6fd11614f6_720.png 1366w, https:\/\/img.staticdj.com\/57073d783b8f1240c9de9c6fd11614f6_720.png 1440w, https:\/\/img.staticdj.com\/57073d783b8f1240c9de9c6fd11614f6_720.png 1536w, https:\/\/img.staticdj.com\/57073d783b8f1240c9de9c6fd11614f6_720.png 1600w, https:\/\/img.staticdj.com\/57073d783b8f1240c9de9c6fd11614f6_720.png 1920w, https:\/\/img.staticdj.com\/57073d783b8f1240c9de9c6fd11614f6_720.png 2056w, https:\/\/img.staticdj.com\/57073d783b8f1240c9de9c6fd11614f6_720.png 2560w, https:\/\/img.staticdj.com\/57073d783b8f1240c9de9c6fd11614f6_720.png 2732w, https:\/\/img.staticdj.com\/57073d783b8f1240c9de9c6fd11614f6_720.png 2880w, https:\/\/img.staticdj.com\/57073d783b8f1240c9de9c6fd11614f6_720.png 3072w, https:\/\/img.staticdj.com\/57073d783b8f1240c9de9c6fd11614f6_720.png 3200w, https:\/\/img.staticdj.com\/57073d783b8f1240c9de9c6fd11614f6_720.png 3840w\" sizes=\"524px\" data-srcset=\"https:\/\/img.staticdj.com\/57073d783b8f1240c9de9c6fd11614f6_720.png 48w, https:\/\/img.staticdj.com\/57073d783b8f1240c9de9c6fd11614f6_720.png 180w, https:\/\/img.staticdj.com\/57073d783b8f1240c9de9c6fd11614f6_720.png 540w, https:\/\/img.staticdj.com\/57073d783b8f1240c9de9c6fd11614f6_720.png 720w, https:\/\/img.staticdj.com\/57073d783b8f1240c9de9c6fd11614f6_720.png 900w, https:\/\/img.staticdj.com\/57073d783b8f1240c9de9c6fd11614f6_720.png 1024w, https:\/\/img.staticdj.com\/57073d783b8f1240c9de9c6fd11614f6_720.png 1280w, https:\/\/img.staticdj.com\/57073d783b8f1240c9de9c6fd11614f6_720.png 1366w, https:\/\/img.staticdj.com\/57073d783b8f1240c9de9c6fd11614f6_720.png 1440w, https:\/\/img.staticdj.com\/57073d783b8f1240c9de9c6fd11614f6_720.png 1536w, https:\/\/img.staticdj.com\/57073d783b8f1240c9de9c6fd11614f6_720.png 1600w, https:\/\/img.staticdj.com\/57073d783b8f1240c9de9c6fd11614f6_720.png 1920w, https:\/\/img.staticdj.com\/57073d783b8f1240c9de9c6fd11614f6_720.png 2056w, https:\/\/img.staticdj.com\/57073d783b8f1240c9de9c6fd11614f6_720.png 2560w, https:\/\/img.staticdj.com\/57073d783b8f1240c9de9c6fd11614f6_720.png 2732w, https:\/\/img.staticdj.com\/57073d783b8f1240c9de9c6fd11614f6_720.png 2880w, https:\/\/img.staticdj.com\/57073d783b8f1240c9de9c6fd11614f6_720.png 3072w, https:\/\/img.staticdj.com\/57073d783b8f1240c9de9c6fd11614f6_720.png 3200w, https:\/\/img.staticdj.com\/57073d783b8f1240c9de9c6fd11614f6_720.png 3840w\" height=\"499\" width=\"524\" alt=\"\" loading=\"lazy\" data-sizes=\"auto\" class=\"sep-lazyload lazyautosizes lazyloaded\" style=\"display: block; margin-left: auto; margin-right: auto;\"\u003e\u003c\/p\u003e\n\u003cul\u003e\n\u003cli\u003eThe rechargeable spotlight flashlight can be recharged repeatedly. Built-in high-capacity lithium battery, equipped with USB output port. It's like a power bank to charge your device quickly and easily.\u003c\/li\u003e\n\u003c\/ul\u003e\n\u003cp\u003e\u003cimg srcset=\"https:\/\/img.staticdj.com\/68f2a55d0b1d1ff515407dec391a1e40_720.png 48w, https:\/\/img.staticdj.com\/68f2a55d0b1d1ff515407dec391a1e40_720.png 180w, https:\/\/img.staticdj.com\/68f2a55d0b1d1ff515407dec391a1e40_720.png 540w, https:\/\/img.staticdj.com\/68f2a55d0b1d1ff515407dec391a1e40_720.png 720w, https:\/\/img.staticdj.com\/68f2a55d0b1d1ff515407dec391a1e40_720.png 900w, https:\/\/img.staticdj.com\/68f2a55d0b1d1ff515407dec391a1e40_720.png 1024w, https:\/\/img.staticdj.com\/68f2a55d0b1d1ff515407dec391a1e40_720.png 1280w, https:\/\/img.staticdj.com\/68f2a55d0b1d1ff515407dec391a1e40_720.png 1366w, https:\/\/img.staticdj.com\/68f2a55d0b1d1ff515407dec391a1e40_720.png 1440w, https:\/\/img.staticdj.com\/68f2a55d0b1d1ff515407dec391a1e40_720.png 1536w, https:\/\/img.staticdj.com\/68f2a55d0b1d1ff515407dec391a1e40_720.png 1600w, https:\/\/img.staticdj.com\/68f2a55d0b1d1ff515407dec391a1e40_720.png 1920w, https:\/\/img.staticdj.com\/68f2a55d0b1d1ff515407dec391a1e40_720.png 2056w, https:\/\/img.staticdj.com\/68f2a55d0b1d1ff515407dec391a1e40_720.png 2560w, https:\/\/img.staticdj.com\/68f2a55d0b1d1ff515407dec391a1e40_720.png 2732w, https:\/\/img.staticdj.com\/68f2a55d0b1d1ff515407dec391a1e40_720.png 2880w, https:\/\/img.staticdj.com\/68f2a55d0b1d1ff515407dec391a1e40_720.png 3072w, https:\/\/img.staticdj.com\/68f2a55d0b1d1ff515407dec391a1e40_720.png 3200w, https:\/\/img.staticdj.com\/68f2a55d0b1d1ff515407dec391a1e40_720.png 3840w\" sizes=\"451px\" data-srcset=\"https:\/\/img.staticdj.com\/68f2a55d0b1d1ff515407dec391a1e40_720.png 48w, https:\/\/img.staticdj.com\/68f2a55d0b1d1ff515407dec391a1e40_720.png 180w, https:\/\/img.staticdj.com\/68f2a55d0b1d1ff515407dec391a1e40_720.png 540w, https:\/\/img.staticdj.com\/68f2a55d0b1d1ff515407dec391a1e40_720.png 720w, https:\/\/img.staticdj.com\/68f2a55d0b1d1ff515407dec391a1e40_720.png 900w, https:\/\/img.staticdj.com\/68f2a55d0b1d1ff515407dec391a1e40_720.png 1024w, https:\/\/img.staticdj.com\/68f2a55d0b1d1ff515407dec391a1e40_720.png 1280w, https:\/\/img.staticdj.com\/68f2a55d0b1d1ff515407dec391a1e40_720.png 1366w, https:\/\/img.staticdj.com\/68f2a55d0b1d1ff515407dec391a1e40_720.png 1440w, https:\/\/img.staticdj.com\/68f2a55d0b1d1ff515407dec391a1e40_720.png 1536w, https:\/\/img.staticdj.com\/68f2a55d0b1d1ff515407dec391a1e40_720.png 1600w, https:\/\/img.staticdj.com\/68f2a55d0b1d1ff515407dec391a1e40_720.png 1920w, https:\/\/img.staticdj.com\/68f2a55d0b1d1ff515407dec391a1e40_720.png 2056w, https:\/\/img.staticdj.com\/68f2a55d0b1d1ff515407dec391a1e40_720.png 2560w, https:\/\/img.staticdj.com\/68f2a55d0b1d1ff515407dec391a1e40_720.png 2732w, https:\/\/img.staticdj.com\/68f2a55d0b1d1ff515407dec391a1e40_720.png 2880w, https:\/\/img.staticdj.com\/68f2a55d0b1d1ff515407dec391a1e40_720.png 3072w, https:\/\/img.staticdj.com\/68f2a55d0b1d1ff515407dec391a1e40_720.png 3200w, https:\/\/img.staticdj.com\/68f2a55d0b1d1ff515407dec391a1e40_720.png 3840w\" height=\"408\" width=\"451\" alt=\"\" loading=\"lazy\" data-sizes=\"auto\" class=\"sep-lazyload lazyautosizes lazyloaded\" style=\"display: block; margin-left: auto; margin-right: auto;\"\u003e\u003c\/p\u003e\n\u003cp data-mce-fragment=\"1\"\u003e\u003cspan style=\"color: #ff8000;\" data-mce-fragment=\"1\"\u003e\u003cstrong data-mce-fragment=\"1\"\u003eSPECIFICATIONS\u003c\/strong\u003e\u003c\/span\u003e\u003cspan data-mce-fragment=\"1\"\u003e\u003c\/span\u003e\u003c\/p\u003e\n\u003cul data-mce-fragment=\"1\"\u003e\n\u003cli data-mce-fragment=\"1\"\u003e\n\u003cp data-mce-fragment=\"1\"\u003e\u003cstrong data-mce-fragment=\"1\"\u003eMaterial:\u003c\/strong\u003e Aluminum alloy\u003c\/p\u003e\n\u003c\/li\u003e\n\u003cli data-mce-fragment=\"1\"\u003e\n\u003cp data-mce-fragment=\"1\"\u003e\u003cstrong data-mce-fragment=\"1\"\u003eWeight:\u003c\/strong\u003e\u003cspan data-mce-fragment=\"1\"\u003e 350\u003c\/span\u003eg\u003c\/p\u003e\n\u003c\/li\u003e\n\u003cli data-mce-fragment=\"1\"\u003e\n\u003cp\u003e\u003cstrong\u003ePower:\u003c\/strong\u003e 15W\u003c\/p\u003e\n\u003c\/li\u003e\n\u003cli data-mce-fragment=\"1\"\u003e\n\u003cp\u003e\u003cstrong\u003eBattery Capacity:\u003c\/strong\u003e 3500mAh\u003c\/p\u003e\n\u003c\/li\u003e\n\u003cli data-mce-fragment=\"1\"\u003e\n\u003cp class=\"TPWcv\" data-mce-fragment=\"1\"\u003e\u003cstrong data-mce-fragment=\"1\"\u003e\u003cspan class=\"Polaris-TextStyle--variationStrong_rpyvj\" data-mce-fragment=\"1\"\u003eColor:\u003cspan data-mce-fragment=\"1\"\u003e \u003c\/span\u003e\u003c\/span\u003e\u003c\/strong\u003e\u003cspan class=\"Polaris-TextStyle--variationStrong_rpyvj\" data-mce-fragment=\"1\"\u003e Black\u003c\/span\u003e\u003c\/p\u003e\n\u003c\/li\u003e\n\u003cli data-mce-fragment=\"1\"\u003e\n\u003cp data-mce-fragment=\"1\"\u003e\u003cstrong data-mce-fragment=\"1\"\u003eSize:\u003c\/strong\u003e\u003cspan data-mce-fragment=\"1\"\u003e 16*4.7cm\/6.30*1.85in\u003c\/span\u003e\u003c\/p\u003e\n\u003c\/li\u003e\n\u003c\/ul\u003e\n\u003cul data-mce-fragment=\"1\"\u003e\u003c\/ul\u003e\n\u003cul data-mce-fragment=\"1\"\u003e\u003c\/ul\u003e\n\u003cul data-mce-fragment=\"1\"\u003e\u003c\/ul\u003e\n\u003cspan style=\"color: #ff8000;\" data-mce-fragment=\"1\"\u003e\u003cstrong data-mce-fragment=\"1\"\u003ePACKAGE\u003c\/strong\u003e\u003c\/span\u003e\u003cspan data-mce-fragment=\"1\"\u003e\u003c\/span\u003e\u003cspan data-mce-fragment=\"1\"\u003e\u003c\/span\u003e\u003cspan data-mce-fragment=\"1\"\u003e\u003c\/span\u003e\u003cspan data-mce-fragment=\"1\"\u003e\u003c\/span\u003e\u003cspan data-mce-fragment=\"1\"\u003e\u003c\/span\u003e\n\u003cul data-mce-fragment=\"1\"\u003e\n\u003cli data-mce-fragment=\"1\"\u003e1 * Outdoor Ultra-bright Laser Waterproof Flashlight\u003c\/li\u003e\n\u003c\/ul\u003e\n\u003cspan style=\"color: #ff8000;\" data-mce-fragment=\"1\"\u003e\u003cstrong data-mce-fragment=\"1\"\u003eNOTE\u003c\/strong\u003e\u003c\/span\u003e\u003cspan data-mce-fragment=\"1\"\u003e\u003c\/span\u003e\u003cspan data-mce-fragment=\"1\"\u003e\u003c\/span\u003e\u003cspan data-mce-fragment=\"1\"\u003e\u003c\/span\u003e\u003cspan data-mce-fragment=\"1\"\u003e\u003c\/span\u003e\u003cspan data-mce-fragment=\"1\"\u003e\u003c\/span\u003e\n\u003cul data-mce-fragment=\"1\"\u003e\n\u003cli data-mce-fragment=\"1\"\u003e\n\u003cp data-mce-fragment=\"1\"\u003e\u003cspan data-mce-fragment=\"1\"\u003ePlease allow slight measurement deviations due to manual measurement.\u003c\/span\u003e\u003c\/p\u003e\n\u003c\/li\u003e\n\u003cli data-mce-fragment=\"1\"\u003e\n\u003cp data-mce-fragment=\"1\"\u003e\u003cspan data-mce-fragment=\"1\"\u003eDue to the different monitor and light effect, the actual color of the item might be slightly different from the color showed in the pictures.\u003c\/span\u003e\u003c\/p\u003e\n\u003c\/li\u003e\n\u003c\/ul\u003e","published_at":"2022-10-30T20:59:19-10:00","created_at":"2022-10-30T20:59:30-10:00","vendor":"Suerteyay","type":"","tags":["power tools \u0026 accessories"],"price":3399,"price_min":3399,"price_max":3399,"available":true,"price_varies":false,"compare_at_price":6799,"compare_at_price_min":6799,"compare_at_price_max":6799,"compare_at_price_varies":false,"variants":[{"id":40305566285913,"title":"Default Title","option1":"Default Title","option2":null,"option3":null,"sku":"CP39623-E001","requires_shipping":true,"taxable":false,"featured_image":null,"available":true,"name":"Outdoor Ultra-bright Laser Waterproof Flashlight","public_title":null,"options":["Default Title"],"price":3399,"weight":0,"compare_at_price":6799,"inventory_management":null,"barcode":"","requires_selling_plan":false,"selling_plan_allocations":[],"quantity_rule":{"min":1,"max":null,"increment":1}}],"images":["\/\/www.suerteyay.com\/cdn\/shop\/products\/1_e1db9f37-398b-4355-88ee-5241005605ac.png?v=1667199570","\/\/www.suerteyay.com\/cdn\/shop\/products\/2_802200a8-011e-4e82-a196-6d453f99cc81.png?v=1667199570","\/\/www.suerteyay.com\/cdn\/shop\/products\/3_f4d55fb0-9429-48f1-a1d6-6b5d0b5bfe81.png?v=1667199570","\/\/www.suerteyay.com\/cdn\/shop\/products\/4_d634e9da-b655-4211-b31b-436f81b5881e.png?v=1667199570","\/\/www.suerteyay.com\/cdn\/shop\/products\/5_92a309be-1cfe-4d96-8d10-cff3c9b9d2d2.png?v=1667199570","\/\/www.suerteyay.com\/cdn\/shop\/products\/6_310bcd9d-e349-48ac-a02e-2bf0afcd4169.png?v=1667199570","\/\/www.suerteyay.com\/cdn\/shop\/products\/7_d961a92e-0ac6-4463-8a7f-13fd2a67a994.png?v=1667199570","\/\/www.suerteyay.com\/cdn\/shop\/products\/8_8facd945-140c-4084-91a7-cc2aab160ee2.png?v=1667199570","\/\/www.suerteyay.com\/cdn\/shop\/products\/9_f264e2da-6bbd-427a-b203-3926431ba7bd.png?v=1667199571","\/\/www.suerteyay.com\/cdn\/shop\/products\/845698aaf0480dee65e404307020f294_a2fc19b2-6767-4b5a-a256-de32fa39e5e6.png?v=1667199571","\/\/www.suerteyay.com\/cdn\/shop\/products\/960d31dc159bd21df3667ad762458aeb_935fa4bf-0e42-43bd-b858-6e583005517b.png?v=1667199571","\/\/www.suerteyay.com\/cdn\/shop\/products\/1_fc3149bb-8e27-4ca8-8796-a07922563c93.png?v=1667199571"],"featured_image":"\/\/www.suerteyay.com\/cdn\/shop\/products\/1_e1db9f37-398b-4355-88ee-5241005605ac.png?v=1667199570","options":["Title"],"media":[{"alt":null,"id":23068440264793,"position":1,"preview_image":{"aspect_ratio":1.0,"height":800,"width":800,"src":"\/\/www.suerteyay.com\/cdn\/shop\/products\/1_e1db9f37-398b-4355-88ee-5241005605ac.png?v=1667199570"},"aspect_ratio":1.0,"height":800,"media_type":"image","src":"\/\/www.suerteyay.com\/cdn\/shop\/products\/1_e1db9f37-398b-4355-88ee-5241005605ac.png?v=1667199570","width":800},{"alt":null,"id":23068440297561,"position":2,"preview_image":{"aspect_ratio":1.0,"height":800,"width":800,"src":"\/\/www.suerteyay.com\/cdn\/shop\/products\/2_802200a8-011e-4e82-a196-6d453f99cc81.png?v=1667199570"},"aspect_ratio":1.0,"height":800,"media_type":"image","src":"\/\/www.suerteyay.com\/cdn\/shop\/products\/2_802200a8-011e-4e82-a196-6d453f99cc81.png?v=1667199570","width":800},{"alt":null,"id":23068440330329,"position":3,"preview_image":{"aspect_ratio":1.0,"height":800,"width":800,"src":"\/\/www.suerteyay.com\/cdn\/shop\/products\/3_f4d55fb0-9429-48f1-a1d6-6b5d0b5bfe81.png?v=1667199570"},"aspect_ratio":1.0,"height":800,"media_type":"image","src":"\/\/www.suerteyay.com\/cdn\/shop\/products\/3_f4d55fb0-9429-48f1-a1d6-6b5d0b5bfe81.png?v=1667199570","width":800},{"alt":null,"id":23068440363097,"position":4,"preview_image":{"aspect_ratio":1.0,"height":800,"width":800,"src":"\/\/www.suerteyay.com\/cdn\/shop\/products\/4_d634e9da-b655-4211-b31b-436f81b5881e.png?v=1667199570"},"aspect_ratio":1.0,"height":800,"media_type":"image","src":"\/\/www.suerteyay.com\/cdn\/shop\/products\/4_d634e9da-b655-4211-b31b-436f81b5881e.png?v=1667199570","width":800},{"alt":null,"id":23068440395865,"position":5,"preview_image":{"aspect_ratio":1.0,"height":800,"width":800,"src":"\/\/www.suerteyay.com\/cdn\/shop\/products\/5_92a309be-1cfe-4d96-8d10-cff3c9b9d2d2.png?v=1667199570"},"aspect_ratio":1.0,"height":800,"media_type":"image","src":"\/\/www.suerteyay.com\/cdn\/shop\/products\/5_92a309be-1cfe-4d96-8d10-cff3c9b9d2d2.png?v=1667199570","width":800},{"alt":null,"id":23068440428633,"position":6,"preview_image":{"aspect_ratio":1.0,"height":800,"width":800,"src":"\/\/www.suerteyay.com\/cdn\/shop\/products\/6_310bcd9d-e349-48ac-a02e-2bf0afcd4169.png?v=1667199570"},"aspect_ratio":1.0,"height":800,"media_type":"image","src":"\/\/www.suerteyay.com\/cdn\/shop\/products\/6_310bcd9d-e349-48ac-a02e-2bf0afcd4169.png?v=1667199570","width":800},{"alt":null,"id":23068440461401,"position":7,"preview_image":{"aspect_ratio":1.0,"height":800,"width":800,"src":"\/\/www.suerteyay.com\/cdn\/shop\/products\/7_d961a92e-0ac6-4463-8a7f-13fd2a67a994.png?v=1667199570"},"aspect_ratio":1.0,"height":800,"media_type":"image","src":"\/\/www.suerteyay.com\/cdn\/shop\/products\/7_d961a92e-0ac6-4463-8a7f-13fd2a67a994.png?v=1667199570","width":800},{"alt":null,"id":23068440494169,"position":8,"preview_image":{"aspect_ratio":1.0,"height":800,"width":800,"src":"\/\/www.suerteyay.com\/cdn\/shop\/products\/8_8facd945-140c-4084-91a7-cc2aab160ee2.png?v=1667199570"},"aspect_ratio":1.0,"height":800,"media_type":"image","src":"\/\/www.suerteyay.com\/cdn\/shop\/products\/8_8facd945-140c-4084-91a7-cc2aab160ee2.png?v=1667199570","width":800},{"alt":null,"id":23068440526937,"position":9,"preview_image":{"aspect_ratio":1.0,"height":800,"width":800,"src":"\/\/www.suerteyay.com\/cdn\/shop\/products\/9_f264e2da-6bbd-427a-b203-3926431ba7bd.png?v=1667199571"},"aspect_ratio":1.0,"height":800,"media_type":"image","src":"\/\/www.suerteyay.com\/cdn\/shop\/products\/9_f264e2da-6bbd-427a-b203-3926431ba7bd.png?v=1667199571","width":800},{"alt":null,"id":23068440559705,"position":10,"preview_image":{"aspect_ratio":1.0,"height":800,"width":800,"src":"\/\/www.suerteyay.com\/cdn\/shop\/products\/845698aaf0480dee65e404307020f294_a2fc19b2-6767-4b5a-a256-de32fa39e5e6.png?v=1667199571"},"aspect_ratio":1.0,"height":800,"media_type":"image","src":"\/\/www.suerteyay.com\/cdn\/shop\/products\/845698aaf0480dee65e404307020f294_a2fc19b2-6767-4b5a-a256-de32fa39e5e6.png?v=1667199571","width":800},{"alt":null,"id":23068440592473,"position":11,"preview_image":{"aspect_ratio":1.0,"height":800,"width":800,"src":"\/\/www.suerteyay.com\/cdn\/shop\/products\/960d31dc159bd21df3667ad762458aeb_935fa4bf-0e42-43bd-b858-6e583005517b.png?v=1667199571"},"aspect_ratio":1.0,"height":800,"media_type":"image","src":"\/\/www.suerteyay.com\/cdn\/shop\/products\/960d31dc159bd21df3667ad762458aeb_935fa4bf-0e42-43bd-b858-6e583005517b.png?v=1667199571","width":800},{"alt":null,"id":23068440625241,"position":12,"preview_image":{"aspect_ratio":1.0,"height":800,"width":800,"src":"\/\/www.suerteyay.com\/cdn\/shop\/products\/1_fc3149bb-8e27-4ca8-8796-a07922563c93.png?v=1667199571"},"aspect_ratio":1.0,"height":800,"media_type":"image","src":"\/\/www.suerteyay.com\/cdn\/shop\/products\/1_fc3149bb-8e27-4ca8-8796-a07922563c93.png?v=1667199571","width":800}],"requires_selling_plan":false,"selling_plan_groups":[],"content":"\u003ch3 style=\"text-align: center;\" data-mce-fragment=\"1\"\u003e\u003cspan style=\"color: #ff2a00;\" data-mce-fragment=\"1\"\u003e\u003cstrong data-mce-fragment=\"1\"\u003e🤩A flashlight with a long range of up to 1500 meters🔦 Amazing Super Bright🌟Flashlight✅ 30x BRIGHTER than a standard one🔦🔦\u003c\/strong\u003e\u003c\/span\u003e\u003c\/h3\u003e\n\u003cp\u003e\u003cspan style=\"color: #ff2a00;\" data-mce-fragment=\"1\"\u003e\u003cstrong data-mce-fragment=\"1\"\u003e\u003cimg src=\"https:\/\/img.staticdj.com\/ba4be033f93405ae64e080915b970806.gif\" style=\"display: block; margin-left: auto; margin-right: auto;\"\u003e\u003c\/strong\u003e\u003c\/span\u003e\u003c\/p\u003e\n\u003cp data-mce-fragment=\"1\"\u003e\u003cspan style=\"color: #ff8000;\" data-mce-fragment=\"1\"\u003e\u003cstrong data-mce-fragment=\"1\"\u003eFEATURES\u003c\/strong\u003e\u003c\/span\u003e\u003c\/p\u003e\n\u003cul\u003e\n\u003cli\u003e【\u003cstrong\u003eIP65 Waterproof Material\u003c\/strong\u003e】Non-slip and IP65 waterproof flashlight are suitable for outdoor environment and adverse weather conditions. Made of aluminum alloy, protect your heavy duty flashlights from scratched, corrosion, rust, and break.\u003c\/li\u003e\n\u003c\/ul\u003e\n\u003cp\u003e\u003cimg src=\"https:\/\/img.staticdj.com\/f9e0ec0e5a79a210c6e249defe0e6829.gif\" sizes=\"592px\" data-aspect-ratio=\"0.56\" height=\"226\" width=\"403\" data-src=\"https:\/\/img.staticdj.com\/f9e0ec0e5a79a210c6e249defe0e6829.gif\" loading=\"lazy\" data-sizes=\"auto\" class=\"sep-lazyload lazyautosizes lazyloaded\" style=\"display: block; margin-left: auto; margin-right: auto;\"\u003e\u003c\/p\u003e\n\u003cul\u003e\n\u003cli\u003eThis is a LED Spotlight flashlight, which adopts XHP series lamp beads to provide super bright light, and the beam distance exceeds 1500 meters.Light up your way forward.\u003c\/li\u003e\n\u003c\/ul\u003e\n\u003cp\u003e\u003cimg srcset=\"https:\/\/img.staticdj.com\/b31dec455e308fb9a26c4d2892339d22_720.png 48w, https:\/\/img.staticdj.com\/b31dec455e308fb9a26c4d2892339d22_720.png 180w, https:\/\/img.staticdj.com\/b31dec455e308fb9a26c4d2892339d22_720.png 540w, https:\/\/img.staticdj.com\/b31dec455e308fb9a26c4d2892339d22_720.png 720w, https:\/\/img.staticdj.com\/b31dec455e308fb9a26c4d2892339d22_720.png 900w, https:\/\/img.staticdj.com\/b31dec455e308fb9a26c4d2892339d22_720.png 1024w, https:\/\/img.staticdj.com\/b31dec455e308fb9a26c4d2892339d22_720.png 1280w, https:\/\/img.staticdj.com\/b31dec455e308fb9a26c4d2892339d22_720.png 1366w, https:\/\/img.staticdj.com\/b31dec455e308fb9a26c4d2892339d22_720.png 1440w, https:\/\/img.staticdj.com\/b31dec455e308fb9a26c4d2892339d22_720.png 1536w, https:\/\/img.staticdj.com\/b31dec455e308fb9a26c4d2892339d22_720.png 1600w, https:\/\/img.staticdj.com\/b31dec455e308fb9a26c4d2892339d22_720.png 1920w, https:\/\/img.staticdj.com\/b31dec455e308fb9a26c4d2892339d22_720.png 2056w, https:\/\/img.staticdj.com\/b31dec455e308fb9a26c4d2892339d22_720.png 2560w, https:\/\/img.staticdj.com\/b31dec455e308fb9a26c4d2892339d22_720.png 2732w, https:\/\/img.staticdj.com\/b31dec455e308fb9a26c4d2892339d22_720.png 2880w, https:\/\/img.staticdj.com\/b31dec455e308fb9a26c4d2892339d22_720.png 3072w, https:\/\/img.staticdj.com\/b31dec455e308fb9a26c4d2892339d22_720.png 3200w, https:\/\/img.staticdj.com\/b31dec455e308fb9a26c4d2892339d22_720.png 3840w\" sizes=\"555px\" data-srcset=\"https:\/\/img.staticdj.com\/b31dec455e308fb9a26c4d2892339d22_720.png 48w, https:\/\/img.staticdj.com\/b31dec455e308fb9a26c4d2892339d22_720.png 180w, https:\/\/img.staticdj.com\/b31dec455e308fb9a26c4d2892339d22_720.png 540w, https:\/\/img.staticdj.com\/b31dec455e308fb9a26c4d2892339d22_720.png 720w, https:\/\/img.staticdj.com\/b31dec455e308fb9a26c4d2892339d22_720.png 900w, https:\/\/img.staticdj.com\/b31dec455e308fb9a26c4d2892339d22_720.png 1024w, https:\/\/img.staticdj.com\/b31dec455e308fb9a26c4d2892339d22_720.png 1280w, https:\/\/img.staticdj.com\/b31dec455e308fb9a26c4d2892339d22_720.png 1366w, https:\/\/img.staticdj.com\/b31dec455e308fb9a26c4d2892339d22_720.png 1440w, https:\/\/img.staticdj.com\/b31dec455e308fb9a26c4d2892339d22_720.png 1536w, https:\/\/img.staticdj.com\/b31dec455e308fb9a26c4d2892339d22_720.png 1600w, https:\/\/img.staticdj.com\/b31dec455e308fb9a26c4d2892339d22_720.png 1920w, https:\/\/img.staticdj.com\/b31dec455e308fb9a26c4d2892339d22_720.png 2056w, https:\/\/img.staticdj.com\/b31dec455e308fb9a26c4d2892339d22_720.png 2560w, https:\/\/img.staticdj.com\/b31dec455e308fb9a26c4d2892339d22_720.png 2732w, https:\/\/img.staticdj.com\/b31dec455e308fb9a26c4d2892339d22_720.png 2880w, https:\/\/img.staticdj.com\/b31dec455e308fb9a26c4d2892339d22_720.png 3072w, https:\/\/img.staticdj.com\/b31dec455e308fb9a26c4d2892339d22_720.png 3200w, https:\/\/img.staticdj.com\/b31dec455e308fb9a26c4d2892339d22_720.png 3840w\" height=\"362\" width=\"408\" alt=\"\" loading=\"lazy\" data-sizes=\"auto\" class=\"sep-lazyload lazyautosizes lazyloaded\" style=\"display: block; margin-left: auto; margin-right: auto;\"\u003e\u003c\/p\u003e\n\u003cul\u003e\n\u003cli\u003eUltra-high power, ultra-bright lighting, clearly visible peripheral vision.\u003c\/li\u003e\n\u003c\/ul\u003e\n\u003cp\u003e\u003cimg srcset=\"https:\/\/img.staticdj.com\/bfaa0f75fa0e5e7cf6544bb0efb1740b_720.png 48w, https:\/\/img.staticdj.com\/bfaa0f75fa0e5e7cf6544bb0efb1740b_720.png 180w, https:\/\/img.staticdj.com\/bfaa0f75fa0e5e7cf6544bb0efb1740b_720.png 540w, https:\/\/img.staticdj.com\/bfaa0f75fa0e5e7cf6544bb0efb1740b_720.png 720w, https:\/\/img.staticdj.com\/bfaa0f75fa0e5e7cf6544bb0efb1740b_720.png 900w, https:\/\/img.staticdj.com\/bfaa0f75fa0e5e7cf6544bb0efb1740b_720.png 1024w, https:\/\/img.staticdj.com\/bfaa0f75fa0e5e7cf6544bb0efb1740b_720.png 1280w, https:\/\/img.staticdj.com\/bfaa0f75fa0e5e7cf6544bb0efb1740b_720.png 1366w, https:\/\/img.staticdj.com\/bfaa0f75fa0e5e7cf6544bb0efb1740b_720.png 1440w, https:\/\/img.staticdj.com\/bfaa0f75fa0e5e7cf6544bb0efb1740b_720.png 1536w, https:\/\/img.staticdj.com\/bfaa0f75fa0e5e7cf6544bb0efb1740b_720.png 1600w, https:\/\/img.staticdj.com\/bfaa0f75fa0e5e7cf6544bb0efb1740b_720.png 1920w, https:\/\/img.staticdj.com\/bfaa0f75fa0e5e7cf6544bb0efb1740b_720.png 2056w, https:\/\/img.staticdj.com\/bfaa0f75fa0e5e7cf6544bb0efb1740b_720.png 2560w, https:\/\/img.staticdj.com\/bfaa0f75fa0e5e7cf6544bb0efb1740b_720.png 2732w, https:\/\/img.staticdj.com\/bfaa0f75fa0e5e7cf6544bb0efb1740b_720.png 2880w, https:\/\/img.staticdj.com\/bfaa0f75fa0e5e7cf6544bb0efb1740b_720.png 3072w, https:\/\/img.staticdj.com\/bfaa0f75fa0e5e7cf6544bb0efb1740b_720.png 3200w, https:\/\/img.staticdj.com\/bfaa0f75fa0e5e7cf6544bb0efb1740b_720.png 3840w\" sizes=\"500px\" data-srcset=\"https:\/\/img.staticdj.com\/bfaa0f75fa0e5e7cf6544bb0efb1740b_720.png 48w, https:\/\/img.staticdj.com\/bfaa0f75fa0e5e7cf6544bb0efb1740b_720.png 180w, https:\/\/img.staticdj.com\/bfaa0f75fa0e5e7cf6544bb0efb1740b_720.png 540w, https:\/\/img.staticdj.com\/bfaa0f75fa0e5e7cf6544bb0efb1740b_720.png 720w, https:\/\/img.staticdj.com\/bfaa0f75fa0e5e7cf6544bb0efb1740b_720.png 900w, https:\/\/img.staticdj.com\/bfaa0f75fa0e5e7cf6544bb0efb1740b_720.png 1024w, https:\/\/img.staticdj.com\/bfaa0f75fa0e5e7cf6544bb0efb1740b_720.png 1280w, https:\/\/img.staticdj.com\/bfaa0f75fa0e5e7cf6544bb0efb1740b_720.png 1366w, https:\/\/img.staticdj.com\/bfaa0f75fa0e5e7cf6544bb0efb1740b_720.png 1440w, https:\/\/img.staticdj.com\/bfaa0f75fa0e5e7cf6544bb0efb1740b_720.png 1536w, https:\/\/img.staticdj.com\/bfaa0f75fa0e5e7cf6544bb0efb1740b_720.png 1600w, https:\/\/img.staticdj.com\/bfaa0f75fa0e5e7cf6544bb0efb1740b_720.png 1920w, https:\/\/img.staticdj.com\/bfaa0f75fa0e5e7cf6544bb0efb1740b_720.png 2056w, https:\/\/img.staticdj.com\/bfaa0f75fa0e5e7cf6544bb0efb1740b_720.png 2560w, https:\/\/img.staticdj.com\/bfaa0f75fa0e5e7cf6544bb0efb1740b_720.png 2732w, https:\/\/img.staticdj.com\/bfaa0f75fa0e5e7cf6544bb0efb1740b_720.png 2880w, https:\/\/img.staticdj.com\/bfaa0f75fa0e5e7cf6544bb0efb1740b_720.png 3072w, https:\/\/img.staticdj.com\/bfaa0f75fa0e5e7cf6544bb0efb1740b_720.png 3200w, https:\/\/img.staticdj.com\/bfaa0f75fa0e5e7cf6544bb0efb1740b_720.png 3840w\" height=\"473\" width=\"500\" alt=\"\" loading=\"lazy\" data-sizes=\"auto\" class=\"sep-lazyload lazyautosizes lazyloaded\" style=\"display: block; margin-left: auto; margin-right: auto;\"\u003e\u003c\/p\u003e\n\u003cul\u003e\n\u003cli\u003eDisplay the battery percentage, clearly grasp the remaining battery.\u003c\/li\u003e\n\u003c\/ul\u003e\n\u003cp\u003e\u003cimg srcset=\"https:\/\/img.staticdj.com\/57073d783b8f1240c9de9c6fd11614f6_720.png 48w, https:\/\/img.staticdj.com\/57073d783b8f1240c9de9c6fd11614f6_720.png 180w, https:\/\/img.staticdj.com\/57073d783b8f1240c9de9c6fd11614f6_720.png 540w, https:\/\/img.staticdj.com\/57073d783b8f1240c9de9c6fd11614f6_720.png 720w, https:\/\/img.staticdj.com\/57073d783b8f1240c9de9c6fd11614f6_720.png 900w, https:\/\/img.staticdj.com\/57073d783b8f1240c9de9c6fd11614f6_720.png 1024w, https:\/\/img.staticdj.com\/57073d783b8f1240c9de9c6fd11614f6_720.png 1280w, https:\/\/img.staticdj.com\/57073d783b8f1240c9de9c6fd11614f6_720.png 1366w, https:\/\/img.staticdj.com\/57073d783b8f1240c9de9c6fd11614f6_720.png 1440w, https:\/\/img.staticdj.com\/57073d783b8f1240c9de9c6fd11614f6_720.png 1536w, https:\/\/img.staticdj.com\/57073d783b8f1240c9de9c6fd11614f6_720.png 1600w, https:\/\/img.staticdj.com\/57073d783b8f1240c9de9c6fd11614f6_720.png 1920w, https:\/\/img.staticdj.com\/57073d783b8f1240c9de9c6fd11614f6_720.png 2056w, https:\/\/img.staticdj.com\/57073d783b8f1240c9de9c6fd11614f6_720.png 2560w, https:\/\/img.staticdj.com\/57073d783b8f1240c9de9c6fd11614f6_720.png 2732w, https:\/\/img.staticdj.com\/57073d783b8f1240c9de9c6fd11614f6_720.png 2880w, https:\/\/img.staticdj.com\/57073d783b8f1240c9de9c6fd11614f6_720.png 3072w, https:\/\/img.staticdj.com\/57073d783b8f1240c9de9c6fd11614f6_720.png 3200w, https:\/\/img.staticdj.com\/57073d783b8f1240c9de9c6fd11614f6_720.png 3840w\" sizes=\"524px\" data-srcset=\"https:\/\/img.staticdj.com\/57073d783b8f1240c9de9c6fd11614f6_720.png 48w, https:\/\/img.staticdj.com\/57073d783b8f1240c9de9c6fd11614f6_720.png 180w, https:\/\/img.staticdj.com\/57073d783b8f1240c9de9c6fd11614f6_720.png 540w, https:\/\/img.staticdj.com\/57073d783b8f1240c9de9c6fd11614f6_720.png 720w, https:\/\/img.staticdj.com\/57073d783b8f1240c9de9c6fd11614f6_720.png 900w, https:\/\/img.staticdj.com\/57073d783b8f1240c9de9c6fd11614f6_720.png 1024w, https:\/\/img.staticdj.com\/57073d783b8f1240c9de9c6fd11614f6_720.png 1280w, https:\/\/img.staticdj.com\/57073d783b8f1240c9de9c6fd11614f6_720.png 1366w, https:\/\/img.staticdj.com\/57073d783b8f1240c9de9c6fd11614f6_720.png 1440w, https:\/\/img.staticdj.com\/57073d783b8f1240c9de9c6fd11614f6_720.png 1536w, https:\/\/img.staticdj.com\/57073d783b8f1240c9de9c6fd11614f6_720.png 1600w, https:\/\/img.staticdj.com\/57073d783b8f1240c9de9c6fd11614f6_720.png 1920w, https:\/\/img.staticdj.com\/57073d783b8f1240c9de9c6fd11614f6_720.png 2056w, https:\/\/img.staticdj.com\/57073d783b8f1240c9de9c6fd11614f6_720.png 2560w, https:\/\/img.staticdj.com\/57073d783b8f1240c9de9c6fd11614f6_720.png 2732w, https:\/\/img.staticdj.com\/57073d783b8f1240c9de9c6fd11614f6_720.png 2880w, https:\/\/img.staticdj.com\/57073d783b8f1240c9de9c6fd11614f6_720.png 3072w, https:\/\/img.staticdj.com\/57073d783b8f1240c9de9c6fd11614f6_720.png 3200w, https:\/\/img.staticdj.com\/57073d783b8f1240c9de9c6fd11614f6_720.png 3840w\" height=\"499\" width=\"524\" alt=\"\" loading=\"lazy\" data-sizes=\"auto\" class=\"sep-lazyload lazyautosizes lazyloaded\" style=\"display: block; margin-left: auto; margin-right: auto;\"\u003e\u003c\/p\u003e\n\u003cul\u003e\n\u003cli\u003eThe rechargeable spotlight flashlight can be recharged repeatedly. Built-in high-capacity lithium battery, equipped with USB output port. It's like a power bank to charge your device quickly and easily.\u003c\/li\u003e\n\u003c\/ul\u003e\n\u003cp\u003e\u003cimg srcset=\"https:\/\/img.staticdj.com\/68f2a55d0b1d1ff515407dec391a1e40_720.png 48w, https:\/\/img.staticdj.com\/68f2a55d0b1d1ff515407dec391a1e40_720.png 180w, https:\/\/img.staticdj.com\/68f2a55d0b1d1ff515407dec391a1e40_720.png 540w, https:\/\/img.staticdj.com\/68f2a55d0b1d1ff515407dec391a1e40_720.png 720w, https:\/\/img.staticdj.com\/68f2a55d0b1d1ff515407dec391a1e40_720.png 900w, https:\/\/img.staticdj.com\/68f2a55d0b1d1ff515407dec391a1e40_720.png 1024w, https:\/\/img.staticdj.com\/68f2a55d0b1d1ff515407dec391a1e40_720.png 1280w, https:\/\/img.staticdj.com\/68f2a55d0b1d1ff515407dec391a1e40_720.png 1366w, https:\/\/img.staticdj.com\/68f2a55d0b1d1ff515407dec391a1e40_720.png 1440w, https:\/\/img.staticdj.com\/68f2a55d0b1d1ff515407dec391a1e40_720.png 1536w, https:\/\/img.staticdj.com\/68f2a55d0b1d1ff515407dec391a1e40_720.png 1600w, https:\/\/img.staticdj.com\/68f2a55d0b1d1ff515407dec391a1e40_720.png 1920w, https:\/\/img.staticdj.com\/68f2a55d0b1d1ff515407dec391a1e40_720.png 2056w, https:\/\/img.staticdj.com\/68f2a55d0b1d1ff515407dec391a1e40_720.png 2560w, https:\/\/img.staticdj.com\/68f2a55d0b1d1ff515407dec391a1e40_720.png 2732w, https:\/\/img.staticdj.com\/68f2a55d0b1d1ff515407dec391a1e40_720.png 2880w, https:\/\/img.staticdj.com\/68f2a55d0b1d1ff515407dec391a1e40_720.png 3072w, https:\/\/img.staticdj.com\/68f2a55d0b1d1ff515407dec391a1e40_720.png 3200w, https:\/\/img.staticdj.com\/68f2a55d0b1d1ff515407dec391a1e40_720.png 3840w\" sizes=\"451px\" data-srcset=\"https:\/\/img.staticdj.com\/68f2a55d0b1d1ff515407dec391a1e40_720.png 48w, https:\/\/img.staticdj.com\/68f2a55d0b1d1ff515407dec391a1e40_720.png 180w, https:\/\/img.staticdj.com\/68f2a55d0b1d1ff515407dec391a1e40_720.png 540w, https:\/\/img.staticdj.com\/68f2a55d0b1d1ff515407dec391a1e40_720.png 720w, https:\/\/img.staticdj.com\/68f2a55d0b1d1ff515407dec391a1e40_720.png 900w, https:\/\/img.staticdj.com\/68f2a55d0b1d1ff515407dec391a1e40_720.png 1024w, https:\/\/img.staticdj.com\/68f2a55d0b1d1ff515407dec391a1e40_720.png 1280w, https:\/\/img.staticdj.com\/68f2a55d0b1d1ff515407dec391a1e40_720.png 1366w, https:\/\/img.staticdj.com\/68f2a55d0b1d1ff515407dec391a1e40_720.png 1440w, https:\/\/img.staticdj.com\/68f2a55d0b1d1ff515407dec391a1e40_720.png 1536w, https:\/\/img.staticdj.com\/68f2a55d0b1d1ff515407dec391a1e40_720.png 1600w, https:\/\/img.staticdj.com\/68f2a55d0b1d1ff515407dec391a1e40_720.png 1920w, https:\/\/img.staticdj.com\/68f2a55d0b1d1ff515407dec391a1e40_720.png 2056w, https:\/\/img.staticdj.com\/68f2a55d0b1d1ff515407dec391a1e40_720.png 2560w, https:\/\/img.staticdj.com\/68f2a55d0b1d1ff515407dec391a1e40_720.png 2732w, https:\/\/img.staticdj.com\/68f2a55d0b1d1ff515407dec391a1e40_720.png 2880w, https:\/\/img.staticdj.com\/68f2a55d0b1d1ff515407dec391a1e40_720.png 3072w, https:\/\/img.staticdj.com\/68f2a55d0b1d1ff515407dec391a1e40_720.png 3200w, https:\/\/img.staticdj.com\/68f2a55d0b1d1ff515407dec391a1e40_720.png 3840w\" height=\"408\" width=\"451\" alt=\"\" loading=\"lazy\" data-sizes=\"auto\" class=\"sep-lazyload lazyautosizes lazyloaded\" style=\"display: block; margin-left: auto; margin-right: auto;\"\u003e\u003c\/p\u003e\n\u003cp data-mce-fragment=\"1\"\u003e\u003cspan style=\"color: #ff8000;\" data-mce-fragment=\"1\"\u003e\u003cstrong data-mce-fragment=\"1\"\u003eSPECIFICATIONS\u003c\/strong\u003e\u003c\/span\u003e\u003cspan data-mce-fragment=\"1\"\u003e\u003c\/span\u003e\u003c\/p\u003e\n\u003cul data-mce-fragment=\"1\"\u003e\n\u003cli data-mce-fragment=\"1\"\u003e\n\u003cp data-mce-fragment=\"1\"\u003e\u003cstrong data-mce-fragment=\"1\"\u003eMaterial:\u003c\/strong\u003e Aluminum alloy\u003c\/p\u003e\n\u003c\/li\u003e\n\u003cli data-mce-fragment=\"1\"\u003e\n\u003cp data-mce-fragment=\"1\"\u003e\u003cstrong data-mce-fragment=\"1\"\u003eWeight:\u003c\/strong\u003e\u003cspan data-mce-fragment=\"1\"\u003e 350\u003c\/span\u003eg\u003c\/p\u003e\n\u003c\/li\u003e\n\u003cli data-mce-fragment=\"1\"\u003e\n\u003cp\u003e\u003cstrong\u003ePower:\u003c\/strong\u003e 15W\u003c\/p\u003e\n\u003c\/li\u003e\n\u003cli data-mce-fragment=\"1\"\u003e\n\u003cp\u003e\u003cstrong\u003eBattery Capacity:\u003c\/strong\u003e 3500mAh\u003c\/p\u003e\n\u003c\/li\u003e\n\u003cli data-mce-fragment=\"1\"\u003e\n\u003cp class=\"TPWcv\" data-mce-fragment=\"1\"\u003e\u003cstrong data-mce-fragment=\"1\"\u003e\u003cspan class=\"Polaris-TextStyle--variationStrong_rpyvj\" data-mce-fragment=\"1\"\u003eColor:\u003cspan data-mce-fragment=\"1\"\u003e \u003c\/span\u003e\u003c\/span\u003e\u003c\/strong\u003e\u003cspan class=\"Polaris-TextStyle--variationStrong_rpyvj\" data-mce-fragment=\"1\"\u003e Black\u003c\/span\u003e\u003c\/p\u003e\n\u003c\/li\u003e\n\u003cli data-mce-fragment=\"1\"\u003e\n\u003cp data-mce-fragment=\"1\"\u003e\u003cstrong data-mce-fragment=\"1\"\u003eSize:\u003c\/strong\u003e\u003cspan data-mce-fragment=\"1\"\u003e 16*4.7cm\/6.30*1.85in\u003c\/span\u003e\u003c\/p\u003e\n\u003c\/li\u003e\n\u003c\/ul\u003e\n\u003cul data-mce-fragment=\"1\"\u003e\u003c\/ul\u003e\n\u003cul data-mce-fragment=\"1\"\u003e\u003c\/ul\u003e\n\u003cul data-mce-fragment=\"1\"\u003e\u003c\/ul\u003e\n\u003cspan style=\"color: #ff8000;\" data-mce-fragment=\"1\"\u003e\u003cstrong data-mce-fragment=\"1\"\u003ePACKAGE\u003c\/strong\u003e\u003c\/span\u003e\u003cspan data-mce-fragment=\"1\"\u003e\u003c\/span\u003e\u003cspan data-mce-fragment=\"1\"\u003e\u003c\/span\u003e\u003cspan data-mce-fragment=\"1\"\u003e\u003c\/span\u003e\u003cspan data-mce-fragment=\"1\"\u003e\u003c\/span\u003e\u003cspan data-mce-fragment=\"1\"\u003e\u003c\/span\u003e\n\u003cul data-mce-fragment=\"1\"\u003e\n\u003cli data-mce-fragment=\"1\"\u003e1 * Outdoor Ultra-bright Laser Waterproof Flashlight\u003c\/li\u003e\n\u003c\/ul\u003e\n\u003cspan style=\"color: #ff8000;\" data-mce-fragment=\"1\"\u003e\u003cstrong data-mce-fragment=\"1\"\u003eNOTE\u003c\/strong\u003e\u003c\/span\u003e\u003cspan data-mce-fragment=\"1\"\u003e\u003c\/span\u003e\u003cspan data-mce-fragment=\"1\"\u003e\u003c\/span\u003e\u003cspan data-mce-fragment=\"1\"\u003e\u003c\/span\u003e\u003cspan data-mce-fragment=\"1\"\u003e\u003c\/span\u003e\u003cspan data-mce-fragment=\"1\"\u003e\u003c\/span\u003e\n\u003cul data-mce-fragment=\"1\"\u003e\n\u003cli data-mce-fragment=\"1\"\u003e\n\u003cp data-mce-fragment=\"1\"\u003e\u003cspan data-mce-fragment=\"1\"\u003ePlease allow slight measurement deviations due to manual measurement.\u003c\/span\u003e\u003c\/p\u003e\n\u003c\/li\u003e\n\u003cli data-mce-fragment=\"1\"\u003e\n\u003cp data-mce-fragment=\"1\"\u003e\u003cspan data-mce-fragment=\"1\"\u003eDue to the different monitor and light effect, the actual color of the item might be slightly different from the color showed in the pictures.\u003c\/span\u003e\u003c\/p\u003e\n\u003c\/li\u003e\n\u003c\/ul\u003e"}
Adding product to your cart
🤩A flashlight with a long range of up to 1500 meters🔦 Amazing Super Bright🌟Flashlight✅ 30x BRIGHTER than a standard one🔦🔦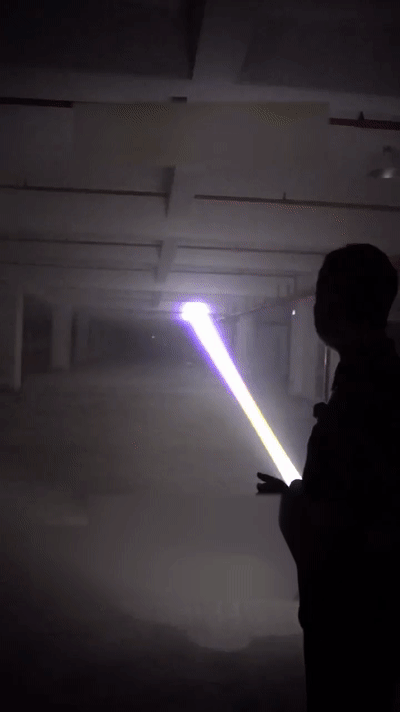 FEATURES
【IP65 Waterproof Material】Non-slip and IP65 waterproof flashlight are suitable for outdoor environment and adverse weather conditions. Made of aluminum alloy, protect your heavy duty flashlights from scratched, corrosion, rust, and break.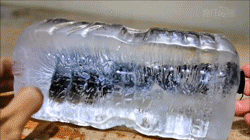 This is a LED Spotlight flashlight, which adopts XHP series lamp beads to provide super bright light, and the beam distance exceeds 1500 meters.Light up your way forward.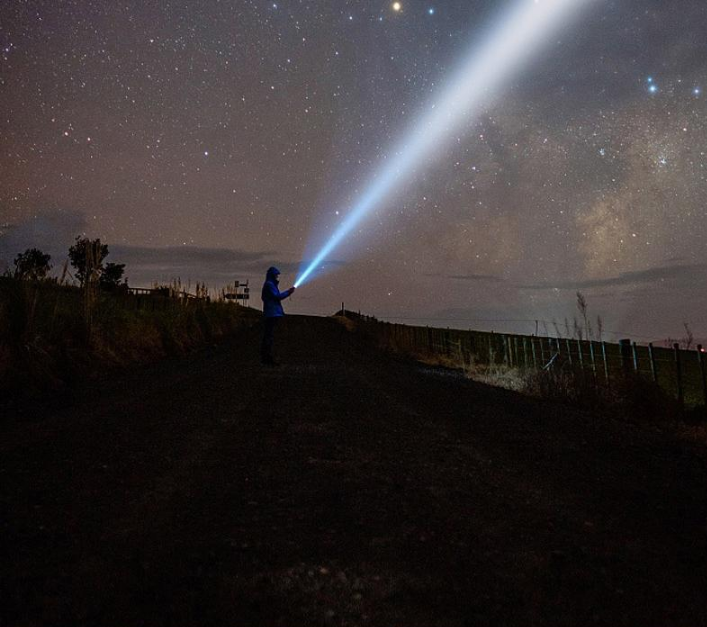 Ultra-high power, ultra-bright lighting, clearly visible peripheral vision.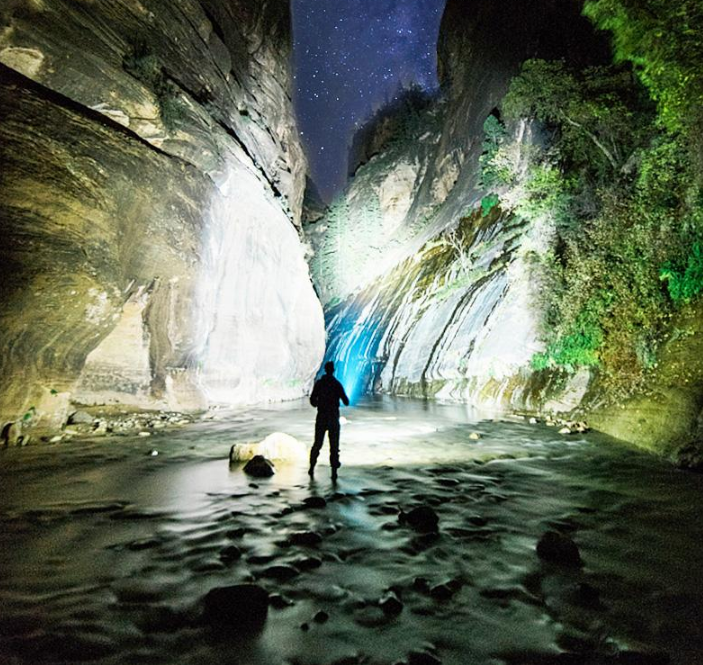 Display the battery percentage, clearly grasp the remaining battery.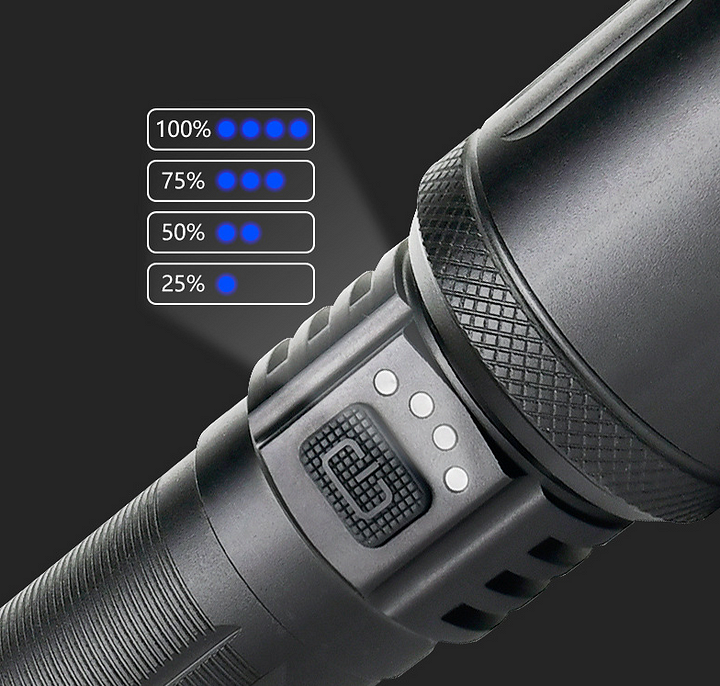 The rechargeable spotlight flashlight can be recharged repeatedly. Built-in high-capacity lithium battery, equipped with USB output port. It's like a power bank to charge your device quickly and easily.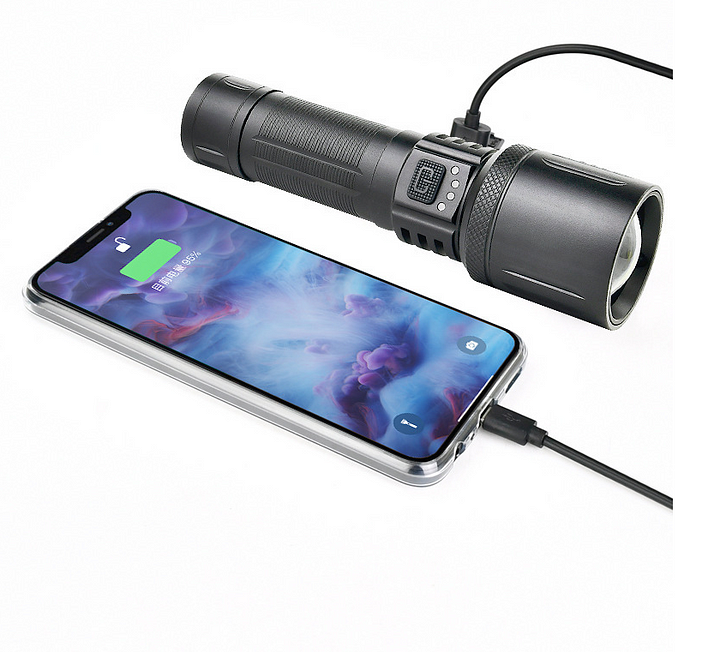 SPECIFICATIONS
Material: Aluminum alloy

Weight: 350g

Power: 15W

Battery Capacity: 3500mAh

Color:  Black

Size: 16*4.7cm/6.30*1.85in
PACKAGE
1 * Outdoor Ultra-bright Laser Waterproof Flashlight
NOTE
Please allow slight measurement deviations due to manual measurement.

Due to the different monitor and light effect, the actual color of the item might be slightly different from the color showed in the pictures.