{"id":7149988773977,"title":"Powerful Decontamination Floor Cleaner","handle":"powerful-decontamination-floor-cleaner","description":"\u003ch3 data-mce-fragment=\"1\"\u003e\u003cspan style=\"color: #ff2a00;\" data-mce-fragment=\"1\"\u003eFEATURES\u003c\/span\u003e\u003c\/h3\u003e\n\u003cul class=\"features\"\u003e\n\u003cli\u003e\n\u003cspan style=\"color: #ff8000;\"\u003e\u003cstrong\u003e✨Brighten Your Floors: \u003c\/strong\u003e\u003c\/span\u003eWipe away spills, stains, and dust to restore your floors'\u003cspan\u003e \u003c\/span\u003e\u003cspan style=\"color: #1b4574;\"\u003e\u003cstrong\u003enatural shine, decontamination, and quick drying\u003c\/strong\u003e \u003c\/span\u003ethe floor is as clean as new.\u003c\/li\u003e\n\u003c\/ul\u003e\n\u003cp\u003e\u003cimg srcset=\"https:\/\/cdn.shoplazza.com\/6811d29fe0d9a17fa253622796bfa50b_540.jpeg 48w, https:\/\/cdn.shoplazza.com\/6811d29fe0d9a17fa253622796bfa50b_540.jpeg 180w, https:\/\/cdn.shoplazza.com\/6811d29fe0d9a17fa253622796bfa50b_540.jpeg 540w, https:\/\/cdn.shoplazza.com\/6811d29fe0d9a17fa253622796bfa50b_540.jpeg 720w, https:\/\/cdn.shoplazza.com\/6811d29fe0d9a17fa253622796bfa50b_540.jpeg 900w, https:\/\/cdn.shoplazza.com\/6811d29fe0d9a17fa253622796bfa50b_540.jpeg 1024w, https:\/\/cdn.shoplazza.com\/6811d29fe0d9a17fa253622796bfa50b_540.jpeg 1280w, https:\/\/cdn.shoplazza.com\/6811d29fe0d9a17fa253622796bfa50b_540.jpeg 1366w, https:\/\/cdn.shoplazza.com\/6811d29fe0d9a17fa253622796bfa50b_540.jpeg 1440w, https:\/\/cdn.shoplazza.com\/6811d29fe0d9a17fa253622796bfa50b_540.jpeg 1536w, https:\/\/cdn.shoplazza.com\/6811d29fe0d9a17fa253622796bfa50b_540.jpeg 1600w, https:\/\/cdn.shoplazza.com\/6811d29fe0d9a17fa253622796bfa50b_540.jpeg 1920w, https:\/\/cdn.shoplazza.com\/6811d29fe0d9a17fa253622796bfa50b_540.jpeg 2056w, https:\/\/cdn.shoplazza.com\/6811d29fe0d9a17fa253622796bfa50b_540.jpeg 2560w, https:\/\/cdn.shoplazza.com\/6811d29fe0d9a17fa253622796bfa50b_540.jpeg 2732w, https:\/\/cdn.shoplazza.com\/6811d29fe0d9a17fa253622796bfa50b_540.jpeg 2880w, https:\/\/cdn.shoplazza.com\/6811d29fe0d9a17fa253622796bfa50b_540.jpeg 3072w, https:\/\/cdn.shoplazza.com\/6811d29fe0d9a17fa253622796bfa50b_540.jpeg 3200w, https:\/\/cdn.shoplazza.com\/6811d29fe0d9a17fa253622796bfa50b_540.jpeg 3840w\" sizes=\"370px\" data-srcset=\"https:\/\/cdn.shoplazza.com\/6811d29fe0d9a17fa253622796bfa50b_540.jpeg 48w, https:\/\/cdn.shoplazza.com\/6811d29fe0d9a17fa253622796bfa50b_540.jpeg 180w, https:\/\/cdn.shoplazza.com\/6811d29fe0d9a17fa253622796bfa50b_540.jpeg 540w, https:\/\/cdn.shoplazza.com\/6811d29fe0d9a17fa253622796bfa50b_540.jpeg 720w, https:\/\/cdn.shoplazza.com\/6811d29fe0d9a17fa253622796bfa50b_540.jpeg 900w, https:\/\/cdn.shoplazza.com\/6811d29fe0d9a17fa253622796bfa50b_540.jpeg 1024w, https:\/\/cdn.shoplazza.com\/6811d29fe0d9a17fa253622796bfa50b_540.jpeg 1280w, https:\/\/cdn.shoplazza.com\/6811d29fe0d9a17fa253622796bfa50b_540.jpeg 1366w, https:\/\/cdn.shoplazza.com\/6811d29fe0d9a17fa253622796bfa50b_540.jpeg 1440w, https:\/\/cdn.shoplazza.com\/6811d29fe0d9a17fa253622796bfa50b_540.jpeg 1536w, https:\/\/cdn.shoplazza.com\/6811d29fe0d9a17fa253622796bfa50b_540.jpeg 1600w, https:\/\/cdn.shoplazza.com\/6811d29fe0d9a17fa253622796bfa50b_540.jpeg 1920w, https:\/\/cdn.shoplazza.com\/6811d29fe0d9a17fa253622796bfa50b_540.jpeg 2056w, https:\/\/cdn.shoplazza.com\/6811d29fe0d9a17fa253622796bfa50b_540.jpeg 2560w, https:\/\/cdn.shoplazza.com\/6811d29fe0d9a17fa253622796bfa50b_540.jpeg 2732w, https:\/\/cdn.shoplazza.com\/6811d29fe0d9a17fa253622796bfa50b_540.jpeg 2880w, https:\/\/cdn.shoplazza.com\/6811d29fe0d9a17fa253622796bfa50b_540.jpeg 3072w, https:\/\/cdn.shoplazza.com\/6811d29fe0d9a17fa253622796bfa50b_540.jpeg 3200w, https:\/\/cdn.shoplazza.com\/6811d29fe0d9a17fa253622796bfa50b_540.jpeg 3840w\" data-aspect-ratio=\"1.00\" alt=\"\" width=\"370\" height=\"370\" data-sizes=\"auto\" class=\"sep-lazyload lazyautosizes lazyloaded\" style=\"display: block; margin-left: auto; margin-right: auto;\" data-mce-fragment=\"1\"\u003e\u003c\/p\u003e\n\u003cul class=\"features\"\u003e\n\u003cli\u003e\n\u003cspan\u003e\u003cstrong\u003e✨\u003cspan style=\"color: #ff8000;\"\u003eEasily Remove A Variety Of Stubborn Stains:\u003c\/span\u003e \u003c\/strong\u003e\u003c\/span\u003eQuickly\u003cspan\u003e \u003c\/span\u003e\u003cspan style=\"color: #1b4574;\"\u003e\u003cstrong\u003eremoves built-up dirt, grease, water, footprints, and sticky stains\u003c\/strong\u003e,\u003c\/span\u003e leaving your floors sparkling and naturally fresh!\u003c\/li\u003e\n\u003c\/ul\u003e\n\u003cp\u003e\u003cimg srcset=\"https:\/\/cdn.shoplazza.com\/59f907dcb80b473ed50dd266864df08c_540.jpeg 48w, https:\/\/cdn.shoplazza.com\/59f907dcb80b473ed50dd266864df08c_540.jpeg 180w, https:\/\/cdn.shoplazza.com\/59f907dcb80b473ed50dd266864df08c_540.jpeg 540w, https:\/\/cdn.shoplazza.com\/59f907dcb80b473ed50dd266864df08c_540.jpeg 720w, https:\/\/cdn.shoplazza.com\/59f907dcb80b473ed50dd266864df08c_540.jpeg 900w, https:\/\/cdn.shoplazza.com\/59f907dcb80b473ed50dd266864df08c_540.jpeg 1024w, https:\/\/cdn.shoplazza.com\/59f907dcb80b473ed50dd266864df08c_540.jpeg 1280w, https:\/\/cdn.shoplazza.com\/59f907dcb80b473ed50dd266864df08c_540.jpeg 1366w, https:\/\/cdn.shoplazza.com\/59f907dcb80b473ed50dd266864df08c_540.jpeg 1440w, https:\/\/cdn.shoplazza.com\/59f907dcb80b473ed50dd266864df08c_540.jpeg 1536w, https:\/\/cdn.shoplazza.com\/59f907dcb80b473ed50dd266864df08c_540.jpeg 1600w, https:\/\/cdn.shoplazza.com\/59f907dcb80b473ed50dd266864df08c_540.jpeg 1920w, https:\/\/cdn.shoplazza.com\/59f907dcb80b473ed50dd266864df08c_540.jpeg 2056w, https:\/\/cdn.shoplazza.com\/59f907dcb80b473ed50dd266864df08c_540.jpeg 2560w, https:\/\/cdn.shoplazza.com\/59f907dcb80b473ed50dd266864df08c_540.jpeg 2732w, https:\/\/cdn.shoplazza.com\/59f907dcb80b473ed50dd266864df08c_540.jpeg 2880w, https:\/\/cdn.shoplazza.com\/59f907dcb80b473ed50dd266864df08c_540.jpeg 3072w, https:\/\/cdn.shoplazza.com\/59f907dcb80b473ed50dd266864df08c_540.jpeg 3200w, https:\/\/cdn.shoplazza.com\/59f907dcb80b473ed50dd266864df08c_540.jpeg 3840w\" sizes=\"370px\" data-srcset=\"https:\/\/cdn.shoplazza.com\/59f907dcb80b473ed50dd266864df08c_540.jpeg 48w, https:\/\/cdn.shoplazza.com\/59f907dcb80b473ed50dd266864df08c_540.jpeg 180w, https:\/\/cdn.shoplazza.com\/59f907dcb80b473ed50dd266864df08c_540.jpeg 540w, https:\/\/cdn.shoplazza.com\/59f907dcb80b473ed50dd266864df08c_540.jpeg 720w, https:\/\/cdn.shoplazza.com\/59f907dcb80b473ed50dd266864df08c_540.jpeg 900w, https:\/\/cdn.shoplazza.com\/59f907dcb80b473ed50dd266864df08c_540.jpeg 1024w, https:\/\/cdn.shoplazza.com\/59f907dcb80b473ed50dd266864df08c_540.jpeg 1280w, https:\/\/cdn.shoplazza.com\/59f907dcb80b473ed50dd266864df08c_540.jpeg 1366w, https:\/\/cdn.shoplazza.com\/59f907dcb80b473ed50dd266864df08c_540.jpeg 1440w, https:\/\/cdn.shoplazza.com\/59f907dcb80b473ed50dd266864df08c_540.jpeg 1536w, https:\/\/cdn.shoplazza.com\/59f907dcb80b473ed50dd266864df08c_540.jpeg 1600w, https:\/\/cdn.shoplazza.com\/59f907dcb80b473ed50dd266864df08c_540.jpeg 1920w, https:\/\/cdn.shoplazza.com\/59f907dcb80b473ed50dd266864df08c_540.jpeg 2056w, https:\/\/cdn.shoplazza.com\/59f907dcb80b473ed50dd266864df08c_540.jpeg 2560w, https:\/\/cdn.shoplazza.com\/59f907dcb80b473ed50dd266864df08c_540.jpeg 2732w, https:\/\/cdn.shoplazza.com\/59f907dcb80b473ed50dd266864df08c_540.jpeg 2880w, https:\/\/cdn.shoplazza.com\/59f907dcb80b473ed50dd266864df08c_540.jpeg 3072w, https:\/\/cdn.shoplazza.com\/59f907dcb80b473ed50dd266864df08c_540.jpeg 3200w, https:\/\/cdn.shoplazza.com\/59f907dcb80b473ed50dd266864df08c_540.jpeg 3840w\" data-aspect-ratio=\"1.00\" height=\"370\" width=\"370\" alt=\"\" data-sizes=\"auto\" class=\"sep-lazyload lazyautosizes lazyloaded\" style=\"display: block; margin-left: auto; margin-right: auto;\" data-mce-fragment=\"1\"\u003e\u003c\/p\u003e\n\u003cul class=\"features\"\u003e\n\u003cli\u003e\n\u003cspan\u003e\u003cstrong\u003e✨\u003cspan style=\"color: #ff8000;\"\u003eMultipurpose Cleaning: \u003c\/span\u003e\u003c\/strong\u003e\u003c\/span\u003eNot only can be used to clean all kinds of\u003cspan\u003e \u003c\/span\u003e\u003cspan style=\"color: #1b4574;\"\u003e\u003cstrong\u003ewood floors, tile floors, and marble\u003c\/strong\u003e\u003c\/span\u003e, but also can be used to clean\u003cspan\u003e\u003cstrong\u003e \u003cspan style=\"color: #1b4574;\"\u003eceramics, wooden furniture, sinks, refrigerators, windows, kitchens\u003c\/span\u003e,\u003c\/strong\u003e\u003c\/span\u003e\u003cspan\u003e \u003c\/span\u003eand so on.\u003c\/li\u003e\n\u003c\/ul\u003e\n\u003cp\u003e \u003cimg srcset=\"https:\/\/cdn.shoplazza.com\/bfe058c644d19378e93651e42246210c_540.jpeg 48w, https:\/\/cdn.shoplazza.com\/bfe058c644d19378e93651e42246210c_540.jpeg 180w, https:\/\/cdn.shoplazza.com\/bfe058c644d19378e93651e42246210c_540.jpeg 540w, https:\/\/cdn.shoplazza.com\/bfe058c644d19378e93651e42246210c_540.jpeg 720w, https:\/\/cdn.shoplazza.com\/bfe058c644d19378e93651e42246210c_540.jpeg 900w, https:\/\/cdn.shoplazza.com\/bfe058c644d19378e93651e42246210c_540.jpeg 1024w, https:\/\/cdn.shoplazza.com\/bfe058c644d19378e93651e42246210c_540.jpeg 1280w, https:\/\/cdn.shoplazza.com\/bfe058c644d19378e93651e42246210c_540.jpeg 1366w, https:\/\/cdn.shoplazza.com\/bfe058c644d19378e93651e42246210c_540.jpeg 1440w, https:\/\/cdn.shoplazza.com\/bfe058c644d19378e93651e42246210c_540.jpeg 1536w, https:\/\/cdn.shoplazza.com\/bfe058c644d19378e93651e42246210c_540.jpeg 1600w, https:\/\/cdn.shoplazza.com\/bfe058c644d19378e93651e42246210c_540.jpeg 1920w, https:\/\/cdn.shoplazza.com\/bfe058c644d19378e93651e42246210c_540.jpeg 2056w, https:\/\/cdn.shoplazza.com\/bfe058c644d19378e93651e42246210c_540.jpeg 2560w, https:\/\/cdn.shoplazza.com\/bfe058c644d19378e93651e42246210c_540.jpeg 2732w, https:\/\/cdn.shoplazza.com\/bfe058c644d19378e93651e42246210c_540.jpeg 2880w, https:\/\/cdn.shoplazza.com\/bfe058c644d19378e93651e42246210c_540.jpeg 3072w, https:\/\/cdn.shoplazza.com\/bfe058c644d19378e93651e42246210c_540.jpeg 3200w, https:\/\/cdn.shoplazza.com\/bfe058c644d19378e93651e42246210c_540.jpeg 3840w\" sizes=\"370px\" data-srcset=\"https:\/\/cdn.shoplazza.com\/bfe058c644d19378e93651e42246210c_540.jpeg 48w, https:\/\/cdn.shoplazza.com\/bfe058c644d19378e93651e42246210c_540.jpeg 180w, https:\/\/cdn.shoplazza.com\/bfe058c644d19378e93651e42246210c_540.jpeg 540w, https:\/\/cdn.shoplazza.com\/bfe058c644d19378e93651e42246210c_540.jpeg 720w, https:\/\/cdn.shoplazza.com\/bfe058c644d19378e93651e42246210c_540.jpeg 900w, https:\/\/cdn.shoplazza.com\/bfe058c644d19378e93651e42246210c_540.jpeg 1024w, https:\/\/cdn.shoplazza.com\/bfe058c644d19378e93651e42246210c_540.jpeg 1280w, https:\/\/cdn.shoplazza.com\/bfe058c644d19378e93651e42246210c_540.jpeg 1366w, https:\/\/cdn.shoplazza.com\/bfe058c644d19378e93651e42246210c_540.jpeg 1440w, https:\/\/cdn.shoplazza.com\/bfe058c644d19378e93651e42246210c_540.jpeg 1536w, https:\/\/cdn.shoplazza.com\/bfe058c644d19378e93651e42246210c_540.jpeg 1600w, https:\/\/cdn.shoplazza.com\/bfe058c644d19378e93651e42246210c_540.jpeg 1920w, https:\/\/cdn.shoplazza.com\/bfe058c644d19378e93651e42246210c_540.jpeg 2056w, https:\/\/cdn.shoplazza.com\/bfe058c644d19378e93651e42246210c_540.jpeg 2560w, https:\/\/cdn.shoplazza.com\/bfe058c644d19378e93651e42246210c_540.jpeg 2732w, https:\/\/cdn.shoplazza.com\/bfe058c644d19378e93651e42246210c_540.jpeg 2880w, https:\/\/cdn.shoplazza.com\/bfe058c644d19378e93651e42246210c_540.jpeg 3072w, https:\/\/cdn.shoplazza.com\/bfe058c644d19378e93651e42246210c_540.jpeg 3200w, https:\/\/cdn.shoplazza.com\/bfe058c644d19378e93651e42246210c_540.jpeg 3840w\" data-aspect-ratio=\"1.00\" alt=\"\" width=\"370\" height=\"370\" data-sizes=\"auto\" class=\"sep-lazyload lazyautosizes lazyloaded\" style=\"display: block; margin-left: auto; margin-right: auto;\" data-mce-fragment=\"1\"\u003e\u003c\/p\u003e\n\u003cul class=\"features\"\u003e\n\u003cli\u003e\n\u003cspan\u003e\u003cstrong\u003e✨\u003cspan style=\"color: #ff8000;\"\u003eNaturally Aromatic Scents:\u003c\/span\u003e \u003c\/strong\u003e\u003c\/span\u003eNo harsh scents here!\u003cspan\u003e \u003c\/span\u003e\u003cspan style=\"color: #1b4574;\"\u003e\u003cstrong\u003eFresh lemon scent removes unpleasant odors of the floor\u003c\/strong\u003e,\u003c\/span\u003e and leaves a faint naturally scented on the floor.\u003c\/li\u003e\n\u003c\/ul\u003e\n\u003cp\u003e\u003cimg srcset=\"https:\/\/cdn.shoplazza.com\/a2f5c3ab9ff7d1cb235b1b35d57b45c2_540.jpeg 48w, https:\/\/cdn.shoplazza.com\/a2f5c3ab9ff7d1cb235b1b35d57b45c2_540.jpeg 180w, https:\/\/cdn.shoplazza.com\/a2f5c3ab9ff7d1cb235b1b35d57b45c2_540.jpeg 540w, https:\/\/cdn.shoplazza.com\/a2f5c3ab9ff7d1cb235b1b35d57b45c2_540.jpeg 720w, https:\/\/cdn.shoplazza.com\/a2f5c3ab9ff7d1cb235b1b35d57b45c2_540.jpeg 900w, https:\/\/cdn.shoplazza.com\/a2f5c3ab9ff7d1cb235b1b35d57b45c2_540.jpeg 1024w, https:\/\/cdn.shoplazza.com\/a2f5c3ab9ff7d1cb235b1b35d57b45c2_540.jpeg 1280w, https:\/\/cdn.shoplazza.com\/a2f5c3ab9ff7d1cb235b1b35d57b45c2_540.jpeg 1366w, https:\/\/cdn.shoplazza.com\/a2f5c3ab9ff7d1cb235b1b35d57b45c2_540.jpeg 1440w, https:\/\/cdn.shoplazza.com\/a2f5c3ab9ff7d1cb235b1b35d57b45c2_540.jpeg 1536w, https:\/\/cdn.shoplazza.com\/a2f5c3ab9ff7d1cb235b1b35d57b45c2_540.jpeg 1600w, https:\/\/cdn.shoplazza.com\/a2f5c3ab9ff7d1cb235b1b35d57b45c2_540.jpeg 1920w, https:\/\/cdn.shoplazza.com\/a2f5c3ab9ff7d1cb235b1b35d57b45c2_540.jpeg 2056w, https:\/\/cdn.shoplazza.com\/a2f5c3ab9ff7d1cb235b1b35d57b45c2_540.jpeg 2560w, https:\/\/cdn.shoplazza.com\/a2f5c3ab9ff7d1cb235b1b35d57b45c2_540.jpeg 2732w, https:\/\/cdn.shoplazza.com\/a2f5c3ab9ff7d1cb235b1b35d57b45c2_540.jpeg 2880w, https:\/\/cdn.shoplazza.com\/a2f5c3ab9ff7d1cb235b1b35d57b45c2_540.jpeg 3072w, https:\/\/cdn.shoplazza.com\/a2f5c3ab9ff7d1cb235b1b35d57b45c2_540.jpeg 3200w, https:\/\/cdn.shoplazza.com\/a2f5c3ab9ff7d1cb235b1b35d57b45c2_540.jpeg 3840w\" sizes=\"370px\" data-srcset=\"https:\/\/cdn.shoplazza.com\/a2f5c3ab9ff7d1cb235b1b35d57b45c2_540.jpeg 48w, https:\/\/cdn.shoplazza.com\/a2f5c3ab9ff7d1cb235b1b35d57b45c2_540.jpeg 180w, https:\/\/cdn.shoplazza.com\/a2f5c3ab9ff7d1cb235b1b35d57b45c2_540.jpeg 540w, https:\/\/cdn.shoplazza.com\/a2f5c3ab9ff7d1cb235b1b35d57b45c2_540.jpeg 720w, https:\/\/cdn.shoplazza.com\/a2f5c3ab9ff7d1cb235b1b35d57b45c2_540.jpeg 900w, https:\/\/cdn.shoplazza.com\/a2f5c3ab9ff7d1cb235b1b35d57b45c2_540.jpeg 1024w, https:\/\/cdn.shoplazza.com\/a2f5c3ab9ff7d1cb235b1b35d57b45c2_540.jpeg 1280w, https:\/\/cdn.shoplazza.com\/a2f5c3ab9ff7d1cb235b1b35d57b45c2_540.jpeg 1366w, https:\/\/cdn.shoplazza.com\/a2f5c3ab9ff7d1cb235b1b35d57b45c2_540.jpeg 1440w, https:\/\/cdn.shoplazza.com\/a2f5c3ab9ff7d1cb235b1b35d57b45c2_540.jpeg 1536w, https:\/\/cdn.shoplazza.com\/a2f5c3ab9ff7d1cb235b1b35d57b45c2_540.jpeg 1600w, https:\/\/cdn.shoplazza.com\/a2f5c3ab9ff7d1cb235b1b35d57b45c2_540.jpeg 1920w, https:\/\/cdn.shoplazza.com\/a2f5c3ab9ff7d1cb235b1b35d57b45c2_540.jpeg 2056w, https:\/\/cdn.shoplazza.com\/a2f5c3ab9ff7d1cb235b1b35d57b45c2_540.jpeg 2560w, https:\/\/cdn.shoplazza.com\/a2f5c3ab9ff7d1cb235b1b35d57b45c2_540.jpeg 2732w, https:\/\/cdn.shoplazza.com\/a2f5c3ab9ff7d1cb235b1b35d57b45c2_540.jpeg 2880w, https:\/\/cdn.shoplazza.com\/a2f5c3ab9ff7d1cb235b1b35d57b45c2_540.jpeg 3072w, https:\/\/cdn.shoplazza.com\/a2f5c3ab9ff7d1cb235b1b35d57b45c2_540.jpeg 3200w, https:\/\/cdn.shoplazza.com\/a2f5c3ab9ff7d1cb235b1b35d57b45c2_540.jpeg 3840w\" data-aspect-ratio=\"1.00\" alt=\"\" width=\"370\" height=\"370\" data-sizes=\"auto\" class=\"sep-lazyload lazyautosizes lazyloaded\" style=\"display: block; margin-left: auto; margin-right: auto;\" data-mce-fragment=\"1\"\u003e\u003c\/p\u003e\n\u003cul class=\"features\"\u003e\n\u003cli\u003e\n\u003cspan\u003e\u003cstrong\u003e✨\u003cspan style=\"color: #ff8000;\"\u003eSafe And Gentle: \u003c\/span\u003e\u003c\/strong\u003e\u003c\/span\u003eMade with\u003cspan\u003e \u003c\/span\u003e\u003cspan style=\"color: #1b4574;\"\u003e\u003cstrong\u003edecontamination factor + plant extract, it does not hurt the floor\u003c\/strong\u003e, \u003c\/span\u003edoes not contain any irritating and harmful ingredients, and can be used by children and the elderly at home.\u003c\/li\u003e\n\u003c\/ul\u003e\n\u003ch3 data-mce-fragment=\"1\"\u003e\u003cspan style=\"color: #ff2a00;\" data-mce-fragment=\"1\"\u003eSPECIFICATIONS\u003c\/span\u003e\u003c\/h3\u003e\n\u003cul data-mce-fragment=\"1\"\u003e\n\u003cli data-mce-fragment=\"1\"\u003e\n\u003cp data-mce-fragment=\"1\"\u003e\u003cstrong data-mce-fragment=\"1\"\u003eWeight:\u003c\/strong\u003e\u003cspan data-mce-fragment=\"1\"\u003e 120\u003c\/span\u003eg\u003c\/p\u003e\n\u003c\/li\u003e\n\u003cli data-mce-fragment=\"1\"\u003e\n\u003cp data-mce-fragment=\"1\"\u003e\u003cstrong data-mce-fragment=\"1\"\u003eColor:\u003c\/strong\u003e \u003cspan class=\"Polaris-Badge_2qgie\" data-mce-fragment=\"1\" mce-data-marked=\"1\"\u003eAs Shown\u003c\/span\u003e\u003c\/p\u003e\n\u003c\/li\u003e\n\u003cli data-mce-fragment=\"1\"\u003e\n\u003cp\u003e\u003cspan class=\"Polaris-Badge_2qgie\" data-mce-fragment=\"1\" mce-data-marked=\"1\"\u003e\u003cstrong\u003eIngredients:\u003c\/strong\u003e Plant-safe ingredients\u003cbr\u003e\u003c\/span\u003e\u003c\/p\u003e\n\u003c\/li\u003e\n\u003cli data-mce-fragment=\"1\"\u003e\n\u003cp\u003e\u003cspan class=\"Polaris-Badge_2qgie\" data-mce-fragment=\"1\" mce-data-marked=\"1\"\u003e\u003cstrong\u003eCapacity:\u003c\/strong\u003e 100ML\u003cbr\u003e\u003c\/span\u003e\u003c\/p\u003e\n\u003c\/li\u003e\n\u003cli data-mce-fragment=\"1\"\u003e\n\u003cp\u003e\u003cspan class=\"Polaris-Badge_2qgie\" data-mce-fragment=\"1\" mce-data-marked=\"1\"\u003e\u003cstrong\u003eStorage method:\u003c\/strong\u003e Cool and dry place\u003c\/span\u003e\u003c\/p\u003e\n\u003c\/li\u003e\n\u003cli data-mce-fragment=\"1\"\u003e\n\u003cp data-mce-fragment=\"1\"\u003e\u003cspan data-mce-fragment=\"1\" mce-data-marked=\"1\"\u003e\u003c\/span\u003e\u003cstrong data-mce-fragment=\"1\"\u003eSize:\u003c\/strong\u003e\u003c\/p\u003e\n\u003c\/li\u003e\n\u003c\/ul\u003e\n\u003cdiv\u003e\u003cb\u003e\u003cimg alt=\"\" src=\"https:\/\/cdn.shopify.com\/s\/files\/1\/0356\/3048\/1544\/files\/0010_164af2b3-9a15-4ace-940b-afd279e509d7_480x480.jpg?v=1662709308\" style=\"display: block; margin-left: auto; margin-right: auto;\"\u003e\u003c\/b\u003e\u003c\/div\u003e\n\u003ch3 data-mce-fragment=\"1\"\u003e\u003cspan style=\"color: #ff2a00;\" data-mce-fragment=\"1\"\u003ePACKAGE\u003c\/span\u003e\u003c\/h3\u003e\n\u003cul data-mce-fragment=\"1\"\u003e\n\u003cli data-mce-fragment=\"1\"\u003e1 * Powerful Decontamination Floor Cleaner\u003c\/li\u003e\n\u003c\/ul\u003e\n\u003ch3 data-mce-fragment=\"1\"\u003e\u003cspan style=\"color: #ff2a00;\" data-mce-fragment=\"1\"\u003e\u003cstrong data-mce-fragment=\"1\"\u003eNOTE\u003c\/strong\u003e\u003c\/span\u003e\u003c\/h3\u003e\n\u003cul data-mce-fragment=\"1\"\u003e\n\u003cli data-mce-fragment=\"1\"\u003e\n\u003cp data-mce-fragment=\"1\"\u003e\u003cspan data-mce-fragment=\"1\"\u003ePlease allow slight measurement deviations due to manual measurement.\u003c\/span\u003e\u003c\/p\u003e\n\u003c\/li\u003e\n\u003cli data-mce-fragment=\"1\"\u003e\n\u003cp data-mce-fragment=\"1\"\u003e\u003cspan data-mce-fragment=\"1\"\u003eDue to the different monitor and light effect, the actual color of the item might be slightly different from the color showed in the pictures.\u003c\/span\u003e\u003c\/p\u003e\n\u003c\/li\u003e\n\u003c\/ul\u003e","published_at":"2022-09-15T00:36:49-10:00","created_at":"2022-09-15T00:37:02-10:00","vendor":"Suerteyay","type":"","tags":["cleaning"],"price":1199,"price_min":1199,"price_max":1199,"available":true,"price_varies":false,"compare_at_price":2399,"compare_at_price_min":2399,"compare_at_price_max":2399,"compare_at_price_varies":false,"variants":[{"id":40244354285657,"title":"100ML","option1":"100ML","option2":null,"option3":null,"sku":"CP37361-X1666","requires_shipping":true,"taxable":false,"featured_image":null,"available":true,"name":"Powerful Decontamination Floor Cleaner - 100ML","public_title":"100ML","options":["100ML"],"price":1199,"weight":0,"compare_at_price":2399,"inventory_management":null,"barcode":"","requires_selling_plan":false,"selling_plan_allocations":[],"quantity_rule":{"min":1,"max":null,"increment":1}}],"images":["\/\/www.suerteyay.com\/cdn\/shop\/products\/0000__1_562ce2da-0e4f-40b3-9a8b-89ef25de3dc9.jpg?v=1663238222","\/\/www.suerteyay.com\/cdn\/shop\/products\/0001__2_4716cdd1-ba9c-43d6-a652-2c87d757faa8.jpg?v=1663238222","\/\/www.suerteyay.com\/cdn\/shop\/products\/0002_1_53e0bd39-765a-4514-816c-ee2fbed09b47.jpg?v=1663238222","\/\/www.suerteyay.com\/cdn\/shop\/products\/0003_2_1b3b6069-b337-4500-8c37-d03b8ff1eb49.jpg?v=1663238222","\/\/www.suerteyay.com\/cdn\/shop\/products\/0004_3_15ed3eaa-e128-4672-8ee6-ace8f70889cf.jpg?v=1663238222","\/\/www.suerteyay.com\/cdn\/shop\/products\/0005_4_e4fb4de3-db06-4344-9fb9-d85a86bb3072.jpg?v=1663238222","\/\/www.suerteyay.com\/cdn\/shop\/products\/0006_5_b1dc03e6-357d-4f54-bdd5-654e6a139bb0.jpg?v=1663238222","\/\/www.suerteyay.com\/cdn\/shop\/products\/0007_6_d92b23a2-9427-4377-b8c5-668714a21e66.jpg?v=1663238222","\/\/www.suerteyay.com\/cdn\/shop\/products\/0008_7_664e32cf-0404-4dd4-843a-ccbbeafa35d7.jpg?v=1663238222","\/\/www.suerteyay.com\/cdn\/shop\/products\/0009_8_6d54929d-adf5-4c5b-827b-140eb85c7ac8.jpg?v=1663238222","\/\/www.suerteyay.com\/cdn\/shop\/products\/0010_b2cf5a3d-146f-4f91-9ec4-7ee87f093c33.jpg?v=1663238222","\/\/www.suerteyay.com\/cdn\/shop\/products\/0011_eb0049c1-800e-41ff-913f-f31ced7a4501.jpg?v=1663238222"],"featured_image":"\/\/www.suerteyay.com\/cdn\/shop\/products\/0000__1_562ce2da-0e4f-40b3-9a8b-89ef25de3dc9.jpg?v=1663238222","options":["Weight"],"media":[{"alt":null,"id":22798289928281,"position":1,"preview_image":{"aspect_ratio":1.0,"height":800,"width":800,"src":"\/\/www.suerteyay.com\/cdn\/shop\/products\/0000__1_562ce2da-0e4f-40b3-9a8b-89ef25de3dc9.jpg?v=1663238222"},"aspect_ratio":1.0,"height":800,"media_type":"image","src":"\/\/www.suerteyay.com\/cdn\/shop\/products\/0000__1_562ce2da-0e4f-40b3-9a8b-89ef25de3dc9.jpg?v=1663238222","width":800},{"alt":null,"id":22798289961049,"position":2,"preview_image":{"aspect_ratio":1.0,"height":800,"width":800,"src":"\/\/www.suerteyay.com\/cdn\/shop\/products\/0001__2_4716cdd1-ba9c-43d6-a652-2c87d757faa8.jpg?v=1663238222"},"aspect_ratio":1.0,"height":800,"media_type":"image","src":"\/\/www.suerteyay.com\/cdn\/shop\/products\/0001__2_4716cdd1-ba9c-43d6-a652-2c87d757faa8.jpg?v=1663238222","width":800},{"alt":null,"id":22798289993817,"position":3,"preview_image":{"aspect_ratio":1.0,"height":800,"width":800,"src":"\/\/www.suerteyay.com\/cdn\/shop\/products\/0002_1_53e0bd39-765a-4514-816c-ee2fbed09b47.jpg?v=1663238222"},"aspect_ratio":1.0,"height":800,"media_type":"image","src":"\/\/www.suerteyay.com\/cdn\/shop\/products\/0002_1_53e0bd39-765a-4514-816c-ee2fbed09b47.jpg?v=1663238222","width":800},{"alt":null,"id":22798290026585,"position":4,"preview_image":{"aspect_ratio":1.0,"height":800,"width":800,"src":"\/\/www.suerteyay.com\/cdn\/shop\/products\/0003_2_1b3b6069-b337-4500-8c37-d03b8ff1eb49.jpg?v=1663238222"},"aspect_ratio":1.0,"height":800,"media_type":"image","src":"\/\/www.suerteyay.com\/cdn\/shop\/products\/0003_2_1b3b6069-b337-4500-8c37-d03b8ff1eb49.jpg?v=1663238222","width":800},{"alt":null,"id":22798290059353,"position":5,"preview_image":{"aspect_ratio":1.0,"height":800,"width":800,"src":"\/\/www.suerteyay.com\/cdn\/shop\/products\/0004_3_15ed3eaa-e128-4672-8ee6-ace8f70889cf.jpg?v=1663238222"},"aspect_ratio":1.0,"height":800,"media_type":"image","src":"\/\/www.suerteyay.com\/cdn\/shop\/products\/0004_3_15ed3eaa-e128-4672-8ee6-ace8f70889cf.jpg?v=1663238222","width":800},{"alt":null,"id":22798290092121,"position":6,"preview_image":{"aspect_ratio":1.0,"height":800,"width":800,"src":"\/\/www.suerteyay.com\/cdn\/shop\/products\/0005_4_e4fb4de3-db06-4344-9fb9-d85a86bb3072.jpg?v=1663238222"},"aspect_ratio":1.0,"height":800,"media_type":"image","src":"\/\/www.suerteyay.com\/cdn\/shop\/products\/0005_4_e4fb4de3-db06-4344-9fb9-d85a86bb3072.jpg?v=1663238222","width":800},{"alt":null,"id":22798290124889,"position":7,"preview_image":{"aspect_ratio":1.0,"height":800,"width":800,"src":"\/\/www.suerteyay.com\/cdn\/shop\/products\/0006_5_b1dc03e6-357d-4f54-bdd5-654e6a139bb0.jpg?v=1663238222"},"aspect_ratio":1.0,"height":800,"media_type":"image","src":"\/\/www.suerteyay.com\/cdn\/shop\/products\/0006_5_b1dc03e6-357d-4f54-bdd5-654e6a139bb0.jpg?v=1663238222","width":800},{"alt":null,"id":22798290157657,"position":8,"preview_image":{"aspect_ratio":1.0,"height":800,"width":800,"src":"\/\/www.suerteyay.com\/cdn\/shop\/products\/0007_6_d92b23a2-9427-4377-b8c5-668714a21e66.jpg?v=1663238222"},"aspect_ratio":1.0,"height":800,"media_type":"image","src":"\/\/www.suerteyay.com\/cdn\/shop\/products\/0007_6_d92b23a2-9427-4377-b8c5-668714a21e66.jpg?v=1663238222","width":800},{"alt":null,"id":22798290190425,"position":9,"preview_image":{"aspect_ratio":1.0,"height":800,"width":800,"src":"\/\/www.suerteyay.com\/cdn\/shop\/products\/0008_7_664e32cf-0404-4dd4-843a-ccbbeafa35d7.jpg?v=1663238222"},"aspect_ratio":1.0,"height":800,"media_type":"image","src":"\/\/www.suerteyay.com\/cdn\/shop\/products\/0008_7_664e32cf-0404-4dd4-843a-ccbbeafa35d7.jpg?v=1663238222","width":800},{"alt":null,"id":22798290223193,"position":10,"preview_image":{"aspect_ratio":1.0,"height":800,"width":800,"src":"\/\/www.suerteyay.com\/cdn\/shop\/products\/0009_8_6d54929d-adf5-4c5b-827b-140eb85c7ac8.jpg?v=1663238222"},"aspect_ratio":1.0,"height":800,"media_type":"image","src":"\/\/www.suerteyay.com\/cdn\/shop\/products\/0009_8_6d54929d-adf5-4c5b-827b-140eb85c7ac8.jpg?v=1663238222","width":800},{"alt":null,"id":22798290255961,"position":11,"preview_image":{"aspect_ratio":1.0,"height":800,"width":800,"src":"\/\/www.suerteyay.com\/cdn\/shop\/products\/0010_b2cf5a3d-146f-4f91-9ec4-7ee87f093c33.jpg?v=1663238222"},"aspect_ratio":1.0,"height":800,"media_type":"image","src":"\/\/www.suerteyay.com\/cdn\/shop\/products\/0010_b2cf5a3d-146f-4f91-9ec4-7ee87f093c33.jpg?v=1663238222","width":800},{"alt":null,"id":22798290288729,"position":12,"preview_image":{"aspect_ratio":1.0,"height":800,"width":800,"src":"\/\/www.suerteyay.com\/cdn\/shop\/products\/0011_eb0049c1-800e-41ff-913f-f31ced7a4501.jpg?v=1663238222"},"aspect_ratio":1.0,"height":800,"media_type":"image","src":"\/\/www.suerteyay.com\/cdn\/shop\/products\/0011_eb0049c1-800e-41ff-913f-f31ced7a4501.jpg?v=1663238222","width":800}],"requires_selling_plan":false,"selling_plan_groups":[],"content":"\u003ch3 data-mce-fragment=\"1\"\u003e\u003cspan style=\"color: #ff2a00;\" data-mce-fragment=\"1\"\u003eFEATURES\u003c\/span\u003e\u003c\/h3\u003e\n\u003cul class=\"features\"\u003e\n\u003cli\u003e\n\u003cspan style=\"color: #ff8000;\"\u003e\u003cstrong\u003e✨Brighten Your Floors: \u003c\/strong\u003e\u003c\/span\u003eWipe away spills, stains, and dust to restore your floors'\u003cspan\u003e \u003c\/span\u003e\u003cspan style=\"color: #1b4574;\"\u003e\u003cstrong\u003enatural shine, decontamination, and quick drying\u003c\/strong\u003e \u003c\/span\u003ethe floor is as clean as new.\u003c\/li\u003e\n\u003c\/ul\u003e\n\u003cp\u003e\u003cimg srcset=\"https:\/\/cdn.shoplazza.com\/6811d29fe0d9a17fa253622796bfa50b_540.jpeg 48w, https:\/\/cdn.shoplazza.com\/6811d29fe0d9a17fa253622796bfa50b_540.jpeg 180w, https:\/\/cdn.shoplazza.com\/6811d29fe0d9a17fa253622796bfa50b_540.jpeg 540w, https:\/\/cdn.shoplazza.com\/6811d29fe0d9a17fa253622796bfa50b_540.jpeg 720w, https:\/\/cdn.shoplazza.com\/6811d29fe0d9a17fa253622796bfa50b_540.jpeg 900w, https:\/\/cdn.shoplazza.com\/6811d29fe0d9a17fa253622796bfa50b_540.jpeg 1024w, https:\/\/cdn.shoplazza.com\/6811d29fe0d9a17fa253622796bfa50b_540.jpeg 1280w, https:\/\/cdn.shoplazza.com\/6811d29fe0d9a17fa253622796bfa50b_540.jpeg 1366w, https:\/\/cdn.shoplazza.com\/6811d29fe0d9a17fa253622796bfa50b_540.jpeg 1440w, https:\/\/cdn.shoplazza.com\/6811d29fe0d9a17fa253622796bfa50b_540.jpeg 1536w, https:\/\/cdn.shoplazza.com\/6811d29fe0d9a17fa253622796bfa50b_540.jpeg 1600w, https:\/\/cdn.shoplazza.com\/6811d29fe0d9a17fa253622796bfa50b_540.jpeg 1920w, https:\/\/cdn.shoplazza.com\/6811d29fe0d9a17fa253622796bfa50b_540.jpeg 2056w, https:\/\/cdn.shoplazza.com\/6811d29fe0d9a17fa253622796bfa50b_540.jpeg 2560w, https:\/\/cdn.shoplazza.com\/6811d29fe0d9a17fa253622796bfa50b_540.jpeg 2732w, https:\/\/cdn.shoplazza.com\/6811d29fe0d9a17fa253622796bfa50b_540.jpeg 2880w, https:\/\/cdn.shoplazza.com\/6811d29fe0d9a17fa253622796bfa50b_540.jpeg 3072w, https:\/\/cdn.shoplazza.com\/6811d29fe0d9a17fa253622796bfa50b_540.jpeg 3200w, https:\/\/cdn.shoplazza.com\/6811d29fe0d9a17fa253622796bfa50b_540.jpeg 3840w\" sizes=\"370px\" data-srcset=\"https:\/\/cdn.shoplazza.com\/6811d29fe0d9a17fa253622796bfa50b_540.jpeg 48w, https:\/\/cdn.shoplazza.com\/6811d29fe0d9a17fa253622796bfa50b_540.jpeg 180w, https:\/\/cdn.shoplazza.com\/6811d29fe0d9a17fa253622796bfa50b_540.jpeg 540w, https:\/\/cdn.shoplazza.com\/6811d29fe0d9a17fa253622796bfa50b_540.jpeg 720w, https:\/\/cdn.shoplazza.com\/6811d29fe0d9a17fa253622796bfa50b_540.jpeg 900w, https:\/\/cdn.shoplazza.com\/6811d29fe0d9a17fa253622796bfa50b_540.jpeg 1024w, https:\/\/cdn.shoplazza.com\/6811d29fe0d9a17fa253622796bfa50b_540.jpeg 1280w, https:\/\/cdn.shoplazza.com\/6811d29fe0d9a17fa253622796bfa50b_540.jpeg 1366w, https:\/\/cdn.shoplazza.com\/6811d29fe0d9a17fa253622796bfa50b_540.jpeg 1440w, https:\/\/cdn.shoplazza.com\/6811d29fe0d9a17fa253622796bfa50b_540.jpeg 1536w, https:\/\/cdn.shoplazza.com\/6811d29fe0d9a17fa253622796bfa50b_540.jpeg 1600w, https:\/\/cdn.shoplazza.com\/6811d29fe0d9a17fa253622796bfa50b_540.jpeg 1920w, https:\/\/cdn.shoplazza.com\/6811d29fe0d9a17fa253622796bfa50b_540.jpeg 2056w, https:\/\/cdn.shoplazza.com\/6811d29fe0d9a17fa253622796bfa50b_540.jpeg 2560w, https:\/\/cdn.shoplazza.com\/6811d29fe0d9a17fa253622796bfa50b_540.jpeg 2732w, https:\/\/cdn.shoplazza.com\/6811d29fe0d9a17fa253622796bfa50b_540.jpeg 2880w, https:\/\/cdn.shoplazza.com\/6811d29fe0d9a17fa253622796bfa50b_540.jpeg 3072w, https:\/\/cdn.shoplazza.com\/6811d29fe0d9a17fa253622796bfa50b_540.jpeg 3200w, https:\/\/cdn.shoplazza.com\/6811d29fe0d9a17fa253622796bfa50b_540.jpeg 3840w\" data-aspect-ratio=\"1.00\" alt=\"\" width=\"370\" height=\"370\" data-sizes=\"auto\" class=\"sep-lazyload lazyautosizes lazyloaded\" style=\"display: block; margin-left: auto; margin-right: auto;\" data-mce-fragment=\"1\"\u003e\u003c\/p\u003e\n\u003cul class=\"features\"\u003e\n\u003cli\u003e\n\u003cspan\u003e\u003cstrong\u003e✨\u003cspan style=\"color: #ff8000;\"\u003eEasily Remove A Variety Of Stubborn Stains:\u003c\/span\u003e \u003c\/strong\u003e\u003c\/span\u003eQuickly\u003cspan\u003e \u003c\/span\u003e\u003cspan style=\"color: #1b4574;\"\u003e\u003cstrong\u003eremoves built-up dirt, grease, water, footprints, and sticky stains\u003c\/strong\u003e,\u003c\/span\u003e leaving your floors sparkling and naturally fresh!\u003c\/li\u003e\n\u003c\/ul\u003e\n\u003cp\u003e\u003cimg srcset=\"https:\/\/cdn.shoplazza.com\/59f907dcb80b473ed50dd266864df08c_540.jpeg 48w, https:\/\/cdn.shoplazza.com\/59f907dcb80b473ed50dd266864df08c_540.jpeg 180w, https:\/\/cdn.shoplazza.com\/59f907dcb80b473ed50dd266864df08c_540.jpeg 540w, https:\/\/cdn.shoplazza.com\/59f907dcb80b473ed50dd266864df08c_540.jpeg 720w, https:\/\/cdn.shoplazza.com\/59f907dcb80b473ed50dd266864df08c_540.jpeg 900w, https:\/\/cdn.shoplazza.com\/59f907dcb80b473ed50dd266864df08c_540.jpeg 1024w, https:\/\/cdn.shoplazza.com\/59f907dcb80b473ed50dd266864df08c_540.jpeg 1280w, https:\/\/cdn.shoplazza.com\/59f907dcb80b473ed50dd266864df08c_540.jpeg 1366w, https:\/\/cdn.shoplazza.com\/59f907dcb80b473ed50dd266864df08c_540.jpeg 1440w, https:\/\/cdn.shoplazza.com\/59f907dcb80b473ed50dd266864df08c_540.jpeg 1536w, https:\/\/cdn.shoplazza.com\/59f907dcb80b473ed50dd266864df08c_540.jpeg 1600w, https:\/\/cdn.shoplazza.com\/59f907dcb80b473ed50dd266864df08c_540.jpeg 1920w, https:\/\/cdn.shoplazza.com\/59f907dcb80b473ed50dd266864df08c_540.jpeg 2056w, https:\/\/cdn.shoplazza.com\/59f907dcb80b473ed50dd266864df08c_540.jpeg 2560w, https:\/\/cdn.shoplazza.com\/59f907dcb80b473ed50dd266864df08c_540.jpeg 2732w, https:\/\/cdn.shoplazza.com\/59f907dcb80b473ed50dd266864df08c_540.jpeg 2880w, https:\/\/cdn.shoplazza.com\/59f907dcb80b473ed50dd266864df08c_540.jpeg 3072w, https:\/\/cdn.shoplazza.com\/59f907dcb80b473ed50dd266864df08c_540.jpeg 3200w, https:\/\/cdn.shoplazza.com\/59f907dcb80b473ed50dd266864df08c_540.jpeg 3840w\" sizes=\"370px\" data-srcset=\"https:\/\/cdn.shoplazza.com\/59f907dcb80b473ed50dd266864df08c_540.jpeg 48w, https:\/\/cdn.shoplazza.com\/59f907dcb80b473ed50dd266864df08c_540.jpeg 180w, https:\/\/cdn.shoplazza.com\/59f907dcb80b473ed50dd266864df08c_540.jpeg 540w, https:\/\/cdn.shoplazza.com\/59f907dcb80b473ed50dd266864df08c_540.jpeg 720w, https:\/\/cdn.shoplazza.com\/59f907dcb80b473ed50dd266864df08c_540.jpeg 900w, https:\/\/cdn.shoplazza.com\/59f907dcb80b473ed50dd266864df08c_540.jpeg 1024w, https:\/\/cdn.shoplazza.com\/59f907dcb80b473ed50dd266864df08c_540.jpeg 1280w, https:\/\/cdn.shoplazza.com\/59f907dcb80b473ed50dd266864df08c_540.jpeg 1366w, https:\/\/cdn.shoplazza.com\/59f907dcb80b473ed50dd266864df08c_540.jpeg 1440w, https:\/\/cdn.shoplazza.com\/59f907dcb80b473ed50dd266864df08c_540.jpeg 1536w, https:\/\/cdn.shoplazza.com\/59f907dcb80b473ed50dd266864df08c_540.jpeg 1600w, https:\/\/cdn.shoplazza.com\/59f907dcb80b473ed50dd266864df08c_540.jpeg 1920w, https:\/\/cdn.shoplazza.com\/59f907dcb80b473ed50dd266864df08c_540.jpeg 2056w, https:\/\/cdn.shoplazza.com\/59f907dcb80b473ed50dd266864df08c_540.jpeg 2560w, https:\/\/cdn.shoplazza.com\/59f907dcb80b473ed50dd266864df08c_540.jpeg 2732w, https:\/\/cdn.shoplazza.com\/59f907dcb80b473ed50dd266864df08c_540.jpeg 2880w, https:\/\/cdn.shoplazza.com\/59f907dcb80b473ed50dd266864df08c_540.jpeg 3072w, https:\/\/cdn.shoplazza.com\/59f907dcb80b473ed50dd266864df08c_540.jpeg 3200w, https:\/\/cdn.shoplazza.com\/59f907dcb80b473ed50dd266864df08c_540.jpeg 3840w\" data-aspect-ratio=\"1.00\" height=\"370\" width=\"370\" alt=\"\" data-sizes=\"auto\" class=\"sep-lazyload lazyautosizes lazyloaded\" style=\"display: block; margin-left: auto; margin-right: auto;\" data-mce-fragment=\"1\"\u003e\u003c\/p\u003e\n\u003cul class=\"features\"\u003e\n\u003cli\u003e\n\u003cspan\u003e\u003cstrong\u003e✨\u003cspan style=\"color: #ff8000;\"\u003eMultipurpose Cleaning: \u003c\/span\u003e\u003c\/strong\u003e\u003c\/span\u003eNot only can be used to clean all kinds of\u003cspan\u003e \u003c\/span\u003e\u003cspan style=\"color: #1b4574;\"\u003e\u003cstrong\u003ewood floors, tile floors, and marble\u003c\/strong\u003e\u003c\/span\u003e, but also can be used to clean\u003cspan\u003e\u003cstrong\u003e \u003cspan style=\"color: #1b4574;\"\u003eceramics, wooden furniture, sinks, refrigerators, windows, kitchens\u003c\/span\u003e,\u003c\/strong\u003e\u003c\/span\u003e\u003cspan\u003e \u003c\/span\u003eand so on.\u003c\/li\u003e\n\u003c\/ul\u003e\n\u003cp\u003e \u003cimg srcset=\"https:\/\/cdn.shoplazza.com\/bfe058c644d19378e93651e42246210c_540.jpeg 48w, https:\/\/cdn.shoplazza.com\/bfe058c644d19378e93651e42246210c_540.jpeg 180w, https:\/\/cdn.shoplazza.com\/bfe058c644d19378e93651e42246210c_540.jpeg 540w, https:\/\/cdn.shoplazza.com\/bfe058c644d19378e93651e42246210c_540.jpeg 720w, https:\/\/cdn.shoplazza.com\/bfe058c644d19378e93651e42246210c_540.jpeg 900w, https:\/\/cdn.shoplazza.com\/bfe058c644d19378e93651e42246210c_540.jpeg 1024w, https:\/\/cdn.shoplazza.com\/bfe058c644d19378e93651e42246210c_540.jpeg 1280w, https:\/\/cdn.shoplazza.com\/bfe058c644d19378e93651e42246210c_540.jpeg 1366w, https:\/\/cdn.shoplazza.com\/bfe058c644d19378e93651e42246210c_540.jpeg 1440w, https:\/\/cdn.shoplazza.com\/bfe058c644d19378e93651e42246210c_540.jpeg 1536w, https:\/\/cdn.shoplazza.com\/bfe058c644d19378e93651e42246210c_540.jpeg 1600w, https:\/\/cdn.shoplazza.com\/bfe058c644d19378e93651e42246210c_540.jpeg 1920w, https:\/\/cdn.shoplazza.com\/bfe058c644d19378e93651e42246210c_540.jpeg 2056w, https:\/\/cdn.shoplazza.com\/bfe058c644d19378e93651e42246210c_540.jpeg 2560w, https:\/\/cdn.shoplazza.com\/bfe058c644d19378e93651e42246210c_540.jpeg 2732w, https:\/\/cdn.shoplazza.com\/bfe058c644d19378e93651e42246210c_540.jpeg 2880w, https:\/\/cdn.shoplazza.com\/bfe058c644d19378e93651e42246210c_540.jpeg 3072w, https:\/\/cdn.shoplazza.com\/bfe058c644d19378e93651e42246210c_540.jpeg 3200w, https:\/\/cdn.shoplazza.com\/bfe058c644d19378e93651e42246210c_540.jpeg 3840w\" sizes=\"370px\" data-srcset=\"https:\/\/cdn.shoplazza.com\/bfe058c644d19378e93651e42246210c_540.jpeg 48w, https:\/\/cdn.shoplazza.com\/bfe058c644d19378e93651e42246210c_540.jpeg 180w, https:\/\/cdn.shoplazza.com\/bfe058c644d19378e93651e42246210c_540.jpeg 540w, https:\/\/cdn.shoplazza.com\/bfe058c644d19378e93651e42246210c_540.jpeg 720w, https:\/\/cdn.shoplazza.com\/bfe058c644d19378e93651e42246210c_540.jpeg 900w, https:\/\/cdn.shoplazza.com\/bfe058c644d19378e93651e42246210c_540.jpeg 1024w, https:\/\/cdn.shoplazza.com\/bfe058c644d19378e93651e42246210c_540.jpeg 1280w, https:\/\/cdn.shoplazza.com\/bfe058c644d19378e93651e42246210c_540.jpeg 1366w, https:\/\/cdn.shoplazza.com\/bfe058c644d19378e93651e42246210c_540.jpeg 1440w, https:\/\/cdn.shoplazza.com\/bfe058c644d19378e93651e42246210c_540.jpeg 1536w, https:\/\/cdn.shoplazza.com\/bfe058c644d19378e93651e42246210c_540.jpeg 1600w, https:\/\/cdn.shoplazza.com\/bfe058c644d19378e93651e42246210c_540.jpeg 1920w, https:\/\/cdn.shoplazza.com\/bfe058c644d19378e93651e42246210c_540.jpeg 2056w, https:\/\/cdn.shoplazza.com\/bfe058c644d19378e93651e42246210c_540.jpeg 2560w, https:\/\/cdn.shoplazza.com\/bfe058c644d19378e93651e42246210c_540.jpeg 2732w, https:\/\/cdn.shoplazza.com\/bfe058c644d19378e93651e42246210c_540.jpeg 2880w, https:\/\/cdn.shoplazza.com\/bfe058c644d19378e93651e42246210c_540.jpeg 3072w, https:\/\/cdn.shoplazza.com\/bfe058c644d19378e93651e42246210c_540.jpeg 3200w, https:\/\/cdn.shoplazza.com\/bfe058c644d19378e93651e42246210c_540.jpeg 3840w\" data-aspect-ratio=\"1.00\" alt=\"\" width=\"370\" height=\"370\" data-sizes=\"auto\" class=\"sep-lazyload lazyautosizes lazyloaded\" style=\"display: block; margin-left: auto; margin-right: auto;\" data-mce-fragment=\"1\"\u003e\u003c\/p\u003e\n\u003cul class=\"features\"\u003e\n\u003cli\u003e\n\u003cspan\u003e\u003cstrong\u003e✨\u003cspan style=\"color: #ff8000;\"\u003eNaturally Aromatic Scents:\u003c\/span\u003e \u003c\/strong\u003e\u003c\/span\u003eNo harsh scents here!\u003cspan\u003e \u003c\/span\u003e\u003cspan style=\"color: #1b4574;\"\u003e\u003cstrong\u003eFresh lemon scent removes unpleasant odors of the floor\u003c\/strong\u003e,\u003c\/span\u003e and leaves a faint naturally scented on the floor.\u003c\/li\u003e\n\u003c\/ul\u003e\n\u003cp\u003e\u003cimg srcset=\"https:\/\/cdn.shoplazza.com\/a2f5c3ab9ff7d1cb235b1b35d57b45c2_540.jpeg 48w, https:\/\/cdn.shoplazza.com\/a2f5c3ab9ff7d1cb235b1b35d57b45c2_540.jpeg 180w, https:\/\/cdn.shoplazza.com\/a2f5c3ab9ff7d1cb235b1b35d57b45c2_540.jpeg 540w, https:\/\/cdn.shoplazza.com\/a2f5c3ab9ff7d1cb235b1b35d57b45c2_540.jpeg 720w, https:\/\/cdn.shoplazza.com\/a2f5c3ab9ff7d1cb235b1b35d57b45c2_540.jpeg 900w, https:\/\/cdn.shoplazza.com\/a2f5c3ab9ff7d1cb235b1b35d57b45c2_540.jpeg 1024w, https:\/\/cdn.shoplazza.com\/a2f5c3ab9ff7d1cb235b1b35d57b45c2_540.jpeg 1280w, https:\/\/cdn.shoplazza.com\/a2f5c3ab9ff7d1cb235b1b35d57b45c2_540.jpeg 1366w, https:\/\/cdn.shoplazza.com\/a2f5c3ab9ff7d1cb235b1b35d57b45c2_540.jpeg 1440w, https:\/\/cdn.shoplazza.com\/a2f5c3ab9ff7d1cb235b1b35d57b45c2_540.jpeg 1536w, https:\/\/cdn.shoplazza.com\/a2f5c3ab9ff7d1cb235b1b35d57b45c2_540.jpeg 1600w, https:\/\/cdn.shoplazza.com\/a2f5c3ab9ff7d1cb235b1b35d57b45c2_540.jpeg 1920w, https:\/\/cdn.shoplazza.com\/a2f5c3ab9ff7d1cb235b1b35d57b45c2_540.jpeg 2056w, https:\/\/cdn.shoplazza.com\/a2f5c3ab9ff7d1cb235b1b35d57b45c2_540.jpeg 2560w, https:\/\/cdn.shoplazza.com\/a2f5c3ab9ff7d1cb235b1b35d57b45c2_540.jpeg 2732w, https:\/\/cdn.shoplazza.com\/a2f5c3ab9ff7d1cb235b1b35d57b45c2_540.jpeg 2880w, https:\/\/cdn.shoplazza.com\/a2f5c3ab9ff7d1cb235b1b35d57b45c2_540.jpeg 3072w, https:\/\/cdn.shoplazza.com\/a2f5c3ab9ff7d1cb235b1b35d57b45c2_540.jpeg 3200w, https:\/\/cdn.shoplazza.com\/a2f5c3ab9ff7d1cb235b1b35d57b45c2_540.jpeg 3840w\" sizes=\"370px\" data-srcset=\"https:\/\/cdn.shoplazza.com\/a2f5c3ab9ff7d1cb235b1b35d57b45c2_540.jpeg 48w, https:\/\/cdn.shoplazza.com\/a2f5c3ab9ff7d1cb235b1b35d57b45c2_540.jpeg 180w, https:\/\/cdn.shoplazza.com\/a2f5c3ab9ff7d1cb235b1b35d57b45c2_540.jpeg 540w, https:\/\/cdn.shoplazza.com\/a2f5c3ab9ff7d1cb235b1b35d57b45c2_540.jpeg 720w, https:\/\/cdn.shoplazza.com\/a2f5c3ab9ff7d1cb235b1b35d57b45c2_540.jpeg 900w, https:\/\/cdn.shoplazza.com\/a2f5c3ab9ff7d1cb235b1b35d57b45c2_540.jpeg 1024w, https:\/\/cdn.shoplazza.com\/a2f5c3ab9ff7d1cb235b1b35d57b45c2_540.jpeg 1280w, https:\/\/cdn.shoplazza.com\/a2f5c3ab9ff7d1cb235b1b35d57b45c2_540.jpeg 1366w, https:\/\/cdn.shoplazza.com\/a2f5c3ab9ff7d1cb235b1b35d57b45c2_540.jpeg 1440w, https:\/\/cdn.shoplazza.com\/a2f5c3ab9ff7d1cb235b1b35d57b45c2_540.jpeg 1536w, https:\/\/cdn.shoplazza.com\/a2f5c3ab9ff7d1cb235b1b35d57b45c2_540.jpeg 1600w, https:\/\/cdn.shoplazza.com\/a2f5c3ab9ff7d1cb235b1b35d57b45c2_540.jpeg 1920w, https:\/\/cdn.shoplazza.com\/a2f5c3ab9ff7d1cb235b1b35d57b45c2_540.jpeg 2056w, https:\/\/cdn.shoplazza.com\/a2f5c3ab9ff7d1cb235b1b35d57b45c2_540.jpeg 2560w, https:\/\/cdn.shoplazza.com\/a2f5c3ab9ff7d1cb235b1b35d57b45c2_540.jpeg 2732w, https:\/\/cdn.shoplazza.com\/a2f5c3ab9ff7d1cb235b1b35d57b45c2_540.jpeg 2880w, https:\/\/cdn.shoplazza.com\/a2f5c3ab9ff7d1cb235b1b35d57b45c2_540.jpeg 3072w, https:\/\/cdn.shoplazza.com\/a2f5c3ab9ff7d1cb235b1b35d57b45c2_540.jpeg 3200w, https:\/\/cdn.shoplazza.com\/a2f5c3ab9ff7d1cb235b1b35d57b45c2_540.jpeg 3840w\" data-aspect-ratio=\"1.00\" alt=\"\" width=\"370\" height=\"370\" data-sizes=\"auto\" class=\"sep-lazyload lazyautosizes lazyloaded\" style=\"display: block; margin-left: auto; margin-right: auto;\" data-mce-fragment=\"1\"\u003e\u003c\/p\u003e\n\u003cul class=\"features\"\u003e\n\u003cli\u003e\n\u003cspan\u003e\u003cstrong\u003e✨\u003cspan style=\"color: #ff8000;\"\u003eSafe And Gentle: \u003c\/span\u003e\u003c\/strong\u003e\u003c\/span\u003eMade with\u003cspan\u003e \u003c\/span\u003e\u003cspan style=\"color: #1b4574;\"\u003e\u003cstrong\u003edecontamination factor + plant extract, it does not hurt the floor\u003c\/strong\u003e, \u003c\/span\u003edoes not contain any irritating and harmful ingredients, and can be used by children and the elderly at home.\u003c\/li\u003e\n\u003c\/ul\u003e\n\u003ch3 data-mce-fragment=\"1\"\u003e\u003cspan style=\"color: #ff2a00;\" data-mce-fragment=\"1\"\u003eSPECIFICATIONS\u003c\/span\u003e\u003c\/h3\u003e\n\u003cul data-mce-fragment=\"1\"\u003e\n\u003cli data-mce-fragment=\"1\"\u003e\n\u003cp data-mce-fragment=\"1\"\u003e\u003cstrong data-mce-fragment=\"1\"\u003eWeight:\u003c\/strong\u003e\u003cspan data-mce-fragment=\"1\"\u003e 120\u003c\/span\u003eg\u003c\/p\u003e\n\u003c\/li\u003e\n\u003cli data-mce-fragment=\"1\"\u003e\n\u003cp data-mce-fragment=\"1\"\u003e\u003cstrong data-mce-fragment=\"1\"\u003eColor:\u003c\/strong\u003e \u003cspan class=\"Polaris-Badge_2qgie\" data-mce-fragment=\"1\" mce-data-marked=\"1\"\u003eAs Shown\u003c\/span\u003e\u003c\/p\u003e\n\u003c\/li\u003e\n\u003cli data-mce-fragment=\"1\"\u003e\n\u003cp\u003e\u003cspan class=\"Polaris-Badge_2qgie\" data-mce-fragment=\"1\" mce-data-marked=\"1\"\u003e\u003cstrong\u003eIngredients:\u003c\/strong\u003e Plant-safe ingredients\u003cbr\u003e\u003c\/span\u003e\u003c\/p\u003e\n\u003c\/li\u003e\n\u003cli data-mce-fragment=\"1\"\u003e\n\u003cp\u003e\u003cspan class=\"Polaris-Badge_2qgie\" data-mce-fragment=\"1\" mce-data-marked=\"1\"\u003e\u003cstrong\u003eCapacity:\u003c\/strong\u003e 100ML\u003cbr\u003e\u003c\/span\u003e\u003c\/p\u003e\n\u003c\/li\u003e\n\u003cli data-mce-fragment=\"1\"\u003e\n\u003cp\u003e\u003cspan class=\"Polaris-Badge_2qgie\" data-mce-fragment=\"1\" mce-data-marked=\"1\"\u003e\u003cstrong\u003eStorage method:\u003c\/strong\u003e Cool and dry place\u003c\/span\u003e\u003c\/p\u003e\n\u003c\/li\u003e\n\u003cli data-mce-fragment=\"1\"\u003e\n\u003cp data-mce-fragment=\"1\"\u003e\u003cspan data-mce-fragment=\"1\" mce-data-marked=\"1\"\u003e\u003c\/span\u003e\u003cstrong data-mce-fragment=\"1\"\u003eSize:\u003c\/strong\u003e\u003c\/p\u003e\n\u003c\/li\u003e\n\u003c\/ul\u003e\n\u003cdiv\u003e\u003cb\u003e\u003cimg alt=\"\" src=\"https:\/\/cdn.shopify.com\/s\/files\/1\/0356\/3048\/1544\/files\/0010_164af2b3-9a15-4ace-940b-afd279e509d7_480x480.jpg?v=1662709308\" style=\"display: block; margin-left: auto; margin-right: auto;\"\u003e\u003c\/b\u003e\u003c\/div\u003e\n\u003ch3 data-mce-fragment=\"1\"\u003e\u003cspan style=\"color: #ff2a00;\" data-mce-fragment=\"1\"\u003ePACKAGE\u003c\/span\u003e\u003c\/h3\u003e\n\u003cul data-mce-fragment=\"1\"\u003e\n\u003cli data-mce-fragment=\"1\"\u003e1 * Powerful Decontamination Floor Cleaner\u003c\/li\u003e\n\u003c\/ul\u003e\n\u003ch3 data-mce-fragment=\"1\"\u003e\u003cspan style=\"color: #ff2a00;\" data-mce-fragment=\"1\"\u003e\u003cstrong data-mce-fragment=\"1\"\u003eNOTE\u003c\/strong\u003e\u003c\/span\u003e\u003c\/h3\u003e\n\u003cul data-mce-fragment=\"1\"\u003e\n\u003cli data-mce-fragment=\"1\"\u003e\n\u003cp data-mce-fragment=\"1\"\u003e\u003cspan data-mce-fragment=\"1\"\u003ePlease allow slight measurement deviations due to manual measurement.\u003c\/span\u003e\u003c\/p\u003e\n\u003c\/li\u003e\n\u003cli data-mce-fragment=\"1\"\u003e\n\u003cp data-mce-fragment=\"1\"\u003e\u003cspan data-mce-fragment=\"1\"\u003eDue to the different monitor and light effect, the actual color of the item might be slightly different from the color showed in the pictures.\u003c\/span\u003e\u003c\/p\u003e\n\u003c\/li\u003e\n\u003c\/ul\u003e"}
Adding product to your cart
FEATURES
✨Brighten Your Floors: Wipe away spills, stains, and dust to restore your floors'

 

natural shine, decontamination, and quick drying the floor is as clean as new.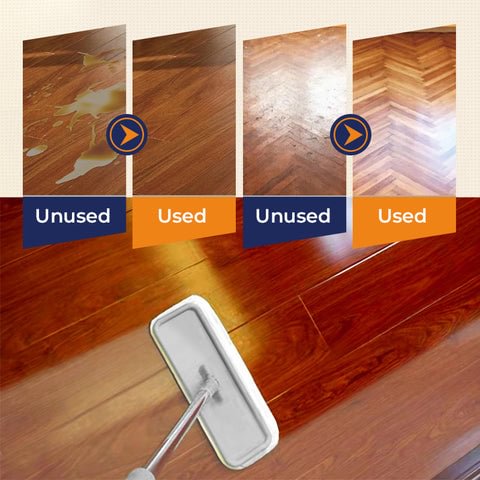 ✨

Easily Remove A Variety Of Stubborn Stains:

 Quickly

 

removes built-up dirt, grease, water, footprints, and sticky stains, leaving your floors sparkling and naturally fresh!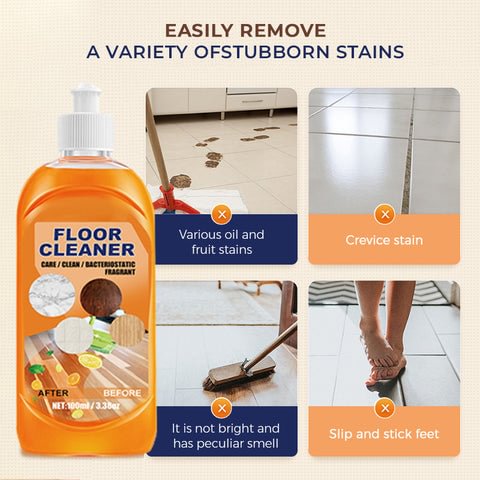 ✨

Multipurpose Cleaning: 

Not only can be used to clean all kinds of

 

wood floors, tile floors, and marble, but also can be used to clean 

ceramics, wooden furniture, sinks, refrigerators, windows, kitchens

,

 

and so on.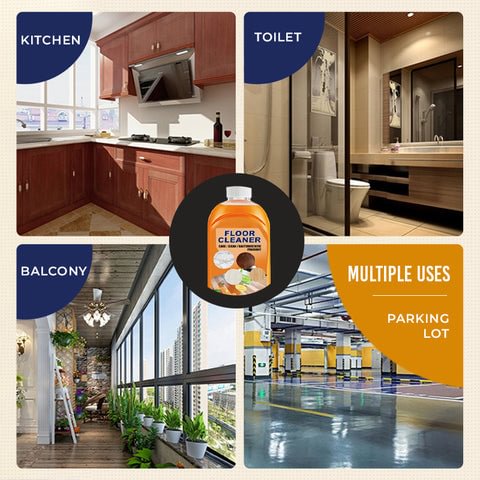 ✨

Naturally Aromatic Scents:

 No harsh scents here!

 

Fresh lemon scent removes unpleasant odors of the floor, and leaves a faint naturally scented on the floor.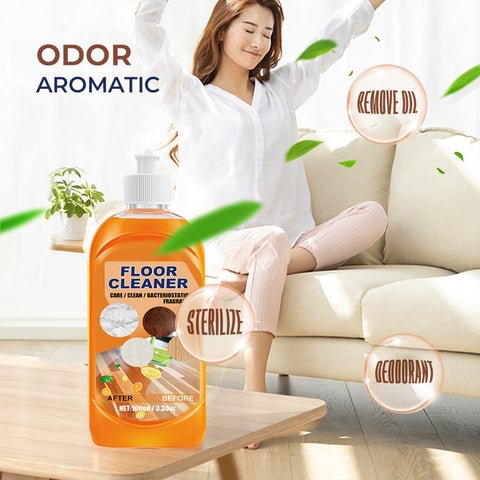 ✨

Safe And Gentle: 

Made with

 

decontamination factor + plant extract, it does not hurt the floor, does not contain any irritating and harmful ingredients, and can be used by children and the elderly at home.
SPECIFICATIONS
Weight: 120g

Color: As Shown

Ingredients: Plant-safe ingredients


Capacity: 100ML


Storage method: Cool and dry place

Size:
PACKAGE
1 * Powerful Decontamination Floor Cleaner
NOTE
Please allow slight measurement deviations due to manual measurement.

Due to the different monitor and light effect, the actual color of the item might be slightly different from the color showed in the pictures.