{"id":7129630539865,"title":"Puff Sleeve Tunic Top","handle":"puff-sleeve-tunic-top","description":"\u003ch3 data-mce-fragment=\"1\"\u003e\u003cspan style=\"color: #ff2a00;\" data-mce-fragment=\"1\"\u003e\u003cstrong data-mce-fragment=\"1\"\u003eFEATURES\u003c\/strong\u003e\u003c\/span\u003e\u003c\/h3\u003e\n\u003cul class=\"a-unordered-list a-vertical a-spacing-mini\"\u003e\n\u003cli\u003e\n\u003cp\u003e\u003cspan class=\"a-list-item\"\u003e\u003cstrong\u003e♥Breathable material:\u003c\/strong\u003e This tunic is made of breathable fabric, suitable thickness makes it light to wear for all seasons.\u003c\/span\u003e\u003c\/p\u003e\n\u003c\/li\u003e\n\u003c\/ul\u003e\n\u003cdiv\u003e\u003cimg src=\"https:\/\/cdn.shopifycdn.net\/s\/files\/1\/0356\/3048\/1544\/files\/1_251b3d31-38d5-4685-bffc-1e61b60bdfb5_480x480.jpg?v=1660294531\" alt=\"\" style=\"display: block; margin-left: auto; margin-right: auto;\" data-mce-fragment=\"1\" data-mce-src=\"https:\/\/cdn.shopifycdn.net\/s\/files\/1\/0356\/3048\/1544\/files\/1_251b3d31-38d5-4685-bffc-1e61b60bdfb5_480x480.jpg?v=1660294531\"\u003e\u003c\/div\u003e\n\u003cul class=\"a-unordered-list a-vertical a-spacing-mini\"\u003e\n\u003cli\u003e\n\u003cp\u003e\u003cspan class=\"a-list-item\"\u003e\u003cstrong\u003e♥Casual yet stylish:\u003c\/strong\u003e Puff sleeves are friendly to our upper arms; Smocked cuffs add an elegant feminine touch; Elastic shoulder makes this shirt more versatile as a cold shoulder top; suitable length covers butt; Pleated high waist hides your tummy.\u003c\/span\u003e\u003c\/p\u003e\n\u003c\/li\u003e\n\u003c\/ul\u003e\n\u003cdiv\u003e\u003cimg src=\"https:\/\/cdn.shopifycdn.net\/s\/files\/1\/0356\/3048\/1544\/files\/fm_a2df5af5-c3da-47af-8a36-09e9166a895f_480x480.jpg?v=1660294553\" alt=\"\" style=\"display: block; margin-left: auto; margin-right: auto;\" data-mce-fragment=\"1\" data-mce-src=\"https:\/\/cdn.shopifycdn.net\/s\/files\/1\/0356\/3048\/1544\/files\/fm_a2df5af5-c3da-47af-8a36-09e9166a895f_480x480.jpg?v=1660294553\"\u003e\u003c\/div\u003e\n\u003cul class=\"a-unordered-list a-vertical a-spacing-mini\"\u003e\n\u003cli\u003e\n\u003cp\u003e\u003cspan class=\"a-list-item\"\u003e\u003cstrong\u003e♥Multiple ways to wear:\u003c\/strong\u003e This tunic could be dressed up or down. You could simply wear it casually or put a chic wide waist belt with it for a stylish look. Otherwise, it can be worn as an off shoulder top as well.\u003c\/span\u003e\u003c\/p\u003e\n\u003c\/li\u003e\n\u003c\/ul\u003e\n\u003ch3 data-mce-fragment=\"1\"\u003e\u003cspan style=\"color: #ff2a00;\" data-mce-fragment=\"1\"\u003e\u003cstrong data-mce-fragment=\"1\"\u003eSPECIFICATIONS\u003c\/strong\u003e\u003c\/span\u003e\u003c\/h3\u003e\n\u003cul data-mce-fragment=\"1\"\u003e\n\u003cli data-mce-fragment=\"1\"\u003e\n\u003cdiv class=\"TPWcv\" data-mce-fragment=\"1\"\u003e\n\u003cp class=\"S7cEd\" data-mce-fragment=\"1\"\u003e\u003cspan class=\"Polaris-TextStyle--variationStrong_rpyvj\" data-mce-fragment=\"1\"\u003e\u003cstrong data-mce-fragment=\"1\"\u003eColor:\u003c\/strong\u003e\u003cspan data-mce-fragment=\"1\"\u003e \u003cspan class=\"Polaris-Badge_2qgie\" data-mce-fragment=\"1\"\u003eAs Shown\u003c\/span\u003e\u003c\/span\u003e\u003c\/span\u003e\u003c\/p\u003e\n\u003c\/div\u003e\n\u003c\/li\u003e\n\u003cli data-mce-fragment=\"1\"\u003e\n\u003cp data-mce-fragment=\"1\"\u003e\u003cstrong data-mce-fragment=\"1\"\u003eWeight:\u003c\/strong\u003e\u003cspan data-mce-fragment=\"1\"\u003e 26\u003c\/span\u003e0g\u003c\/p\u003e\n\u003c\/li\u003e\n\u003cli data-mce-fragment=\"1\"\u003e\n\u003cdiv class=\"TPWcv\" data-mce-fragment=\"1\"\u003e\n\u003cdiv class=\"TPWcv\" data-mce-fragment=\"1\"\u003e\n\u003cp class=\"S7cEd\" data-mce-fragment=\"1\"\u003e\u003cstrong data-mce-fragment=\"1\"\u003e\u003cspan class=\"Polaris-TextStyle--variationStrong_rpyvj\" data-mce-fragment=\"1\" mce-data-marked=\"1\"\u003eMaterial: \u003cspan data-mce-fragment=\"1\"\u003e \u003c\/span\u003e\u003c\/span\u003e\u003c\/strong\u003e\u003cspan class=\"Polaris-TextStyle--variationStrong_rpyvj\" data-mce-fragment=\"1\" mce-data-marked=\"1\"\u003ePolyester\u003c\/span\u003e\u003c\/p\u003e\n\u003c\/div\u003e\n\u003c\/div\u003e\n\u003c\/li\u003e\n\u003cli data-mce-fragment=\"1\"\u003e\n\u003cp data-mce-fragment=\"1\"\u003e\u003cstrong data-mce-fragment=\"1\"\u003eSize:\u003c\/strong\u003e \u003c\/p\u003e\n\u003c\/li\u003e\n\u003c\/ul\u003e\n\u003ctable style=\"width: 545px;\" data-mce-fragment=\"1\"\u003e\n\u003ctbody data-mce-fragment=\"1\"\u003e\n\u003ctr data-mce-fragment=\"1\"\u003e\n\u003ctd style=\"width: 89px; text-align: center;\" data-mce-fragment=\"1\"\u003eSize(cm\/in)\u003c\/td\u003e\n\u003ctd style=\"width: 120.844px; text-align: center;\" data-mce-fragment=\"1\"\u003eLength\u003cbr data-mce-fragment=\"1\"\u003e\n\u003c\/td\u003e\n\u003ctd style=\"width: 101.156px; text-align: center;\" data-mce-fragment=\"1\"\u003eWaist\u003c\/td\u003e\n\u003ctd style=\"width: 92px; text-align: center;\" data-mce-fragment=\"1\"\u003eSleeve\u003c\/td\u003e\n\u003ctd style=\"width: 105px; text-align: center;\" data-mce-fragment=\"1\"\u003e Bust\u003c\/td\u003e\n\u003c\/tr\u003e\n\u003ctr data-mce-fragment=\"1\"\u003e\n\u003ctd style=\"width: 89px; text-align: center;\" data-mce-fragment=\"1\"\u003eS\u003c\/td\u003e\n\u003ctd style=\"width: 120.844px; text-align: center;\" data-mce-fragment=\"1\"\u003e68\/26.77\u003c\/td\u003e\n\u003ctd style=\"width: 101.156px; text-align: center;\" data-mce-fragment=\"1\"\u003e78\/30.71\u003c\/td\u003e\n\u003ctd style=\"width: 92px; text-align: center;\" data-mce-fragment=\"1\"\u003e64\/25.20\u003cbr data-mce-fragment=\"1\"\u003e\n\u003c\/td\u003e\n\u003ctd style=\"width: 105px; text-align: center;\" data-mce-fragment=\"1\"\u003e88\/34.65\u003c\/td\u003e\n\u003c\/tr\u003e\n\u003ctr data-mce-fragment=\"1\"\u003e\n\u003ctd style=\"width: 89px; text-align: center;\" data-mce-fragment=\"1\"\u003eM\u003c\/td\u003e\n\u003ctd style=\"width: 120.844px; text-align: center;\" data-mce-fragment=\"1\"\u003e69\/27.17\u003c\/td\u003e\n\u003ctd style=\"width: 101.156px; text-align: center;\" data-mce-fragment=\"1\"\u003e83\/32.68\u003c\/td\u003e\n\u003ctd style=\"width: 92px; text-align: center;\" data-mce-fragment=\"1\"\u003e65\/25.59\u003c\/td\u003e\n\u003ctd style=\"width: 105px; text-align: center;\" data-mce-fragment=\"1\"\u003e93\/36.61\u003c\/td\u003e\n\u003c\/tr\u003e\n\u003ctr data-mce-fragment=\"1\"\u003e\n\u003ctd style=\"width: 89px; text-align: center;\" data-mce-fragment=\"1\"\u003eL\u003c\/td\u003e\n\u003ctd style=\"width: 120.844px; text-align: center;\" data-mce-fragment=\"1\"\u003e70\/27.56\u003c\/td\u003e\n\u003ctd style=\"width: 101.156px; text-align: center;\" data-mce-fragment=\"1\"\u003e86\/\u003cspan data-mce-fragment=\"1\"\u003e33.86\u003c\/span\u003e\n\u003c\/td\u003e\n\u003ctd style=\"width: 92px; text-align: center;\" data-mce-fragment=\"1\"\u003e66\/25.98\u003c\/td\u003e\n\u003ctd style=\"width: 105px; text-align: center;\" data-mce-fragment=\"1\"\u003e98\/38.58\u003c\/td\u003e\n\u003c\/tr\u003e\n\u003ctr data-mce-fragment=\"1\"\u003e\n\u003ctd style=\"width: 89px; text-align: center;\" data-mce-fragment=\"1\"\u003eXL\u003c\/td\u003e\n\u003ctd style=\"width: 120.844px; text-align: center;\" data-mce-fragment=\"1\"\u003e71\/27.95\u003c\/td\u003e\n\u003ctd style=\"width: 101.156px; text-align: center;\" data-mce-fragment=\"1\"\u003e96\/37.80\u003c\/td\u003e\n\u003ctd style=\"width: 92px; text-align: center;\" data-mce-fragment=\"1\"\u003e67\/26.38\u003c\/td\u003e\n\u003ctd style=\"width: 105px; text-align: center;\" data-mce-fragment=\"1\"\u003e106\/41.73\u003c\/td\u003e\n\u003c\/tr\u003e\n\u003ctr data-mce-fragment=\"1\"\u003e\n\u003ctd style=\"width: 89px; text-align: center;\" data-mce-fragment=\"1\"\u003e2XL\u003c\/td\u003e\n\u003ctd style=\"width: 120.844px; text-align: center;\" data-mce-fragment=\"1\"\u003e\u003cspan data-mce-fragment=\"1\"\u003e72\/28.35\u003c\/span\u003e\u003c\/td\u003e\n\u003ctd style=\"width: 101.156px; text-align: center;\" data-mce-fragment=\"1\"\u003e104\/40.94\u003c\/td\u003e\n\u003ctd style=\"width: 92px; text-align: center;\" data-mce-fragment=\"1\"\u003e68\/26.77\u003c\/td\u003e\n\u003ctd style=\"width: 105px; text-align: center;\" data-mce-fragment=\"1\"\u003e114\/44.88\u003c\/td\u003e\n\u003c\/tr\u003e\n\u003c\/tbody\u003e\n\u003c\/table\u003e\n\u003cbr data-mce-fragment=\"1\"\u003e\n\u003cul data-mce-fragment=\"1\"\u003e\u003c\/ul\u003e\n\u003cul data-mce-fragment=\"1\"\u003e\u003c\/ul\u003e\n\u003ch3 data-mce-fragment=\"1\"\u003e\u003cspan style=\"color: #ff2a00;\" data-mce-fragment=\"1\"\u003ePACKAGE\u003c\/span\u003e\u003c\/h3\u003e\n\u003cul data-mce-fragment=\"1\"\u003e\n\u003cli data-mce-fragment=\"1\"\u003e\u003cspan data-mce-fragment=\"1\"\u003e1 * Puff Sleeve Tunic Top\u003c\/span\u003e\u003c\/li\u003e\n\u003c\/ul\u003e\n\u003ch3 data-mce-fragment=\"1\"\u003e\u003cspan style=\"color: #ff2a00;\" data-mce-fragment=\"1\"\u003e\u003cstrong data-mce-fragment=\"1\"\u003eNOTE\u003c\/strong\u003e\u003c\/span\u003e\u003c\/h3\u003e\n\u003cul data-mce-fragment=\"1\"\u003e\n\u003cli data-mce-fragment=\"1\"\u003e\n\u003cp data-mce-fragment=\"1\"\u003ePlease allow slight measurement deviations due to manual measurement.\u003c\/p\u003e\n\u003c\/li\u003e\n\u003cli data-mce-fragment=\"1\"\u003e\n\u003cp data-mce-fragment=\"1\"\u003eDue to the different monitor and light effect, the actual color of the item might be slightly different from the color showed in the pictures.\u003c\/p\u003e\n\u003c\/li\u003e\n\u003c\/ul\u003e","published_at":"2022-08-14T21:40:15-10:00","created_at":"2022-08-14T21:40:31-10:00","vendor":"Suerteyay","type":"","tags":["women's clothing"],"price":2799,"price_min":2799,"price_max":2799,"available":true,"price_varies":false,"compare_at_price":5599,"compare_at_price_min":5599,"compare_at_price_max":5599,"compare_at_price_varies":false,"variants":[{"id":40151780491353,"title":"S \/ Style1","option1":"S","option2":"Style1","option3":null,"sku":"TS35583-S00S-X11756","requires_shipping":true,"taxable":false,"featured_image":{"id":30076843753561,"product_id":7129630539865,"position":16,"created_at":"2022-08-14T21:40:36-10:00","updated_at":"2022-08-14T21:40:36-10:00","alt":null,"width":800,"height":800,"src":"\/\/www.suerteyay.com\/cdn\/shop\/products\/O1CN01MDQhm71CmNTx2QV5Q__4084570123-0-cib_d4df4b68-915c-4eb8-9388-ecbdb34c7aa3.jpg?v=1660549236","variant_ids":[40151780491353,40151780687961,40151780884569,40151781081177,40151781277785]},"available":true,"name":"Puff Sleeve Tunic Top - S \/ Style1","public_title":"S \/ Style1","options":["S","Style1"],"price":2799,"weight":0,"compare_at_price":5599,"inventory_management":null,"barcode":null,"featured_media":{"alt":null,"id":22583648256089,"position":16,"preview_image":{"aspect_ratio":1.0,"height":800,"width":800,"src":"\/\/www.suerteyay.com\/cdn\/shop\/products\/O1CN01MDQhm71CmNTx2QV5Q__4084570123-0-cib_d4df4b68-915c-4eb8-9388-ecbdb34c7aa3.jpg?v=1660549236"}},"requires_selling_plan":false,"selling_plan_allocations":[],"quantity_rule":{"min":1,"max":null,"increment":1}},{"id":40151780524121,"title":"S \/ Style2","option1":"S","option2":"Style2","option3":null,"sku":"TS35583-S00S-X11757","requires_shipping":true,"taxable":false,"featured_image":{"id":30076844343385,"product_id":7129630539865,"position":18,"created_at":"2022-08-14T21:40:39-10:00","updated_at":"2022-08-14T21:40:39-10:00","alt":null,"width":800,"height":800,"src":"\/\/www.suerteyay.com\/cdn\/shop\/products\/6_cb123067-4f2f-42e7-aef1-3c10d8f64cb7.jpg?v=1660549239","variant_ids":[40151780524121,40151780720729,40151780917337,40151781113945,40151781310553]},"available":true,"name":"Puff Sleeve Tunic Top - S \/ Style2","public_title":"S \/ Style2","options":["S","Style2"],"price":2799,"weight":0,"compare_at_price":5599,"inventory_management":null,"barcode":null,"featured_media":{"alt":null,"id":22583648845913,"position":18,"preview_image":{"aspect_ratio":1.0,"height":800,"width":800,"src":"\/\/www.suerteyay.com\/cdn\/shop\/products\/6_cb123067-4f2f-42e7-aef1-3c10d8f64cb7.jpg?v=1660549239"}},"requires_selling_plan":false,"selling_plan_allocations":[],"quantity_rule":{"min":1,"max":null,"increment":1}},{"id":40151780556889,"title":"S \/ Style3","option1":"S","option2":"Style3","option3":null,"sku":"TS35583-S00S-X11758","requires_shipping":true,"taxable":false,"featured_image":{"id":30076844900441,"product_id":7129630539865,"position":21,"created_at":"2022-08-14T21:40:47-10:00","updated_at":"2022-08-14T21:40:47-10:00","alt":null,"width":800,"height":800,"src":"\/\/www.suerteyay.com\/cdn\/shop\/products\/1_538ba9f9-4aa2-49cb-9f0c-dd565986f7ae.jpg?v=1660549247","variant_ids":[40151780556889,40151780753497,40151780950105,40151781146713,40151781343321]},"available":true,"name":"Puff Sleeve Tunic Top - S \/ Style3","public_title":"S \/ Style3","options":["S","Style3"],"price":2799,"weight":0,"compare_at_price":5599,"inventory_management":null,"barcode":null,"featured_media":{"alt":null,"id":22583649402969,"position":21,"preview_image":{"aspect_ratio":1.0,"height":800,"width":800,"src":"\/\/www.suerteyay.com\/cdn\/shop\/products\/1_538ba9f9-4aa2-49cb-9f0c-dd565986f7ae.jpg?v=1660549247"}},"requires_selling_plan":false,"selling_plan_allocations":[],"quantity_rule":{"min":1,"max":null,"increment":1}},{"id":40151780589657,"title":"S \/ Style4","option1":"S","option2":"Style4","option3":null,"sku":"TS35583-S00S-X11759","requires_shipping":true,"taxable":false,"featured_image":{"id":30076844769369,"product_id":7129630539865,"position":20,"created_at":"2022-08-14T21:40:45-10:00","updated_at":"2022-08-14T21:40:45-10:00","alt":null,"width":800,"height":800,"src":"\/\/www.suerteyay.com\/cdn\/shop\/products\/4_e439816b-5a48-4471-9be8-1f53854a5600.jpg?v=1660549245","variant_ids":[40151780589657,40151780786265,40151780982873,40151781179481,40151781376089]},"available":true,"name":"Puff Sleeve Tunic Top - S \/ Style4","public_title":"S \/ Style4","options":["S","Style4"],"price":2799,"weight":0,"compare_at_price":5599,"inventory_management":null,"barcode":null,"featured_media":{"alt":null,"id":22583649271897,"position":20,"preview_image":{"aspect_ratio":1.0,"height":800,"width":800,"src":"\/\/www.suerteyay.com\/cdn\/shop\/products\/4_e439816b-5a48-4471-9be8-1f53854a5600.jpg?v=1660549245"}},"requires_selling_plan":false,"selling_plan_allocations":[],"quantity_rule":{"min":1,"max":null,"increment":1}},{"id":40151780622425,"title":"S \/ Style5","option1":"S","option2":"Style5","option3":null,"sku":"TS35583-S00S-X11760","requires_shipping":true,"taxable":false,"featured_image":{"id":30076844441689,"product_id":7129630539865,"position":19,"created_at":"2022-08-14T21:40:41-10:00","updated_at":"2022-08-14T21:40:41-10:00","alt":null,"width":800,"height":800,"src":"\/\/www.suerteyay.com\/cdn\/shop\/products\/3_fafe8dfb-a756-40a2-a65f-2e8a012fb578.jpg?v=1660549241","variant_ids":[40151780622425,40151780819033,40151781015641,40151781212249,40151781408857]},"available":true,"name":"Puff Sleeve Tunic Top - S \/ Style5","public_title":"S \/ Style5","options":["S","Style5"],"price":2799,"weight":0,"compare_at_price":5599,"inventory_management":null,"barcode":null,"featured_media":{"alt":null,"id":22583648944217,"position":19,"preview_image":{"aspect_ratio":1.0,"height":800,"width":800,"src":"\/\/www.suerteyay.com\/cdn\/shop\/products\/3_fafe8dfb-a756-40a2-a65f-2e8a012fb578.jpg?v=1660549241"}},"requires_selling_plan":false,"selling_plan_allocations":[],"quantity_rule":{"min":1,"max":null,"increment":1}},{"id":40151780655193,"title":"S \/ Style6","option1":"S","option2":"Style6","option3":null,"sku":"TS35583-S00S-X11761","requires_shipping":true,"taxable":false,"featured_image":{"id":30076844146777,"product_id":7129630539865,"position":17,"created_at":"2022-08-14T21:40:38-10:00","updated_at":"2022-08-14T21:40:38-10:00","alt":null,"width":800,"height":800,"src":"\/\/www.suerteyay.com\/cdn\/shop\/products\/5_5504c1a7-01bd-48c1-b8c4-83a79ee7aec6.jpg?v=1660549238","variant_ids":[40151780655193,40151780851801,40151781048409,40151781245017,40151781441625]},"available":true,"name":"Puff Sleeve Tunic Top - S \/ Style6","public_title":"S \/ Style6","options":["S","Style6"],"price":2799,"weight":0,"compare_at_price":5599,"inventory_management":null,"barcode":null,"featured_media":{"alt":null,"id":22583648354393,"position":17,"preview_image":{"aspect_ratio":1.0,"height":800,"width":800,"src":"\/\/www.suerteyay.com\/cdn\/shop\/products\/5_5504c1a7-01bd-48c1-b8c4-83a79ee7aec6.jpg?v=1660549238"}},"requires_selling_plan":false,"selling_plan_allocations":[],"quantity_rule":{"min":1,"max":null,"increment":1}},{"id":40151780687961,"title":"M \/ Style1","option1":"M","option2":"Style1","option3":null,"sku":"TS35583-S00M-X11756","requires_shipping":true,"taxable":false,"featured_image":{"id":30076843753561,"product_id":7129630539865,"position":16,"created_at":"2022-08-14T21:40:36-10:00","updated_at":"2022-08-14T21:40:36-10:00","alt":null,"width":800,"height":800,"src":"\/\/www.suerteyay.com\/cdn\/shop\/products\/O1CN01MDQhm71CmNTx2QV5Q__4084570123-0-cib_d4df4b68-915c-4eb8-9388-ecbdb34c7aa3.jpg?v=1660549236","variant_ids":[40151780491353,40151780687961,40151780884569,40151781081177,40151781277785]},"available":true,"name":"Puff Sleeve Tunic Top - M \/ Style1","public_title":"M \/ Style1","options":["M","Style1"],"price":2799,"weight":0,"compare_at_price":5599,"inventory_management":null,"barcode":null,"featured_media":{"alt":null,"id":22583648256089,"position":16,"preview_image":{"aspect_ratio":1.0,"height":800,"width":800,"src":"\/\/www.suerteyay.com\/cdn\/shop\/products\/O1CN01MDQhm71CmNTx2QV5Q__4084570123-0-cib_d4df4b68-915c-4eb8-9388-ecbdb34c7aa3.jpg?v=1660549236"}},"requires_selling_plan":false,"selling_plan_allocations":[],"quantity_rule":{"min":1,"max":null,"increment":1}},{"id":40151780720729,"title":"M \/ Style2","option1":"M","option2":"Style2","option3":null,"sku":"TS35583-S00M-X11757","requires_shipping":true,"taxable":false,"featured_image":{"id":30076844343385,"product_id":7129630539865,"position":18,"created_at":"2022-08-14T21:40:39-10:00","updated_at":"2022-08-14T21:40:39-10:00","alt":null,"width":800,"height":800,"src":"\/\/www.suerteyay.com\/cdn\/shop\/products\/6_cb123067-4f2f-42e7-aef1-3c10d8f64cb7.jpg?v=1660549239","variant_ids":[40151780524121,40151780720729,40151780917337,40151781113945,40151781310553]},"available":true,"name":"Puff Sleeve Tunic Top - M \/ Style2","public_title":"M \/ Style2","options":["M","Style2"],"price":2799,"weight":0,"compare_at_price":5599,"inventory_management":null,"barcode":null,"featured_media":{"alt":null,"id":22583648845913,"position":18,"preview_image":{"aspect_ratio":1.0,"height":800,"width":800,"src":"\/\/www.suerteyay.com\/cdn\/shop\/products\/6_cb123067-4f2f-42e7-aef1-3c10d8f64cb7.jpg?v=1660549239"}},"requires_selling_plan":false,"selling_plan_allocations":[],"quantity_rule":{"min":1,"max":null,"increment":1}},{"id":40151780753497,"title":"M \/ Style3","option1":"M","option2":"Style3","option3":null,"sku":"TS35583-S00M-X11758","requires_shipping":true,"taxable":false,"featured_image":{"id":30076844900441,"product_id":7129630539865,"position":21,"created_at":"2022-08-14T21:40:47-10:00","updated_at":"2022-08-14T21:40:47-10:00","alt":null,"width":800,"height":800,"src":"\/\/www.suerteyay.com\/cdn\/shop\/products\/1_538ba9f9-4aa2-49cb-9f0c-dd565986f7ae.jpg?v=1660549247","variant_ids":[40151780556889,40151780753497,40151780950105,40151781146713,40151781343321]},"available":true,"name":"Puff Sleeve Tunic Top - M \/ Style3","public_title":"M \/ Style3","options":["M","Style3"],"price":2799,"weight":0,"compare_at_price":5599,"inventory_management":null,"barcode":null,"featured_media":{"alt":null,"id":22583649402969,"position":21,"preview_image":{"aspect_ratio":1.0,"height":800,"width":800,"src":"\/\/www.suerteyay.com\/cdn\/shop\/products\/1_538ba9f9-4aa2-49cb-9f0c-dd565986f7ae.jpg?v=1660549247"}},"requires_selling_plan":false,"selling_plan_allocations":[],"quantity_rule":{"min":1,"max":null,"increment":1}},{"id":40151780786265,"title":"M \/ Style4","option1":"M","option2":"Style4","option3":null,"sku":"TS35583-S00M-X11759","requires_shipping":true,"taxable":false,"featured_image":{"id":30076844769369,"product_id":7129630539865,"position":20,"created_at":"2022-08-14T21:40:45-10:00","updated_at":"2022-08-14T21:40:45-10:00","alt":null,"width":800,"height":800,"src":"\/\/www.suerteyay.com\/cdn\/shop\/products\/4_e439816b-5a48-4471-9be8-1f53854a5600.jpg?v=1660549245","variant_ids":[40151780589657,40151780786265,40151780982873,40151781179481,40151781376089]},"available":true,"name":"Puff Sleeve Tunic Top - M \/ Style4","public_title":"M \/ Style4","options":["M","Style4"],"price":2799,"weight":0,"compare_at_price":5599,"inventory_management":null,"barcode":null,"featured_media":{"alt":null,"id":22583649271897,"position":20,"preview_image":{"aspect_ratio":1.0,"height":800,"width":800,"src":"\/\/www.suerteyay.com\/cdn\/shop\/products\/4_e439816b-5a48-4471-9be8-1f53854a5600.jpg?v=1660549245"}},"requires_selling_plan":false,"selling_plan_allocations":[],"quantity_rule":{"min":1,"max":null,"increment":1}},{"id":40151780819033,"title":"M \/ Style5","option1":"M","option2":"Style5","option3":null,"sku":"TS35583-S00M-X11760","requires_shipping":true,"taxable":false,"featured_image":{"id":30076844441689,"product_id":7129630539865,"position":19,"created_at":"2022-08-14T21:40:41-10:00","updated_at":"2022-08-14T21:40:41-10:00","alt":null,"width":800,"height":800,"src":"\/\/www.suerteyay.com\/cdn\/shop\/products\/3_fafe8dfb-a756-40a2-a65f-2e8a012fb578.jpg?v=1660549241","variant_ids":[40151780622425,40151780819033,40151781015641,40151781212249,40151781408857]},"available":true,"name":"Puff Sleeve Tunic Top - M \/ Style5","public_title":"M \/ Style5","options":["M","Style5"],"price":2799,"weight":0,"compare_at_price":5599,"inventory_management":null,"barcode":null,"featured_media":{"alt":null,"id":22583648944217,"position":19,"preview_image":{"aspect_ratio":1.0,"height":800,"width":800,"src":"\/\/www.suerteyay.com\/cdn\/shop\/products\/3_fafe8dfb-a756-40a2-a65f-2e8a012fb578.jpg?v=1660549241"}},"requires_selling_plan":false,"selling_plan_allocations":[],"quantity_rule":{"min":1,"max":null,"increment":1}},{"id":40151780851801,"title":"M \/ Style6","option1":"M","option2":"Style6","option3":null,"sku":"TS35583-S00M-X11761","requires_shipping":true,"taxable":false,"featured_image":{"id":30076844146777,"product_id":7129630539865,"position":17,"created_at":"2022-08-14T21:40:38-10:00","updated_at":"2022-08-14T21:40:38-10:00","alt":null,"width":800,"height":800,"src":"\/\/www.suerteyay.com\/cdn\/shop\/products\/5_5504c1a7-01bd-48c1-b8c4-83a79ee7aec6.jpg?v=1660549238","variant_ids":[40151780655193,40151780851801,40151781048409,40151781245017,40151781441625]},"available":true,"name":"Puff Sleeve Tunic Top - M \/ Style6","public_title":"M \/ Style6","options":["M","Style6"],"price":2799,"weight":0,"compare_at_price":5599,"inventory_management":null,"barcode":null,"featured_media":{"alt":null,"id":22583648354393,"position":17,"preview_image":{"aspect_ratio":1.0,"height":800,"width":800,"src":"\/\/www.suerteyay.com\/cdn\/shop\/products\/5_5504c1a7-01bd-48c1-b8c4-83a79ee7aec6.jpg?v=1660549238"}},"requires_selling_plan":false,"selling_plan_allocations":[],"quantity_rule":{"min":1,"max":null,"increment":1}},{"id":40151780884569,"title":"L \/ Style1","option1":"L","option2":"Style1","option3":null,"sku":"TS35583-S00L-X11756","requires_shipping":true,"taxable":false,"featured_image":{"id":30076843753561,"product_id":7129630539865,"position":16,"created_at":"2022-08-14T21:40:36-10:00","updated_at":"2022-08-14T21:40:36-10:00","alt":null,"width":800,"height":800,"src":"\/\/www.suerteyay.com\/cdn\/shop\/products\/O1CN01MDQhm71CmNTx2QV5Q__4084570123-0-cib_d4df4b68-915c-4eb8-9388-ecbdb34c7aa3.jpg?v=1660549236","variant_ids":[40151780491353,40151780687961,40151780884569,40151781081177,40151781277785]},"available":true,"name":"Puff Sleeve Tunic Top - L \/ Style1","public_title":"L \/ Style1","options":["L","Style1"],"price":2799,"weight":0,"compare_at_price":5599,"inventory_management":null,"barcode":null,"featured_media":{"alt":null,"id":22583648256089,"position":16,"preview_image":{"aspect_ratio":1.0,"height":800,"width":800,"src":"\/\/www.suerteyay.com\/cdn\/shop\/products\/O1CN01MDQhm71CmNTx2QV5Q__4084570123-0-cib_d4df4b68-915c-4eb8-9388-ecbdb34c7aa3.jpg?v=1660549236"}},"requires_selling_plan":false,"selling_plan_allocations":[],"quantity_rule":{"min":1,"max":null,"increment":1}},{"id":40151780917337,"title":"L \/ Style2","option1":"L","option2":"Style2","option3":null,"sku":"TS35583-S00L-X11757","requires_shipping":true,"taxable":false,"featured_image":{"id":30076844343385,"product_id":7129630539865,"position":18,"created_at":"2022-08-14T21:40:39-10:00","updated_at":"2022-08-14T21:40:39-10:00","alt":null,"width":800,"height":800,"src":"\/\/www.suerteyay.com\/cdn\/shop\/products\/6_cb123067-4f2f-42e7-aef1-3c10d8f64cb7.jpg?v=1660549239","variant_ids":[40151780524121,40151780720729,40151780917337,40151781113945,40151781310553]},"available":true,"name":"Puff Sleeve Tunic Top - L \/ Style2","public_title":"L \/ Style2","options":["L","Style2"],"price":2799,"weight":0,"compare_at_price":5599,"inventory_management":null,"barcode":null,"featured_media":{"alt":null,"id":22583648845913,"position":18,"preview_image":{"aspect_ratio":1.0,"height":800,"width":800,"src":"\/\/www.suerteyay.com\/cdn\/shop\/products\/6_cb123067-4f2f-42e7-aef1-3c10d8f64cb7.jpg?v=1660549239"}},"requires_selling_plan":false,"selling_plan_allocations":[],"quantity_rule":{"min":1,"max":null,"increment":1}},{"id":40151780950105,"title":"L \/ Style3","option1":"L","option2":"Style3","option3":null,"sku":"TS35583-S00L-X11758","requires_shipping":true,"taxable":false,"featured_image":{"id":30076844900441,"product_id":7129630539865,"position":21,"created_at":"2022-08-14T21:40:47-10:00","updated_at":"2022-08-14T21:40:47-10:00","alt":null,"width":800,"height":800,"src":"\/\/www.suerteyay.com\/cdn\/shop\/products\/1_538ba9f9-4aa2-49cb-9f0c-dd565986f7ae.jpg?v=1660549247","variant_ids":[40151780556889,40151780753497,40151780950105,40151781146713,40151781343321]},"available":true,"name":"Puff Sleeve Tunic Top - L \/ Style3","public_title":"L \/ Style3","options":["L","Style3"],"price":2799,"weight":0,"compare_at_price":5599,"inventory_management":null,"barcode":null,"featured_media":{"alt":null,"id":22583649402969,"position":21,"preview_image":{"aspect_ratio":1.0,"height":800,"width":800,"src":"\/\/www.suerteyay.com\/cdn\/shop\/products\/1_538ba9f9-4aa2-49cb-9f0c-dd565986f7ae.jpg?v=1660549247"}},"requires_selling_plan":false,"selling_plan_allocations":[],"quantity_rule":{"min":1,"max":null,"increment":1}},{"id":40151780982873,"title":"L \/ Style4","option1":"L","option2":"Style4","option3":null,"sku":"TS35583-S00L-X11759","requires_shipping":true,"taxable":false,"featured_image":{"id":30076844769369,"product_id":7129630539865,"position":20,"created_at":"2022-08-14T21:40:45-10:00","updated_at":"2022-08-14T21:40:45-10:00","alt":null,"width":800,"height":800,"src":"\/\/www.suerteyay.com\/cdn\/shop\/products\/4_e439816b-5a48-4471-9be8-1f53854a5600.jpg?v=1660549245","variant_ids":[40151780589657,40151780786265,40151780982873,40151781179481,40151781376089]},"available":true,"name":"Puff Sleeve Tunic Top - L \/ Style4","public_title":"L \/ Style4","options":["L","Style4"],"price":2799,"weight":0,"compare_at_price":5599,"inventory_management":null,"barcode":null,"featured_media":{"alt":null,"id":22583649271897,"position":20,"preview_image":{"aspect_ratio":1.0,"height":800,"width":800,"src":"\/\/www.suerteyay.com\/cdn\/shop\/products\/4_e439816b-5a48-4471-9be8-1f53854a5600.jpg?v=1660549245"}},"requires_selling_plan":false,"selling_plan_allocations":[],"quantity_rule":{"min":1,"max":null,"increment":1}},{"id":40151781015641,"title":"L \/ Style5","option1":"L","option2":"Style5","option3":null,"sku":"TS35583-S00L-X11760","requires_shipping":true,"taxable":false,"featured_image":{"id":30076844441689,"product_id":7129630539865,"position":19,"created_at":"2022-08-14T21:40:41-10:00","updated_at":"2022-08-14T21:40:41-10:00","alt":null,"width":800,"height":800,"src":"\/\/www.suerteyay.com\/cdn\/shop\/products\/3_fafe8dfb-a756-40a2-a65f-2e8a012fb578.jpg?v=1660549241","variant_ids":[40151780622425,40151780819033,40151781015641,40151781212249,40151781408857]},"available":true,"name":"Puff Sleeve Tunic Top - L \/ Style5","public_title":"L \/ Style5","options":["L","Style5"],"price":2799,"weight":0,"compare_at_price":5599,"inventory_management":null,"barcode":null,"featured_media":{"alt":null,"id":22583648944217,"position":19,"preview_image":{"aspect_ratio":1.0,"height":800,"width":800,"src":"\/\/www.suerteyay.com\/cdn\/shop\/products\/3_fafe8dfb-a756-40a2-a65f-2e8a012fb578.jpg?v=1660549241"}},"requires_selling_plan":false,"selling_plan_allocations":[],"quantity_rule":{"min":1,"max":null,"increment":1}},{"id":40151781048409,"title":"L \/ Style6","option1":"L","option2":"Style6","option3":null,"sku":"TS35583-S00L-X11761","requires_shipping":true,"taxable":false,"featured_image":{"id":30076844146777,"product_id":7129630539865,"position":17,"created_at":"2022-08-14T21:40:38-10:00","updated_at":"2022-08-14T21:40:38-10:00","alt":null,"width":800,"height":800,"src":"\/\/www.suerteyay.com\/cdn\/shop\/products\/5_5504c1a7-01bd-48c1-b8c4-83a79ee7aec6.jpg?v=1660549238","variant_ids":[40151780655193,40151780851801,40151781048409,40151781245017,40151781441625]},"available":true,"name":"Puff Sleeve Tunic Top - L \/ Style6","public_title":"L \/ Style6","options":["L","Style6"],"price":2799,"weight":0,"compare_at_price":5599,"inventory_management":null,"barcode":null,"featured_media":{"alt":null,"id":22583648354393,"position":17,"preview_image":{"aspect_ratio":1.0,"height":800,"width":800,"src":"\/\/www.suerteyay.com\/cdn\/shop\/products\/5_5504c1a7-01bd-48c1-b8c4-83a79ee7aec6.jpg?v=1660549238"}},"requires_selling_plan":false,"selling_plan_allocations":[],"quantity_rule":{"min":1,"max":null,"increment":1}},{"id":40151781081177,"title":"XL \/ Style1","option1":"XL","option2":"Style1","option3":null,"sku":"TS35583-S00X-X11756","requires_shipping":true,"taxable":false,"featured_image":{"id":30076843753561,"product_id":7129630539865,"position":16,"created_at":"2022-08-14T21:40:36-10:00","updated_at":"2022-08-14T21:40:36-10:00","alt":null,"width":800,"height":800,"src":"\/\/www.suerteyay.com\/cdn\/shop\/products\/O1CN01MDQhm71CmNTx2QV5Q__4084570123-0-cib_d4df4b68-915c-4eb8-9388-ecbdb34c7aa3.jpg?v=1660549236","variant_ids":[40151780491353,40151780687961,40151780884569,40151781081177,40151781277785]},"available":true,"name":"Puff Sleeve Tunic Top - XL \/ Style1","public_title":"XL \/ Style1","options":["XL","Style1"],"price":2799,"weight":0,"compare_at_price":5599,"inventory_management":null,"barcode":null,"featured_media":{"alt":null,"id":22583648256089,"position":16,"preview_image":{"aspect_ratio":1.0,"height":800,"width":800,"src":"\/\/www.suerteyay.com\/cdn\/shop\/products\/O1CN01MDQhm71CmNTx2QV5Q__4084570123-0-cib_d4df4b68-915c-4eb8-9388-ecbdb34c7aa3.jpg?v=1660549236"}},"requires_selling_plan":false,"selling_plan_allocations":[],"quantity_rule":{"min":1,"max":null,"increment":1}},{"id":40151781113945,"title":"XL \/ Style2","option1":"XL","option2":"Style2","option3":null,"sku":"TS35583-S00X-X11757","requires_shipping":true,"taxable":false,"featured_image":{"id":30076844343385,"product_id":7129630539865,"position":18,"created_at":"2022-08-14T21:40:39-10:00","updated_at":"2022-08-14T21:40:39-10:00","alt":null,"width":800,"height":800,"src":"\/\/www.suerteyay.com\/cdn\/shop\/products\/6_cb123067-4f2f-42e7-aef1-3c10d8f64cb7.jpg?v=1660549239","variant_ids":[40151780524121,40151780720729,40151780917337,40151781113945,40151781310553]},"available":true,"name":"Puff Sleeve Tunic Top - XL \/ Style2","public_title":"XL \/ Style2","options":["XL","Style2"],"price":2799,"weight":0,"compare_at_price":5599,"inventory_management":null,"barcode":null,"featured_media":{"alt":null,"id":22583648845913,"position":18,"preview_image":{"aspect_ratio":1.0,"height":800,"width":800,"src":"\/\/www.suerteyay.com\/cdn\/shop\/products\/6_cb123067-4f2f-42e7-aef1-3c10d8f64cb7.jpg?v=1660549239"}},"requires_selling_plan":false,"selling_plan_allocations":[],"quantity_rule":{"min":1,"max":null,"increment":1}},{"id":40151781146713,"title":"XL \/ Style3","option1":"XL","option2":"Style3","option3":null,"sku":"TS35583-S00X-X11758","requires_shipping":true,"taxable":false,"featured_image":{"id":30076844900441,"product_id":7129630539865,"position":21,"created_at":"2022-08-14T21:40:47-10:00","updated_at":"2022-08-14T21:40:47-10:00","alt":null,"width":800,"height":800,"src":"\/\/www.suerteyay.com\/cdn\/shop\/products\/1_538ba9f9-4aa2-49cb-9f0c-dd565986f7ae.jpg?v=1660549247","variant_ids":[40151780556889,40151780753497,40151780950105,40151781146713,40151781343321]},"available":true,"name":"Puff Sleeve Tunic Top - XL \/ Style3","public_title":"XL \/ Style3","options":["XL","Style3"],"price":2799,"weight":0,"compare_at_price":5599,"inventory_management":null,"barcode":null,"featured_media":{"alt":null,"id":22583649402969,"position":21,"preview_image":{"aspect_ratio":1.0,"height":800,"width":800,"src":"\/\/www.suerteyay.com\/cdn\/shop\/products\/1_538ba9f9-4aa2-49cb-9f0c-dd565986f7ae.jpg?v=1660549247"}},"requires_selling_plan":false,"selling_plan_allocations":[],"quantity_rule":{"min":1,"max":null,"increment":1}},{"id":40151781179481,"title":"XL \/ Style4","option1":"XL","option2":"Style4","option3":null,"sku":"TS35583-S00X-X11759","requires_shipping":true,"taxable":false,"featured_image":{"id":30076844769369,"product_id":7129630539865,"position":20,"created_at":"2022-08-14T21:40:45-10:00","updated_at":"2022-08-14T21:40:45-10:00","alt":null,"width":800,"height":800,"src":"\/\/www.suerteyay.com\/cdn\/shop\/products\/4_e439816b-5a48-4471-9be8-1f53854a5600.jpg?v=1660549245","variant_ids":[40151780589657,40151780786265,40151780982873,40151781179481,40151781376089]},"available":true,"name":"Puff Sleeve Tunic Top - XL \/ Style4","public_title":"XL \/ Style4","options":["XL","Style4"],"price":2799,"weight":0,"compare_at_price":5599,"inventory_management":null,"barcode":null,"featured_media":{"alt":null,"id":22583649271897,"position":20,"preview_image":{"aspect_ratio":1.0,"height":800,"width":800,"src":"\/\/www.suerteyay.com\/cdn\/shop\/products\/4_e439816b-5a48-4471-9be8-1f53854a5600.jpg?v=1660549245"}},"requires_selling_plan":false,"selling_plan_allocations":[],"quantity_rule":{"min":1,"max":null,"increment":1}},{"id":40151781212249,"title":"XL \/ Style5","option1":"XL","option2":"Style5","option3":null,"sku":"TS35583-S00X-X11760","requires_shipping":true,"taxable":false,"featured_image":{"id":30076844441689,"product_id":7129630539865,"position":19,"created_at":"2022-08-14T21:40:41-10:00","updated_at":"2022-08-14T21:40:41-10:00","alt":null,"width":800,"height":800,"src":"\/\/www.suerteyay.com\/cdn\/shop\/products\/3_fafe8dfb-a756-40a2-a65f-2e8a012fb578.jpg?v=1660549241","variant_ids":[40151780622425,40151780819033,40151781015641,40151781212249,40151781408857]},"available":true,"name":"Puff Sleeve Tunic Top - XL \/ Style5","public_title":"XL \/ Style5","options":["XL","Style5"],"price":2799,"weight":0,"compare_at_price":5599,"inventory_management":null,"barcode":null,"featured_media":{"alt":null,"id":22583648944217,"position":19,"preview_image":{"aspect_ratio":1.0,"height":800,"width":800,"src":"\/\/www.suerteyay.com\/cdn\/shop\/products\/3_fafe8dfb-a756-40a2-a65f-2e8a012fb578.jpg?v=1660549241"}},"requires_selling_plan":false,"selling_plan_allocations":[],"quantity_rule":{"min":1,"max":null,"increment":1}},{"id":40151781245017,"title":"XL \/ Style6","option1":"XL","option2":"Style6","option3":null,"sku":"TS35583-S00X-X11761","requires_shipping":true,"taxable":false,"featured_image":{"id":30076844146777,"product_id":7129630539865,"position":17,"created_at":"2022-08-14T21:40:38-10:00","updated_at":"2022-08-14T21:40:38-10:00","alt":null,"width":800,"height":800,"src":"\/\/www.suerteyay.com\/cdn\/shop\/products\/5_5504c1a7-01bd-48c1-b8c4-83a79ee7aec6.jpg?v=1660549238","variant_ids":[40151780655193,40151780851801,40151781048409,40151781245017,40151781441625]},"available":true,"name":"Puff Sleeve Tunic Top - XL \/ Style6","public_title":"XL \/ Style6","options":["XL","Style6"],"price":2799,"weight":0,"compare_at_price":5599,"inventory_management":null,"barcode":null,"featured_media":{"alt":null,"id":22583648354393,"position":17,"preview_image":{"aspect_ratio":1.0,"height":800,"width":800,"src":"\/\/www.suerteyay.com\/cdn\/shop\/products\/5_5504c1a7-01bd-48c1-b8c4-83a79ee7aec6.jpg?v=1660549238"}},"requires_selling_plan":false,"selling_plan_allocations":[],"quantity_rule":{"min":1,"max":null,"increment":1}},{"id":40151781277785,"title":"2XL \/ Style1","option1":"2XL","option2":"Style1","option3":null,"sku":"TS35583-S02X-X11756","requires_shipping":true,"taxable":false,"featured_image":{"id":30076843753561,"product_id":7129630539865,"position":16,"created_at":"2022-08-14T21:40:36-10:00","updated_at":"2022-08-14T21:40:36-10:00","alt":null,"width":800,"height":800,"src":"\/\/www.suerteyay.com\/cdn\/shop\/products\/O1CN01MDQhm71CmNTx2QV5Q__4084570123-0-cib_d4df4b68-915c-4eb8-9388-ecbdb34c7aa3.jpg?v=1660549236","variant_ids":[40151780491353,40151780687961,40151780884569,40151781081177,40151781277785]},"available":true,"name":"Puff Sleeve Tunic Top - 2XL \/ Style1","public_title":"2XL \/ Style1","options":["2XL","Style1"],"price":2799,"weight":0,"compare_at_price":5599,"inventory_management":null,"barcode":null,"featured_media":{"alt":null,"id":22583648256089,"position":16,"preview_image":{"aspect_ratio":1.0,"height":800,"width":800,"src":"\/\/www.suerteyay.com\/cdn\/shop\/products\/O1CN01MDQhm71CmNTx2QV5Q__4084570123-0-cib_d4df4b68-915c-4eb8-9388-ecbdb34c7aa3.jpg?v=1660549236"}},"requires_selling_plan":false,"selling_plan_allocations":[],"quantity_rule":{"min":1,"max":null,"increment":1}},{"id":40151781310553,"title":"2XL \/ Style2","option1":"2XL","option2":"Style2","option3":null,"sku":"TS35583-S02X-X11757","requires_shipping":true,"taxable":false,"featured_image":{"id":30076844343385,"product_id":7129630539865,"position":18,"created_at":"2022-08-14T21:40:39-10:00","updated_at":"2022-08-14T21:40:39-10:00","alt":null,"width":800,"height":800,"src":"\/\/www.suerteyay.com\/cdn\/shop\/products\/6_cb123067-4f2f-42e7-aef1-3c10d8f64cb7.jpg?v=1660549239","variant_ids":[40151780524121,40151780720729,40151780917337,40151781113945,40151781310553]},"available":true,"name":"Puff Sleeve Tunic Top - 2XL \/ Style2","public_title":"2XL \/ Style2","options":["2XL","Style2"],"price":2799,"weight":0,"compare_at_price":5599,"inventory_management":null,"barcode":null,"featured_media":{"alt":null,"id":22583648845913,"position":18,"preview_image":{"aspect_ratio":1.0,"height":800,"width":800,"src":"\/\/www.suerteyay.com\/cdn\/shop\/products\/6_cb123067-4f2f-42e7-aef1-3c10d8f64cb7.jpg?v=1660549239"}},"requires_selling_plan":false,"selling_plan_allocations":[],"quantity_rule":{"min":1,"max":null,"increment":1}},{"id":40151781343321,"title":"2XL \/ Style3","option1":"2XL","option2":"Style3","option3":null,"sku":"TS35583-S02X-X11758","requires_shipping":true,"taxable":false,"featured_image":{"id":30076844900441,"product_id":7129630539865,"position":21,"created_at":"2022-08-14T21:40:47-10:00","updated_at":"2022-08-14T21:40:47-10:00","alt":null,"width":800,"height":800,"src":"\/\/www.suerteyay.com\/cdn\/shop\/products\/1_538ba9f9-4aa2-49cb-9f0c-dd565986f7ae.jpg?v=1660549247","variant_ids":[40151780556889,40151780753497,40151780950105,40151781146713,40151781343321]},"available":true,"name":"Puff Sleeve Tunic Top - 2XL \/ Style3","public_title":"2XL \/ Style3","options":["2XL","Style3"],"price":2799,"weight":0,"compare_at_price":5599,"inventory_management":null,"barcode":null,"featured_media":{"alt":null,"id":22583649402969,"position":21,"preview_image":{"aspect_ratio":1.0,"height":800,"width":800,"src":"\/\/www.suerteyay.com\/cdn\/shop\/products\/1_538ba9f9-4aa2-49cb-9f0c-dd565986f7ae.jpg?v=1660549247"}},"requires_selling_plan":false,"selling_plan_allocations":[],"quantity_rule":{"min":1,"max":null,"increment":1}},{"id":40151781376089,"title":"2XL \/ Style4","option1":"2XL","option2":"Style4","option3":null,"sku":"TS35583-S02X-X11759","requires_shipping":true,"taxable":false,"featured_image":{"id":30076844769369,"product_id":7129630539865,"position":20,"created_at":"2022-08-14T21:40:45-10:00","updated_at":"2022-08-14T21:40:45-10:00","alt":null,"width":800,"height":800,"src":"\/\/www.suerteyay.com\/cdn\/shop\/products\/4_e439816b-5a48-4471-9be8-1f53854a5600.jpg?v=1660549245","variant_ids":[40151780589657,40151780786265,40151780982873,40151781179481,40151781376089]},"available":true,"name":"Puff Sleeve Tunic Top - 2XL \/ Style4","public_title":"2XL \/ Style4","options":["2XL","Style4"],"price":2799,"weight":0,"compare_at_price":5599,"inventory_management":null,"barcode":null,"featured_media":{"alt":null,"id":22583649271897,"position":20,"preview_image":{"aspect_ratio":1.0,"height":800,"width":800,"src":"\/\/www.suerteyay.com\/cdn\/shop\/products\/4_e439816b-5a48-4471-9be8-1f53854a5600.jpg?v=1660549245"}},"requires_selling_plan":false,"selling_plan_allocations":[],"quantity_rule":{"min":1,"max":null,"increment":1}},{"id":40151781408857,"title":"2XL \/ Style5","option1":"2XL","option2":"Style5","option3":null,"sku":"TS35583-S02X-X11760","requires_shipping":true,"taxable":false,"featured_image":{"id":30076844441689,"product_id":7129630539865,"position":19,"created_at":"2022-08-14T21:40:41-10:00","updated_at":"2022-08-14T21:40:41-10:00","alt":null,"width":800,"height":800,"src":"\/\/www.suerteyay.com\/cdn\/shop\/products\/3_fafe8dfb-a756-40a2-a65f-2e8a012fb578.jpg?v=1660549241","variant_ids":[40151780622425,40151780819033,40151781015641,40151781212249,40151781408857]},"available":true,"name":"Puff Sleeve Tunic Top - 2XL \/ Style5","public_title":"2XL \/ Style5","options":["2XL","Style5"],"price":2799,"weight":0,"compare_at_price":5599,"inventory_management":null,"barcode":null,"featured_media":{"alt":null,"id":22583648944217,"position":19,"preview_image":{"aspect_ratio":1.0,"height":800,"width":800,"src":"\/\/www.suerteyay.com\/cdn\/shop\/products\/3_fafe8dfb-a756-40a2-a65f-2e8a012fb578.jpg?v=1660549241"}},"requires_selling_plan":false,"selling_plan_allocations":[],"quantity_rule":{"min":1,"max":null,"increment":1}},{"id":40151781441625,"title":"2XL \/ Style6","option1":"2XL","option2":"Style6","option3":null,"sku":"TS35583-S02X-X11761","requires_shipping":true,"taxable":false,"featured_image":{"id":30076844146777,"product_id":7129630539865,"position":17,"created_at":"2022-08-14T21:40:38-10:00","updated_at":"2022-08-14T21:40:38-10:00","alt":null,"width":800,"height":800,"src":"\/\/www.suerteyay.com\/cdn\/shop\/products\/5_5504c1a7-01bd-48c1-b8c4-83a79ee7aec6.jpg?v=1660549238","variant_ids":[40151780655193,40151780851801,40151781048409,40151781245017,40151781441625]},"available":true,"name":"Puff Sleeve Tunic Top - 2XL \/ Style6","public_title":"2XL \/ Style6","options":["2XL","Style6"],"price":2799,"weight":0,"compare_at_price":5599,"inventory_management":null,"barcode":null,"featured_media":{"alt":null,"id":22583648354393,"position":17,"preview_image":{"aspect_ratio":1.0,"height":800,"width":800,"src":"\/\/www.suerteyay.com\/cdn\/shop\/products\/5_5504c1a7-01bd-48c1-b8c4-83a79ee7aec6.jpg?v=1660549238"}},"requires_selling_plan":false,"selling_plan_allocations":[],"quantity_rule":{"min":1,"max":null,"increment":1}}],"images":["\/\/www.suerteyay.com\/cdn\/shop\/products\/1_0ed38c82-b922-4990-a3dc-6261001744a8.jpg?v=1660549231","\/\/www.suerteyay.com\/cdn\/shop\/products\/2_17f1e6f2-447e-465e-b4a8-34d777b74970.jpg?v=1660549231","\/\/www.suerteyay.com\/cdn\/shop\/products\/3_918c5f86-77ff-40bc-b758-c816e3cfa299.jpg?v=1660549231","\/\/www.suerteyay.com\/cdn\/shop\/products\/4_704b0d03-b897-4d12-9c8a-481ddd541b62.jpg?v=1660549231","\/\/www.suerteyay.com\/cdn\/shop\/products\/5_b40fa92f-d2c9-4f6f-a19e-92e4f42d3167.jpg?v=1660549231","\/\/www.suerteyay.com\/cdn\/shop\/products\/6_2be53dc3-cc28-4423-9d66-858bf35773f7.jpg?v=1660549231","\/\/www.suerteyay.com\/cdn\/shop\/products\/7_af54e93c-71d0-4d5d-940a-3a11b4a00c02.jpg?v=1660549231","\/\/www.suerteyay.com\/cdn\/shop\/products\/8_6709e0f7-6193-4acb-b775-2c6f6c0e1451.jpg?v=1660549231","\/\/www.suerteyay.com\/cdn\/shop\/products\/9_e8162dd7-6de1-4969-9055-d234a888dbf2.jpg?v=1660549231","\/\/www.suerteyay.com\/cdn\/shop\/products\/10_652d129b-58df-41ea-bd03-08675a166b92.jpg?v=1660549231","\/\/www.suerteyay.com\/cdn\/shop\/products\/11_56d5a20a-55a5-4fcd-88ba-bd278eac8ffd.jpg?v=1660549231","\/\/www.suerteyay.com\/cdn\/shop\/products\/12_5c5754a9-cd8d-478d-8f94-ccc2d1cdefde.jpg?v=1660549231","\/\/www.suerteyay.com\/cdn\/shop\/products\/fm_3fbce60d-6465-4a3c-9b3a-999406cb06f4.jpg?v=1660549231","\/\/www.suerteyay.com\/cdn\/shop\/products\/b8421501ceee8ed8defa49d79fc692df_2e12add5-5314-4c62-a985-98315f0583fe.jpg?v=1660549231","\/\/www.suerteyay.com\/cdn\/shop\/products\/O1CN01MDQhm71CmNTx2QV5Q__4084570123-0-cib.jpg?v=1660549231","\/\/www.suerteyay.com\/cdn\/shop\/products\/O1CN01MDQhm71CmNTx2QV5Q__4084570123-0-cib_d4df4b68-915c-4eb8-9388-ecbdb34c7aa3.jpg?v=1660549236","\/\/www.suerteyay.com\/cdn\/shop\/products\/5_5504c1a7-01bd-48c1-b8c4-83a79ee7aec6.jpg?v=1660549238","\/\/www.suerteyay.com\/cdn\/shop\/products\/6_cb123067-4f2f-42e7-aef1-3c10d8f64cb7.jpg?v=1660549239","\/\/www.suerteyay.com\/cdn\/shop\/products\/3_fafe8dfb-a756-40a2-a65f-2e8a012fb578.jpg?v=1660549241","\/\/www.suerteyay.com\/cdn\/shop\/products\/4_e439816b-5a48-4471-9be8-1f53854a5600.jpg?v=1660549245","\/\/www.suerteyay.com\/cdn\/shop\/products\/1_538ba9f9-4aa2-49cb-9f0c-dd565986f7ae.jpg?v=1660549247"],"featured_image":"\/\/www.suerteyay.com\/cdn\/shop\/products\/1_0ed38c82-b922-4990-a3dc-6261001744a8.jpg?v=1660549231","options":["Size","Style"],"media":[{"alt":null,"id":22583647600729,"position":1,"preview_image":{"aspect_ratio":1.0,"height":800,"width":800,"src":"\/\/www.suerteyay.com\/cdn\/shop\/products\/1_0ed38c82-b922-4990-a3dc-6261001744a8.jpg?v=1660549231"},"aspect_ratio":1.0,"height":800,"media_type":"image","src":"\/\/www.suerteyay.com\/cdn\/shop\/products\/1_0ed38c82-b922-4990-a3dc-6261001744a8.jpg?v=1660549231","width":800},{"alt":null,"id":22583647633497,"position":2,"preview_image":{"aspect_ratio":1.0,"height":800,"width":800,"src":"\/\/www.suerteyay.com\/cdn\/shop\/products\/2_17f1e6f2-447e-465e-b4a8-34d777b74970.jpg?v=1660549231"},"aspect_ratio":1.0,"height":800,"media_type":"image","src":"\/\/www.suerteyay.com\/cdn\/shop\/products\/2_17f1e6f2-447e-465e-b4a8-34d777b74970.jpg?v=1660549231","width":800},{"alt":null,"id":22583647666265,"position":3,"preview_image":{"aspect_ratio":1.0,"height":800,"width":800,"src":"\/\/www.suerteyay.com\/cdn\/shop\/products\/3_918c5f86-77ff-40bc-b758-c816e3cfa299.jpg?v=1660549231"},"aspect_ratio":1.0,"height":800,"media_type":"image","src":"\/\/www.suerteyay.com\/cdn\/shop\/products\/3_918c5f86-77ff-40bc-b758-c816e3cfa299.jpg?v=1660549231","width":800},{"alt":null,"id":22583647699033,"position":4,"preview_image":{"aspect_ratio":1.0,"height":800,"width":800,"src":"\/\/www.suerteyay.com\/cdn\/shop\/products\/4_704b0d03-b897-4d12-9c8a-481ddd541b62.jpg?v=1660549231"},"aspect_ratio":1.0,"height":800,"media_type":"image","src":"\/\/www.suerteyay.com\/cdn\/shop\/products\/4_704b0d03-b897-4d12-9c8a-481ddd541b62.jpg?v=1660549231","width":800},{"alt":null,"id":22583647731801,"position":5,"preview_image":{"aspect_ratio":1.0,"height":800,"width":800,"src":"\/\/www.suerteyay.com\/cdn\/shop\/products\/5_b40fa92f-d2c9-4f6f-a19e-92e4f42d3167.jpg?v=1660549231"},"aspect_ratio":1.0,"height":800,"media_type":"image","src":"\/\/www.suerteyay.com\/cdn\/shop\/products\/5_b40fa92f-d2c9-4f6f-a19e-92e4f42d3167.jpg?v=1660549231","width":800},{"alt":null,"id":22583647764569,"position":6,"preview_image":{"aspect_ratio":1.0,"height":800,"width":800,"src":"\/\/www.suerteyay.com\/cdn\/shop\/products\/6_2be53dc3-cc28-4423-9d66-858bf35773f7.jpg?v=1660549231"},"aspect_ratio":1.0,"height":800,"media_type":"image","src":"\/\/www.suerteyay.com\/cdn\/shop\/products\/6_2be53dc3-cc28-4423-9d66-858bf35773f7.jpg?v=1660549231","width":800},{"alt":null,"id":22583647797337,"position":7,"preview_image":{"aspect_ratio":1.0,"height":800,"width":800,"src":"\/\/www.suerteyay.com\/cdn\/shop\/products\/7_af54e93c-71d0-4d5d-940a-3a11b4a00c02.jpg?v=1660549231"},"aspect_ratio":1.0,"height":800,"media_type":"image","src":"\/\/www.suerteyay.com\/cdn\/shop\/products\/7_af54e93c-71d0-4d5d-940a-3a11b4a00c02.jpg?v=1660549231","width":800},{"alt":null,"id":22583647830105,"position":8,"preview_image":{"aspect_ratio":1.0,"height":800,"width":800,"src":"\/\/www.suerteyay.com\/cdn\/shop\/products\/8_6709e0f7-6193-4acb-b775-2c6f6c0e1451.jpg?v=1660549231"},"aspect_ratio":1.0,"height":800,"media_type":"image","src":"\/\/www.suerteyay.com\/cdn\/shop\/products\/8_6709e0f7-6193-4acb-b775-2c6f6c0e1451.jpg?v=1660549231","width":800},{"alt":null,"id":22583647862873,"position":9,"preview_image":{"aspect_ratio":1.0,"height":800,"width":800,"src":"\/\/www.suerteyay.com\/cdn\/shop\/products\/9_e8162dd7-6de1-4969-9055-d234a888dbf2.jpg?v=1660549231"},"aspect_ratio":1.0,"height":800,"media_type":"image","src":"\/\/www.suerteyay.com\/cdn\/shop\/products\/9_e8162dd7-6de1-4969-9055-d234a888dbf2.jpg?v=1660549231","width":800},{"alt":null,"id":22583647895641,"position":10,"preview_image":{"aspect_ratio":1.0,"height":800,"width":800,"src":"\/\/www.suerteyay.com\/cdn\/shop\/products\/10_652d129b-58df-41ea-bd03-08675a166b92.jpg?v=1660549231"},"aspect_ratio":1.0,"height":800,"media_type":"image","src":"\/\/www.suerteyay.com\/cdn\/shop\/products\/10_652d129b-58df-41ea-bd03-08675a166b92.jpg?v=1660549231","width":800},{"alt":null,"id":22583647928409,"position":11,"preview_image":{"aspect_ratio":1.0,"height":800,"width":800,"src":"\/\/www.suerteyay.com\/cdn\/shop\/products\/11_56d5a20a-55a5-4fcd-88ba-bd278eac8ffd.jpg?v=1660549231"},"aspect_ratio":1.0,"height":800,"media_type":"image","src":"\/\/www.suerteyay.com\/cdn\/shop\/products\/11_56d5a20a-55a5-4fcd-88ba-bd278eac8ffd.jpg?v=1660549231","width":800},{"alt":null,"id":22583647961177,"position":12,"preview_image":{"aspect_ratio":1.0,"height":800,"width":800,"src":"\/\/www.suerteyay.com\/cdn\/shop\/products\/12_5c5754a9-cd8d-478d-8f94-ccc2d1cdefde.jpg?v=1660549231"},"aspect_ratio":1.0,"height":800,"media_type":"image","src":"\/\/www.suerteyay.com\/cdn\/shop\/products\/12_5c5754a9-cd8d-478d-8f94-ccc2d1cdefde.jpg?v=1660549231","width":800},{"alt":null,"id":22583647993945,"position":13,"preview_image":{"aspect_ratio":1.0,"height":800,"width":800,"src":"\/\/www.suerteyay.com\/cdn\/shop\/products\/fm_3fbce60d-6465-4a3c-9b3a-999406cb06f4.jpg?v=1660549231"},"aspect_ratio":1.0,"height":800,"media_type":"image","src":"\/\/www.suerteyay.com\/cdn\/shop\/products\/fm_3fbce60d-6465-4a3c-9b3a-999406cb06f4.jpg?v=1660549231","width":800},{"alt":null,"id":22583648026713,"position":14,"preview_image":{"aspect_ratio":1.0,"height":800,"width":800,"src":"\/\/www.suerteyay.com\/cdn\/shop\/products\/b8421501ceee8ed8defa49d79fc692df_2e12add5-5314-4c62-a985-98315f0583fe.jpg?v=1660549231"},"aspect_ratio":1.0,"height":800,"media_type":"image","src":"\/\/www.suerteyay.com\/cdn\/shop\/products\/b8421501ceee8ed8defa49d79fc692df_2e12add5-5314-4c62-a985-98315f0583fe.jpg?v=1660549231","width":800},{"alt":null,"id":22583648059481,"position":15,"preview_image":{"aspect_ratio":1.0,"height":800,"width":800,"src":"\/\/www.suerteyay.com\/cdn\/shop\/products\/O1CN01MDQhm71CmNTx2QV5Q__4084570123-0-cib.jpg?v=1660549231"},"aspect_ratio":1.0,"height":800,"media_type":"image","src":"\/\/www.suerteyay.com\/cdn\/shop\/products\/O1CN01MDQhm71CmNTx2QV5Q__4084570123-0-cib.jpg?v=1660549231","width":800},{"alt":null,"id":22583648256089,"position":16,"preview_image":{"aspect_ratio":1.0,"height":800,"width":800,"src":"\/\/www.suerteyay.com\/cdn\/shop\/products\/O1CN01MDQhm71CmNTx2QV5Q__4084570123-0-cib_d4df4b68-915c-4eb8-9388-ecbdb34c7aa3.jpg?v=1660549236"},"aspect_ratio":1.0,"height":800,"media_type":"image","src":"\/\/www.suerteyay.com\/cdn\/shop\/products\/O1CN01MDQhm71CmNTx2QV5Q__4084570123-0-cib_d4df4b68-915c-4eb8-9388-ecbdb34c7aa3.jpg?v=1660549236","width":800},{"alt":null,"id":22583648354393,"position":17,"preview_image":{"aspect_ratio":1.0,"height":800,"width":800,"src":"\/\/www.suerteyay.com\/cdn\/shop\/products\/5_5504c1a7-01bd-48c1-b8c4-83a79ee7aec6.jpg?v=1660549238"},"aspect_ratio":1.0,"height":800,"media_type":"image","src":"\/\/www.suerteyay.com\/cdn\/shop\/products\/5_5504c1a7-01bd-48c1-b8c4-83a79ee7aec6.jpg?v=1660549238","width":800},{"alt":null,"id":22583648845913,"position":18,"preview_image":{"aspect_ratio":1.0,"height":800,"width":800,"src":"\/\/www.suerteyay.com\/cdn\/shop\/products\/6_cb123067-4f2f-42e7-aef1-3c10d8f64cb7.jpg?v=1660549239"},"aspect_ratio":1.0,"height":800,"media_type":"image","src":"\/\/www.suerteyay.com\/cdn\/shop\/products\/6_cb123067-4f2f-42e7-aef1-3c10d8f64cb7.jpg?v=1660549239","width":800},{"alt":null,"id":22583648944217,"position":19,"preview_image":{"aspect_ratio":1.0,"height":800,"width":800,"src":"\/\/www.suerteyay.com\/cdn\/shop\/products\/3_fafe8dfb-a756-40a2-a65f-2e8a012fb578.jpg?v=1660549241"},"aspect_ratio":1.0,"height":800,"media_type":"image","src":"\/\/www.suerteyay.com\/cdn\/shop\/products\/3_fafe8dfb-a756-40a2-a65f-2e8a012fb578.jpg?v=1660549241","width":800},{"alt":null,"id":22583649271897,"position":20,"preview_image":{"aspect_ratio":1.0,"height":800,"width":800,"src":"\/\/www.suerteyay.com\/cdn\/shop\/products\/4_e439816b-5a48-4471-9be8-1f53854a5600.jpg?v=1660549245"},"aspect_ratio":1.0,"height":800,"media_type":"image","src":"\/\/www.suerteyay.com\/cdn\/shop\/products\/4_e439816b-5a48-4471-9be8-1f53854a5600.jpg?v=1660549245","width":800},{"alt":null,"id":22583649402969,"position":21,"preview_image":{"aspect_ratio":1.0,"height":800,"width":800,"src":"\/\/www.suerteyay.com\/cdn\/shop\/products\/1_538ba9f9-4aa2-49cb-9f0c-dd565986f7ae.jpg?v=1660549247"},"aspect_ratio":1.0,"height":800,"media_type":"image","src":"\/\/www.suerteyay.com\/cdn\/shop\/products\/1_538ba9f9-4aa2-49cb-9f0c-dd565986f7ae.jpg?v=1660549247","width":800}],"requires_selling_plan":false,"selling_plan_groups":[],"content":"\u003ch3 data-mce-fragment=\"1\"\u003e\u003cspan style=\"color: #ff2a00;\" data-mce-fragment=\"1\"\u003e\u003cstrong data-mce-fragment=\"1\"\u003eFEATURES\u003c\/strong\u003e\u003c\/span\u003e\u003c\/h3\u003e\n\u003cul class=\"a-unordered-list a-vertical a-spacing-mini\"\u003e\n\u003cli\u003e\n\u003cp\u003e\u003cspan class=\"a-list-item\"\u003e\u003cstrong\u003e♥Breathable material:\u003c\/strong\u003e This tunic is made of breathable fabric, suitable thickness makes it light to wear for all seasons.\u003c\/span\u003e\u003c\/p\u003e\n\u003c\/li\u003e\n\u003c\/ul\u003e\n\u003cdiv\u003e\u003cimg src=\"https:\/\/cdn.shopifycdn.net\/s\/files\/1\/0356\/3048\/1544\/files\/1_251b3d31-38d5-4685-bffc-1e61b60bdfb5_480x480.jpg?v=1660294531\" alt=\"\" style=\"display: block; margin-left: auto; margin-right: auto;\" data-mce-fragment=\"1\" data-mce-src=\"https:\/\/cdn.shopifycdn.net\/s\/files\/1\/0356\/3048\/1544\/files\/1_251b3d31-38d5-4685-bffc-1e61b60bdfb5_480x480.jpg?v=1660294531\"\u003e\u003c\/div\u003e\n\u003cul class=\"a-unordered-list a-vertical a-spacing-mini\"\u003e\n\u003cli\u003e\n\u003cp\u003e\u003cspan class=\"a-list-item\"\u003e\u003cstrong\u003e♥Casual yet stylish:\u003c\/strong\u003e Puff sleeves are friendly to our upper arms; Smocked cuffs add an elegant feminine touch; Elastic shoulder makes this shirt more versatile as a cold shoulder top; suitable length covers butt; Pleated high waist hides your tummy.\u003c\/span\u003e\u003c\/p\u003e\n\u003c\/li\u003e\n\u003c\/ul\u003e\n\u003cdiv\u003e\u003cimg src=\"https:\/\/cdn.shopifycdn.net\/s\/files\/1\/0356\/3048\/1544\/files\/fm_a2df5af5-c3da-47af-8a36-09e9166a895f_480x480.jpg?v=1660294553\" alt=\"\" style=\"display: block; margin-left: auto; margin-right: auto;\" data-mce-fragment=\"1\" data-mce-src=\"https:\/\/cdn.shopifycdn.net\/s\/files\/1\/0356\/3048\/1544\/files\/fm_a2df5af5-c3da-47af-8a36-09e9166a895f_480x480.jpg?v=1660294553\"\u003e\u003c\/div\u003e\n\u003cul class=\"a-unordered-list a-vertical a-spacing-mini\"\u003e\n\u003cli\u003e\n\u003cp\u003e\u003cspan class=\"a-list-item\"\u003e\u003cstrong\u003e♥Multiple ways to wear:\u003c\/strong\u003e This tunic could be dressed up or down. You could simply wear it casually or put a chic wide waist belt with it for a stylish look. Otherwise, it can be worn as an off shoulder top as well.\u003c\/span\u003e\u003c\/p\u003e\n\u003c\/li\u003e\n\u003c\/ul\u003e\n\u003ch3 data-mce-fragment=\"1\"\u003e\u003cspan style=\"color: #ff2a00;\" data-mce-fragment=\"1\"\u003e\u003cstrong data-mce-fragment=\"1\"\u003eSPECIFICATIONS\u003c\/strong\u003e\u003c\/span\u003e\u003c\/h3\u003e\n\u003cul data-mce-fragment=\"1\"\u003e\n\u003cli data-mce-fragment=\"1\"\u003e\n\u003cdiv class=\"TPWcv\" data-mce-fragment=\"1\"\u003e\n\u003cp class=\"S7cEd\" data-mce-fragment=\"1\"\u003e\u003cspan class=\"Polaris-TextStyle--variationStrong_rpyvj\" data-mce-fragment=\"1\"\u003e\u003cstrong data-mce-fragment=\"1\"\u003eColor:\u003c\/strong\u003e\u003cspan data-mce-fragment=\"1\"\u003e \u003cspan class=\"Polaris-Badge_2qgie\" data-mce-fragment=\"1\"\u003eAs Shown\u003c\/span\u003e\u003c\/span\u003e\u003c\/span\u003e\u003c\/p\u003e\n\u003c\/div\u003e\n\u003c\/li\u003e\n\u003cli data-mce-fragment=\"1\"\u003e\n\u003cp data-mce-fragment=\"1\"\u003e\u003cstrong data-mce-fragment=\"1\"\u003eWeight:\u003c\/strong\u003e\u003cspan data-mce-fragment=\"1\"\u003e 26\u003c\/span\u003e0g\u003c\/p\u003e\n\u003c\/li\u003e\n\u003cli data-mce-fragment=\"1\"\u003e\n\u003cdiv class=\"TPWcv\" data-mce-fragment=\"1\"\u003e\n\u003cdiv class=\"TPWcv\" data-mce-fragment=\"1\"\u003e\n\u003cp class=\"S7cEd\" data-mce-fragment=\"1\"\u003e\u003cstrong data-mce-fragment=\"1\"\u003e\u003cspan class=\"Polaris-TextStyle--variationStrong_rpyvj\" data-mce-fragment=\"1\" mce-data-marked=\"1\"\u003eMaterial: \u003cspan data-mce-fragment=\"1\"\u003e \u003c\/span\u003e\u003c\/span\u003e\u003c\/strong\u003e\u003cspan class=\"Polaris-TextStyle--variationStrong_rpyvj\" data-mce-fragment=\"1\" mce-data-marked=\"1\"\u003ePolyester\u003c\/span\u003e\u003c\/p\u003e\n\u003c\/div\u003e\n\u003c\/div\u003e\n\u003c\/li\u003e\n\u003cli data-mce-fragment=\"1\"\u003e\n\u003cp data-mce-fragment=\"1\"\u003e\u003cstrong data-mce-fragment=\"1\"\u003eSize:\u003c\/strong\u003e \u003c\/p\u003e\n\u003c\/li\u003e\n\u003c\/ul\u003e\n\u003ctable style=\"width: 545px;\" data-mce-fragment=\"1\"\u003e\n\u003ctbody data-mce-fragment=\"1\"\u003e\n\u003ctr data-mce-fragment=\"1\"\u003e\n\u003ctd style=\"width: 89px; text-align: center;\" data-mce-fragment=\"1\"\u003eSize(cm\/in)\u003c\/td\u003e\n\u003ctd style=\"width: 120.844px; text-align: center;\" data-mce-fragment=\"1\"\u003eLength\u003cbr data-mce-fragment=\"1\"\u003e\n\u003c\/td\u003e\n\u003ctd style=\"width: 101.156px; text-align: center;\" data-mce-fragment=\"1\"\u003eWaist\u003c\/td\u003e\n\u003ctd style=\"width: 92px; text-align: center;\" data-mce-fragment=\"1\"\u003eSleeve\u003c\/td\u003e\n\u003ctd style=\"width: 105px; text-align: center;\" data-mce-fragment=\"1\"\u003e Bust\u003c\/td\u003e\n\u003c\/tr\u003e\n\u003ctr data-mce-fragment=\"1\"\u003e\n\u003ctd style=\"width: 89px; text-align: center;\" data-mce-fragment=\"1\"\u003eS\u003c\/td\u003e\n\u003ctd style=\"width: 120.844px; text-align: center;\" data-mce-fragment=\"1\"\u003e68\/26.77\u003c\/td\u003e\n\u003ctd style=\"width: 101.156px; text-align: center;\" data-mce-fragment=\"1\"\u003e78\/30.71\u003c\/td\u003e\n\u003ctd style=\"width: 92px; text-align: center;\" data-mce-fragment=\"1\"\u003e64\/25.20\u003cbr data-mce-fragment=\"1\"\u003e\n\u003c\/td\u003e\n\u003ctd style=\"width: 105px; text-align: center;\" data-mce-fragment=\"1\"\u003e88\/34.65\u003c\/td\u003e\n\u003c\/tr\u003e\n\u003ctr data-mce-fragment=\"1\"\u003e\n\u003ctd style=\"width: 89px; text-align: center;\" data-mce-fragment=\"1\"\u003eM\u003c\/td\u003e\n\u003ctd style=\"width: 120.844px; text-align: center;\" data-mce-fragment=\"1\"\u003e69\/27.17\u003c\/td\u003e\n\u003ctd style=\"width: 101.156px; text-align: center;\" data-mce-fragment=\"1\"\u003e83\/32.68\u003c\/td\u003e\n\u003ctd style=\"width: 92px; text-align: center;\" data-mce-fragment=\"1\"\u003e65\/25.59\u003c\/td\u003e\n\u003ctd style=\"width: 105px; text-align: center;\" data-mce-fragment=\"1\"\u003e93\/36.61\u003c\/td\u003e\n\u003c\/tr\u003e\n\u003ctr data-mce-fragment=\"1\"\u003e\n\u003ctd style=\"width: 89px; text-align: center;\" data-mce-fragment=\"1\"\u003eL\u003c\/td\u003e\n\u003ctd style=\"width: 120.844px; text-align: center;\" data-mce-fragment=\"1\"\u003e70\/27.56\u003c\/td\u003e\n\u003ctd style=\"width: 101.156px; text-align: center;\" data-mce-fragment=\"1\"\u003e86\/\u003cspan data-mce-fragment=\"1\"\u003e33.86\u003c\/span\u003e\n\u003c\/td\u003e\n\u003ctd style=\"width: 92px; text-align: center;\" data-mce-fragment=\"1\"\u003e66\/25.98\u003c\/td\u003e\n\u003ctd style=\"width: 105px; text-align: center;\" data-mce-fragment=\"1\"\u003e98\/38.58\u003c\/td\u003e\n\u003c\/tr\u003e\n\u003ctr data-mce-fragment=\"1\"\u003e\n\u003ctd style=\"width: 89px; text-align: center;\" data-mce-fragment=\"1\"\u003eXL\u003c\/td\u003e\n\u003ctd style=\"width: 120.844px; text-align: center;\" data-mce-fragment=\"1\"\u003e71\/27.95\u003c\/td\u003e\n\u003ctd style=\"width: 101.156px; text-align: center;\" data-mce-fragment=\"1\"\u003e96\/37.80\u003c\/td\u003e\n\u003ctd style=\"width: 92px; text-align: center;\" data-mce-fragment=\"1\"\u003e67\/26.38\u003c\/td\u003e\n\u003ctd style=\"width: 105px; text-align: center;\" data-mce-fragment=\"1\"\u003e106\/41.73\u003c\/td\u003e\n\u003c\/tr\u003e\n\u003ctr data-mce-fragment=\"1\"\u003e\n\u003ctd style=\"width: 89px; text-align: center;\" data-mce-fragment=\"1\"\u003e2XL\u003c\/td\u003e\n\u003ctd style=\"width: 120.844px; text-align: center;\" data-mce-fragment=\"1\"\u003e\u003cspan data-mce-fragment=\"1\"\u003e72\/28.35\u003c\/span\u003e\u003c\/td\u003e\n\u003ctd style=\"width: 101.156px; text-align: center;\" data-mce-fragment=\"1\"\u003e104\/40.94\u003c\/td\u003e\n\u003ctd style=\"width: 92px; text-align: center;\" data-mce-fragment=\"1\"\u003e68\/26.77\u003c\/td\u003e\n\u003ctd style=\"width: 105px; text-align: center;\" data-mce-fragment=\"1\"\u003e114\/44.88\u003c\/td\u003e\n\u003c\/tr\u003e\n\u003c\/tbody\u003e\n\u003c\/table\u003e\n\u003cbr data-mce-fragment=\"1\"\u003e\n\u003cul data-mce-fragment=\"1\"\u003e\u003c\/ul\u003e\n\u003cul data-mce-fragment=\"1\"\u003e\u003c\/ul\u003e\n\u003ch3 data-mce-fragment=\"1\"\u003e\u003cspan style=\"color: #ff2a00;\" data-mce-fragment=\"1\"\u003ePACKAGE\u003c\/span\u003e\u003c\/h3\u003e\n\u003cul data-mce-fragment=\"1\"\u003e\n\u003cli data-mce-fragment=\"1\"\u003e\u003cspan data-mce-fragment=\"1\"\u003e1 * Puff Sleeve Tunic Top\u003c\/span\u003e\u003c\/li\u003e\n\u003c\/ul\u003e\n\u003ch3 data-mce-fragment=\"1\"\u003e\u003cspan style=\"color: #ff2a00;\" data-mce-fragment=\"1\"\u003e\u003cstrong data-mce-fragment=\"1\"\u003eNOTE\u003c\/strong\u003e\u003c\/span\u003e\u003c\/h3\u003e\n\u003cul data-mce-fragment=\"1\"\u003e\n\u003cli data-mce-fragment=\"1\"\u003e\n\u003cp data-mce-fragment=\"1\"\u003ePlease allow slight measurement deviations due to manual measurement.\u003c\/p\u003e\n\u003c\/li\u003e\n\u003cli data-mce-fragment=\"1\"\u003e\n\u003cp data-mce-fragment=\"1\"\u003eDue to the different monitor and light effect, the actual color of the item might be slightly different from the color showed in the pictures.\u003c\/p\u003e\n\u003c\/li\u003e\n\u003c\/ul\u003e"}
Adding product to your cart
FEATURES
♥Breathable material: This tunic is made of breathable fabric, suitable thickness makes it light to wear for all seasons.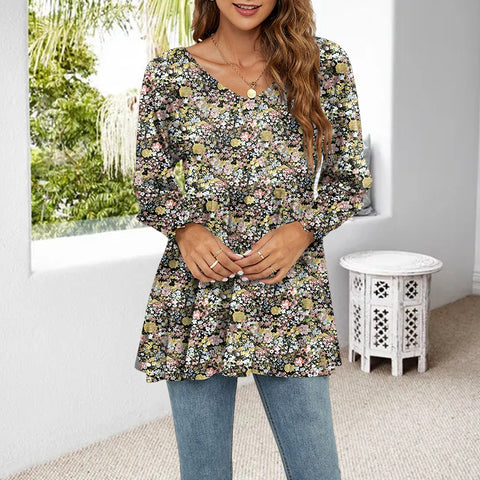 ♥Casual yet stylish: Puff sleeves are friendly to our upper arms; Smocked cuffs add an elegant feminine touch; Elastic shoulder makes this shirt more versatile as a cold shoulder top; suitable length covers butt; Pleated high waist hides your tummy.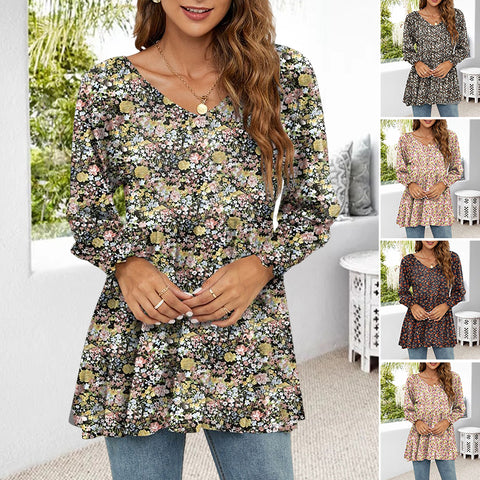 ♥Multiple ways to wear: This tunic could be dressed up or down. You could simply wear it casually or put a chic wide waist belt with it for a stylish look. Otherwise, it can be worn as an off shoulder top as well.
SPECIFICATIONS
Weight: 260g

Size: 
Size(cm/in)
Length

Waist
Sleeve
 Bust
S
68/26.77
78/30.71
64/25.20

88/34.65
M
69/27.17
83/32.68
65/25.59
93/36.61
L
70/27.56
86/

33.86

66/25.98
98/38.58
XL
71/27.95
96/37.80
67/26.38
106/41.73
2XL

72/28.35

104/40.94
68/26.77
114/44.88
PACKAGE
1 * Puff Sleeve Tunic Top
NOTE
Please allow slight measurement deviations due to manual measurement.

Due to the different monitor and light effect, the actual color of the item might be slightly different from the color showed in the pictures.