{"id":7239480082521,"title":"Retro Microphone Robot USB","handle":"retro-microphone-robot-usb","description":"\u003ch4 style=\"text-align: center;\"\u003e\n\u003cspan style=\"color: #2d4059;\"\u003e\u003cstrong\u003e🎙️\u003c\/strong\u003e\u003c\/span\u003e\u003cspan style=\"color: #07408a;\"\u003e\u003cstrong\u003eA unique microphone robot for all music lovers\u003c\/strong\u003e\u003c\/span\u003e\u003cspan style=\"color: #2d4059;\"\u003e\u003cstrong\u003e\u003cspan style=\"color: #07408a;\"\u003e! \u003c\/span\u003e🎁\u003c\/strong\u003e\u003c\/span\u003e\n\u003c\/h4\u003e\n\u003cp style=\"text-align: center;\"\u003e\u003cspan style=\"color: #2d4059;\"\u003e\u003cstrong\u003e\u003cimg height=\"400\" width=\"400\" src=\"https:\/\/img.staticdj.com\/ef371a19a4c831a5e4b590d4d4f72534.gif\"\u003e\u003c\/strong\u003e\u003c\/span\u003e\u003c\/p\u003e\n\u003cp style=\"text-align: center;\"\u003e\u003cspan style=\"color: #2d4059;\"\u003e\u003cstrong\u003e🎸 \u003cspan data-mce-fragment=\"1\"\u003eIf you are looking for an extraordinary surprise gift, you will find it here\u003c\/span\u003e!\u003cbr\u003e🎙️\u003cspan style=\"color: #b83b5e;\"\u003e \u003cspan data-mce-fragment=\"1\"\u003eA real retro culture from the microphone robot\u003c\/span\u003e...\u003c\/span\u003e 🎵\u003c\/strong\u003e\u003c\/span\u003e\u003c\/p\u003e\n\u003cp style=\"text-align: center;\"\u003e\u003cspan style=\"color: #2d4059;\"\u003e\u003cstrong\u003e\u003cimg src=\"https:\/\/cdn.cloudfastin.top\/image\/2023\/02\/6a85d0987bf4f5248655e53b39024996a2a09cb8dac6ae0239d39d8de75892ed.gif\" alt=\"undefined\" width=\"399\" height=\"399\"\u003e\u003c\/strong\u003e\u003c\/span\u003e\u003c\/p\u003e\n\u003cp style=\"text-align: center;\"\u003e\u003cstrong\u003e\u003cspan\u003e💥\u003cspan\u003e \u003c\/span\u003e\u003c\/span\u003e\u003c\/strong\u003e\u003cspan\u003e\u003cspan\u003eThe power cord is black, and \u003c\/span\u003e\u003c\/span\u003e\u003cspan\u003e\u003cstrong\u003e\u003cspan\u003ethe joints of this machine can be controlled freely. \u003c\/span\u003e\u003c\/strong\u003e\u003c\/span\u003e\u003cstrong\u003e\u003cspan\u003e\u003cspan\u003eYou can easily adjust the angle of the lights and create different effects.\u003c\/span\u003e\u003c\/span\u003e\u003cbr\u003e\u003cspan\u003e💥\u003cspan\u003e \u003c\/span\u003e\u003c\/span\u003e\u003c\/strong\u003e\u003cspan\u003e\u003c\/span\u003e\u003cspan\u003e\u003cspan\u003eThis is a great gift!\u003c\/span\u003e\u003c\/span\u003e\u003c\/p\u003e\n\u003cp style=\"text-align: center;\"\u003e\u003cspan style=\"color: #2d4059;\"\u003e\u003cspan style=\"color: #000000;\"\u003e\u003cimg height=\"390\" width=\"390\" src=\"https:\/\/cdn.shopifycdn.net\/s\/files\/1\/0549\/5010\/1178\/files\/1_952870fa-8076-402a-8f10-aa92a1960b12_480x480.jpg?v=1653901609\" alt=\"\"\u003e\u003c\/span\u003e\u003c\/span\u003e\u003c\/p\u003e\n\u003ch3\u003e\u003cspan style=\"color: #b83b5e;\"\u003e\u003cstrong\u003eFEATURES\u003c\/strong\u003e\u003c\/span\u003e\u003c\/h3\u003e\n\u003cul\u003e\n\u003cli\u003e\n\u003cp\u003e\u003cspan style=\"color: #f08a5d;\"\u003e\u003cstrong\u003e\u003cspan data-mce-fragment=\"1\"\u003eExcellent Material\u003c\/span\u003e:\u003c\/strong\u003e\u003c\/span\u003e \u003cspan data-mce-fragment=\"1\"\u003eThe main material is metal. Over time, brass parts will create an old atmosphere. It will change color over time\u003c\/span\u003e\u003cspan data-mce-fragment=\"1\"\u003e and is worthy of your long-term love.\u003c\/span\u003e\u003cspan style=\"color: #000000;\"\u003e.\u003c\/span\u003e\u003c\/p\u003e\n\u003c\/li\u003e\n\u003c\/ul\u003e\n\u003cdiv style=\"text-align: center;\"\u003e\u003cimg src=\"https:\/\/cdn.cloudfastin.top\/image\/2023\/01\/6b93f8c31bb838885b53969bab2507d96058f594a0591de1f19e5c5b9c38583b.png\" alt=\"undefined\" width=\"400\" height=\"400\"\u003e\u003c\/div\u003e\n\u003cul\u003e\n\u003cli\u003e\n\u003cp\u003e\u003cspan style=\"color: #f08a5d;\"\u003e\u003cstrong\u003e\u003cspan data-mce-fragment=\"1\"\u003eAdjustable Joints\u003c\/span\u003e:\u003c\/strong\u003e\u003c\/span\u003e \u003cspan data-mce-fragment=\"1\"\u003eThe joints of this product can be controlled freely and the angle can be easily adjusted to create different postures.\u003c\/span\u003e\u003c\/p\u003e\n\u003c\/li\u003e\n\u003cli\u003e\n\u003cp\u003e \u003c\/p\u003e\n\u003c\/li\u003e\n\u003c\/ul\u003e\n\u003cimg alt=\"undefined\" src=\"https:\/\/cdn.cloudfastin.top\/image\/2023\/02\/13b1367cb9147e8ea7f3eac1c0ecc007f9ff8c7af3478355d632a9120a41be0f.png\" width=\"397\" height=\"397\" style=\"display: block; margin-left: auto; margin-right: auto;\" data-mce-fragment=\"1\" data-mce-src=\"https:\/\/cdn.cloudfastin.top\/image\/2023\/02\/13b1367cb9147e8ea7f3eac1c0ecc007f9ff8c7af3478355d632a9120a41be0f.png\"\u003e\n\u003cul\u003e\n\u003cli\u003e\n\u003cp\u003e\u003cspan style=\"color: #f08a5d;\"\u003e\u003cstrong\u003e\u003cspan data-mce-fragment=\"1\"\u003eUnique Decoration\u003c\/span\u003e:\u003c\/strong\u003e \u003cspan style=\"color: #000000;\" data-mce-fragment=\"1\"\u003eThe microphone robot is a good decoration on the desktop or at home.\u003c\/span\u003e\u003c\/span\u003e\u003c\/p\u003e\n\u003c\/li\u003e\n\u003cli\u003e\n\u003cstrong\u003e\u003cspan style=\"color: #f08a5d;\"\u003e\u003cspan data-mce-fragment=\"1\"\u003eUnique Gift\u003c\/span\u003e:\u003c\/span\u003e \u003c\/strong\u003eThis microphone robot not only can be used for lighting, but also a very decorative decoration. A great gift for colleagues, family or yourself.\u003c\/li\u003e\n\u003c\/ul\u003e\n\u003ch3\u003e\u003cspan style=\"color: #b83b5e;\"\u003e \u003cstrong\u003eSPECIFICATIONS\u003c\/strong\u003e\u003c\/span\u003e\u003c\/h3\u003e\n\u003cul\u003e\n\u003cli\u003e\n\u003cp\u003e\u003cstrong\u003e\u003cspan\u003eType:\u003c\/span\u003e\u003c\/strong\u003e\u003cspan\u003e\u003cspan\u003e \u003c\/span\u003e decoration\u003c\/span\u003e\u003c\/p\u003e\n\u003c\/li\u003e\n\u003cli\u003e\n\u003cp\u003e\u003cstrong\u003e\u003cspan\u003eColor:\u003c\/span\u003e\u003c\/strong\u003e\u003cspan\u003e\u003cspan\u003e \u003c\/span\u003esilver,s\u003cspan\u003e \u003c\/span\u003e\u003c\/span\u003e\u003cspan data-mce-fragment=\"1\"\u003e\u003cspan\u003eblack\u003c\/span\u003e\u003c\/span\u003e\u003c\/p\u003e\n\u003c\/li\u003e\n\u003cli\u003e\n\u003cp\u003e\u003cstrong\u003e\u003cspan\u003eMaterial:\u003c\/span\u003e\u003c\/strong\u003e\u003cspan\u003e\u003cspan\u003e \u003c\/span\u003ealuminum, stainless steel, iron\u003c\/span\u003e\u003c\/p\u003e\n\u003c\/li\u003e\n\u003cli\u003e\n\u003cp\u003e\u003cstrong\u003e\u003cspan\u003ePacking size:\u003c\/span\u003e\u003c\/strong\u003e\u003cspan\u003e\u003cspan\u003e \u003c\/span\u003e7 x 21 x 10 cm\u003c\/span\u003e\u003c\/p\u003e\n\u003c\/li\u003e\n\u003c\/ul\u003e\n\u003cdiv\u003e\u003cimg alt=\"\" src=\"https:\/\/cdn.shopify.com\/s\/files\/1\/0651\/6264\/1626\/files\/111_260ee0cf-ce7b-4a7e-ab54-368c1ea03f4f_480x480.jpg?v=1675838795\" style=\"font-size: 1.4em; display: block; margin-left: auto; margin-right: auto;\" width=\"401\" height=\"401\" data-mce-fragment=\"1\" data-mce-src=\"https:\/\/cdn.shopify.com\/s\/files\/1\/0651\/6264\/1626\/files\/111_260ee0cf-ce7b-4a7e-ab54-368c1ea03f4f_480x480.jpg?v=1675838795\"\u003e\u003c\/div\u003e\n\u003cul\u003e\n\u003cli\u003e\n\u003cp\u003e\u003cstrong\u003e\u003cspan\u003ePackage: \u003c\/span\u003e\u003c\/strong\u003e\u003cspan\u003e\u003cspan\u003e \u003c\/span\u003e1 * Retro Microphone Robot\u003c\/span\u003e\u003c\/p\u003e\n\u003c\/li\u003e\n\u003c\/ul\u003e\n\u003ch3\u003e\u003cspan style=\"color: #b83b5e;\"\u003e\u003cstrong\u003eNOTE\u003c\/strong\u003e\u003c\/span\u003e\u003c\/h3\u003e\n\u003cul\u003e\n\u003cli\u003e\n\u003cp\u003eDue to manual measurement, please allow slight measurement error.\u003c\/p\u003e\n\u003c\/li\u003e\n\u003cli\u003e\n\u003cp\u003eDue to the different display and light effects, the actual color of the item might be slightly different from the color displayed on the picture.\u003c\/p\u003e\n\u003c\/li\u003e\n\u003c\/ul\u003e","published_at":"2023-02-16T20:11:10-10:00","created_at":"2023-02-16T20:11:22-10:00","vendor":"Suerteyay","type":"","tags":["decoration"],"price":2999,"price_min":2999,"price_max":3199,"available":true,"price_varies":true,"compare_at_price":5999,"compare_at_price_min":5999,"compare_at_price_max":6399,"compare_at_price_varies":true,"variants":[{"id":40411367473241,"title":"Black \/ With Light","option1":"Black","option2":"With Light","option3":null,"sku":"CP19689-X36450","requires_shipping":true,"taxable":false,"featured_image":{"id":31204563124313,"product_id":7239480082521,"position":15,"created_at":"2023-02-16T20:11:28-10:00","updated_at":"2023-02-16T20:11:28-10:00","alt":null,"width":800,"height":800,"src":"\/\/www.suerteyay.com\/cdn\/shop\/products\/8ee163965c752b4df31d594396825cee.png?v=1676614288","variant_ids":[40411367473241,40411367506009]},"available":true,"name":"Retro Microphone Robot USB - Black \/ With Light","public_title":"Black \/ With Light","options":["Black","With Light"],"price":3199,"weight":0,"compare_at_price":6399,"inventory_management":null,"barcode":null,"featured_media":{"alt":null,"id":23754729062489,"position":15,"preview_image":{"aspect_ratio":1.0,"height":800,"width":800,"src":"\/\/www.suerteyay.com\/cdn\/shop\/products\/8ee163965c752b4df31d594396825cee.png?v=1676614288"}},"requires_selling_plan":false,"selling_plan_allocations":[],"quantity_rule":{"min":1,"max":null,"increment":1}},{"id":40411367506009,"title":"Black \/ Without Light","option1":"Black","option2":"Without Light","option3":null,"sku":"CP19689-X36451","requires_shipping":true,"taxable":false,"featured_image":{"id":31204563124313,"product_id":7239480082521,"position":15,"created_at":"2023-02-16T20:11:28-10:00","updated_at":"2023-02-16T20:11:28-10:00","alt":null,"width":800,"height":800,"src":"\/\/www.suerteyay.com\/cdn\/shop\/products\/8ee163965c752b4df31d594396825cee.png?v=1676614288","variant_ids":[40411367473241,40411367506009]},"available":true,"name":"Retro Microphone Robot USB - Black \/ Without Light","public_title":"Black \/ Without Light","options":["Black","Without Light"],"price":2999,"weight":0,"compare_at_price":5999,"inventory_management":null,"barcode":null,"featured_media":{"alt":null,"id":23754729062489,"position":15,"preview_image":{"aspect_ratio":1.0,"height":800,"width":800,"src":"\/\/www.suerteyay.com\/cdn\/shop\/products\/8ee163965c752b4df31d594396825cee.png?v=1676614288"}},"requires_selling_plan":false,"selling_plan_allocations":[],"quantity_rule":{"min":1,"max":null,"increment":1}},{"id":40411367538777,"title":"Yellow \/ With Light","option1":"Yellow","option2":"With Light","option3":null,"sku":"CP19689-X36833","requires_shipping":true,"taxable":false,"featured_image":{"id":31204563026009,"product_id":7239480082521,"position":14,"created_at":"2023-02-16T20:11:26-10:00","updated_at":"2023-02-16T20:11:26-10:00","alt":null,"width":800,"height":800,"src":"\/\/www.suerteyay.com\/cdn\/shop\/products\/4_793f4690-39a1-47d8-b579-188e15dcc50a.jpg?v=1676614286","variant_ids":[40411367538777,40411367571545]},"available":true,"name":"Retro Microphone Robot USB - Yellow \/ With Light","public_title":"Yellow \/ With Light","options":["Yellow","With Light"],"price":3199,"weight":0,"compare_at_price":6399,"inventory_management":null,"barcode":null,"featured_media":{"alt":null,"id":23754728964185,"position":14,"preview_image":{"aspect_ratio":1.0,"height":800,"width":800,"src":"\/\/www.suerteyay.com\/cdn\/shop\/products\/4_793f4690-39a1-47d8-b579-188e15dcc50a.jpg?v=1676614286"}},"requires_selling_plan":false,"selling_plan_allocations":[],"quantity_rule":{"min":1,"max":null,"increment":1}},{"id":40411367571545,"title":"Yellow \/ Without Light","option1":"Yellow","option2":"Without Light","option3":null,"sku":"CP19689-X36834","requires_shipping":true,"taxable":false,"featured_image":{"id":31204563026009,"product_id":7239480082521,"position":14,"created_at":"2023-02-16T20:11:26-10:00","updated_at":"2023-02-16T20:11:26-10:00","alt":null,"width":800,"height":800,"src":"\/\/www.suerteyay.com\/cdn\/shop\/products\/4_793f4690-39a1-47d8-b579-188e15dcc50a.jpg?v=1676614286","variant_ids":[40411367538777,40411367571545]},"available":true,"name":"Retro Microphone Robot USB - Yellow \/ Without Light","public_title":"Yellow \/ Without Light","options":["Yellow","Without Light"],"price":2999,"weight":0,"compare_at_price":5999,"inventory_management":null,"barcode":null,"featured_media":{"alt":null,"id":23754728964185,"position":14,"preview_image":{"aspect_ratio":1.0,"height":800,"width":800,"src":"\/\/www.suerteyay.com\/cdn\/shop\/products\/4_793f4690-39a1-47d8-b579-188e15dcc50a.jpg?v=1676614286"}},"requires_selling_plan":false,"selling_plan_allocations":[],"quantity_rule":{"min":1,"max":null,"increment":1}},{"id":40411367604313,"title":"Red \/ With Light","option1":"Red","option2":"With Light","option3":null,"sku":"CP19689-X36831","requires_shipping":true,"taxable":false,"featured_image":{"id":31204563157081,"product_id":7239480082521,"position":16,"created_at":"2023-02-16T20:11:31-10:00","updated_at":"2023-02-16T20:11:31-10:00","alt":null,"width":800,"height":800,"src":"\/\/www.suerteyay.com\/cdn\/shop\/products\/s-l500_b6ca135d-4e1a-46be-85d4-0c07de7a83ec.png?v=1676614291","variant_ids":[40411367604313,40411367637081]},"available":true,"name":"Retro Microphone Robot USB - Red \/ With Light","public_title":"Red \/ With Light","options":["Red","With Light"],"price":3199,"weight":0,"compare_at_price":6399,"inventory_management":null,"barcode":null,"featured_media":{"alt":null,"id":23754729095257,"position":16,"preview_image":{"aspect_ratio":1.0,"height":800,"width":800,"src":"\/\/www.suerteyay.com\/cdn\/shop\/products\/s-l500_b6ca135d-4e1a-46be-85d4-0c07de7a83ec.png?v=1676614291"}},"requires_selling_plan":false,"selling_plan_allocations":[],"quantity_rule":{"min":1,"max":null,"increment":1}},{"id":40411367637081,"title":"Red \/ Without Light","option1":"Red","option2":"Without Light","option3":null,"sku":"CP19689-X36832","requires_shipping":true,"taxable":false,"featured_image":{"id":31204563157081,"product_id":7239480082521,"position":16,"created_at":"2023-02-16T20:11:31-10:00","updated_at":"2023-02-16T20:11:31-10:00","alt":null,"width":800,"height":800,"src":"\/\/www.suerteyay.com\/cdn\/shop\/products\/s-l500_b6ca135d-4e1a-46be-85d4-0c07de7a83ec.png?v=1676614291","variant_ids":[40411367604313,40411367637081]},"available":true,"name":"Retro Microphone Robot USB - Red \/ Without Light","public_title":"Red \/ Without Light","options":["Red","Without Light"],"price":2999,"weight":0,"compare_at_price":5999,"inventory_management":null,"barcode":null,"featured_media":{"alt":null,"id":23754729095257,"position":16,"preview_image":{"aspect_ratio":1.0,"height":800,"width":800,"src":"\/\/www.suerteyay.com\/cdn\/shop\/products\/s-l500_b6ca135d-4e1a-46be-85d4-0c07de7a83ec.png?v=1676614291"}},"requires_selling_plan":false,"selling_plan_allocations":[],"quantity_rule":{"min":1,"max":null,"increment":1}}],"images":["\/\/www.suerteyay.com\/cdn\/shop\/products\/2_e9aa0596-cf5c-4fef-a040-170f5a866fba.jpg?v=1676614283","\/\/www.suerteyay.com\/cdn\/shop\/products\/6_83fc7e20-107e-40d6-9b3d-d01b2ac59e58.jpg?v=1676614283","\/\/www.suerteyay.com\/cdn\/shop\/products\/5_9b27c719-26e6-409e-9dc1-dbc6615a073f.jpg?v=1676614283","\/\/www.suerteyay.com\/cdn\/shop\/products\/1_a6036775-8bcd-41af-864c-33cf70e76576.jpg?v=1676614283","\/\/www.suerteyay.com\/cdn\/shop\/products\/3_a098c4a3-a049-44b4-a269-9c549e81baa9.jpg?v=1676614283","\/\/www.suerteyay.com\/cdn\/shop\/products\/2_ab10104b-1f41-4118-907b-accb0e669eb4.jpg?v=1676614283","\/\/www.suerteyay.com\/cdn\/shop\/products\/5_b0b57567-f797-4c31-b3eb-e2ac618e36a6.jpg?v=1676614283","\/\/www.suerteyay.com\/cdn\/shop\/products\/111_260ee0cf-ce7b-4a7e-ab54-368c1ea03f4f.jpg?v=1676614283","\/\/www.suerteyay.com\/cdn\/shop\/products\/8_25c7aa19-cab1-4780-9e8e-080e7f4287ab.jpg?v=1676614283","\/\/www.suerteyay.com\/cdn\/shop\/products\/4_36993b57-d42d-467b-aefa-157846511dc7.jpg?v=1676614283","\/\/www.suerteyay.com\/cdn\/shop\/products\/1_6303de70-2ee0-4560-98bf-588fe96efdf2.webp?v=1676614283","\/\/www.suerteyay.com\/cdn\/shop\/products\/2_0e75fe36-16d7-4efc-8f64-7ffbcec3f055.webp?v=1676614283","\/\/www.suerteyay.com\/cdn\/shop\/products\/s-l500_13186014-5193-411f-91a6-ac301ad8f397.png?v=1676614283","\/\/www.suerteyay.com\/cdn\/shop\/products\/4_793f4690-39a1-47d8-b579-188e15dcc50a.jpg?v=1676614286","\/\/www.suerteyay.com\/cdn\/shop\/products\/8ee163965c752b4df31d594396825cee.png?v=1676614288","\/\/www.suerteyay.com\/cdn\/shop\/products\/s-l500_b6ca135d-4e1a-46be-85d4-0c07de7a83ec.png?v=1676614291"],"featured_image":"\/\/www.suerteyay.com\/cdn\/shop\/products\/2_e9aa0596-cf5c-4fef-a040-170f5a866fba.jpg?v=1676614283","options":["Color","Style"],"media":[{"alt":null,"id":23754728472665,"position":1,"preview_image":{"aspect_ratio":1.0,"height":800,"width":800,"src":"\/\/www.suerteyay.com\/cdn\/shop\/products\/2_e9aa0596-cf5c-4fef-a040-170f5a866fba.jpg?v=1676614283"},"aspect_ratio":1.0,"height":800,"media_type":"image","src":"\/\/www.suerteyay.com\/cdn\/shop\/products\/2_e9aa0596-cf5c-4fef-a040-170f5a866fba.jpg?v=1676614283","width":800},{"alt":null,"id":23754728505433,"position":2,"preview_image":{"aspect_ratio":1.0,"height":800,"width":800,"src":"\/\/www.suerteyay.com\/cdn\/shop\/products\/6_83fc7e20-107e-40d6-9b3d-d01b2ac59e58.jpg?v=1676614283"},"aspect_ratio":1.0,"height":800,"media_type":"image","src":"\/\/www.suerteyay.com\/cdn\/shop\/products\/6_83fc7e20-107e-40d6-9b3d-d01b2ac59e58.jpg?v=1676614283","width":800},{"alt":null,"id":23754728538201,"position":3,"preview_image":{"aspect_ratio":1.0,"height":800,"width":800,"src":"\/\/www.suerteyay.com\/cdn\/shop\/products\/5_9b27c719-26e6-409e-9dc1-dbc6615a073f.jpg?v=1676614283"},"aspect_ratio":1.0,"height":800,"media_type":"image","src":"\/\/www.suerteyay.com\/cdn\/shop\/products\/5_9b27c719-26e6-409e-9dc1-dbc6615a073f.jpg?v=1676614283","width":800},{"alt":null,"id":23754728570969,"position":4,"preview_image":{"aspect_ratio":1.0,"height":800,"width":800,"src":"\/\/www.suerteyay.com\/cdn\/shop\/products\/1_a6036775-8bcd-41af-864c-33cf70e76576.jpg?v=1676614283"},"aspect_ratio":1.0,"height":800,"media_type":"image","src":"\/\/www.suerteyay.com\/cdn\/shop\/products\/1_a6036775-8bcd-41af-864c-33cf70e76576.jpg?v=1676614283","width":800},{"alt":null,"id":23754728603737,"position":5,"preview_image":{"aspect_ratio":1.0,"height":800,"width":800,"src":"\/\/www.suerteyay.com\/cdn\/shop\/products\/3_a098c4a3-a049-44b4-a269-9c549e81baa9.jpg?v=1676614283"},"aspect_ratio":1.0,"height":800,"media_type":"image","src":"\/\/www.suerteyay.com\/cdn\/shop\/products\/3_a098c4a3-a049-44b4-a269-9c549e81baa9.jpg?v=1676614283","width":800},{"alt":null,"id":23754728636505,"position":6,"preview_image":{"aspect_ratio":1.0,"height":800,"width":800,"src":"\/\/www.suerteyay.com\/cdn\/shop\/products\/2_ab10104b-1f41-4118-907b-accb0e669eb4.jpg?v=1676614283"},"aspect_ratio":1.0,"height":800,"media_type":"image","src":"\/\/www.suerteyay.com\/cdn\/shop\/products\/2_ab10104b-1f41-4118-907b-accb0e669eb4.jpg?v=1676614283","width":800},{"alt":null,"id":23754728669273,"position":7,"preview_image":{"aspect_ratio":1.0,"height":800,"width":800,"src":"\/\/www.suerteyay.com\/cdn\/shop\/products\/5_b0b57567-f797-4c31-b3eb-e2ac618e36a6.jpg?v=1676614283"},"aspect_ratio":1.0,"height":800,"media_type":"image","src":"\/\/www.suerteyay.com\/cdn\/shop\/products\/5_b0b57567-f797-4c31-b3eb-e2ac618e36a6.jpg?v=1676614283","width":800},{"alt":null,"id":23754728702041,"position":8,"preview_image":{"aspect_ratio":1.0,"height":800,"width":800,"src":"\/\/www.suerteyay.com\/cdn\/shop\/products\/111_260ee0cf-ce7b-4a7e-ab54-368c1ea03f4f.jpg?v=1676614283"},"aspect_ratio":1.0,"height":800,"media_type":"image","src":"\/\/www.suerteyay.com\/cdn\/shop\/products\/111_260ee0cf-ce7b-4a7e-ab54-368c1ea03f4f.jpg?v=1676614283","width":800},{"alt":null,"id":23754728734809,"position":9,"preview_image":{"aspect_ratio":1.0,"height":800,"width":800,"src":"\/\/www.suerteyay.com\/cdn\/shop\/products\/8_25c7aa19-cab1-4780-9e8e-080e7f4287ab.jpg?v=1676614283"},"aspect_ratio":1.0,"height":800,"media_type":"image","src":"\/\/www.suerteyay.com\/cdn\/shop\/products\/8_25c7aa19-cab1-4780-9e8e-080e7f4287ab.jpg?v=1676614283","width":800},{"alt":null,"id":23754728767577,"position":10,"preview_image":{"aspect_ratio":1.0,"height":800,"width":800,"src":"\/\/www.suerteyay.com\/cdn\/shop\/products\/4_36993b57-d42d-467b-aefa-157846511dc7.jpg?v=1676614283"},"aspect_ratio":1.0,"height":800,"media_type":"image","src":"\/\/www.suerteyay.com\/cdn\/shop\/products\/4_36993b57-d42d-467b-aefa-157846511dc7.jpg?v=1676614283","width":800},{"alt":null,"id":23754728800345,"position":11,"preview_image":{"aspect_ratio":1.0,"height":700,"width":700,"src":"\/\/www.suerteyay.com\/cdn\/shop\/products\/1_6303de70-2ee0-4560-98bf-588fe96efdf2.webp?v=1676614283"},"aspect_ratio":1.0,"height":700,"media_type":"image","src":"\/\/www.suerteyay.com\/cdn\/shop\/products\/1_6303de70-2ee0-4560-98bf-588fe96efdf2.webp?v=1676614283","width":700},{"alt":null,"id":23754728833113,"position":12,"preview_image":{"aspect_ratio":1.0,"height":700,"width":700,"src":"\/\/www.suerteyay.com\/cdn\/shop\/products\/2_0e75fe36-16d7-4efc-8f64-7ffbcec3f055.webp?v=1676614283"},"aspect_ratio":1.0,"height":700,"media_type":"image","src":"\/\/www.suerteyay.com\/cdn\/shop\/products\/2_0e75fe36-16d7-4efc-8f64-7ffbcec3f055.webp?v=1676614283","width":700},{"alt":null,"id":23754728865881,"position":13,"preview_image":{"aspect_ratio":1.0,"height":800,"width":800,"src":"\/\/www.suerteyay.com\/cdn\/shop\/products\/s-l500_13186014-5193-411f-91a6-ac301ad8f397.png?v=1676614283"},"aspect_ratio":1.0,"height":800,"media_type":"image","src":"\/\/www.suerteyay.com\/cdn\/shop\/products\/s-l500_13186014-5193-411f-91a6-ac301ad8f397.png?v=1676614283","width":800},{"alt":null,"id":23754728964185,"position":14,"preview_image":{"aspect_ratio":1.0,"height":800,"width":800,"src":"\/\/www.suerteyay.com\/cdn\/shop\/products\/4_793f4690-39a1-47d8-b579-188e15dcc50a.jpg?v=1676614286"},"aspect_ratio":1.0,"height":800,"media_type":"image","src":"\/\/www.suerteyay.com\/cdn\/shop\/products\/4_793f4690-39a1-47d8-b579-188e15dcc50a.jpg?v=1676614286","width":800},{"alt":null,"id":23754729062489,"position":15,"preview_image":{"aspect_ratio":1.0,"height":800,"width":800,"src":"\/\/www.suerteyay.com\/cdn\/shop\/products\/8ee163965c752b4df31d594396825cee.png?v=1676614288"},"aspect_ratio":1.0,"height":800,"media_type":"image","src":"\/\/www.suerteyay.com\/cdn\/shop\/products\/8ee163965c752b4df31d594396825cee.png?v=1676614288","width":800},{"alt":null,"id":23754729095257,"position":16,"preview_image":{"aspect_ratio":1.0,"height":800,"width":800,"src":"\/\/www.suerteyay.com\/cdn\/shop\/products\/s-l500_b6ca135d-4e1a-46be-85d4-0c07de7a83ec.png?v=1676614291"},"aspect_ratio":1.0,"height":800,"media_type":"image","src":"\/\/www.suerteyay.com\/cdn\/shop\/products\/s-l500_b6ca135d-4e1a-46be-85d4-0c07de7a83ec.png?v=1676614291","width":800}],"requires_selling_plan":false,"selling_plan_groups":[],"content":"\u003ch4 style=\"text-align: center;\"\u003e\n\u003cspan style=\"color: #2d4059;\"\u003e\u003cstrong\u003e🎙️\u003c\/strong\u003e\u003c\/span\u003e\u003cspan style=\"color: #07408a;\"\u003e\u003cstrong\u003eA unique microphone robot for all music lovers\u003c\/strong\u003e\u003c\/span\u003e\u003cspan style=\"color: #2d4059;\"\u003e\u003cstrong\u003e\u003cspan style=\"color: #07408a;\"\u003e! \u003c\/span\u003e🎁\u003c\/strong\u003e\u003c\/span\u003e\n\u003c\/h4\u003e\n\u003cp style=\"text-align: center;\"\u003e\u003cspan style=\"color: #2d4059;\"\u003e\u003cstrong\u003e\u003cimg height=\"400\" width=\"400\" src=\"https:\/\/img.staticdj.com\/ef371a19a4c831a5e4b590d4d4f72534.gif\"\u003e\u003c\/strong\u003e\u003c\/span\u003e\u003c\/p\u003e\n\u003cp style=\"text-align: center;\"\u003e\u003cspan style=\"color: #2d4059;\"\u003e\u003cstrong\u003e🎸 \u003cspan data-mce-fragment=\"1\"\u003eIf you are looking for an extraordinary surprise gift, you will find it here\u003c\/span\u003e!\u003cbr\u003e🎙️\u003cspan style=\"color: #b83b5e;\"\u003e \u003cspan data-mce-fragment=\"1\"\u003eA real retro culture from the microphone robot\u003c\/span\u003e...\u003c\/span\u003e 🎵\u003c\/strong\u003e\u003c\/span\u003e\u003c\/p\u003e\n\u003cp style=\"text-align: center;\"\u003e\u003cspan style=\"color: #2d4059;\"\u003e\u003cstrong\u003e\u003cimg src=\"https:\/\/cdn.cloudfastin.top\/image\/2023\/02\/6a85d0987bf4f5248655e53b39024996a2a09cb8dac6ae0239d39d8de75892ed.gif\" alt=\"undefined\" width=\"399\" height=\"399\"\u003e\u003c\/strong\u003e\u003c\/span\u003e\u003c\/p\u003e\n\u003cp style=\"text-align: center;\"\u003e\u003cstrong\u003e\u003cspan\u003e💥\u003cspan\u003e \u003c\/span\u003e\u003c\/span\u003e\u003c\/strong\u003e\u003cspan\u003e\u003cspan\u003eThe power cord is black, and \u003c\/span\u003e\u003c\/span\u003e\u003cspan\u003e\u003cstrong\u003e\u003cspan\u003ethe joints of this machine can be controlled freely. \u003c\/span\u003e\u003c\/strong\u003e\u003c\/span\u003e\u003cstrong\u003e\u003cspan\u003e\u003cspan\u003eYou can easily adjust the angle of the lights and create different effects.\u003c\/span\u003e\u003c\/span\u003e\u003cbr\u003e\u003cspan\u003e💥\u003cspan\u003e \u003c\/span\u003e\u003c\/span\u003e\u003c\/strong\u003e\u003cspan\u003e\u003c\/span\u003e\u003cspan\u003e\u003cspan\u003eThis is a great gift!\u003c\/span\u003e\u003c\/span\u003e\u003c\/p\u003e\n\u003cp style=\"text-align: center;\"\u003e\u003cspan style=\"color: #2d4059;\"\u003e\u003cspan style=\"color: #000000;\"\u003e\u003cimg height=\"390\" width=\"390\" src=\"https:\/\/cdn.shopifycdn.net\/s\/files\/1\/0549\/5010\/1178\/files\/1_952870fa-8076-402a-8f10-aa92a1960b12_480x480.jpg?v=1653901609\" alt=\"\"\u003e\u003c\/span\u003e\u003c\/span\u003e\u003c\/p\u003e\n\u003ch3\u003e\u003cspan style=\"color: #b83b5e;\"\u003e\u003cstrong\u003eFEATURES\u003c\/strong\u003e\u003c\/span\u003e\u003c\/h3\u003e\n\u003cul\u003e\n\u003cli\u003e\n\u003cp\u003e\u003cspan style=\"color: #f08a5d;\"\u003e\u003cstrong\u003e\u003cspan data-mce-fragment=\"1\"\u003eExcellent Material\u003c\/span\u003e:\u003c\/strong\u003e\u003c\/span\u003e \u003cspan data-mce-fragment=\"1\"\u003eThe main material is metal. Over time, brass parts will create an old atmosphere. It will change color over time\u003c\/span\u003e\u003cspan data-mce-fragment=\"1\"\u003e and is worthy of your long-term love.\u003c\/span\u003e\u003cspan style=\"color: #000000;\"\u003e.\u003c\/span\u003e\u003c\/p\u003e\n\u003c\/li\u003e\n\u003c\/ul\u003e\n\u003cdiv style=\"text-align: center;\"\u003e\u003cimg src=\"https:\/\/cdn.cloudfastin.top\/image\/2023\/01\/6b93f8c31bb838885b53969bab2507d96058f594a0591de1f19e5c5b9c38583b.png\" alt=\"undefined\" width=\"400\" height=\"400\"\u003e\u003c\/div\u003e\n\u003cul\u003e\n\u003cli\u003e\n\u003cp\u003e\u003cspan style=\"color: #f08a5d;\"\u003e\u003cstrong\u003e\u003cspan data-mce-fragment=\"1\"\u003eAdjustable Joints\u003c\/span\u003e:\u003c\/strong\u003e\u003c\/span\u003e \u003cspan data-mce-fragment=\"1\"\u003eThe joints of this product can be controlled freely and the angle can be easily adjusted to create different postures.\u003c\/span\u003e\u003c\/p\u003e\n\u003c\/li\u003e\n\u003cli\u003e\n\u003cp\u003e \u003c\/p\u003e\n\u003c\/li\u003e\n\u003c\/ul\u003e\n\u003cimg alt=\"undefined\" src=\"https:\/\/cdn.cloudfastin.top\/image\/2023\/02\/13b1367cb9147e8ea7f3eac1c0ecc007f9ff8c7af3478355d632a9120a41be0f.png\" width=\"397\" height=\"397\" style=\"display: block; margin-left: auto; margin-right: auto;\" data-mce-fragment=\"1\" data-mce-src=\"https:\/\/cdn.cloudfastin.top\/image\/2023\/02\/13b1367cb9147e8ea7f3eac1c0ecc007f9ff8c7af3478355d632a9120a41be0f.png\"\u003e\n\u003cul\u003e\n\u003cli\u003e\n\u003cp\u003e\u003cspan style=\"color: #f08a5d;\"\u003e\u003cstrong\u003e\u003cspan data-mce-fragment=\"1\"\u003eUnique Decoration\u003c\/span\u003e:\u003c\/strong\u003e \u003cspan style=\"color: #000000;\" data-mce-fragment=\"1\"\u003eThe microphone robot is a good decoration on the desktop or at home.\u003c\/span\u003e\u003c\/span\u003e\u003c\/p\u003e\n\u003c\/li\u003e\n\u003cli\u003e\n\u003cstrong\u003e\u003cspan style=\"color: #f08a5d;\"\u003e\u003cspan data-mce-fragment=\"1\"\u003eUnique Gift\u003c\/span\u003e:\u003c\/span\u003e \u003c\/strong\u003eThis microphone robot not only can be used for lighting, but also a very decorative decoration. A great gift for colleagues, family or yourself.\u003c\/li\u003e\n\u003c\/ul\u003e\n\u003ch3\u003e\u003cspan style=\"color: #b83b5e;\"\u003e \u003cstrong\u003eSPECIFICATIONS\u003c\/strong\u003e\u003c\/span\u003e\u003c\/h3\u003e\n\u003cul\u003e\n\u003cli\u003e\n\u003cp\u003e\u003cstrong\u003e\u003cspan\u003eType:\u003c\/span\u003e\u003c\/strong\u003e\u003cspan\u003e\u003cspan\u003e \u003c\/span\u003e decoration\u003c\/span\u003e\u003c\/p\u003e\n\u003c\/li\u003e\n\u003cli\u003e\n\u003cp\u003e\u003cstrong\u003e\u003cspan\u003eColor:\u003c\/span\u003e\u003c\/strong\u003e\u003cspan\u003e\u003cspan\u003e \u003c\/span\u003esilver,s\u003cspan\u003e \u003c\/span\u003e\u003c\/span\u003e\u003cspan data-mce-fragment=\"1\"\u003e\u003cspan\u003eblack\u003c\/span\u003e\u003c\/span\u003e\u003c\/p\u003e\n\u003c\/li\u003e\n\u003cli\u003e\n\u003cp\u003e\u003cstrong\u003e\u003cspan\u003eMaterial:\u003c\/span\u003e\u003c\/strong\u003e\u003cspan\u003e\u003cspan\u003e \u003c\/span\u003ealuminum, stainless steel, iron\u003c\/span\u003e\u003c\/p\u003e\n\u003c\/li\u003e\n\u003cli\u003e\n\u003cp\u003e\u003cstrong\u003e\u003cspan\u003ePacking size:\u003c\/span\u003e\u003c\/strong\u003e\u003cspan\u003e\u003cspan\u003e \u003c\/span\u003e7 x 21 x 10 cm\u003c\/span\u003e\u003c\/p\u003e\n\u003c\/li\u003e\n\u003c\/ul\u003e\n\u003cdiv\u003e\u003cimg alt=\"\" src=\"https:\/\/cdn.shopify.com\/s\/files\/1\/0651\/6264\/1626\/files\/111_260ee0cf-ce7b-4a7e-ab54-368c1ea03f4f_480x480.jpg?v=1675838795\" style=\"font-size: 1.4em; display: block; margin-left: auto; margin-right: auto;\" width=\"401\" height=\"401\" data-mce-fragment=\"1\" data-mce-src=\"https:\/\/cdn.shopify.com\/s\/files\/1\/0651\/6264\/1626\/files\/111_260ee0cf-ce7b-4a7e-ab54-368c1ea03f4f_480x480.jpg?v=1675838795\"\u003e\u003c\/div\u003e\n\u003cul\u003e\n\u003cli\u003e\n\u003cp\u003e\u003cstrong\u003e\u003cspan\u003ePackage: \u003c\/span\u003e\u003c\/strong\u003e\u003cspan\u003e\u003cspan\u003e \u003c\/span\u003e1 * Retro Microphone Robot\u003c\/span\u003e\u003c\/p\u003e\n\u003c\/li\u003e\n\u003c\/ul\u003e\n\u003ch3\u003e\u003cspan style=\"color: #b83b5e;\"\u003e\u003cstrong\u003eNOTE\u003c\/strong\u003e\u003c\/span\u003e\u003c\/h3\u003e\n\u003cul\u003e\n\u003cli\u003e\n\u003cp\u003eDue to manual measurement, please allow slight measurement error.\u003c\/p\u003e\n\u003c\/li\u003e\n\u003cli\u003e\n\u003cp\u003eDue to the different display and light effects, the actual color of the item might be slightly different from the color displayed on the picture.\u003c\/p\u003e\n\u003c\/li\u003e\n\u003c\/ul\u003e"}
Adding product to your cart
🎙️A unique microphone robot for all music lovers

!

🎁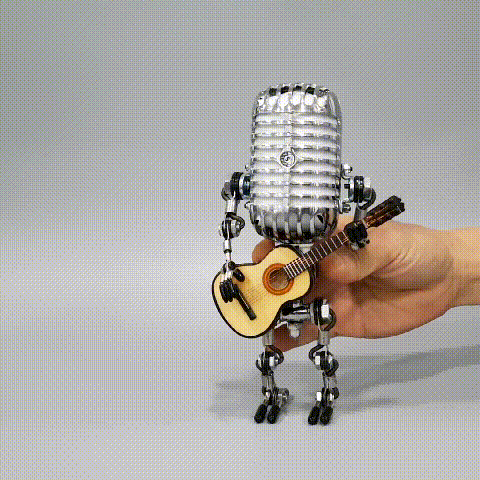 🎸 If you are looking for an extraordinary surprise gift, you will find it here!
🎙️ A real retro culture from the microphone robot... 🎵
💥 The power cord is black, and the joints of this machine can be controlled freely. You can easily adjust the angle of the lights and create different effects.
💥 This is a great gift!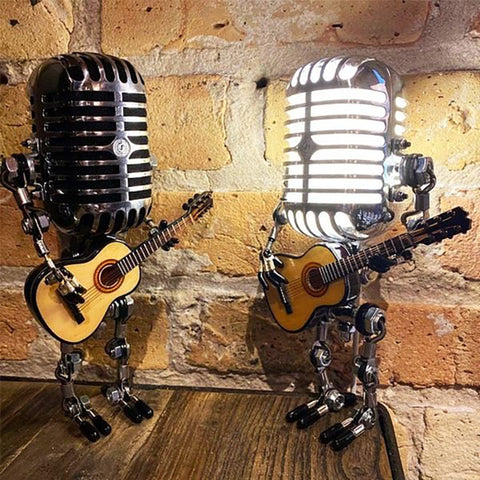 FEATURES
Excellent Material: The main material is metal. Over time, brass parts will create an old atmosphere. It will change color over time and is worthy of your long-term love..
Adjustable Joints: The joints of this product can be controlled freely and the angle can be easily adjusted to create different postures.

 
Unique Decoration: The microphone robot is a good decoration on the desktop or at home.

Unique Gift

: This microphone robot not only can be used for lighting, but also a very decorative decoration. A great gift for colleagues, family or yourself.
SPECIFICATIONS
Type:  decoration

Color: silver,s black

Material: aluminum, stainless steel, iron

Packing size: 7 x 21 x 10 cm
Package:  1 * Retro Microphone Robot
NOTE
Due to manual measurement, please allow slight measurement error.

Due to the different display and light effects, the actual color of the item might be slightly different from the color displayed on the picture.