{"id":7259077181529,"title":"RHINESTONE STONE HOLLOW HEEL SHOES","handle":"rhinestone-stone-hollow-heel-shoes","description":"\u003cdiv data-mce-fragment=\"1\"\u003e\n\u003cp style=\"text-align: center;\" data-mce-fragment=\"1\"\u003e\u003cstrong data-mce-fragment=\"1\"\u003eDo you often struggle with what shoes to wear with your summer outfit? \u003c\/strong\u003e\u003c\/p\u003e\n\u003cp style=\"text-align: center;\" data-mce-fragment=\"1\"\u003e\u003cstrong data-mce-fragment=\"1\"\u003eDo you feel like you don't look very good in traditional sandals?\u003c\/strong\u003e\u003cbr data-mce-fragment=\"1\"\u003e\u003cstrong data-mce-fragment=\"1\"\u003eNow we have these new comfortable, stylish, versatile and breathable sandals, so you can leave all those worries behind.\u003cimg src=\"https:\/\/cdn.shopifycdn.net\/s\/files\/1\/0589\/1440\/6575\/files\/12_480x480.gif?v=1632906506\" style=\"display: block; margin-left: auto; margin-right: auto;\" width=\"350\" height=\"349\" data-mce-fragment=\"1\" data-mce-src=\"https:\/\/cdn.shopifycdn.net\/s\/files\/1\/0589\/1440\/6575\/files\/12_480x480.gif?v=1632906506\"\u003e\u003c\/strong\u003e\u003c\/p\u003e\n\u003c\/div\u003e\n\u003ch3 data-mce-fragment=\"1\"\u003e\u003cspan style=\"color: #ff2a00;\"\u003e FEATURES\u003c\/span\u003e\u003c\/h3\u003e\n\u003cul data-mce-fragment=\"1\"\u003e\n\u003cli data-mce-fragment=\"1\"\u003e\n\u003cp\u003e\u003cstrong data-mce-fragment=\"1\"\u003eStylish and elegant appearance: \u003c\/strong\u003eWomen's black lace sandals set your mood, enhance your dress sense and make you look more elegant and stylish.\u003cimg src=\"https:\/\/cdn.shopifycdn.net\/s\/files\/1\/0589\/1440\/6575\/files\/2021-New-Women_s-Black-Lace-Sandals_08-min_480x480.jpg?v=1632908370\" style=\"display: block; margin-left: auto; margin-right: auto;\" width=\"350\" height=\"350\" data-mce-fragment=\"1\" data-mce-src=\"https:\/\/cdn.shopifycdn.net\/s\/files\/1\/0589\/1440\/6575\/files\/2021-New-Women_s-Black-Lace-Sandals_08-min_480x480.jpg?v=1632908370\"\u003e\u003c\/p\u003e\n\u003c\/li\u003e\n\u003c\/ul\u003e\n\u003cul\u003e\n\u003cli data-mce-fragment=\"1\"\u003e\n\u003cp\u003e\u003cstrong data-mce-fragment=\"1\"\u003eHumanidade Design: \u003c\/strong\u003eThe hidden zipper on the back of the shoe allows you to adjust the heel of the sandals at will to avoid rubbing your feet, you can also use it as a slipper. The semi-high heel design allows you to walk for long periods of time without feeling tired.\u003cimg src=\"https:\/\/cdn.shopifycdn.net\/s\/files\/1\/0589\/1440\/6575\/files\/2021-New-Women_s-Black-Lace-Sandals_02-min_480x480.jpg?v=1632908332\" style=\"display: block; margin-left: auto; margin-right: auto;\" width=\"350\" height=\"350\" data-mce-fragment=\"1\" data-mce-src=\"https:\/\/cdn.shopifycdn.net\/s\/files\/1\/0589\/1440\/6575\/files\/2021-New-Women_s-Black-Lace-Sandals_02-min_480x480.jpg?v=1632908332\"\u003e\u003c\/p\u003e\n\u003c\/li\u003e\n\u003cli data-mce-fragment=\"1\"\u003e\n\u003cp\u003e\u003cstrong data-mce-fragment=\"1\"\u003eBreathable and Comfortable: \u003c\/strong\u003eThe shoes come with a lace design so your feet can breathe and be more comfortable.\u003cimg src=\"https:\/\/cdn.shopifycdn.net\/s\/files\/1\/0589\/1440\/6575\/files\/2021-New-Women_s-Black-Lace-Sandals_07-min_480x480.jpg?v=1632908256\" style=\"display: block; margin-left: auto; margin-right: auto;\" width=\"350\" height=\"350\" data-mce-fragment=\"1\" data-mce-src=\"https:\/\/cdn.shopifycdn.net\/s\/files\/1\/0589\/1440\/6575\/files\/2021-New-Women_s-Black-Lace-Sandals_07-min_480x480.jpg?v=1632908256\"\u003e\u003c\/p\u003e\n\u003c\/li\u003e\n\u003cli data-mce-fragment=\"1\"\u003e\n\u003cp\u003e\u003cstrong\u003eUsage scenarios: \u003c\/strong\u003eWhether you are relaxing at home, heading to work or going out to a party, these sandals are a great choice for you.\u003cimg src=\"https:\/\/cdn.shopifycdn.net\/s\/files\/1\/0589\/1440\/6575\/files\/lQDPDhq53j4HHgDNAyDNAyCwgCJNIBpj_hZaPBmj-3RbKw_800_800-min_480x480.jpg?v=1632908420\" style=\"display: block; margin-left: auto; margin-right: auto;\" width=\"350\" height=\"350\" data-mce-fragment=\"1\" data-mce-src=\"https:\/\/cdn.shopifycdn.net\/s\/files\/1\/0589\/1440\/6575\/files\/lQDPDhq53j4HHgDNAyDNAyCwgCJNIBpj_hZaPBmj-3RbKw_800_800-min_480x480.jpg?v=1632908420\"\u003e\u003c\/p\u003e\n\u003c\/li\u003e\n\u003c\/ul\u003e\n\u003ch3 data-mce-fragment=\"1\"\u003e\u003cspan style=\"color: #ff2a00;\" data-mce-fragment=\"1\"\u003eSPECIFICATIONS\u003c\/span\u003e\u003c\/h3\u003e\n\u003cul data-mce-fragment=\"1\"\u003e\n\u003cli data-mce-fragment=\"1\"\u003e\n\u003cp data-mce-fragment=\"1\"\u003e\u003cstrong data-mce-fragment=\"1\"\u003eItem Type:\u003cspan data-mce-fragment=\"1\"\u003e \u003c\/span\u003e\u003c\/strong\u003eShoes\u003c\/p\u003e\n\u003c\/li\u003e\n\u003cli data-mce-fragment=\"1\"\u003e\n\u003cp data-mce-fragment=\"1\"\u003e\u003cstrong data-mce-fragment=\"1\"\u003eOccasion: \u003c\/strong\u003eHoliday, Daily\u003c\/p\u003e\n\u003c\/li\u003e\n\u003cli data-mce-fragment=\"1\"\u003e\n\u003cp data-mce-fragment=\"1\"\u003e\u003cstrong data-mce-fragment=\"1\"\u003eStyle: \u003c\/strong\u003eCasual\u003c\/p\u003e\n\u003c\/li\u003e\n\u003cli data-mce-fragment=\"1\"\u003e\n\u003cp data-mce-fragment=\"1\"\u003e\u003cstrong data-mce-fragment=\"1\"\u003eGender: \u003c\/strong\u003eFemale\u003c\/p\u003e\n\u003c\/li\u003e\n\u003cli data-mce-fragment=\"1\"\u003e\n\u003cp data-mce-fragment=\"1\"\u003e\u003cstrong data-mce-fragment=\"1\"\u003eSeason: \u003c\/strong\u003eSummer\u003c\/p\u003e\n\u003c\/li\u003e\n\u003cli data-mce-fragment=\"1\"\u003e\n\u003cp data-mce-fragment=\"1\"\u003e\u003cstrong data-mce-fragment=\"1\"\u003eColor: \u003c\/strong\u003e\u003cspan mce-data-marked=\"1\" data-mce-fragment=\"1\"\u003eBlack\u003c\/span\u003e\u003c\/p\u003e\n\u003c\/li\u003e\n\u003cli data-mce-fragment=\"1\"\u003e\n\u003cp data-mce-fragment=\"1\"\u003e\u003cstrong data-mce-fragment=\"1\"\u003eSize(cm\/inch):\u003c\/strong\u003e\u003cspan data-mce-fragment=\"1\"\u003e 35-43\u003cimg src=\"https:\/\/cdn.cloudfastin.top\/image\/2022\/05\/f1e8b9239a755d4cacc5b7d1f58d876c9f10a9ba8dde71ebc93d54cbfa611877.jpeg\" style=\"display: block; margin-left: auto; margin-right: auto;\" width=\"350\" height=\"350\" data-mce-fragment=\"1\" data-mce-src=\"https:\/\/cdn.cloudfastin.top\/image\/2022\/05\/f1e8b9239a755d4cacc5b7d1f58d876c9f10a9ba8dde71ebc93d54cbfa611877.jpeg\"\u003e\u003c\/span\u003e\u003c\/p\u003e\n\u003c\/li\u003e\n\u003c\/ul\u003e\n\u003ch3 data-mce-fragment=\"1\"\u003e\u003cspan style=\"color: #ff2a00;\" data-mce-fragment=\"1\"\u003ePACKAGE\u003c\/span\u003e\u003c\/h3\u003e\n\u003cul data-mce-fragment=\"1\"\u003e\n\u003cli data-mce-fragment=\"1\"\u003e1 pair* RHINESTONE STONE HOLLOW HEEL SHOES \u003c\/li\u003e\n\u003c\/ul\u003e\n\u003ch3 data-mce-fragment=\"1\"\u003e\u003cspan style=\"color: #ff2a00;\" data-mce-fragment=\"1\"\u003e\u003cstrong data-mce-fragment=\"1\"\u003eNOTE\u003c\/strong\u003e\u003c\/span\u003e\u003c\/h3\u003e\n\u003cul data-mce-fragment=\"1\"\u003e\n\u003cli data-mce-fragment=\"1\"\u003e\n\u003cp data-mce-fragment=\"1\"\u003ePlease allow slight measurement deviations due to manual measurement.\u003c\/p\u003e\n\u003c\/li\u003e\n\u003cli data-mce-fragment=\"1\"\u003e\n\u003cp data-mce-fragment=\"1\"\u003eDue to the different monitor and light effect, the actual color of the item might be slightly different from the color showed in the pictures.\u003c\/p\u003e\n\u003c\/li\u003e\n\u003c\/ul\u003e","published_at":"2023-03-16T19:08:40-10:00","created_at":"2023-03-16T19:08:50-10:00","vendor":"Suerteyay","type":"","tags":["casual shoes","shoes"],"price":2799,"price_min":2799,"price_max":2799,"available":true,"price_varies":false,"compare_at_price":5599,"compare_at_price_min":5599,"compare_at_price_max":5599,"compare_at_price_varies":false,"variants":[{"id":40439658020953,"title":"35","option1":"35","option2":null,"option3":null,"sku":"SH29364-C001-S035","requires_shipping":true,"taxable":false,"featured_image":{"id":31346899812441,"product_id":7259077181529,"position":13,"created_at":"2023-03-16T19:08:56-10:00","updated_at":"2023-03-16T19:08:56-10:00","alt":null,"width":800,"height":800,"src":"\/\/www.suerteyay.com\/cdn\/shop\/products\/0002_1_1cd373e6-bc6e-473c-9759-c8c645792326.jpg?v=1679029736","variant_ids":[40439658020953,40439658053721,40439658086489,40439658119257,40439658152025,40439658217561,40439658250329,40439658283097,40439658315865]},"available":true,"name":"RHINESTONE STONE HOLLOW HEEL SHOES - 35","public_title":"35","options":["35"],"price":2799,"weight":0,"compare_at_price":5599,"inventory_management":null,"barcode":null,"featured_media":{"alt":null,"id":23898427785305,"position":13,"preview_image":{"aspect_ratio":1.0,"height":800,"width":800,"src":"\/\/www.suerteyay.com\/cdn\/shop\/products\/0002_1_1cd373e6-bc6e-473c-9759-c8c645792326.jpg?v=1679029736"}},"requires_selling_plan":false,"selling_plan_allocations":[],"quantity_rule":{"min":1,"max":null,"increment":1}},{"id":40439658053721,"title":"36","option1":"36","option2":null,"option3":null,"sku":"SH29364-C001-S036","requires_shipping":true,"taxable":false,"featured_image":{"id":31346899812441,"product_id":7259077181529,"position":13,"created_at":"2023-03-16T19:08:56-10:00","updated_at":"2023-03-16T19:08:56-10:00","alt":null,"width":800,"height":800,"src":"\/\/www.suerteyay.com\/cdn\/shop\/products\/0002_1_1cd373e6-bc6e-473c-9759-c8c645792326.jpg?v=1679029736","variant_ids":[40439658020953,40439658053721,40439658086489,40439658119257,40439658152025,40439658217561,40439658250329,40439658283097,40439658315865]},"available":true,"name":"RHINESTONE STONE HOLLOW HEEL SHOES - 36","public_title":"36","options":["36"],"price":2799,"weight":0,"compare_at_price":5599,"inventory_management":null,"barcode":null,"featured_media":{"alt":null,"id":23898427785305,"position":13,"preview_image":{"aspect_ratio":1.0,"height":800,"width":800,"src":"\/\/www.suerteyay.com\/cdn\/shop\/products\/0002_1_1cd373e6-bc6e-473c-9759-c8c645792326.jpg?v=1679029736"}},"requires_selling_plan":false,"selling_plan_allocations":[],"quantity_rule":{"min":1,"max":null,"increment":1}},{"id":40439658086489,"title":"37","option1":"37","option2":null,"option3":null,"sku":"SH29364-C001-S037","requires_shipping":true,"taxable":false,"featured_image":{"id":31346899812441,"product_id":7259077181529,"position":13,"created_at":"2023-03-16T19:08:56-10:00","updated_at":"2023-03-16T19:08:56-10:00","alt":null,"width":800,"height":800,"src":"\/\/www.suerteyay.com\/cdn\/shop\/products\/0002_1_1cd373e6-bc6e-473c-9759-c8c645792326.jpg?v=1679029736","variant_ids":[40439658020953,40439658053721,40439658086489,40439658119257,40439658152025,40439658217561,40439658250329,40439658283097,40439658315865]},"available":true,"name":"RHINESTONE STONE HOLLOW HEEL SHOES - 37","public_title":"37","options":["37"],"price":2799,"weight":0,"compare_at_price":5599,"inventory_management":null,"barcode":null,"featured_media":{"alt":null,"id":23898427785305,"position":13,"preview_image":{"aspect_ratio":1.0,"height":800,"width":800,"src":"\/\/www.suerteyay.com\/cdn\/shop\/products\/0002_1_1cd373e6-bc6e-473c-9759-c8c645792326.jpg?v=1679029736"}},"requires_selling_plan":false,"selling_plan_allocations":[],"quantity_rule":{"min":1,"max":null,"increment":1}},{"id":40439658119257,"title":"38","option1":"38","option2":null,"option3":null,"sku":"SH29364-C001-S038","requires_shipping":true,"taxable":false,"featured_image":{"id":31346899812441,"product_id":7259077181529,"position":13,"created_at":"2023-03-16T19:08:56-10:00","updated_at":"2023-03-16T19:08:56-10:00","alt":null,"width":800,"height":800,"src":"\/\/www.suerteyay.com\/cdn\/shop\/products\/0002_1_1cd373e6-bc6e-473c-9759-c8c645792326.jpg?v=1679029736","variant_ids":[40439658020953,40439658053721,40439658086489,40439658119257,40439658152025,40439658217561,40439658250329,40439658283097,40439658315865]},"available":true,"name":"RHINESTONE STONE HOLLOW HEEL SHOES - 38","public_title":"38","options":["38"],"price":2799,"weight":0,"compare_at_price":5599,"inventory_management":null,"barcode":null,"featured_media":{"alt":null,"id":23898427785305,"position":13,"preview_image":{"aspect_ratio":1.0,"height":800,"width":800,"src":"\/\/www.suerteyay.com\/cdn\/shop\/products\/0002_1_1cd373e6-bc6e-473c-9759-c8c645792326.jpg?v=1679029736"}},"requires_selling_plan":false,"selling_plan_allocations":[],"quantity_rule":{"min":1,"max":null,"increment":1}},{"id":40439658152025,"title":"39","option1":"39","option2":null,"option3":null,"sku":"SH29364-C001-S039","requires_shipping":true,"taxable":false,"featured_image":{"id":31346899812441,"product_id":7259077181529,"position":13,"created_at":"2023-03-16T19:08:56-10:00","updated_at":"2023-03-16T19:08:56-10:00","alt":null,"width":800,"height":800,"src":"\/\/www.suerteyay.com\/cdn\/shop\/products\/0002_1_1cd373e6-bc6e-473c-9759-c8c645792326.jpg?v=1679029736","variant_ids":[40439658020953,40439658053721,40439658086489,40439658119257,40439658152025,40439658217561,40439658250329,40439658283097,40439658315865]},"available":true,"name":"RHINESTONE STONE HOLLOW HEEL SHOES - 39","public_title":"39","options":["39"],"price":2799,"weight":0,"compare_at_price":5599,"inventory_management":null,"barcode":null,"featured_media":{"alt":null,"id":23898427785305,"position":13,"preview_image":{"aspect_ratio":1.0,"height":800,"width":800,"src":"\/\/www.suerteyay.com\/cdn\/shop\/products\/0002_1_1cd373e6-bc6e-473c-9759-c8c645792326.jpg?v=1679029736"}},"requires_selling_plan":false,"selling_plan_allocations":[],"quantity_rule":{"min":1,"max":null,"increment":1}},{"id":40439658217561,"title":"40","option1":"40","option2":null,"option3":null,"sku":"SH29364-C001-S040","requires_shipping":true,"taxable":false,"featured_image":{"id":31346899812441,"product_id":7259077181529,"position":13,"created_at":"2023-03-16T19:08:56-10:00","updated_at":"2023-03-16T19:08:56-10:00","alt":null,"width":800,"height":800,"src":"\/\/www.suerteyay.com\/cdn\/shop\/products\/0002_1_1cd373e6-bc6e-473c-9759-c8c645792326.jpg?v=1679029736","variant_ids":[40439658020953,40439658053721,40439658086489,40439658119257,40439658152025,40439658217561,40439658250329,40439658283097,40439658315865]},"available":true,"name":"RHINESTONE STONE HOLLOW HEEL SHOES - 40","public_title":"40","options":["40"],"price":2799,"weight":0,"compare_at_price":5599,"inventory_management":null,"barcode":null,"featured_media":{"alt":null,"id":23898427785305,"position":13,"preview_image":{"aspect_ratio":1.0,"height":800,"width":800,"src":"\/\/www.suerteyay.com\/cdn\/shop\/products\/0002_1_1cd373e6-bc6e-473c-9759-c8c645792326.jpg?v=1679029736"}},"requires_selling_plan":false,"selling_plan_allocations":[],"quantity_rule":{"min":1,"max":null,"increment":1}},{"id":40439658250329,"title":"41","option1":"41","option2":null,"option3":null,"sku":"SH29364-C001-S041","requires_shipping":true,"taxable":false,"featured_image":{"id":31346899812441,"product_id":7259077181529,"position":13,"created_at":"2023-03-16T19:08:56-10:00","updated_at":"2023-03-16T19:08:56-10:00","alt":null,"width":800,"height":800,"src":"\/\/www.suerteyay.com\/cdn\/shop\/products\/0002_1_1cd373e6-bc6e-473c-9759-c8c645792326.jpg?v=1679029736","variant_ids":[40439658020953,40439658053721,40439658086489,40439658119257,40439658152025,40439658217561,40439658250329,40439658283097,40439658315865]},"available":true,"name":"RHINESTONE STONE HOLLOW HEEL SHOES - 41","public_title":"41","options":["41"],"price":2799,"weight":0,"compare_at_price":5599,"inventory_management":null,"barcode":null,"featured_media":{"alt":null,"id":23898427785305,"position":13,"preview_image":{"aspect_ratio":1.0,"height":800,"width":800,"src":"\/\/www.suerteyay.com\/cdn\/shop\/products\/0002_1_1cd373e6-bc6e-473c-9759-c8c645792326.jpg?v=1679029736"}},"requires_selling_plan":false,"selling_plan_allocations":[],"quantity_rule":{"min":1,"max":null,"increment":1}},{"id":40439658283097,"title":"42","option1":"42","option2":null,"option3":null,"sku":"SH29364-C001-S042","requires_shipping":true,"taxable":false,"featured_image":{"id":31346899812441,"product_id":7259077181529,"position":13,"created_at":"2023-03-16T19:08:56-10:00","updated_at":"2023-03-16T19:08:56-10:00","alt":null,"width":800,"height":800,"src":"\/\/www.suerteyay.com\/cdn\/shop\/products\/0002_1_1cd373e6-bc6e-473c-9759-c8c645792326.jpg?v=1679029736","variant_ids":[40439658020953,40439658053721,40439658086489,40439658119257,40439658152025,40439658217561,40439658250329,40439658283097,40439658315865]},"available":true,"name":"RHINESTONE STONE HOLLOW HEEL SHOES - 42","public_title":"42","options":["42"],"price":2799,"weight":0,"compare_at_price":5599,"inventory_management":null,"barcode":null,"featured_media":{"alt":null,"id":23898427785305,"position":13,"preview_image":{"aspect_ratio":1.0,"height":800,"width":800,"src":"\/\/www.suerteyay.com\/cdn\/shop\/products\/0002_1_1cd373e6-bc6e-473c-9759-c8c645792326.jpg?v=1679029736"}},"requires_selling_plan":false,"selling_plan_allocations":[],"quantity_rule":{"min":1,"max":null,"increment":1}},{"id":40439658315865,"title":"43","option1":"43","option2":null,"option3":null,"sku":"SH29364-C001-S043","requires_shipping":true,"taxable":false,"featured_image":{"id":31346899812441,"product_id":7259077181529,"position":13,"created_at":"2023-03-16T19:08:56-10:00","updated_at":"2023-03-16T19:08:56-10:00","alt":null,"width":800,"height":800,"src":"\/\/www.suerteyay.com\/cdn\/shop\/products\/0002_1_1cd373e6-bc6e-473c-9759-c8c645792326.jpg?v=1679029736","variant_ids":[40439658020953,40439658053721,40439658086489,40439658119257,40439658152025,40439658217561,40439658250329,40439658283097,40439658315865]},"available":true,"name":"RHINESTONE STONE HOLLOW HEEL SHOES - 43","public_title":"43","options":["43"],"price":2799,"weight":0,"compare_at_price":5599,"inventory_management":null,"barcode":null,"featured_media":{"alt":null,"id":23898427785305,"position":13,"preview_image":{"aspect_ratio":1.0,"height":800,"width":800,"src":"\/\/www.suerteyay.com\/cdn\/shop\/products\/0002_1_1cd373e6-bc6e-473c-9759-c8c645792326.jpg?v=1679029736"}},"requires_selling_plan":false,"selling_plan_allocations":[],"quantity_rule":{"min":1,"max":null,"increment":1}}],"images":["\/\/www.suerteyay.com\/cdn\/shop\/products\/0000__1_e60de4b6-a062-477f-a296-50f3c0a49fca.jpg?v=1679029730","\/\/www.suerteyay.com\/cdn\/shop\/products\/0001__2_8e78d651-86c7-46cf-b1f1-378b6ac125db.jpg?v=1679029730","\/\/www.suerteyay.com\/cdn\/shop\/products\/0003_2_736f29aa-70cf-4a00-84f8-b0e87a1bfe82.jpg?v=1679029730","\/\/www.suerteyay.com\/cdn\/shop\/products\/0004_3_dd9e96ab-025b-4b98-b97c-ea50b736b7f3.jpg?v=1679029730","\/\/www.suerteyay.com\/cdn\/shop\/products\/0005_4_be001feb-3dc6-46aa-bd61-b9a65ae7fa23.jpg?v=1679029730","\/\/www.suerteyay.com\/cdn\/shop\/products\/0006_5_a849c694-027e-4d82-983a-fdff5414f997.jpg?v=1679029730","\/\/www.suerteyay.com\/cdn\/shop\/products\/0007_6_9ce62ef2-0a52-43c3-8c8b-cfc0121cfc99.jpg?v=1679029730","\/\/www.suerteyay.com\/cdn\/shop\/products\/0008_7_264ffb70-b396-4dd1-b34d-9b30ceda009e.jpg?v=1679029730","\/\/www.suerteyay.com\/cdn\/shop\/products\/0009_8_74373801-5790-4920-a211-d03040ef0a85.jpg?v=1679029730","\/\/www.suerteyay.com\/cdn\/shop\/products\/0010_9_0223e075-02ff-483a-9c60-7ece67929b48.jpg?v=1679029730","\/\/www.suerteyay.com\/cdn\/shop\/products\/0011_10_87beab4a-c03c-45ff-96c6-b38312392bed.jpg?v=1679029730","\/\/www.suerteyay.com\/cdn\/shop\/products\/0002_1_fbe73181-7636-43b8-849d-0d73e55fc2f1.jpg?v=1679029730","\/\/www.suerteyay.com\/cdn\/shop\/products\/0002_1_1cd373e6-bc6e-473c-9759-c8c645792326.jpg?v=1679029736"],"featured_image":"\/\/www.suerteyay.com\/cdn\/shop\/products\/0000__1_e60de4b6-a062-477f-a296-50f3c0a49fca.jpg?v=1679029730","options":["Size"],"media":[{"alt":null,"id":23898427097177,"position":1,"preview_image":{"aspect_ratio":1.0,"height":800,"width":800,"src":"\/\/www.suerteyay.com\/cdn\/shop\/products\/0000__1_e60de4b6-a062-477f-a296-50f3c0a49fca.jpg?v=1679029730"},"aspect_ratio":1.0,"height":800,"media_type":"image","src":"\/\/www.suerteyay.com\/cdn\/shop\/products\/0000__1_e60de4b6-a062-477f-a296-50f3c0a49fca.jpg?v=1679029730","width":800},{"alt":null,"id":23898427129945,"position":2,"preview_image":{"aspect_ratio":1.0,"height":800,"width":800,"src":"\/\/www.suerteyay.com\/cdn\/shop\/products\/0001__2_8e78d651-86c7-46cf-b1f1-378b6ac125db.jpg?v=1679029730"},"aspect_ratio":1.0,"height":800,"media_type":"image","src":"\/\/www.suerteyay.com\/cdn\/shop\/products\/0001__2_8e78d651-86c7-46cf-b1f1-378b6ac125db.jpg?v=1679029730","width":800},{"alt":null,"id":23898427162713,"position":3,"preview_image":{"aspect_ratio":1.0,"height":800,"width":800,"src":"\/\/www.suerteyay.com\/cdn\/shop\/products\/0003_2_736f29aa-70cf-4a00-84f8-b0e87a1bfe82.jpg?v=1679029730"},"aspect_ratio":1.0,"height":800,"media_type":"image","src":"\/\/www.suerteyay.com\/cdn\/shop\/products\/0003_2_736f29aa-70cf-4a00-84f8-b0e87a1bfe82.jpg?v=1679029730","width":800},{"alt":null,"id":23898427195481,"position":4,"preview_image":{"aspect_ratio":1.0,"height":800,"width":800,"src":"\/\/www.suerteyay.com\/cdn\/shop\/products\/0004_3_dd9e96ab-025b-4b98-b97c-ea50b736b7f3.jpg?v=1679029730"},"aspect_ratio":1.0,"height":800,"media_type":"image","src":"\/\/www.suerteyay.com\/cdn\/shop\/products\/0004_3_dd9e96ab-025b-4b98-b97c-ea50b736b7f3.jpg?v=1679029730","width":800},{"alt":null,"id":23898427228249,"position":5,"preview_image":{"aspect_ratio":1.0,"height":800,"width":800,"src":"\/\/www.suerteyay.com\/cdn\/shop\/products\/0005_4_be001feb-3dc6-46aa-bd61-b9a65ae7fa23.jpg?v=1679029730"},"aspect_ratio":1.0,"height":800,"media_type":"image","src":"\/\/www.suerteyay.com\/cdn\/shop\/products\/0005_4_be001feb-3dc6-46aa-bd61-b9a65ae7fa23.jpg?v=1679029730","width":800},{"alt":null,"id":23898427261017,"position":6,"preview_image":{"aspect_ratio":1.0,"height":800,"width":800,"src":"\/\/www.suerteyay.com\/cdn\/shop\/products\/0006_5_a849c694-027e-4d82-983a-fdff5414f997.jpg?v=1679029730"},"aspect_ratio":1.0,"height":800,"media_type":"image","src":"\/\/www.suerteyay.com\/cdn\/shop\/products\/0006_5_a849c694-027e-4d82-983a-fdff5414f997.jpg?v=1679029730","width":800},{"alt":null,"id":23898427293785,"position":7,"preview_image":{"aspect_ratio":1.0,"height":800,"width":800,"src":"\/\/www.suerteyay.com\/cdn\/shop\/products\/0007_6_9ce62ef2-0a52-43c3-8c8b-cfc0121cfc99.jpg?v=1679029730"},"aspect_ratio":1.0,"height":800,"media_type":"image","src":"\/\/www.suerteyay.com\/cdn\/shop\/products\/0007_6_9ce62ef2-0a52-43c3-8c8b-cfc0121cfc99.jpg?v=1679029730","width":800},{"alt":null,"id":23898427326553,"position":8,"preview_image":{"aspect_ratio":1.0,"height":800,"width":800,"src":"\/\/www.suerteyay.com\/cdn\/shop\/products\/0008_7_264ffb70-b396-4dd1-b34d-9b30ceda009e.jpg?v=1679029730"},"aspect_ratio":1.0,"height":800,"media_type":"image","src":"\/\/www.suerteyay.com\/cdn\/shop\/products\/0008_7_264ffb70-b396-4dd1-b34d-9b30ceda009e.jpg?v=1679029730","width":800},{"alt":null,"id":23898427359321,"position":9,"preview_image":{"aspect_ratio":1.0,"height":800,"width":800,"src":"\/\/www.suerteyay.com\/cdn\/shop\/products\/0009_8_74373801-5790-4920-a211-d03040ef0a85.jpg?v=1679029730"},"aspect_ratio":1.0,"height":800,"media_type":"image","src":"\/\/www.suerteyay.com\/cdn\/shop\/products\/0009_8_74373801-5790-4920-a211-d03040ef0a85.jpg?v=1679029730","width":800},{"alt":null,"id":23898427392089,"position":10,"preview_image":{"aspect_ratio":1.0,"height":800,"width":800,"src":"\/\/www.suerteyay.com\/cdn\/shop\/products\/0010_9_0223e075-02ff-483a-9c60-7ece67929b48.jpg?v=1679029730"},"aspect_ratio":1.0,"height":800,"media_type":"image","src":"\/\/www.suerteyay.com\/cdn\/shop\/products\/0010_9_0223e075-02ff-483a-9c60-7ece67929b48.jpg?v=1679029730","width":800},{"alt":null,"id":23898427424857,"position":11,"preview_image":{"aspect_ratio":1.0,"height":800,"width":800,"src":"\/\/www.suerteyay.com\/cdn\/shop\/products\/0011_10_87beab4a-c03c-45ff-96c6-b38312392bed.jpg?v=1679029730"},"aspect_ratio":1.0,"height":800,"media_type":"image","src":"\/\/www.suerteyay.com\/cdn\/shop\/products\/0011_10_87beab4a-c03c-45ff-96c6-b38312392bed.jpg?v=1679029730","width":800},{"alt":null,"id":23898427457625,"position":12,"preview_image":{"aspect_ratio":1.0,"height":800,"width":800,"src":"\/\/www.suerteyay.com\/cdn\/shop\/products\/0002_1_fbe73181-7636-43b8-849d-0d73e55fc2f1.jpg?v=1679029730"},"aspect_ratio":1.0,"height":800,"media_type":"image","src":"\/\/www.suerteyay.com\/cdn\/shop\/products\/0002_1_fbe73181-7636-43b8-849d-0d73e55fc2f1.jpg?v=1679029730","width":800},{"alt":null,"id":23898427785305,"position":13,"preview_image":{"aspect_ratio":1.0,"height":800,"width":800,"src":"\/\/www.suerteyay.com\/cdn\/shop\/products\/0002_1_1cd373e6-bc6e-473c-9759-c8c645792326.jpg?v=1679029736"},"aspect_ratio":1.0,"height":800,"media_type":"image","src":"\/\/www.suerteyay.com\/cdn\/shop\/products\/0002_1_1cd373e6-bc6e-473c-9759-c8c645792326.jpg?v=1679029736","width":800}],"requires_selling_plan":false,"selling_plan_groups":[],"content":"\u003cdiv data-mce-fragment=\"1\"\u003e\n\u003cp style=\"text-align: center;\" data-mce-fragment=\"1\"\u003e\u003cstrong data-mce-fragment=\"1\"\u003eDo you often struggle with what shoes to wear with your summer outfit? \u003c\/strong\u003e\u003c\/p\u003e\n\u003cp style=\"text-align: center;\" data-mce-fragment=\"1\"\u003e\u003cstrong data-mce-fragment=\"1\"\u003eDo you feel like you don't look very good in traditional sandals?\u003c\/strong\u003e\u003cbr data-mce-fragment=\"1\"\u003e\u003cstrong data-mce-fragment=\"1\"\u003eNow we have these new comfortable, stylish, versatile and breathable sandals, so you can leave all those worries behind.\u003cimg src=\"https:\/\/cdn.shopifycdn.net\/s\/files\/1\/0589\/1440\/6575\/files\/12_480x480.gif?v=1632906506\" style=\"display: block; margin-left: auto; margin-right: auto;\" width=\"350\" height=\"349\" data-mce-fragment=\"1\" data-mce-src=\"https:\/\/cdn.shopifycdn.net\/s\/files\/1\/0589\/1440\/6575\/files\/12_480x480.gif?v=1632906506\"\u003e\u003c\/strong\u003e\u003c\/p\u003e\n\u003c\/div\u003e\n\u003ch3 data-mce-fragment=\"1\"\u003e\u003cspan style=\"color: #ff2a00;\"\u003e FEATURES\u003c\/span\u003e\u003c\/h3\u003e\n\u003cul data-mce-fragment=\"1\"\u003e\n\u003cli data-mce-fragment=\"1\"\u003e\n\u003cp\u003e\u003cstrong data-mce-fragment=\"1\"\u003eStylish and elegant appearance: \u003c\/strong\u003eWomen's black lace sandals set your mood, enhance your dress sense and make you look more elegant and stylish.\u003cimg src=\"https:\/\/cdn.shopifycdn.net\/s\/files\/1\/0589\/1440\/6575\/files\/2021-New-Women_s-Black-Lace-Sandals_08-min_480x480.jpg?v=1632908370\" style=\"display: block; margin-left: auto; margin-right: auto;\" width=\"350\" height=\"350\" data-mce-fragment=\"1\" data-mce-src=\"https:\/\/cdn.shopifycdn.net\/s\/files\/1\/0589\/1440\/6575\/files\/2021-New-Women_s-Black-Lace-Sandals_08-min_480x480.jpg?v=1632908370\"\u003e\u003c\/p\u003e\n\u003c\/li\u003e\n\u003c\/ul\u003e\n\u003cul\u003e\n\u003cli data-mce-fragment=\"1\"\u003e\n\u003cp\u003e\u003cstrong data-mce-fragment=\"1\"\u003eHumanidade Design: \u003c\/strong\u003eThe hidden zipper on the back of the shoe allows you to adjust the heel of the sandals at will to avoid rubbing your feet, you can also use it as a slipper. The semi-high heel design allows you to walk for long periods of time without feeling tired.\u003cimg src=\"https:\/\/cdn.shopifycdn.net\/s\/files\/1\/0589\/1440\/6575\/files\/2021-New-Women_s-Black-Lace-Sandals_02-min_480x480.jpg?v=1632908332\" style=\"display: block; margin-left: auto; margin-right: auto;\" width=\"350\" height=\"350\" data-mce-fragment=\"1\" data-mce-src=\"https:\/\/cdn.shopifycdn.net\/s\/files\/1\/0589\/1440\/6575\/files\/2021-New-Women_s-Black-Lace-Sandals_02-min_480x480.jpg?v=1632908332\"\u003e\u003c\/p\u003e\n\u003c\/li\u003e\n\u003cli data-mce-fragment=\"1\"\u003e\n\u003cp\u003e\u003cstrong data-mce-fragment=\"1\"\u003eBreathable and Comfortable: \u003c\/strong\u003eThe shoes come with a lace design so your feet can breathe and be more comfortable.\u003cimg src=\"https:\/\/cdn.shopifycdn.net\/s\/files\/1\/0589\/1440\/6575\/files\/2021-New-Women_s-Black-Lace-Sandals_07-min_480x480.jpg?v=1632908256\" style=\"display: block; margin-left: auto; margin-right: auto;\" width=\"350\" height=\"350\" data-mce-fragment=\"1\" data-mce-src=\"https:\/\/cdn.shopifycdn.net\/s\/files\/1\/0589\/1440\/6575\/files\/2021-New-Women_s-Black-Lace-Sandals_07-min_480x480.jpg?v=1632908256\"\u003e\u003c\/p\u003e\n\u003c\/li\u003e\n\u003cli data-mce-fragment=\"1\"\u003e\n\u003cp\u003e\u003cstrong\u003eUsage scenarios: \u003c\/strong\u003eWhether you are relaxing at home, heading to work or going out to a party, these sandals are a great choice for you.\u003cimg src=\"https:\/\/cdn.shopifycdn.net\/s\/files\/1\/0589\/1440\/6575\/files\/lQDPDhq53j4HHgDNAyDNAyCwgCJNIBpj_hZaPBmj-3RbKw_800_800-min_480x480.jpg?v=1632908420\" style=\"display: block; margin-left: auto; margin-right: auto;\" width=\"350\" height=\"350\" data-mce-fragment=\"1\" data-mce-src=\"https:\/\/cdn.shopifycdn.net\/s\/files\/1\/0589\/1440\/6575\/files\/lQDPDhq53j4HHgDNAyDNAyCwgCJNIBpj_hZaPBmj-3RbKw_800_800-min_480x480.jpg?v=1632908420\"\u003e\u003c\/p\u003e\n\u003c\/li\u003e\n\u003c\/ul\u003e\n\u003ch3 data-mce-fragment=\"1\"\u003e\u003cspan style=\"color: #ff2a00;\" data-mce-fragment=\"1\"\u003eSPECIFICATIONS\u003c\/span\u003e\u003c\/h3\u003e\n\u003cul data-mce-fragment=\"1\"\u003e\n\u003cli data-mce-fragment=\"1\"\u003e\n\u003cp data-mce-fragment=\"1\"\u003e\u003cstrong data-mce-fragment=\"1\"\u003eItem Type:\u003cspan data-mce-fragment=\"1\"\u003e \u003c\/span\u003e\u003c\/strong\u003eShoes\u003c\/p\u003e\n\u003c\/li\u003e\n\u003cli data-mce-fragment=\"1\"\u003e\n\u003cp data-mce-fragment=\"1\"\u003e\u003cstrong data-mce-fragment=\"1\"\u003eOccasion: \u003c\/strong\u003eHoliday, Daily\u003c\/p\u003e\n\u003c\/li\u003e\n\u003cli data-mce-fragment=\"1\"\u003e\n\u003cp data-mce-fragment=\"1\"\u003e\u003cstrong data-mce-fragment=\"1\"\u003eStyle: \u003c\/strong\u003eCasual\u003c\/p\u003e\n\u003c\/li\u003e\n\u003cli data-mce-fragment=\"1\"\u003e\n\u003cp data-mce-fragment=\"1\"\u003e\u003cstrong data-mce-fragment=\"1\"\u003eGender: \u003c\/strong\u003eFemale\u003c\/p\u003e\n\u003c\/li\u003e\n\u003cli data-mce-fragment=\"1\"\u003e\n\u003cp data-mce-fragment=\"1\"\u003e\u003cstrong data-mce-fragment=\"1\"\u003eSeason: \u003c\/strong\u003eSummer\u003c\/p\u003e\n\u003c\/li\u003e\n\u003cli data-mce-fragment=\"1\"\u003e\n\u003cp data-mce-fragment=\"1\"\u003e\u003cstrong data-mce-fragment=\"1\"\u003eColor: \u003c\/strong\u003e\u003cspan mce-data-marked=\"1\" data-mce-fragment=\"1\"\u003eBlack\u003c\/span\u003e\u003c\/p\u003e\n\u003c\/li\u003e\n\u003cli data-mce-fragment=\"1\"\u003e\n\u003cp data-mce-fragment=\"1\"\u003e\u003cstrong data-mce-fragment=\"1\"\u003eSize(cm\/inch):\u003c\/strong\u003e\u003cspan data-mce-fragment=\"1\"\u003e 35-43\u003cimg src=\"https:\/\/cdn.cloudfastin.top\/image\/2022\/05\/f1e8b9239a755d4cacc5b7d1f58d876c9f10a9ba8dde71ebc93d54cbfa611877.jpeg\" style=\"display: block; margin-left: auto; margin-right: auto;\" width=\"350\" height=\"350\" data-mce-fragment=\"1\" data-mce-src=\"https:\/\/cdn.cloudfastin.top\/image\/2022\/05\/f1e8b9239a755d4cacc5b7d1f58d876c9f10a9ba8dde71ebc93d54cbfa611877.jpeg\"\u003e\u003c\/span\u003e\u003c\/p\u003e\n\u003c\/li\u003e\n\u003c\/ul\u003e\n\u003ch3 data-mce-fragment=\"1\"\u003e\u003cspan style=\"color: #ff2a00;\" data-mce-fragment=\"1\"\u003ePACKAGE\u003c\/span\u003e\u003c\/h3\u003e\n\u003cul data-mce-fragment=\"1\"\u003e\n\u003cli data-mce-fragment=\"1\"\u003e1 pair* RHINESTONE STONE HOLLOW HEEL SHOES \u003c\/li\u003e\n\u003c\/ul\u003e\n\u003ch3 data-mce-fragment=\"1\"\u003e\u003cspan style=\"color: #ff2a00;\" data-mce-fragment=\"1\"\u003e\u003cstrong data-mce-fragment=\"1\"\u003eNOTE\u003c\/strong\u003e\u003c\/span\u003e\u003c\/h3\u003e\n\u003cul data-mce-fragment=\"1\"\u003e\n\u003cli data-mce-fragment=\"1\"\u003e\n\u003cp data-mce-fragment=\"1\"\u003ePlease allow slight measurement deviations due to manual measurement.\u003c\/p\u003e\n\u003c\/li\u003e\n\u003cli data-mce-fragment=\"1\"\u003e\n\u003cp data-mce-fragment=\"1\"\u003eDue to the different monitor and light effect, the actual color of the item might be slightly different from the color showed in the pictures.\u003c\/p\u003e\n\u003c\/li\u003e\n\u003c\/ul\u003e"}
Adding product to your cart
Do you often struggle with what shoes to wear with your summer outfit?
Do you feel like you don't look very good in traditional sandals?
Now we have these new comfortable, stylish, versatile and breathable sandals, so you can leave all those worries behind.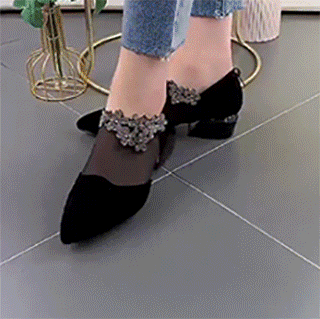 FEATURES
Stylish and elegant appearance: Women's black lace sandals set your mood, enhance your dress sense and make you look more elegant and stylish.
Humanidade Design: The hidden zipper on the back of the shoe allows you to adjust the heel of the sandals at will to avoid rubbing your feet, you can also use it as a slipper. The semi-high heel design allows you to walk for long periods of time without feeling tired.

Breathable and Comfortable: The shoes come with a lace design so your feet can breathe and be more comfortable.

Usage scenarios: Whether you are relaxing at home, heading to work or going out to a party, these sandals are a great choice for you.
SPECIFICATIONS
Item Type: Shoes

Occasion: Holiday, Daily

Style: Casual

Gender: Female

Season: Summer

Color: Black

Size(cm/inch): 35-43
PACKAGE
1 pair* RHINESTONE STONE HOLLOW HEEL SHOES 
NOTE
Please allow slight measurement deviations due to manual measurement.

Due to the different monitor and light effect, the actual color of the item might be slightly different from the color showed in the pictures.