{"id":7260714467417,"title":"Truck Tailgate Strip light LED Bar With Reverse Brake Turn Signal","handle":"truck-tailgate-strip-light-led-bar-with-reverse-brake-turn-signal","description":"\u003cdiv class=\"post_content text_font\"\u003e\n\u003ch3 style=\"text-align: center;\" data-mce-fragment=\"1\"\u003e\u003cspan style=\"color: #ae228d;\"\u003e\u003cem\u003e\u003cstrong data-mce-fragment=\"1\"\u003eAt night, the vision is important while driving.Our products greatly enhance the visibility of your car!!!driving, safety is greatly improved.\u003c\/strong\u003e\u003c\/em\u003e\u003c\/span\u003e\u003c\/h3\u003e\n\u003cp\u003e\u003cspan style=\"color: #ae228d;\"\u003e\u003cem\u003e\u003cstrong data-mce-fragment=\"1\"\u003e\u003cimg src=\"https:\/\/imgv2.staticdj.com\/b464ce046d8f85215929582ecb5de257.gif\" style=\"display: block; margin-left: auto; margin-right: auto;\"\u003e\u003c\/strong\u003e\u003c\/em\u003e\u003c\/span\u003e\u003c\/p\u003e\n\u003c\/div\u003e\n\u003cdiv class=\"post_content text_font\"\u003e\n\u003ch3 style=\"text-align: center;\"\u003e\u003cspan style=\"color: #ae228d;\"\u003e\u003cem\u003e\u003cspan style=\"background-color: #fb0202;\"\u003e\u003cstrong\u003e\u003c\/strong\u003e\u003c\/span\u003e\u003cspan style=\"background-color: #ffffff;\"\u003e\u003cimg style=\"display: block; margin-left: auto; margin-right: auto;\" src=\"https:\/\/cdn.wshopon.com\/assets\/2020\/12\/5704bb8cd578df7269455e0a84caca18.gif\" alt=\"\" width=\"340\" height=\"191\"\u003e\u003c\/span\u003e\u003c\/em\u003e\u003c\/span\u003e\u003c\/h3\u003e\n\u003cp style=\"text-align: left;\"\u003e\u003cspan style=\"color: #ff2a00;\"\u003e\u003cstrong\u003eFEATURES\u003c\/strong\u003e\u003c\/span\u003e\u003c\/p\u003e\n\u003cul\u003e\n\u003cli\u003eOffered with a stopping power 3 times more powerful than the standard single light bar, because it is a triple LED light bar which makes the display of light brighter and sharper. The tailgate light syncs with the vehicle's light allowing you to use \u003cstrong data-mce-fragment=\"1\"\u003e\u003cspan data-mce-fragment=\"1\"\u003e(brakes\/turn signals\/reverse mode)\u003c\/span\u003e \u003c\/strong\u003eon the light bar.\u003c\/li\u003e\n\u003c\/ul\u003e\n\u003cp\u003e\u003cimg height=\"191\" width=\"340\" src=\"https:\/\/cdn.shopify.com\/s\/files\/1\/0344\/0636\/7365\/files\/22_1__2_1.gif?v=1590471000\" style=\"display: block; margin-left: auto; margin-right: auto;\"\u003e\u003c\/p\u003e\n\u003cul\u003e\n\u003cli\u003e\n\u003cspan style=\"color: #ff2a00;\"\u003e\u003cstrong\u003e5 Full Functions\u003c\/strong\u003e\u003c\/span\u003e\u003cspan\u003e\u003cspan style=\"color: #ff2a00;\"\u003e:\u003c\/span\u003e Dark red running light, bright red brake light, white reverse light, sequential amber turn signals, sequential strobe light\u003c\/span\u003e\u003cbr\u003e\u003cimg srcset=\"https:\/\/cdn.shoplazza.com\/662ecd12a388b2609337d3a8f6aeb163_360.jpg 48w, https:\/\/cdn.shoplazza.com\/662ecd12a388b2609337d3a8f6aeb163_360.jpg 180w, https:\/\/cdn.shoplazza.com\/662ecd12a388b2609337d3a8f6aeb163_360.jpg 360w, https:\/\/cdn.shoplazza.com\/662ecd12a388b2609337d3a8f6aeb163_360.jpg 540w, https:\/\/cdn.shoplazza.com\/662ecd12a388b2609337d3a8f6aeb163_360.jpg 720w, https:\/\/cdn.shoplazza.com\/662ecd12a388b2609337d3a8f6aeb163_360.jpg 900w, https:\/\/cdn.shoplazza.com\/662ecd12a388b2609337d3a8f6aeb163_360.jpg 1024w, https:\/\/cdn.shoplazza.com\/662ecd12a388b2609337d3a8f6aeb163_360.jpg 1280w, https:\/\/cdn.shoplazza.com\/662ecd12a388b2609337d3a8f6aeb163_360.jpg 1366w, https:\/\/cdn.shoplazza.com\/662ecd12a388b2609337d3a8f6aeb163_360.jpg 1440w, https:\/\/cdn.shoplazza.com\/662ecd12a388b2609337d3a8f6aeb163_360.jpg 1536w, https:\/\/cdn.shoplazza.com\/662ecd12a388b2609337d3a8f6aeb163_360.jpg 1600w, https:\/\/cdn.shoplazza.com\/662ecd12a388b2609337d3a8f6aeb163_360.jpg 1920w, https:\/\/cdn.shoplazza.com\/662ecd12a388b2609337d3a8f6aeb163_360.jpg 2056w, https:\/\/cdn.shoplazza.com\/662ecd12a388b2609337d3a8f6aeb163_360.jpg 2560w, https:\/\/cdn.shoplazza.com\/662ecd12a388b2609337d3a8f6aeb163_360.jpg 2732w, https:\/\/cdn.shoplazza.com\/662ecd12a388b2609337d3a8f6aeb163_360.jpg 2880w, https:\/\/cdn.shoplazza.com\/662ecd12a388b2609337d3a8f6aeb163_360.jpg 3072w, https:\/\/cdn.shoplazza.com\/662ecd12a388b2609337d3a8f6aeb163_360.jpg 3200w, https:\/\/cdn.shoplazza.com\/662ecd12a388b2609337d3a8f6aeb163_360.jpg 3840w\" sizes=\"349px\" data-srcset=\"https:\/\/cdn.shoplazza.com\/662ecd12a388b2609337d3a8f6aeb163_360.jpg 48w, https:\/\/cdn.shoplazza.com\/662ecd12a388b2609337d3a8f6aeb163_360.jpg 180w, https:\/\/cdn.shoplazza.com\/662ecd12a388b2609337d3a8f6aeb163_360.jpg 360w, https:\/\/cdn.shoplazza.com\/662ecd12a388b2609337d3a8f6aeb163_360.jpg 540w, https:\/\/cdn.shoplazza.com\/662ecd12a388b2609337d3a8f6aeb163_360.jpg 720w, https:\/\/cdn.shoplazza.com\/662ecd12a388b2609337d3a8f6aeb163_360.jpg 900w, https:\/\/cdn.shoplazza.com\/662ecd12a388b2609337d3a8f6aeb163_360.jpg 1024w, https:\/\/cdn.shoplazza.com\/662ecd12a388b2609337d3a8f6aeb163_360.jpg 1280w, https:\/\/cdn.shoplazza.com\/662ecd12a388b2609337d3a8f6aeb163_360.jpg 1366w, https:\/\/cdn.shoplazza.com\/662ecd12a388b2609337d3a8f6aeb163_360.jpg 1440w, https:\/\/cdn.shoplazza.com\/662ecd12a388b2609337d3a8f6aeb163_360.jpg 1536w, https:\/\/cdn.shoplazza.com\/662ecd12a388b2609337d3a8f6aeb163_360.jpg 1600w, https:\/\/cdn.shoplazza.com\/662ecd12a388b2609337d3a8f6aeb163_360.jpg 1920w, https:\/\/cdn.shoplazza.com\/662ecd12a388b2609337d3a8f6aeb163_360.jpg 2056w, https:\/\/cdn.shoplazza.com\/662ecd12a388b2609337d3a8f6aeb163_360.jpg 2560w, https:\/\/cdn.shoplazza.com\/662ecd12a388b2609337d3a8f6aeb163_360.jpg 2732w, https:\/\/cdn.shoplazza.com\/662ecd12a388b2609337d3a8f6aeb163_360.jpg 2880w, https:\/\/cdn.shoplazza.com\/662ecd12a388b2609337d3a8f6aeb163_360.jpg 3072w, https:\/\/cdn.shoplazza.com\/662ecd12a388b2609337d3a8f6aeb163_360.jpg 3200w, https:\/\/cdn.shoplazza.com\/662ecd12a388b2609337d3a8f6aeb163_360.jpg 3840w\" width=\"349\" height=\"349\" alt=\"\" data-sizes=\"auto\" class=\"sep-lazyload lazyautosizes lazyloaded\" style=\"display: block; margin-left: auto; margin-right: auto;\"\u003e\n\u003c\/li\u003e\n\u003c\/ul\u003e\n\u003cul\u003e\n\u003cli\u003e\n\u003cspan style=\"color: #ff2a00;\"\u003e\u003cstrong\u003eEasy Installation\u003c\/strong\u003e\u003c\/span\u003e\u003cspan\u003e\u003cspan style=\"color: #ff2a00;\"\u003e: J\u003c\/span\u003eust peel and stick, standard 4-pin flat connector plug and play. The tailgate light bar comes with tough-as-nails adhesive enhancer that can increases hold strength over 5X, no worries of falling off\u003c\/span\u003e\n\u003c\/li\u003e\n\u003c\/ul\u003e\n\u003cp\u003e\u003cspan\u003e\u003cimg src=\"https:\/\/img.staticdj.com\/0e46ace3f02b655eacb407da8bbb15d1.gif\" sizes=\"340px\" height=\"191\" width=\"340\" data-src=\"https:\/\/img.staticdj.com\/0e46ace3f02b655eacb407da8bbb15d1.gif\" data-sizes=\"auto\" class=\"sep-lazyload lazyautosizes lazyloaded\" style=\"display: block; margin-left: auto; margin-right: auto;\"\u003e\u003c\/span\u003e\u003c\/p\u003e\n\u003cul\u003e\n\u003cli\u003e\u003cspan\u003e\u003cspan class=\"a-list-item\"\u003e\u003cspan style=\"color: #ff2a00;\"\u003e\u003cstrong\u003eDurable For All Seasons\u003c\/strong\u003e: \u003c\/span\u003eBeing fully silicon-sealed and flexible, it can withstand any bad weather and harsh environment. Outlasts with a lifespan over 30, 000 hours\u003c\/span\u003e\u003c\/span\u003e\u003c\/li\u003e\n\u003c\/ul\u003e\n\u003cp\u003e\u003cimg srcset=\"https:\/\/cdn.shoplazza.com\/16c6594223c42b393cf2a97bd5770065_360.jpg 48w, https:\/\/cdn.shoplazza.com\/16c6594223c42b393cf2a97bd5770065_360.jpg 180w, https:\/\/cdn.shoplazza.com\/16c6594223c42b393cf2a97bd5770065_360.jpg 360w, https:\/\/cdn.shoplazza.com\/16c6594223c42b393cf2a97bd5770065_360.jpg 540w, https:\/\/cdn.shoplazza.com\/16c6594223c42b393cf2a97bd5770065_360.jpg 720w, https:\/\/cdn.shoplazza.com\/16c6594223c42b393cf2a97bd5770065_360.jpg 900w, https:\/\/cdn.shoplazza.com\/16c6594223c42b393cf2a97bd5770065_360.jpg 1024w, https:\/\/cdn.shoplazza.com\/16c6594223c42b393cf2a97bd5770065_360.jpg 1280w, https:\/\/cdn.shoplazza.com\/16c6594223c42b393cf2a97bd5770065_360.jpg 1366w, https:\/\/cdn.shoplazza.com\/16c6594223c42b393cf2a97bd5770065_360.jpg 1440w, https:\/\/cdn.shoplazza.com\/16c6594223c42b393cf2a97bd5770065_360.jpg 1536w, https:\/\/cdn.shoplazza.com\/16c6594223c42b393cf2a97bd5770065_360.jpg 1600w, https:\/\/cdn.shoplazza.com\/16c6594223c42b393cf2a97bd5770065_360.jpg 1920w, https:\/\/cdn.shoplazza.com\/16c6594223c42b393cf2a97bd5770065_360.jpg 2056w, https:\/\/cdn.shoplazza.com\/16c6594223c42b393cf2a97bd5770065_360.jpg 2560w, https:\/\/cdn.shoplazza.com\/16c6594223c42b393cf2a97bd5770065_360.jpg 2732w, https:\/\/cdn.shoplazza.com\/16c6594223c42b393cf2a97bd5770065_360.jpg 2880w, https:\/\/cdn.shoplazza.com\/16c6594223c42b393cf2a97bd5770065_360.jpg 3072w, https:\/\/cdn.shoplazza.com\/16c6594223c42b393cf2a97bd5770065_360.jpg 3200w, https:\/\/cdn.shoplazza.com\/16c6594223c42b393cf2a97bd5770065_360.jpg 3840w\" sizes=\"340px\" data-srcset=\"https:\/\/cdn.shoplazza.com\/16c6594223c42b393cf2a97bd5770065_360.jpg 48w, https:\/\/cdn.shoplazza.com\/16c6594223c42b393cf2a97bd5770065_360.jpg 180w, https:\/\/cdn.shoplazza.com\/16c6594223c42b393cf2a97bd5770065_360.jpg 360w, https:\/\/cdn.shoplazza.com\/16c6594223c42b393cf2a97bd5770065_360.jpg 540w, https:\/\/cdn.shoplazza.com\/16c6594223c42b393cf2a97bd5770065_360.jpg 720w, https:\/\/cdn.shoplazza.com\/16c6594223c42b393cf2a97bd5770065_360.jpg 900w, https:\/\/cdn.shoplazza.com\/16c6594223c42b393cf2a97bd5770065_360.jpg 1024w, https:\/\/cdn.shoplazza.com\/16c6594223c42b393cf2a97bd5770065_360.jpg 1280w, https:\/\/cdn.shoplazza.com\/16c6594223c42b393cf2a97bd5770065_360.jpg 1366w, https:\/\/cdn.shoplazza.com\/16c6594223c42b393cf2a97bd5770065_360.jpg 1440w, https:\/\/cdn.shoplazza.com\/16c6594223c42b393cf2a97bd5770065_360.jpg 1536w, https:\/\/cdn.shoplazza.com\/16c6594223c42b393cf2a97bd5770065_360.jpg 1600w, https:\/\/cdn.shoplazza.com\/16c6594223c42b393cf2a97bd5770065_360.jpg 1920w, https:\/\/cdn.shoplazza.com\/16c6594223c42b393cf2a97bd5770065_360.jpg 2056w, https:\/\/cdn.shoplazza.com\/16c6594223c42b393cf2a97bd5770065_360.jpg 2560w, https:\/\/cdn.shoplazza.com\/16c6594223c42b393cf2a97bd5770065_360.jpg 2732w, https:\/\/cdn.shoplazza.com\/16c6594223c42b393cf2a97bd5770065_360.jpg 2880w, https:\/\/cdn.shoplazza.com\/16c6594223c42b393cf2a97bd5770065_360.jpg 3072w, https:\/\/cdn.shoplazza.com\/16c6594223c42b393cf2a97bd5770065_360.jpg 3200w, https:\/\/cdn.shoplazza.com\/16c6594223c42b393cf2a97bd5770065_360.jpg 3840w\" width=\"340\" height=\"340\" alt=\"\" data-sizes=\"auto\" class=\"sep-lazyload lazyautosizes lazyloaded\" style=\"display: block; margin-left: auto; margin-right: auto;\"\u003e\u003c\/p\u003e\n\u003cul\u003e\n\u003cli\u003e\u003cspan\u003e\u003cspan class=\"a-list-item\"\u003e\u003cspan style=\"color: #ff2a00;\"\u003e\u003cstrong\u003eWide Fitment\u003c\/strong\u003e: \u003c\/span\u003eWith working voltage of 12V DC, fit for Amber turning on most vehicles. Such as Dodge Ram 1500 2500, 3500, 4500, Ford F150, F250, Chevy, Silverado, GMC, Sierra, Toyota Tundra, and most cars, trucks, Pickup, SUV, RV, Van, trailers, etc.\u003c\/span\u003e\u003c\/span\u003e\u003c\/li\u003e\n\u003c\/ul\u003e\n\u003cp\u003e\u003cspan\u003e\u003cspan class=\"a-list-item\"\u003e\u003cimg srcset=\"https:\/\/cdn.shoplazza.com\/d2ee035bbee09997e1328aa2103228b4_360.jpg 48w, https:\/\/cdn.shoplazza.com\/d2ee035bbee09997e1328aa2103228b4_360.jpg 180w, https:\/\/cdn.shoplazza.com\/d2ee035bbee09997e1328aa2103228b4_360.jpg 360w, https:\/\/cdn.shoplazza.com\/d2ee035bbee09997e1328aa2103228b4_360.jpg 540w, https:\/\/cdn.shoplazza.com\/d2ee035bbee09997e1328aa2103228b4_360.jpg 720w, https:\/\/cdn.shoplazza.com\/d2ee035bbee09997e1328aa2103228b4_360.jpg 900w, https:\/\/cdn.shoplazza.com\/d2ee035bbee09997e1328aa2103228b4_360.jpg 1024w, https:\/\/cdn.shoplazza.com\/d2ee035bbee09997e1328aa2103228b4_360.jpg 1280w, https:\/\/cdn.shoplazza.com\/d2ee035bbee09997e1328aa2103228b4_360.jpg 1366w, https:\/\/cdn.shoplazza.com\/d2ee035bbee09997e1328aa2103228b4_360.jpg 1440w, https:\/\/cdn.shoplazza.com\/d2ee035bbee09997e1328aa2103228b4_360.jpg 1536w, https:\/\/cdn.shoplazza.com\/d2ee035bbee09997e1328aa2103228b4_360.jpg 1600w, https:\/\/cdn.shoplazza.com\/d2ee035bbee09997e1328aa2103228b4_360.jpg 1920w, https:\/\/cdn.shoplazza.com\/d2ee035bbee09997e1328aa2103228b4_360.jpg 2056w, https:\/\/cdn.shoplazza.com\/d2ee035bbee09997e1328aa2103228b4_360.jpg 2560w, https:\/\/cdn.shoplazza.com\/d2ee035bbee09997e1328aa2103228b4_360.jpg 2732w, https:\/\/cdn.shoplazza.com\/d2ee035bbee09997e1328aa2103228b4_360.jpg 2880w, https:\/\/cdn.shoplazza.com\/d2ee035bbee09997e1328aa2103228b4_360.jpg 3072w, https:\/\/cdn.shoplazza.com\/d2ee035bbee09997e1328aa2103228b4_360.jpg 3200w, https:\/\/cdn.shoplazza.com\/d2ee035bbee09997e1328aa2103228b4_360.jpg 3840w\" sizes=\"341px\" data-srcset=\"https:\/\/cdn.shoplazza.com\/d2ee035bbee09997e1328aa2103228b4_360.jpg 48w, https:\/\/cdn.shoplazza.com\/d2ee035bbee09997e1328aa2103228b4_360.jpg 180w, https:\/\/cdn.shoplazza.com\/d2ee035bbee09997e1328aa2103228b4_360.jpg 360w, https:\/\/cdn.shoplazza.com\/d2ee035bbee09997e1328aa2103228b4_360.jpg 540w, https:\/\/cdn.shoplazza.com\/d2ee035bbee09997e1328aa2103228b4_360.jpg 720w, https:\/\/cdn.shoplazza.com\/d2ee035bbee09997e1328aa2103228b4_360.jpg 900w, https:\/\/cdn.shoplazza.com\/d2ee035bbee09997e1328aa2103228b4_360.jpg 1024w, https:\/\/cdn.shoplazza.com\/d2ee035bbee09997e1328aa2103228b4_360.jpg 1280w, https:\/\/cdn.shoplazza.com\/d2ee035bbee09997e1328aa2103228b4_360.jpg 1366w, https:\/\/cdn.shoplazza.com\/d2ee035bbee09997e1328aa2103228b4_360.jpg 1440w, https:\/\/cdn.shoplazza.com\/d2ee035bbee09997e1328aa2103228b4_360.jpg 1536w, https:\/\/cdn.shoplazza.com\/d2ee035bbee09997e1328aa2103228b4_360.jpg 1600w, https:\/\/cdn.shoplazza.com\/d2ee035bbee09997e1328aa2103228b4_360.jpg 1920w, https:\/\/cdn.shoplazza.com\/d2ee035bbee09997e1328aa2103228b4_360.jpg 2056w, https:\/\/cdn.shoplazza.com\/d2ee035bbee09997e1328aa2103228b4_360.jpg 2560w, https:\/\/cdn.shoplazza.com\/d2ee035bbee09997e1328aa2103228b4_360.jpg 2732w, https:\/\/cdn.shoplazza.com\/d2ee035bbee09997e1328aa2103228b4_360.jpg 2880w, https:\/\/cdn.shoplazza.com\/d2ee035bbee09997e1328aa2103228b4_360.jpg 3072w, https:\/\/cdn.shoplazza.com\/d2ee035bbee09997e1328aa2103228b4_360.jpg 3200w, https:\/\/cdn.shoplazza.com\/d2ee035bbee09997e1328aa2103228b4_360.jpg 3840w\" width=\"341\" height=\"341\" alt=\"\" data-sizes=\"auto\" class=\"sep-lazyload lazyautosizes lazyloaded\" style=\"display: block; margin-left: auto; margin-right: auto;\"\u003e\u003c\/span\u003e\u003c\/span\u003e\u003c\/p\u003e\n\u003cp style=\"text-align: center;\"\u003e\u003cspan style=\"color: #ffffff; background-color: #fb0202;\"\u003e\u003cstrong\u003eWORRIED ABOUT DRILLING TO INSTALL IT?\u003c\/strong\u003e\u003c\/span\u003e\u003c\/p\u003e\n\u003cul style=\"text-align: center;\"\u003e\n\u003cli style=\"text-align: left;\"\u003e\n\u003cem\u003e\u003cspan style=\"color: #000000;\"\u003e\u003cstrong\u003eInstallation Is Easier Than You Think!\u003c\/strong\u003e\u003c\/span\u003e\u003c\/em\u003e Made to be as simple and strong as possible. Simply peel, prep, press onto your car and this add-on is as good as factory installed. It comes with a tough-as-nails adhesive enhancer that increases hold strength over 10x. No need to drill, it ain't goin' anywhere.\u003c\/li\u003e\n\u003c\/ul\u003e\n\u003cp style=\"text-align: left;\"\u003e\u003cimg style=\"display: block; margin-left: auto; margin-right: auto;\" src=\"https:\/\/cdn.shopify.com\/s\/files\/1\/0344\/0636\/7365\/files\/22_1_1.gif?v=1590468140\" alt=\"\" width=\"340\" height=\"191\"\u003e\u003c\/p\u003e\n\u003cp style=\"text-align: left;\"\u003e\u003cspan style=\"color: #ff2a00;\"\u003e\u003cstrong\u003eSPECIFICATIONS\u003c\/strong\u003e\u003c\/span\u003e\u003c\/p\u003e\n\u003cul style=\"text-align: left;\"\u003e\n\u003cli\u003eVoltage: 1\u003cspan data-mce-fragment=\"1\"\u003e2V\u003c\/span\u003e.\u003c\/li\u003e\n\u003cli\u003eWaterproof Rating: IP67.\u003c\/li\u003e\n\u003cli\u003eLED Type: Advanced Bright LED.\u003c\/li\u003e\n\u003cli\u003ePerfect for any pickups, trailers, truck, car, SUV, RV, Van, etc.\u003c\/li\u003e\n\u003cli\u003eLength: 48inch\u003cbr\u003e\n\u003c\/li\u003e\n\u003c\/ul\u003e\n\u003cp\u003e\u003cimg height=\"210\" width=\"340\" alt=\"\" src=\"https:\/\/cdn.shopify.com\/s\/files\/1\/0344\/0636\/7365\/files\/cf0ed638-3190-4796-82f8-537918704a51.__CR0_0_970_600_PT0_SX970_V1.jpg?v=1590466273\" style=\"display: block; margin-left: auto; margin-right: auto;\"\u003e\u003c\/p\u003e\n\u003cdiv style=\"text-align: left;\"\u003e\n\u003cdiv style=\"text-align: left;\"\u003e\n\u003cp\u003e\u003cspan style=\"color: #ff2a00;\"\u003e\u003cstrong\u003e PACKAGE INCLEDS:\u003c\/strong\u003e\u003c\/span\u003e\u003c\/p\u003e\n\u003cul\u003e\n\u003cli\u003e\n\u003cstrong\u003e1 x\u003c\/strong\u003e Truck Tailgate Strip light LED Bar \u003c\/li\u003e\n\u003c\/ul\u003e\n\u003c\/div\u003e\n\u003c\/div\u003e\n\u003c\/div\u003e","published_at":"2023-03-19T19:26:26-10:00","created_at":"2023-03-19T19:26:34-10:00","vendor":"Suerteyay","type":"","tags":["car accessories"],"price":1999,"price_min":1999,"price_max":1999,"available":true,"price_varies":false,"compare_at_price":3999,"compare_at_price_min":3999,"compare_at_price_max":3999,"compare_at_price_varies":false,"variants":[{"id":40441128517721,"title":"Default Title","option1":"Default Title","option2":null,"option3":null,"sku":"CP8618-C002","requires_shipping":true,"taxable":false,"featured_image":null,"available":true,"name":"Truck Tailgate Strip light LED Bar With Reverse Brake Turn Signal","public_title":null,"options":["Default Title"],"price":1999,"weight":0,"compare_at_price":3999,"inventory_management":null,"barcode":"","requires_selling_plan":false,"selling_plan_allocations":[],"quantity_rule":{"min":1,"max":null,"increment":1}}],"images":["\/\/www.suerteyay.com\/cdn\/shop\/products\/1_562cf13b-8b3c-4c10-886e-56913c439bdc.jpg?v=1679289994","\/\/www.suerteyay.com\/cdn\/shop\/products\/2_10bcde79-f9c7-462b-b142-9b7d61e59971.jpg?v=1679289994","\/\/www.suerteyay.com\/cdn\/shop\/products\/3_18e6207e-8266-427d-af6c-8cda6c3a5409.jpg?v=1679289994","\/\/www.suerteyay.com\/cdn\/shop\/products\/16c6594223c42b393cf2a97bd5770065_1080x_1024x1024_2x_1e41fa70-3c51-410c-bfec-d59347a1b6b5.jpg?v=1679289994","\/\/www.suerteyay.com\/cdn\/shop\/products\/e5155b2e91f404b3e015e2ed791adbf5_1080x_1024x1024_2x_7489ddf4-9409-44aa-a5be-69b7ad3c117a.jpg?v=1679289994","\/\/www.suerteyay.com\/cdn\/shop\/products\/c229f519eb9dcf3fe97e2008a49e1212_1080x_1024x1024_2x_e856dbd7-a867-4bb0-87e6-3831b61a86e9.jpg?v=1679289994","\/\/www.suerteyay.com\/cdn\/shop\/products\/7_c335bf31-b22a-480d-9363-a44e21782a6e.jpg?v=1679289994","\/\/www.suerteyay.com\/cdn\/shop\/products\/5_4763a6b3-6f0e-4c0e-b3f5-df5b9ffb92c4.jpg?v=1679289994"],"featured_image":"\/\/www.suerteyay.com\/cdn\/shop\/products\/1_562cf13b-8b3c-4c10-886e-56913c439bdc.jpg?v=1679289994","options":["Title"],"media":[{"alt":null,"id":23913319071833,"position":1,"preview_image":{"aspect_ratio":1.0,"height":800,"width":800,"src":"\/\/www.suerteyay.com\/cdn\/shop\/products\/1_562cf13b-8b3c-4c10-886e-56913c439bdc.jpg?v=1679289994"},"aspect_ratio":1.0,"height":800,"media_type":"image","src":"\/\/www.suerteyay.com\/cdn\/shop\/products\/1_562cf13b-8b3c-4c10-886e-56913c439bdc.jpg?v=1679289994","width":800},{"alt":null,"id":23913319104601,"position":2,"preview_image":{"aspect_ratio":1.0,"height":800,"width":800,"src":"\/\/www.suerteyay.com\/cdn\/shop\/products\/2_10bcde79-f9c7-462b-b142-9b7d61e59971.jpg?v=1679289994"},"aspect_ratio":1.0,"height":800,"media_type":"image","src":"\/\/www.suerteyay.com\/cdn\/shop\/products\/2_10bcde79-f9c7-462b-b142-9b7d61e59971.jpg?v=1679289994","width":800},{"alt":null,"id":23913319137369,"position":3,"preview_image":{"aspect_ratio":1.0,"height":800,"width":800,"src":"\/\/www.suerteyay.com\/cdn\/shop\/products\/3_18e6207e-8266-427d-af6c-8cda6c3a5409.jpg?v=1679289994"},"aspect_ratio":1.0,"height":800,"media_type":"image","src":"\/\/www.suerteyay.com\/cdn\/shop\/products\/3_18e6207e-8266-427d-af6c-8cda6c3a5409.jpg?v=1679289994","width":800},{"alt":null,"id":23913319170137,"position":4,"preview_image":{"aspect_ratio":1.0,"height":600,"width":600,"src":"\/\/www.suerteyay.com\/cdn\/shop\/products\/16c6594223c42b393cf2a97bd5770065_1080x_1024x1024_2x_1e41fa70-3c51-410c-bfec-d59347a1b6b5.jpg?v=1679289994"},"aspect_ratio":1.0,"height":600,"media_type":"image","src":"\/\/www.suerteyay.com\/cdn\/shop\/products\/16c6594223c42b393cf2a97bd5770065_1080x_1024x1024_2x_1e41fa70-3c51-410c-bfec-d59347a1b6b5.jpg?v=1679289994","width":600},{"alt":null,"id":23913319202905,"position":5,"preview_image":{"aspect_ratio":1.0,"height":600,"width":600,"src":"\/\/www.suerteyay.com\/cdn\/shop\/products\/e5155b2e91f404b3e015e2ed791adbf5_1080x_1024x1024_2x_7489ddf4-9409-44aa-a5be-69b7ad3c117a.jpg?v=1679289994"},"aspect_ratio":1.0,"height":600,"media_type":"image","src":"\/\/www.suerteyay.com\/cdn\/shop\/products\/e5155b2e91f404b3e015e2ed791adbf5_1080x_1024x1024_2x_7489ddf4-9409-44aa-a5be-69b7ad3c117a.jpg?v=1679289994","width":600},{"alt":null,"id":23913319235673,"position":6,"preview_image":{"aspect_ratio":1.0,"height":600,"width":600,"src":"\/\/www.suerteyay.com\/cdn\/shop\/products\/c229f519eb9dcf3fe97e2008a49e1212_1080x_1024x1024_2x_e856dbd7-a867-4bb0-87e6-3831b61a86e9.jpg?v=1679289994"},"aspect_ratio":1.0,"height":600,"media_type":"image","src":"\/\/www.suerteyay.com\/cdn\/shop\/products\/c229f519eb9dcf3fe97e2008a49e1212_1080x_1024x1024_2x_e856dbd7-a867-4bb0-87e6-3831b61a86e9.jpg?v=1679289994","width":600},{"alt":null,"id":23913319268441,"position":7,"preview_image":{"aspect_ratio":1.0,"height":800,"width":800,"src":"\/\/www.suerteyay.com\/cdn\/shop\/products\/7_c335bf31-b22a-480d-9363-a44e21782a6e.jpg?v=1679289994"},"aspect_ratio":1.0,"height":800,"media_type":"image","src":"\/\/www.suerteyay.com\/cdn\/shop\/products\/7_c335bf31-b22a-480d-9363-a44e21782a6e.jpg?v=1679289994","width":800},{"alt":null,"id":23913319301209,"position":8,"preview_image":{"aspect_ratio":1.0,"height":800,"width":800,"src":"\/\/www.suerteyay.com\/cdn\/shop\/products\/5_4763a6b3-6f0e-4c0e-b3f5-df5b9ffb92c4.jpg?v=1679289994"},"aspect_ratio":1.0,"height":800,"media_type":"image","src":"\/\/www.suerteyay.com\/cdn\/shop\/products\/5_4763a6b3-6f0e-4c0e-b3f5-df5b9ffb92c4.jpg?v=1679289994","width":800}],"requires_selling_plan":false,"selling_plan_groups":[],"content":"\u003cdiv class=\"post_content text_font\"\u003e\n\u003ch3 style=\"text-align: center;\" data-mce-fragment=\"1\"\u003e\u003cspan style=\"color: #ae228d;\"\u003e\u003cem\u003e\u003cstrong data-mce-fragment=\"1\"\u003eAt night, the vision is important while driving.Our products greatly enhance the visibility of your car!!!driving, safety is greatly improved.\u003c\/strong\u003e\u003c\/em\u003e\u003c\/span\u003e\u003c\/h3\u003e\n\u003cp\u003e\u003cspan style=\"color: #ae228d;\"\u003e\u003cem\u003e\u003cstrong data-mce-fragment=\"1\"\u003e\u003cimg src=\"https:\/\/imgv2.staticdj.com\/b464ce046d8f85215929582ecb5de257.gif\" style=\"display: block; margin-left: auto; margin-right: auto;\"\u003e\u003c\/strong\u003e\u003c\/em\u003e\u003c\/span\u003e\u003c\/p\u003e\n\u003c\/div\u003e\n\u003cdiv class=\"post_content text_font\"\u003e\n\u003ch3 style=\"text-align: center;\"\u003e\u003cspan style=\"color: #ae228d;\"\u003e\u003cem\u003e\u003cspan style=\"background-color: #fb0202;\"\u003e\u003cstrong\u003e\u003c\/strong\u003e\u003c\/span\u003e\u003cspan style=\"background-color: #ffffff;\"\u003e\u003cimg style=\"display: block; margin-left: auto; margin-right: auto;\" src=\"https:\/\/cdn.wshopon.com\/assets\/2020\/12\/5704bb8cd578df7269455e0a84caca18.gif\" alt=\"\" width=\"340\" height=\"191\"\u003e\u003c\/span\u003e\u003c\/em\u003e\u003c\/span\u003e\u003c\/h3\u003e\n\u003cp style=\"text-align: left;\"\u003e\u003cspan style=\"color: #ff2a00;\"\u003e\u003cstrong\u003eFEATURES\u003c\/strong\u003e\u003c\/span\u003e\u003c\/p\u003e\n\u003cul\u003e\n\u003cli\u003eOffered with a stopping power 3 times more powerful than the standard single light bar, because it is a triple LED light bar which makes the display of light brighter and sharper. The tailgate light syncs with the vehicle's light allowing you to use \u003cstrong data-mce-fragment=\"1\"\u003e\u003cspan data-mce-fragment=\"1\"\u003e(brakes\/turn signals\/reverse mode)\u003c\/span\u003e \u003c\/strong\u003eon the light bar.\u003c\/li\u003e\n\u003c\/ul\u003e\n\u003cp\u003e\u003cimg height=\"191\" width=\"340\" src=\"https:\/\/cdn.shopify.com\/s\/files\/1\/0344\/0636\/7365\/files\/22_1__2_1.gif?v=1590471000\" style=\"display: block; margin-left: auto; margin-right: auto;\"\u003e\u003c\/p\u003e\n\u003cul\u003e\n\u003cli\u003e\n\u003cspan style=\"color: #ff2a00;\"\u003e\u003cstrong\u003e5 Full Functions\u003c\/strong\u003e\u003c\/span\u003e\u003cspan\u003e\u003cspan style=\"color: #ff2a00;\"\u003e:\u003c\/span\u003e Dark red running light, bright red brake light, white reverse light, sequential amber turn signals, sequential strobe light\u003c\/span\u003e\u003cbr\u003e\u003cimg srcset=\"https:\/\/cdn.shoplazza.com\/662ecd12a388b2609337d3a8f6aeb163_360.jpg 48w, https:\/\/cdn.shoplazza.com\/662ecd12a388b2609337d3a8f6aeb163_360.jpg 180w, https:\/\/cdn.shoplazza.com\/662ecd12a388b2609337d3a8f6aeb163_360.jpg 360w, https:\/\/cdn.shoplazza.com\/662ecd12a388b2609337d3a8f6aeb163_360.jpg 540w, https:\/\/cdn.shoplazza.com\/662ecd12a388b2609337d3a8f6aeb163_360.jpg 720w, https:\/\/cdn.shoplazza.com\/662ecd12a388b2609337d3a8f6aeb163_360.jpg 900w, https:\/\/cdn.shoplazza.com\/662ecd12a388b2609337d3a8f6aeb163_360.jpg 1024w, https:\/\/cdn.shoplazza.com\/662ecd12a388b2609337d3a8f6aeb163_360.jpg 1280w, https:\/\/cdn.shoplazza.com\/662ecd12a388b2609337d3a8f6aeb163_360.jpg 1366w, https:\/\/cdn.shoplazza.com\/662ecd12a388b2609337d3a8f6aeb163_360.jpg 1440w, https:\/\/cdn.shoplazza.com\/662ecd12a388b2609337d3a8f6aeb163_360.jpg 1536w, https:\/\/cdn.shoplazza.com\/662ecd12a388b2609337d3a8f6aeb163_360.jpg 1600w, https:\/\/cdn.shoplazza.com\/662ecd12a388b2609337d3a8f6aeb163_360.jpg 1920w, https:\/\/cdn.shoplazza.com\/662ecd12a388b2609337d3a8f6aeb163_360.jpg 2056w, https:\/\/cdn.shoplazza.com\/662ecd12a388b2609337d3a8f6aeb163_360.jpg 2560w, https:\/\/cdn.shoplazza.com\/662ecd12a388b2609337d3a8f6aeb163_360.jpg 2732w, https:\/\/cdn.shoplazza.com\/662ecd12a388b2609337d3a8f6aeb163_360.jpg 2880w, https:\/\/cdn.shoplazza.com\/662ecd12a388b2609337d3a8f6aeb163_360.jpg 3072w, https:\/\/cdn.shoplazza.com\/662ecd12a388b2609337d3a8f6aeb163_360.jpg 3200w, https:\/\/cdn.shoplazza.com\/662ecd12a388b2609337d3a8f6aeb163_360.jpg 3840w\" sizes=\"349px\" data-srcset=\"https:\/\/cdn.shoplazza.com\/662ecd12a388b2609337d3a8f6aeb163_360.jpg 48w, https:\/\/cdn.shoplazza.com\/662ecd12a388b2609337d3a8f6aeb163_360.jpg 180w, https:\/\/cdn.shoplazza.com\/662ecd12a388b2609337d3a8f6aeb163_360.jpg 360w, https:\/\/cdn.shoplazza.com\/662ecd12a388b2609337d3a8f6aeb163_360.jpg 540w, https:\/\/cdn.shoplazza.com\/662ecd12a388b2609337d3a8f6aeb163_360.jpg 720w, https:\/\/cdn.shoplazza.com\/662ecd12a388b2609337d3a8f6aeb163_360.jpg 900w, https:\/\/cdn.shoplazza.com\/662ecd12a388b2609337d3a8f6aeb163_360.jpg 1024w, https:\/\/cdn.shoplazza.com\/662ecd12a388b2609337d3a8f6aeb163_360.jpg 1280w, https:\/\/cdn.shoplazza.com\/662ecd12a388b2609337d3a8f6aeb163_360.jpg 1366w, https:\/\/cdn.shoplazza.com\/662ecd12a388b2609337d3a8f6aeb163_360.jpg 1440w, https:\/\/cdn.shoplazza.com\/662ecd12a388b2609337d3a8f6aeb163_360.jpg 1536w, https:\/\/cdn.shoplazza.com\/662ecd12a388b2609337d3a8f6aeb163_360.jpg 1600w, https:\/\/cdn.shoplazza.com\/662ecd12a388b2609337d3a8f6aeb163_360.jpg 1920w, https:\/\/cdn.shoplazza.com\/662ecd12a388b2609337d3a8f6aeb163_360.jpg 2056w, https:\/\/cdn.shoplazza.com\/662ecd12a388b2609337d3a8f6aeb163_360.jpg 2560w, https:\/\/cdn.shoplazza.com\/662ecd12a388b2609337d3a8f6aeb163_360.jpg 2732w, https:\/\/cdn.shoplazza.com\/662ecd12a388b2609337d3a8f6aeb163_360.jpg 2880w, https:\/\/cdn.shoplazza.com\/662ecd12a388b2609337d3a8f6aeb163_360.jpg 3072w, https:\/\/cdn.shoplazza.com\/662ecd12a388b2609337d3a8f6aeb163_360.jpg 3200w, https:\/\/cdn.shoplazza.com\/662ecd12a388b2609337d3a8f6aeb163_360.jpg 3840w\" width=\"349\" height=\"349\" alt=\"\" data-sizes=\"auto\" class=\"sep-lazyload lazyautosizes lazyloaded\" style=\"display: block; margin-left: auto; margin-right: auto;\"\u003e\n\u003c\/li\u003e\n\u003c\/ul\u003e\n\u003cul\u003e\n\u003cli\u003e\n\u003cspan style=\"color: #ff2a00;\"\u003e\u003cstrong\u003eEasy Installation\u003c\/strong\u003e\u003c\/span\u003e\u003cspan\u003e\u003cspan style=\"color: #ff2a00;\"\u003e: J\u003c\/span\u003eust peel and stick, standard 4-pin flat connector plug and play. The tailgate light bar comes with tough-as-nails adhesive enhancer that can increases hold strength over 5X, no worries of falling off\u003c\/span\u003e\n\u003c\/li\u003e\n\u003c\/ul\u003e\n\u003cp\u003e\u003cspan\u003e\u003cimg src=\"https:\/\/img.staticdj.com\/0e46ace3f02b655eacb407da8bbb15d1.gif\" sizes=\"340px\" height=\"191\" width=\"340\" data-src=\"https:\/\/img.staticdj.com\/0e46ace3f02b655eacb407da8bbb15d1.gif\" data-sizes=\"auto\" class=\"sep-lazyload lazyautosizes lazyloaded\" style=\"display: block; margin-left: auto; margin-right: auto;\"\u003e\u003c\/span\u003e\u003c\/p\u003e\n\u003cul\u003e\n\u003cli\u003e\u003cspan\u003e\u003cspan class=\"a-list-item\"\u003e\u003cspan style=\"color: #ff2a00;\"\u003e\u003cstrong\u003eDurable For All Seasons\u003c\/strong\u003e: \u003c\/span\u003eBeing fully silicon-sealed and flexible, it can withstand any bad weather and harsh environment. Outlasts with a lifespan over 30, 000 hours\u003c\/span\u003e\u003c\/span\u003e\u003c\/li\u003e\n\u003c\/ul\u003e\n\u003cp\u003e\u003cimg srcset=\"https:\/\/cdn.shoplazza.com\/16c6594223c42b393cf2a97bd5770065_360.jpg 48w, https:\/\/cdn.shoplazza.com\/16c6594223c42b393cf2a97bd5770065_360.jpg 180w, https:\/\/cdn.shoplazza.com\/16c6594223c42b393cf2a97bd5770065_360.jpg 360w, https:\/\/cdn.shoplazza.com\/16c6594223c42b393cf2a97bd5770065_360.jpg 540w, https:\/\/cdn.shoplazza.com\/16c6594223c42b393cf2a97bd5770065_360.jpg 720w, https:\/\/cdn.shoplazza.com\/16c6594223c42b393cf2a97bd5770065_360.jpg 900w, https:\/\/cdn.shoplazza.com\/16c6594223c42b393cf2a97bd5770065_360.jpg 1024w, https:\/\/cdn.shoplazza.com\/16c6594223c42b393cf2a97bd5770065_360.jpg 1280w, https:\/\/cdn.shoplazza.com\/16c6594223c42b393cf2a97bd5770065_360.jpg 1366w, https:\/\/cdn.shoplazza.com\/16c6594223c42b393cf2a97bd5770065_360.jpg 1440w, https:\/\/cdn.shoplazza.com\/16c6594223c42b393cf2a97bd5770065_360.jpg 1536w, https:\/\/cdn.shoplazza.com\/16c6594223c42b393cf2a97bd5770065_360.jpg 1600w, https:\/\/cdn.shoplazza.com\/16c6594223c42b393cf2a97bd5770065_360.jpg 1920w, https:\/\/cdn.shoplazza.com\/16c6594223c42b393cf2a97bd5770065_360.jpg 2056w, https:\/\/cdn.shoplazza.com\/16c6594223c42b393cf2a97bd5770065_360.jpg 2560w, https:\/\/cdn.shoplazza.com\/16c6594223c42b393cf2a97bd5770065_360.jpg 2732w, https:\/\/cdn.shoplazza.com\/16c6594223c42b393cf2a97bd5770065_360.jpg 2880w, https:\/\/cdn.shoplazza.com\/16c6594223c42b393cf2a97bd5770065_360.jpg 3072w, https:\/\/cdn.shoplazza.com\/16c6594223c42b393cf2a97bd5770065_360.jpg 3200w, https:\/\/cdn.shoplazza.com\/16c6594223c42b393cf2a97bd5770065_360.jpg 3840w\" sizes=\"340px\" data-srcset=\"https:\/\/cdn.shoplazza.com\/16c6594223c42b393cf2a97bd5770065_360.jpg 48w, https:\/\/cdn.shoplazza.com\/16c6594223c42b393cf2a97bd5770065_360.jpg 180w, https:\/\/cdn.shoplazza.com\/16c6594223c42b393cf2a97bd5770065_360.jpg 360w, https:\/\/cdn.shoplazza.com\/16c6594223c42b393cf2a97bd5770065_360.jpg 540w, https:\/\/cdn.shoplazza.com\/16c6594223c42b393cf2a97bd5770065_360.jpg 720w, https:\/\/cdn.shoplazza.com\/16c6594223c42b393cf2a97bd5770065_360.jpg 900w, https:\/\/cdn.shoplazza.com\/16c6594223c42b393cf2a97bd5770065_360.jpg 1024w, https:\/\/cdn.shoplazza.com\/16c6594223c42b393cf2a97bd5770065_360.jpg 1280w, https:\/\/cdn.shoplazza.com\/16c6594223c42b393cf2a97bd5770065_360.jpg 1366w, https:\/\/cdn.shoplazza.com\/16c6594223c42b393cf2a97bd5770065_360.jpg 1440w, https:\/\/cdn.shoplazza.com\/16c6594223c42b393cf2a97bd5770065_360.jpg 1536w, https:\/\/cdn.shoplazza.com\/16c6594223c42b393cf2a97bd5770065_360.jpg 1600w, https:\/\/cdn.shoplazza.com\/16c6594223c42b393cf2a97bd5770065_360.jpg 1920w, https:\/\/cdn.shoplazza.com\/16c6594223c42b393cf2a97bd5770065_360.jpg 2056w, https:\/\/cdn.shoplazza.com\/16c6594223c42b393cf2a97bd5770065_360.jpg 2560w, https:\/\/cdn.shoplazza.com\/16c6594223c42b393cf2a97bd5770065_360.jpg 2732w, https:\/\/cdn.shoplazza.com\/16c6594223c42b393cf2a97bd5770065_360.jpg 2880w, https:\/\/cdn.shoplazza.com\/16c6594223c42b393cf2a97bd5770065_360.jpg 3072w, https:\/\/cdn.shoplazza.com\/16c6594223c42b393cf2a97bd5770065_360.jpg 3200w, https:\/\/cdn.shoplazza.com\/16c6594223c42b393cf2a97bd5770065_360.jpg 3840w\" width=\"340\" height=\"340\" alt=\"\" data-sizes=\"auto\" class=\"sep-lazyload lazyautosizes lazyloaded\" style=\"display: block; margin-left: auto; margin-right: auto;\"\u003e\u003c\/p\u003e\n\u003cul\u003e\n\u003cli\u003e\u003cspan\u003e\u003cspan class=\"a-list-item\"\u003e\u003cspan style=\"color: #ff2a00;\"\u003e\u003cstrong\u003eWide Fitment\u003c\/strong\u003e: \u003c\/span\u003eWith working voltage of 12V DC, fit for Amber turning on most vehicles. Such as Dodge Ram 1500 2500, 3500, 4500, Ford F150, F250, Chevy, Silverado, GMC, Sierra, Toyota Tundra, and most cars, trucks, Pickup, SUV, RV, Van, trailers, etc.\u003c\/span\u003e\u003c\/span\u003e\u003c\/li\u003e\n\u003c\/ul\u003e\n\u003cp\u003e\u003cspan\u003e\u003cspan class=\"a-list-item\"\u003e\u003cimg srcset=\"https:\/\/cdn.shoplazza.com\/d2ee035bbee09997e1328aa2103228b4_360.jpg 48w, https:\/\/cdn.shoplazza.com\/d2ee035bbee09997e1328aa2103228b4_360.jpg 180w, https:\/\/cdn.shoplazza.com\/d2ee035bbee09997e1328aa2103228b4_360.jpg 360w, https:\/\/cdn.shoplazza.com\/d2ee035bbee09997e1328aa2103228b4_360.jpg 540w, https:\/\/cdn.shoplazza.com\/d2ee035bbee09997e1328aa2103228b4_360.jpg 720w, https:\/\/cdn.shoplazza.com\/d2ee035bbee09997e1328aa2103228b4_360.jpg 900w, https:\/\/cdn.shoplazza.com\/d2ee035bbee09997e1328aa2103228b4_360.jpg 1024w, https:\/\/cdn.shoplazza.com\/d2ee035bbee09997e1328aa2103228b4_360.jpg 1280w, https:\/\/cdn.shoplazza.com\/d2ee035bbee09997e1328aa2103228b4_360.jpg 1366w, https:\/\/cdn.shoplazza.com\/d2ee035bbee09997e1328aa2103228b4_360.jpg 1440w, https:\/\/cdn.shoplazza.com\/d2ee035bbee09997e1328aa2103228b4_360.jpg 1536w, https:\/\/cdn.shoplazza.com\/d2ee035bbee09997e1328aa2103228b4_360.jpg 1600w, https:\/\/cdn.shoplazza.com\/d2ee035bbee09997e1328aa2103228b4_360.jpg 1920w, https:\/\/cdn.shoplazza.com\/d2ee035bbee09997e1328aa2103228b4_360.jpg 2056w, https:\/\/cdn.shoplazza.com\/d2ee035bbee09997e1328aa2103228b4_360.jpg 2560w, https:\/\/cdn.shoplazza.com\/d2ee035bbee09997e1328aa2103228b4_360.jpg 2732w, https:\/\/cdn.shoplazza.com\/d2ee035bbee09997e1328aa2103228b4_360.jpg 2880w, https:\/\/cdn.shoplazza.com\/d2ee035bbee09997e1328aa2103228b4_360.jpg 3072w, https:\/\/cdn.shoplazza.com\/d2ee035bbee09997e1328aa2103228b4_360.jpg 3200w, https:\/\/cdn.shoplazza.com\/d2ee035bbee09997e1328aa2103228b4_360.jpg 3840w\" sizes=\"341px\" data-srcset=\"https:\/\/cdn.shoplazza.com\/d2ee035bbee09997e1328aa2103228b4_360.jpg 48w, https:\/\/cdn.shoplazza.com\/d2ee035bbee09997e1328aa2103228b4_360.jpg 180w, https:\/\/cdn.shoplazza.com\/d2ee035bbee09997e1328aa2103228b4_360.jpg 360w, https:\/\/cdn.shoplazza.com\/d2ee035bbee09997e1328aa2103228b4_360.jpg 540w, https:\/\/cdn.shoplazza.com\/d2ee035bbee09997e1328aa2103228b4_360.jpg 720w, https:\/\/cdn.shoplazza.com\/d2ee035bbee09997e1328aa2103228b4_360.jpg 900w, https:\/\/cdn.shoplazza.com\/d2ee035bbee09997e1328aa2103228b4_360.jpg 1024w, https:\/\/cdn.shoplazza.com\/d2ee035bbee09997e1328aa2103228b4_360.jpg 1280w, https:\/\/cdn.shoplazza.com\/d2ee035bbee09997e1328aa2103228b4_360.jpg 1366w, https:\/\/cdn.shoplazza.com\/d2ee035bbee09997e1328aa2103228b4_360.jpg 1440w, https:\/\/cdn.shoplazza.com\/d2ee035bbee09997e1328aa2103228b4_360.jpg 1536w, https:\/\/cdn.shoplazza.com\/d2ee035bbee09997e1328aa2103228b4_360.jpg 1600w, https:\/\/cdn.shoplazza.com\/d2ee035bbee09997e1328aa2103228b4_360.jpg 1920w, https:\/\/cdn.shoplazza.com\/d2ee035bbee09997e1328aa2103228b4_360.jpg 2056w, https:\/\/cdn.shoplazza.com\/d2ee035bbee09997e1328aa2103228b4_360.jpg 2560w, https:\/\/cdn.shoplazza.com\/d2ee035bbee09997e1328aa2103228b4_360.jpg 2732w, https:\/\/cdn.shoplazza.com\/d2ee035bbee09997e1328aa2103228b4_360.jpg 2880w, https:\/\/cdn.shoplazza.com\/d2ee035bbee09997e1328aa2103228b4_360.jpg 3072w, https:\/\/cdn.shoplazza.com\/d2ee035bbee09997e1328aa2103228b4_360.jpg 3200w, https:\/\/cdn.shoplazza.com\/d2ee035bbee09997e1328aa2103228b4_360.jpg 3840w\" width=\"341\" height=\"341\" alt=\"\" data-sizes=\"auto\" class=\"sep-lazyload lazyautosizes lazyloaded\" style=\"display: block; margin-left: auto; margin-right: auto;\"\u003e\u003c\/span\u003e\u003c\/span\u003e\u003c\/p\u003e\n\u003cp style=\"text-align: center;\"\u003e\u003cspan style=\"color: #ffffff; background-color: #fb0202;\"\u003e\u003cstrong\u003eWORRIED ABOUT DRILLING TO INSTALL IT?\u003c\/strong\u003e\u003c\/span\u003e\u003c\/p\u003e\n\u003cul style=\"text-align: center;\"\u003e\n\u003cli style=\"text-align: left;\"\u003e\n\u003cem\u003e\u003cspan style=\"color: #000000;\"\u003e\u003cstrong\u003eInstallation Is Easier Than You Think!\u003c\/strong\u003e\u003c\/span\u003e\u003c\/em\u003e Made to be as simple and strong as possible. Simply peel, prep, press onto your car and this add-on is as good as factory installed. It comes with a tough-as-nails adhesive enhancer that increases hold strength over 10x. No need to drill, it ain't goin' anywhere.\u003c\/li\u003e\n\u003c\/ul\u003e\n\u003cp style=\"text-align: left;\"\u003e\u003cimg style=\"display: block; margin-left: auto; margin-right: auto;\" src=\"https:\/\/cdn.shopify.com\/s\/files\/1\/0344\/0636\/7365\/files\/22_1_1.gif?v=1590468140\" alt=\"\" width=\"340\" height=\"191\"\u003e\u003c\/p\u003e\n\u003cp style=\"text-align: left;\"\u003e\u003cspan style=\"color: #ff2a00;\"\u003e\u003cstrong\u003eSPECIFICATIONS\u003c\/strong\u003e\u003c\/span\u003e\u003c\/p\u003e\n\u003cul style=\"text-align: left;\"\u003e\n\u003cli\u003eVoltage: 1\u003cspan data-mce-fragment=\"1\"\u003e2V\u003c\/span\u003e.\u003c\/li\u003e\n\u003cli\u003eWaterproof Rating: IP67.\u003c\/li\u003e\n\u003cli\u003eLED Type: Advanced Bright LED.\u003c\/li\u003e\n\u003cli\u003ePerfect for any pickups, trailers, truck, car, SUV, RV, Van, etc.\u003c\/li\u003e\n\u003cli\u003eLength: 48inch\u003cbr\u003e\n\u003c\/li\u003e\n\u003c\/ul\u003e\n\u003cp\u003e\u003cimg height=\"210\" width=\"340\" alt=\"\" src=\"https:\/\/cdn.shopify.com\/s\/files\/1\/0344\/0636\/7365\/files\/cf0ed638-3190-4796-82f8-537918704a51.__CR0_0_970_600_PT0_SX970_V1.jpg?v=1590466273\" style=\"display: block; margin-left: auto; margin-right: auto;\"\u003e\u003c\/p\u003e\n\u003cdiv style=\"text-align: left;\"\u003e\n\u003cdiv style=\"text-align: left;\"\u003e\n\u003cp\u003e\u003cspan style=\"color: #ff2a00;\"\u003e\u003cstrong\u003e PACKAGE INCLEDS:\u003c\/strong\u003e\u003c\/span\u003e\u003c\/p\u003e\n\u003cul\u003e\n\u003cli\u003e\n\u003cstrong\u003e1 x\u003c\/strong\u003e Truck Tailgate Strip light LED Bar \u003c\/li\u003e\n\u003c\/ul\u003e\n\u003c\/div\u003e\n\u003c\/div\u003e\n\u003c\/div\u003e"}
Adding product to your cart
At night, the vision is important while driving.Our products greatly enhance the visibility of your car!!!driving, safety is greatly improved.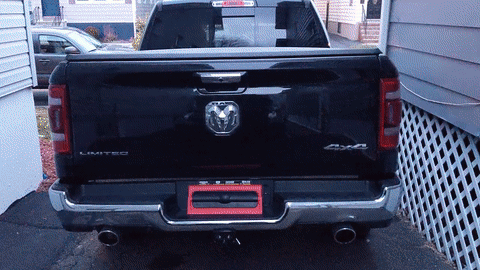 FEATURES
Offered with a stopping power 3 times more powerful than the standard single light bar, because it is a triple LED light bar which makes the display of light brighter and sharper. The tailgate light syncs with the vehicle's light allowing you to use

(brakes/turn signals/reverse mode)

 on the light bar.
5 Full Functions

:

Dark red running light, bright red brake light, white reverse light, sequential amber turn signals, sequential strobe light

Easy Installation

: J

ust peel and stick, standard 4-pin flat connector plug and play. The tailgate light bar comes with tough-as-nails adhesive enhancer that can increases hold strength over 5X, no worries of falling off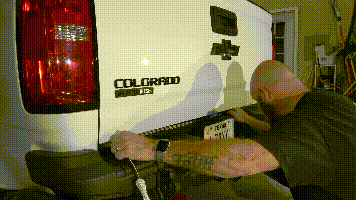 Durable For All Seasons: Being fully silicon-sealed and flexible, it can withstand any bad weather and harsh environment. Outlasts with a lifespan over 30, 000 hours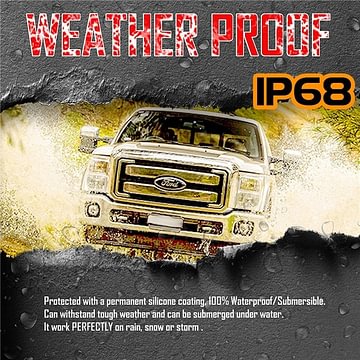 Wide Fitment: With working voltage of 12V DC, fit for Amber turning on most vehicles. Such as Dodge Ram 1500 2500, 3500, 4500, Ford F150, F250, Chevy, Silverado, GMC, Sierra, Toyota Tundra, and most cars, trucks, Pickup, SUV, RV, Van, trailers, etc.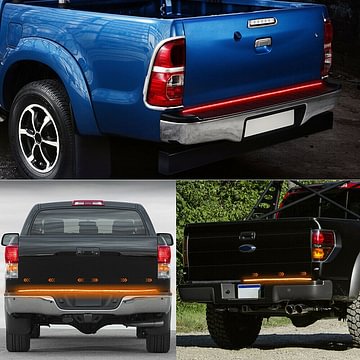 WORRIED ABOUT DRILLING TO INSTALL IT?
Installation Is Easier Than You Think! Made to be as simple and strong as possible. Simply peel, prep, press onto your car and this add-on is as good as factory installed. It comes with a tough-as-nails adhesive enhancer that increases hold strength over 10x. No need to drill, it ain't goin' anywhere.
SPECIFICATIONS
Voltage: 1

2V

.
Waterproof Rating: IP67.
LED Type: Advanced Bright LED.
Perfect for any pickups, trailers, truck, car, SUV, RV, Van, etc.
Length: 48inch

 PACKAGE INCLEDS:
1 x Truck Tailgate Strip light LED Bar