{"id":7186293293145,"title":"Warm Flowers Striped Real Rex Rabbit Fur Hats","handle":"warm-flowers-striped-real-rex-rabbit-fur-hats","description":"\u003cp style=\"text-align: center;\"\u003e\u003cspan style=\"color: #b34130;\"\u003e\u003cem\u003e\u003cstrong\u003eLatest Alex rabbit hair hat, the fur is fine and warm, and the gloss is soft and resistant to deformation.\u003c\/strong\u003e\u003c\/em\u003e\u003c\/span\u003e\u003c\/p\u003e\n\u003cp\u003e\u003cstrong\u003e\u003cspan\u003e\u003cimg style=\"display: block; margin-left: auto; margin-right: auto;\" src=\"https:\/\/cdn.hotishop.com\/image\/2022\/10\/6529fe2e343abb65e55df5eb72c55fb37054d1a23f113851cbd762fb8f530f2f.gif\" alt=\"\"\u003e\u003c\/span\u003e\u003c\/strong\u003e\u003c\/p\u003e\n\u003cp data-mce-fragment=\"1\"\u003e\u003cspan data-mce-fragment=\"1\" style=\"color: #cc6c6c;\"\u003e\u003cstrong data-mce-fragment=\"1\"\u003eFEATURES\u003c\/strong\u003e\u003c\/span\u003e\u003c\/p\u003e\n\u003cul\u003e\n\u003cli\u003e\n\u003cp\u003e\u003cspan\u003e\u003cspan style=\"color: #e18d54;\"\u003e\u003cstrong\u003e❄Cute Ear Flaps Design: \u003c\/strong\u003e\u003c\/span\u003ethe rabbit fur warm hat has pretty earflaps,  to keep your ears and cheeks toasty warm in the cold weather and windy days. You could wear it for walking with your dogs on cool winter mornings \/ evenings.\u003c\/span\u003e\u003c\/p\u003e\n\u003c\/li\u003e\n\u003c\/ul\u003e\n\u003cdiv\u003e\u003cimg data-mce-fragment=\"1\" src=\"https:\/\/cdn.shopifycdn.net\/s\/files\/1\/0356\/3048\/1544\/files\/1_aaa22549-48a1-4de5-8113-fee475ce1be2_480x480.jpg?v=1668494894\" alt=\"\" style=\"display: block; margin-left: auto; margin-right: auto;\" data-mce-src=\"https:\/\/cdn.shopifycdn.net\/s\/files\/1\/0356\/3048\/1544\/files\/1_aaa22549-48a1-4de5-8113-fee475ce1be2_480x480.jpg?v=1668494894\"\u003e\u003c\/div\u003e\n\u003cul\u003e\n\u003cli\u003e\n\u003cp\u003e\u003cspan\u003e\u003cspan style=\"color: #e18d54;\"\u003e\u003cstrong\u003e❄Material: \u003c\/strong\u003e\u003c\/span\u003ethe women winter hat is well made of premium real \u003cstrong\u003eRex Rabbit fur\u003c\/strong\u003e, feeling super soft to touch and the inside lining is made of warm knitted fabric, Breathable and Comfy.\u003c\/span\u003e\u003c\/p\u003e\n\u003c\/li\u003e\n\u003cli\u003e\n\u003cp\u003e\u003cspan\u003e\u003cspan style=\"color: #e18d54;\"\u003e\u003cstrong\u003eFriendly notice:\u003c\/strong\u003e \u003c\/span\u003eThe rabbits are feeded on farm, healthy growing, Not Wild Animals!\u003c\/span\u003e\u003c\/p\u003e\n\u003c\/li\u003e\n\u003c\/ul\u003e\n\u003cp\u003e\u003cspan\u003e\u003cimg src=\"https:\/\/cdn.hotishop.com\/image\/2022\/10\/71b5a6ed31564dd790a24afbc319b3b2e4b4179e4900cff81b953f7861a99ead.jpeg\" width=\"526\" height=\"526\" style=\"display: block; margin-left: auto; margin-right: auto;\"\u003e\u003c\/span\u003e\u003c\/p\u003e\n\u003cul\u003e\n\u003cli\u003e\u003cspan\u003e\u003cspan style=\"color: #e18d54;\"\u003e\u003cstrong\u003e❄Perfectly daily wear with your coat and other outfit:\u003c\/strong\u003e \u003c\/span\u003eA ideal accessory to match your clothes in fall and winter seasons. This warm crocheted cap both fits indoors and outdoors activities, as evening party, wedding, holiday event, ice skating, hiking, motorcycle, running, climbing, camping or just shopping.\u003c\/span\u003e\u003c\/li\u003e\n\u003c\/ul\u003e\n\u003cdiv\u003e\u003cimg height=\"696\" width=\"504\" alt=\"\" src=\"https:\/\/cdn.hotishop.com\/image\/2022\/10\/cb63bf1e5b2c7d2ae62e7999b7aa5e8603570af7ba97a2916d19450e065319fb.png\" style=\"font-size: 1.4em; display: block; margin-left: auto; margin-right: auto;\"\u003e\u003c\/div\u003e\n\u003cul\u003e\n\u003cli\u003e\u003cspan\u003e\u003cspan style=\"color: #e18d54;\"\u003e\u003cstrong\u003e❄Size:\u003c\/strong\u003e \u003c\/span\u003ethis ladies winter ear flap hat with great elastic, one size fits for most. It covers your head an also keeps your face and the back of neck warm. Easily match your clothes making you looks good on. \u003cstrong\u003eA great Christmas gift for young lady.\u003c\/strong\u003e\u003c\/span\u003e\u003c\/li\u003e\n\u003c\/ul\u003e\n\u003cdiv\u003e\u003cstrong style=\"font-size: 1.4em;\"\u003e\u003cimg src=\"https:\/\/cdn.hotishop.com\/image\/2022\/10\/775ef0c1effbef5529a7e42d68e75eebdcd5acb4b52cbde798d1c03d92eb6931.jpeg\" width=\"525\" height=\"525\" style=\"display: block; margin-left: auto; margin-right: auto;\"\u003e\u003c\/strong\u003e\u003c\/div\u003e\n\u003cul\u003e\n\u003cli\u003e\u003cspan\u003e\u003cstrong\u003e❄\u003cspan style=\"color: #e18d54;\"\u003ePerfect Gife: \u003c\/span\u003eStylish and Beautiful winter fur hat\u003c\/strong\u003e for your mom, wife, friends, daughter, sister, girls and etc. gorgeous and comfortable well fitting hat perfect for birthday, mother's day, valentine's day, halloween and new year. Our rabbit fur hats will be a big suprise to them. An essential headwear to keep anyone warm in the coming cold days.\u003cimg height=\"530\" width=\"795\" alt=\"\" src=\"https:\/\/cdn.hotishop.com\/image\/2022\/10\/71e07e039eb83b6c533fda12c204d3dc6846e158baae3244c559d28d7425ee1a.jpeg\"\u003e\u003c\/span\u003e\u003c\/li\u003e\n\u003c\/ul\u003e\n\u003cp data-mce-fragment=\"1\"\u003e\u003cspan data-mce-fragment=\"1\" style=\"color: #cc6c6c;\"\u003e\u003cstrong data-mce-fragment=\"1\"\u003eSPECIFICATIONS\u003c\/strong\u003e\u003c\/span\u003e\u003c\/p\u003e\n\u003cul data-mce-fragment=\"1\"\u003e\n\u003cli data-mce-fragment=\"1\"\u003e\n\u003cp data-mce-fragment=\"1\"\u003e\u003cstrong data-mce-fragment=\"1\"\u003eColor:\u003c\/strong\u003e\u003cspan data-mce-fragment=\"1\"\u003e \u003cspan data-mce-fragment=\"1\" class=\"Polaris-Badge_2qgie\" mce-data-marked=\"1\"\u003eAs Shown\u003c\/span\u003e\u003c\/span\u003e\u003c\/p\u003e\n\u003c\/li\u003e\n\u003cli data-mce-fragment=\"1\"\u003e\n\u003cp data-mce-fragment=\"1\"\u003e\u003cstrong data-mce-fragment=\"1\"\u003eMaterial:\u003c\/strong\u003e\u003cspan data-mce-fragment=\"1\"\u003e Rex Rabbit Fur\u003c\/span\u003e\u003c\/p\u003e\n\u003c\/li\u003e\n\u003cli data-mce-fragment=\"1\"\u003e\n\u003cp data-mce-fragment=\"1\"\u003e\u003cstrong data-mce-fragment=\"1\"\u003eWeight:\u003c\/strong\u003e\u003cspan data-mce-fragment=\"1\"\u003e 180g\u003c\/span\u003e\u003c\/p\u003e\n\u003c\/li\u003e\n\u003cli data-mce-fragment=\"1\"\u003e\n\u003cp\u003e\u003cstrong data-mce-fragment=\"1\"\u003eSize: \u003c\/strong\u003e25*30cm\/9.84*11.81in\u003c\/p\u003e\n\u003c\/li\u003e\n\u003cli data-mce-fragment=\"1\"\u003e\n\u003cp data-group=\"1-1\"\u003e\u003cspan\u003e\u003cstrong\u003eApplicable Scene:\u003c\/strong\u003e Outdoor\u003c\/span\u003e\u003c\/p\u003e\n\u003c\/li\u003e\n\u003cli data-mce-fragment=\"1\"\u003e\n\u003cp data-group=\"1-1\"\u003e\u003cspan\u003e\u003cstrong\u003eGender:\u003c\/strong\u003e Women\u003c\/span\u003e\u003c\/p\u003e\n\u003c\/li\u003e\n\u003cli data-mce-fragment=\"1\"\u003e\n\u003cp data-group=\"1-1\"\u003e\u003cspan\u003e\u003c\/span\u003e\u003cspan\u003e\u003cstrong\u003eApplicable Season:\u003c\/strong\u003e Winter\u003c\/span\u003e\u003c\/p\u003e\n\u003c\/li\u003e\n\u003c\/ul\u003e\n\u003cul data-mce-fragment=\"1\"\u003e\u003c\/ul\u003e\n\u003cul data-mce-fragment=\"1\"\u003e\u003c\/ul\u003e\n\u003cul data-mce-fragment=\"1\"\u003e\u003c\/ul\u003e\n\u003cul data-mce-fragment=\"1\"\u003e\u003c\/ul\u003e\n\u003cp data-mce-fragment=\"1\"\u003e\u003cspan data-mce-fragment=\"1\" style=\"color: #cc6c6c;\"\u003e\u003cstrong data-mce-fragment=\"1\"\u003ePACKAGE\u003c\/strong\u003e\u003c\/span\u003e\u003c\/p\u003e\n\u003cul data-mce-fragment=\"1\"\u003e\n\u003cli data-mce-fragment=\"1\"\u003e1 * Warm Flowers Striped Real Rex Rabbit Fur Hats\u003c\/li\u003e\n\u003c\/ul\u003e\n\u003cp data-mce-fragment=\"1\"\u003e\u003cspan data-mce-fragment=\"1\" style=\"color: #cc6c6c;\"\u003e\u003cstrong data-mce-fragment=\"1\"\u003eNOTE\u003c\/strong\u003e\u003c\/span\u003e\u003c\/p\u003e\n\u003cul data-mce-fragment=\"1\"\u003e\n\u003cli data-mce-fragment=\"1\"\u003e\n\u003cp data-mce-fragment=\"1\"\u003e\u003cspan data-mce-fragment=\"1\"\u003ePlease allow slight measurement deviations due to manual measurement.\u003c\/span\u003e\u003c\/p\u003e\n\u003c\/li\u003e\n\u003cli data-mce-fragment=\"1\"\u003e\n\u003cp data-mce-fragment=\"1\"\u003e\u003cspan data-mce-fragment=\"1\"\u003eDue to the different monitor and light effect, the actual color of the item might be slightly different from the color showed in the pictures.\u003c\/span\u003e\u003c\/p\u003e\n\u003c\/li\u003e\n\u003c\/ul\u003e","published_at":"2022-11-16T17:25:44-10:00","created_at":"2022-11-16T17:25:47-10:00","vendor":"Suerteyay","type":"","tags":["clothing \u0026 accessories","hat","women's clothing"],"price":2199,"price_min":2199,"price_max":2199,"available":true,"price_varies":false,"compare_at_price":4399,"compare_at_price_min":4399,"compare_at_price_max":4399,"compare_at_price_varies":false,"variants":[{"id":40327308181593,"title":"# 1","option1":"# 1","option2":null,"option3":null,"sku":"CA41156-X32233","requires_shipping":true,"taxable":false,"featured_image":{"id":30658421325913,"product_id":7186293293145,"position":10,"created_at":"2022-11-16T17:25:57-10:00","updated_at":"2022-11-16T17:25:57-10:00","alt":null,"width":800,"height":800,"src":"\/\/www.suerteyay.com\/cdn\/shop\/products\/01_337c048a-bee1-4464-b64f-7d604120d2a6.jpg?v=1668655557","variant_ids":[40327308181593]},"available":true,"name":"Warm Flowers Striped Real Rex Rabbit Fur Hats - # 1","public_title":"# 1","options":["# 1"],"price":2199,"weight":0,"compare_at_price":4399,"inventory_management":null,"barcode":null,"featured_media":{"alt":null,"id":23203771351129,"position":10,"preview_image":{"aspect_ratio":1.0,"height":800,"width":800,"src":"\/\/www.suerteyay.com\/cdn\/shop\/products\/01_337c048a-bee1-4464-b64f-7d604120d2a6.jpg?v=1668655557"}},"requires_selling_plan":false,"selling_plan_allocations":[],"quantity_rule":{"min":1,"max":null,"increment":1}},{"id":40327308214361,"title":"# 2","option1":"# 2","option2":null,"option3":null,"sku":"CA41156-X32234","requires_shipping":true,"taxable":false,"featured_image":{"id":30658421063769,"product_id":7186293293145,"position":9,"created_at":"2022-11-16T17:25:55-10:00","updated_at":"2022-11-16T17:25:55-10:00","alt":null,"width":800,"height":800,"src":"\/\/www.suerteyay.com\/cdn\/shop\/products\/02_61d4bd46-b82d-4af0-9486-1d147790a2c8.jpg?v=1668655555","variant_ids":[40327308214361]},"available":true,"name":"Warm Flowers Striped Real Rex Rabbit Fur Hats - # 2","public_title":"# 2","options":["# 2"],"price":2199,"weight":0,"compare_at_price":4399,"inventory_management":null,"barcode":null,"featured_media":{"alt":null,"id":23203770925145,"position":9,"preview_image":{"aspect_ratio":1.0,"height":800,"width":800,"src":"\/\/www.suerteyay.com\/cdn\/shop\/products\/02_61d4bd46-b82d-4af0-9486-1d147790a2c8.jpg?v=1668655555"}},"requires_selling_plan":false,"selling_plan_allocations":[],"quantity_rule":{"min":1,"max":null,"increment":1}},{"id":40327308247129,"title":"# 3","option1":"# 3","option2":null,"option3":null,"sku":"CA41156-X32235","requires_shipping":true,"taxable":false,"featured_image":{"id":30658421653593,"product_id":7186293293145,"position":11,"created_at":"2022-11-16T17:25:58-10:00","updated_at":"2022-11-16T17:25:58-10:00","alt":null,"width":800,"height":800,"src":"\/\/www.suerteyay.com\/cdn\/shop\/products\/03_190bfeee-c3bb-44f4-9c35-55d4640dc042.jpg?v=1668655558","variant_ids":[40327308247129]},"available":true,"name":"Warm Flowers Striped Real Rex Rabbit Fur Hats - # 3","public_title":"# 3","options":["# 3"],"price":2199,"weight":0,"compare_at_price":4399,"inventory_management":null,"barcode":null,"featured_media":{"alt":null,"id":23203771646041,"position":11,"preview_image":{"aspect_ratio":1.0,"height":800,"width":800,"src":"\/\/www.suerteyay.com\/cdn\/shop\/products\/03_190bfeee-c3bb-44f4-9c35-55d4640dc042.jpg?v=1668655558"}},"requires_selling_plan":false,"selling_plan_allocations":[],"quantity_rule":{"min":1,"max":null,"increment":1}},{"id":40327308279897,"title":"# 4","option1":"# 4","option2":null,"option3":null,"sku":"CA41156-X32236","requires_shipping":true,"taxable":false,"featured_image":{"id":30658420441177,"product_id":7186293293145,"position":7,"created_at":"2022-11-16T17:25:52-10:00","updated_at":"2022-11-16T17:25:53-10:00","alt":null,"width":800,"height":800,"src":"\/\/www.suerteyay.com\/cdn\/shop\/products\/04_56873f9e-9737-4994-82e8-dab5f3343ce4.jpg?v=1668655553","variant_ids":[40327308279897]},"available":true,"name":"Warm Flowers Striped Real Rex Rabbit Fur Hats - # 4","public_title":"# 4","options":["# 4"],"price":2199,"weight":0,"compare_at_price":4399,"inventory_management":null,"barcode":null,"featured_media":{"alt":null,"id":23203770302553,"position":7,"preview_image":{"aspect_ratio":1.0,"height":800,"width":800,"src":"\/\/www.suerteyay.com\/cdn\/shop\/products\/04_56873f9e-9737-4994-82e8-dab5f3343ce4.jpg?v=1668655553"}},"requires_selling_plan":false,"selling_plan_allocations":[],"quantity_rule":{"min":1,"max":null,"increment":1}},{"id":40327308312665,"title":"# 5","option1":"# 5","option2":null,"option3":null,"sku":"CA41156-X32237","requires_shipping":true,"taxable":false,"featured_image":{"id":30658420146265,"product_id":7186293293145,"position":6,"created_at":"2022-11-16T17:25:51-10:00","updated_at":"2022-11-16T17:25:51-10:00","alt":null,"width":800,"height":800,"src":"\/\/www.suerteyay.com\/cdn\/shop\/products\/05_f0a9e6a2-8b27-4343-b257-24092c574a63.jpg?v=1668655551","variant_ids":[40327308312665]},"available":true,"name":"Warm Flowers Striped Real Rex Rabbit Fur Hats - # 5","public_title":"# 5","options":["# 5"],"price":2199,"weight":0,"compare_at_price":4399,"inventory_management":null,"barcode":null,"featured_media":{"alt":null,"id":23203770007641,"position":6,"preview_image":{"aspect_ratio":1.0,"height":800,"width":800,"src":"\/\/www.suerteyay.com\/cdn\/shop\/products\/05_f0a9e6a2-8b27-4343-b257-24092c574a63.jpg?v=1668655551"}},"requires_selling_plan":false,"selling_plan_allocations":[],"quantity_rule":{"min":1,"max":null,"increment":1}},{"id":40327308345433,"title":"# 6","option1":"# 6","option2":null,"option3":null,"sku":"CA41156-X32238","requires_shipping":true,"taxable":false,"featured_image":{"id":30658419916889,"product_id":7186293293145,"position":5,"created_at":"2022-11-16T17:25:49-10:00","updated_at":"2022-11-16T17:25:49-10:00","alt":null,"width":800,"height":800,"src":"\/\/www.suerteyay.com\/cdn\/shop\/products\/06_0ba8bf96-45a1-4a99-8629-e439713040ca.jpg?v=1668655549","variant_ids":[40327308345433]},"available":true,"name":"Warm Flowers Striped Real Rex Rabbit Fur Hats - # 6","public_title":"# 6","options":["# 6"],"price":2199,"weight":0,"compare_at_price":4399,"inventory_management":null,"barcode":null,"featured_media":{"alt":null,"id":23203769778265,"position":5,"preview_image":{"aspect_ratio":1.0,"height":800,"width":800,"src":"\/\/www.suerteyay.com\/cdn\/shop\/products\/06_0ba8bf96-45a1-4a99-8629-e439713040ca.jpg?v=1668655549"}},"requires_selling_plan":false,"selling_plan_allocations":[],"quantity_rule":{"min":1,"max":null,"increment":1}},{"id":40327308378201,"title":"# 7","option1":"# 7","option2":null,"option3":null,"sku":"CA41156-X32239","requires_shipping":true,"taxable":false,"featured_image":{"id":30658420736089,"product_id":7186293293145,"position":8,"created_at":"2022-11-16T17:25:54-10:00","updated_at":"2022-11-16T17:25:54-10:00","alt":null,"width":800,"height":800,"src":"\/\/www.suerteyay.com\/cdn\/shop\/products\/07_6e331192-3f60-4717-a3b0-77b367904e0e.jpg?v=1668655554","variant_ids":[40327308378201]},"available":true,"name":"Warm Flowers Striped Real Rex Rabbit Fur Hats - # 7","public_title":"# 7","options":["# 7"],"price":2199,"weight":0,"compare_at_price":4399,"inventory_management":null,"barcode":null,"featured_media":{"alt":null,"id":23203770564697,"position":8,"preview_image":{"aspect_ratio":1.0,"height":800,"width":800,"src":"\/\/www.suerteyay.com\/cdn\/shop\/products\/07_6e331192-3f60-4717-a3b0-77b367904e0e.jpg?v=1668655554"}},"requires_selling_plan":false,"selling_plan_allocations":[],"quantity_rule":{"min":1,"max":null,"increment":1}}],"images":["\/\/www.suerteyay.com\/cdn\/shop\/products\/08_5019b3db-2464-434c-938c-d0a2fee8ccfb.jpg?v=1668655547","\/\/www.suerteyay.com\/cdn\/shop\/products\/b8421501ceee8ed8defa49d79fc692df_f5392f57-bc55-43b2-afe4-564af277912e.jpg?v=1668655547","\/\/www.suerteyay.com\/cdn\/shop\/products\/1_b75128fb-fba3-443b-a29d-485c8f489783.jpg?v=1668655547","\/\/www.suerteyay.com\/cdn\/shop\/products\/2_8d36e2d5-aaeb-43d8-a151-caca76404283.jpg?v=1668655547","\/\/www.suerteyay.com\/cdn\/shop\/products\/06_0ba8bf96-45a1-4a99-8629-e439713040ca.jpg?v=1668655549","\/\/www.suerteyay.com\/cdn\/shop\/products\/05_f0a9e6a2-8b27-4343-b257-24092c574a63.jpg?v=1668655551","\/\/www.suerteyay.com\/cdn\/shop\/products\/04_56873f9e-9737-4994-82e8-dab5f3343ce4.jpg?v=1668655553","\/\/www.suerteyay.com\/cdn\/shop\/products\/07_6e331192-3f60-4717-a3b0-77b367904e0e.jpg?v=1668655554","\/\/www.suerteyay.com\/cdn\/shop\/products\/02_61d4bd46-b82d-4af0-9486-1d147790a2c8.jpg?v=1668655555","\/\/www.suerteyay.com\/cdn\/shop\/products\/01_337c048a-bee1-4464-b64f-7d604120d2a6.jpg?v=1668655557","\/\/www.suerteyay.com\/cdn\/shop\/products\/03_190bfeee-c3bb-44f4-9c35-55d4640dc042.jpg?v=1668655558"],"featured_image":"\/\/www.suerteyay.com\/cdn\/shop\/products\/08_5019b3db-2464-434c-938c-d0a2fee8ccfb.jpg?v=1668655547","options":["Color"],"media":[{"alt":null,"id":23203769221209,"position":1,"preview_image":{"aspect_ratio":1.0,"height":800,"width":800,"src":"\/\/www.suerteyay.com\/cdn\/shop\/products\/08_5019b3db-2464-434c-938c-d0a2fee8ccfb.jpg?v=1668655547"},"aspect_ratio":1.0,"height":800,"media_type":"image","src":"\/\/www.suerteyay.com\/cdn\/shop\/products\/08_5019b3db-2464-434c-938c-d0a2fee8ccfb.jpg?v=1668655547","width":800},{"alt":null,"id":23203769253977,"position":2,"preview_image":{"aspect_ratio":1.0,"height":800,"width":800,"src":"\/\/www.suerteyay.com\/cdn\/shop\/products\/b8421501ceee8ed8defa49d79fc692df_f5392f57-bc55-43b2-afe4-564af277912e.jpg?v=1668655547"},"aspect_ratio":1.0,"height":800,"media_type":"image","src":"\/\/www.suerteyay.com\/cdn\/shop\/products\/b8421501ceee8ed8defa49d79fc692df_f5392f57-bc55-43b2-afe4-564af277912e.jpg?v=1668655547","width":800},{"alt":null,"id":23203769286745,"position":3,"preview_image":{"aspect_ratio":1.0,"height":800,"width":800,"src":"\/\/www.suerteyay.com\/cdn\/shop\/products\/1_b75128fb-fba3-443b-a29d-485c8f489783.jpg?v=1668655547"},"aspect_ratio":1.0,"height":800,"media_type":"image","src":"\/\/www.suerteyay.com\/cdn\/shop\/products\/1_b75128fb-fba3-443b-a29d-485c8f489783.jpg?v=1668655547","width":800},{"alt":null,"id":23203769319513,"position":4,"preview_image":{"aspect_ratio":1.0,"height":800,"width":800,"src":"\/\/www.suerteyay.com\/cdn\/shop\/products\/2_8d36e2d5-aaeb-43d8-a151-caca76404283.jpg?v=1668655547"},"aspect_ratio":1.0,"height":800,"media_type":"image","src":"\/\/www.suerteyay.com\/cdn\/shop\/products\/2_8d36e2d5-aaeb-43d8-a151-caca76404283.jpg?v=1668655547","width":800},{"alt":null,"id":23203769778265,"position":5,"preview_image":{"aspect_ratio":1.0,"height":800,"width":800,"src":"\/\/www.suerteyay.com\/cdn\/shop\/products\/06_0ba8bf96-45a1-4a99-8629-e439713040ca.jpg?v=1668655549"},"aspect_ratio":1.0,"height":800,"media_type":"image","src":"\/\/www.suerteyay.com\/cdn\/shop\/products\/06_0ba8bf96-45a1-4a99-8629-e439713040ca.jpg?v=1668655549","width":800},{"alt":null,"id":23203770007641,"position":6,"preview_image":{"aspect_ratio":1.0,"height":800,"width":800,"src":"\/\/www.suerteyay.com\/cdn\/shop\/products\/05_f0a9e6a2-8b27-4343-b257-24092c574a63.jpg?v=1668655551"},"aspect_ratio":1.0,"height":800,"media_type":"image","src":"\/\/www.suerteyay.com\/cdn\/shop\/products\/05_f0a9e6a2-8b27-4343-b257-24092c574a63.jpg?v=1668655551","width":800},{"alt":null,"id":23203770302553,"position":7,"preview_image":{"aspect_ratio":1.0,"height":800,"width":800,"src":"\/\/www.suerteyay.com\/cdn\/shop\/products\/04_56873f9e-9737-4994-82e8-dab5f3343ce4.jpg?v=1668655553"},"aspect_ratio":1.0,"height":800,"media_type":"image","src":"\/\/www.suerteyay.com\/cdn\/shop\/products\/04_56873f9e-9737-4994-82e8-dab5f3343ce4.jpg?v=1668655553","width":800},{"alt":null,"id":23203770564697,"position":8,"preview_image":{"aspect_ratio":1.0,"height":800,"width":800,"src":"\/\/www.suerteyay.com\/cdn\/shop\/products\/07_6e331192-3f60-4717-a3b0-77b367904e0e.jpg?v=1668655554"},"aspect_ratio":1.0,"height":800,"media_type":"image","src":"\/\/www.suerteyay.com\/cdn\/shop\/products\/07_6e331192-3f60-4717-a3b0-77b367904e0e.jpg?v=1668655554","width":800},{"alt":null,"id":23203770925145,"position":9,"preview_image":{"aspect_ratio":1.0,"height":800,"width":800,"src":"\/\/www.suerteyay.com\/cdn\/shop\/products\/02_61d4bd46-b82d-4af0-9486-1d147790a2c8.jpg?v=1668655555"},"aspect_ratio":1.0,"height":800,"media_type":"image","src":"\/\/www.suerteyay.com\/cdn\/shop\/products\/02_61d4bd46-b82d-4af0-9486-1d147790a2c8.jpg?v=1668655555","width":800},{"alt":null,"id":23203771351129,"position":10,"preview_image":{"aspect_ratio":1.0,"height":800,"width":800,"src":"\/\/www.suerteyay.com\/cdn\/shop\/products\/01_337c048a-bee1-4464-b64f-7d604120d2a6.jpg?v=1668655557"},"aspect_ratio":1.0,"height":800,"media_type":"image","src":"\/\/www.suerteyay.com\/cdn\/shop\/products\/01_337c048a-bee1-4464-b64f-7d604120d2a6.jpg?v=1668655557","width":800},{"alt":null,"id":23203771646041,"position":11,"preview_image":{"aspect_ratio":1.0,"height":800,"width":800,"src":"\/\/www.suerteyay.com\/cdn\/shop\/products\/03_190bfeee-c3bb-44f4-9c35-55d4640dc042.jpg?v=1668655558"},"aspect_ratio":1.0,"height":800,"media_type":"image","src":"\/\/www.suerteyay.com\/cdn\/shop\/products\/03_190bfeee-c3bb-44f4-9c35-55d4640dc042.jpg?v=1668655558","width":800}],"requires_selling_plan":false,"selling_plan_groups":[],"content":"\u003cp style=\"text-align: center;\"\u003e\u003cspan style=\"color: #b34130;\"\u003e\u003cem\u003e\u003cstrong\u003eLatest Alex rabbit hair hat, the fur is fine and warm, and the gloss is soft and resistant to deformation.\u003c\/strong\u003e\u003c\/em\u003e\u003c\/span\u003e\u003c\/p\u003e\n\u003cp\u003e\u003cstrong\u003e\u003cspan\u003e\u003cimg style=\"display: block; margin-left: auto; margin-right: auto;\" src=\"https:\/\/cdn.hotishop.com\/image\/2022\/10\/6529fe2e343abb65e55df5eb72c55fb37054d1a23f113851cbd762fb8f530f2f.gif\" alt=\"\"\u003e\u003c\/span\u003e\u003c\/strong\u003e\u003c\/p\u003e\n\u003cp data-mce-fragment=\"1\"\u003e\u003cspan data-mce-fragment=\"1\" style=\"color: #cc6c6c;\"\u003e\u003cstrong data-mce-fragment=\"1\"\u003eFEATURES\u003c\/strong\u003e\u003c\/span\u003e\u003c\/p\u003e\n\u003cul\u003e\n\u003cli\u003e\n\u003cp\u003e\u003cspan\u003e\u003cspan style=\"color: #e18d54;\"\u003e\u003cstrong\u003e❄Cute Ear Flaps Design: \u003c\/strong\u003e\u003c\/span\u003ethe rabbit fur warm hat has pretty earflaps,  to keep your ears and cheeks toasty warm in the cold weather and windy days. You could wear it for walking with your dogs on cool winter mornings \/ evenings.\u003c\/span\u003e\u003c\/p\u003e\n\u003c\/li\u003e\n\u003c\/ul\u003e\n\u003cdiv\u003e\u003cimg data-mce-fragment=\"1\" src=\"https:\/\/cdn.shopifycdn.net\/s\/files\/1\/0356\/3048\/1544\/files\/1_aaa22549-48a1-4de5-8113-fee475ce1be2_480x480.jpg?v=1668494894\" alt=\"\" style=\"display: block; margin-left: auto; margin-right: auto;\" data-mce-src=\"https:\/\/cdn.shopifycdn.net\/s\/files\/1\/0356\/3048\/1544\/files\/1_aaa22549-48a1-4de5-8113-fee475ce1be2_480x480.jpg?v=1668494894\"\u003e\u003c\/div\u003e\n\u003cul\u003e\n\u003cli\u003e\n\u003cp\u003e\u003cspan\u003e\u003cspan style=\"color: #e18d54;\"\u003e\u003cstrong\u003e❄Material: \u003c\/strong\u003e\u003c\/span\u003ethe women winter hat is well made of premium real \u003cstrong\u003eRex Rabbit fur\u003c\/strong\u003e, feeling super soft to touch and the inside lining is made of warm knitted fabric, Breathable and Comfy.\u003c\/span\u003e\u003c\/p\u003e\n\u003c\/li\u003e\n\u003cli\u003e\n\u003cp\u003e\u003cspan\u003e\u003cspan style=\"color: #e18d54;\"\u003e\u003cstrong\u003eFriendly notice:\u003c\/strong\u003e \u003c\/span\u003eThe rabbits are feeded on farm, healthy growing, Not Wild Animals!\u003c\/span\u003e\u003c\/p\u003e\n\u003c\/li\u003e\n\u003c\/ul\u003e\n\u003cp\u003e\u003cspan\u003e\u003cimg src=\"https:\/\/cdn.hotishop.com\/image\/2022\/10\/71b5a6ed31564dd790a24afbc319b3b2e4b4179e4900cff81b953f7861a99ead.jpeg\" width=\"526\" height=\"526\" style=\"display: block; margin-left: auto; margin-right: auto;\"\u003e\u003c\/span\u003e\u003c\/p\u003e\n\u003cul\u003e\n\u003cli\u003e\u003cspan\u003e\u003cspan style=\"color: #e18d54;\"\u003e\u003cstrong\u003e❄Perfectly daily wear with your coat and other outfit:\u003c\/strong\u003e \u003c\/span\u003eA ideal accessory to match your clothes in fall and winter seasons. This warm crocheted cap both fits indoors and outdoors activities, as evening party, wedding, holiday event, ice skating, hiking, motorcycle, running, climbing, camping or just shopping.\u003c\/span\u003e\u003c\/li\u003e\n\u003c\/ul\u003e\n\u003cdiv\u003e\u003cimg height=\"696\" width=\"504\" alt=\"\" src=\"https:\/\/cdn.hotishop.com\/image\/2022\/10\/cb63bf1e5b2c7d2ae62e7999b7aa5e8603570af7ba97a2916d19450e065319fb.png\" style=\"font-size: 1.4em; display: block; margin-left: auto; margin-right: auto;\"\u003e\u003c\/div\u003e\n\u003cul\u003e\n\u003cli\u003e\u003cspan\u003e\u003cspan style=\"color: #e18d54;\"\u003e\u003cstrong\u003e❄Size:\u003c\/strong\u003e \u003c\/span\u003ethis ladies winter ear flap hat with great elastic, one size fits for most. It covers your head an also keeps your face and the back of neck warm. Easily match your clothes making you looks good on. \u003cstrong\u003eA great Christmas gift for young lady.\u003c\/strong\u003e\u003c\/span\u003e\u003c\/li\u003e\n\u003c\/ul\u003e\n\u003cdiv\u003e\u003cstrong style=\"font-size: 1.4em;\"\u003e\u003cimg src=\"https:\/\/cdn.hotishop.com\/image\/2022\/10\/775ef0c1effbef5529a7e42d68e75eebdcd5acb4b52cbde798d1c03d92eb6931.jpeg\" width=\"525\" height=\"525\" style=\"display: block; margin-left: auto; margin-right: auto;\"\u003e\u003c\/strong\u003e\u003c\/div\u003e\n\u003cul\u003e\n\u003cli\u003e\u003cspan\u003e\u003cstrong\u003e❄\u003cspan style=\"color: #e18d54;\"\u003ePerfect Gife: \u003c\/span\u003eStylish and Beautiful winter fur hat\u003c\/strong\u003e for your mom, wife, friends, daughter, sister, girls and etc. gorgeous and comfortable well fitting hat perfect for birthday, mother's day, valentine's day, halloween and new year. Our rabbit fur hats will be a big suprise to them. An essential headwear to keep anyone warm in the coming cold days.\u003cimg height=\"530\" width=\"795\" alt=\"\" src=\"https:\/\/cdn.hotishop.com\/image\/2022\/10\/71e07e039eb83b6c533fda12c204d3dc6846e158baae3244c559d28d7425ee1a.jpeg\"\u003e\u003c\/span\u003e\u003c\/li\u003e\n\u003c\/ul\u003e\n\u003cp data-mce-fragment=\"1\"\u003e\u003cspan data-mce-fragment=\"1\" style=\"color: #cc6c6c;\"\u003e\u003cstrong data-mce-fragment=\"1\"\u003eSPECIFICATIONS\u003c\/strong\u003e\u003c\/span\u003e\u003c\/p\u003e\n\u003cul data-mce-fragment=\"1\"\u003e\n\u003cli data-mce-fragment=\"1\"\u003e\n\u003cp data-mce-fragment=\"1\"\u003e\u003cstrong data-mce-fragment=\"1\"\u003eColor:\u003c\/strong\u003e\u003cspan data-mce-fragment=\"1\"\u003e \u003cspan data-mce-fragment=\"1\" class=\"Polaris-Badge_2qgie\" mce-data-marked=\"1\"\u003eAs Shown\u003c\/span\u003e\u003c\/span\u003e\u003c\/p\u003e\n\u003c\/li\u003e\n\u003cli data-mce-fragment=\"1\"\u003e\n\u003cp data-mce-fragment=\"1\"\u003e\u003cstrong data-mce-fragment=\"1\"\u003eMaterial:\u003c\/strong\u003e\u003cspan data-mce-fragment=\"1\"\u003e Rex Rabbit Fur\u003c\/span\u003e\u003c\/p\u003e\n\u003c\/li\u003e\n\u003cli data-mce-fragment=\"1\"\u003e\n\u003cp data-mce-fragment=\"1\"\u003e\u003cstrong data-mce-fragment=\"1\"\u003eWeight:\u003c\/strong\u003e\u003cspan data-mce-fragment=\"1\"\u003e 180g\u003c\/span\u003e\u003c\/p\u003e\n\u003c\/li\u003e\n\u003cli data-mce-fragment=\"1\"\u003e\n\u003cp\u003e\u003cstrong data-mce-fragment=\"1\"\u003eSize: \u003c\/strong\u003e25*30cm\/9.84*11.81in\u003c\/p\u003e\n\u003c\/li\u003e\n\u003cli data-mce-fragment=\"1\"\u003e\n\u003cp data-group=\"1-1\"\u003e\u003cspan\u003e\u003cstrong\u003eApplicable Scene:\u003c\/strong\u003e Outdoor\u003c\/span\u003e\u003c\/p\u003e\n\u003c\/li\u003e\n\u003cli data-mce-fragment=\"1\"\u003e\n\u003cp data-group=\"1-1\"\u003e\u003cspan\u003e\u003cstrong\u003eGender:\u003c\/strong\u003e Women\u003c\/span\u003e\u003c\/p\u003e\n\u003c\/li\u003e\n\u003cli data-mce-fragment=\"1\"\u003e\n\u003cp data-group=\"1-1\"\u003e\u003cspan\u003e\u003c\/span\u003e\u003cspan\u003e\u003cstrong\u003eApplicable Season:\u003c\/strong\u003e Winter\u003c\/span\u003e\u003c\/p\u003e\n\u003c\/li\u003e\n\u003c\/ul\u003e\n\u003cul data-mce-fragment=\"1\"\u003e\u003c\/ul\u003e\n\u003cul data-mce-fragment=\"1\"\u003e\u003c\/ul\u003e\n\u003cul data-mce-fragment=\"1\"\u003e\u003c\/ul\u003e\n\u003cul data-mce-fragment=\"1\"\u003e\u003c\/ul\u003e\n\u003cp data-mce-fragment=\"1\"\u003e\u003cspan data-mce-fragment=\"1\" style=\"color: #cc6c6c;\"\u003e\u003cstrong data-mce-fragment=\"1\"\u003ePACKAGE\u003c\/strong\u003e\u003c\/span\u003e\u003c\/p\u003e\n\u003cul data-mce-fragment=\"1\"\u003e\n\u003cli data-mce-fragment=\"1\"\u003e1 * Warm Flowers Striped Real Rex Rabbit Fur Hats\u003c\/li\u003e\n\u003c\/ul\u003e\n\u003cp data-mce-fragment=\"1\"\u003e\u003cspan data-mce-fragment=\"1\" style=\"color: #cc6c6c;\"\u003e\u003cstrong data-mce-fragment=\"1\"\u003eNOTE\u003c\/strong\u003e\u003c\/span\u003e\u003c\/p\u003e\n\u003cul data-mce-fragment=\"1\"\u003e\n\u003cli data-mce-fragment=\"1\"\u003e\n\u003cp data-mce-fragment=\"1\"\u003e\u003cspan data-mce-fragment=\"1\"\u003ePlease allow slight measurement deviations due to manual measurement.\u003c\/span\u003e\u003c\/p\u003e\n\u003c\/li\u003e\n\u003cli data-mce-fragment=\"1\"\u003e\n\u003cp data-mce-fragment=\"1\"\u003e\u003cspan data-mce-fragment=\"1\"\u003eDue to the different monitor and light effect, the actual color of the item might be slightly different from the color showed in the pictures.\u003c\/span\u003e\u003c\/p\u003e\n\u003c\/li\u003e\n\u003c\/ul\u003e"}
Adding product to your cart
Latest Alex rabbit hair hat, the fur is fine and warm, and the gloss is soft and resistant to deformation.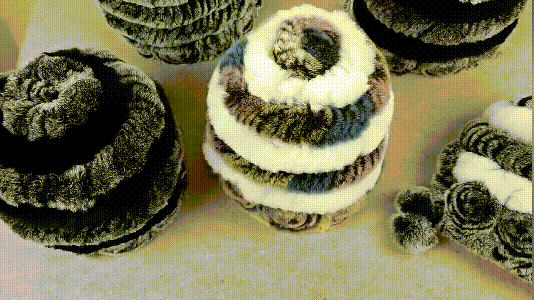 FEATURES
❄Cute Ear Flaps Design: the rabbit fur warm hat has pretty earflaps,  to keep your ears and cheeks toasty warm in the cold weather and windy days. You could wear it for walking with your dogs on cool winter mornings / evenings.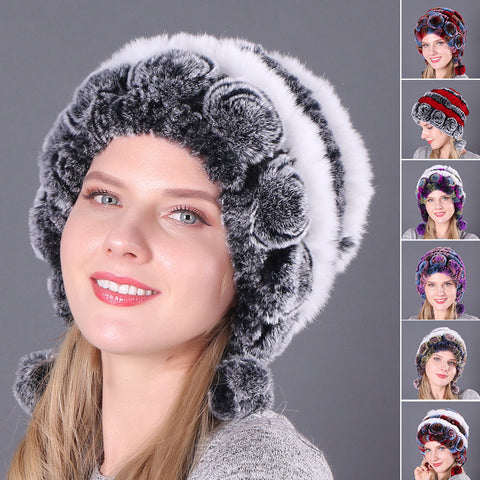 ❄Material: the women winter hat is well made of premium real Rex Rabbit fur, feeling super soft to touch and the inside lining is made of warm knitted fabric, Breathable and Comfy.

Friendly notice: The rabbits are feeded on farm, healthy growing, Not Wild Animals!
❄Perfectly daily wear with your coat and other outfit: A ideal accessory to match your clothes in fall and winter seasons. This warm crocheted cap both fits indoors and outdoors activities, as evening party, wedding, holiday event, ice skating, hiking, motorcycle, running, climbing, camping or just shopping.
❄Size: this ladies winter ear flap hat with great elastic, one size fits for most. It covers your head an also keeps your face and the back of neck warm. Easily match your clothes making you looks good on. A great Christmas gift for young lady.
❄

Perfect Gife:

Stylish and Beautiful winter fur hat for your mom, wife, friends, daughter, sister, girls and etc. gorgeous and comfortable well fitting hat perfect for birthday, mother's day, valentine's day, halloween and new year. Our rabbit fur hats will be a big suprise to them. An essential headwear to keep anyone warm in the coming cold days.
SPECIFICATIONS
Color: As Shown

Material: Rex Rabbit Fur

Weight: 180g

Size: 25*30cm/9.84*11.81in

Applicable Scene: Outdoor

Gender: Women

Applicable Season: Winter
PACKAGE
1 * Warm Flowers Striped Real Rex Rabbit Fur Hats
NOTE
Please allow slight measurement deviations due to manual measurement.

Due to the different monitor and light effect, the actual color of the item might be slightly different from the color showed in the pictures.