{"id":7261847388249,"title":"Women's Wide Leg Casual Loose Yoga Sweatpants","handle":"womens-wide-leg-casual-loose-yoga-sweatpants","description":"\u003ch3 data-mce-fragment=\"1\"\u003e\u003cspan style=\"color: #ff2a00;\" data-mce-fragment=\"1\"\u003e\u003cstrong data-mce-fragment=\"1\"\u003eFEATURES\u003c\/strong\u003e\u003c\/span\u003e\u003c\/h3\u003e\n\u003cdiv\u003e\n\u003cdiv\u003e\n\u003cul\u003e\n\u003cli\u003e✅\u003cspan\u003e\u003cstrong\u003e Comfy Material: \u003c\/strong\u003e\u003c\/span\u003e90% polyester + 10% spandex. womens wide leg pants designed with buttery soft fabric keeps you comfortable, lightweight, stretchy, breathable and non see-through.\u003c\/li\u003e\n\u003c\/ul\u003e\n\u003c\/div\u003e\n\u003cdiv\u003e\u003cimg style=\"display: block; margin-left: auto; margin-right: auto;\" sizes=\"345px\" srcset=\"https:\/\/img.staticdj.com\/626dfe9c1692b8b0ff38773401c9d572_1024.jpeg 48w, https:\/\/img.staticdj.com\/626dfe9c1692b8b0ff38773401c9d572_1024.jpeg 180w, https:\/\/img.staticdj.com\/626dfe9c1692b8b0ff38773401c9d572_1024.jpeg 360w, https:\/\/img.staticdj.com\/626dfe9c1692b8b0ff38773401c9d572_1024.jpeg 540w, https:\/\/img.staticdj.com\/626dfe9c1692b8b0ff38773401c9d572_1024.jpeg 720w, https:\/\/img.staticdj.com\/626dfe9c1692b8b0ff38773401c9d572_1024.jpeg 900w, https:\/\/img.staticdj.com\/626dfe9c1692b8b0ff38773401c9d572_1024.jpeg 1024w, https:\/\/img.staticdj.com\/626dfe9c1692b8b0ff38773401c9d572_1024.jpeg 1280w, https:\/\/img.staticdj.com\/626dfe9c1692b8b0ff38773401c9d572_1024.jpeg 1366w, https:\/\/img.staticdj.com\/626dfe9c1692b8b0ff38773401c9d572_1024.jpeg 1440w, https:\/\/img.staticdj.com\/626dfe9c1692b8b0ff38773401c9d572_1024.jpeg 1536w, https:\/\/img.staticdj.com\/626dfe9c1692b8b0ff38773401c9d572_1024.jpeg 1600w, https:\/\/img.staticdj.com\/626dfe9c1692b8b0ff38773401c9d572_1024.jpeg 1920w, https:\/\/img.staticdj.com\/626dfe9c1692b8b0ff38773401c9d572_1024.jpeg 2056w, https:\/\/img.staticdj.com\/626dfe9c1692b8b0ff38773401c9d572_1024.jpeg 2560w, https:\/\/img.staticdj.com\/626dfe9c1692b8b0ff38773401c9d572_1024.jpeg 2732w, https:\/\/img.staticdj.com\/626dfe9c1692b8b0ff38773401c9d572_1024.jpeg 2880w, https:\/\/img.staticdj.com\/626dfe9c1692b8b0ff38773401c9d572_1024.jpeg 3072w, https:\/\/img.staticdj.com\/626dfe9c1692b8b0ff38773401c9d572_1024.jpeg 3200w, https:\/\/img.staticdj.com\/626dfe9c1692b8b0ff38773401c9d572_1024.jpeg 3840w\" alt=\"wide leg pant for women\" width=\"503\" height=\"311\" data-sizes=\"auto\" data-srcset=\"https:\/\/img.staticdj.com\/626dfe9c1692b8b0ff38773401c9d572_1024.jpeg 48w, https:\/\/img.staticdj.com\/626dfe9c1692b8b0ff38773401c9d572_1024.jpeg 180w, https:\/\/img.staticdj.com\/626dfe9c1692b8b0ff38773401c9d572_1024.jpeg 360w, https:\/\/img.staticdj.com\/626dfe9c1692b8b0ff38773401c9d572_1024.jpeg 540w, https:\/\/img.staticdj.com\/626dfe9c1692b8b0ff38773401c9d572_1024.jpeg 720w, https:\/\/img.staticdj.com\/626dfe9c1692b8b0ff38773401c9d572_1024.jpeg 900w, https:\/\/img.staticdj.com\/626dfe9c1692b8b0ff38773401c9d572_1024.jpeg 1024w, https:\/\/img.staticdj.com\/626dfe9c1692b8b0ff38773401c9d572_1024.jpeg 1280w, https:\/\/img.staticdj.com\/626dfe9c1692b8b0ff38773401c9d572_1024.jpeg 1366w, https:\/\/img.staticdj.com\/626dfe9c1692b8b0ff38773401c9d572_1024.jpeg 1440w, https:\/\/img.staticdj.com\/626dfe9c1692b8b0ff38773401c9d572_1024.jpeg 1536w, https:\/\/img.staticdj.com\/626dfe9c1692b8b0ff38773401c9d572_1024.jpeg 1600w, https:\/\/img.staticdj.com\/626dfe9c1692b8b0ff38773401c9d572_1024.jpeg 1920w, https:\/\/img.staticdj.com\/626dfe9c1692b8b0ff38773401c9d572_1024.jpeg 2056w, https:\/\/img.staticdj.com\/626dfe9c1692b8b0ff38773401c9d572_1024.jpeg 2560w, https:\/\/img.staticdj.com\/626dfe9c1692b8b0ff38773401c9d572_1024.jpeg 2732w, https:\/\/img.staticdj.com\/626dfe9c1692b8b0ff38773401c9d572_1024.jpeg 2880w, https:\/\/img.staticdj.com\/626dfe9c1692b8b0ff38773401c9d572_1024.jpeg 3072w, https:\/\/img.staticdj.com\/626dfe9c1692b8b0ff38773401c9d572_1024.jpeg 3200w, https:\/\/img.staticdj.com\/626dfe9c1692b8b0ff38773401c9d572_1024.jpeg 3840w\"\u003e\u003c\/div\u003e\n\u003cdiv\u003e\n\u003cul\u003e\n\u003cli\u003e✅\u003cspan\u003e \u003c\/span\u003e\u003cspan\u003e\u003cstrong\u003eVersatile Style:\u003c\/strong\u003e\u003c\/span\u003e\u003cspan\u003e \u003c\/span\u003eLoose yoga pants with pockets designed to be comfy and stretchy fabric, which are perfect for yoga, pilates, jogging, traveling, beach, lounging around at home or pack with you on travels. These casual lounge wear will be a favorite in your wardrobe for any season wear.\u003c\/li\u003e\n\u003c\/ul\u003e\n\u003c\/div\u003e\n\u003cdiv\u003e\u003cimg style=\"display: block; margin-left: auto; margin-right: auto;\" src=\"https:\/\/img.staticdj.com\/597382ef588e5f772c320f1707bebb03.jpeg\" alt=\"\" width=\"497\" height=\"586\" data-aspect-ratio=\"1.18\"\u003e\u003c\/div\u003e\n\u003cdiv\u003e\n\u003cul\u003e\n\u003cli\u003e✅\u003cstrong\u003e\u003cspan\u003e Drawstring \u0026amp; Wide leg: \u003c\/span\u003e\u003c\/strong\u003eElastic waistband with drawstring for any fit. Loose fitting, elastic waist, straight leg with side slit, solid color, ankle length. Flowy wide leg sweatpants are sure to attract compliments.\u003c\/li\u003e\n\u003c\/ul\u003e\n\u003c\/div\u003e\n\u003cdiv\u003e\n\u003ch3\u003e\u003cimg style=\"display: block; margin-left: auto; margin-right: auto;\" sizes=\"345px\" srcset=\"https:\/\/img.staticdj.com\/728ec0407752855bcc2b59e8ba30ea43_900.png 48w, https:\/\/img.staticdj.com\/728ec0407752855bcc2b59e8ba30ea43_900.png 180w, https:\/\/img.staticdj.com\/728ec0407752855bcc2b59e8ba30ea43_900.png 360w, https:\/\/img.staticdj.com\/728ec0407752855bcc2b59e8ba30ea43_900.png 540w, https:\/\/img.staticdj.com\/728ec0407752855bcc2b59e8ba30ea43_900.png 720w, https:\/\/img.staticdj.com\/728ec0407752855bcc2b59e8ba30ea43_900.png 900w, https:\/\/img.staticdj.com\/728ec0407752855bcc2b59e8ba30ea43_900.png 1024w, https:\/\/img.staticdj.com\/728ec0407752855bcc2b59e8ba30ea43_900.png 1280w, https:\/\/img.staticdj.com\/728ec0407752855bcc2b59e8ba30ea43_900.png 1366w, https:\/\/img.staticdj.com\/728ec0407752855bcc2b59e8ba30ea43_900.png 1440w, https:\/\/img.staticdj.com\/728ec0407752855bcc2b59e8ba30ea43_900.png 1536w, https:\/\/img.staticdj.com\/728ec0407752855bcc2b59e8ba30ea43_900.png 1600w, https:\/\/img.staticdj.com\/728ec0407752855bcc2b59e8ba30ea43_900.png 1920w, https:\/\/img.staticdj.com\/728ec0407752855bcc2b59e8ba30ea43_900.png 2056w, https:\/\/img.staticdj.com\/728ec0407752855bcc2b59e8ba30ea43_900.png 2560w, https:\/\/img.staticdj.com\/728ec0407752855bcc2b59e8ba30ea43_900.png 2732w, https:\/\/img.staticdj.com\/728ec0407752855bcc2b59e8ba30ea43_900.png 2880w, https:\/\/img.staticdj.com\/728ec0407752855bcc2b59e8ba30ea43_900.png 3072w, https:\/\/img.staticdj.com\/728ec0407752855bcc2b59e8ba30ea43_900.png 3200w, https:\/\/img.staticdj.com\/728ec0407752855bcc2b59e8ba30ea43_900.png 3840w\" alt=\"\" width=\"501\" height=\"512\" data-sizes=\"auto\" data-srcset=\"https:\/\/img.staticdj.com\/728ec0407752855bcc2b59e8ba30ea43_900.png 48w, https:\/\/img.staticdj.com\/728ec0407752855bcc2b59e8ba30ea43_900.png 180w, https:\/\/img.staticdj.com\/728ec0407752855bcc2b59e8ba30ea43_900.png 360w, https:\/\/img.staticdj.com\/728ec0407752855bcc2b59e8ba30ea43_900.png 540w, https:\/\/img.staticdj.com\/728ec0407752855bcc2b59e8ba30ea43_900.png 720w, https:\/\/img.staticdj.com\/728ec0407752855bcc2b59e8ba30ea43_900.png 900w, https:\/\/img.staticdj.com\/728ec0407752855bcc2b59e8ba30ea43_900.png 1024w, https:\/\/img.staticdj.com\/728ec0407752855bcc2b59e8ba30ea43_900.png 1280w, https:\/\/img.staticdj.com\/728ec0407752855bcc2b59e8ba30ea43_900.png 1366w, https:\/\/img.staticdj.com\/728ec0407752855bcc2b59e8ba30ea43_900.png 1440w, https:\/\/img.staticdj.com\/728ec0407752855bcc2b59e8ba30ea43_900.png 1536w, https:\/\/img.staticdj.com\/728ec0407752855bcc2b59e8ba30ea43_900.png 1600w, https:\/\/img.staticdj.com\/728ec0407752855bcc2b59e8ba30ea43_900.png 1920w, https:\/\/img.staticdj.com\/728ec0407752855bcc2b59e8ba30ea43_900.png 2056w, https:\/\/img.staticdj.com\/728ec0407752855bcc2b59e8ba30ea43_900.png 2560w, https:\/\/img.staticdj.com\/728ec0407752855bcc2b59e8ba30ea43_900.png 2732w, https:\/\/img.staticdj.com\/728ec0407752855bcc2b59e8ba30ea43_900.png 2880w, https:\/\/img.staticdj.com\/728ec0407752855bcc2b59e8ba30ea43_900.png 3072w, https:\/\/img.staticdj.com\/728ec0407752855bcc2b59e8ba30ea43_900.png 3200w, https:\/\/img.staticdj.com\/728ec0407752855bcc2b59e8ba30ea43_900.png 3840w\"\u003e\u003c\/h3\u003e\n\u003c\/div\u003e\n\u003cdiv\u003e\n\u003cul\u003e\n\u003cli\u003e✅\u003cspan\u003e \u003c\/span\u003e\u003cspan\u003e\u003cstrong\u003eTwo Pockets: \u003c\/strong\u003e\u003c\/span\u003eSoft and comfy lounge pants with two side deep pockets. Which are have enough room to storage your phone, wallet, keys and etc. Perfectly with tank tops, crop tops, blouses, and even casual tees.\u003c\/li\u003e\n\u003c\/ul\u003e\n\u003c\/div\u003e\n\u003cdiv\u003e \u003c\/div\u003e\n\u003cdiv\u003e\u003cimg style=\"display: block; margin-left: auto; margin-right: auto;\" sizes=\"345px\" srcset=\"https:\/\/img.staticdj.com\/b232b7bfbaea5b22d2db42c9c90511dd_1024.jpeg 48w, https:\/\/img.staticdj.com\/b232b7bfbaea5b22d2db42c9c90511dd_1024.jpeg 180w, https:\/\/img.staticdj.com\/b232b7bfbaea5b22d2db42c9c90511dd_1024.jpeg 360w, https:\/\/img.staticdj.com\/b232b7bfbaea5b22d2db42c9c90511dd_1024.jpeg 540w, https:\/\/img.staticdj.com\/b232b7bfbaea5b22d2db42c9c90511dd_1024.jpeg 720w, https:\/\/img.staticdj.com\/b232b7bfbaea5b22d2db42c9c90511dd_1024.jpeg 900w, https:\/\/img.staticdj.com\/b232b7bfbaea5b22d2db42c9c90511dd_1024.jpeg 1024w, https:\/\/img.staticdj.com\/b232b7bfbaea5b22d2db42c9c90511dd_1024.jpeg 1280w, https:\/\/img.staticdj.com\/b232b7bfbaea5b22d2db42c9c90511dd_1024.jpeg 1366w, https:\/\/img.staticdj.com\/b232b7bfbaea5b22d2db42c9c90511dd_1024.jpeg 1440w, https:\/\/img.staticdj.com\/b232b7bfbaea5b22d2db42c9c90511dd_1024.jpeg 1536w, https:\/\/img.staticdj.com\/b232b7bfbaea5b22d2db42c9c90511dd_1024.jpeg 1600w, https:\/\/img.staticdj.com\/b232b7bfbaea5b22d2db42c9c90511dd_1024.jpeg 1920w, https:\/\/img.staticdj.com\/b232b7bfbaea5b22d2db42c9c90511dd_1024.jpeg 2056w, https:\/\/img.staticdj.com\/b232b7bfbaea5b22d2db42c9c90511dd_1024.jpeg 2560w, https:\/\/img.staticdj.com\/b232b7bfbaea5b22d2db42c9c90511dd_1024.jpeg 2732w, https:\/\/img.staticdj.com\/b232b7bfbaea5b22d2db42c9c90511dd_1024.jpeg 2880w, https:\/\/img.staticdj.com\/b232b7bfbaea5b22d2db42c9c90511dd_1024.jpeg 3072w, https:\/\/img.staticdj.com\/b232b7bfbaea5b22d2db42c9c90511dd_1024.jpeg 3200w, https:\/\/img.staticdj.com\/b232b7bfbaea5b22d2db42c9c90511dd_1024.jpeg 3840w\" alt=\"UEU YOGA PATNS FOR WOMEN\" width=\"504\" height=\"312\" data-sizes=\"auto\" data-srcset=\"https:\/\/img.staticdj.com\/b232b7bfbaea5b22d2db42c9c90511dd_1024.jpeg 48w, https:\/\/img.staticdj.com\/b232b7bfbaea5b22d2db42c9c90511dd_1024.jpeg 180w, https:\/\/img.staticdj.com\/b232b7bfbaea5b22d2db42c9c90511dd_1024.jpeg 360w, https:\/\/img.staticdj.com\/b232b7bfbaea5b22d2db42c9c90511dd_1024.jpeg 540w, https:\/\/img.staticdj.com\/b232b7bfbaea5b22d2db42c9c90511dd_1024.jpeg 720w, https:\/\/img.staticdj.com\/b232b7bfbaea5b22d2db42c9c90511dd_1024.jpeg 900w, https:\/\/img.staticdj.com\/b232b7bfbaea5b22d2db42c9c90511dd_1024.jpeg 1024w, https:\/\/img.staticdj.com\/b232b7bfbaea5b22d2db42c9c90511dd_1024.jpeg 1280w, https:\/\/img.staticdj.com\/b232b7bfbaea5b22d2db42c9c90511dd_1024.jpeg 1366w, https:\/\/img.staticdj.com\/b232b7bfbaea5b22d2db42c9c90511dd_1024.jpeg 1440w, https:\/\/img.staticdj.com\/b232b7bfbaea5b22d2db42c9c90511dd_1024.jpeg 1536w, https:\/\/img.staticdj.com\/b232b7bfbaea5b22d2db42c9c90511dd_1024.jpeg 1600w, https:\/\/img.staticdj.com\/b232b7bfbaea5b22d2db42c9c90511dd_1024.jpeg 1920w, https:\/\/img.staticdj.com\/b232b7bfbaea5b22d2db42c9c90511dd_1024.jpeg 2056w, https:\/\/img.staticdj.com\/b232b7bfbaea5b22d2db42c9c90511dd_1024.jpeg 2560w, https:\/\/img.staticdj.com\/b232b7bfbaea5b22d2db42c9c90511dd_1024.jpeg 2732w, https:\/\/img.staticdj.com\/b232b7bfbaea5b22d2db42c9c90511dd_1024.jpeg 2880w, https:\/\/img.staticdj.com\/b232b7bfbaea5b22d2db42c9c90511dd_1024.jpeg 3072w, https:\/\/img.staticdj.com\/b232b7bfbaea5b22d2db42c9c90511dd_1024.jpeg 3200w, https:\/\/img.staticdj.com\/b232b7bfbaea5b22d2db42c9c90511dd_1024.jpeg 3840w\"\u003e\u003c\/div\u003e\n\u003cdiv\u003e\n\u003cul\u003e\n\u003cli\u003e✅\u003cstrong\u003e\u003cspan\u003e Comfy \u0026amp; Casual Style: \u003c\/span\u003e\u003c\/strong\u003eThese palazzo sweatpants can match up with many different styles of your tops and make it perfect for wearing to work, exercising, daily street wear and as a pajama pants at home. Different styles for the way you want to show off.\u003c\/li\u003e\n\u003c\/ul\u003e\n\u003c\/div\u003e\n\u003cdiv\u003e\u003cimg style=\"display: block; margin-left: auto; margin-right: auto;\" src=\"https:\/\/img.staticdj.com\/1751a5edd5078eb4b5d0ccb1fe6f20a2.jpeg\" alt=\"\" width=\"498\" height=\"647\" data-aspect-ratio=\"1.30\"\u003e\u003c\/div\u003e\n\u003c\/div\u003e\n\u003cdiv data-csa-c-id=\"oqs6xz-jafzc0-wngyc-walqje\" data-cel-widget=\"aplus-3p-module-b\"\u003e\n\u003cdiv\u003e\n\u003cdiv\u003e \u003c\/div\u003e\n\u003c\/div\u003e\n\u003c\/div\u003e\n\u003ch3 data-mce-fragment=\"1\"\u003e\u003cspan style=\"color: #ff2a00;\" data-mce-fragment=\"1\"\u003e\u003cstrong data-mce-fragment=\"1\"\u003eSPECIFICATIONS\u003c\/strong\u003e\u003c\/span\u003e\u003c\/h3\u003e\n\u003cul data-mce-fragment=\"1\"\u003e\n\u003cli data-mce-fragment=\"1\"\u003e\n\u003cp class=\"offer-attr-item\" data-mce-fragment=\"1\"\u003e\u003cstrong data-mce-fragment=\"1\"\u003eMaterial: \u003c\/strong\u003ePolyester\u003c\/p\u003e\n\u003c\/li\u003e\n\u003cli data-mce-fragment=\"1\"\u003e\n\u003cp data-mce-fragment=\"1\"\u003e\u003cspan data-mce-fragment=\"1\" mce-data-marked=\"1\"\u003e\u003cstrong data-mce-fragment=\"1\"\u003eWeight: \u003c\/strong\u003e300g\u003c\/span\u003e\u003c\/p\u003e\n\u003c\/li\u003e\n\u003cli data-mce-fragment=\"1\"\u003e\n\u003cp data-mce-fragment=\"1\"\u003e\u003cspan data-mce-fragment=\"1\" mce-data-marked=\"1\"\u003e\u003cstrong data-mce-fragment=\"1\"\u003eColor: \u003c\/strong\u003e\u003cspan class=\"Polaris-Badge_2qgie\" data-mce-fragment=\"1\"\u003eDark Coffee, \u003c\/span\u003e\u003cspan class=\"Polaris-Badge_2qgie\" data-mce-fragment=\"1\"\u003eLight Coffee, \u003c\/span\u003e\u003cspan class=\"Polaris-Badge_2qgie\" data-mce-fragment=\"1\"\u003eBlack, \u003c\/span\u003e\u003cspan class=\"Polaris-Badge_2qgie\" data-mce-fragment=\"1\"\u003ePink, \u003c\/span\u003e\u003cspan class=\"Polaris-Badge_2qgie\" data-mce-fragment=\"1\"\u003eWine Red, \u003c\/span\u003e\u003cspan class=\"Polaris-Badge_2qgie\" data-mce-fragment=\"1\"\u003eDark Blue, \u003c\/span\u003e\u003cspan class=\"Polaris-Badge_2qgie\" data-mce-fragment=\"1\"\u003eArmy Green, \u003c\/span\u003e\u003cspan class=\"Polaris-Badge_2qgie\" data-mce-fragment=\"1\"\u003eLight Gray, \u003c\/span\u003e\u003cspan class=\"Polaris-Badge_2qgie\" data-mce-fragment=\"1\"\u003eDark Gray\u003c\/span\u003e\u003c\/span\u003e\u003c\/p\u003e\n\u003c\/li\u003e\n\u003cli data-mce-fragment=\"1\"\u003e\n\u003cp data-mce-fragment=\"1\"\u003e\u003cspan data-mce-fragment=\"1\" mce-data-marked=\"1\"\u003e\u003cspan class=\"Polaris-Badge_2qgie\" data-mce-fragment=\"1\"\u003e\u003cstrong data-mce-fragment=\"1\"\u003eSize: \u003c\/strong\u003eAs Shown\u003cimg src=\"https:\/\/img.staticdj.com\/3ec91b49cfd4ac7064f43975e919ecf8.webp\" alt=\"\" data-mce-fragment=\"1\" width=\"480\"\u003e\u003c\/span\u003e\u003c\/span\u003e\u003c\/p\u003e\n\u003c\/li\u003e\n\u003c\/ul\u003e\n\u003ch3 data-mce-fragment=\"1\"\u003e\u003cspan style=\"color: #ff2a00;\" data-mce-fragment=\"1\"\u003e\u003cstrong data-mce-fragment=\"1\"\u003ePACKAGE\u003c\/strong\u003e\u003c\/span\u003e\u003c\/h3\u003e\n\u003cul data-mce-fragment=\"1\"\u003e\n\u003cli data-mce-fragment=\"1\"\u003e1 * Women's Casual Full-Length Loose Pants\u003c\/li\u003e\n\u003c\/ul\u003e\n\u003ch3 data-mce-fragment=\"1\"\u003e\u003cspan style=\"color: #ff2a00;\" data-mce-fragment=\"1\"\u003e\u003cstrong data-mce-fragment=\"1\"\u003eNOTE\u003c\/strong\u003e\u003c\/span\u003e\u003c\/h3\u003e\n\u003cul data-mce-fragment=\"1\"\u003e\n\u003cli data-mce-fragment=\"1\"\u003ePlease allow slight measurement deviations due to manual measurement.\u003c\/li\u003e\n\u003c\/ul\u003e\n\u003cul data-mce-fragment=\"1\"\u003e\n\u003cli data-mce-fragment=\"1\"\u003eDue to the different monitor and light effect, the actual color of the item might be slightly different from the color showed in the pictures.\u003c\/li\u003e\n\u003c\/ul\u003e","published_at":"2023-03-21T16:38:08-10:00","created_at":"2023-03-21T16:38:21-10:00","vendor":"Suerteyay","type":"","tags":["pants"],"price":2799,"price_min":2799,"price_max":2799,"available":true,"price_varies":false,"compare_at_price":5598,"compare_at_price_min":5598,"compare_at_price_max":5598,"compare_at_price_varies":false,"variants":[{"id":40442499432537,"title":"Wine Red \/ L","option1":"Wine Red","option2":"L","option3":null,"sku":"PA26553-C302-S00L","requires_shipping":true,"taxable":false,"featured_image":{"id":31379418873945,"product_id":7261847388249,"position":24,"created_at":"2023-03-21T16:38:35-10:00","updated_at":"2023-03-21T16:38:35-10:00","alt":null,"width":800,"height":800,"src":"\/\/www.suerteyay.com\/cdn\/shop\/products\/bde318ade6742ea6b7f407fbd600a4c4_8e4bc94f-edc0-42f3-b5eb-369bda5729b5.jpg?v=1679452715","variant_ids":[40442499432537,40442499465305,40442499498073,40442500481113,40442500513881]},"available":true,"name":"Women's Wide Leg Casual Loose Yoga Sweatpants - Wine Red \/ L","public_title":"Wine Red \/ L","options":["Wine Red","L"],"price":2799,"weight":0,"compare_at_price":5598,"inventory_management":null,"barcode":null,"featured_media":{"alt":null,"id":23931163803737,"position":24,"preview_image":{"aspect_ratio":1.0,"height":800,"width":800,"src":"\/\/www.suerteyay.com\/cdn\/shop\/products\/bde318ade6742ea6b7f407fbd600a4c4_8e4bc94f-edc0-42f3-b5eb-369bda5729b5.jpg?v=1679452715"}},"requires_selling_plan":false,"selling_plan_allocations":[],"quantity_rule":{"min":1,"max":null,"increment":1}},{"id":40442499465305,"title":"Wine Red \/ XL","option1":"Wine Red","option2":"XL","option3":null,"sku":"PA26553-C302-S00X","requires_shipping":true,"taxable":false,"featured_image":{"id":31379418873945,"product_id":7261847388249,"position":24,"created_at":"2023-03-21T16:38:35-10:00","updated_at":"2023-03-21T16:38:35-10:00","alt":null,"width":800,"height":800,"src":"\/\/www.suerteyay.com\/cdn\/shop\/products\/bde318ade6742ea6b7f407fbd600a4c4_8e4bc94f-edc0-42f3-b5eb-369bda5729b5.jpg?v=1679452715","variant_ids":[40442499432537,40442499465305,40442499498073,40442500481113,40442500513881]},"available":true,"name":"Women's Wide Leg Casual Loose Yoga Sweatpants - Wine Red \/ XL","public_title":"Wine Red \/ XL","options":["Wine Red","XL"],"price":2799,"weight":0,"compare_at_price":5598,"inventory_management":null,"barcode":null,"featured_media":{"alt":null,"id":23931163803737,"position":24,"preview_image":{"aspect_ratio":1.0,"height":800,"width":800,"src":"\/\/www.suerteyay.com\/cdn\/shop\/products\/bde318ade6742ea6b7f407fbd600a4c4_8e4bc94f-edc0-42f3-b5eb-369bda5729b5.jpg?v=1679452715"}},"requires_selling_plan":false,"selling_plan_allocations":[],"quantity_rule":{"min":1,"max":null,"increment":1}},{"id":40442499498073,"title":"Wine Red \/ 2XL","option1":"Wine Red","option2":"2XL","option3":null,"sku":"PA26553-C302-S02X","requires_shipping":true,"taxable":false,"featured_image":{"id":31379418873945,"product_id":7261847388249,"position":24,"created_at":"2023-03-21T16:38:35-10:00","updated_at":"2023-03-21T16:38:35-10:00","alt":null,"width":800,"height":800,"src":"\/\/www.suerteyay.com\/cdn\/shop\/products\/bde318ade6742ea6b7f407fbd600a4c4_8e4bc94f-edc0-42f3-b5eb-369bda5729b5.jpg?v=1679452715","variant_ids":[40442499432537,40442499465305,40442499498073,40442500481113,40442500513881]},"available":true,"name":"Women's Wide Leg Casual Loose Yoga Sweatpants - Wine Red \/ 2XL","public_title":"Wine Red \/ 2XL","options":["Wine Red","2XL"],"price":2799,"weight":0,"compare_at_price":5598,"inventory_management":null,"barcode":null,"featured_media":{"alt":null,"id":23931163803737,"position":24,"preview_image":{"aspect_ratio":1.0,"height":800,"width":800,"src":"\/\/www.suerteyay.com\/cdn\/shop\/products\/bde318ade6742ea6b7f407fbd600a4c4_8e4bc94f-edc0-42f3-b5eb-369bda5729b5.jpg?v=1679452715"}},"requires_selling_plan":false,"selling_plan_allocations":[],"quantity_rule":{"min":1,"max":null,"increment":1}},{"id":40442499530841,"title":"Dark Blue \/ S","option1":"Dark Blue","option2":"S","option3":null,"sku":"PA26553-C029-S00S","requires_shipping":true,"taxable":false,"featured_image":{"id":31379418775641,"product_id":7261847388249,"position":23,"created_at":"2023-03-21T16:38:34-10:00","updated_at":"2023-03-21T16:38:34-10:00","alt":null,"width":800,"height":800,"src":"\/\/www.suerteyay.com\/cdn\/shop\/products\/2e41701ac176d9936a9b59b720ac7875_1b46a213-4003-479b-bc2d-d3bfae35e872.jpg?v=1679452714","variant_ids":[40442499530841,40442499563609,40442499596377,40442499629145,40442499661913]},"available":true,"name":"Women's Wide Leg Casual Loose Yoga Sweatpants - Dark Blue \/ S","public_title":"Dark Blue \/ S","options":["Dark Blue","S"],"price":2799,"weight":0,"compare_at_price":5598,"inventory_management":null,"barcode":null,"featured_media":{"alt":null,"id":23931163705433,"position":23,"preview_image":{"aspect_ratio":1.0,"height":800,"width":800,"src":"\/\/www.suerteyay.com\/cdn\/shop\/products\/2e41701ac176d9936a9b59b720ac7875_1b46a213-4003-479b-bc2d-d3bfae35e872.jpg?v=1679452714"}},"requires_selling_plan":false,"selling_plan_allocations":[],"quantity_rule":{"min":1,"max":null,"increment":1}},{"id":40442499563609,"title":"Dark Blue \/ M","option1":"Dark Blue","option2":"M","option3":null,"sku":"PA26553-C029-S00M","requires_shipping":true,"taxable":false,"featured_image":{"id":31379418775641,"product_id":7261847388249,"position":23,"created_at":"2023-03-21T16:38:34-10:00","updated_at":"2023-03-21T16:38:34-10:00","alt":null,"width":800,"height":800,"src":"\/\/www.suerteyay.com\/cdn\/shop\/products\/2e41701ac176d9936a9b59b720ac7875_1b46a213-4003-479b-bc2d-d3bfae35e872.jpg?v=1679452714","variant_ids":[40442499530841,40442499563609,40442499596377,40442499629145,40442499661913]},"available":true,"name":"Women's Wide Leg Casual Loose Yoga Sweatpants - Dark Blue \/ M","public_title":"Dark Blue \/ M","options":["Dark Blue","M"],"price":2799,"weight":0,"compare_at_price":5598,"inventory_management":null,"barcode":null,"featured_media":{"alt":null,"id":23931163705433,"position":23,"preview_image":{"aspect_ratio":1.0,"height":800,"width":800,"src":"\/\/www.suerteyay.com\/cdn\/shop\/products\/2e41701ac176d9936a9b59b720ac7875_1b46a213-4003-479b-bc2d-d3bfae35e872.jpg?v=1679452714"}},"requires_selling_plan":false,"selling_plan_allocations":[],"quantity_rule":{"min":1,"max":null,"increment":1}},{"id":40442499596377,"title":"Dark Blue \/ L","option1":"Dark Blue","option2":"L","option3":null,"sku":"PA26553-C029-S00L","requires_shipping":true,"taxable":false,"featured_image":{"id":31379418775641,"product_id":7261847388249,"position":23,"created_at":"2023-03-21T16:38:34-10:00","updated_at":"2023-03-21T16:38:34-10:00","alt":null,"width":800,"height":800,"src":"\/\/www.suerteyay.com\/cdn\/shop\/products\/2e41701ac176d9936a9b59b720ac7875_1b46a213-4003-479b-bc2d-d3bfae35e872.jpg?v=1679452714","variant_ids":[40442499530841,40442499563609,40442499596377,40442499629145,40442499661913]},"available":true,"name":"Women's Wide Leg Casual Loose Yoga Sweatpants - Dark Blue \/ L","public_title":"Dark Blue \/ L","options":["Dark Blue","L"],"price":2799,"weight":0,"compare_at_price":5598,"inventory_management":null,"barcode":null,"featured_media":{"alt":null,"id":23931163705433,"position":23,"preview_image":{"aspect_ratio":1.0,"height":800,"width":800,"src":"\/\/www.suerteyay.com\/cdn\/shop\/products\/2e41701ac176d9936a9b59b720ac7875_1b46a213-4003-479b-bc2d-d3bfae35e872.jpg?v=1679452714"}},"requires_selling_plan":false,"selling_plan_allocations":[],"quantity_rule":{"min":1,"max":null,"increment":1}},{"id":40442499629145,"title":"Dark Blue \/ XL","option1":"Dark Blue","option2":"XL","option3":null,"sku":"PA26553-C029-S00X","requires_shipping":true,"taxable":false,"featured_image":{"id":31379418775641,"product_id":7261847388249,"position":23,"created_at":"2023-03-21T16:38:34-10:00","updated_at":"2023-03-21T16:38:34-10:00","alt":null,"width":800,"height":800,"src":"\/\/www.suerteyay.com\/cdn\/shop\/products\/2e41701ac176d9936a9b59b720ac7875_1b46a213-4003-479b-bc2d-d3bfae35e872.jpg?v=1679452714","variant_ids":[40442499530841,40442499563609,40442499596377,40442499629145,40442499661913]},"available":true,"name":"Women's Wide Leg Casual Loose Yoga Sweatpants - Dark Blue \/ XL","public_title":"Dark Blue \/ XL","options":["Dark Blue","XL"],"price":2799,"weight":0,"compare_at_price":5598,"inventory_management":null,"barcode":null,"featured_media":{"alt":null,"id":23931163705433,"position":23,"preview_image":{"aspect_ratio":1.0,"height":800,"width":800,"src":"\/\/www.suerteyay.com\/cdn\/shop\/products\/2e41701ac176d9936a9b59b720ac7875_1b46a213-4003-479b-bc2d-d3bfae35e872.jpg?v=1679452714"}},"requires_selling_plan":false,"selling_plan_allocations":[],"quantity_rule":{"min":1,"max":null,"increment":1}},{"id":40442499661913,"title":"Dark Blue \/ 2XL","option1":"Dark Blue","option2":"2XL","option3":null,"sku":"PA26553-C029-S02X","requires_shipping":true,"taxable":false,"featured_image":{"id":31379418775641,"product_id":7261847388249,"position":23,"created_at":"2023-03-21T16:38:34-10:00","updated_at":"2023-03-21T16:38:34-10:00","alt":null,"width":800,"height":800,"src":"\/\/www.suerteyay.com\/cdn\/shop\/products\/2e41701ac176d9936a9b59b720ac7875_1b46a213-4003-479b-bc2d-d3bfae35e872.jpg?v=1679452714","variant_ids":[40442499530841,40442499563609,40442499596377,40442499629145,40442499661913]},"available":true,"name":"Women's Wide Leg Casual Loose Yoga Sweatpants - Dark Blue \/ 2XL","public_title":"Dark Blue \/ 2XL","options":["Dark Blue","2XL"],"price":2799,"weight":0,"compare_at_price":5598,"inventory_management":null,"barcode":null,"featured_media":{"alt":null,"id":23931163705433,"position":23,"preview_image":{"aspect_ratio":1.0,"height":800,"width":800,"src":"\/\/www.suerteyay.com\/cdn\/shop\/products\/2e41701ac176d9936a9b59b720ac7875_1b46a213-4003-479b-bc2d-d3bfae35e872.jpg?v=1679452714"}},"requires_selling_plan":false,"selling_plan_allocations":[],"quantity_rule":{"min":1,"max":null,"increment":1}},{"id":40442499694681,"title":"Army Green \/ S","option1":"Army Green","option2":"S","option3":null,"sku":"PA26553-C053-S00S","requires_shipping":true,"taxable":false,"featured_image":{"id":31379418644569,"product_id":7261847388249,"position":22,"created_at":"2023-03-21T16:38:32-10:00","updated_at":"2023-03-21T16:38:32-10:00","alt":null,"width":800,"height":800,"src":"\/\/www.suerteyay.com\/cdn\/shop\/products\/daf401a52f26f5375f861dbb6e36baa9_75ee4c2f-ce6c-4fe8-ba5d-04fa4c2f710b.jpg?v=1679452712","variant_ids":[40442499694681,40442499727449,40442499760217,40442499989593,40442500022361]},"available":true,"name":"Women's Wide Leg Casual Loose Yoga Sweatpants - Army Green \/ S","public_title":"Army Green \/ S","options":["Army Green","S"],"price":2799,"weight":0,"compare_at_price":5598,"inventory_management":null,"barcode":null,"featured_media":{"alt":null,"id":23931163574361,"position":22,"preview_image":{"aspect_ratio":1.0,"height":800,"width":800,"src":"\/\/www.suerteyay.com\/cdn\/shop\/products\/daf401a52f26f5375f861dbb6e36baa9_75ee4c2f-ce6c-4fe8-ba5d-04fa4c2f710b.jpg?v=1679452712"}},"requires_selling_plan":false,"selling_plan_allocations":[],"quantity_rule":{"min":1,"max":null,"increment":1}},{"id":40442499727449,"title":"Army Green \/ M","option1":"Army Green","option2":"M","option3":null,"sku":"PA26553-C053-S00M","requires_shipping":true,"taxable":false,"featured_image":{"id":31379418644569,"product_id":7261847388249,"position":22,"created_at":"2023-03-21T16:38:32-10:00","updated_at":"2023-03-21T16:38:32-10:00","alt":null,"width":800,"height":800,"src":"\/\/www.suerteyay.com\/cdn\/shop\/products\/daf401a52f26f5375f861dbb6e36baa9_75ee4c2f-ce6c-4fe8-ba5d-04fa4c2f710b.jpg?v=1679452712","variant_ids":[40442499694681,40442499727449,40442499760217,40442499989593,40442500022361]},"available":true,"name":"Women's Wide Leg Casual Loose Yoga Sweatpants - Army Green \/ M","public_title":"Army Green \/ M","options":["Army Green","M"],"price":2799,"weight":0,"compare_at_price":5598,"inventory_management":null,"barcode":null,"featured_media":{"alt":null,"id":23931163574361,"position":22,"preview_image":{"aspect_ratio":1.0,"height":800,"width":800,"src":"\/\/www.suerteyay.com\/cdn\/shop\/products\/daf401a52f26f5375f861dbb6e36baa9_75ee4c2f-ce6c-4fe8-ba5d-04fa4c2f710b.jpg?v=1679452712"}},"requires_selling_plan":false,"selling_plan_allocations":[],"quantity_rule":{"min":1,"max":null,"increment":1}},{"id":40442499760217,"title":"Army Green \/ L","option1":"Army Green","option2":"L","option3":null,"sku":"PA26553-C053-S00L","requires_shipping":true,"taxable":false,"featured_image":{"id":31379418644569,"product_id":7261847388249,"position":22,"created_at":"2023-03-21T16:38:32-10:00","updated_at":"2023-03-21T16:38:32-10:00","alt":null,"width":800,"height":800,"src":"\/\/www.suerteyay.com\/cdn\/shop\/products\/daf401a52f26f5375f861dbb6e36baa9_75ee4c2f-ce6c-4fe8-ba5d-04fa4c2f710b.jpg?v=1679452712","variant_ids":[40442499694681,40442499727449,40442499760217,40442499989593,40442500022361]},"available":true,"name":"Women's Wide Leg Casual Loose Yoga Sweatpants - Army Green \/ L","public_title":"Army Green \/ L","options":["Army Green","L"],"price":2799,"weight":0,"compare_at_price":5598,"inventory_management":null,"barcode":null,"featured_media":{"alt":null,"id":23931163574361,"position":22,"preview_image":{"aspect_ratio":1.0,"height":800,"width":800,"src":"\/\/www.suerteyay.com\/cdn\/shop\/products\/daf401a52f26f5375f861dbb6e36baa9_75ee4c2f-ce6c-4fe8-ba5d-04fa4c2f710b.jpg?v=1679452712"}},"requires_selling_plan":false,"selling_plan_allocations":[],"quantity_rule":{"min":1,"max":null,"increment":1}},{"id":40442499792985,"title":"Light Gray \/ 2XL","option1":"Light Gray","option2":"2XL","option3":null,"sku":"PA26553-C025-S02X","requires_shipping":true,"taxable":false,"featured_image":{"id":31379418611801,"product_id":7261847388249,"position":21,"created_at":"2023-03-21T16:38:31-10:00","updated_at":"2023-03-21T16:38:31-10:00","alt":null,"width":800,"height":800,"src":"\/\/www.suerteyay.com\/cdn\/shop\/products\/e2d7cc57876173d13c254ec6acf8d0f4_7e7d3014-0cf4-4c99-b791-e23b0a834b7a.jpg?v=1679452711","variant_ids":[40442499792985,40442500055129,40442500087897,40442500120665,40442500153433]},"available":true,"name":"Women's Wide Leg Casual Loose Yoga Sweatpants - Light Gray \/ 2XL","public_title":"Light Gray \/ 2XL","options":["Light Gray","2XL"],"price":2799,"weight":0,"compare_at_price":5598,"inventory_management":null,"barcode":null,"featured_media":{"alt":null,"id":23931163541593,"position":21,"preview_image":{"aspect_ratio":1.0,"height":800,"width":800,"src":"\/\/www.suerteyay.com\/cdn\/shop\/products\/e2d7cc57876173d13c254ec6acf8d0f4_7e7d3014-0cf4-4c99-b791-e23b0a834b7a.jpg?v=1679452711"}},"requires_selling_plan":false,"selling_plan_allocations":[],"quantity_rule":{"min":1,"max":null,"increment":1}},{"id":40442499825753,"title":"Dark Gray \/ S","option1":"Dark Gray","option2":"S","option3":null,"sku":"PA26553-C024-S00S","requires_shipping":true,"taxable":false,"featured_image":{"id":31379418349657,"product_id":7261847388249,"position":18,"created_at":"2023-03-21T16:38:26-10:00","updated_at":"2023-03-21T16:38:26-10:00","alt":null,"width":800,"height":800,"src":"\/\/www.suerteyay.com\/cdn\/shop\/products\/172a12e9e6f73aff0e9f5d492617a3e1_b978cca9-8078-4dd8-8214-c801bce99ca1.jpg?v=1679452706","variant_ids":[40442499825753,40442499858521,40442499891289,40442499924057,40442499956825]},"available":true,"name":"Women's Wide Leg Casual Loose Yoga Sweatpants - Dark Gray \/ S","public_title":"Dark Gray \/ S","options":["Dark Gray","S"],"price":2799,"weight":0,"compare_at_price":5598,"inventory_management":null,"barcode":null,"featured_media":{"alt":null,"id":23931163279449,"position":18,"preview_image":{"aspect_ratio":1.0,"height":800,"width":800,"src":"\/\/www.suerteyay.com\/cdn\/shop\/products\/172a12e9e6f73aff0e9f5d492617a3e1_b978cca9-8078-4dd8-8214-c801bce99ca1.jpg?v=1679452706"}},"requires_selling_plan":false,"selling_plan_allocations":[],"quantity_rule":{"min":1,"max":null,"increment":1}},{"id":40442499858521,"title":"Dark Gray \/ M","option1":"Dark Gray","option2":"M","option3":null,"sku":"PA26553-C024-S00M","requires_shipping":true,"taxable":false,"featured_image":{"id":31379418349657,"product_id":7261847388249,"position":18,"created_at":"2023-03-21T16:38:26-10:00","updated_at":"2023-03-21T16:38:26-10:00","alt":null,"width":800,"height":800,"src":"\/\/www.suerteyay.com\/cdn\/shop\/products\/172a12e9e6f73aff0e9f5d492617a3e1_b978cca9-8078-4dd8-8214-c801bce99ca1.jpg?v=1679452706","variant_ids":[40442499825753,40442499858521,40442499891289,40442499924057,40442499956825]},"available":true,"name":"Women's Wide Leg Casual Loose Yoga Sweatpants - Dark Gray \/ M","public_title":"Dark Gray \/ M","options":["Dark Gray","M"],"price":2799,"weight":0,"compare_at_price":5598,"inventory_management":null,"barcode":null,"featured_media":{"alt":null,"id":23931163279449,"position":18,"preview_image":{"aspect_ratio":1.0,"height":800,"width":800,"src":"\/\/www.suerteyay.com\/cdn\/shop\/products\/172a12e9e6f73aff0e9f5d492617a3e1_b978cca9-8078-4dd8-8214-c801bce99ca1.jpg?v=1679452706"}},"requires_selling_plan":false,"selling_plan_allocations":[],"quantity_rule":{"min":1,"max":null,"increment":1}},{"id":40442499891289,"title":"Dark Gray \/ L","option1":"Dark Gray","option2":"L","option3":null,"sku":"PA26553-C024-S00L","requires_shipping":true,"taxable":false,"featured_image":{"id":31379418349657,"product_id":7261847388249,"position":18,"created_at":"2023-03-21T16:38:26-10:00","updated_at":"2023-03-21T16:38:26-10:00","alt":null,"width":800,"height":800,"src":"\/\/www.suerteyay.com\/cdn\/shop\/products\/172a12e9e6f73aff0e9f5d492617a3e1_b978cca9-8078-4dd8-8214-c801bce99ca1.jpg?v=1679452706","variant_ids":[40442499825753,40442499858521,40442499891289,40442499924057,40442499956825]},"available":true,"name":"Women's Wide Leg Casual Loose Yoga Sweatpants - Dark Gray \/ L","public_title":"Dark Gray \/ L","options":["Dark Gray","L"],"price":2799,"weight":0,"compare_at_price":5598,"inventory_management":null,"barcode":null,"featured_media":{"alt":null,"id":23931163279449,"position":18,"preview_image":{"aspect_ratio":1.0,"height":800,"width":800,"src":"\/\/www.suerteyay.com\/cdn\/shop\/products\/172a12e9e6f73aff0e9f5d492617a3e1_b978cca9-8078-4dd8-8214-c801bce99ca1.jpg?v=1679452706"}},"requires_selling_plan":false,"selling_plan_allocations":[],"quantity_rule":{"min":1,"max":null,"increment":1}},{"id":40442499924057,"title":"Dark Gray \/ XL","option1":"Dark Gray","option2":"XL","option3":null,"sku":"PA26553-C024-S00X","requires_shipping":true,"taxable":false,"featured_image":{"id":31379418349657,"product_id":7261847388249,"position":18,"created_at":"2023-03-21T16:38:26-10:00","updated_at":"2023-03-21T16:38:26-10:00","alt":null,"width":800,"height":800,"src":"\/\/www.suerteyay.com\/cdn\/shop\/products\/172a12e9e6f73aff0e9f5d492617a3e1_b978cca9-8078-4dd8-8214-c801bce99ca1.jpg?v=1679452706","variant_ids":[40442499825753,40442499858521,40442499891289,40442499924057,40442499956825]},"available":true,"name":"Women's Wide Leg Casual Loose Yoga Sweatpants - Dark Gray \/ XL","public_title":"Dark Gray \/ XL","options":["Dark Gray","XL"],"price":2799,"weight":0,"compare_at_price":5598,"inventory_management":null,"barcode":null,"featured_media":{"alt":null,"id":23931163279449,"position":18,"preview_image":{"aspect_ratio":1.0,"height":800,"width":800,"src":"\/\/www.suerteyay.com\/cdn\/shop\/products\/172a12e9e6f73aff0e9f5d492617a3e1_b978cca9-8078-4dd8-8214-c801bce99ca1.jpg?v=1679452706"}},"requires_selling_plan":false,"selling_plan_allocations":[],"quantity_rule":{"min":1,"max":null,"increment":1}},{"id":40442499956825,"title":"Dark Gray \/ 2XL","option1":"Dark Gray","option2":"2XL","option3":null,"sku":"PA26553-C024-S02X","requires_shipping":true,"taxable":false,"featured_image":{"id":31379418349657,"product_id":7261847388249,"position":18,"created_at":"2023-03-21T16:38:26-10:00","updated_at":"2023-03-21T16:38:26-10:00","alt":null,"width":800,"height":800,"src":"\/\/www.suerteyay.com\/cdn\/shop\/products\/172a12e9e6f73aff0e9f5d492617a3e1_b978cca9-8078-4dd8-8214-c801bce99ca1.jpg?v=1679452706","variant_ids":[40442499825753,40442499858521,40442499891289,40442499924057,40442499956825]},"available":true,"name":"Women's Wide Leg Casual Loose Yoga Sweatpants - Dark Gray \/ 2XL","public_title":"Dark Gray \/ 2XL","options":["Dark Gray","2XL"],"price":2799,"weight":0,"compare_at_price":5598,"inventory_management":null,"barcode":null,"featured_media":{"alt":null,"id":23931163279449,"position":18,"preview_image":{"aspect_ratio":1.0,"height":800,"width":800,"src":"\/\/www.suerteyay.com\/cdn\/shop\/products\/172a12e9e6f73aff0e9f5d492617a3e1_b978cca9-8078-4dd8-8214-c801bce99ca1.jpg?v=1679452706"}},"requires_selling_plan":false,"selling_plan_allocations":[],"quantity_rule":{"min":1,"max":null,"increment":1}},{"id":40442499989593,"title":"Army Green \/ XL","option1":"Army Green","option2":"XL","option3":null,"sku":"PA26553-C053-S00X","requires_shipping":true,"taxable":false,"featured_image":{"id":31379418644569,"product_id":7261847388249,"position":22,"created_at":"2023-03-21T16:38:32-10:00","updated_at":"2023-03-21T16:38:32-10:00","alt":null,"width":800,"height":800,"src":"\/\/www.suerteyay.com\/cdn\/shop\/products\/daf401a52f26f5375f861dbb6e36baa9_75ee4c2f-ce6c-4fe8-ba5d-04fa4c2f710b.jpg?v=1679452712","variant_ids":[40442499694681,40442499727449,40442499760217,40442499989593,40442500022361]},"available":true,"name":"Women's Wide Leg Casual Loose Yoga Sweatpants - Army Green \/ XL","public_title":"Army Green \/ XL","options":["Army Green","XL"],"price":2799,"weight":0,"compare_at_price":5598,"inventory_management":null,"barcode":null,"featured_media":{"alt":null,"id":23931163574361,"position":22,"preview_image":{"aspect_ratio":1.0,"height":800,"width":800,"src":"\/\/www.suerteyay.com\/cdn\/shop\/products\/daf401a52f26f5375f861dbb6e36baa9_75ee4c2f-ce6c-4fe8-ba5d-04fa4c2f710b.jpg?v=1679452712"}},"requires_selling_plan":false,"selling_plan_allocations":[],"quantity_rule":{"min":1,"max":null,"increment":1}},{"id":40442500022361,"title":"Army Green \/ 2XL","option1":"Army Green","option2":"2XL","option3":null,"sku":"PA26553-C053-S02X","requires_shipping":true,"taxable":false,"featured_image":{"id":31379418644569,"product_id":7261847388249,"position":22,"created_at":"2023-03-21T16:38:32-10:00","updated_at":"2023-03-21T16:38:32-10:00","alt":null,"width":800,"height":800,"src":"\/\/www.suerteyay.com\/cdn\/shop\/products\/daf401a52f26f5375f861dbb6e36baa9_75ee4c2f-ce6c-4fe8-ba5d-04fa4c2f710b.jpg?v=1679452712","variant_ids":[40442499694681,40442499727449,40442499760217,40442499989593,40442500022361]},"available":true,"name":"Women's Wide Leg Casual Loose Yoga Sweatpants - Army Green \/ 2XL","public_title":"Army Green \/ 2XL","options":["Army Green","2XL"],"price":2799,"weight":0,"compare_at_price":5598,"inventory_management":null,"barcode":null,"featured_media":{"alt":null,"id":23931163574361,"position":22,"preview_image":{"aspect_ratio":1.0,"height":800,"width":800,"src":"\/\/www.suerteyay.com\/cdn\/shop\/products\/daf401a52f26f5375f861dbb6e36baa9_75ee4c2f-ce6c-4fe8-ba5d-04fa4c2f710b.jpg?v=1679452712"}},"requires_selling_plan":false,"selling_plan_allocations":[],"quantity_rule":{"min":1,"max":null,"increment":1}},{"id":40442500055129,"title":"Light Gray \/ S","option1":"Light Gray","option2":"S","option3":null,"sku":"PA26553-C025-S00S","requires_shipping":true,"taxable":false,"featured_image":{"id":31379418611801,"product_id":7261847388249,"position":21,"created_at":"2023-03-21T16:38:31-10:00","updated_at":"2023-03-21T16:38:31-10:00","alt":null,"width":800,"height":800,"src":"\/\/www.suerteyay.com\/cdn\/shop\/products\/e2d7cc57876173d13c254ec6acf8d0f4_7e7d3014-0cf4-4c99-b791-e23b0a834b7a.jpg?v=1679452711","variant_ids":[40442499792985,40442500055129,40442500087897,40442500120665,40442500153433]},"available":true,"name":"Women's Wide Leg Casual Loose Yoga Sweatpants - Light Gray \/ S","public_title":"Light Gray \/ S","options":["Light Gray","S"],"price":2799,"weight":0,"compare_at_price":5598,"inventory_management":null,"barcode":null,"featured_media":{"alt":null,"id":23931163541593,"position":21,"preview_image":{"aspect_ratio":1.0,"height":800,"width":800,"src":"\/\/www.suerteyay.com\/cdn\/shop\/products\/e2d7cc57876173d13c254ec6acf8d0f4_7e7d3014-0cf4-4c99-b791-e23b0a834b7a.jpg?v=1679452711"}},"requires_selling_plan":false,"selling_plan_allocations":[],"quantity_rule":{"min":1,"max":null,"increment":1}},{"id":40442500087897,"title":"Light Gray \/ M","option1":"Light Gray","option2":"M","option3":null,"sku":"PA26553-C025-S00M","requires_shipping":true,"taxable":false,"featured_image":{"id":31379418611801,"product_id":7261847388249,"position":21,"created_at":"2023-03-21T16:38:31-10:00","updated_at":"2023-03-21T16:38:31-10:00","alt":null,"width":800,"height":800,"src":"\/\/www.suerteyay.com\/cdn\/shop\/products\/e2d7cc57876173d13c254ec6acf8d0f4_7e7d3014-0cf4-4c99-b791-e23b0a834b7a.jpg?v=1679452711","variant_ids":[40442499792985,40442500055129,40442500087897,40442500120665,40442500153433]},"available":true,"name":"Women's Wide Leg Casual Loose Yoga Sweatpants - Light Gray \/ M","public_title":"Light Gray \/ M","options":["Light Gray","M"],"price":2799,"weight":0,"compare_at_price":5598,"inventory_management":null,"barcode":null,"featured_media":{"alt":null,"id":23931163541593,"position":21,"preview_image":{"aspect_ratio":1.0,"height":800,"width":800,"src":"\/\/www.suerteyay.com\/cdn\/shop\/products\/e2d7cc57876173d13c254ec6acf8d0f4_7e7d3014-0cf4-4c99-b791-e23b0a834b7a.jpg?v=1679452711"}},"requires_selling_plan":false,"selling_plan_allocations":[],"quantity_rule":{"min":1,"max":null,"increment":1}},{"id":40442500120665,"title":"Light Gray \/ L","option1":"Light Gray","option2":"L","option3":null,"sku":"PA26553-C025-S00L","requires_shipping":true,"taxable":false,"featured_image":{"id":31379418611801,"product_id":7261847388249,"position":21,"created_at":"2023-03-21T16:38:31-10:00","updated_at":"2023-03-21T16:38:31-10:00","alt":null,"width":800,"height":800,"src":"\/\/www.suerteyay.com\/cdn\/shop\/products\/e2d7cc57876173d13c254ec6acf8d0f4_7e7d3014-0cf4-4c99-b791-e23b0a834b7a.jpg?v=1679452711","variant_ids":[40442499792985,40442500055129,40442500087897,40442500120665,40442500153433]},"available":true,"name":"Women's Wide Leg Casual Loose Yoga Sweatpants - Light Gray \/ L","public_title":"Light Gray \/ L","options":["Light Gray","L"],"price":2799,"weight":0,"compare_at_price":5598,"inventory_management":null,"barcode":null,"featured_media":{"alt":null,"id":23931163541593,"position":21,"preview_image":{"aspect_ratio":1.0,"height":800,"width":800,"src":"\/\/www.suerteyay.com\/cdn\/shop\/products\/e2d7cc57876173d13c254ec6acf8d0f4_7e7d3014-0cf4-4c99-b791-e23b0a834b7a.jpg?v=1679452711"}},"requires_selling_plan":false,"selling_plan_allocations":[],"quantity_rule":{"min":1,"max":null,"increment":1}},{"id":40442500153433,"title":"Light Gray \/ XL","option1":"Light Gray","option2":"XL","option3":null,"sku":"PA26553-C025-S00X","requires_shipping":true,"taxable":false,"featured_image":{"id":31379418611801,"product_id":7261847388249,"position":21,"created_at":"2023-03-21T16:38:31-10:00","updated_at":"2023-03-21T16:38:31-10:00","alt":null,"width":800,"height":800,"src":"\/\/www.suerteyay.com\/cdn\/shop\/products\/e2d7cc57876173d13c254ec6acf8d0f4_7e7d3014-0cf4-4c99-b791-e23b0a834b7a.jpg?v=1679452711","variant_ids":[40442499792985,40442500055129,40442500087897,40442500120665,40442500153433]},"available":true,"name":"Women's Wide Leg Casual Loose Yoga Sweatpants - Light Gray \/ XL","public_title":"Light Gray \/ XL","options":["Light Gray","XL"],"price":2799,"weight":0,"compare_at_price":5598,"inventory_management":null,"barcode":null,"featured_media":{"alt":null,"id":23931163541593,"position":21,"preview_image":{"aspect_ratio":1.0,"height":800,"width":800,"src":"\/\/www.suerteyay.com\/cdn\/shop\/products\/e2d7cc57876173d13c254ec6acf8d0f4_7e7d3014-0cf4-4c99-b791-e23b0a834b7a.jpg?v=1679452711"}},"requires_selling_plan":false,"selling_plan_allocations":[],"quantity_rule":{"min":1,"max":null,"increment":1}},{"id":40442500186201,"title":"Black \/ M","option1":"Black","option2":"M","option3":null,"sku":"PA26553-C001-S00M","requires_shipping":true,"taxable":false,"featured_image":{"id":31379418447961,"product_id":7261847388249,"position":19,"created_at":"2023-03-21T16:38:28-10:00","updated_at":"2023-03-21T16:38:28-10:00","alt":null,"width":800,"height":800,"src":"\/\/www.suerteyay.com\/cdn\/shop\/products\/38be3b50bed6b0eaa8854ac62e69da42_eafafcda-cbf2-4cde-b668-9f80209c5d9c.jpg?v=1679452708","variant_ids":[40442500186201,40442500218969,40442500251737,40442500284505,40442500874329]},"available":true,"name":"Women's Wide Leg Casual Loose Yoga Sweatpants - Black \/ M","public_title":"Black \/ M","options":["Black","M"],"price":2799,"weight":0,"compare_at_price":5598,"inventory_management":null,"barcode":null,"featured_media":{"alt":null,"id":23931163377753,"position":19,"preview_image":{"aspect_ratio":1.0,"height":800,"width":800,"src":"\/\/www.suerteyay.com\/cdn\/shop\/products\/38be3b50bed6b0eaa8854ac62e69da42_eafafcda-cbf2-4cde-b668-9f80209c5d9c.jpg?v=1679452708"}},"requires_selling_plan":false,"selling_plan_allocations":[],"quantity_rule":{"min":1,"max":null,"increment":1}},{"id":40442500218969,"title":"Black \/ L","option1":"Black","option2":"L","option3":null,"sku":"PA26553-C001-S00L","requires_shipping":true,"taxable":false,"featured_image":{"id":31379418447961,"product_id":7261847388249,"position":19,"created_at":"2023-03-21T16:38:28-10:00","updated_at":"2023-03-21T16:38:28-10:00","alt":null,"width":800,"height":800,"src":"\/\/www.suerteyay.com\/cdn\/shop\/products\/38be3b50bed6b0eaa8854ac62e69da42_eafafcda-cbf2-4cde-b668-9f80209c5d9c.jpg?v=1679452708","variant_ids":[40442500186201,40442500218969,40442500251737,40442500284505,40442500874329]},"available":true,"name":"Women's Wide Leg Casual Loose Yoga Sweatpants - Black \/ L","public_title":"Black \/ L","options":["Black","L"],"price":2799,"weight":0,"compare_at_price":5598,"inventory_management":null,"barcode":null,"featured_media":{"alt":null,"id":23931163377753,"position":19,"preview_image":{"aspect_ratio":1.0,"height":800,"width":800,"src":"\/\/www.suerteyay.com\/cdn\/shop\/products\/38be3b50bed6b0eaa8854ac62e69da42_eafafcda-cbf2-4cde-b668-9f80209c5d9c.jpg?v=1679452708"}},"requires_selling_plan":false,"selling_plan_allocations":[],"quantity_rule":{"min":1,"max":null,"increment":1}},{"id":40442500251737,"title":"Black \/ XL","option1":"Black","option2":"XL","option3":null,"sku":"PA26553-C001-S00X","requires_shipping":true,"taxable":false,"featured_image":{"id":31379418447961,"product_id":7261847388249,"position":19,"created_at":"2023-03-21T16:38:28-10:00","updated_at":"2023-03-21T16:38:28-10:00","alt":null,"width":800,"height":800,"src":"\/\/www.suerteyay.com\/cdn\/shop\/products\/38be3b50bed6b0eaa8854ac62e69da42_eafafcda-cbf2-4cde-b668-9f80209c5d9c.jpg?v=1679452708","variant_ids":[40442500186201,40442500218969,40442500251737,40442500284505,40442500874329]},"available":true,"name":"Women's Wide Leg Casual Loose Yoga Sweatpants - Black \/ XL","public_title":"Black \/ XL","options":["Black","XL"],"price":2799,"weight":0,"compare_at_price":5598,"inventory_management":null,"barcode":null,"featured_media":{"alt":null,"id":23931163377753,"position":19,"preview_image":{"aspect_ratio":1.0,"height":800,"width":800,"src":"\/\/www.suerteyay.com\/cdn\/shop\/products\/38be3b50bed6b0eaa8854ac62e69da42_eafafcda-cbf2-4cde-b668-9f80209c5d9c.jpg?v=1679452708"}},"requires_selling_plan":false,"selling_plan_allocations":[],"quantity_rule":{"min":1,"max":null,"increment":1}},{"id":40442500284505,"title":"Black \/ 2XL","option1":"Black","option2":"2XL","option3":null,"sku":"PA26553-C001-S02X","requires_shipping":true,"taxable":false,"featured_image":{"id":31379418447961,"product_id":7261847388249,"position":19,"created_at":"2023-03-21T16:38:28-10:00","updated_at":"2023-03-21T16:38:28-10:00","alt":null,"width":800,"height":800,"src":"\/\/www.suerteyay.com\/cdn\/shop\/products\/38be3b50bed6b0eaa8854ac62e69da42_eafafcda-cbf2-4cde-b668-9f80209c5d9c.jpg?v=1679452708","variant_ids":[40442500186201,40442500218969,40442500251737,40442500284505,40442500874329]},"available":true,"name":"Women's Wide Leg Casual Loose Yoga Sweatpants - Black \/ 2XL","public_title":"Black \/ 2XL","options":["Black","2XL"],"price":2799,"weight":0,"compare_at_price":5598,"inventory_management":null,"barcode":null,"featured_media":{"alt":null,"id":23931163377753,"position":19,"preview_image":{"aspect_ratio":1.0,"height":800,"width":800,"src":"\/\/www.suerteyay.com\/cdn\/shop\/products\/38be3b50bed6b0eaa8854ac62e69da42_eafafcda-cbf2-4cde-b668-9f80209c5d9c.jpg?v=1679452708"}},"requires_selling_plan":false,"selling_plan_allocations":[],"quantity_rule":{"min":1,"max":null,"increment":1}},{"id":40442500317273,"title":"Pink \/ S","option1":"Pink","option2":"S","option3":null,"sku":"PA26553-C009-S00S","requires_shipping":true,"taxable":false,"featured_image":{"id":31379418906713,"product_id":7261847388249,"position":25,"created_at":"2023-03-21T16:38:37-10:00","updated_at":"2023-03-21T16:38:37-10:00","alt":null,"width":800,"height":800,"src":"\/\/www.suerteyay.com\/cdn\/shop\/products\/553d9ad8a80a159006b6ae6ffb8ccd22_c48f0419-cf5e-4d55-b020-febd0dcb1c14.jpg?v=1679452717","variant_ids":[40442500317273,40442500350041,40442500382809,40442500415577,40442500448345]},"available":true,"name":"Women's Wide Leg Casual Loose Yoga Sweatpants - Pink \/ S","public_title":"Pink \/ S","options":["Pink","S"],"price":2799,"weight":0,"compare_at_price":5598,"inventory_management":null,"barcode":null,"featured_media":{"alt":null,"id":23931163869273,"position":25,"preview_image":{"aspect_ratio":1.0,"height":800,"width":800,"src":"\/\/www.suerteyay.com\/cdn\/shop\/products\/553d9ad8a80a159006b6ae6ffb8ccd22_c48f0419-cf5e-4d55-b020-febd0dcb1c14.jpg?v=1679452717"}},"requires_selling_plan":false,"selling_plan_allocations":[],"quantity_rule":{"min":1,"max":null,"increment":1}},{"id":40442500350041,"title":"Pink \/ M","option1":"Pink","option2":"M","option3":null,"sku":"PA26553-C009-S00M","requires_shipping":true,"taxable":false,"featured_image":{"id":31379418906713,"product_id":7261847388249,"position":25,"created_at":"2023-03-21T16:38:37-10:00","updated_at":"2023-03-21T16:38:37-10:00","alt":null,"width":800,"height":800,"src":"\/\/www.suerteyay.com\/cdn\/shop\/products\/553d9ad8a80a159006b6ae6ffb8ccd22_c48f0419-cf5e-4d55-b020-febd0dcb1c14.jpg?v=1679452717","variant_ids":[40442500317273,40442500350041,40442500382809,40442500415577,40442500448345]},"available":true,"name":"Women's Wide Leg Casual Loose Yoga Sweatpants - Pink \/ M","public_title":"Pink \/ M","options":["Pink","M"],"price":2799,"weight":0,"compare_at_price":5598,"inventory_management":null,"barcode":null,"featured_media":{"alt":null,"id":23931163869273,"position":25,"preview_image":{"aspect_ratio":1.0,"height":800,"width":800,"src":"\/\/www.suerteyay.com\/cdn\/shop\/products\/553d9ad8a80a159006b6ae6ffb8ccd22_c48f0419-cf5e-4d55-b020-febd0dcb1c14.jpg?v=1679452717"}},"requires_selling_plan":false,"selling_plan_allocations":[],"quantity_rule":{"min":1,"max":null,"increment":1}},{"id":40442500382809,"title":"Pink \/ L","option1":"Pink","option2":"L","option3":null,"sku":"PA26553-C009-S00L","requires_shipping":true,"taxable":false,"featured_image":{"id":31379418906713,"product_id":7261847388249,"position":25,"created_at":"2023-03-21T16:38:37-10:00","updated_at":"2023-03-21T16:38:37-10:00","alt":null,"width":800,"height":800,"src":"\/\/www.suerteyay.com\/cdn\/shop\/products\/553d9ad8a80a159006b6ae6ffb8ccd22_c48f0419-cf5e-4d55-b020-febd0dcb1c14.jpg?v=1679452717","variant_ids":[40442500317273,40442500350041,40442500382809,40442500415577,40442500448345]},"available":true,"name":"Women's Wide Leg Casual Loose Yoga Sweatpants - Pink \/ L","public_title":"Pink \/ L","options":["Pink","L"],"price":2799,"weight":0,"compare_at_price":5598,"inventory_management":null,"barcode":null,"featured_media":{"alt":null,"id":23931163869273,"position":25,"preview_image":{"aspect_ratio":1.0,"height":800,"width":800,"src":"\/\/www.suerteyay.com\/cdn\/shop\/products\/553d9ad8a80a159006b6ae6ffb8ccd22_c48f0419-cf5e-4d55-b020-febd0dcb1c14.jpg?v=1679452717"}},"requires_selling_plan":false,"selling_plan_allocations":[],"quantity_rule":{"min":1,"max":null,"increment":1}},{"id":40442500415577,"title":"Pink \/ XL","option1":"Pink","option2":"XL","option3":null,"sku":"PA26553-C009-S00X","requires_shipping":true,"taxable":false,"featured_image":{"id":31379418906713,"product_id":7261847388249,"position":25,"created_at":"2023-03-21T16:38:37-10:00","updated_at":"2023-03-21T16:38:37-10:00","alt":null,"width":800,"height":800,"src":"\/\/www.suerteyay.com\/cdn\/shop\/products\/553d9ad8a80a159006b6ae6ffb8ccd22_c48f0419-cf5e-4d55-b020-febd0dcb1c14.jpg?v=1679452717","variant_ids":[40442500317273,40442500350041,40442500382809,40442500415577,40442500448345]},"available":true,"name":"Women's Wide Leg Casual Loose Yoga Sweatpants - Pink \/ XL","public_title":"Pink \/ XL","options":["Pink","XL"],"price":2799,"weight":0,"compare_at_price":5598,"inventory_management":null,"barcode":null,"featured_media":{"alt":null,"id":23931163869273,"position":25,"preview_image":{"aspect_ratio":1.0,"height":800,"width":800,"src":"\/\/www.suerteyay.com\/cdn\/shop\/products\/553d9ad8a80a159006b6ae6ffb8ccd22_c48f0419-cf5e-4d55-b020-febd0dcb1c14.jpg?v=1679452717"}},"requires_selling_plan":false,"selling_plan_allocations":[],"quantity_rule":{"min":1,"max":null,"increment":1}},{"id":40442500448345,"title":"Pink \/ 2XL","option1":"Pink","option2":"2XL","option3":null,"sku":"PA26553-C009-S02X","requires_shipping":true,"taxable":false,"featured_image":{"id":31379418906713,"product_id":7261847388249,"position":25,"created_at":"2023-03-21T16:38:37-10:00","updated_at":"2023-03-21T16:38:37-10:00","alt":null,"width":800,"height":800,"src":"\/\/www.suerteyay.com\/cdn\/shop\/products\/553d9ad8a80a159006b6ae6ffb8ccd22_c48f0419-cf5e-4d55-b020-febd0dcb1c14.jpg?v=1679452717","variant_ids":[40442500317273,40442500350041,40442500382809,40442500415577,40442500448345]},"available":true,"name":"Women's Wide Leg Casual Loose Yoga Sweatpants - Pink \/ 2XL","public_title":"Pink \/ 2XL","options":["Pink","2XL"],"price":2799,"weight":0,"compare_at_price":5598,"inventory_management":null,"barcode":null,"featured_media":{"alt":null,"id":23931163869273,"position":25,"preview_image":{"aspect_ratio":1.0,"height":800,"width":800,"src":"\/\/www.suerteyay.com\/cdn\/shop\/products\/553d9ad8a80a159006b6ae6ffb8ccd22_c48f0419-cf5e-4d55-b020-febd0dcb1c14.jpg?v=1679452717"}},"requires_selling_plan":false,"selling_plan_allocations":[],"quantity_rule":{"min":1,"max":null,"increment":1}},{"id":40442500481113,"title":"Wine Red \/ S","option1":"Wine Red","option2":"S","option3":null,"sku":"PA26553-C302-S00S","requires_shipping":true,"taxable":false,"featured_image":{"id":31379418873945,"product_id":7261847388249,"position":24,"created_at":"2023-03-21T16:38:35-10:00","updated_at":"2023-03-21T16:38:35-10:00","alt":null,"width":800,"height":800,"src":"\/\/www.suerteyay.com\/cdn\/shop\/products\/bde318ade6742ea6b7f407fbd600a4c4_8e4bc94f-edc0-42f3-b5eb-369bda5729b5.jpg?v=1679452715","variant_ids":[40442499432537,40442499465305,40442499498073,40442500481113,40442500513881]},"available":true,"name":"Women's Wide Leg Casual Loose Yoga Sweatpants - Wine Red \/ S","public_title":"Wine Red \/ S","options":["Wine Red","S"],"price":2799,"weight":0,"compare_at_price":5598,"inventory_management":null,"barcode":null,"featured_media":{"alt":null,"id":23931163803737,"position":24,"preview_image":{"aspect_ratio":1.0,"height":800,"width":800,"src":"\/\/www.suerteyay.com\/cdn\/shop\/products\/bde318ade6742ea6b7f407fbd600a4c4_8e4bc94f-edc0-42f3-b5eb-369bda5729b5.jpg?v=1679452715"}},"requires_selling_plan":false,"selling_plan_allocations":[],"quantity_rule":{"min":1,"max":null,"increment":1}},{"id":40442500513881,"title":"Wine Red \/ M","option1":"Wine Red","option2":"M","option3":null,"sku":"PA26553-C302-S00M","requires_shipping":true,"taxable":false,"featured_image":{"id":31379418873945,"product_id":7261847388249,"position":24,"created_at":"2023-03-21T16:38:35-10:00","updated_at":"2023-03-21T16:38:35-10:00","alt":null,"width":800,"height":800,"src":"\/\/www.suerteyay.com\/cdn\/shop\/products\/bde318ade6742ea6b7f407fbd600a4c4_8e4bc94f-edc0-42f3-b5eb-369bda5729b5.jpg?v=1679452715","variant_ids":[40442499432537,40442499465305,40442499498073,40442500481113,40442500513881]},"available":true,"name":"Women's Wide Leg Casual Loose Yoga Sweatpants - Wine Red \/ M","public_title":"Wine Red \/ M","options":["Wine Red","M"],"price":2799,"weight":0,"compare_at_price":5598,"inventory_management":null,"barcode":null,"featured_media":{"alt":null,"id":23931163803737,"position":24,"preview_image":{"aspect_ratio":1.0,"height":800,"width":800,"src":"\/\/www.suerteyay.com\/cdn\/shop\/products\/bde318ade6742ea6b7f407fbd600a4c4_8e4bc94f-edc0-42f3-b5eb-369bda5729b5.jpg?v=1679452715"}},"requires_selling_plan":false,"selling_plan_allocations":[],"quantity_rule":{"min":1,"max":null,"increment":1}},{"id":40442500546649,"title":"Dark Coffee \/ S","option1":"Dark Coffee","option2":"S","option3":null,"sku":"PA26553-C419-S00S","requires_shipping":true,"taxable":false,"featured_image":{"id":31379418087513,"product_id":7261847388249,"position":17,"created_at":"2023-03-21T16:38:24-10:00","updated_at":"2023-03-21T16:38:24-10:00","alt":null,"width":800,"height":800,"src":"\/\/www.suerteyay.com\/cdn\/shop\/products\/7a3b6fb03760525e8a5f6a754f53448b_3a1fb118-e2ba-44fb-b93a-565c669ad064.jpg?v=1679452704","variant_ids":[40442500546649,40442500579417,40442500612185,40442500644953,40442500677721]},"available":true,"name":"Women's Wide Leg Casual Loose Yoga Sweatpants - Dark Coffee \/ S","public_title":"Dark Coffee \/ S","options":["Dark Coffee","S"],"price":2799,"weight":0,"compare_at_price":5598,"inventory_management":null,"barcode":null,"featured_media":{"alt":null,"id":23931163017305,"position":17,"preview_image":{"aspect_ratio":1.0,"height":800,"width":800,"src":"\/\/www.suerteyay.com\/cdn\/shop\/products\/7a3b6fb03760525e8a5f6a754f53448b_3a1fb118-e2ba-44fb-b93a-565c669ad064.jpg?v=1679452704"}},"requires_selling_plan":false,"selling_plan_allocations":[],"quantity_rule":{"min":1,"max":null,"increment":1}},{"id":40442500579417,"title":"Dark Coffee \/ M","option1":"Dark Coffee","option2":"M","option3":null,"sku":"PA26553-C419-S00M","requires_shipping":true,"taxable":false,"featured_image":{"id":31379418087513,"product_id":7261847388249,"position":17,"created_at":"2023-03-21T16:38:24-10:00","updated_at":"2023-03-21T16:38:24-10:00","alt":null,"width":800,"height":800,"src":"\/\/www.suerteyay.com\/cdn\/shop\/products\/7a3b6fb03760525e8a5f6a754f53448b_3a1fb118-e2ba-44fb-b93a-565c669ad064.jpg?v=1679452704","variant_ids":[40442500546649,40442500579417,40442500612185,40442500644953,40442500677721]},"available":true,"name":"Women's Wide Leg Casual Loose Yoga Sweatpants - Dark Coffee \/ M","public_title":"Dark Coffee \/ M","options":["Dark Coffee","M"],"price":2799,"weight":0,"compare_at_price":5598,"inventory_management":null,"barcode":null,"featured_media":{"alt":null,"id":23931163017305,"position":17,"preview_image":{"aspect_ratio":1.0,"height":800,"width":800,"src":"\/\/www.suerteyay.com\/cdn\/shop\/products\/7a3b6fb03760525e8a5f6a754f53448b_3a1fb118-e2ba-44fb-b93a-565c669ad064.jpg?v=1679452704"}},"requires_selling_plan":false,"selling_plan_allocations":[],"quantity_rule":{"min":1,"max":null,"increment":1}},{"id":40442500612185,"title":"Dark Coffee \/ L","option1":"Dark Coffee","option2":"L","option3":null,"sku":"PA26553-C419-S00L","requires_shipping":true,"taxable":false,"featured_image":{"id":31379418087513,"product_id":7261847388249,"position":17,"created_at":"2023-03-21T16:38:24-10:00","updated_at":"2023-03-21T16:38:24-10:00","alt":null,"width":800,"height":800,"src":"\/\/www.suerteyay.com\/cdn\/shop\/products\/7a3b6fb03760525e8a5f6a754f53448b_3a1fb118-e2ba-44fb-b93a-565c669ad064.jpg?v=1679452704","variant_ids":[40442500546649,40442500579417,40442500612185,40442500644953,40442500677721]},"available":true,"name":"Women's Wide Leg Casual Loose Yoga Sweatpants - Dark Coffee \/ L","public_title":"Dark Coffee \/ L","options":["Dark Coffee","L"],"price":2799,"weight":0,"compare_at_price":5598,"inventory_management":null,"barcode":null,"featured_media":{"alt":null,"id":23931163017305,"position":17,"preview_image":{"aspect_ratio":1.0,"height":800,"width":800,"src":"\/\/www.suerteyay.com\/cdn\/shop\/products\/7a3b6fb03760525e8a5f6a754f53448b_3a1fb118-e2ba-44fb-b93a-565c669ad064.jpg?v=1679452704"}},"requires_selling_plan":false,"selling_plan_allocations":[],"quantity_rule":{"min":1,"max":null,"increment":1}},{"id":40442500644953,"title":"Dark Coffee \/ XL","option1":"Dark Coffee","option2":"XL","option3":null,"sku":"PA26553-C419-S00X","requires_shipping":true,"taxable":false,"featured_image":{"id":31379418087513,"product_id":7261847388249,"position":17,"created_at":"2023-03-21T16:38:24-10:00","updated_at":"2023-03-21T16:38:24-10:00","alt":null,"width":800,"height":800,"src":"\/\/www.suerteyay.com\/cdn\/shop\/products\/7a3b6fb03760525e8a5f6a754f53448b_3a1fb118-e2ba-44fb-b93a-565c669ad064.jpg?v=1679452704","variant_ids":[40442500546649,40442500579417,40442500612185,40442500644953,40442500677721]},"available":true,"name":"Women's Wide Leg Casual Loose Yoga Sweatpants - Dark Coffee \/ XL","public_title":"Dark Coffee \/ XL","options":["Dark Coffee","XL"],"price":2799,"weight":0,"compare_at_price":5598,"inventory_management":null,"barcode":null,"featured_media":{"alt":null,"id":23931163017305,"position":17,"preview_image":{"aspect_ratio":1.0,"height":800,"width":800,"src":"\/\/www.suerteyay.com\/cdn\/shop\/products\/7a3b6fb03760525e8a5f6a754f53448b_3a1fb118-e2ba-44fb-b93a-565c669ad064.jpg?v=1679452704"}},"requires_selling_plan":false,"selling_plan_allocations":[],"quantity_rule":{"min":1,"max":null,"increment":1}},{"id":40442500677721,"title":"Dark Coffee \/ 2XL","option1":"Dark Coffee","option2":"2XL","option3":null,"sku":"PA26553-C419-S02X","requires_shipping":true,"taxable":false,"featured_image":{"id":31379418087513,"product_id":7261847388249,"position":17,"created_at":"2023-03-21T16:38:24-10:00","updated_at":"2023-03-21T16:38:24-10:00","alt":null,"width":800,"height":800,"src":"\/\/www.suerteyay.com\/cdn\/shop\/products\/7a3b6fb03760525e8a5f6a754f53448b_3a1fb118-e2ba-44fb-b93a-565c669ad064.jpg?v=1679452704","variant_ids":[40442500546649,40442500579417,40442500612185,40442500644953,40442500677721]},"available":true,"name":"Women's Wide Leg Casual Loose Yoga Sweatpants - Dark Coffee \/ 2XL","public_title":"Dark Coffee \/ 2XL","options":["Dark Coffee","2XL"],"price":2799,"weight":0,"compare_at_price":5598,"inventory_management":null,"barcode":null,"featured_media":{"alt":null,"id":23931163017305,"position":17,"preview_image":{"aspect_ratio":1.0,"height":800,"width":800,"src":"\/\/www.suerteyay.com\/cdn\/shop\/products\/7a3b6fb03760525e8a5f6a754f53448b_3a1fb118-e2ba-44fb-b93a-565c669ad064.jpg?v=1679452704"}},"requires_selling_plan":false,"selling_plan_allocations":[],"quantity_rule":{"min":1,"max":null,"increment":1}},{"id":40442500710489,"title":"Light Coffee \/ S","option1":"Light Coffee","option2":"S","option3":null,"sku":"PA26553-C056-S00S","requires_shipping":true,"taxable":false,"featured_image":{"id":31379418546265,"product_id":7261847388249,"position":20,"created_at":"2023-03-21T16:38:29-10:00","updated_at":"2023-03-21T16:38:29-10:00","alt":null,"width":800,"height":800,"src":"\/\/www.suerteyay.com\/cdn\/shop\/products\/05d7816e615a4c5a8de80a9684d274b0_9e924afe-66db-4fb7-b646-800718e1da06.jpg?v=1679452709","variant_ids":[40442500710489,40442500743257,40442500776025,40442500808793,40442500841561]},"available":true,"name":"Women's Wide Leg Casual Loose Yoga Sweatpants - Light Coffee \/ S","public_title":"Light Coffee \/ S","options":["Light Coffee","S"],"price":2799,"weight":0,"compare_at_price":5598,"inventory_management":null,"barcode":null,"featured_media":{"alt":null,"id":23931163476057,"position":20,"preview_image":{"aspect_ratio":1.0,"height":800,"width":800,"src":"\/\/www.suerteyay.com\/cdn\/shop\/products\/05d7816e615a4c5a8de80a9684d274b0_9e924afe-66db-4fb7-b646-800718e1da06.jpg?v=1679452709"}},"requires_selling_plan":false,"selling_plan_allocations":[],"quantity_rule":{"min":1,"max":null,"increment":1}},{"id":40442500743257,"title":"Light Coffee \/ M","option1":"Light Coffee","option2":"M","option3":null,"sku":"PA26553-C056-S00M","requires_shipping":true,"taxable":false,"featured_image":{"id":31379418546265,"product_id":7261847388249,"position":20,"created_at":"2023-03-21T16:38:29-10:00","updated_at":"2023-03-21T16:38:29-10:00","alt":null,"width":800,"height":800,"src":"\/\/www.suerteyay.com\/cdn\/shop\/products\/05d7816e615a4c5a8de80a9684d274b0_9e924afe-66db-4fb7-b646-800718e1da06.jpg?v=1679452709","variant_ids":[40442500710489,40442500743257,40442500776025,40442500808793,40442500841561]},"available":true,"name":"Women's Wide Leg Casual Loose Yoga Sweatpants - Light Coffee \/ M","public_title":"Light Coffee \/ M","options":["Light Coffee","M"],"price":2799,"weight":0,"compare_at_price":5598,"inventory_management":null,"barcode":null,"featured_media":{"alt":null,"id":23931163476057,"position":20,"preview_image":{"aspect_ratio":1.0,"height":800,"width":800,"src":"\/\/www.suerteyay.com\/cdn\/shop\/products\/05d7816e615a4c5a8de80a9684d274b0_9e924afe-66db-4fb7-b646-800718e1da06.jpg?v=1679452709"}},"requires_selling_plan":false,"selling_plan_allocations":[],"quantity_rule":{"min":1,"max":null,"increment":1}},{"id":40442500776025,"title":"Light Coffee \/ L","option1":"Light Coffee","option2":"L","option3":null,"sku":"PA26553-C056-S00L","requires_shipping":true,"taxable":false,"featured_image":{"id":31379418546265,"product_id":7261847388249,"position":20,"created_at":"2023-03-21T16:38:29-10:00","updated_at":"2023-03-21T16:38:29-10:00","alt":null,"width":800,"height":800,"src":"\/\/www.suerteyay.com\/cdn\/shop\/products\/05d7816e615a4c5a8de80a9684d274b0_9e924afe-66db-4fb7-b646-800718e1da06.jpg?v=1679452709","variant_ids":[40442500710489,40442500743257,40442500776025,40442500808793,40442500841561]},"available":true,"name":"Women's Wide Leg Casual Loose Yoga Sweatpants - Light Coffee \/ L","public_title":"Light Coffee \/ L","options":["Light Coffee","L"],"price":2799,"weight":0,"compare_at_price":5598,"inventory_management":null,"barcode":null,"featured_media":{"alt":null,"id":23931163476057,"position":20,"preview_image":{"aspect_ratio":1.0,"height":800,"width":800,"src":"\/\/www.suerteyay.com\/cdn\/shop\/products\/05d7816e615a4c5a8de80a9684d274b0_9e924afe-66db-4fb7-b646-800718e1da06.jpg?v=1679452709"}},"requires_selling_plan":false,"selling_plan_allocations":[],"quantity_rule":{"min":1,"max":null,"increment":1}},{"id":40442500808793,"title":"Light Coffee \/ XL","option1":"Light Coffee","option2":"XL","option3":null,"sku":"PA26553-C056-S00X","requires_shipping":true,"taxable":false,"featured_image":{"id":31379418546265,"product_id":7261847388249,"position":20,"created_at":"2023-03-21T16:38:29-10:00","updated_at":"2023-03-21T16:38:29-10:00","alt":null,"width":800,"height":800,"src":"\/\/www.suerteyay.com\/cdn\/shop\/products\/05d7816e615a4c5a8de80a9684d274b0_9e924afe-66db-4fb7-b646-800718e1da06.jpg?v=1679452709","variant_ids":[40442500710489,40442500743257,40442500776025,40442500808793,40442500841561]},"available":true,"name":"Women's Wide Leg Casual Loose Yoga Sweatpants - Light Coffee \/ XL","public_title":"Light Coffee \/ XL","options":["Light Coffee","XL"],"price":2799,"weight":0,"compare_at_price":5598,"inventory_management":null,"barcode":null,"featured_media":{"alt":null,"id":23931163476057,"position":20,"preview_image":{"aspect_ratio":1.0,"height":800,"width":800,"src":"\/\/www.suerteyay.com\/cdn\/shop\/products\/05d7816e615a4c5a8de80a9684d274b0_9e924afe-66db-4fb7-b646-800718e1da06.jpg?v=1679452709"}},"requires_selling_plan":false,"selling_plan_allocations":[],"quantity_rule":{"min":1,"max":null,"increment":1}},{"id":40442500841561,"title":"Light Coffee \/ 2XL","option1":"Light Coffee","option2":"2XL","option3":null,"sku":"PA26553-C056-S02X","requires_shipping":true,"taxable":false,"featured_image":{"id":31379418546265,"product_id":7261847388249,"position":20,"created_at":"2023-03-21T16:38:29-10:00","updated_at":"2023-03-21T16:38:29-10:00","alt":null,"width":800,"height":800,"src":"\/\/www.suerteyay.com\/cdn\/shop\/products\/05d7816e615a4c5a8de80a9684d274b0_9e924afe-66db-4fb7-b646-800718e1da06.jpg?v=1679452709","variant_ids":[40442500710489,40442500743257,40442500776025,40442500808793,40442500841561]},"available":true,"name":"Women's Wide Leg Casual Loose Yoga Sweatpants - Light Coffee \/ 2XL","public_title":"Light Coffee \/ 2XL","options":["Light Coffee","2XL"],"price":2799,"weight":0,"compare_at_price":5598,"inventory_management":null,"barcode":null,"featured_media":{"alt":null,"id":23931163476057,"position":20,"preview_image":{"aspect_ratio":1.0,"height":800,"width":800,"src":"\/\/www.suerteyay.com\/cdn\/shop\/products\/05d7816e615a4c5a8de80a9684d274b0_9e924afe-66db-4fb7-b646-800718e1da06.jpg?v=1679452709"}},"requires_selling_plan":false,"selling_plan_allocations":[],"quantity_rule":{"min":1,"max":null,"increment":1}},{"id":40442500874329,"title":"Black \/ S","option1":"Black","option2":"S","option3":null,"sku":"PA26553-C001-S00S","requires_shipping":true,"taxable":false,"featured_image":{"id":31379418447961,"product_id":7261847388249,"position":19,"created_at":"2023-03-21T16:38:28-10:00","updated_at":"2023-03-21T16:38:28-10:00","alt":null,"width":800,"height":800,"src":"\/\/www.suerteyay.com\/cdn\/shop\/products\/38be3b50bed6b0eaa8854ac62e69da42_eafafcda-cbf2-4cde-b668-9f80209c5d9c.jpg?v=1679452708","variant_ids":[40442500186201,40442500218969,40442500251737,40442500284505,40442500874329]},"available":true,"name":"Women's Wide Leg Casual Loose Yoga Sweatpants - Black \/ S","public_title":"Black \/ S","options":["Black","S"],"price":2799,"weight":0,"compare_at_price":5598,"inventory_management":null,"barcode":null,"featured_media":{"alt":null,"id":23931163377753,"position":19,"preview_image":{"aspect_ratio":1.0,"height":800,"width":800,"src":"\/\/www.suerteyay.com\/cdn\/shop\/products\/38be3b50bed6b0eaa8854ac62e69da42_eafafcda-cbf2-4cde-b668-9f80209c5d9c.jpg?v=1679452708"}},"requires_selling_plan":false,"selling_plan_allocations":[],"quantity_rule":{"min":1,"max":null,"increment":1}}],"images":["\/\/www.suerteyay.com\/cdn\/shop\/products\/d1b2f35bbeccfd959310809472972796.jpg?v=1679452701","\/\/www.suerteyay.com\/cdn\/shop\/products\/a6abfd5eb3477cf4da0e7432c74aec08.jpg?v=1679452701","\/\/www.suerteyay.com\/cdn\/shop\/products\/f0186333b28156d8b0ed728f5dd98bd0.jpg?v=1679452701","\/\/www.suerteyay.com\/cdn\/shop\/products\/5d017866577d16d1430b20ac97e5338d.jpg?v=1679452701","\/\/www.suerteyay.com\/cdn\/shop\/products\/f5ffb91332f86927d1190f6b71dc29c4.jpg?v=1679452701","\/\/www.suerteyay.com\/cdn\/shop\/products\/87f0bd3be2e489a63e4cbe3188c9fce8.jpg?v=1679452701","\/\/www.suerteyay.com\/cdn\/shop\/products\/7c9ab3364ac70c5a4956a84a59c86e55.jpg?v=1679452701","\/\/www.suerteyay.com\/cdn\/shop\/products\/172a12e9e6f73aff0e9f5d492617a3e1.jpg?v=1679452701","\/\/www.suerteyay.com\/cdn\/shop\/products\/38be3b50bed6b0eaa8854ac62e69da42.jpg?v=1679452701","\/\/www.suerteyay.com\/cdn\/shop\/products\/bde318ade6742ea6b7f407fbd600a4c4.jpg?v=1679452701","\/\/www.suerteyay.com\/cdn\/shop\/products\/e2d7cc57876173d13c254ec6acf8d0f4.jpg?v=1679452701","\/\/www.suerteyay.com\/cdn\/shop\/products\/7a3b6fb03760525e8a5f6a754f53448b.jpg?v=1679452701","\/\/www.suerteyay.com\/cdn\/shop\/products\/2e41701ac176d9936a9b59b720ac7875.jpg?v=1679452701","\/\/www.suerteyay.com\/cdn\/shop\/products\/553d9ad8a80a159006b6ae6ffb8ccd22.jpg?v=1679452701","\/\/www.suerteyay.com\/cdn\/shop\/products\/daf401a52f26f5375f861dbb6e36baa9.jpg?v=1679452701","\/\/www.suerteyay.com\/cdn\/shop\/products\/05d7816e615a4c5a8de80a9684d274b0.jpg?v=1679452701","\/\/www.suerteyay.com\/cdn\/shop\/products\/7a3b6fb03760525e8a5f6a754f53448b_3a1fb118-e2ba-44fb-b93a-565c669ad064.jpg?v=1679452704","\/\/www.suerteyay.com\/cdn\/shop\/products\/172a12e9e6f73aff0e9f5d492617a3e1_b978cca9-8078-4dd8-8214-c801bce99ca1.jpg?v=1679452706","\/\/www.suerteyay.com\/cdn\/shop\/products\/38be3b50bed6b0eaa8854ac62e69da42_eafafcda-cbf2-4cde-b668-9f80209c5d9c.jpg?v=1679452708","\/\/www.suerteyay.com\/cdn\/shop\/products\/05d7816e615a4c5a8de80a9684d274b0_9e924afe-66db-4fb7-b646-800718e1da06.jpg?v=1679452709","\/\/www.suerteyay.com\/cdn\/shop\/products\/e2d7cc57876173d13c254ec6acf8d0f4_7e7d3014-0cf4-4c99-b791-e23b0a834b7a.jpg?v=1679452711","\/\/www.suerteyay.com\/cdn\/shop\/products\/daf401a52f26f5375f861dbb6e36baa9_75ee4c2f-ce6c-4fe8-ba5d-04fa4c2f710b.jpg?v=1679452712","\/\/www.suerteyay.com\/cdn\/shop\/products\/2e41701ac176d9936a9b59b720ac7875_1b46a213-4003-479b-bc2d-d3bfae35e872.jpg?v=1679452714","\/\/www.suerteyay.com\/cdn\/shop\/products\/bde318ade6742ea6b7f407fbd600a4c4_8e4bc94f-edc0-42f3-b5eb-369bda5729b5.jpg?v=1679452715","\/\/www.suerteyay.com\/cdn\/shop\/products\/553d9ad8a80a159006b6ae6ffb8ccd22_c48f0419-cf5e-4d55-b020-febd0dcb1c14.jpg?v=1679452717"],"featured_image":"\/\/www.suerteyay.com\/cdn\/shop\/products\/d1b2f35bbeccfd959310809472972796.jpg?v=1679452701","options":["Color","Size"],"media":[{"alt":null,"id":23931162296409,"position":1,"preview_image":{"aspect_ratio":1.0,"height":800,"width":800,"src":"\/\/www.suerteyay.com\/cdn\/shop\/products\/d1b2f35bbeccfd959310809472972796.jpg?v=1679452701"},"aspect_ratio":1.0,"height":800,"media_type":"image","src":"\/\/www.suerteyay.com\/cdn\/shop\/products\/d1b2f35bbeccfd959310809472972796.jpg?v=1679452701","width":800},{"alt":null,"id":23931162329177,"position":2,"preview_image":{"aspect_ratio":1.0,"height":800,"width":800,"src":"\/\/www.suerteyay.com\/cdn\/shop\/products\/a6abfd5eb3477cf4da0e7432c74aec08.jpg?v=1679452701"},"aspect_ratio":1.0,"height":800,"media_type":"image","src":"\/\/www.suerteyay.com\/cdn\/shop\/products\/a6abfd5eb3477cf4da0e7432c74aec08.jpg?v=1679452701","width":800},{"alt":null,"id":23931162361945,"position":3,"preview_image":{"aspect_ratio":1.0,"height":800,"width":800,"src":"\/\/www.suerteyay.com\/cdn\/shop\/products\/f0186333b28156d8b0ed728f5dd98bd0.jpg?v=1679452701"},"aspect_ratio":1.0,"height":800,"media_type":"image","src":"\/\/www.suerteyay.com\/cdn\/shop\/products\/f0186333b28156d8b0ed728f5dd98bd0.jpg?v=1679452701","width":800},{"alt":null,"id":23931162394713,"position":4,"preview_image":{"aspect_ratio":1.0,"height":800,"width":800,"src":"\/\/www.suerteyay.com\/cdn\/shop\/products\/5d017866577d16d1430b20ac97e5338d.jpg?v=1679452701"},"aspect_ratio":1.0,"height":800,"media_type":"image","src":"\/\/www.suerteyay.com\/cdn\/shop\/products\/5d017866577d16d1430b20ac97e5338d.jpg?v=1679452701","width":800},{"alt":null,"id":23931162427481,"position":5,"preview_image":{"aspect_ratio":1.0,"height":800,"width":800,"src":"\/\/www.suerteyay.com\/cdn\/shop\/products\/f5ffb91332f86927d1190f6b71dc29c4.jpg?v=1679452701"},"aspect_ratio":1.0,"height":800,"media_type":"image","src":"\/\/www.suerteyay.com\/cdn\/shop\/products\/f5ffb91332f86927d1190f6b71dc29c4.jpg?v=1679452701","width":800},{"alt":null,"id":23931162460249,"position":6,"preview_image":{"aspect_ratio":1.0,"height":800,"width":800,"src":"\/\/www.suerteyay.com\/cdn\/shop\/products\/87f0bd3be2e489a63e4cbe3188c9fce8.jpg?v=1679452701"},"aspect_ratio":1.0,"height":800,"media_type":"image","src":"\/\/www.suerteyay.com\/cdn\/shop\/products\/87f0bd3be2e489a63e4cbe3188c9fce8.jpg?v=1679452701","width":800},{"alt":null,"id":23931162493017,"position":7,"preview_image":{"aspect_ratio":1.0,"height":800,"width":800,"src":"\/\/www.suerteyay.com\/cdn\/shop\/products\/7c9ab3364ac70c5a4956a84a59c86e55.jpg?v=1679452701"},"aspect_ratio":1.0,"height":800,"media_type":"image","src":"\/\/www.suerteyay.com\/cdn\/shop\/products\/7c9ab3364ac70c5a4956a84a59c86e55.jpg?v=1679452701","width":800},{"alt":null,"id":23931162525785,"position":8,"preview_image":{"aspect_ratio":1.0,"height":800,"width":800,"src":"\/\/www.suerteyay.com\/cdn\/shop\/products\/172a12e9e6f73aff0e9f5d492617a3e1.jpg?v=1679452701"},"aspect_ratio":1.0,"height":800,"media_type":"image","src":"\/\/www.suerteyay.com\/cdn\/shop\/products\/172a12e9e6f73aff0e9f5d492617a3e1.jpg?v=1679452701","width":800},{"alt":null,"id":23931162558553,"position":9,"preview_image":{"aspect_ratio":1.0,"height":800,"width":800,"src":"\/\/www.suerteyay.com\/cdn\/shop\/products\/38be3b50bed6b0eaa8854ac62e69da42.jpg?v=1679452701"},"aspect_ratio":1.0,"height":800,"media_type":"image","src":"\/\/www.suerteyay.com\/cdn\/shop\/products\/38be3b50bed6b0eaa8854ac62e69da42.jpg?v=1679452701","width":800},{"alt":null,"id":23931162591321,"position":10,"preview_image":{"aspect_ratio":1.0,"height":800,"width":800,"src":"\/\/www.suerteyay.com\/cdn\/shop\/products\/bde318ade6742ea6b7f407fbd600a4c4.jpg?v=1679452701"},"aspect_ratio":1.0,"height":800,"media_type":"image","src":"\/\/www.suerteyay.com\/cdn\/shop\/products\/bde318ade6742ea6b7f407fbd600a4c4.jpg?v=1679452701","width":800},{"alt":null,"id":23931162624089,"position":11,"preview_image":{"aspect_ratio":1.0,"height":800,"width":800,"src":"\/\/www.suerteyay.com\/cdn\/shop\/products\/e2d7cc57876173d13c254ec6acf8d0f4.jpg?v=1679452701"},"aspect_ratio":1.0,"height":800,"media_type":"image","src":"\/\/www.suerteyay.com\/cdn\/shop\/products\/e2d7cc57876173d13c254ec6acf8d0f4.jpg?v=1679452701","width":800},{"alt":null,"id":23931162656857,"position":12,"preview_image":{"aspect_ratio":1.0,"height":800,"width":800,"src":"\/\/www.suerteyay.com\/cdn\/shop\/products\/7a3b6fb03760525e8a5f6a754f53448b.jpg?v=1679452701"},"aspect_ratio":1.0,"height":800,"media_type":"image","src":"\/\/www.suerteyay.com\/cdn\/shop\/products\/7a3b6fb03760525e8a5f6a754f53448b.jpg?v=1679452701","width":800},{"alt":null,"id":23931162689625,"position":13,"preview_image":{"aspect_ratio":1.0,"height":800,"width":800,"src":"\/\/www.suerteyay.com\/cdn\/shop\/products\/2e41701ac176d9936a9b59b720ac7875.jpg?v=1679452701"},"aspect_ratio":1.0,"height":800,"media_type":"image","src":"\/\/www.suerteyay.com\/cdn\/shop\/products\/2e41701ac176d9936a9b59b720ac7875.jpg?v=1679452701","width":800},{"alt":null,"id":23931162722393,"position":14,"preview_image":{"aspect_ratio":1.0,"height":800,"width":800,"src":"\/\/www.suerteyay.com\/cdn\/shop\/products\/553d9ad8a80a159006b6ae6ffb8ccd22.jpg?v=1679452701"},"aspect_ratio":1.0,"height":800,"media_type":"image","src":"\/\/www.suerteyay.com\/cdn\/shop\/products\/553d9ad8a80a159006b6ae6ffb8ccd22.jpg?v=1679452701","width":800},{"alt":null,"id":23931162755161,"position":15,"preview_image":{"aspect_ratio":1.0,"height":800,"width":800,"src":"\/\/www.suerteyay.com\/cdn\/shop\/products\/daf401a52f26f5375f861dbb6e36baa9.jpg?v=1679452701"},"aspect_ratio":1.0,"height":800,"media_type":"image","src":"\/\/www.suerteyay.com\/cdn\/shop\/products\/daf401a52f26f5375f861dbb6e36baa9.jpg?v=1679452701","width":800},{"alt":null,"id":23931162787929,"position":16,"preview_image":{"aspect_ratio":1.0,"height":800,"width":800,"src":"\/\/www.suerteyay.com\/cdn\/shop\/products\/05d7816e615a4c5a8de80a9684d274b0.jpg?v=1679452701"},"aspect_ratio":1.0,"height":800,"media_type":"image","src":"\/\/www.suerteyay.com\/cdn\/shop\/products\/05d7816e615a4c5a8de80a9684d274b0.jpg?v=1679452701","width":800},{"alt":null,"id":23931163017305,"position":17,"preview_image":{"aspect_ratio":1.0,"height":800,"width":800,"src":"\/\/www.suerteyay.com\/cdn\/shop\/products\/7a3b6fb03760525e8a5f6a754f53448b_3a1fb118-e2ba-44fb-b93a-565c669ad064.jpg?v=1679452704"},"aspect_ratio":1.0,"height":800,"media_type":"image","src":"\/\/www.suerteyay.com\/cdn\/shop\/products\/7a3b6fb03760525e8a5f6a754f53448b_3a1fb118-e2ba-44fb-b93a-565c669ad064.jpg?v=1679452704","width":800},{"alt":null,"id":23931163279449,"position":18,"preview_image":{"aspect_ratio":1.0,"height":800,"width":800,"src":"\/\/www.suerteyay.com\/cdn\/shop\/products\/172a12e9e6f73aff0e9f5d492617a3e1_b978cca9-8078-4dd8-8214-c801bce99ca1.jpg?v=1679452706"},"aspect_ratio":1.0,"height":800,"media_type":"image","src":"\/\/www.suerteyay.com\/cdn\/shop\/products\/172a12e9e6f73aff0e9f5d492617a3e1_b978cca9-8078-4dd8-8214-c801bce99ca1.jpg?v=1679452706","width":800},{"alt":null,"id":23931163377753,"position":19,"preview_image":{"aspect_ratio":1.0,"height":800,"width":800,"src":"\/\/www.suerteyay.com\/cdn\/shop\/products\/38be3b50bed6b0eaa8854ac62e69da42_eafafcda-cbf2-4cde-b668-9f80209c5d9c.jpg?v=1679452708"},"aspect_ratio":1.0,"height":800,"media_type":"image","src":"\/\/www.suerteyay.com\/cdn\/shop\/products\/38be3b50bed6b0eaa8854ac62e69da42_eafafcda-cbf2-4cde-b668-9f80209c5d9c.jpg?v=1679452708","width":800},{"alt":null,"id":23931163476057,"position":20,"preview_image":{"aspect_ratio":1.0,"height":800,"width":800,"src":"\/\/www.suerteyay.com\/cdn\/shop\/products\/05d7816e615a4c5a8de80a9684d274b0_9e924afe-66db-4fb7-b646-800718e1da06.jpg?v=1679452709"},"aspect_ratio":1.0,"height":800,"media_type":"image","src":"\/\/www.suerteyay.com\/cdn\/shop\/products\/05d7816e615a4c5a8de80a9684d274b0_9e924afe-66db-4fb7-b646-800718e1da06.jpg?v=1679452709","width":800},{"alt":null,"id":23931163541593,"position":21,"preview_image":{"aspect_ratio":1.0,"height":800,"width":800,"src":"\/\/www.suerteyay.com\/cdn\/shop\/products\/e2d7cc57876173d13c254ec6acf8d0f4_7e7d3014-0cf4-4c99-b791-e23b0a834b7a.jpg?v=1679452711"},"aspect_ratio":1.0,"height":800,"media_type":"image","src":"\/\/www.suerteyay.com\/cdn\/shop\/products\/e2d7cc57876173d13c254ec6acf8d0f4_7e7d3014-0cf4-4c99-b791-e23b0a834b7a.jpg?v=1679452711","width":800},{"alt":null,"id":23931163574361,"position":22,"preview_image":{"aspect_ratio":1.0,"height":800,"width":800,"src":"\/\/www.suerteyay.com\/cdn\/shop\/products\/daf401a52f26f5375f861dbb6e36baa9_75ee4c2f-ce6c-4fe8-ba5d-04fa4c2f710b.jpg?v=1679452712"},"aspect_ratio":1.0,"height":800,"media_type":"image","src":"\/\/www.suerteyay.com\/cdn\/shop\/products\/daf401a52f26f5375f861dbb6e36baa9_75ee4c2f-ce6c-4fe8-ba5d-04fa4c2f710b.jpg?v=1679452712","width":800},{"alt":null,"id":23931163705433,"position":23,"preview_image":{"aspect_ratio":1.0,"height":800,"width":800,"src":"\/\/www.suerteyay.com\/cdn\/shop\/products\/2e41701ac176d9936a9b59b720ac7875_1b46a213-4003-479b-bc2d-d3bfae35e872.jpg?v=1679452714"},"aspect_ratio":1.0,"height":800,"media_type":"image","src":"\/\/www.suerteyay.com\/cdn\/shop\/products\/2e41701ac176d9936a9b59b720ac7875_1b46a213-4003-479b-bc2d-d3bfae35e872.jpg?v=1679452714","width":800},{"alt":null,"id":23931163803737,"position":24,"preview_image":{"aspect_ratio":1.0,"height":800,"width":800,"src":"\/\/www.suerteyay.com\/cdn\/shop\/products\/bde318ade6742ea6b7f407fbd600a4c4_8e4bc94f-edc0-42f3-b5eb-369bda5729b5.jpg?v=1679452715"},"aspect_ratio":1.0,"height":800,"media_type":"image","src":"\/\/www.suerteyay.com\/cdn\/shop\/products\/bde318ade6742ea6b7f407fbd600a4c4_8e4bc94f-edc0-42f3-b5eb-369bda5729b5.jpg?v=1679452715","width":800},{"alt":null,"id":23931163869273,"position":25,"preview_image":{"aspect_ratio":1.0,"height":800,"width":800,"src":"\/\/www.suerteyay.com\/cdn\/shop\/products\/553d9ad8a80a159006b6ae6ffb8ccd22_c48f0419-cf5e-4d55-b020-febd0dcb1c14.jpg?v=1679452717"},"aspect_ratio":1.0,"height":800,"media_type":"image","src":"\/\/www.suerteyay.com\/cdn\/shop\/products\/553d9ad8a80a159006b6ae6ffb8ccd22_c48f0419-cf5e-4d55-b020-febd0dcb1c14.jpg?v=1679452717","width":800}],"requires_selling_plan":false,"selling_plan_groups":[],"content":"\u003ch3 data-mce-fragment=\"1\"\u003e\u003cspan style=\"color: #ff2a00;\" data-mce-fragment=\"1\"\u003e\u003cstrong data-mce-fragment=\"1\"\u003eFEATURES\u003c\/strong\u003e\u003c\/span\u003e\u003c\/h3\u003e\n\u003cdiv\u003e\n\u003cdiv\u003e\n\u003cul\u003e\n\u003cli\u003e✅\u003cspan\u003e\u003cstrong\u003e Comfy Material: \u003c\/strong\u003e\u003c\/span\u003e90% polyester + 10% spandex. womens wide leg pants designed with buttery soft fabric keeps you comfortable, lightweight, stretchy, breathable and non see-through.\u003c\/li\u003e\n\u003c\/ul\u003e\n\u003c\/div\u003e\n\u003cdiv\u003e\u003cimg style=\"display: block; margin-left: auto; margin-right: auto;\" sizes=\"345px\" srcset=\"https:\/\/img.staticdj.com\/626dfe9c1692b8b0ff38773401c9d572_1024.jpeg 48w, https:\/\/img.staticdj.com\/626dfe9c1692b8b0ff38773401c9d572_1024.jpeg 180w, https:\/\/img.staticdj.com\/626dfe9c1692b8b0ff38773401c9d572_1024.jpeg 360w, https:\/\/img.staticdj.com\/626dfe9c1692b8b0ff38773401c9d572_1024.jpeg 540w, https:\/\/img.staticdj.com\/626dfe9c1692b8b0ff38773401c9d572_1024.jpeg 720w, https:\/\/img.staticdj.com\/626dfe9c1692b8b0ff38773401c9d572_1024.jpeg 900w, https:\/\/img.staticdj.com\/626dfe9c1692b8b0ff38773401c9d572_1024.jpeg 1024w, https:\/\/img.staticdj.com\/626dfe9c1692b8b0ff38773401c9d572_1024.jpeg 1280w, https:\/\/img.staticdj.com\/626dfe9c1692b8b0ff38773401c9d572_1024.jpeg 1366w, https:\/\/img.staticdj.com\/626dfe9c1692b8b0ff38773401c9d572_1024.jpeg 1440w, https:\/\/img.staticdj.com\/626dfe9c1692b8b0ff38773401c9d572_1024.jpeg 1536w, https:\/\/img.staticdj.com\/626dfe9c1692b8b0ff38773401c9d572_1024.jpeg 1600w, https:\/\/img.staticdj.com\/626dfe9c1692b8b0ff38773401c9d572_1024.jpeg 1920w, https:\/\/img.staticdj.com\/626dfe9c1692b8b0ff38773401c9d572_1024.jpeg 2056w, https:\/\/img.staticdj.com\/626dfe9c1692b8b0ff38773401c9d572_1024.jpeg 2560w, https:\/\/img.staticdj.com\/626dfe9c1692b8b0ff38773401c9d572_1024.jpeg 2732w, https:\/\/img.staticdj.com\/626dfe9c1692b8b0ff38773401c9d572_1024.jpeg 2880w, https:\/\/img.staticdj.com\/626dfe9c1692b8b0ff38773401c9d572_1024.jpeg 3072w, https:\/\/img.staticdj.com\/626dfe9c1692b8b0ff38773401c9d572_1024.jpeg 3200w, https:\/\/img.staticdj.com\/626dfe9c1692b8b0ff38773401c9d572_1024.jpeg 3840w\" alt=\"wide leg pant for women\" width=\"503\" height=\"311\" data-sizes=\"auto\" data-srcset=\"https:\/\/img.staticdj.com\/626dfe9c1692b8b0ff38773401c9d572_1024.jpeg 48w, https:\/\/img.staticdj.com\/626dfe9c1692b8b0ff38773401c9d572_1024.jpeg 180w, https:\/\/img.staticdj.com\/626dfe9c1692b8b0ff38773401c9d572_1024.jpeg 360w, https:\/\/img.staticdj.com\/626dfe9c1692b8b0ff38773401c9d572_1024.jpeg 540w, https:\/\/img.staticdj.com\/626dfe9c1692b8b0ff38773401c9d572_1024.jpeg 720w, https:\/\/img.staticdj.com\/626dfe9c1692b8b0ff38773401c9d572_1024.jpeg 900w, https:\/\/img.staticdj.com\/626dfe9c1692b8b0ff38773401c9d572_1024.jpeg 1024w, https:\/\/img.staticdj.com\/626dfe9c1692b8b0ff38773401c9d572_1024.jpeg 1280w, https:\/\/img.staticdj.com\/626dfe9c1692b8b0ff38773401c9d572_1024.jpeg 1366w, https:\/\/img.staticdj.com\/626dfe9c1692b8b0ff38773401c9d572_1024.jpeg 1440w, https:\/\/img.staticdj.com\/626dfe9c1692b8b0ff38773401c9d572_1024.jpeg 1536w, https:\/\/img.staticdj.com\/626dfe9c1692b8b0ff38773401c9d572_1024.jpeg 1600w, https:\/\/img.staticdj.com\/626dfe9c1692b8b0ff38773401c9d572_1024.jpeg 1920w, https:\/\/img.staticdj.com\/626dfe9c1692b8b0ff38773401c9d572_1024.jpeg 2056w, https:\/\/img.staticdj.com\/626dfe9c1692b8b0ff38773401c9d572_1024.jpeg 2560w, https:\/\/img.staticdj.com\/626dfe9c1692b8b0ff38773401c9d572_1024.jpeg 2732w, https:\/\/img.staticdj.com\/626dfe9c1692b8b0ff38773401c9d572_1024.jpeg 2880w, https:\/\/img.staticdj.com\/626dfe9c1692b8b0ff38773401c9d572_1024.jpeg 3072w, https:\/\/img.staticdj.com\/626dfe9c1692b8b0ff38773401c9d572_1024.jpeg 3200w, https:\/\/img.staticdj.com\/626dfe9c1692b8b0ff38773401c9d572_1024.jpeg 3840w\"\u003e\u003c\/div\u003e\n\u003cdiv\u003e\n\u003cul\u003e\n\u003cli\u003e✅\u003cspan\u003e \u003c\/span\u003e\u003cspan\u003e\u003cstrong\u003eVersatile Style:\u003c\/strong\u003e\u003c\/span\u003e\u003cspan\u003e \u003c\/span\u003eLoose yoga pants with pockets designed to be comfy and stretchy fabric, which are perfect for yoga, pilates, jogging, traveling, beach, lounging around at home or pack with you on travels. These casual lounge wear will be a favorite in your wardrobe for any season wear.\u003c\/li\u003e\n\u003c\/ul\u003e\n\u003c\/div\u003e\n\u003cdiv\u003e\u003cimg style=\"display: block; margin-left: auto; margin-right: auto;\" src=\"https:\/\/img.staticdj.com\/597382ef588e5f772c320f1707bebb03.jpeg\" alt=\"\" width=\"497\" height=\"586\" data-aspect-ratio=\"1.18\"\u003e\u003c\/div\u003e\n\u003cdiv\u003e\n\u003cul\u003e\n\u003cli\u003e✅\u003cstrong\u003e\u003cspan\u003e Drawstring \u0026amp; Wide leg: \u003c\/span\u003e\u003c\/strong\u003eElastic waistband with drawstring for any fit. Loose fitting, elastic waist, straight leg with side slit, solid color, ankle length. Flowy wide leg sweatpants are sure to attract compliments.\u003c\/li\u003e\n\u003c\/ul\u003e\n\u003c\/div\u003e\n\u003cdiv\u003e\n\u003ch3\u003e\u003cimg style=\"display: block; margin-left: auto; margin-right: auto;\" sizes=\"345px\" srcset=\"https:\/\/img.staticdj.com\/728ec0407752855bcc2b59e8ba30ea43_900.png 48w, https:\/\/img.staticdj.com\/728ec0407752855bcc2b59e8ba30ea43_900.png 180w, https:\/\/img.staticdj.com\/728ec0407752855bcc2b59e8ba30ea43_900.png 360w, https:\/\/img.staticdj.com\/728ec0407752855bcc2b59e8ba30ea43_900.png 540w, https:\/\/img.staticdj.com\/728ec0407752855bcc2b59e8ba30ea43_900.png 720w, https:\/\/img.staticdj.com\/728ec0407752855bcc2b59e8ba30ea43_900.png 900w, https:\/\/img.staticdj.com\/728ec0407752855bcc2b59e8ba30ea43_900.png 1024w, https:\/\/img.staticdj.com\/728ec0407752855bcc2b59e8ba30ea43_900.png 1280w, https:\/\/img.staticdj.com\/728ec0407752855bcc2b59e8ba30ea43_900.png 1366w, https:\/\/img.staticdj.com\/728ec0407752855bcc2b59e8ba30ea43_900.png 1440w, https:\/\/img.staticdj.com\/728ec0407752855bcc2b59e8ba30ea43_900.png 1536w, https:\/\/img.staticdj.com\/728ec0407752855bcc2b59e8ba30ea43_900.png 1600w, https:\/\/img.staticdj.com\/728ec0407752855bcc2b59e8ba30ea43_900.png 1920w, https:\/\/img.staticdj.com\/728ec0407752855bcc2b59e8ba30ea43_900.png 2056w, https:\/\/img.staticdj.com\/728ec0407752855bcc2b59e8ba30ea43_900.png 2560w, https:\/\/img.staticdj.com\/728ec0407752855bcc2b59e8ba30ea43_900.png 2732w, https:\/\/img.staticdj.com\/728ec0407752855bcc2b59e8ba30ea43_900.png 2880w, https:\/\/img.staticdj.com\/728ec0407752855bcc2b59e8ba30ea43_900.png 3072w, https:\/\/img.staticdj.com\/728ec0407752855bcc2b59e8ba30ea43_900.png 3200w, https:\/\/img.staticdj.com\/728ec0407752855bcc2b59e8ba30ea43_900.png 3840w\" alt=\"\" width=\"501\" height=\"512\" data-sizes=\"auto\" data-srcset=\"https:\/\/img.staticdj.com\/728ec0407752855bcc2b59e8ba30ea43_900.png 48w, https:\/\/img.staticdj.com\/728ec0407752855bcc2b59e8ba30ea43_900.png 180w, https:\/\/img.staticdj.com\/728ec0407752855bcc2b59e8ba30ea43_900.png 360w, https:\/\/img.staticdj.com\/728ec0407752855bcc2b59e8ba30ea43_900.png 540w, https:\/\/img.staticdj.com\/728ec0407752855bcc2b59e8ba30ea43_900.png 720w, https:\/\/img.staticdj.com\/728ec0407752855bcc2b59e8ba30ea43_900.png 900w, https:\/\/img.staticdj.com\/728ec0407752855bcc2b59e8ba30ea43_900.png 1024w, https:\/\/img.staticdj.com\/728ec0407752855bcc2b59e8ba30ea43_900.png 1280w, https:\/\/img.staticdj.com\/728ec0407752855bcc2b59e8ba30ea43_900.png 1366w, https:\/\/img.staticdj.com\/728ec0407752855bcc2b59e8ba30ea43_900.png 1440w, https:\/\/img.staticdj.com\/728ec0407752855bcc2b59e8ba30ea43_900.png 1536w, https:\/\/img.staticdj.com\/728ec0407752855bcc2b59e8ba30ea43_900.png 1600w, https:\/\/img.staticdj.com\/728ec0407752855bcc2b59e8ba30ea43_900.png 1920w, https:\/\/img.staticdj.com\/728ec0407752855bcc2b59e8ba30ea43_900.png 2056w, https:\/\/img.staticdj.com\/728ec0407752855bcc2b59e8ba30ea43_900.png 2560w, https:\/\/img.staticdj.com\/728ec0407752855bcc2b59e8ba30ea43_900.png 2732w, https:\/\/img.staticdj.com\/728ec0407752855bcc2b59e8ba30ea43_900.png 2880w, https:\/\/img.staticdj.com\/728ec0407752855bcc2b59e8ba30ea43_900.png 3072w, https:\/\/img.staticdj.com\/728ec0407752855bcc2b59e8ba30ea43_900.png 3200w, https:\/\/img.staticdj.com\/728ec0407752855bcc2b59e8ba30ea43_900.png 3840w\"\u003e\u003c\/h3\u003e\n\u003c\/div\u003e\n\u003cdiv\u003e\n\u003cul\u003e\n\u003cli\u003e✅\u003cspan\u003e \u003c\/span\u003e\u003cspan\u003e\u003cstrong\u003eTwo Pockets: \u003c\/strong\u003e\u003c\/span\u003eSoft and comfy lounge pants with two side deep pockets. Which are have enough room to storage your phone, wallet, keys and etc. Perfectly with tank tops, crop tops, blouses, and even casual tees.\u003c\/li\u003e\n\u003c\/ul\u003e\n\u003c\/div\u003e\n\u003cdiv\u003e \u003c\/div\u003e\n\u003cdiv\u003e\u003cimg style=\"display: block; margin-left: auto; margin-right: auto;\" sizes=\"345px\" srcset=\"https:\/\/img.staticdj.com\/b232b7bfbaea5b22d2db42c9c90511dd_1024.jpeg 48w, https:\/\/img.staticdj.com\/b232b7bfbaea5b22d2db42c9c90511dd_1024.jpeg 180w, https:\/\/img.staticdj.com\/b232b7bfbaea5b22d2db42c9c90511dd_1024.jpeg 360w, https:\/\/img.staticdj.com\/b232b7bfbaea5b22d2db42c9c90511dd_1024.jpeg 540w, https:\/\/img.staticdj.com\/b232b7bfbaea5b22d2db42c9c90511dd_1024.jpeg 720w, https:\/\/img.staticdj.com\/b232b7bfbaea5b22d2db42c9c90511dd_1024.jpeg 900w, https:\/\/img.staticdj.com\/b232b7bfbaea5b22d2db42c9c90511dd_1024.jpeg 1024w, https:\/\/img.staticdj.com\/b232b7bfbaea5b22d2db42c9c90511dd_1024.jpeg 1280w, https:\/\/img.staticdj.com\/b232b7bfbaea5b22d2db42c9c90511dd_1024.jpeg 1366w, https:\/\/img.staticdj.com\/b232b7bfbaea5b22d2db42c9c90511dd_1024.jpeg 1440w, https:\/\/img.staticdj.com\/b232b7bfbaea5b22d2db42c9c90511dd_1024.jpeg 1536w, https:\/\/img.staticdj.com\/b232b7bfbaea5b22d2db42c9c90511dd_1024.jpeg 1600w, https:\/\/img.staticdj.com\/b232b7bfbaea5b22d2db42c9c90511dd_1024.jpeg 1920w, https:\/\/img.staticdj.com\/b232b7bfbaea5b22d2db42c9c90511dd_1024.jpeg 2056w, https:\/\/img.staticdj.com\/b232b7bfbaea5b22d2db42c9c90511dd_1024.jpeg 2560w, https:\/\/img.staticdj.com\/b232b7bfbaea5b22d2db42c9c90511dd_1024.jpeg 2732w, https:\/\/img.staticdj.com\/b232b7bfbaea5b22d2db42c9c90511dd_1024.jpeg 2880w, https:\/\/img.staticdj.com\/b232b7bfbaea5b22d2db42c9c90511dd_1024.jpeg 3072w, https:\/\/img.staticdj.com\/b232b7bfbaea5b22d2db42c9c90511dd_1024.jpeg 3200w, https:\/\/img.staticdj.com\/b232b7bfbaea5b22d2db42c9c90511dd_1024.jpeg 3840w\" alt=\"UEU YOGA PATNS FOR WOMEN\" width=\"504\" height=\"312\" data-sizes=\"auto\" data-srcset=\"https:\/\/img.staticdj.com\/b232b7bfbaea5b22d2db42c9c90511dd_1024.jpeg 48w, https:\/\/img.staticdj.com\/b232b7bfbaea5b22d2db42c9c90511dd_1024.jpeg 180w, https:\/\/img.staticdj.com\/b232b7bfbaea5b22d2db42c9c90511dd_1024.jpeg 360w, https:\/\/img.staticdj.com\/b232b7bfbaea5b22d2db42c9c90511dd_1024.jpeg 540w, https:\/\/img.staticdj.com\/b232b7bfbaea5b22d2db42c9c90511dd_1024.jpeg 720w, https:\/\/img.staticdj.com\/b232b7bfbaea5b22d2db42c9c90511dd_1024.jpeg 900w, https:\/\/img.staticdj.com\/b232b7bfbaea5b22d2db42c9c90511dd_1024.jpeg 1024w, https:\/\/img.staticdj.com\/b232b7bfbaea5b22d2db42c9c90511dd_1024.jpeg 1280w, https:\/\/img.staticdj.com\/b232b7bfbaea5b22d2db42c9c90511dd_1024.jpeg 1366w, https:\/\/img.staticdj.com\/b232b7bfbaea5b22d2db42c9c90511dd_1024.jpeg 1440w, https:\/\/img.staticdj.com\/b232b7bfbaea5b22d2db42c9c90511dd_1024.jpeg 1536w, https:\/\/img.staticdj.com\/b232b7bfbaea5b22d2db42c9c90511dd_1024.jpeg 1600w, https:\/\/img.staticdj.com\/b232b7bfbaea5b22d2db42c9c90511dd_1024.jpeg 1920w, https:\/\/img.staticdj.com\/b232b7bfbaea5b22d2db42c9c90511dd_1024.jpeg 2056w, https:\/\/img.staticdj.com\/b232b7bfbaea5b22d2db42c9c90511dd_1024.jpeg 2560w, https:\/\/img.staticdj.com\/b232b7bfbaea5b22d2db42c9c90511dd_1024.jpeg 2732w, https:\/\/img.staticdj.com\/b232b7bfbaea5b22d2db42c9c90511dd_1024.jpeg 2880w, https:\/\/img.staticdj.com\/b232b7bfbaea5b22d2db42c9c90511dd_1024.jpeg 3072w, https:\/\/img.staticdj.com\/b232b7bfbaea5b22d2db42c9c90511dd_1024.jpeg 3200w, https:\/\/img.staticdj.com\/b232b7bfbaea5b22d2db42c9c90511dd_1024.jpeg 3840w\"\u003e\u003c\/div\u003e\n\u003cdiv\u003e\n\u003cul\u003e\n\u003cli\u003e✅\u003cstrong\u003e\u003cspan\u003e Comfy \u0026amp; Casual Style: \u003c\/span\u003e\u003c\/strong\u003eThese palazzo sweatpants can match up with many different styles of your tops and make it perfect for wearing to work, exercising, daily street wear and as a pajama pants at home. Different styles for the way you want to show off.\u003c\/li\u003e\n\u003c\/ul\u003e\n\u003c\/div\u003e\n\u003cdiv\u003e\u003cimg style=\"display: block; margin-left: auto; margin-right: auto;\" src=\"https:\/\/img.staticdj.com\/1751a5edd5078eb4b5d0ccb1fe6f20a2.jpeg\" alt=\"\" width=\"498\" height=\"647\" data-aspect-ratio=\"1.30\"\u003e\u003c\/div\u003e\n\u003c\/div\u003e\n\u003cdiv data-csa-c-id=\"oqs6xz-jafzc0-wngyc-walqje\" data-cel-widget=\"aplus-3p-module-b\"\u003e\n\u003cdiv\u003e\n\u003cdiv\u003e \u003c\/div\u003e\n\u003c\/div\u003e\n\u003c\/div\u003e\n\u003ch3 data-mce-fragment=\"1\"\u003e\u003cspan style=\"color: #ff2a00;\" data-mce-fragment=\"1\"\u003e\u003cstrong data-mce-fragment=\"1\"\u003eSPECIFICATIONS\u003c\/strong\u003e\u003c\/span\u003e\u003c\/h3\u003e\n\u003cul data-mce-fragment=\"1\"\u003e\n\u003cli data-mce-fragment=\"1\"\u003e\n\u003cp class=\"offer-attr-item\" data-mce-fragment=\"1\"\u003e\u003cstrong data-mce-fragment=\"1\"\u003eMaterial: \u003c\/strong\u003ePolyester\u003c\/p\u003e\n\u003c\/li\u003e\n\u003cli data-mce-fragment=\"1\"\u003e\n\u003cp data-mce-fragment=\"1\"\u003e\u003cspan data-mce-fragment=\"1\" mce-data-marked=\"1\"\u003e\u003cstrong data-mce-fragment=\"1\"\u003eWeight: \u003c\/strong\u003e300g\u003c\/span\u003e\u003c\/p\u003e\n\u003c\/li\u003e\n\u003cli data-mce-fragment=\"1\"\u003e\n\u003cp data-mce-fragment=\"1\"\u003e\u003cspan data-mce-fragment=\"1\" mce-data-marked=\"1\"\u003e\u003cstrong data-mce-fragment=\"1\"\u003eColor: \u003c\/strong\u003e\u003cspan class=\"Polaris-Badge_2qgie\" data-mce-fragment=\"1\"\u003eDark Coffee, \u003c\/span\u003e\u003cspan class=\"Polaris-Badge_2qgie\" data-mce-fragment=\"1\"\u003eLight Coffee, \u003c\/span\u003e\u003cspan class=\"Polaris-Badge_2qgie\" data-mce-fragment=\"1\"\u003eBlack, \u003c\/span\u003e\u003cspan class=\"Polaris-Badge_2qgie\" data-mce-fragment=\"1\"\u003ePink, \u003c\/span\u003e\u003cspan class=\"Polaris-Badge_2qgie\" data-mce-fragment=\"1\"\u003eWine Red, \u003c\/span\u003e\u003cspan class=\"Polaris-Badge_2qgie\" data-mce-fragment=\"1\"\u003eDark Blue, \u003c\/span\u003e\u003cspan class=\"Polaris-Badge_2qgie\" data-mce-fragment=\"1\"\u003eArmy Green, \u003c\/span\u003e\u003cspan class=\"Polaris-Badge_2qgie\" data-mce-fragment=\"1\"\u003eLight Gray, \u003c\/span\u003e\u003cspan class=\"Polaris-Badge_2qgie\" data-mce-fragment=\"1\"\u003eDark Gray\u003c\/span\u003e\u003c\/span\u003e\u003c\/p\u003e\n\u003c\/li\u003e\n\u003cli data-mce-fragment=\"1\"\u003e\n\u003cp data-mce-fragment=\"1\"\u003e\u003cspan data-mce-fragment=\"1\" mce-data-marked=\"1\"\u003e\u003cspan class=\"Polaris-Badge_2qgie\" data-mce-fragment=\"1\"\u003e\u003cstrong data-mce-fragment=\"1\"\u003eSize: \u003c\/strong\u003eAs Shown\u003cimg src=\"https:\/\/img.staticdj.com\/3ec91b49cfd4ac7064f43975e919ecf8.webp\" alt=\"\" data-mce-fragment=\"1\" width=\"480\"\u003e\u003c\/span\u003e\u003c\/span\u003e\u003c\/p\u003e\n\u003c\/li\u003e\n\u003c\/ul\u003e\n\u003ch3 data-mce-fragment=\"1\"\u003e\u003cspan style=\"color: #ff2a00;\" data-mce-fragment=\"1\"\u003e\u003cstrong data-mce-fragment=\"1\"\u003ePACKAGE\u003c\/strong\u003e\u003c\/span\u003e\u003c\/h3\u003e\n\u003cul data-mce-fragment=\"1\"\u003e\n\u003cli data-mce-fragment=\"1\"\u003e1 * Women's Casual Full-Length Loose Pants\u003c\/li\u003e\n\u003c\/ul\u003e\n\u003ch3 data-mce-fragment=\"1\"\u003e\u003cspan style=\"color: #ff2a00;\" data-mce-fragment=\"1\"\u003e\u003cstrong data-mce-fragment=\"1\"\u003eNOTE\u003c\/strong\u003e\u003c\/span\u003e\u003c\/h3\u003e\n\u003cul data-mce-fragment=\"1\"\u003e\n\u003cli data-mce-fragment=\"1\"\u003ePlease allow slight measurement deviations due to manual measurement.\u003c\/li\u003e\n\u003c\/ul\u003e\n\u003cul data-mce-fragment=\"1\"\u003e\n\u003cli data-mce-fragment=\"1\"\u003eDue to the different monitor and light effect, the actual color of the item might be slightly different from the color showed in the pictures.\u003c\/li\u003e\n\u003c\/ul\u003e"}
Adding product to your cart
FEATURES
✅ Comfy Material: 90% polyester + 10% spandex. womens wide leg pants designed with buttery soft fabric keeps you comfortable, lightweight, stretchy, breathable and non see-through.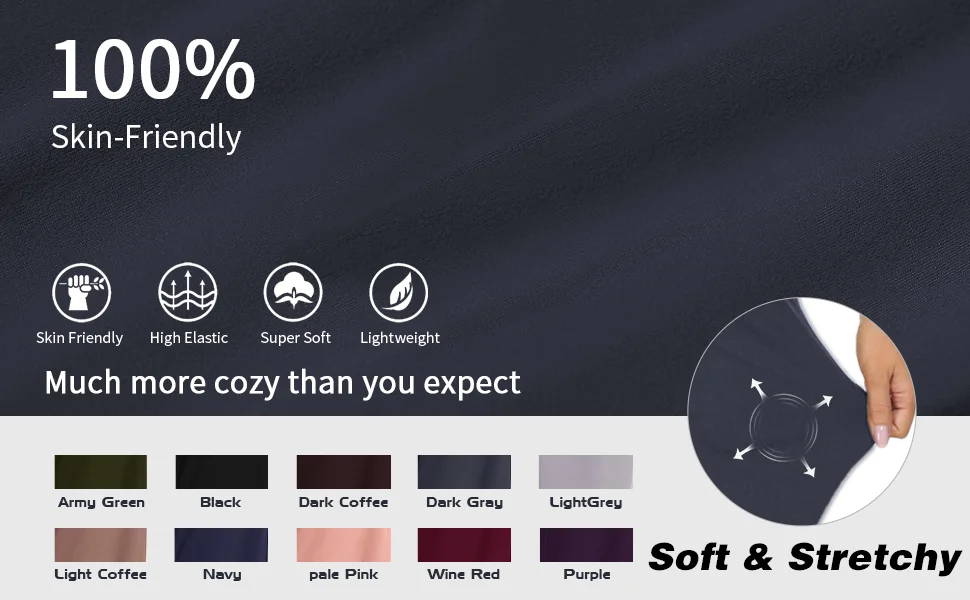 ✅

 

Versatile Style:

 

Loose yoga pants with pockets designed to be comfy and stretchy fabric, which are perfect for yoga, pilates, jogging, traveling, beach, lounging around at home or pack with you on travels. These casual lounge wear will be a favorite in your wardrobe for any season wear.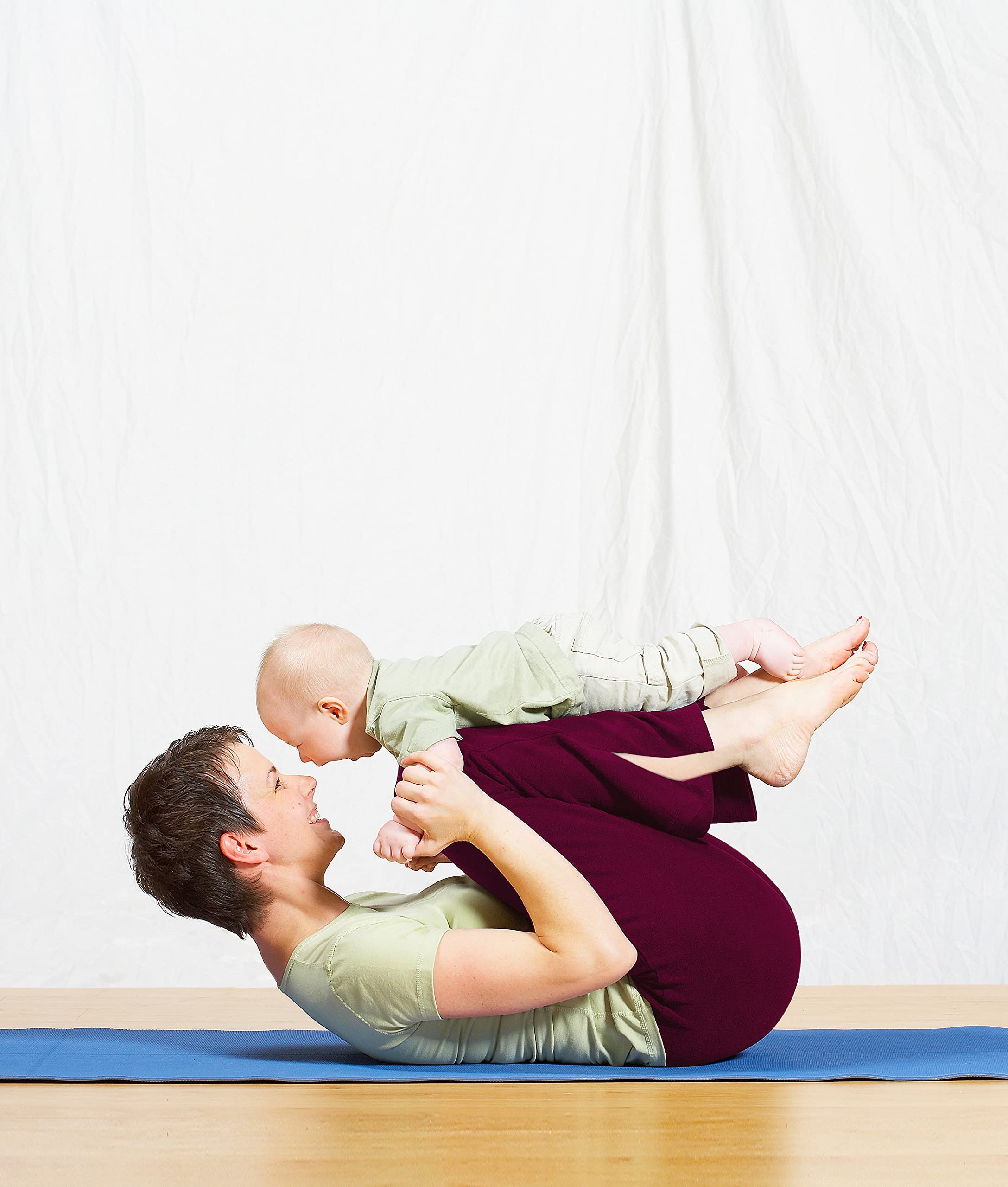 ✅

 Drawstring & Wide leg: 

Elastic waistband with drawstring for any fit. Loose fitting, elastic waist, straight leg with side slit, solid color, ankle length. Flowy wide leg sweatpants are sure to attract compliments.

✅

 

Two Pockets: Soft and comfy lounge pants with two side deep pockets. Which are have enough room to storage your phone, wallet, keys and etc. Perfectly with tank tops, crop tops, blouses, and even casual tees.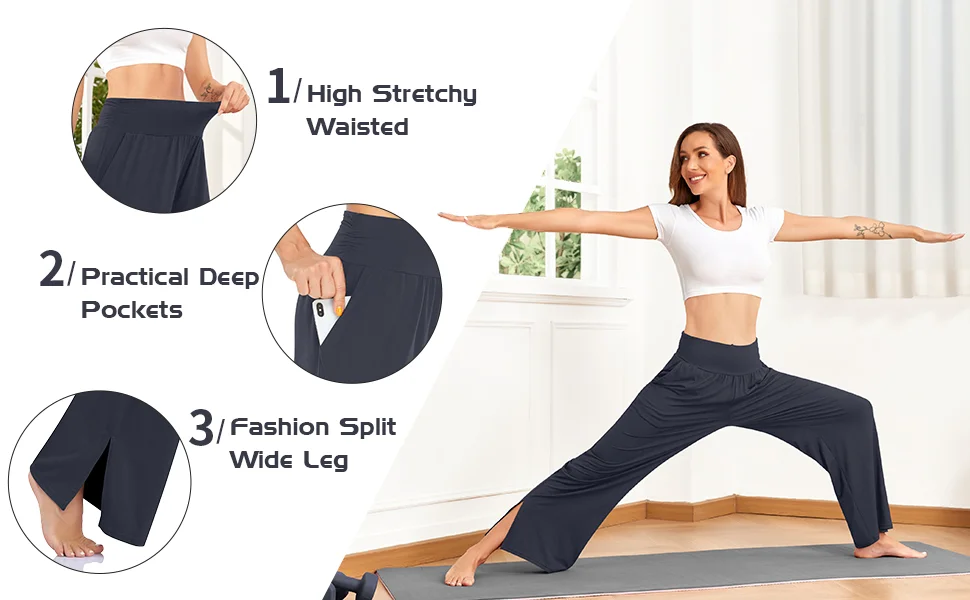 ✅

 Comfy & Casual Style: 

These palazzo sweatpants can match up with many different styles of your tops and make it perfect for wearing to work, exercising, daily street wear and as a pajama pants at home. Different styles for the way you want to show off.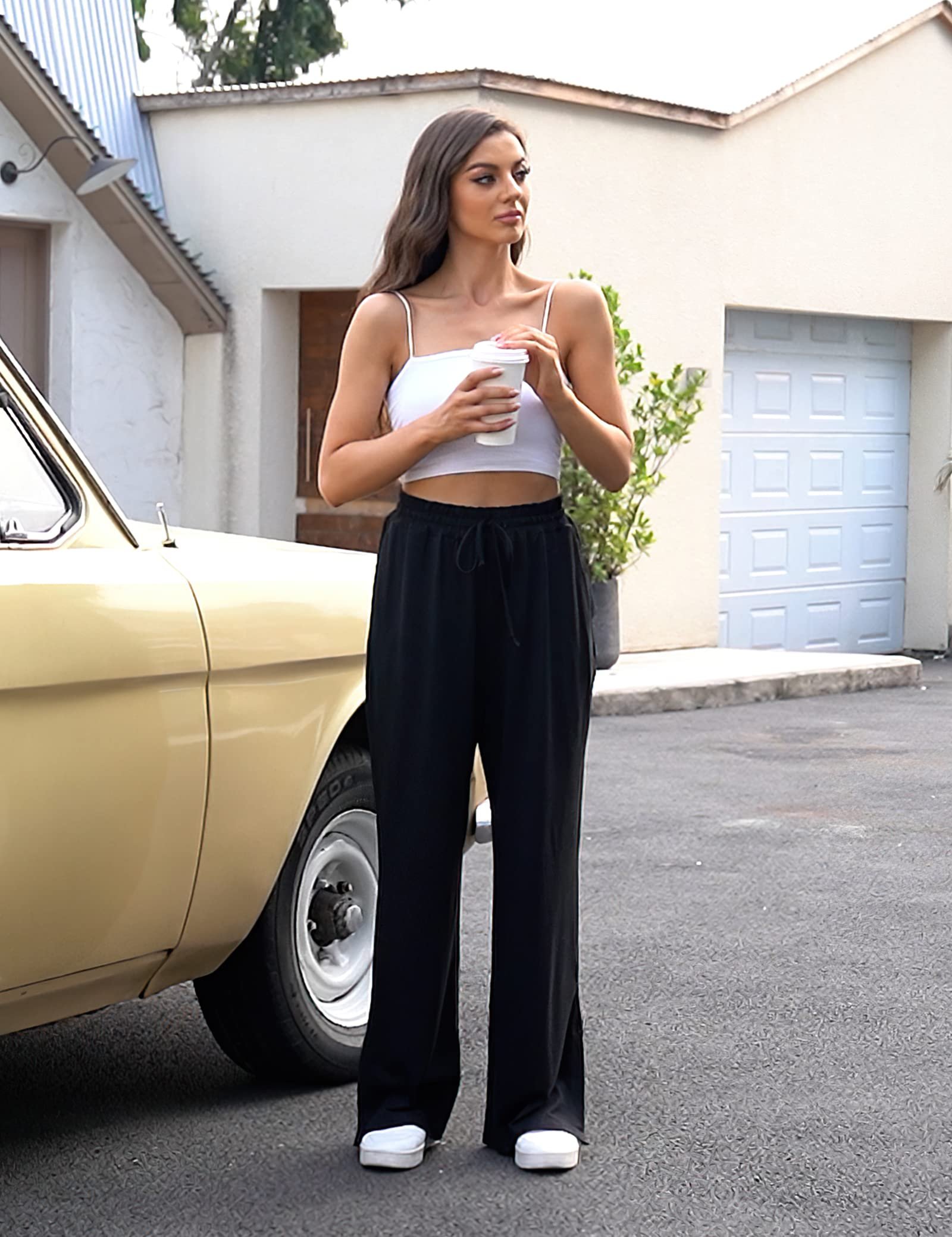 SPECIFICATIONS
Material: Polyester

Weight: 300g

Color: Dark Coffee, Light Coffee, Black, Pink, Wine Red, Dark Blue, Army Green, Light Gray, Dark Gray

Size: As Shown
PACKAGE
1 * Women's Casual Full-Length Loose Pants
NOTE
Please allow slight measurement deviations due to manual measurement.
Due to the different monitor and light effect, the actual color of the item might be slightly different from the color showed in the pictures.